Chewy Cinnamon Apple Granola Bars Recipe
Chewy Cinnamon Apple Granola Bars ~ Soft, Chewy, Delicious Homemade Granola Bar Recipe Stuffed with Apples, Cinnamon, Oats, Pecans and Sunflower Seeds!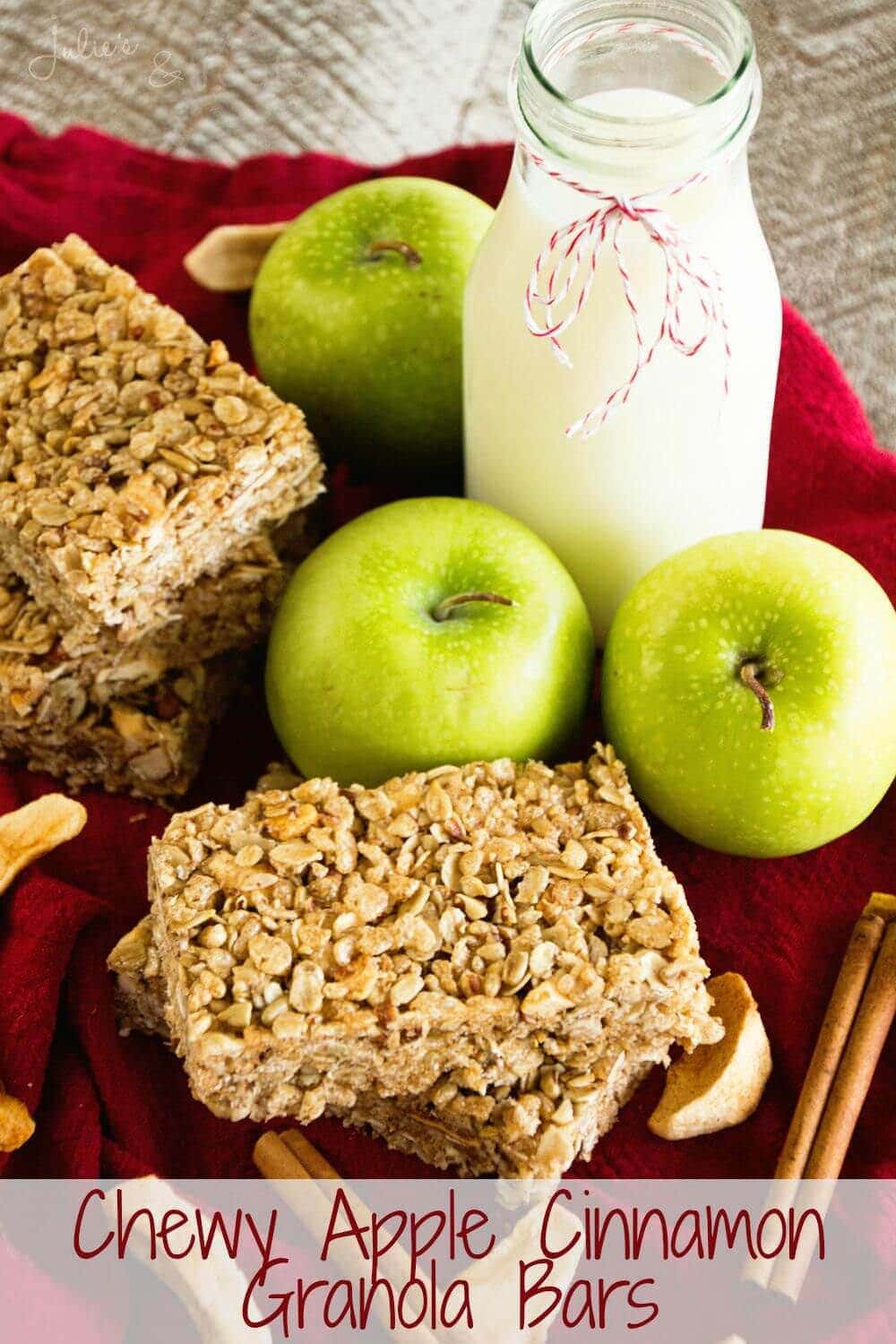 You guys. My life is about to change. Drastically. My baby is beginning to not really be a baby anymore. We are talking about climbing, crawling and pulling herself up to a standing position. Then she turns around and has this huge grin. I can just hear her thinking, "MAMA LOOK AT ME I'M A BIG GIRL!" And then this Momma wants to hide, crawl in a corner and cry for two reasons. The first is because my baby isn't a baby anymore. The second one is because I'm about to have a rude awakening and my life is about to get even crazier as I chase after two kids. I'm not going to lie. I enjoyed it when I could plop her down in a swing and she'd sit there and babble and coo and look around for a hour. Now I'm telling her not to chew on shoes, not to pick up the crumbs from the floor (yes I have crumbs, don't judge) and to quit chewing on the cardboard box sitting in the entry. I just made my house sound like an epic disaster didn't I?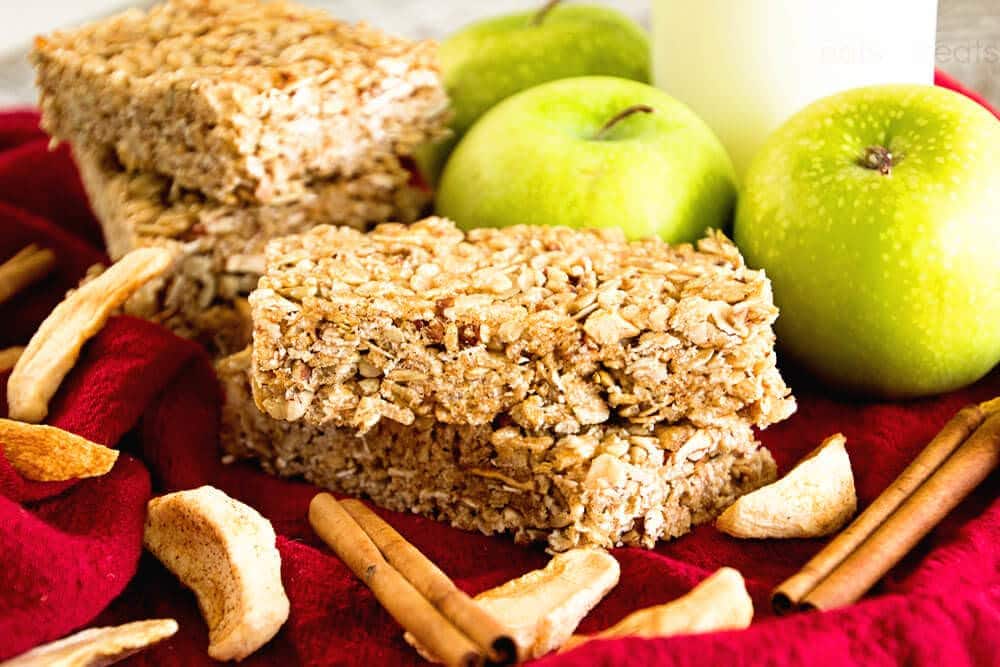 Speaking of growing up today I was watching SnapChat (Follow me @JulieEatsandTreats!) and Dine and Dish posted about her baby going off to kindergarten and how she was crying. You know what happened? All the tears happened to this lady right here. I cried just thinking about Miss K going off to kindergarten in two years. This was the second time I cried today. Apparently I'm a bit hormonal or emotional or something! Completely ridiculous but I know it will be here before I know it because life is flying by.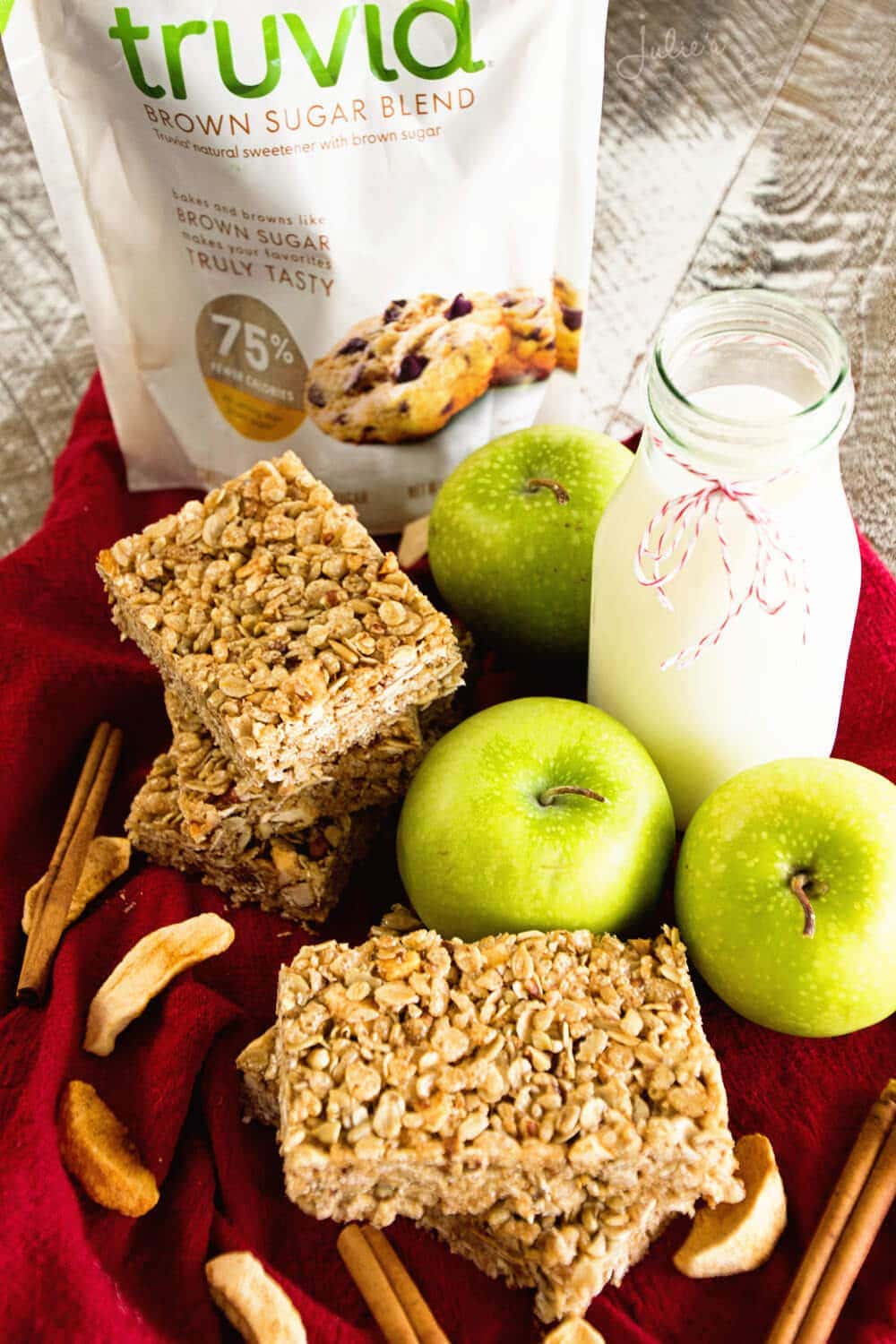 Even though I don't have a child to send off to school and welcome home with treats after their first day I'm still making you a special treat so you can do that with your kids! If you don't have a child either to welcome home then you just need to make these and enjoy them because they are awesome. I kept going back and snitching more. They were chewy, crunchy and full of apples and cinnamon. My favorite two flavors for fall!
I lightened these granola bars up using  Truvia® Brown Sugar Blend. My favorite secret ingredient because it helps me reduce the calories and sugar in these delicious treats while not sacrificing the flavor. Truvia® sweetener is natural, great-tasting sweetness that was born from the leaves of the stevia plant. These granola bars are bursting with apples, cinnamon and nuts. A perfect snack for a crisp fall day!
More Apple Bar Goodness? YES!! Check this out!
*This post was compensated by Truvia. All opinions are my own as always.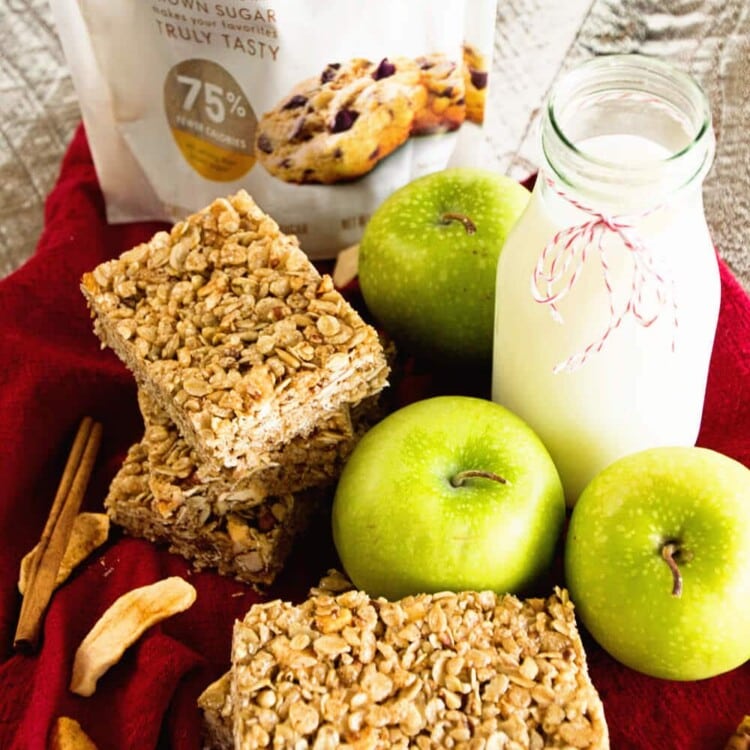 Chewy Cinnamon Apple Granola Bars Recipe
Soft, Chewy, Delicious Homemade Granola Bar Recipe Stuffed with Apples, Cinnamon, Oats, Pecans and Sunflower Seeds!
Ingredients
1 1/4

c.

old fashioned oats

1/4

c.

sunflower seeds

1/4

c.

flax seeds

3/4

c.

chopped pecans

4

Tbsp

coconut oil

1/2

c.

honey

1/8

cup

c. Truvia Brown Sugar Blend

1/2

tsp

vanilla extract

2 1/2

c.

puffed rice cereal

1/2

c.

chopped dried apples

1

tsp

ground cinnamon

1/2

tsp

salt
Instructions
Preheat oven to 350 degrees. Prepare 9x9 inch baking dish by lining it with parchment paper, leaving excess hanging over sides for easy removal.

Spread oats, sunflower seeds, nuts and flax seeds out in an even layer on parchment paper lined baking sheet. Baked for 5-10 minutes until the oats just start to brown and become fragrant. Watch closely.

In a small saucepan bring honey, coconut oil and brown sugar blend to a simmer over medium heat. Stir to dissolve sugar for 2-4 minutes. Remove from heat and set aside.

In a large bowl combine cereal, dried apples, cinnamon and salt. Stir in oats and honey mixture in and stir until mixture is well coated.

Press mixture down in prepared 9x9 pan. Refrigerate for at least a hour before serving. Cut into bars.
Nutrition Information
Serving:
1
,
Calories:
542
kcal
(27%)
,
Carbohydrates:
81
g
(27%)
,
Protein:
10
g
(20%)
,
Fat:
21
g
(32%)
,
Saturated Fat:
5
g
(31%)
,
Sodium:
111
mg
(5%)
,
Potassium:
328
mg
(9%)
,
Fiber:
7
g
(29%)
,
Sugar:
16
g
(18%)
,
Vitamin A:
10
IU
,
Vitamin C:
0.6
mg
(1%)
,
Calcium:
48
mg
(5%)
,
Iron:
3.6
mg
(20%)