Cookie Dough Ice Cream is the best homemade ice cream recipe ever! Who can pass up bits of cookie dough mixed into this smooth and sweet ice cream will have everyone screaming for more! I could eat a whole entire batch of this, but it's best enjoyed with friends, right? Grab a spoon and dig into this ice cream on a hot summer day!
BEST Cookie Dough Ice Cream!
I'm wrapping up my week of ice cream recipes that I made just for you! The last one on my agenda was Cookie Dough Ice Cream. I'm a BIG fan of DQ and their cookie dough Blizzard so I knew this one would be a winner in my book.
It takes a little extra work to make that cookie dough up instead of just throwing in a few prepackaged cookies like my Golden Oreo Ice Cream, Nutter Butter Ice Cream and Cookies and Cream Ice Cream, but it's totally worth it.
The only extra work is making the eggless cookie dough because you can't just use the same raw cookie dough you would use to make cookies, so I'm sharing my best tips for making edible cookie dough you can use in this creamy cold ice cream treat! I promise it's not complicated!
If you love the DQ cookie dough Blizzard like I do you are going to love this ice cream! The best part of knowing how to make your own edible cookie dough is that you don't have to wait in those long summer lines at DQ to get your cookie dough fix! I've also made a copycat of one of my other favorite ice cream shop treats – Cake Batter Ice Cream!
Once you know how to make your own you'll want to make batches of this Cookie Dough Ice Cream all summer long.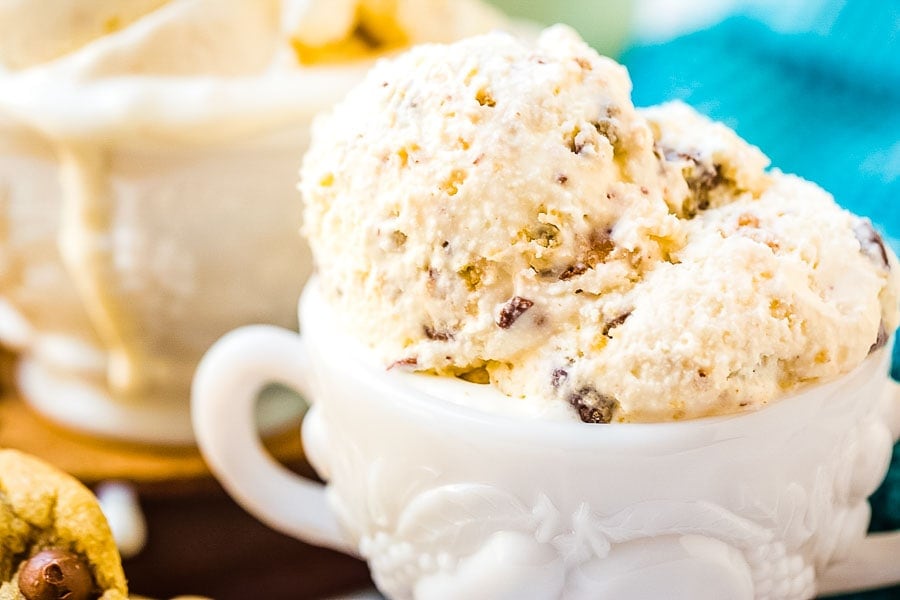 The Nitty Gritty on Cookie Dough Ice Cream Recipe!
Did you ever sneak bites of raw cookie dough when you were a kid? I did – guilty as charged! – and now I understand why my mom freaked out when I did it!
Raw eggs can be risky so you definitely don't want to use your favorite chocolate chip cookie dough to make this ice cream. Instead, you want to make eggless cookie dough to avoid the risks associated with raw eggs. You can also take an extra step with the flour, which I'll be sharing, too!
Cookie Dough Ice Cream Ingredients
This Cookie Dough Ice Cream has a sweet cream ice cream base that's studded with sweet bites of chocolate chip cookie dough. You only need four ingredients for the ice cream and the cookie dough is easy to make, too!
Keep scrolling for the complete recipe with the measurements and step by step directions further down!
For the Cookie Dough
Melted butter
Light brown sugar
Flour
Vanilla extract
Chopped chocolate chips
For the Ice Cream
Heavy cream
Half & half
Sugar
Vanilla
How to make Cookie Dough Ice Cream
You will want to make the cookie dough first so it has time to chill in the fridge. It helps to chill it because it will make it easier to scoop it into little bites before you mix it into the ice cream.
Combine the melted butter, brown sugar, flour, vanilla extract, and chocolate chips together in a large bowl. Pop it in the fridge to chill while you mix up the ice cream. Chilling the cookie dough will make it easier to scoop it into small bites to mix into the ice cream.
While the cookie dough chills, make the ice cream. Mix the cream, half & half, sugar and vanilla in a bowl until well combined. Pour the mixture into your ice cream maker and churn it according to your manufacture instructions.
A few minutes before the ice cream is done churning add the cookie dough. I like to make little scoops of cookie dough to mix in – one teaspoon scoops is the perfect amount. Once you've mixed in the cookie dough, store the ice cream in the freezer until it hardens. Then scoop and serve!
Quick Tips & Tricks for Cookie Dough Ice Cream!
Here are a few of the more frequently asked questions when it comes to making homemade cookie dough ice cream.
If you have a question that isn't answered please leave us a comment below and we will do our best to answer it!
What is the best ice cream maker?
We LOVE our Kitchenaid Ice Cream attachment since we already have a Kitchenaid Mixer. But if you don't have that I highly recommend this fairly inexpensive Ice Cream maker!
Can you eat raw flour in cookie dough?
I did, but it can contain E. coli. If you are worried about this please heat treat your cookie dough!
How do you heat treat flour?
Spread your flour onto a baking sheet and bake it for 5 minutes at 350 degrees F. Let it cool completely. This is a quick, easy and painless process!
By carrying out this toasting process you are killing off any bacteria that might be lingering in your flour before you make the ice cream!
How do I store homemade ice cream?
You definitely want to store it in the freezer, but you probably already know that! Seriously, though, be sure to check the temperature of your freezer (it's a good thing to do once in a while!) because you want to store homemade ice cream at 0 degrees F. or below.
Ice cream keeps best in an airtight container. You can use any kind of container you like, but I like to use one that makes it easy to scoop like loaf pans or other baking dishes. It helps if you have baking dishes that have lids!
I also like to cover the ice cream with plastic wrap before securing a lid over the top.
Place the container in the coldest part of your freezer, which is most likely in the back. You don't want to keep the ice cream where the temperature will change, like in the front of the freezer or in the door, because the texture of the ice cream will break down if it melts and then freezes again. For the best ice cream, keep it very, very cold and away from the door.
How long does homemade ice cream stay good for?
Homemade ice cream will keep in the freezer for two to three weeks. Any longer than that and it will start to crystallize which is just another way to say it will turn icy.
So plan on using it up in two to three weeks, but I'm guessing it will disappear much sooner than that! This homemade Cookie Dough Ice Cream seems to disappear fast at our house! I wish I could blame it on my kids, but it's usually me sneaking scoops from the fridge!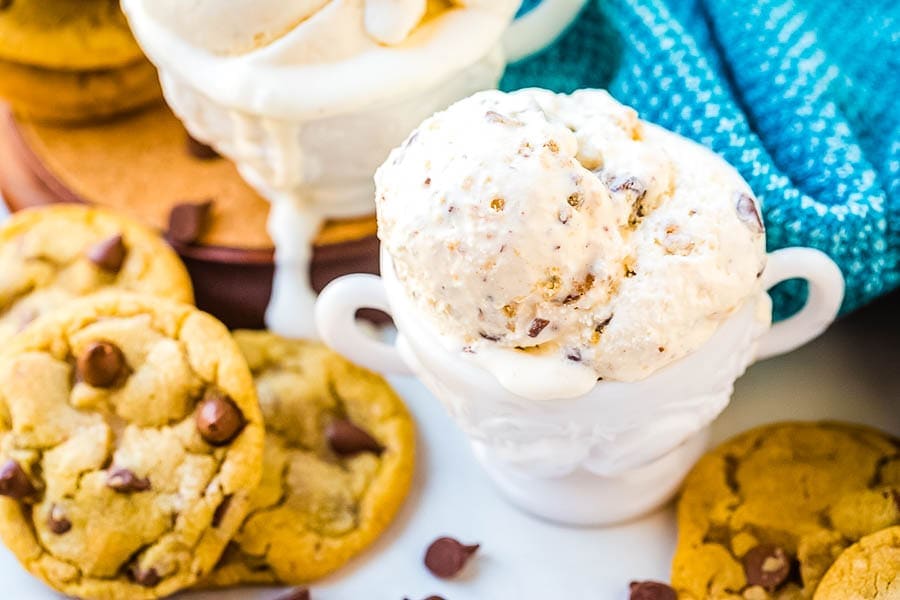 I made three ice cream recipes this week and each one centers around cookies. I just realized that. Think I might have a cookie obsession? Yes, I think it might be. You still love me right? Good.
I hope you enjoyed this week of ice cream treats and I'll be back to regular recipes next week! Don't worry for all you ice cream lovers out there I'm sure I'll throw in a few more recipes throughout the summer.
Love it? I knew you would! Rate it, please!! It would be awesome if you'd give it a five-star rating below!
If you snap any photos, don't forget to tag me on Instagram @julieseatsandtreats or #julieseatsandtreats that way I'm sure to see your pictures!!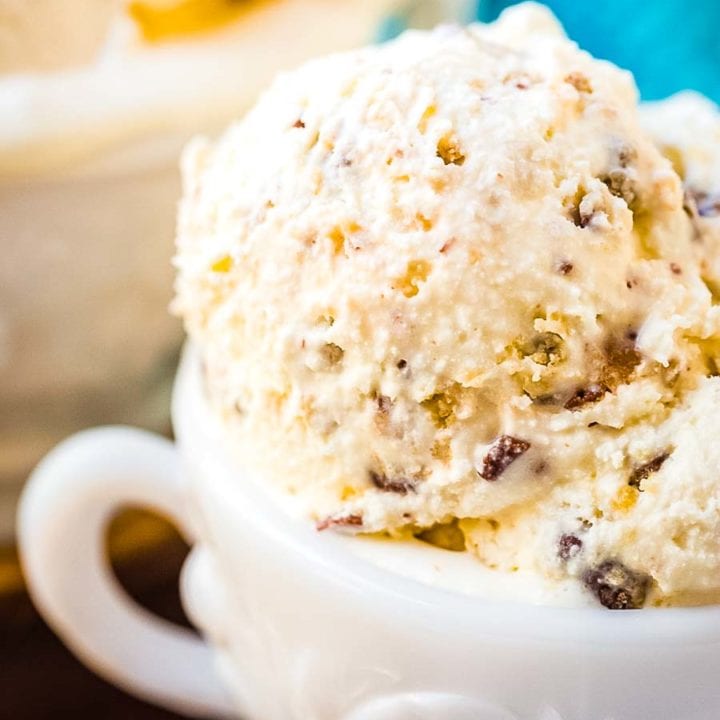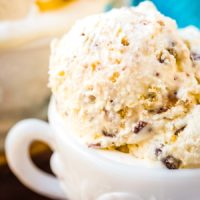 Cookie Dough Ice Cream Recipe
Cookie Dough Ice Cream ~ bits of cookie dough mixed into this smooth and sweet ice cream will have everyone screaming for more!
Print
Pin
Rate
Ingredients
Cookie Dough
5

Tbsp

butter

melted and slightly cooled

1/3

c.

packed light brown sugar

1/2

c.

flour

1/2

tsp

vanilla extract

1/2

c.

chocolate chips

chopped
Ice Cream
2

c.

heavy cream

1

c.

half and half

3/4

c.

sugar

1

tsp

vanilla extract
Instructions
Mix together butter and brown sugar together for the cookie dough until smooth. Add vanilla and mix well then add the flour and combine. Fold in chopped chocolate chips.

Stick the bowl in the fridge or freezer for a little bit and let it harden up a bit so it stays together when you mix it in the ice cream.

For the ice cream in a large mixing bowl combine, heavy cream, half and half, sugar and vanilla extract. Mix until well combined.

Pour into ice cream maker and prepare according to according to directions.

In the last few minutes mix in the cookie dough by small teaspoons.

Store in the freezer.
Nutrition
Serving:
1
g
|
Calories:
447
kcal
|
Carbohydrates:
45
g
|
Protein:
3
g
|
Fat:
28
g
|
Saturated Fat:
17
g
|
Cholesterol:
90
mg
|
Sodium:
89
mg
|
Potassium:
89
mg
|
Sugar:
32
g
|
Vitamin A:
985
IU
|
Vitamin C:
0.5
mg
|
Calcium:
79
mg
|
Iron:
0.8
mg
LEAVE A COMMENT