S'mores Ice Cream ~ Easy, Creamy Ice Cream Stuffed with Chocolate, Marshmallow & Graham Crackers!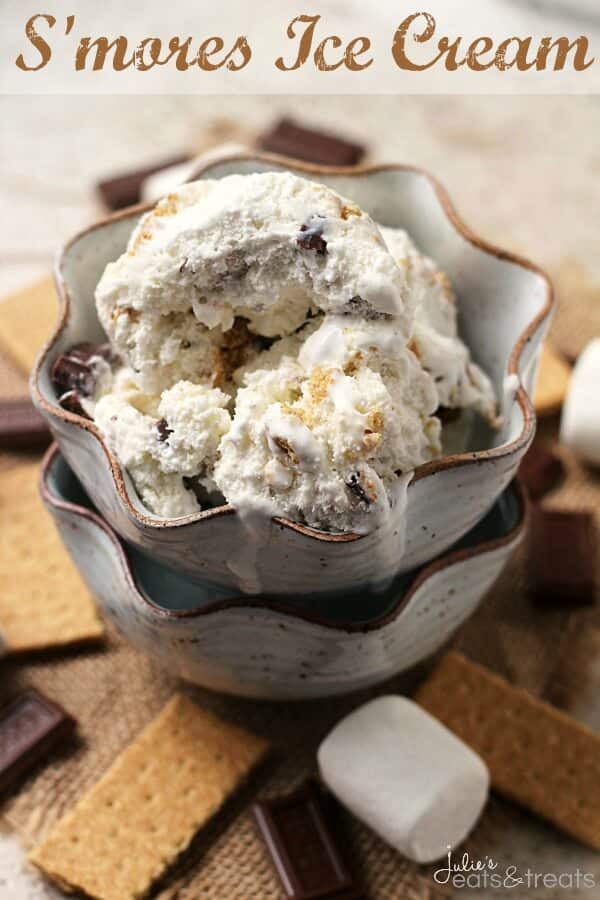 I simply can not believe that it is the middle of July and it is the first ice cream recipe that I have made. My beloved ice cream you have been ignored and I have no excise for it. My husband is dismayed by the fact that I have not shown you the love that you need. If he had his say in things he would have my show the ice cream Gods daily love. I swear that man can eat a big bowl of ice cream every.single.night and not gain an ounce.
I may hate him a little.
Of course he does not sit on his butt in an office chair all day long like I do. That could have something to do with it. Just something.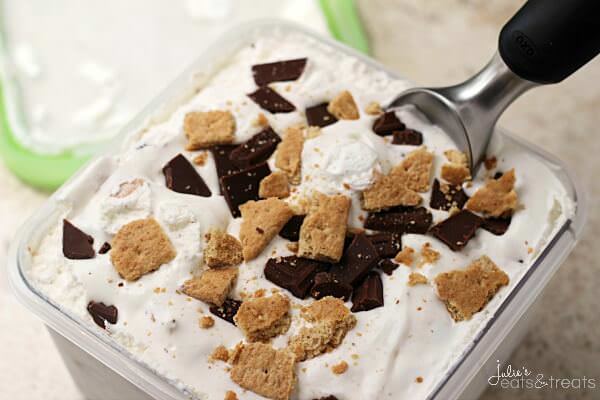 And who loves S'mores as much as me? Can I get a big "HECK YES" for S'mores?
I knew you'd do it sitting there in your chair smiling because you love them just as much as me!
This week we are celebrating S'MORES WEEK here on Julie's Eats & Treats which means THREE fabulous recipes using S'mores. Now you are really smiling aren't you? To top it off I've joined up with some other fabulous bloggers in this S'mores Week and they are all making S'mores recipes too so you get even more S'mores! Now you are jumping up out of the chair and doing a "Happy Dance" aren't you?
I'm here all week long to put S'more Smiles on your face! Ya catch that one? S'mores Smiles cause I like you to Smile More!
Ok I'm also going to be a dork all week long so hang on!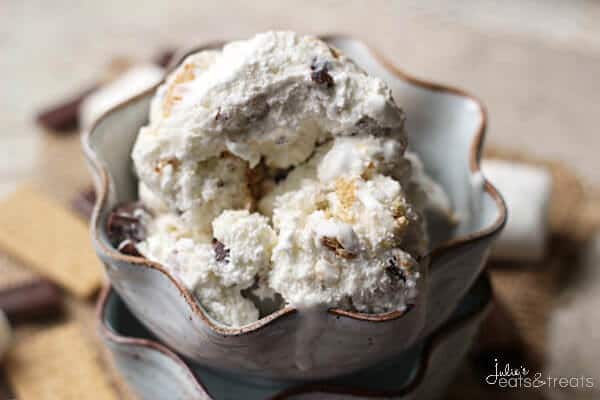 When the lovely peeps over at OXO sent me a fabulous kit full of all kinds of products to make ice cream I knew it was S'mores that I wanted to make long before this S'mores week ever got started! Somethings I just have feelings on and this was a gut one. What can be wrong about my S'mores stuffed into my favorite homemade ice cream? Nothing, nothing at all. Trust me. Then go make them!
My box full of goodies from OXO included this amazing Ice Cream Scoop! Ok so we all have some flimsy ice cream scoops laying in our drawer that we dread using right? You need to replace them right now. Go buy this. This thing is solid, heavy and durable. I couldn't believe at the weight and quality when I picked it up. Then of course, I dropped it and almost took off a toe, but you aren't clumsy like that so no worries!
My other favorite item in my box of goodies was this awesome OXO Mini Chopper because you are going to need it to chop up those Hershey's Bars and Graham crackers for your ice cream! Trust me it will get a work out! Made it so much easier to get my ice cream made fast pronto!
After you try this S'mores Ice Cream you should definitely make my Cake Batter Ice Cream and Nutter Butter Ice Cream, too!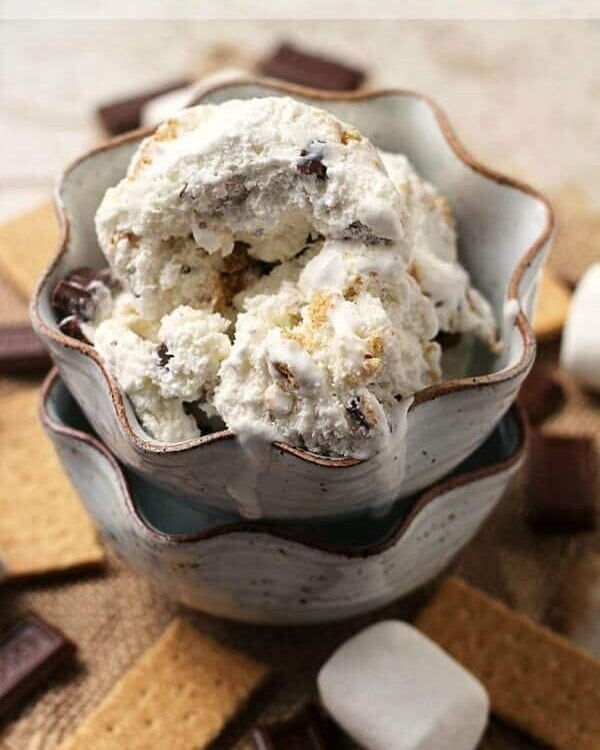 S'mores Ice Cream
S'mores Ice Cream ~ Easy, Creamy Ice Cream Stuffed with Chocolate, Marshmallow & Graham Crackers!
Ingredients
2

c.

heavy whipping cream

1

c.

half & half

3/4

c.

sugar

1

tsp

vanilla

7

oz

marshmallow creme

2

Hershey bars

chopped

4

Graham crackers

chopped
Instructions
For the ice cream in a large mixing bowl combine, heavy cream, half and half, sugar and vanilla extract. Mix until well combined. At the end of mixing carefully spoon in marshmallow creme and mix until combined.

Pour into ice cream maker and prepare according to according to directions.

In the last few minutes mix in the Hershey bars and graham crackers.

Store in the freezer.
Nutrition Information
Serving:
1
,
Calories:
436
kcal
(22%)
,
Carbohydrates:
51
g
(17%)
,
Protein:
2
g
(4%)
,
Fat:
26
g
(40%)
,
Saturated Fat:
15
g
(94%)
,
Cholesterol:
91
mg
(30%)
,
Sodium:
81
mg
(4%)
,
Potassium:
95
mg
(3%)
,
Sugar:
39
g
(43%)
,
Vitamin A:
975
IU
(20%)
,
Vitamin C:
0.7
mg
(1%)
,
Calcium:
75
mg
(8%)
,
Iron:
0.3
mg
(2%)