Cranberry Orange Bread Pudding~ Easy Homemade Bread Pudding Recipe Topped with an Orange Glaze, and is the Perfect Holiday Dessert! It Comes Together Quickly and is a Crowd Pleaser!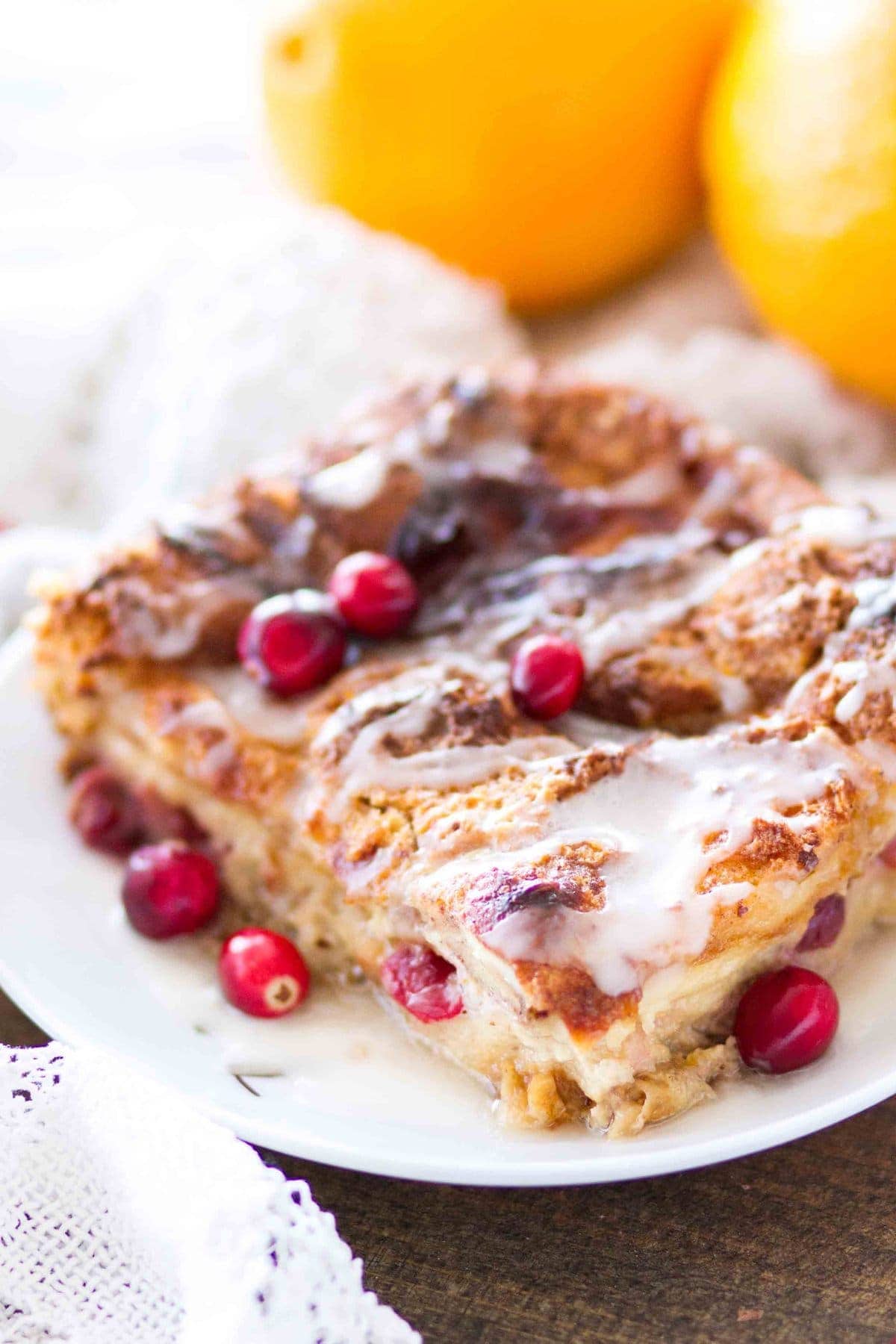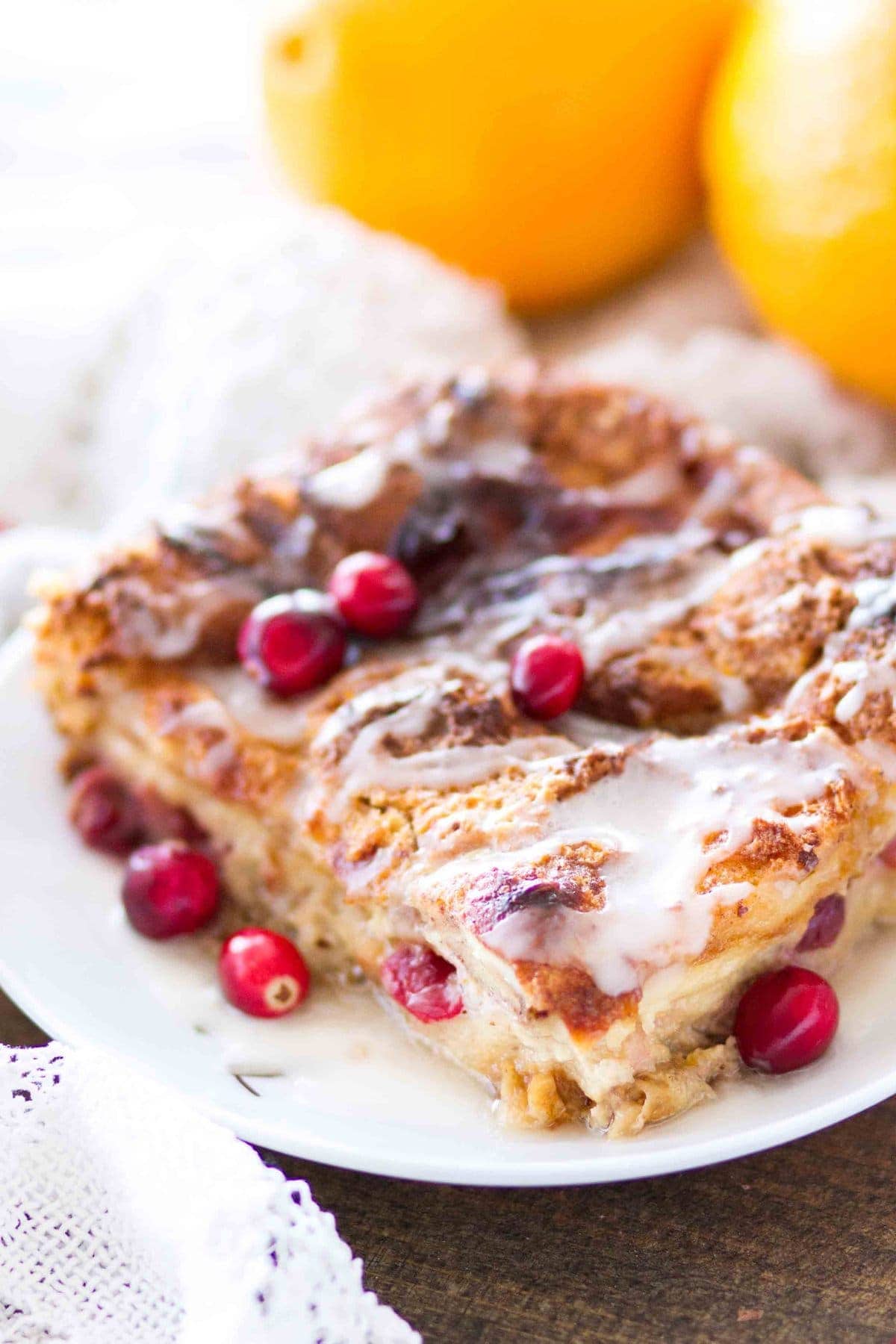 Cranberries used to be the one thing at the Thanksgiving dinner table I avoided like the plague. As a kid, the gelatinous-looking, tart purple thing (that doesn't taste like jello at all) was not nearly as appealing as, well, everything else. It was most definitely the one thing that "missed" the plate. Instead I loaded up on turkey, stuffing and gravy! No one had introduced me to Cranberry Orange Bread Pudding yet!
Fast forward a few years (with a homemade cranberry orange sauce recipe in tow), cranberries never miss the plate, and if I had my way, they'd never ever miss the dessert table either.
Whether it's this Cranberry Orange Bread Pudding, Cranberry Orange Cake, or Cranberry Almond Bundt Cake (or maybe even this Cranberry Apple Crisp), you can bet I'll be getting dessert seconds (and maybe thirds if no one's looking).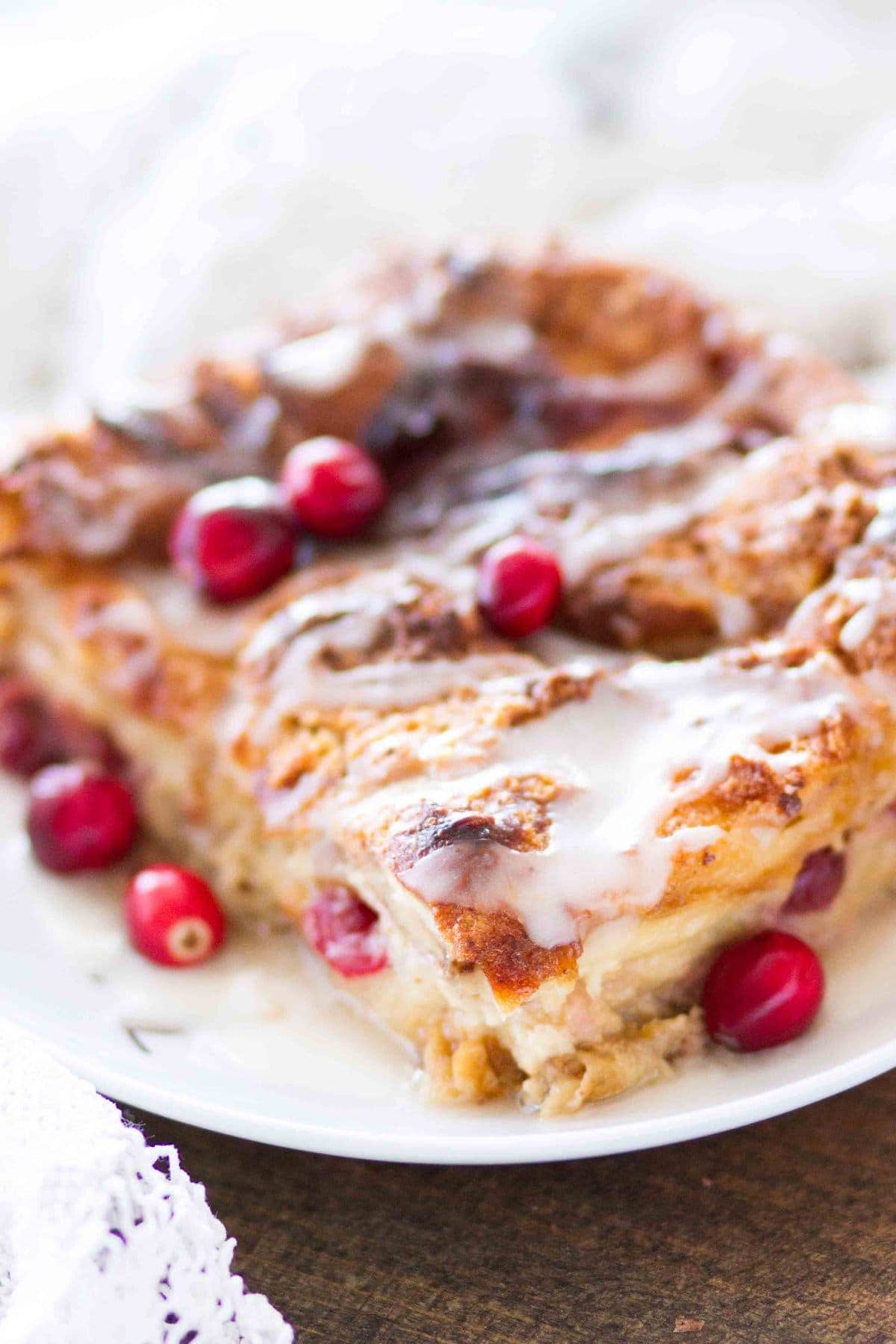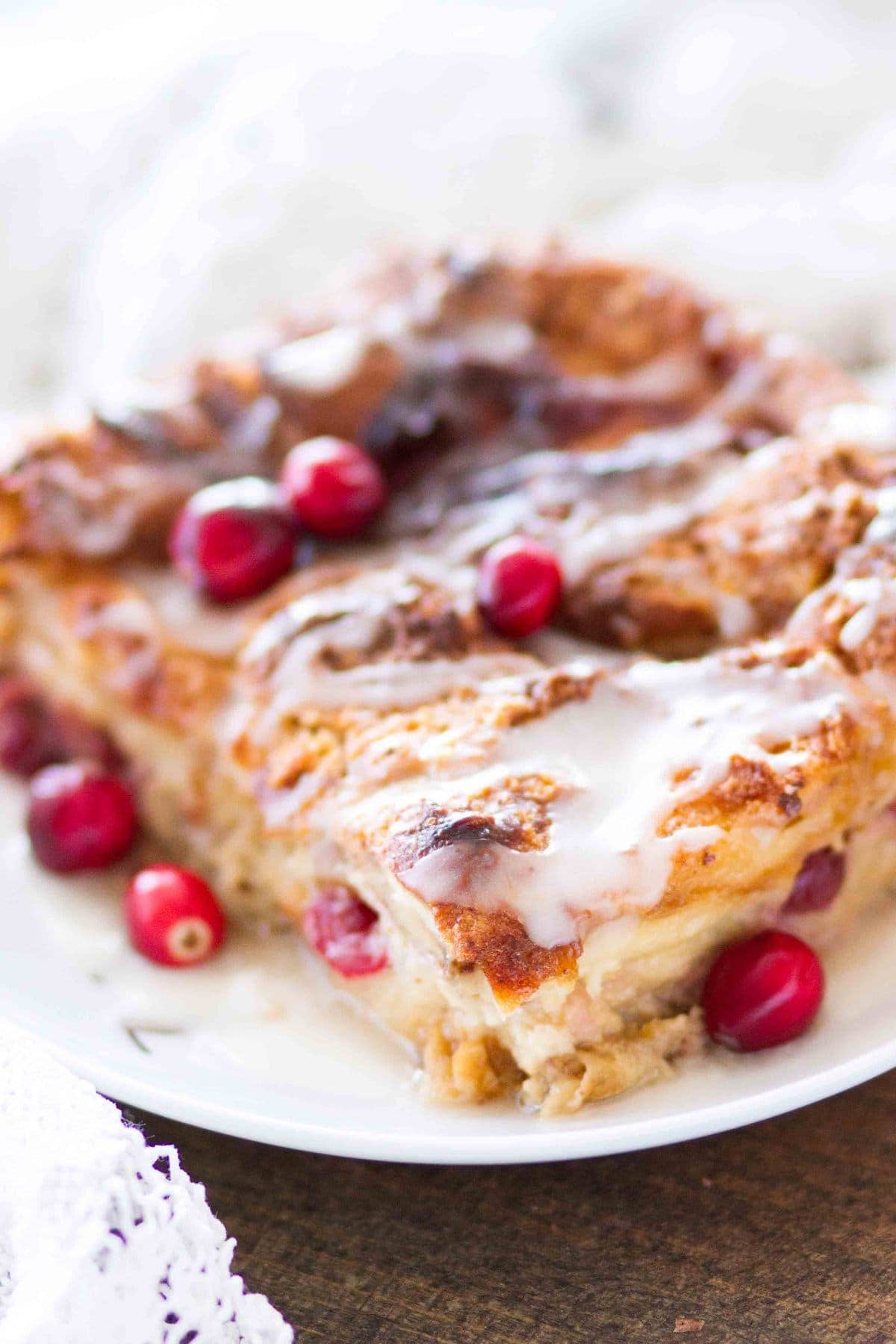 MY OTHER RECIPES
Cranberry and orange is a classic flavor pairing, because the sweetness (and the citrus) of the orange cuts through the tartness of the cranberries. By nature, fresh cranberries are extremely tart, and often need something sweet to tone them down.
In the bread pudding recipe, the tartness of the cranberries are offset by three things: sugar, orange zest, and an orange glaze. The cranberries still have a bit of a zing to them, but it is entirely complemented by the sweetness of the rest of the dessert. Aka Cranberry Bread Pudding is AMAZING!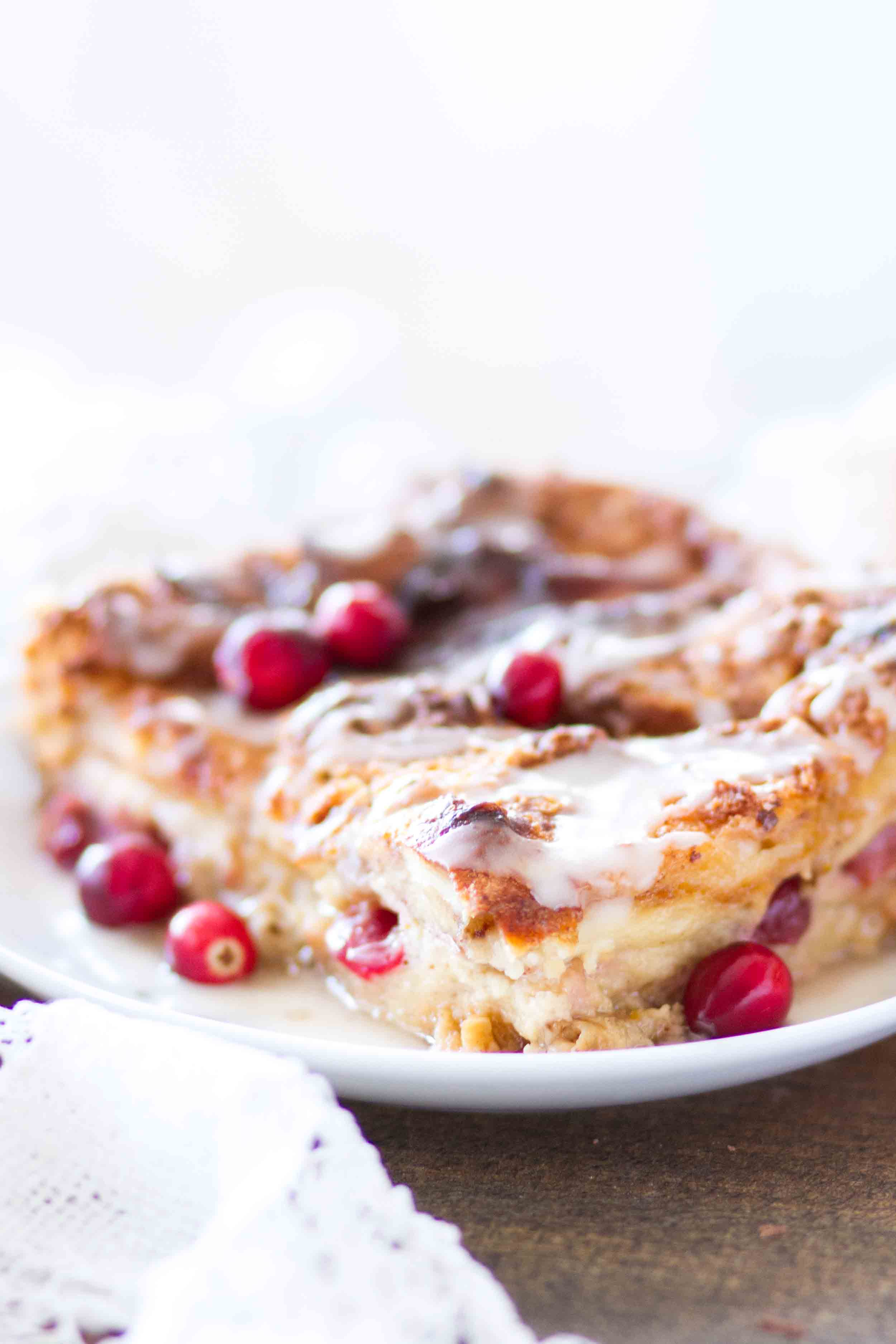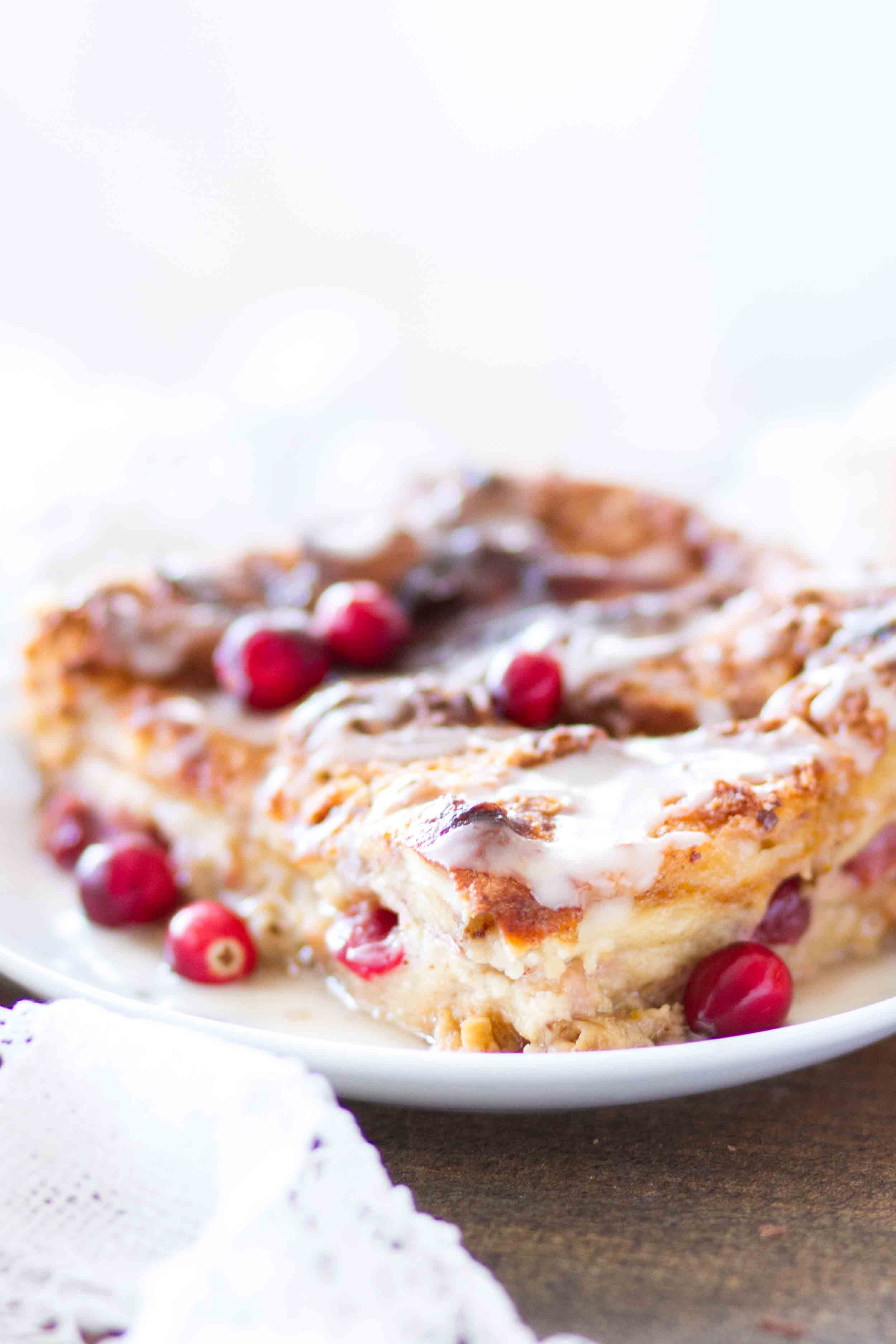 Have you ever made bread pudding? Bread pudding is very similar to a French toast casserole, although most French toast casseroles are soaked in the egg/milk mixture overnight and baked with a crumb topping.
Bread pudding, on the other hand, is, more often than not, only soaked somewhere between 15-30 minutes before being baked in the oven. I'm not 100% sure and certain on this point, but in my understanding, bread pudding is supposed to be a bit 'softer' in the middle than a French toast casserole, which is a bit dryer in the center (which I think has to do with how long each are soaked in the egg/milk mixture.)
Ingredients Needed for Cranberry Orange Bread Pudding
Milk

Eggs

Vanilla extract

Cinnamon

Cloves

Allspice

Granulated sugar

Orange zest

Fresh cranberries

Loaf thick bread

Butter, melted

Powdered sugar

Freshly squeezed orange juice
Regardless (let's just get to the point, right?? 😉 ), bread pudding is so easy to make!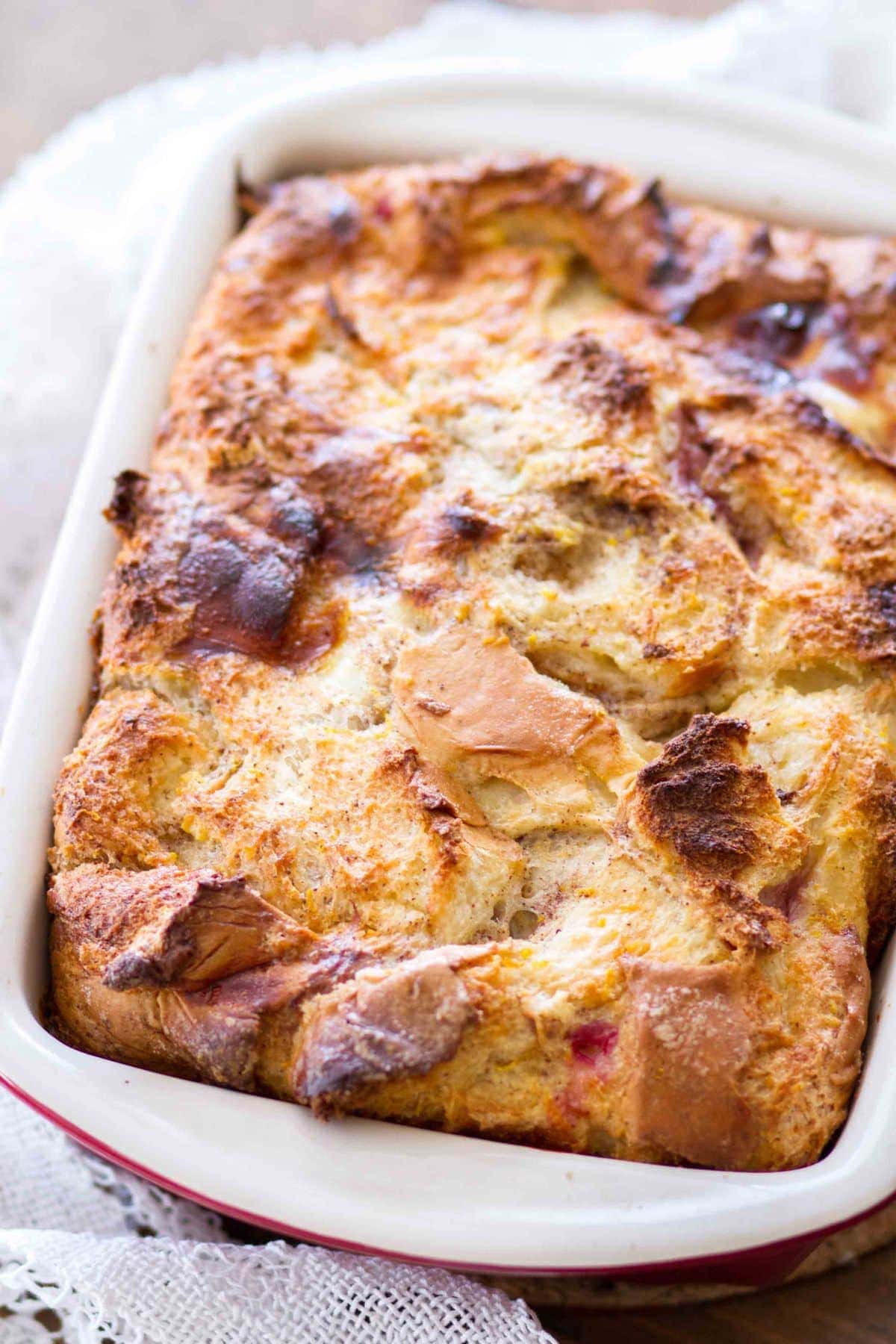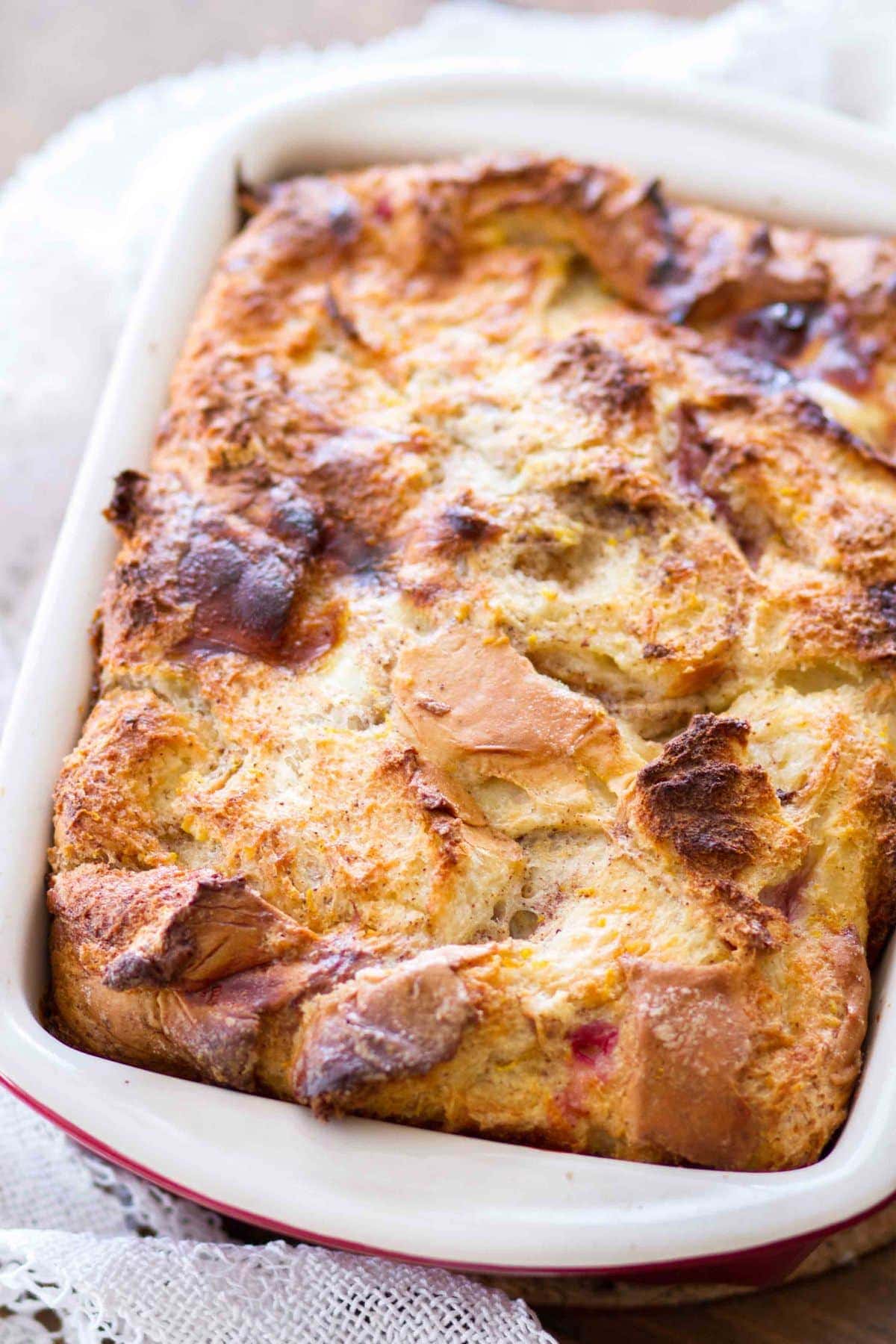 A layer of thick, crusty bread is put in the bottom of a casserole dish, next a layer of cranberries, and lastly, another layer of bread.
A mixture of milk, eggs, sugar, orange zest, spices, and vanilla extract gets poured on top.
The bread pudding sits for 25 minutes, then is baked for 45-50 minutes, drizzled with an orange glaze, and viola! You're ready to serve.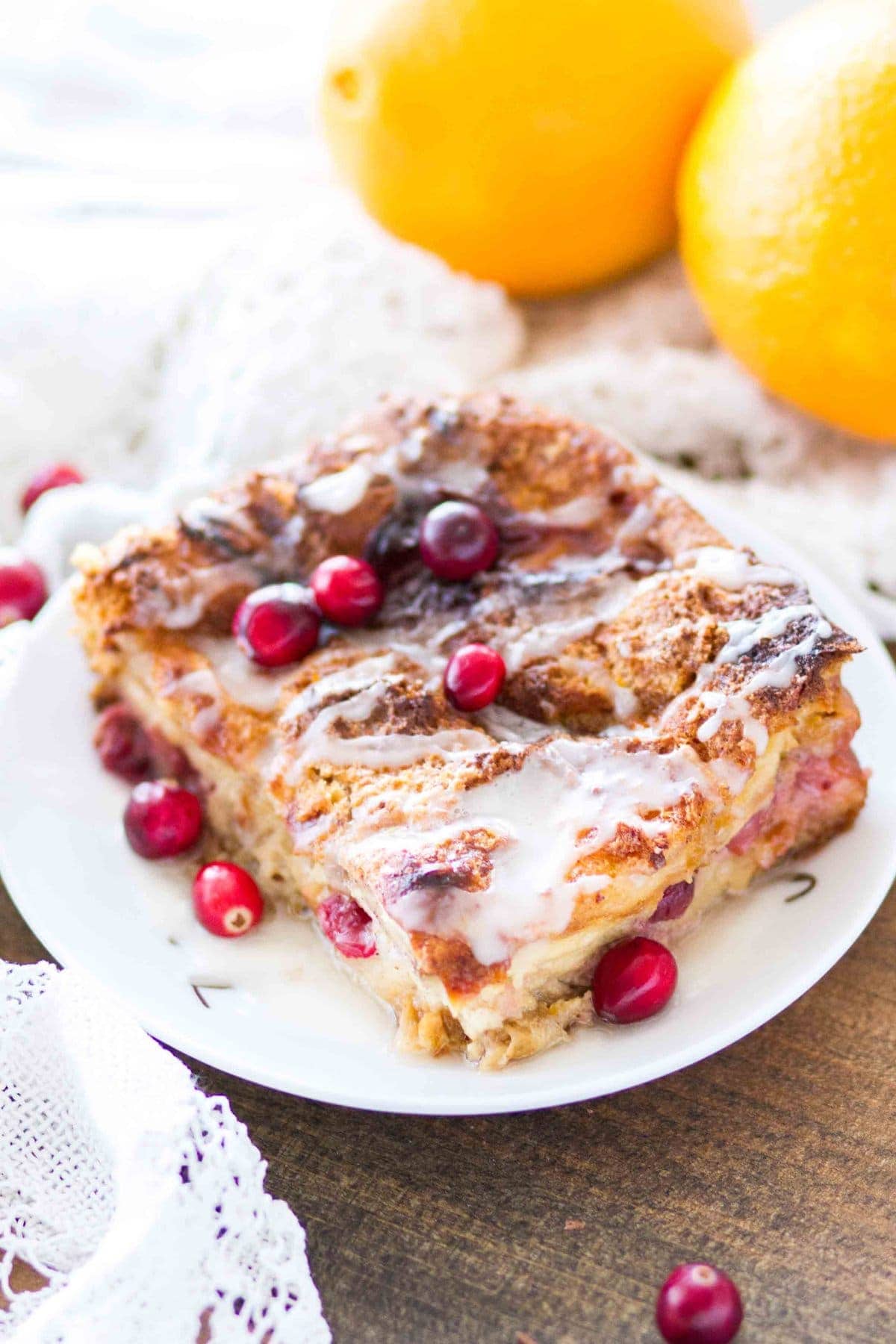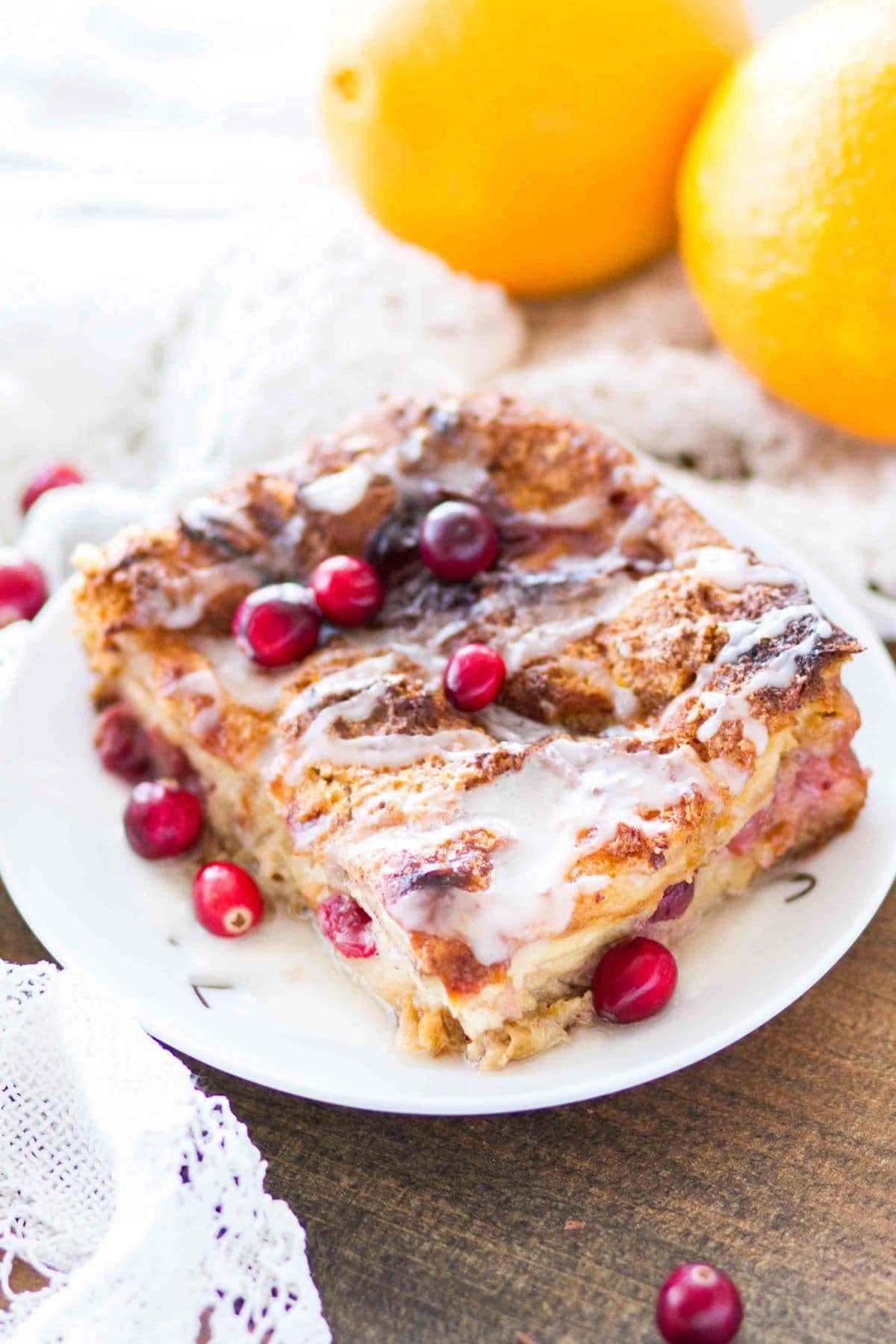 Cranberries will be the star of the show with this dessert! Happy holiday eatings!
Cranberry Orange Bread Pudding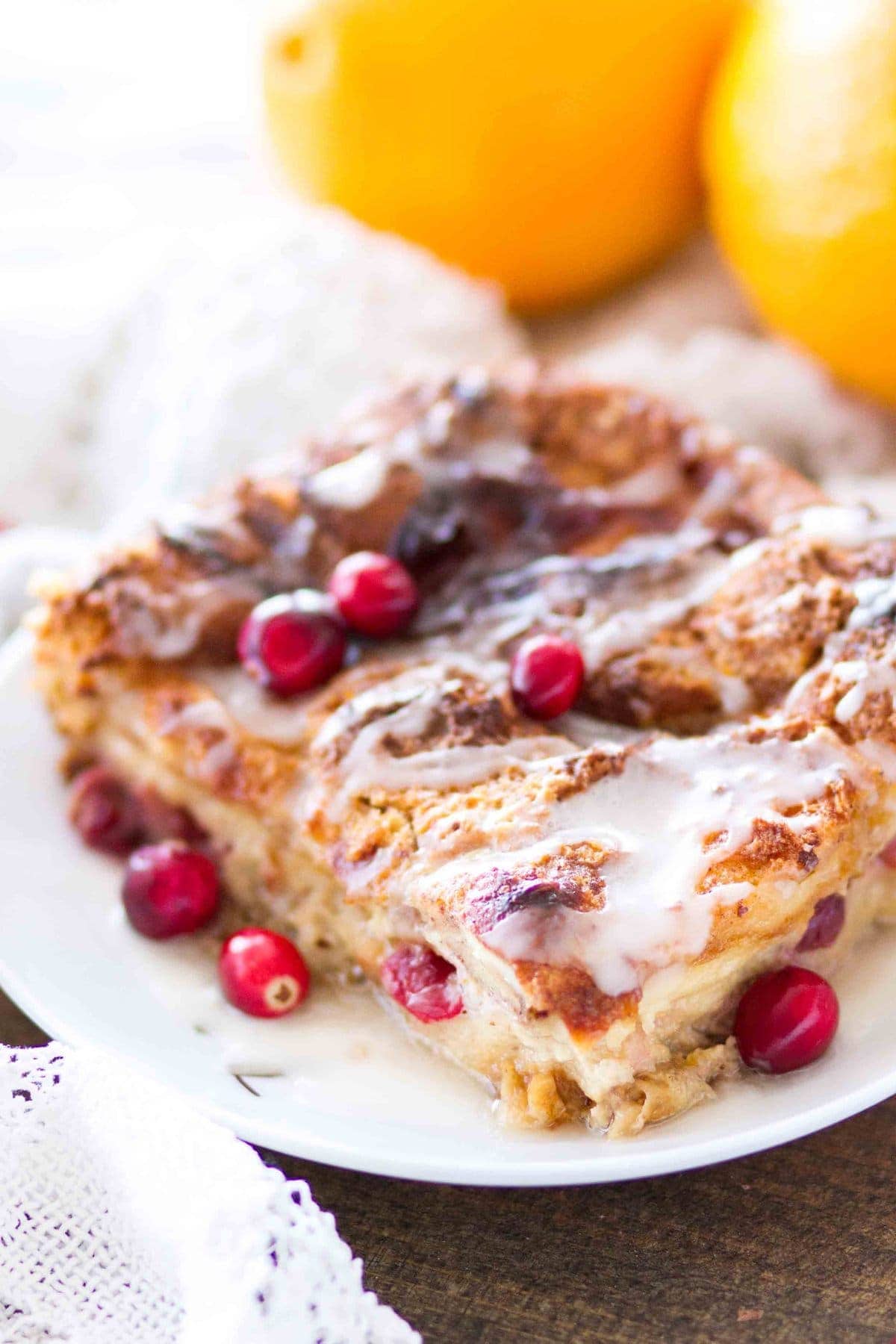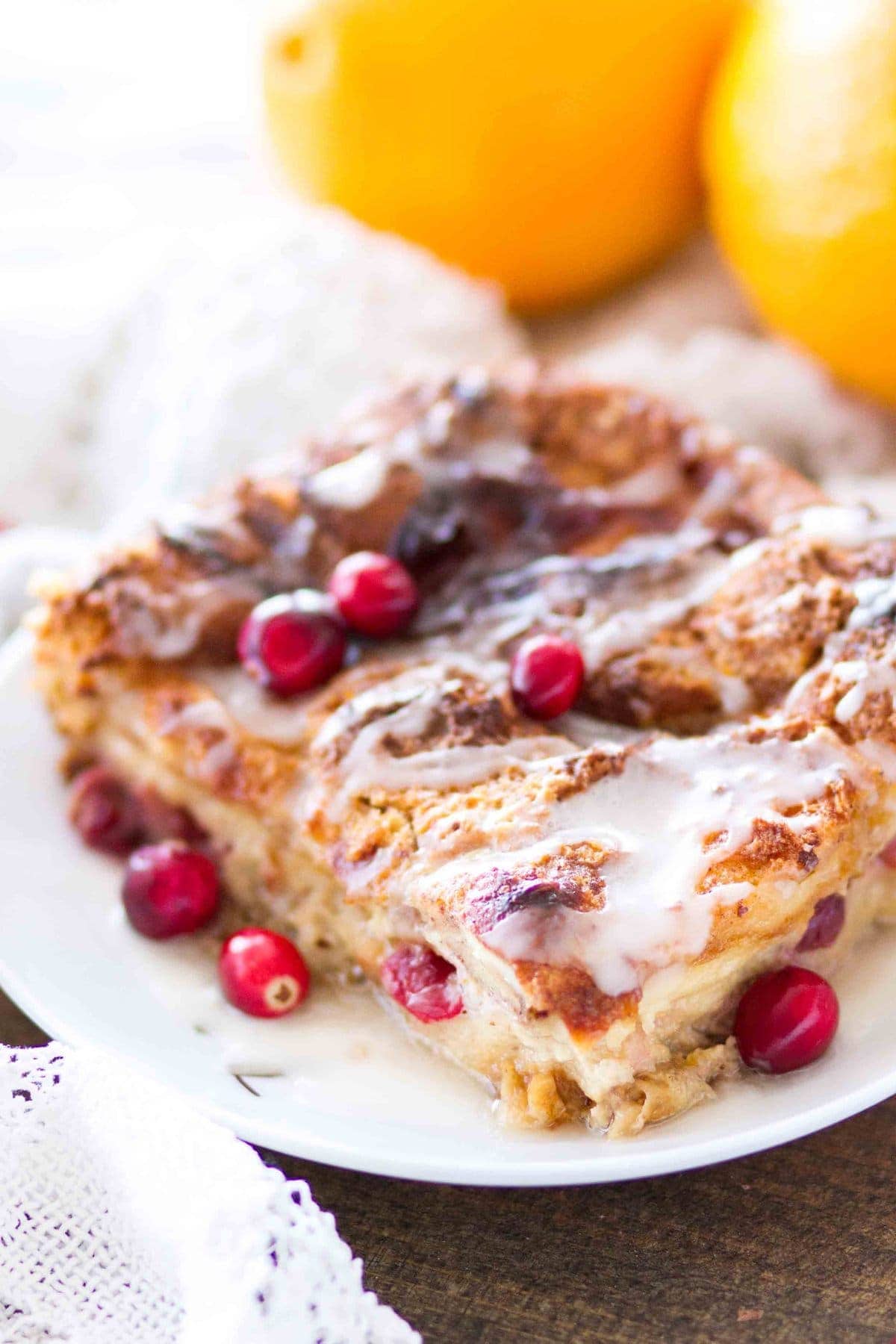 Ingredients
4 cups milk
6 eggs
2 tsp vanilla extract
1 tsp cinnamon
1/2 tsp cloves
1/4 tsp allspice
1 cup granulated sugar
2 Tbsp orange zest
1 1/4 cups fresh cranberries
1 loaf thick bread, cubed (day old/crusty bread is best; I used brioche)
3 Tbsp butter, melted
1-1 1/2 cups powdered sugar
1/2 tsp vanilla extract
2 Tbsp freshly squeezed orange juice
1 tsp orange zest (optional--it makes the glaze extra orange-flavored!)
Directions
Preheat oven to 350 degrees and grease a 13x9 baking dish.
Spread half of the bread in an even layer on the bottom of the baking dish. Sprinkle cranberries over the top. Place the remaining bread on top.
In a bowl, whisk together eggs, milk, vanilla extract, cinnamon, cloves, allspice, sugar, and orange zest until well combined.
Pour the egg mixture over the bread, making sure all of the bread is covered.
Allow the bread pudding to sit for 25 minutes.
Bake for 45-50 minutes, or until the top is golden brown and the center jiggles only slightly when moved.
Allow to cool at least 10 minutes before serving. (The bread pudding might deflate a bit while cooling; this is normal.)
While the cranberry orange bread pudding is cooling off, mix together melted butter, powdered sugar (starting with 1 cup), vanilla extract, orange juice, and orange zest. If the glaze seems too thin, add in the last 1/2 cup of powdered sugar.
Drizzle over each slice of bread pudding.
Enjoy!
Recipe Notes
Loading nutrition data...

did you make this recipe?
Tag @gimmesomegrilling on
Instagram
and hashtag it #julieseatsandtreats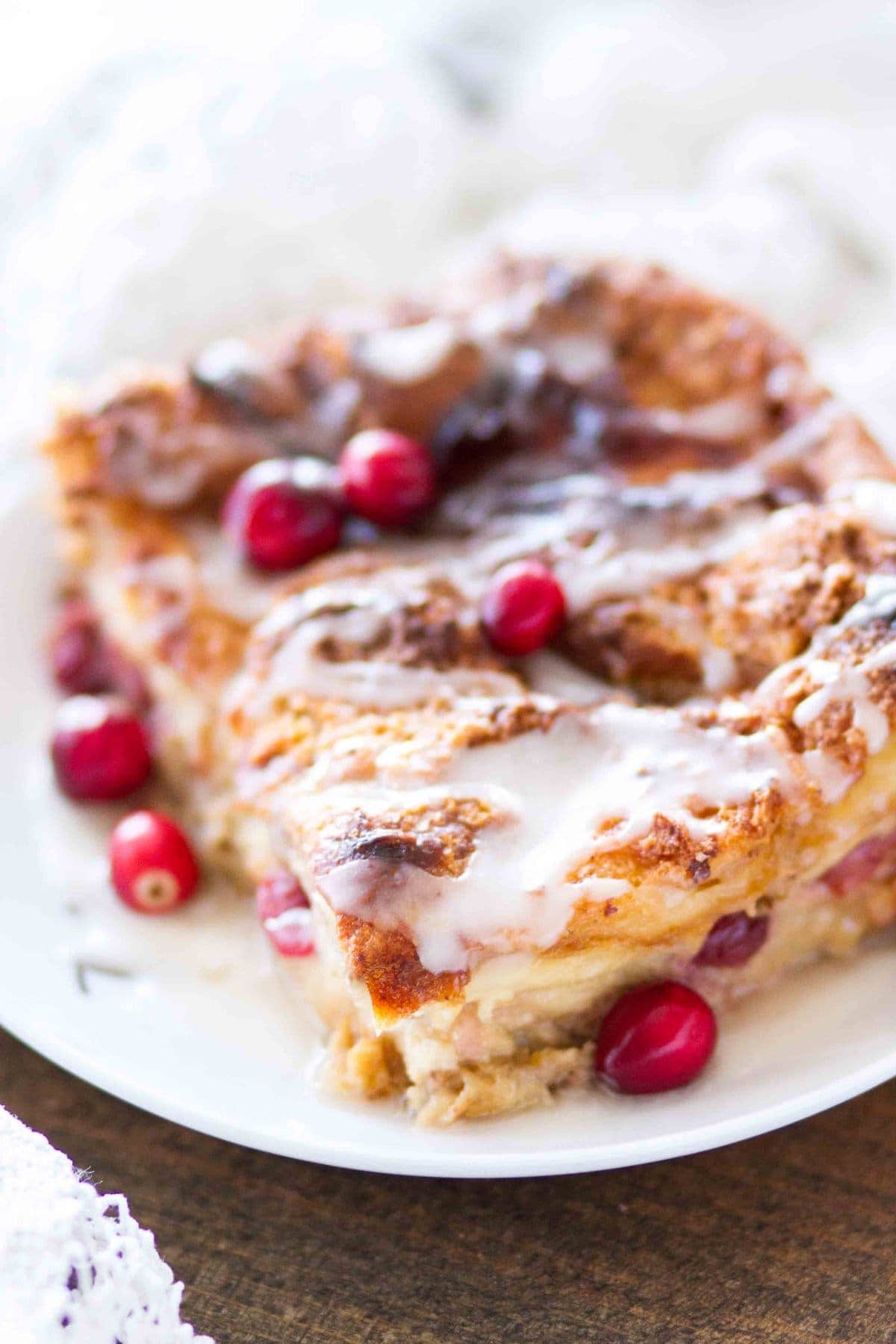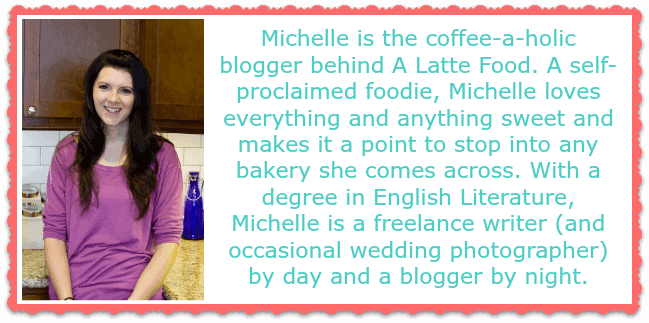 Connect with Michelle here!
Facebook ~ Pinterest ~ Instagram ~ Twitter
More from A Latte Food:
Here are some other recipes: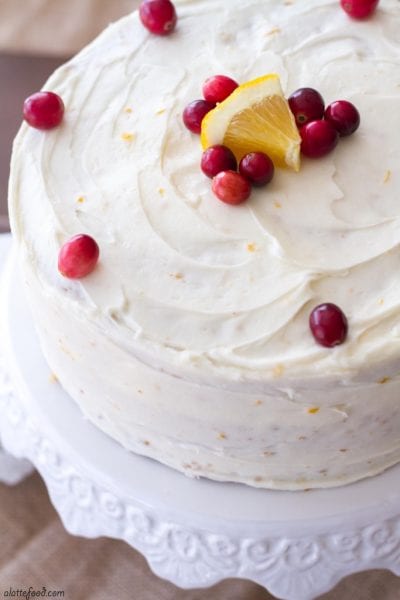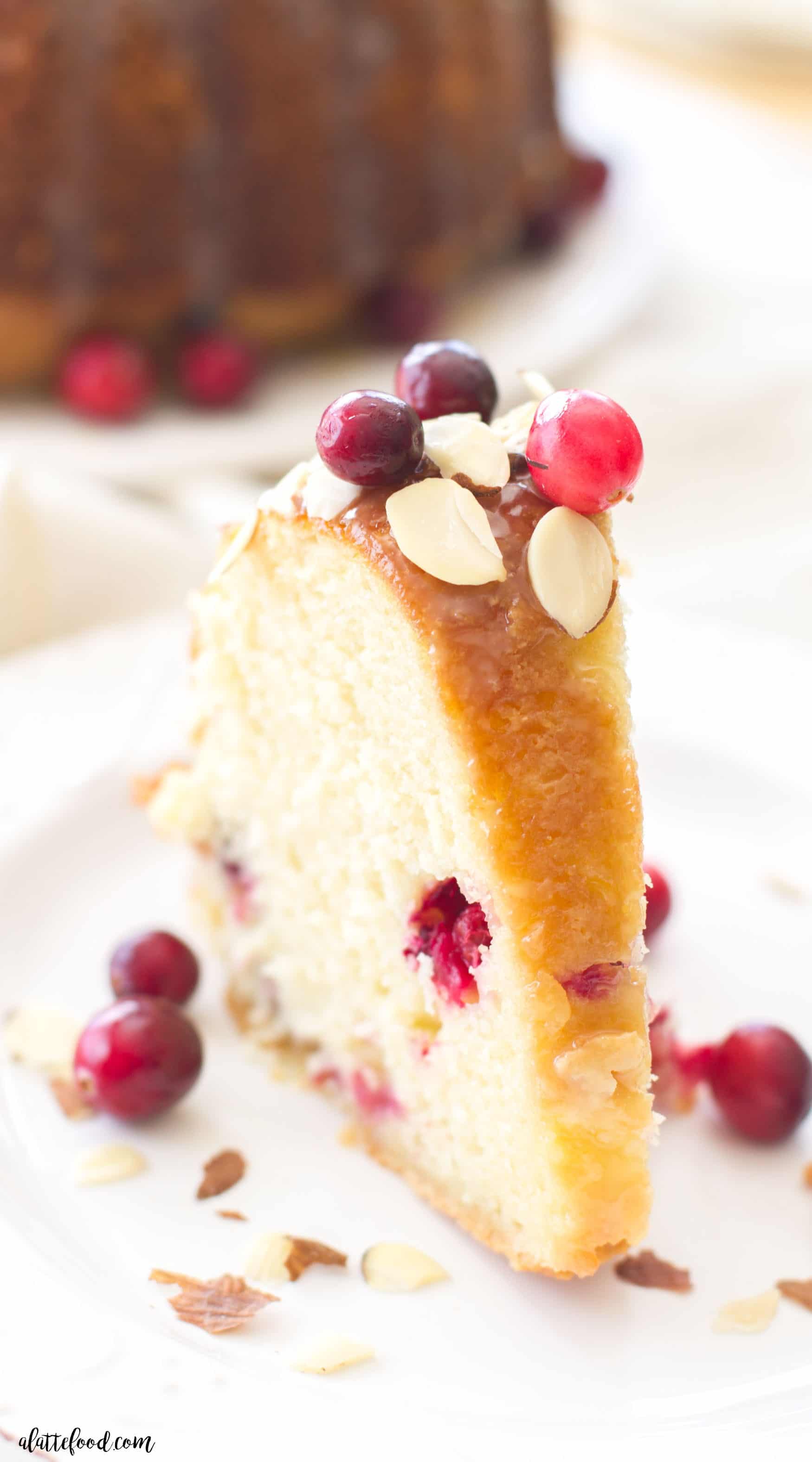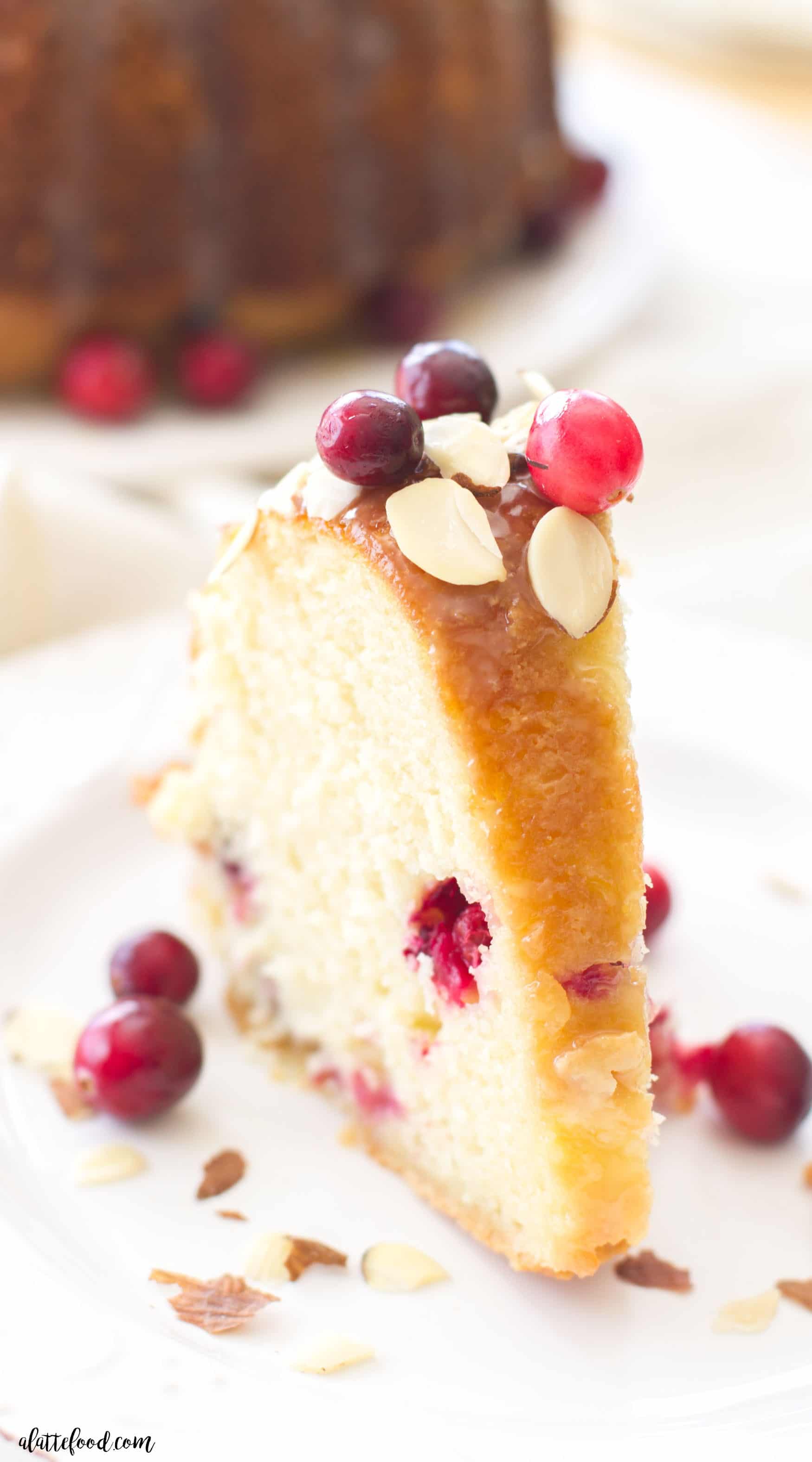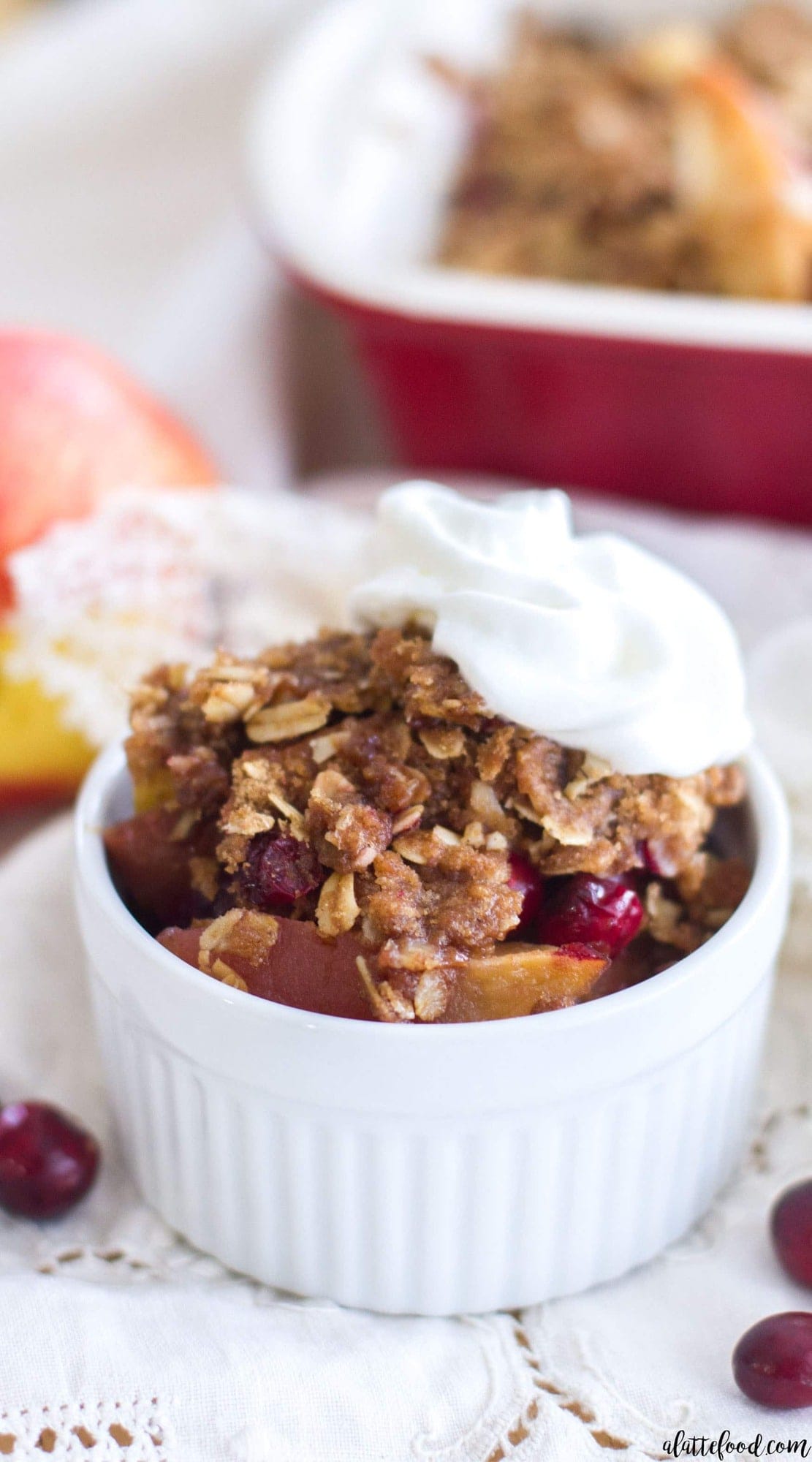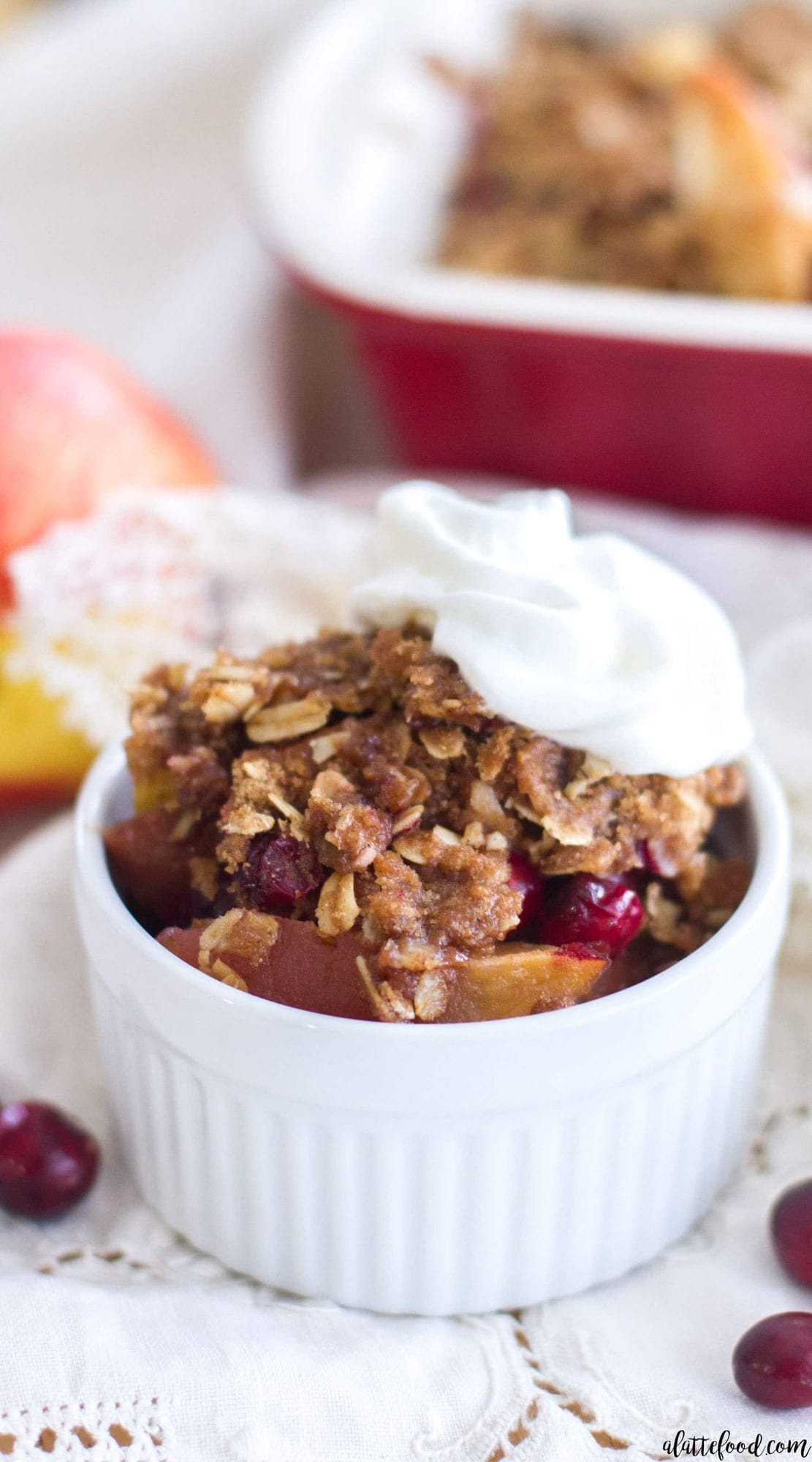 SaveSave
SaveSave