Easy Meatball Stuffed Shells Recipe
Easy Meatball Stuffed Shells Recipe ~ Quick, Easy Delicious Dinner! Shells Stuffed with Meatballs then Smothered in Spaghetti Sauce and Cheese!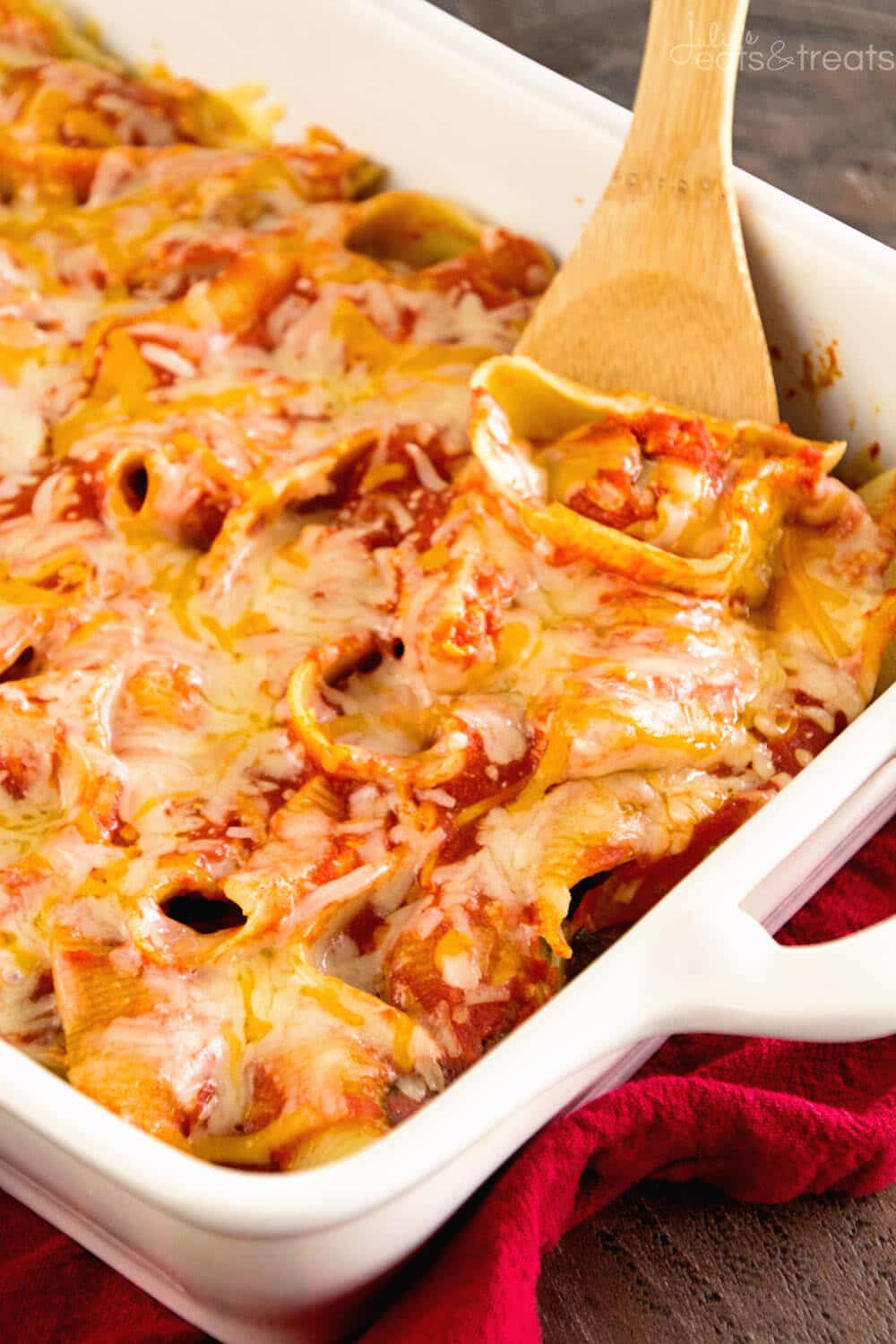 Farming. It's a lifestyle that's for sure. One that I am quite comfortable with having grown up on a grain farm in west central Minnesota. My childhood memories consist of riding in tractors, picking rock and listening to farm talk over the dinner table more often than not. It was how things were and I never thought anything of it. Now I realize that not everyone talks about spraying, harvesting and if it's going to rain every single night as you eat dinner. Not everyone tells their father to get back out in the field to get the corn out of the field before the snow storm comes the next day instead of coming to a band concert or volleyball game or awards night. Not everyone plans their weddings around certain seasons in case they are in the field. You know what though? I've never seen such passion for a job as what my dad has when he farms. The man has never done anything but farm. That's how he grew up and he knew that was his passion. His future and he was going to do everything he could to make it.
Was it easy? Oh no, anything but easy I would describe it. I wasn't aware of the struggles, as children shouldn't be, that my parents went through when we were young. But they did it, they took that passion and made it into something to be proud of. At least I think it's something to be proud of. Now my little brother is the next one in line to be the farmer in the family and he's making me proud. Even though my husband doesn't farm he still gets in on some of the action, which includes harvest mainly. Therefore right now he's dashing off to the tractor after work to assist as much as he can. Does it suck? Yup, sure does. Do I want to complain? Yup, sure do. Do I want to scream, holler and say get home because we'll two little ones can make for a long night. Yes, I'm human. For the most part I shut my trap and I don't say much or I try not too. I may sigh a little as he tells me his plans, but I know it needs to be done and I send him off to the field, just like I did with my father when the guilt got to him and he said he should come to my activities. It's only for a few weeks and if we can pitch in and make Dad's and brother's life a little bit easier and less stressful then it's worth it. Plus, the girls love those rides in the tractor and eating supper in the field when we visit. I'm hoping to instill those memories in them just like I have.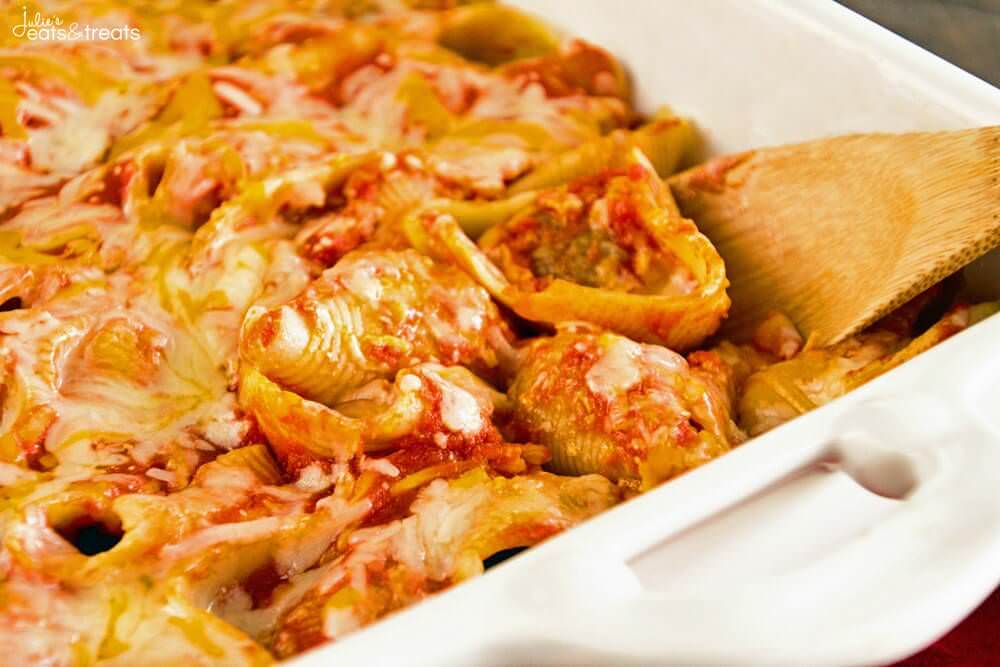 Speaking of dinner in the fields, Mom is often caught cooking and baking up a storm this time of year to feed the hungry workers. This often includes a phone call to me asking if I've got any new "field friendly "meal options on the blog because she just can't make that same casserole again. Well here you go Mom! I've got another one for you that the guys are sure to love and so are you because it's like ridiculously easy. We all love that right? Cheese, Spaghetti Sauce, Pasta and that's about it! Oh, don't forget the garlic, because well we love us some garlic!
You might like my Manicotti recipe, too!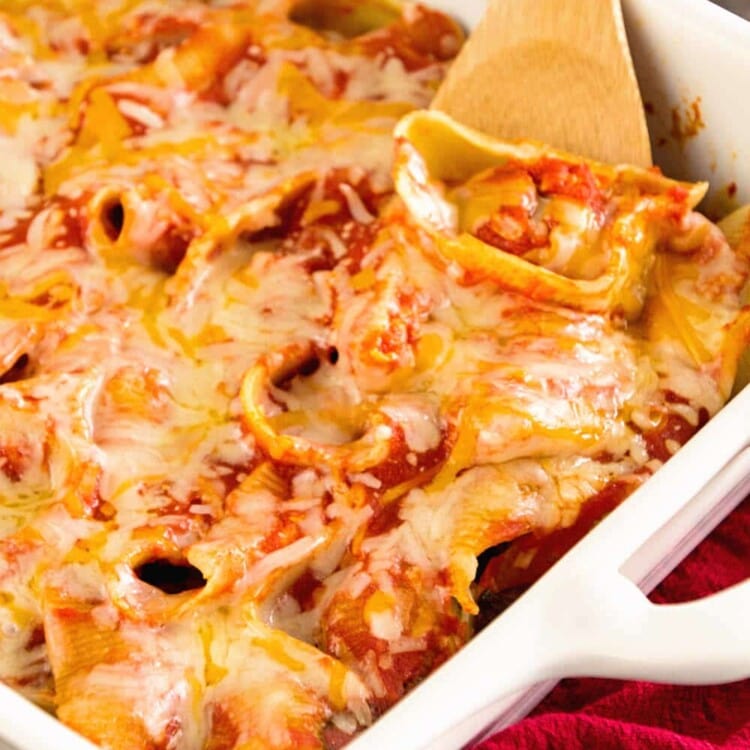 Easy Meatball Stuffed Shells Recipe
Quick, Easy Delicious Dinner! Shells Stuffed with Meatballs then Smothered in Spaghetti Sauce and Cheese!
Ingredients
36

uncooked jumbo pasta shells

1

24 oz jar spaghetti sauce

36

frozen fully cooked Italian style meatballs

thawed

2

c.

4 State Sargento Cheddar Cheese

3

garlic cloves minced
Instructions
Preheat oven to 350 degrees.

Prepare shells according to package directions. Drain and rinse in cold water.

Spray a 13x9 in. baking dish with non-stick cooking spray. Spread 1/2 c. spaghetti sauce on the bottom of the dish. Spread garlic over the spaghetti sauce.

Fill each shell with meatball and place in baking dish. Top with remaining sauce and sprinkle cheese over the top.

Cover dish with tinfoil and bake 35 minutes. Uncover and bake an additional 3-5 minutes longer until cheese is bubbly and melted.
Nutrition Information
Calories:
719
kcal
(36%)
,
Carbohydrates:
37
g
(12%)
,
Protein:
40
g
(80%)
,
Fat:
44
g
(68%)
,
Saturated Fat:
23
g
(144%)
,
Cholesterol:
143
mg
(48%)
,
Sodium:
540
mg
(23%)
,
Potassium:
431
mg
(12%)
,
Fiber:
1
g
(4%)
,
Sugar:
1
g
(1%)
,
Vitamin A:
790
IU
(16%)
,
Vitamin C:
1.1
mg
(1%)
,
Calcium:
593
mg
(59%)
,
Iron:
1.9
mg
(11%)