Meatball Sub Recipe ~ Perfect for Quick Dinners! Take a Bun and Stuff it with Meatballs, Top it with Spaghetti Sauce, Mozzarella, Cheese and Parmesan!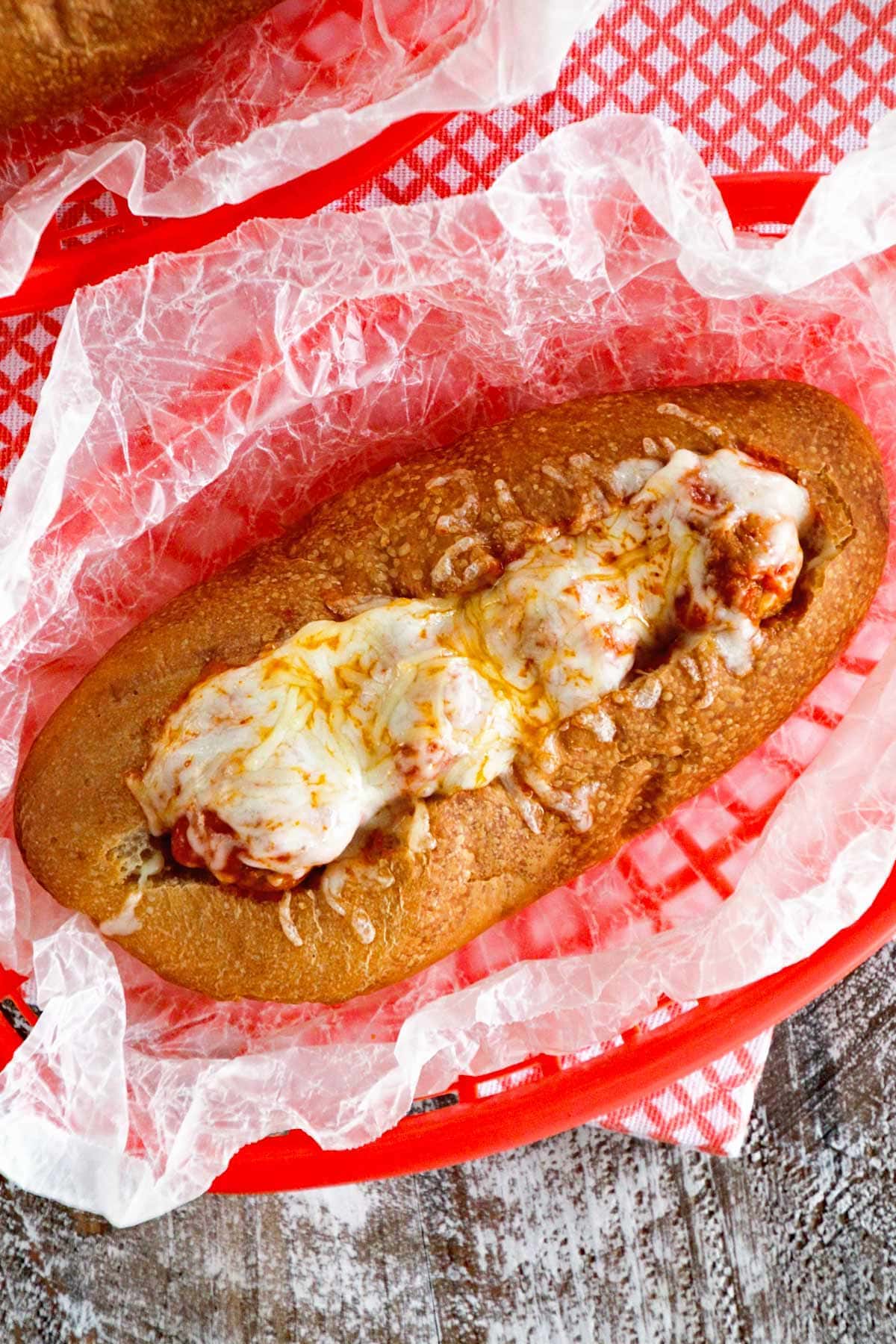 My husband gets crazy happy every time time he sees me thawing out meatballs. I've never ever seen a man get that happy when he sees meatballs. It sometimes scares me. Does your hubby ever do things like this or am I just blessed? Especially when I stuff them in a bun, smoother them with Mozzarella and Parmesan cheese and Spaghetti Sauce! There you have the makings of a delicious meatball sub that is sooooooo easy!
I really shouldn't complain because it wouldn't be fun to make supper night after night and no one ever showed thanks for it!
I mean it's bad enough that I have to make supper Every. Single. Night. In fact I might have just been complaining about this to my mom tonight. Sometimes I just want to come home, sit on the couch, snuggle Miss K relax. Like the hubby. I'm jealous. Often.
Instead I'm running around getting supper on the table. When I'm in a pinch a few of my favorite easy dinner recipes are Hamburger Stroganoff, Pressure Cooker Spaghetti, and Meatball Sub Casserole!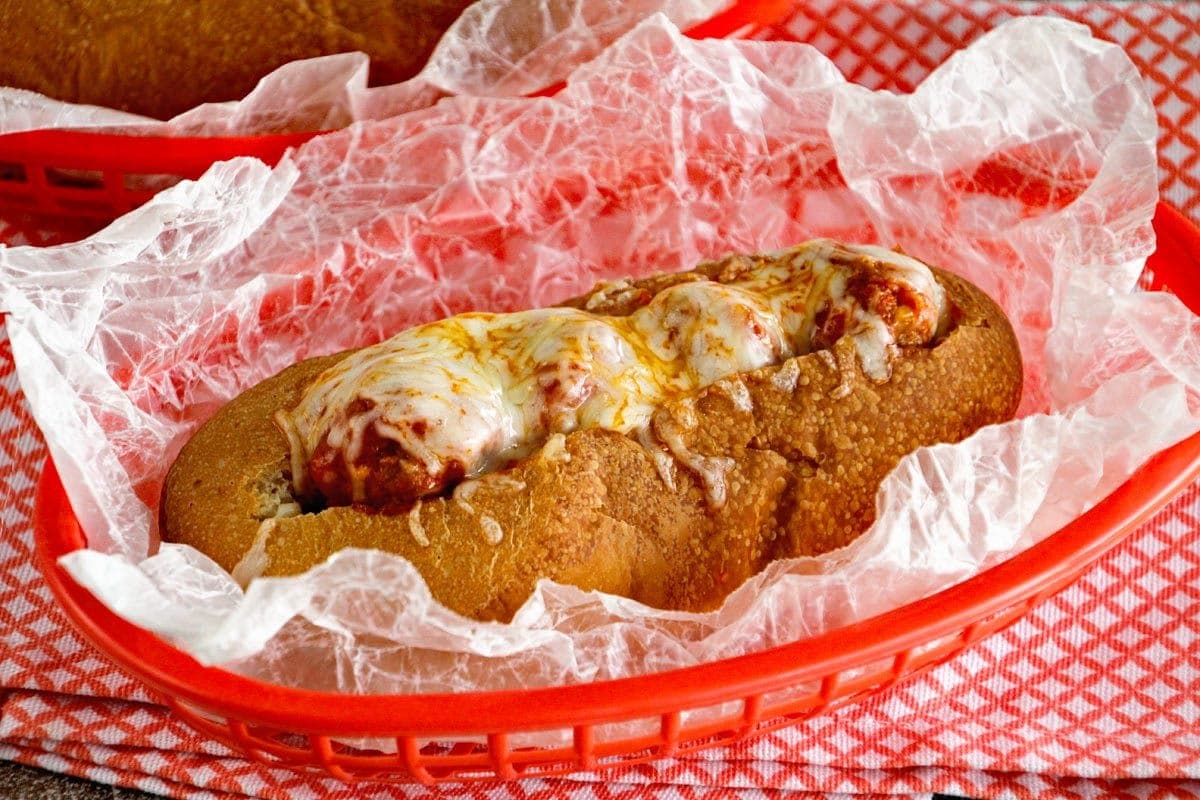 One night I was on the couch when he got home and I asked him if he wanted grilled cheese for supper with leftover soup. He said that was fine. Then I looked at him and said great you can make it. Gasp. I thought his eyeballs were going to fall out of his head. To his credit he did it with minimal complaints and that was the best dang grilled cheese ever. It's always better when someone else makes it isn't it?
Ingredients for Meatball Sub Recipe!
Hoagie 

Buns

Precooked, frozen meatballs

Spaghetti Sauce

Mozzarella cheese shredded

Parmesan cheese, shredded
I think it's simply because you didn't have to make it, right? You cold seriously feed me mac and cheese out of the box and if I didn't have to make it I'd think it was a gourmet meal! And, trust me, I have nothing against that boxed mac and cheese, especially the stuff in the blue box.
A girl has to have her vices right?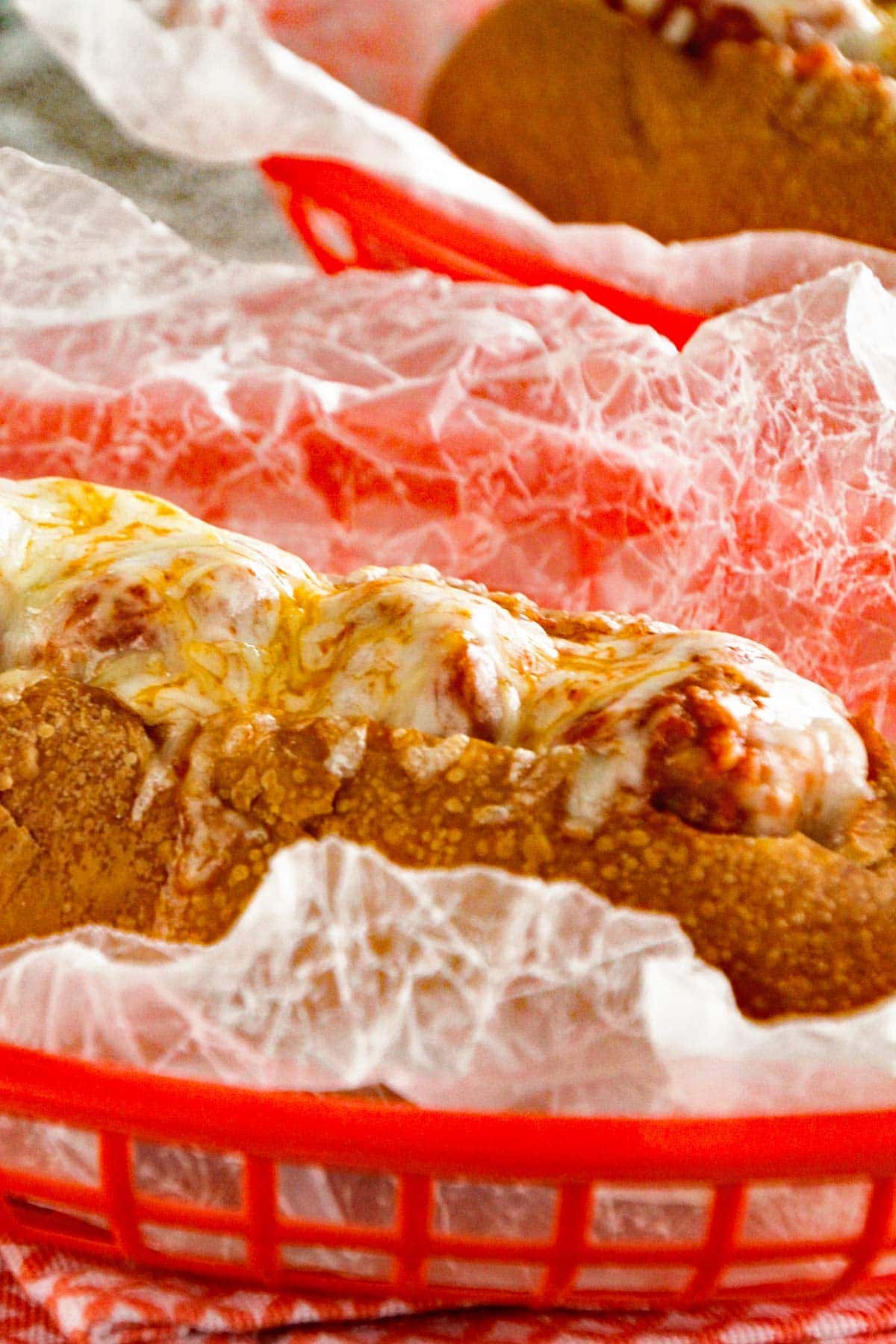 Oh are you surprised that I don't make an awesome meal every night? Did I have you buffaloed? Sorry! I'm lazy just like every one else! I'm always looking for the next easy dinner recipe that requires the least amount of work and thinking possible.
In fact I have people follow me around the grocery store to see what I'm going to be making this week. Hey, small town Minnesota people. It's not creepy. I promise, well maybe a bit!
I'm almost embarrassed when they catch me throwing convenient meals in my cart!
That's why I love that these meatball subs come together super quick and easy, probably easier that those convenient meals in a box I just referred too! And when it's a night where I'm not feeling like cooking those are always welcome recipes!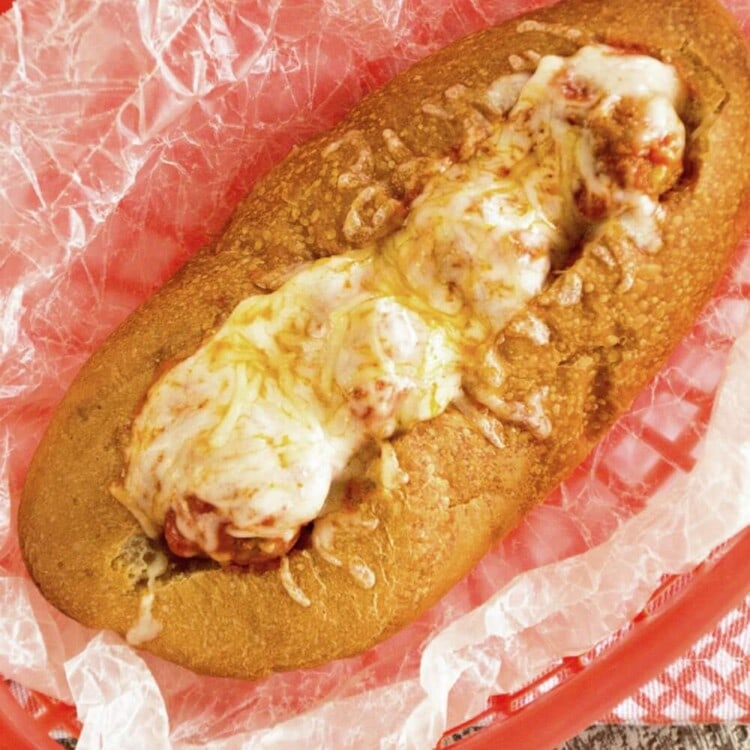 Meatball Sub
Perfect for Quick Dinners! Take a Bun and Stuff it with Meatballs, Top it with Spaghetti Sauce, Mozzarella, Cheese and Parmesan!

Ingredients
6

Buns

1

lb

precooked

frozen meatballs, thawed

1

Jar Spaghetti Sauce

2

c.

Mozzarella cheese shredded

1/4

c.

Parmesan cheese

shredded
Instructions
Put meatballs in a saucepan and cover with spaghetti sauce. Cook until the meatballs are heated all the way through.

Place 5-6 meatballs in each bun. Cover with spaghetti sauce. Top with mozzarella and Parmesan cheese. Place on baking sheet.

Turn broiler on. I set mine to high. Let warm up about 5 minutes. Place baking sheet with subs in oven on top rack. Broil until the cheese is melted all the way through and bun is starting to brown. Watch carefully as it will go from melting to burnt in a few seconds!
Nutrition Information
Serving:
1
,
Calories:
573
kcal
(29%)
,
Carbohydrates:
63
g
(21%)
,
Protein:
29
g
(58%)
,
Fat:
22
g
(34%)
,
Saturated Fat:
12
g
(75%)
,
Cholesterol:
69
mg
(23%)
,
Sodium:
1640
mg
(71%)
,
Potassium:
577
mg
(16%)
,
Fiber:
5
g
(21%)
,
Sugar:
11
g
(12%)
,
Vitamin A:
1185
IU
(24%)
,
Vitamin C:
9.2
mg
(11%)
,
Calcium:
547
mg
(55%)
,
Iron:
13.4
mg
(74%)