Easy Pecan Pie Bars ~ Delicious, Buttery Pecan Pie Bar Recipe with a Cake Mix Crust, Gooey Middle and Loaded with Pecans! This Recipe Will Be Your New Favorite For the Holidays!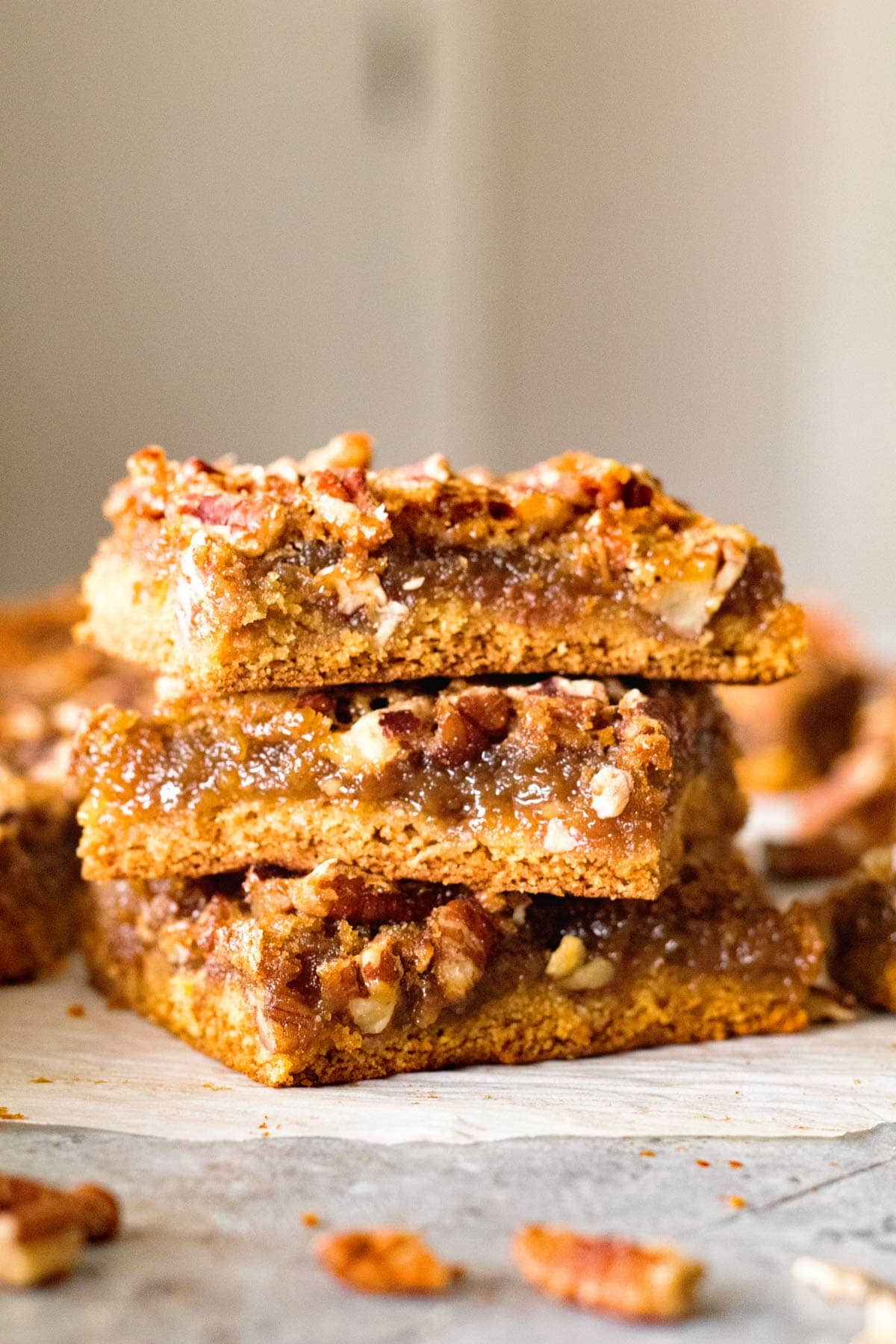 The holidays are quickly approaching and I'm so excited for all the goodies! I mean, you expected that, right? The thing is I'm all about the easy tricks for treats. I'm not going to slave over a dessert all day to impress you. I'm going to get it done in record time and you'll still be impressed because it's going to taste like I've slaved over it all day, but I'll still make time for that nap.
Just kidding. That would be amazing, wouldn't it?
That's why I LOVE these easy Pecan Pie Surprise Bars. You won't catch me making a from-scratch pecan pie, but instead this pecan pie bar recipe that has an amazing cake batter crust. I'm one of those people that really hates pie crust! I'd take a cake batter crust over pie crust any day of the week.
Now, I actually love this Chocolate Pecan Pie, but I'm still going to pick these bars with a cake batter crust, gooey center and of course, a topping of pecans when faced with a choice. If I was really craving the chocolate and wanted to mix up things, I would even throw in a few chocolate chips!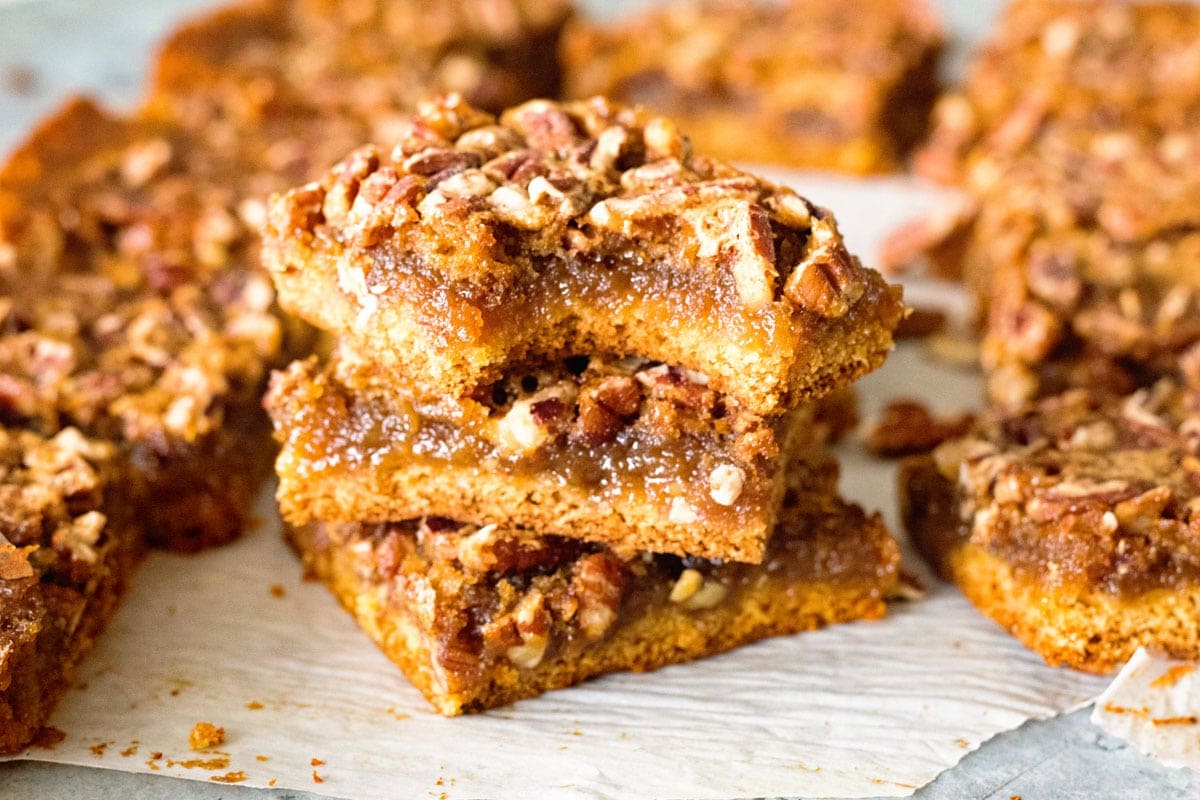 When we remodeled our home—well, let's be honest, we gutted our home—I got to do a little remodeling to make my kitchen fit my needs better. One of the top priorities on that list was two ovens because I knew as we started to host holidays and entertain, they were going to be a necessity to make my life easier.
I had watched my mother struggle with one oven for years when she entertained. She pretty much needed a flow chart due to the timing of all the dishes that needed oven time. I was going to do everything in my power to avoid dealing with this struggle. Plus, have you ever made a batch of cookies when you have two ovens? AMAZING. You are done in no time at all!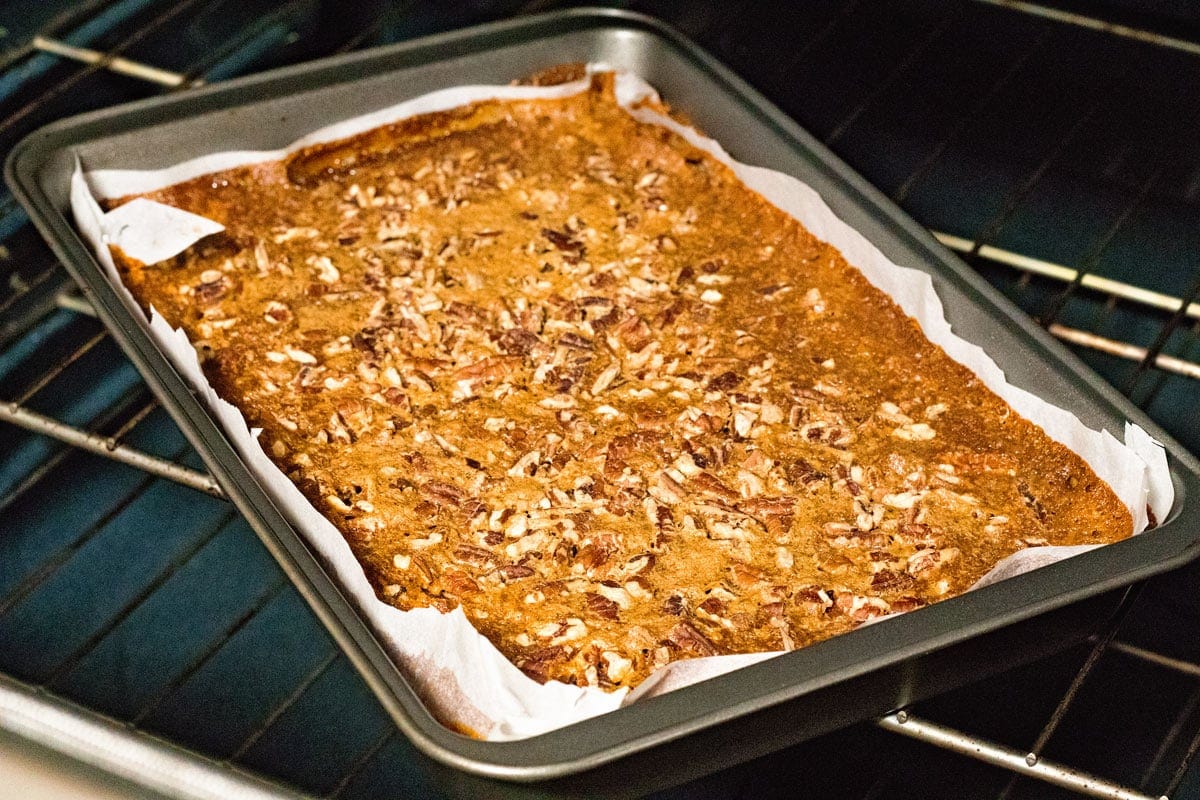 While appliance shopping, I fell in love with the Slate color from GE Appliances. I was totally sold, plus it's a brand I knew I trusted.
My friends, I haven't been let down once! These ovens run like a charm and leave me feeling accomplished in the kitchen.
Every woman's goal is to feel accomplished in the kitchen without much effort, right?
These GE ovens are my favorite tool to help me achieve that goal. And these easy Pecan Pie Surprise Bars are the perfect example of an effortless achievement in the kitchen. The best part is I bet you have most of the ingredients, if not all, in your pantry right now for the recipe!
Ingredients Needed for Easy Pecan Pie Bars!
Pillsbury™ Moist Supreme™ Yellow or Butter Recipe Yellow Cake Mix

Butter

Eggs

Brown sugar

Dark corn syrup

Vanilla

Eggs

Chopped pecans
That's right, only eight ingredients and you have a pan of freshly baked Pecan Pie Bars! Keep scrolling for the recipe!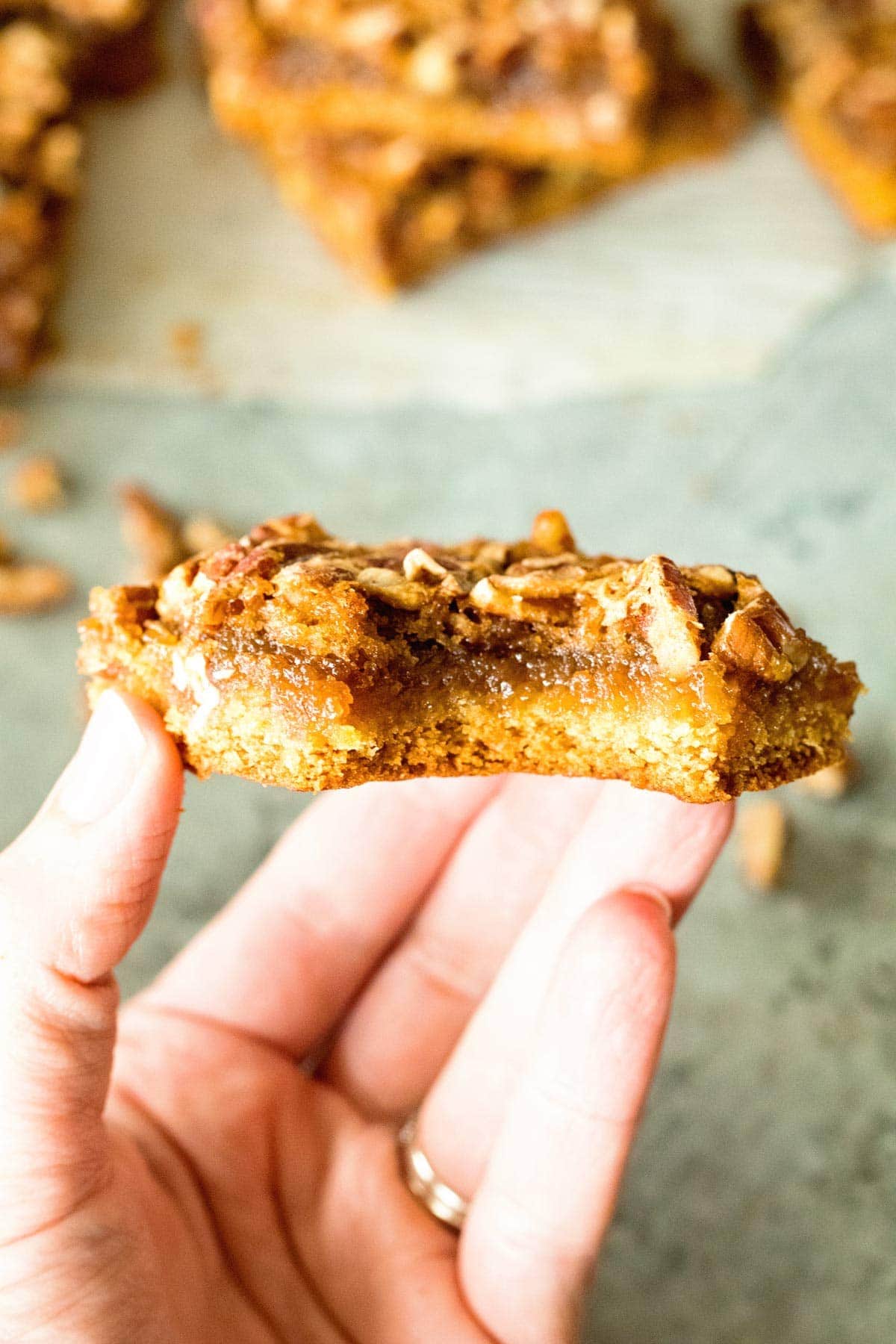 Now that I have you feeling so inspired to take on your kitchen and bake all the things I'm going to let you in on a little secret: this recipe was a finalist in the Pillsbury Bake-Off® Contest in 1971! The original recipe was submitted by Pearl Hall from Washington, and I've brought them back in honor of Pillsbury's recent announcement that the contest is back!
Stay tuned to find out who will win the grand prize of a kitchen makeover from GE Appliances and $50,000 in cash, plus the winner will appear on an episode of The Kitchen and in Food Network Magazine! How amazing does that sound?
Even though you can no longer enter to win the contest, you CAN make these pecan pie bars and win rave reviews at Thanksgiving!
Tools to Make Pecan Pie Bars:
FIND THE RECIPE ON PILLSBURY.COM
This is a sponsored conversation written by me on behalf of Pillsbury. The opinions and text are all mine.