Got the munchies? Whip up this super easy Butterscotch Popcorn for a yummy treat! You'll be eating this Homemade Popcorn Recipe whenever you are craving an easy sack recipe! I love that it only takes a few ingredients and requires no baking. For a quick shortcut, pop it in the fridge to cool, so you can enjoy it faster. We love this recipe when we are enjoying a movie night at home, but you can make it for whatever occasion you want!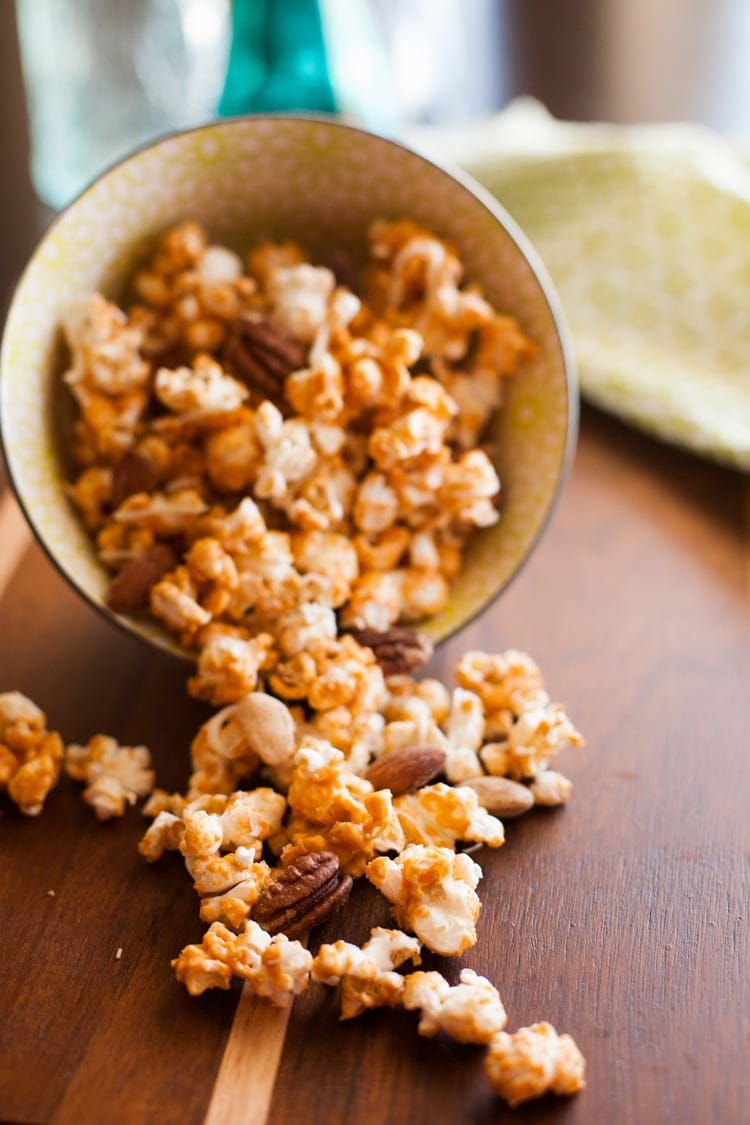 Butterscotch Popcorn
Popcorn is one of the most versatile foods around! You can use it to make all kinds of snacks, like Caramel Corn, yum! Basically, you can put ANY kind of flavor on popcorn, and it will be good!
This Butterscotch Popcorn is about the easiest treat you could make. Some popcorn treats require you to bake them in the oven and stir them every ten minutes or so. Or you have to mix up a sugar syrup on the stove and pour it all over the popcorn.
Here, all you'll need is a microwave. That's it. No baking. No stirring every ten minutes. Let me show you how easy this Butterscotch Popcorn is to make.
How to Make Homemade Popcorn with Butterscotch
All you need for this recipe is some popped popcorn, butterscotch and white chocolate chips and coconut oil! You can either buy your popcorn already popped, or make your own. I used an air popper to make mine, and I used Orville Redenbacher popcorn.
Just 1/4 cup of these kernels gave me over eight cups of popped popcorn!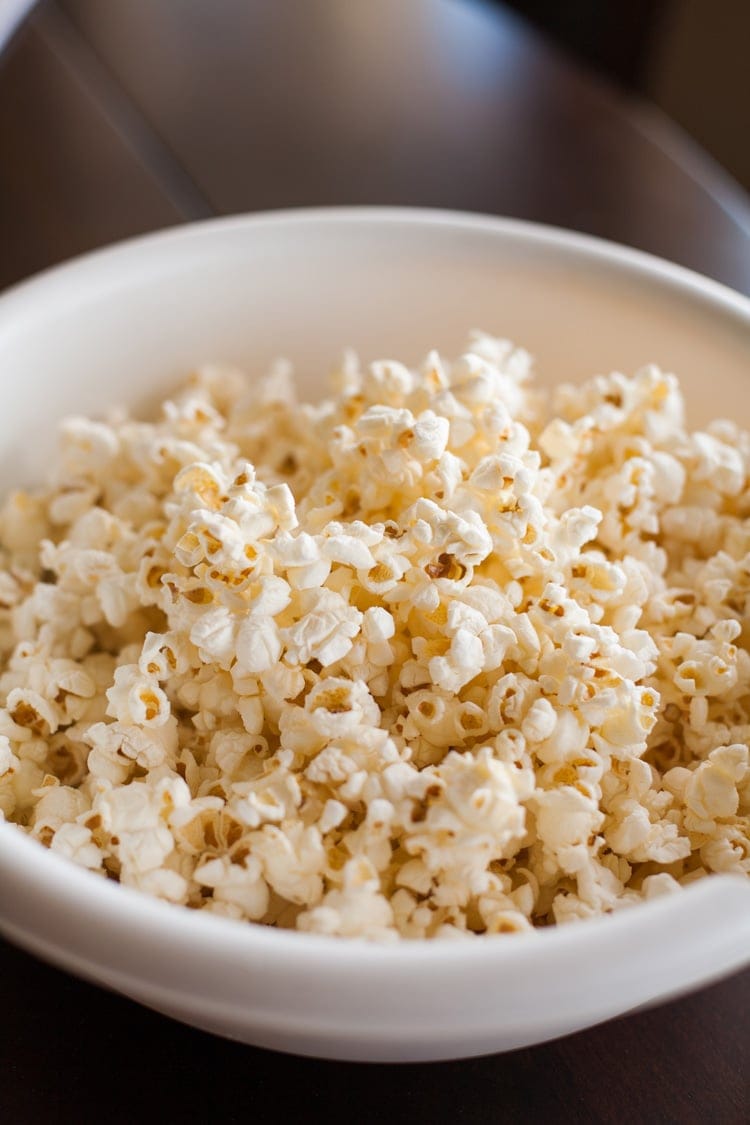 Homemade Popcorn
At this point, you can add butter and salt if you like, but I just left mine naked. Then I melted one cup of butterscotch chips in the microwave. I just set the microwave to cook for thirty seconds, then stirred the chips. I repeated this about three times until the chips were all melted.
At that point, I felt like the melted butterscotch chips were a little thick, so I added one teaspoon of coconut oil. It melted right away and I was able to easily stir it in. I used coconut oil instead of any other type of oil because it is solid at room temperature. I wanted it to help harden the butterscotch up when it cooled.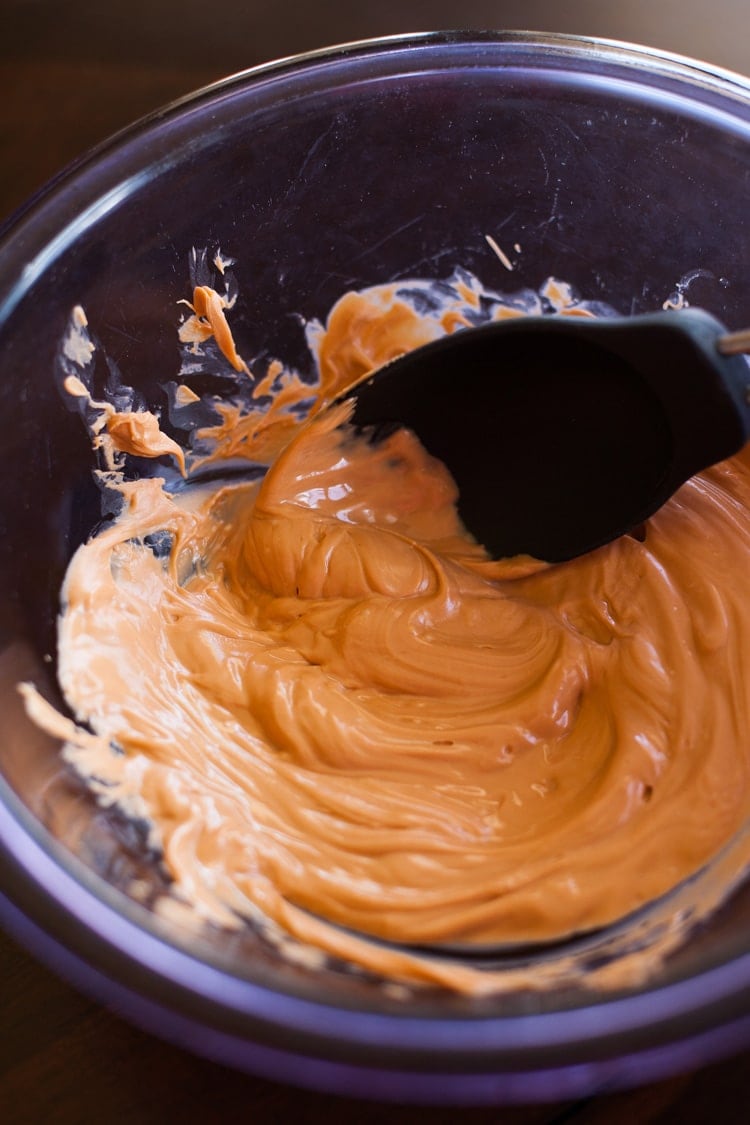 I poured the melted butterscotch chips over the eight cups of homemade popcorn and stirred it all together, trying to evenly distribute the melted chips.
Grocery List for Homemade Popcorn with Butterscotch
popcorn
butterscotch chips
white chocolate chips
salted mixed nuts
coconut oil
parchment paper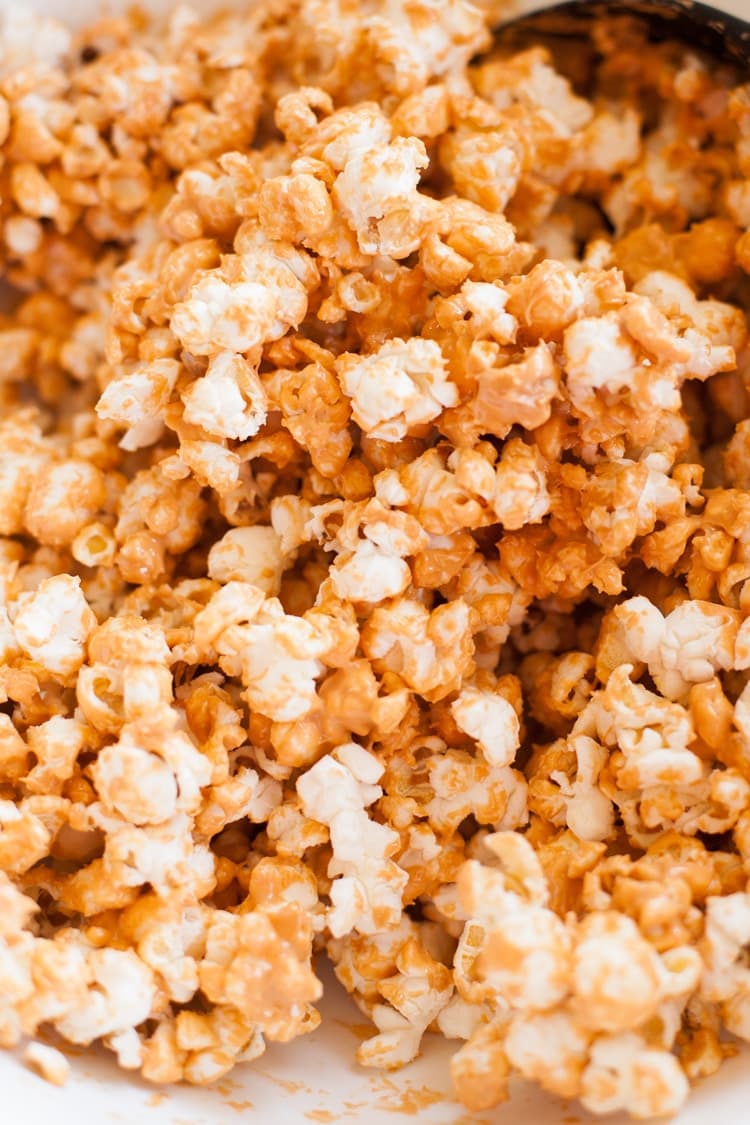 Then I poured it out of the bowl onto a cookie sheet that had been lined with waxed paper. You could also use parchment paper, silicone mats, or aluminum foil lightly sprayed with cooking spray.
At this point, you could just let the popcorn sit at room temperature and let it cool and harden. But I wanted to make it a little more special, so I decided to drizzle some melted white chocolate over the top. I just melted 1/4 white chocolate chips, then poured it into a plastic sandwich bag and snipped a small hole in the corner. Then I squeezed the melted white chocolate over the top of the popcorn.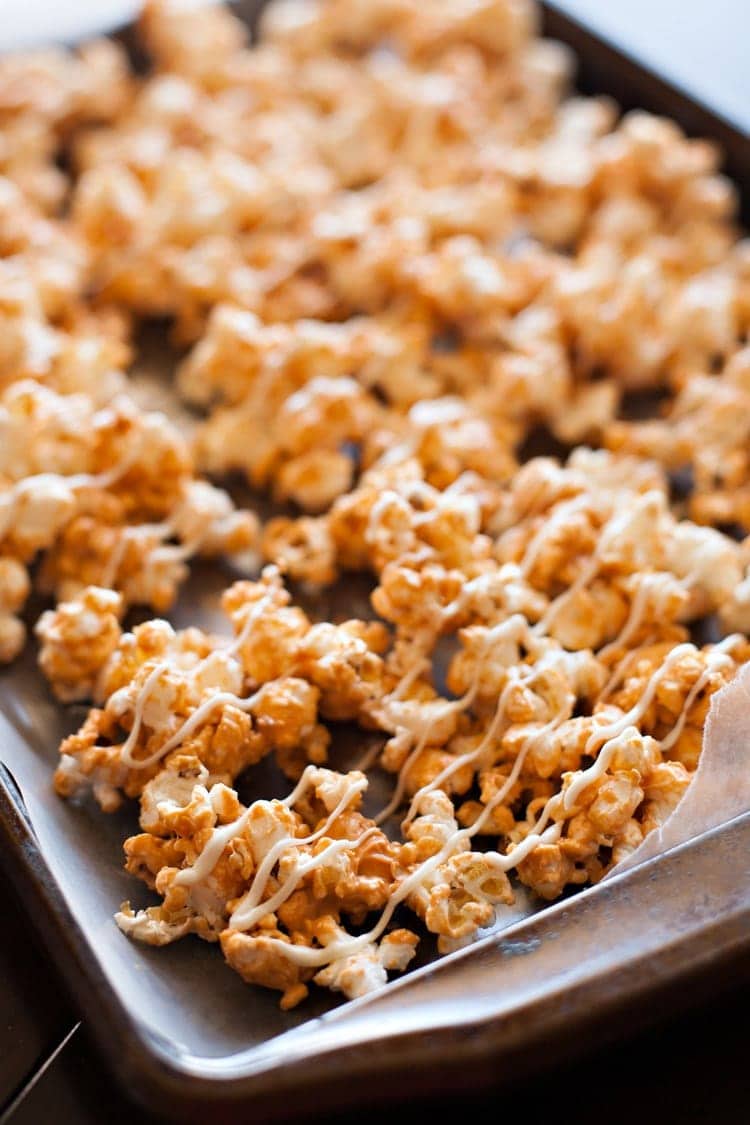 Now, because I am impatient, I put the popcorn into the refrigerator so it would harden up more quickly. Once the butterscotch and white chocolate drizzle were hardened, I broke up the pieces and added some salted mixed nuts. (This is optional, but makes it super tasty!)
Steps to make Homemade Popcorn with Butterscotch
pop the popcorn add to a large bowl
combine the butterscotch chips with coconut oil and melt in the microwave
pour the melted butterscotch over the popcorn, mix well.
spread onto a lined cookie sheet and drizzle with melted white chocolate
allow to cool completely
break into chunks, add mixed nuts if desired, enjoy!!!
Now you have a great party snack or gift idea! If you want to give this Homemade Popcorn away, you can package it up in cute little cellophane bags and tie them with a ribbon.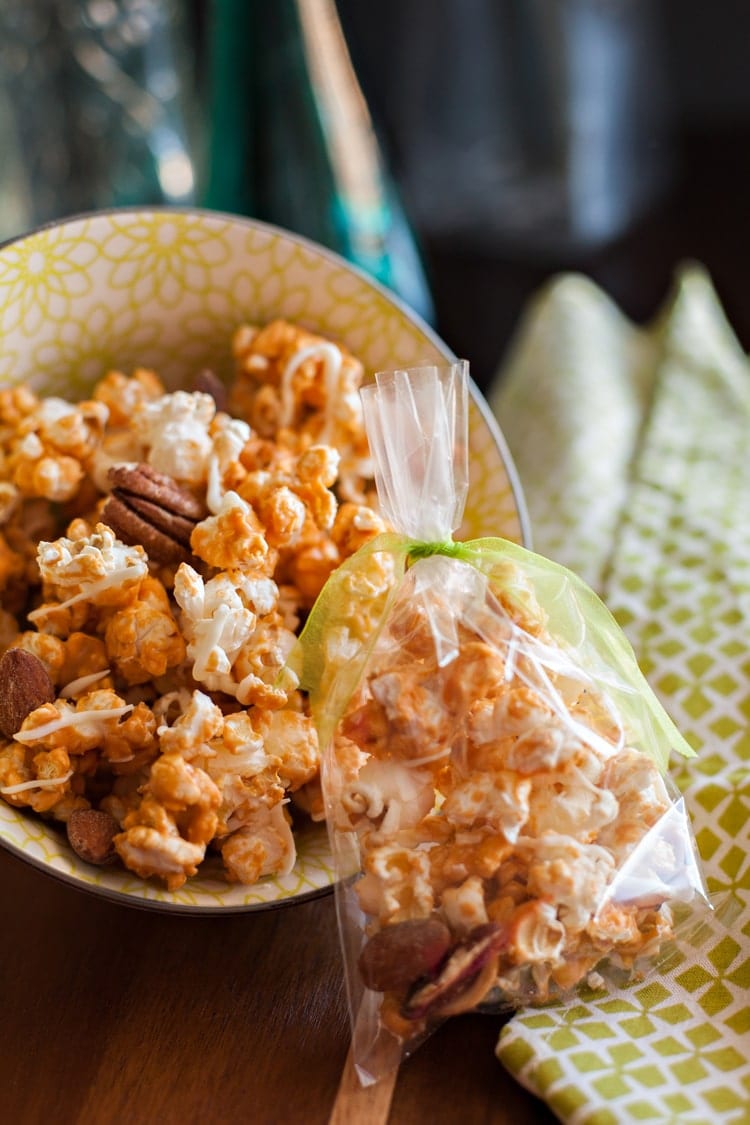 You can't get much easier than this! The next time you want a great snack or cute gift, whip up this Butterscotch Popcorn!
More great popcorn recipes!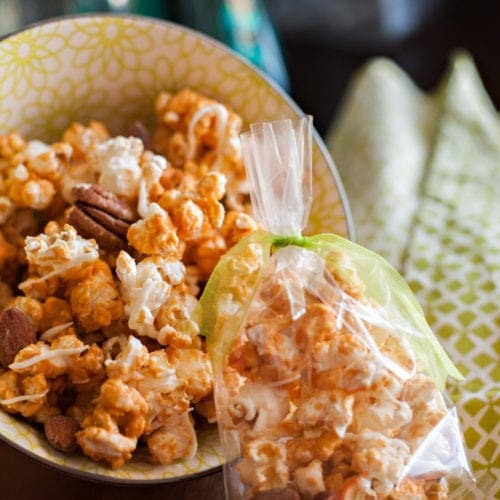 Butterscotch Popcorn
Super easy and quick Butterscotch Popcorn made with only two simple ingredients!
Print
Pin
Rate
Ingredients
8

cups

popped popcorn

(about 1/4 cup popcorn kernels)

1

cup

butterscotch chips

1/4

cup

white chocolate chips

1

teaspoon

coconut oil

1

cup

salted mixed nuts

optional
Instructions
Pour eight cups of popped popcorn into a large bowl

Melt the cup of butterscotch chips in the microwave in thirty-second increments, stirring after each thirty seconds.

When chips are completely melted, add 1 teaspoon of coconut oil to thin, if desired. Stir until coconut oil is mixed in.

Pour the melted butterscotch chips over the popcorn and stir.

Pour the popcorn out onto a lined cookie sheet. (You can line your cookie sheet with waxed paper, parchment paper, silicone mats, or aluminum foil lightly sprayed with cooking spray).

Drizzle with melted white chocolate chips.

Allow the popcorn to cool completely. To speed cooling, place in the refrigerator if desired.

Before serving, break the popcorn into chunks.
Nutrition
Calories:
732
kcal
|
Carbohydrates:
143
g
|
Protein:
18
g
|
Fat:
10
g
|
Saturated Fat:
3
g
|
Cholesterol:
3
mg
|
Sodium:
99
mg
|
Potassium:
465
mg
|
Fiber:
20
g
|
Sugar:
21
g
|
Vitamin A:
0.4
%
|
Calcium:
1.9
%
|
Iron:
27.7
%
LEAVE A COMMENT