This Caramel Corn is the perfect amount of popcorn to caramel ratio! It's made in your oven and so delicious. This easy homemade caramel corn recipe is perfect for snacking on during family movie night, bringing to parties or making just because you are craving it! If you like this recipe you might also like our Butterscotch Popcorn!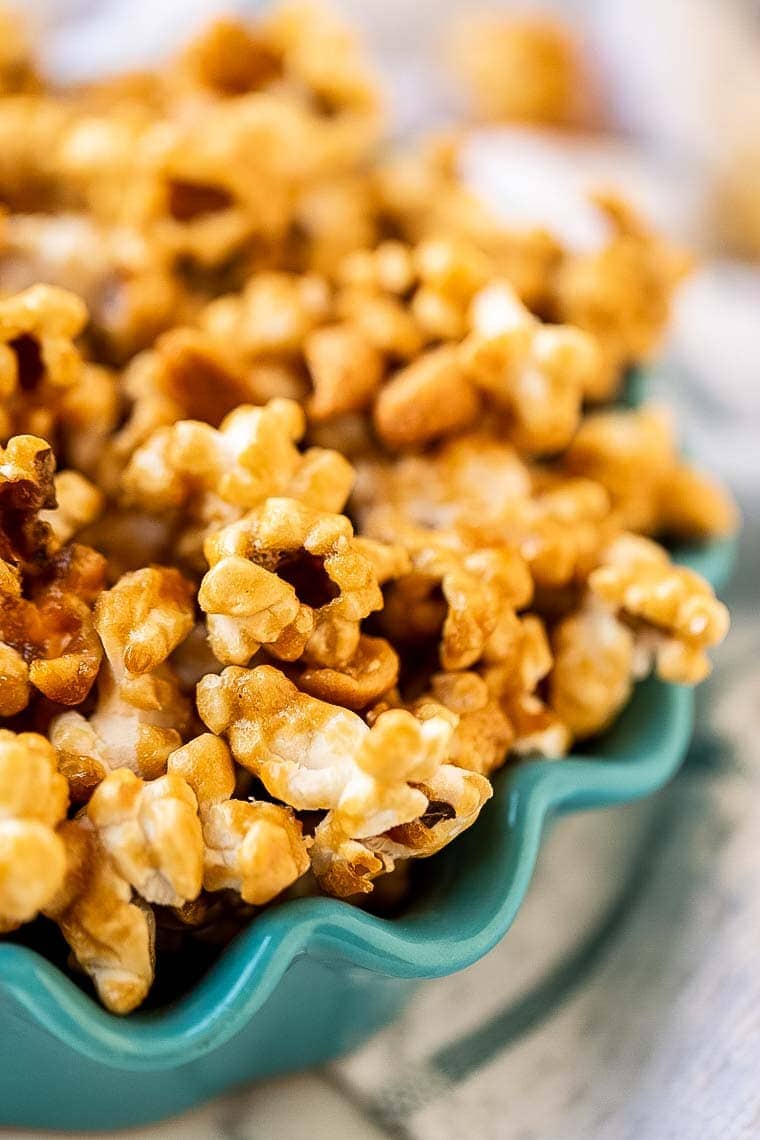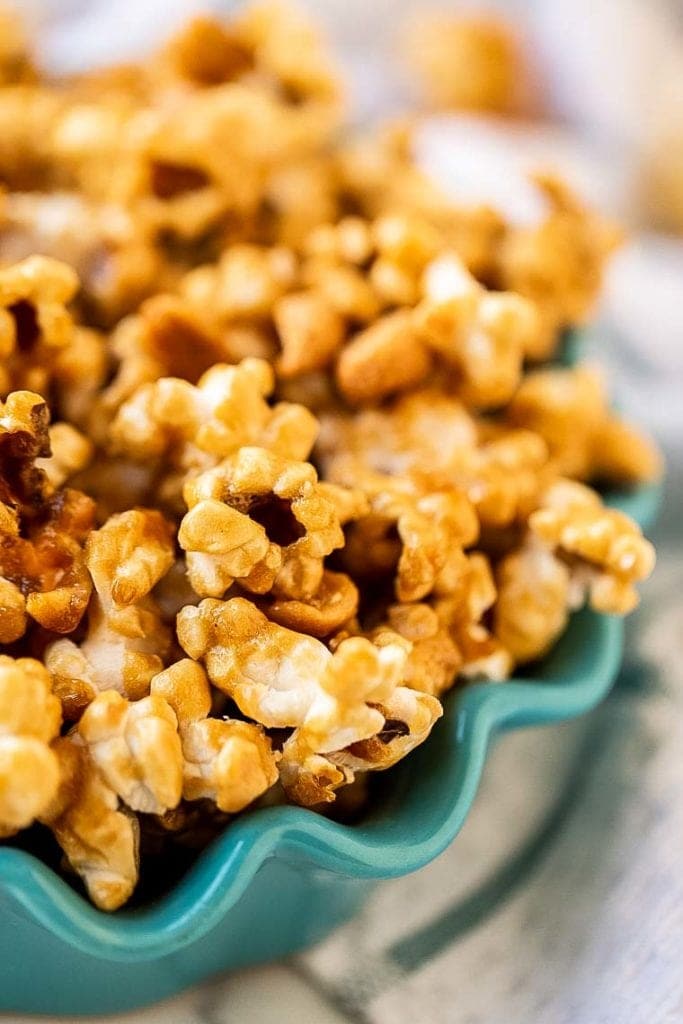 Caramel Corn
Winter time is made for the Lifetime Channel, blankets and warm socks! It's the best time to cuddle up on the couch with a big bowl of Slow Cooker King Ranch Chicken Soup or maybe mugs of hot chocolate, wouldn't you agree?  That's why this caramel corn is making an appearance. It's perfect for me and the kids to snack on and us to enjoy during these long cold months!!
I've been making this yummy treat around the holidays for years now. It makes a TON of caramel corn, but don't worry it won't last long. I always add peanuts but it's optional if you aren't nutty like me! This is quite the treat and I know, you're going to love it!
I have a couple recipes on the blog for homemade caramel corn like Microwave Caramel Corn and Cheesy Caramel Puff Corn. But this recipe is the classic! The only thing that's different is it's. not in a box with a toy inside! EVERYONE loves this treat!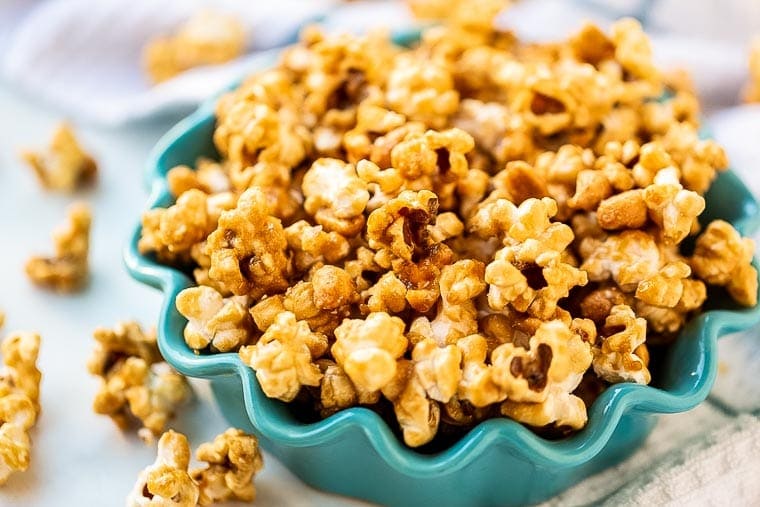 Caramel Corn Recipe
I always make this in my huge "Thatsa Bowl" from Tupperware. Love me some T-ware! It fills it plum full. I brought it out to Mom's on Thanksgiving and set it out after dinner and even after an amazing Thanksgiving meal it was gone by the time I left.
What does baking soda do for caramel corn?
The reason there is baking soda in the caramel is that it to reacts with the brown sugar and corn syrup. It creates tiny air bubbles. Once it's cooled the bubbles help the caramel to have a soft, crunchy texture!
How long does homemade caramel corn last?
Actually, it lasts for a long time. As long as two to three months! But seriously…. it probably won't last longer than 2 days. At least not in our home! ?
If you are looking for an easy and crowd-pleasing treat, you can't go wrong with this!
What do I need for Caramel Corn Recipe
Popcorn

 

Brown sugar
Butter
Light corn syrup
Salt
Baking soda
Vanilla extract
Salted peanuts
Homemade Caramel Corn
When making this Caramel Corn I have a serious problem.
That problem is once I start I can't stop eating it! Every time I walk by the bowl I grab a handful because, obviously, if you eat it one handful at a time it doesn't add up as quick if I just sat down with the entire bowl ?
Rationalization at it's finest!
How do you make caramel popcorn crispy again?
What if the worst thing happens…. and your treat gets soggy? Don't panic or toss it in the trash. Just spread it out on a sheet pan and tuck it back into the oven at 250 degrees. Stir every fifteen minutes and bake it until crispy.
You'll need to keep an eye on it. Because there is so much sugar it can burn.
The best way to store it is in a resealable plastic bag. Squeeze the air out of it, seal well and keep it in the pantry.
How do you make the best caramel corn?
Pop the popcorn.
Boil butter, syrup, brown sugar and salt in a saucepan.

 

Reduce heat and simmer stirring occasionally.
Remove from the heat. Next, add vanilla and soda. Toss thoroughly.

 

Add peanuts and toss again.
Pour mixture over popped popcorn.

 

Put the popcorn on jelly roll pans and bake in the oven at 250 degrees for 1 hour. Stirring every 15 minutes.
Cool on parchment paper.
Easy peasy, right?
This is so simple and so fun! All you'll need when this is done is a great movie to watch, trust me!
More Great Movie Night Snacks!
Oh yes, with all of these great eats, movie night is definitely ON!!!
Be sure and tag me on Instagram @julieseatsandtreats or #julieseatsandtreats! You'll love this as much as we do I'm sure! Leave a five star rating below and let me know!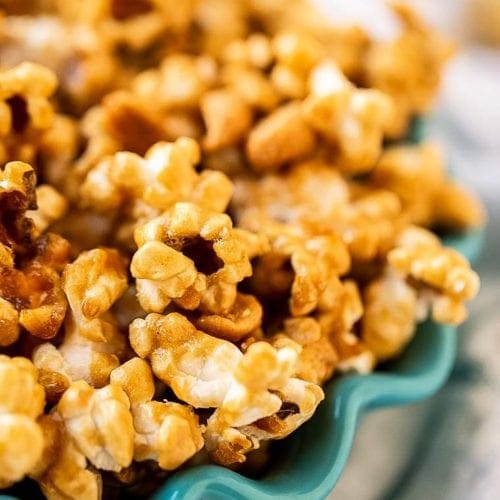 Caramel Corn Recipe
Easy Caramel Corn recipe that is perfectly sweet and salty! An easy homemade snack for movie nights, parties or just munching on!
Ingredients
1

c.

unpopped popcorn

popped

2

c.

brown sugar

1

c.

butter

1/2

c.

light corn syrup

1

tsp

salt

1/2

tsp

baking soda

1

Tbsp

vanilla extract

1

c.

salted peanuts
Instructions
Boil butter, syrup, brown sugar and salt in saucepan. Reduce heat and simmer for 5 minutes stirring occasionally.

Take off heat and add vanilla and soda. Mix thoroughly. Add peanuts and stir to combine.

Pour mixture over popped popcorn. Put the popcorn on jelly roll pans and bake in the oven at 250 degrees for 1 hour. Stir every 15 minutes.

Spread out on parchment paper and let cool.
Nutrition
Calories:
306
kcal
Carbohydrates:
38
g
Protein:
4
g
Fat:
15
g
Saturated Fat:
7
g
Cholesterol:
25
mg
Sodium:
294
mg
Potassium:
158
mg
Fiber:
2
g
Sugar:
27
g
Vitamin A:
295
IU
Calcium:
36
mg
Iron:
0.8
mg