Instant Pot Brisket Sliders with Caramelized Onions ~ Tender, Shredded Brisket Cooked in Your Instant Pot. Stuffed into Sliders Then Topped with Caramelized Onions and Cheese! Perfect Finger Food for Parties!
Be sure to subscribe to my newsletter HERE so you never miss a new recipe!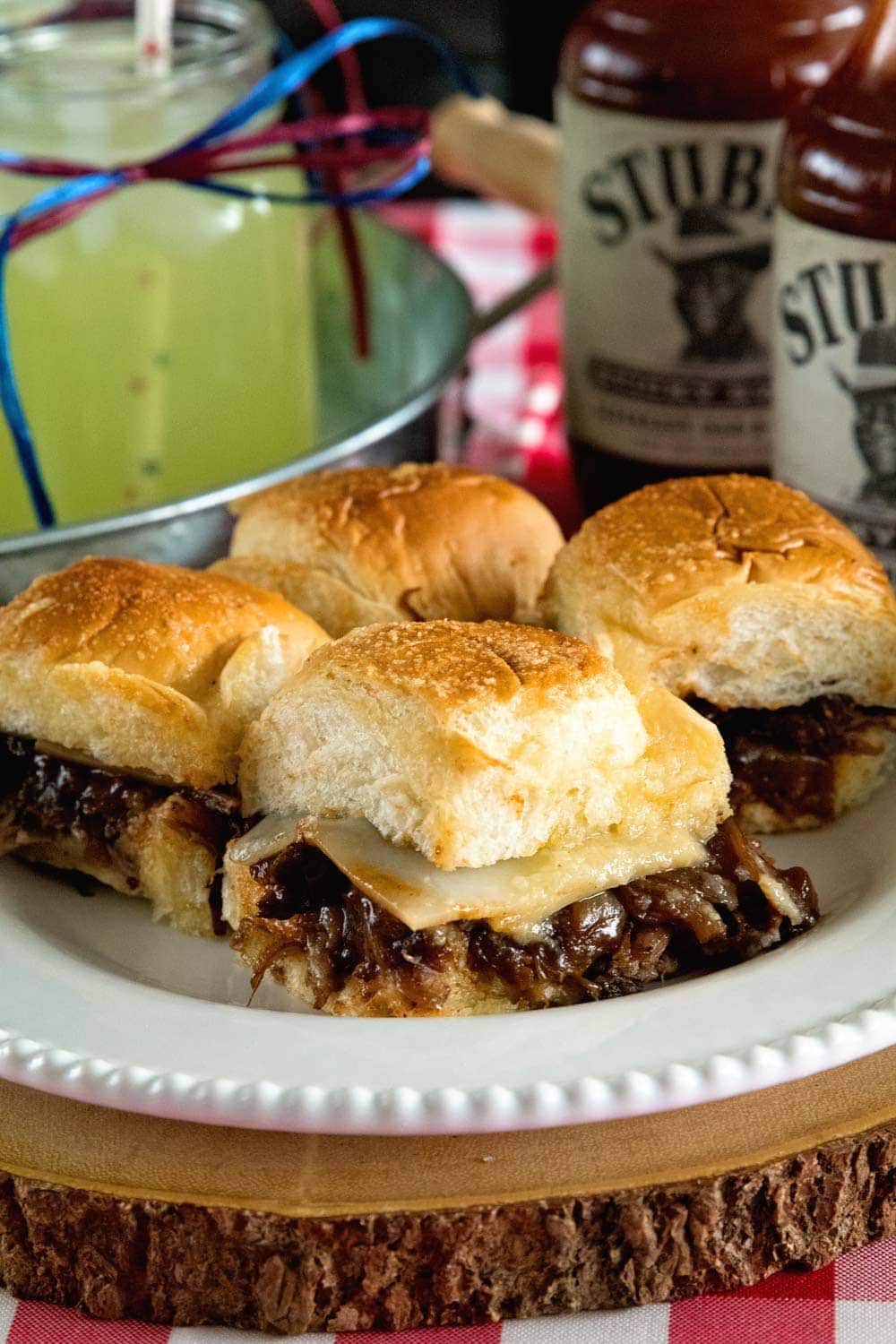 Disclosure: Stubb's has compensated me for my time to create this recipe. Thank you for supporting the brands that make Julie's Eats & Treats possible. All thoughts are my own.
It's summertime and that means all the grill outs possible in my world! Summer is a time to enjoy the outdoors with family and friends and you know you are going to get fed if I'm around. It's how I show you that I love you. It's kind of my love language! I can't believe the Fourth of July is right around the corner you guys! This always means a big party for us and I love every moment of it.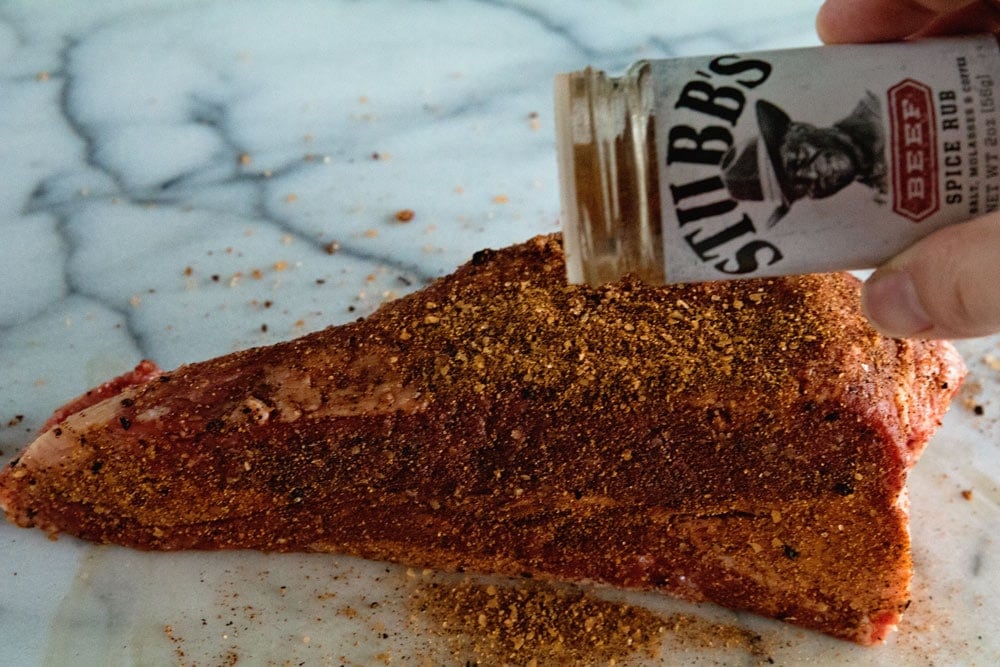 MY OTHER RECIPES
When I was growing up we always gathered at my Grandma's house for the Fourth of July holiday. She lived in a small town and they had the biggest celebration around. They still do for that fact! I remember starting the day off with the pancake feed, heading to the parade, having a picnic after the parade and then going to the fireworks!
The fireworks were always my favorite part of the day. We'd all grab our blankets and then head down to the ball fields. They'd open the concession stands and serve popcorn out of them so you could enjoy some snacks while you watched the fireworks. My Dad always made sure we had popcorn, which was a highlight. Memories you guys, memories!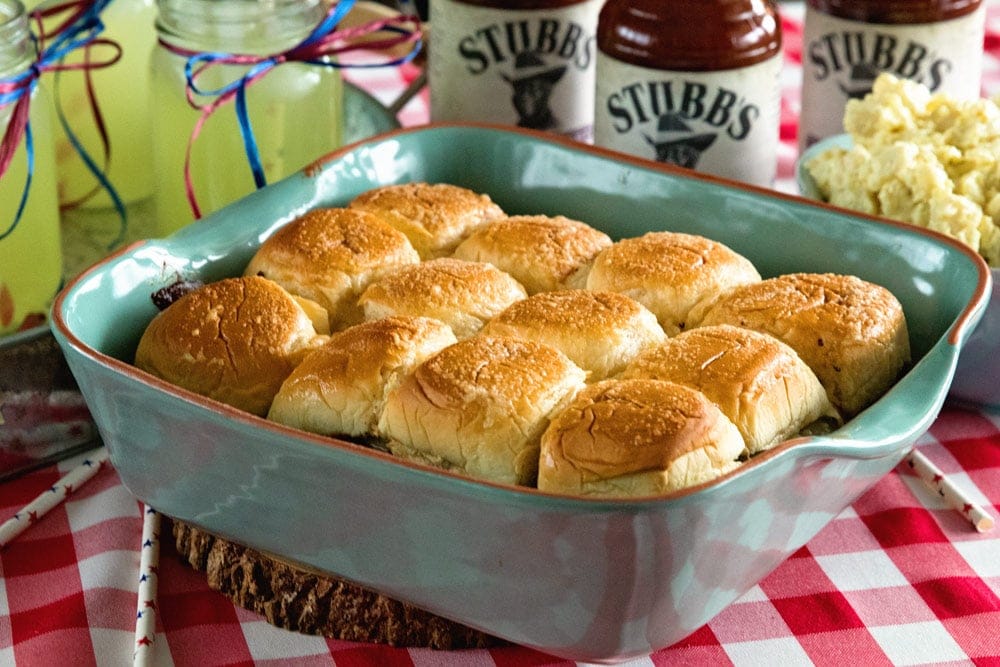 Insert grown up Julie into the equation now and my favorite part is the food of course! Well, the fireworks still come a close second. Especially when the girls get so excited about watching them! Everything is better through a child's eye isn't it?
Back to that food. Obviously, I'm going to put a spread on for you if you are at my back yard party this summer. I have a lot to live up to with this blog and all. People have expectations when I come around! You'll for sure get some delicious Potato Salad served up with Baked Beans.
A new favorite are these Instant Pot Brisket Sliders with Caramelized Onions! I adore using the Instant Pot for these delicious little sliders. The brisket is first seasoned with Stubb's Beef Spice Rub. After a good layer of rub I browned it in the Instant Pot and then cooked it on manual for 50 minutes.
You guys. Amazing! It was so tender and that rub on the brisket. Perfection! I could have just sat down and ate it like that, but I had guests to feed!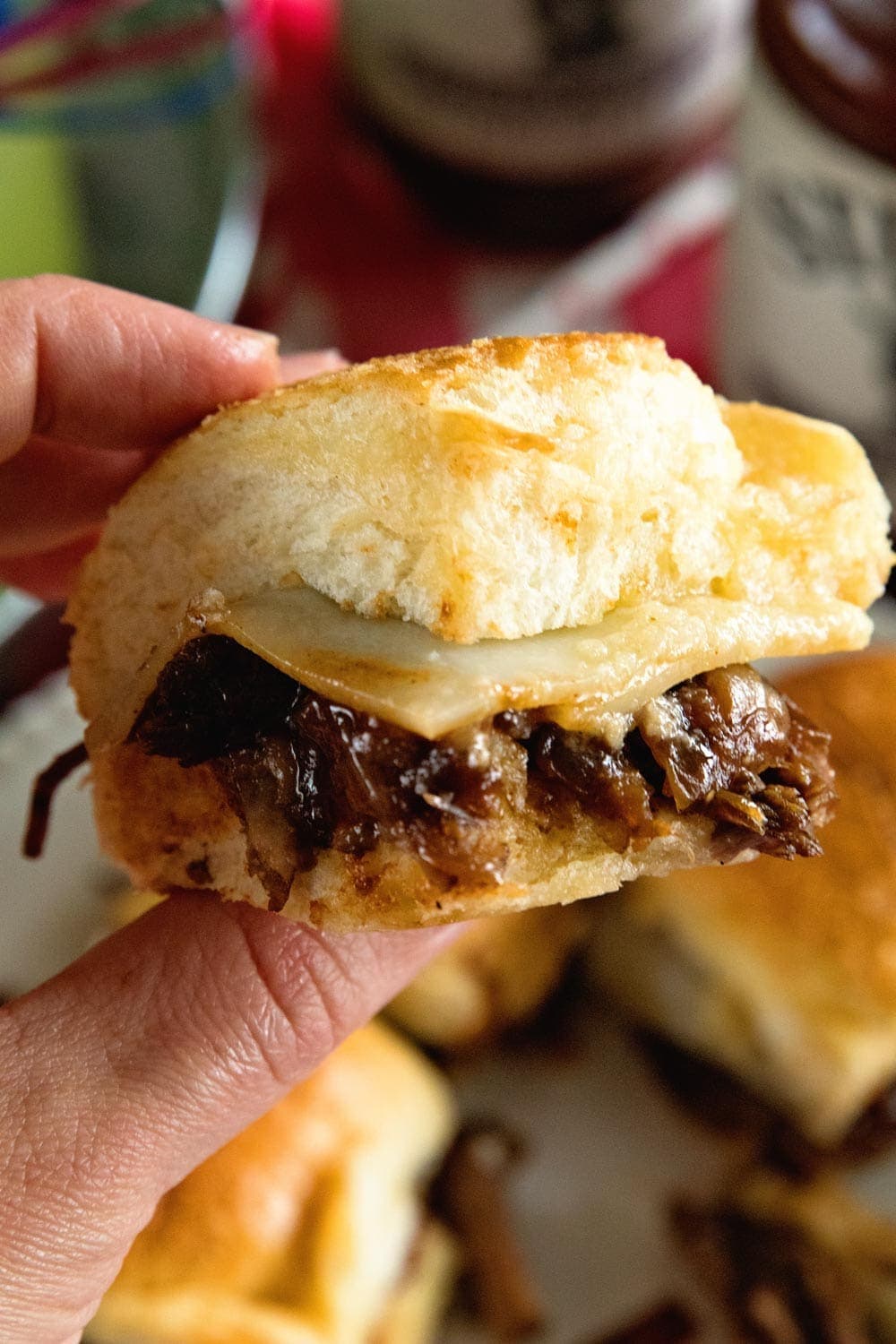 So I layered it on slider buns and topped with caramelized onions, cheese and Stubb's Sticky Sweet Bar-B- Q Sauce! That Bar-B-Q Sauce was delicious. Stubb's sweetest sauce, is a thick, rich sauce with brown sugar and molasses for an authentic Southern flavor perfect for dipping, infusing and of course, slathering on brisket. Plus, all Stubb's products are free of high fructose corn syrup (the first or second ingredient in most barbecue sauces) and contain no artificial flavors or colors from artificial sources. I'm kind of a barbecue sauce junkie and this was awesome.
Don't forget the butter on top of those buns! Then I baked them so the cheese was melted and buns a bit crispy. I'm literally ready to run to the kitchen and make them again!
These are perfect for serving at your backyard parties this summer! They are the perfect size for finger foods and the kids love that they are their size too!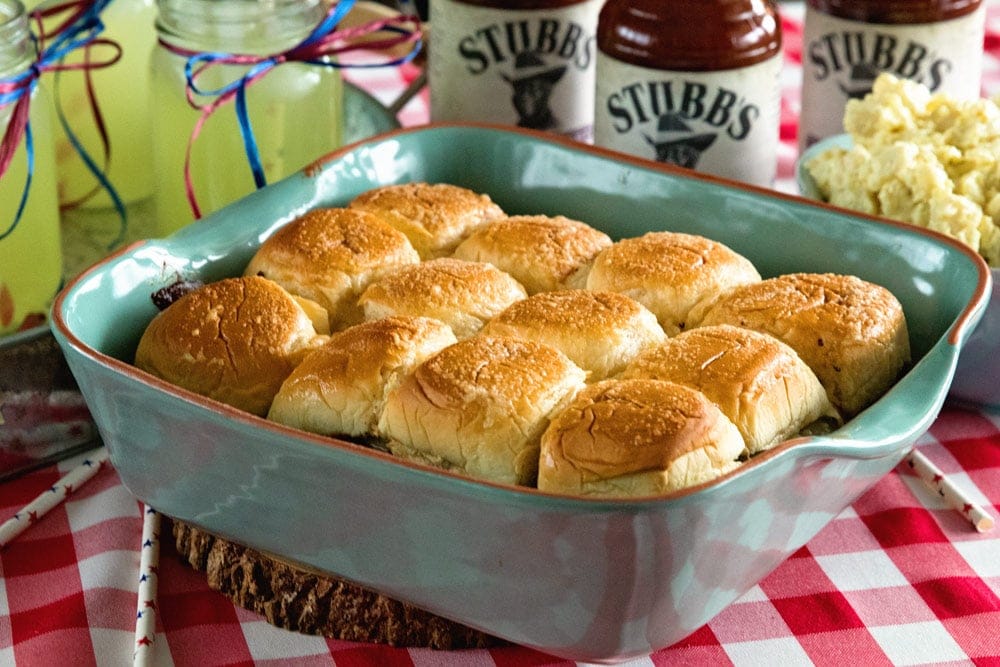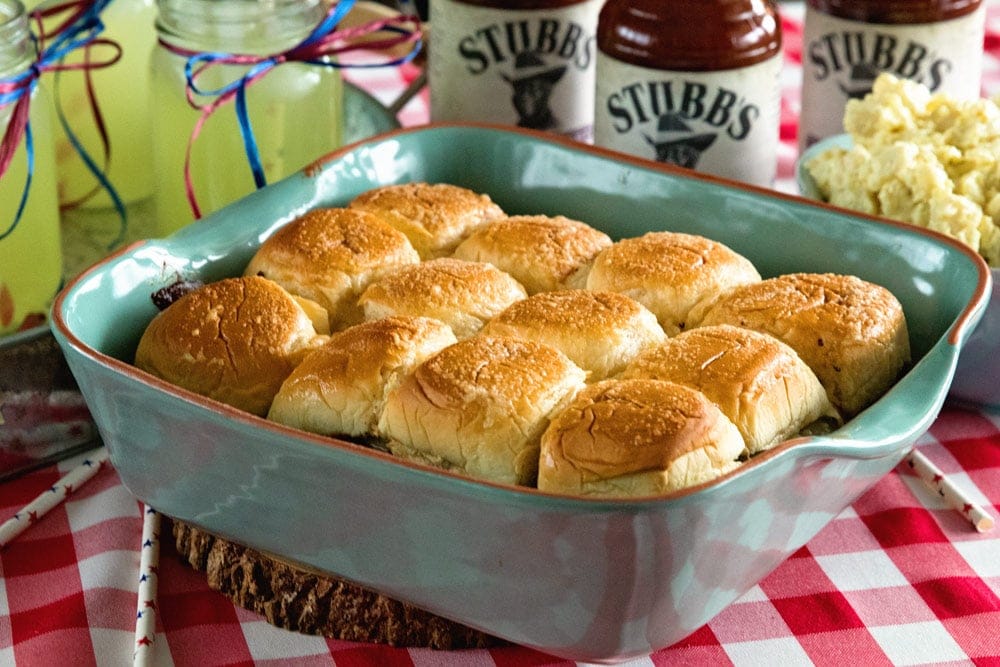 Instant Pot Brisket Sliders with Caramelized Onions
Ingredients
1 1/2

lbs brisket

1-2

Tbsp Stubb's Beef Spice Rub

2

Tbsp olive oil

1

Tbsp liquid smoke

12

slider buns

2

c. beef broth

2

onions, caramelized

6

slices Provolone cheese

1/4

c. Stubb's Sticky Sweet Bar-B- Q Sauce

1/4

c. butter, melted

1/2

tsp onion powder

1/2

tsp garlic powder
Instructions
Remove brisket from fridge. Pat dry and season with Stubb's Beef Spice Rub. Return to fridge for 30 minutes.
Remove from fridge. Turn your Instant Pot to manual. Place olive oil in the bottom of your Instant Pot. Brown Brisket on all sides. Turn brisket so the fatty side is up.
Add liquid smoke and beef broth. Place cover on Instant Pot and seal.
Set to Manual and cook for 50 minutes. When done cooking let it natural release the pressure.
Remove brisket from Instant Pot and shred.
Preheat oven to 350 degrees.
In a 2 quart baking dish place the bottom of the sliders buns. Top with shredded brisket, Stubb's Sticky Sweet Bar-B- Q Sauce, caramelized onions, cheese and the top of the bun.
In a small bowl mix together butter, onion powder and garlic powder. Brush over slider buns.
Bake from 10-15 minutes or until cheese is melted and buns are golden brown on top.