These CrockPot Baked Beans are loaded with hamburger and bacon then covered in a sweet and smokey sauce! Throw them in your slow cooker and you have the best side dish recipe for pot lucks, BBQs and more. Slow Cooker Baked Beans are so easy and delicious it will become your favorite recipe to bring with you to parties!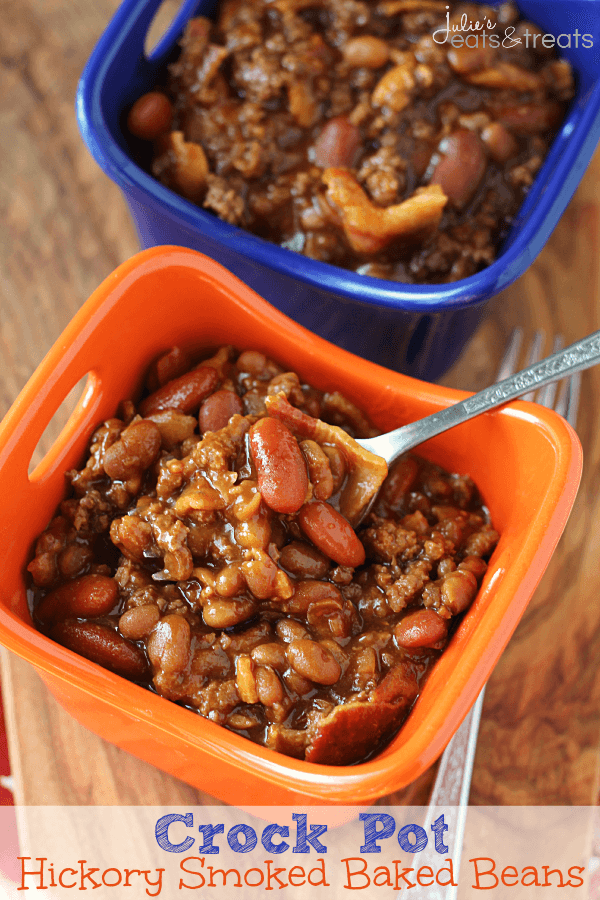 Crock Pot Baked Beans
So lately I've been thinking that a house cleaner would be super nice to have. In fact I've been thinking this for a while and it's just justifying the money it costs that is holding me back, but lately I can even justify that. It's ridiculous. I can not keep up. So I finally decided that I was going to hire one.
I started calling local house cleaners. Do you know what I found out? Everyone else must have already hired them because I can not for the life of me find one. Everyone is booked. So after my third call and no luck, I gave up.
I thought maybe I wasn't meant to have one?
Maybe it's a sign that I should just suck it up and clean my own house and not hate it and detest it and get frustrated because my house does not miraculously clean itself….
I also thought inside maybe I should quit trying to find one because let's face it. I felt guilty. I felt guilty for deciding that I couldn't keep up. I couldn't do it all. Between a kid, adding another kid to the mix soon, blogging, traveling, feeding everyone, doing laundry trying to keep everyone happy oh ya and working full time I just can't keep up sometimes.
Why is it so hard to ask for help? To hire someone to come in and clean your house? Why does this make me feel so terribly guilty and inefficient? I look at others and they seem to have it all. Clean house, happy kids, they work, they craft, their lawns are well taken care of, and they clean their house. I must be a failure.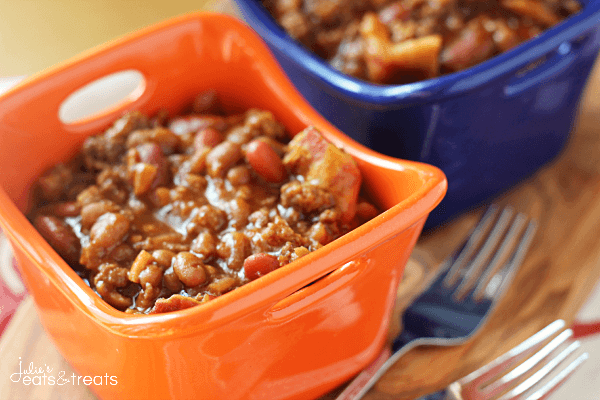 Crockpot Baked Beans
While in my quest for a housekeeper I found this out. There are a lot of people that have them as I started asking them around. Do you know what else? I did not think they were terrible people, slackers, inefficient or anything like I felt of myself. I thought that they were SMART!
Smart that they would hire this chore done so they could go outside and play a little more with their kids, that they could maybe pick up a book and enjoy some time to themselves. That they could go on a date night with their husband and not be stressed about getting home to clean their house.
So why do I feel guilty? I shouldn't, but I do. I'm going to keep looking for that housekeeper and I'm going to try to less guilty about it because I do have a lot on my plate and if I can spoil myself with a house cleaner and enjoy some downtime then so be it. If you want to come clean my house let me know. I'll pay you plus give you treats mmmmk??
[et_bloom_inline optin_id="optin_1″]
Ingredients for Slow Cooker Baked Beans
bacon
hamburger
can Boston Recipe Baked Beans
kidney beans
ketchup
brown sugar
liquid smoke
vinegar
I have another confession. When people post photos on social media I look in the background of their pictures and hope to see some clutter in their lives, on their counter or toys scattered on their floor.
When I find so-called things I feel relieved that others are like me! They don't have it all either! And you know what I don't judge them I just feel better about myself! So please would you post some clutter pictures on social media for me? Thanks!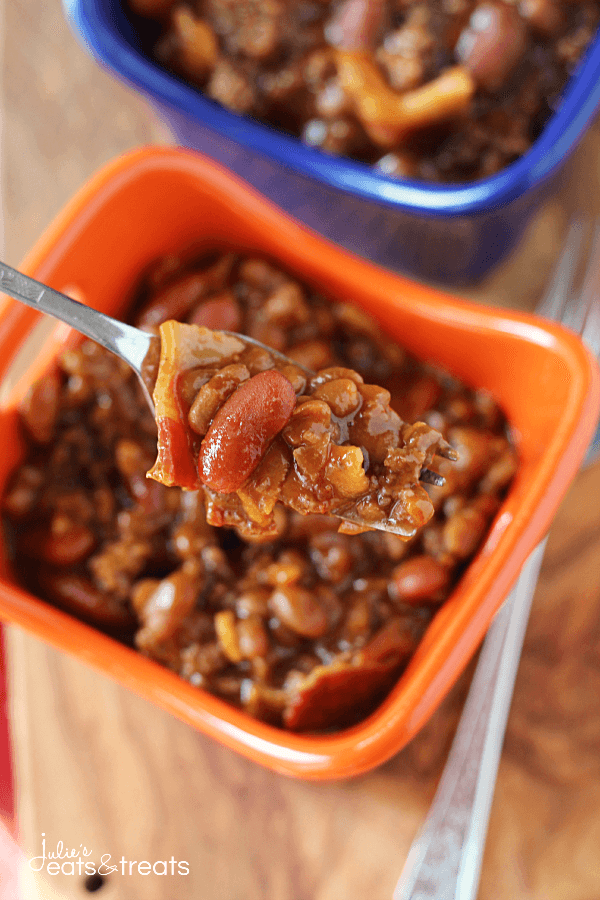 Slow Cooker Baked Beans
Speaking of being super busy and not have enough time to do it all Slow Cooker Baked Beans are for you! These amazing crockpot baked beans are loaded with hamburger, bacon and slow cooked.
These Baked Beans are perfect for all those summer potlucks, picnics and reunions. You can simply dump it all in the crockpot, forget it and look like the miracle worker. I also have an amazing baked beans recipe you can make in the oven – you might like it, too!
How to make Crock Pot Baked Beans
Fry the bacon, drain and crumble
Combine the beans, hamburger and bacon in the crockpot. Mix until combined
In a small bowl add the remaining ingredients and mix well. Add to the crockpot and combine well.
Cook for 6-8 hours in the slow cooker.
More recipes to try
Don't forget, please comment below if you enjoy this recipe! I respond to each of your comments personally and I love to hear from you! If you're a social media nut (like me!) tag me with #julieseatsandtreats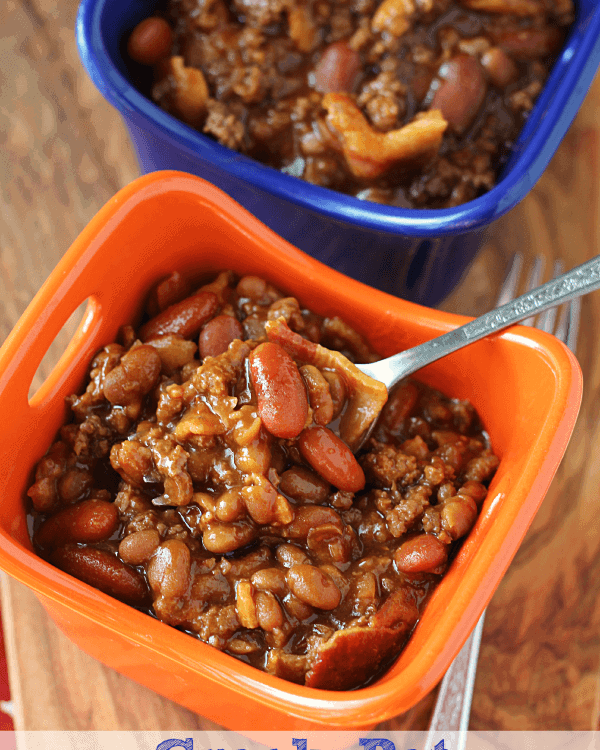 CrockPot Baked Beans
Crock Pot Baked Beans – Loaded with Bacon and Hamburger they are easy and delicious!
Ingredients
1

lb

bacon

fried and crumbled

1

lb

hamburger

fried

1

28 oz can Boston Recipe Baked Beans

1

15 oz can kidney beans, drained

1

c.

ketchup

1/4

c.

brown sugar

2

Tbsp

liquid smoke

2

Tbsp

vinegar
Instructions
In slow cooker combine baked beans, kidney beans, hamburger and bacon; mix until combined.

In another bowl mix remaining ingredients. Add to bean mixture and mix until combined. Cook 6-8 hours on low in crock pot.
Nutrition Information
Calories:
419
kcal
(21%)
,
Carbohydrates:
50
g
(17%)
,
Protein:
15
g
(30%)
,
Fat:
17
g
(26%)
,
Saturated Fat:
5
g
(31%)
,
Cholesterol:
29
mg
(10%)
,
Sodium:
899
mg
(39%)
,
Potassium:
538
mg
(15%)
,
Fiber:
7
g
(29%)
,
Sugar:
11
g
(12%)
,
Vitamin A:
115
IU
(2%)
,
Vitamin C:
3.1
mg
(4%)
,
Calcium:
120
mg
(12%)
,
Iron:
3.7
mg
(21%)