There's nothing like a hot summer day and Potato Salad! This recipe is a basic recipe that you can build on and make your own. A creamy dressing, tender potatoes and chopped hard boiled eggs.
Fire up the grill and pair it with your favorite burgers, baked beans and more!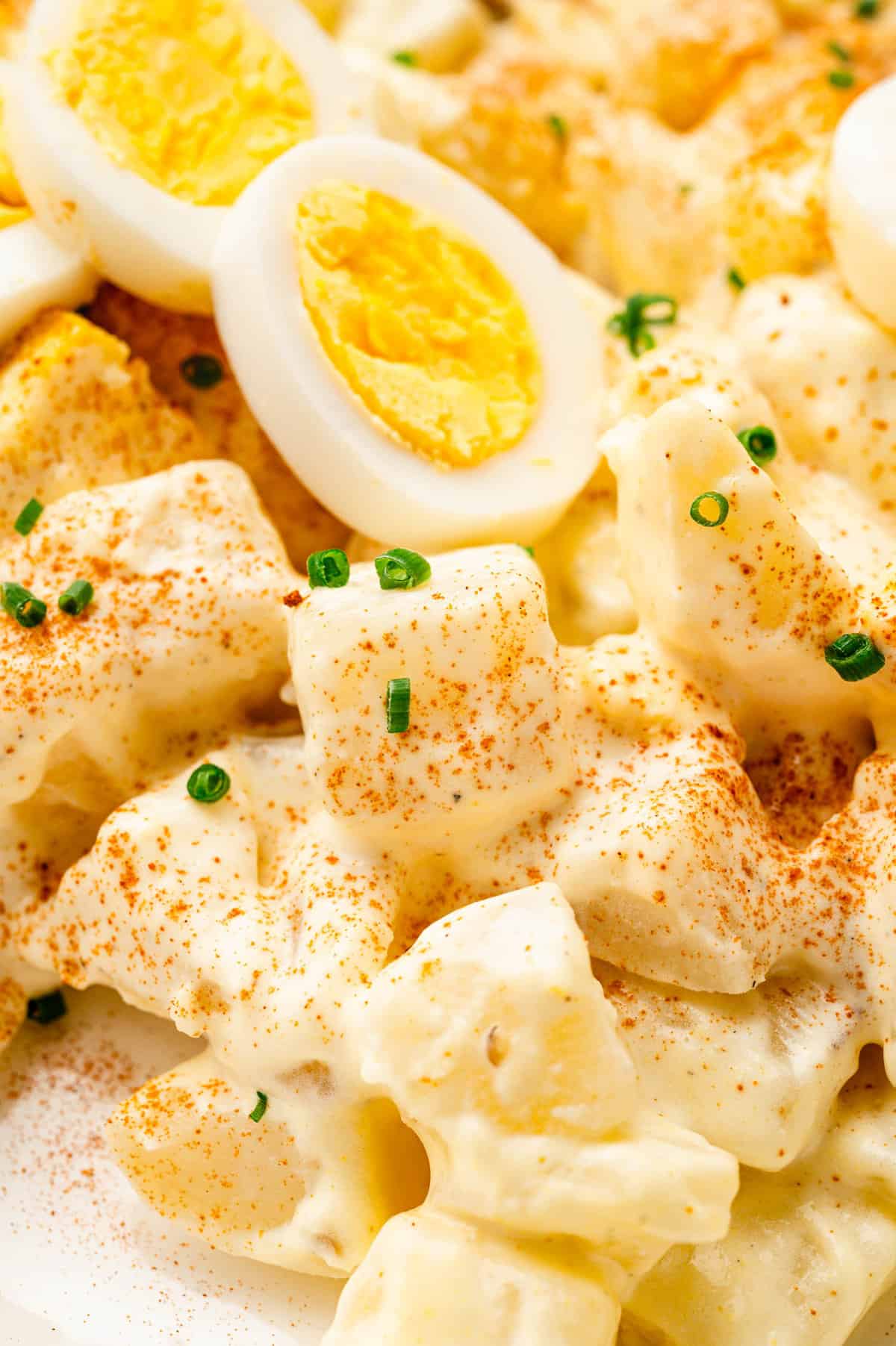 Who's with me on the fact they love, love, love potato salad, but they are super picky about the texture and flavor? Well, this version is a delicious classic recipe with just the basics. You can add any of your favorite additions to customize it!
You don't have to be intimidated to make this classic side dish. In fact, it's easier than you think it is. And if you want an even easier way to make it, try our famous Instant Pot version. But before you know it, you'll perfect this recipe with any of your customizations and have the best potato salad!
Why You'll Love this Potato Salad
It only takes about 30 minutes to make this easy potato salad. Great to whip up for any party, potluck, or evening dinner that needs a tasty side dish.
You can easily make this dish ahead of time and store in the refrigerator until it is needed. Cold potato salad is much better than warm!
This recipe is easily adaptable. People typically don't like potato salad because it doesn't fit their preference. But when you can add anything to it, you can make it how you like!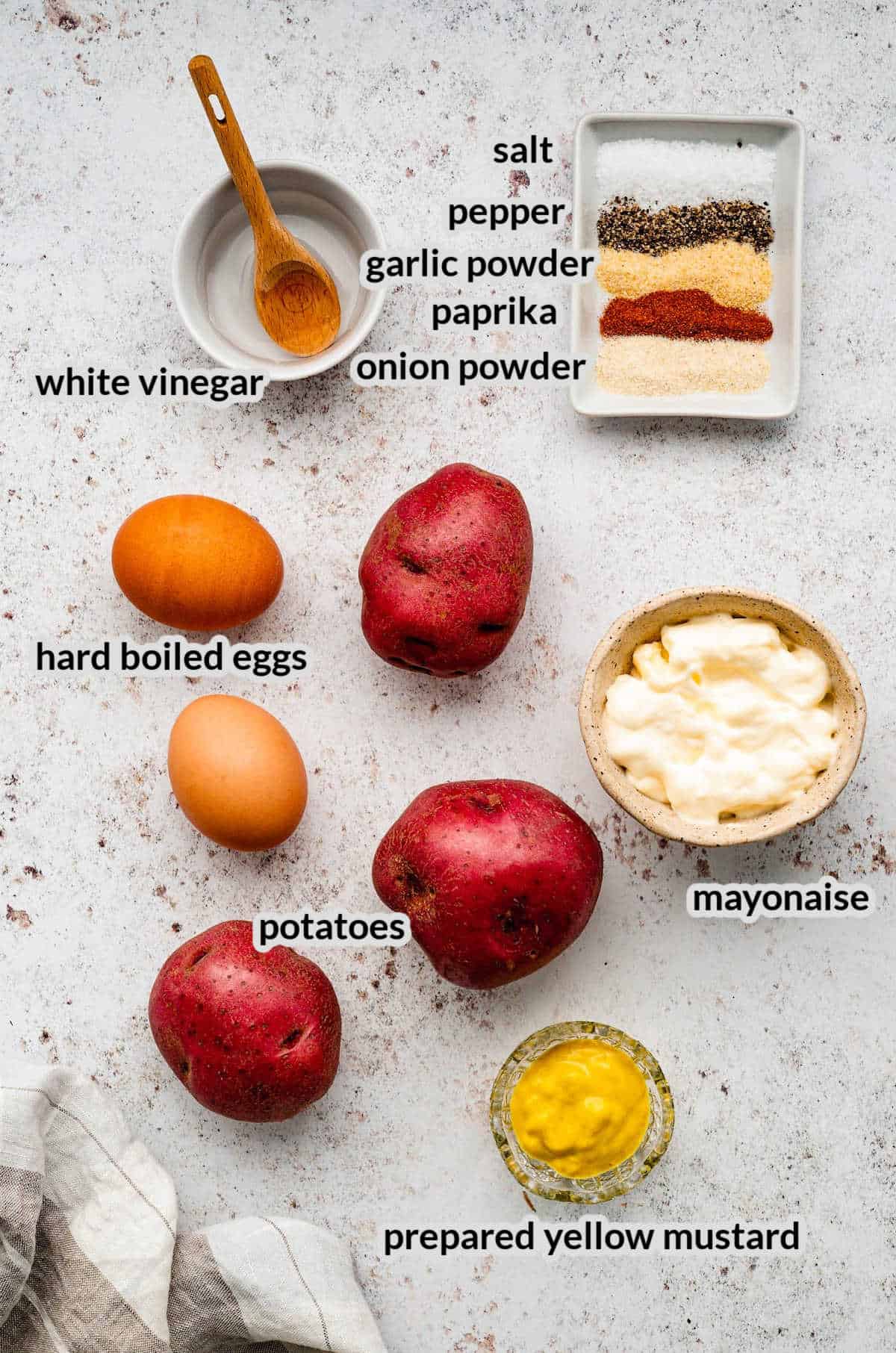 Ingredients for the Best Potato Salad
Potatoes – The best potatoes are red potatoes or yellow potatoes. They tend to have better flavor and texture.
Mayonnaise – Use a high quality for the best flavor. Cheap mayo can leave a funny aftertaste.
Yellow mustard – The tang of yellow mustard gives that quintessential zing that is needed!
Hard boiled eggs – I've got two great ways for you to make the best hard boiled eggs. You can make them in the Instant Pot and in the Crock Pot.
White vinegar – It may sound a little weird to use white vinegar to balance out the flavors!
Seasonings – This blend of seasonings flavors this cold salad so well.

Salt
Pepper
Garlic powder
Paprika
Onion powder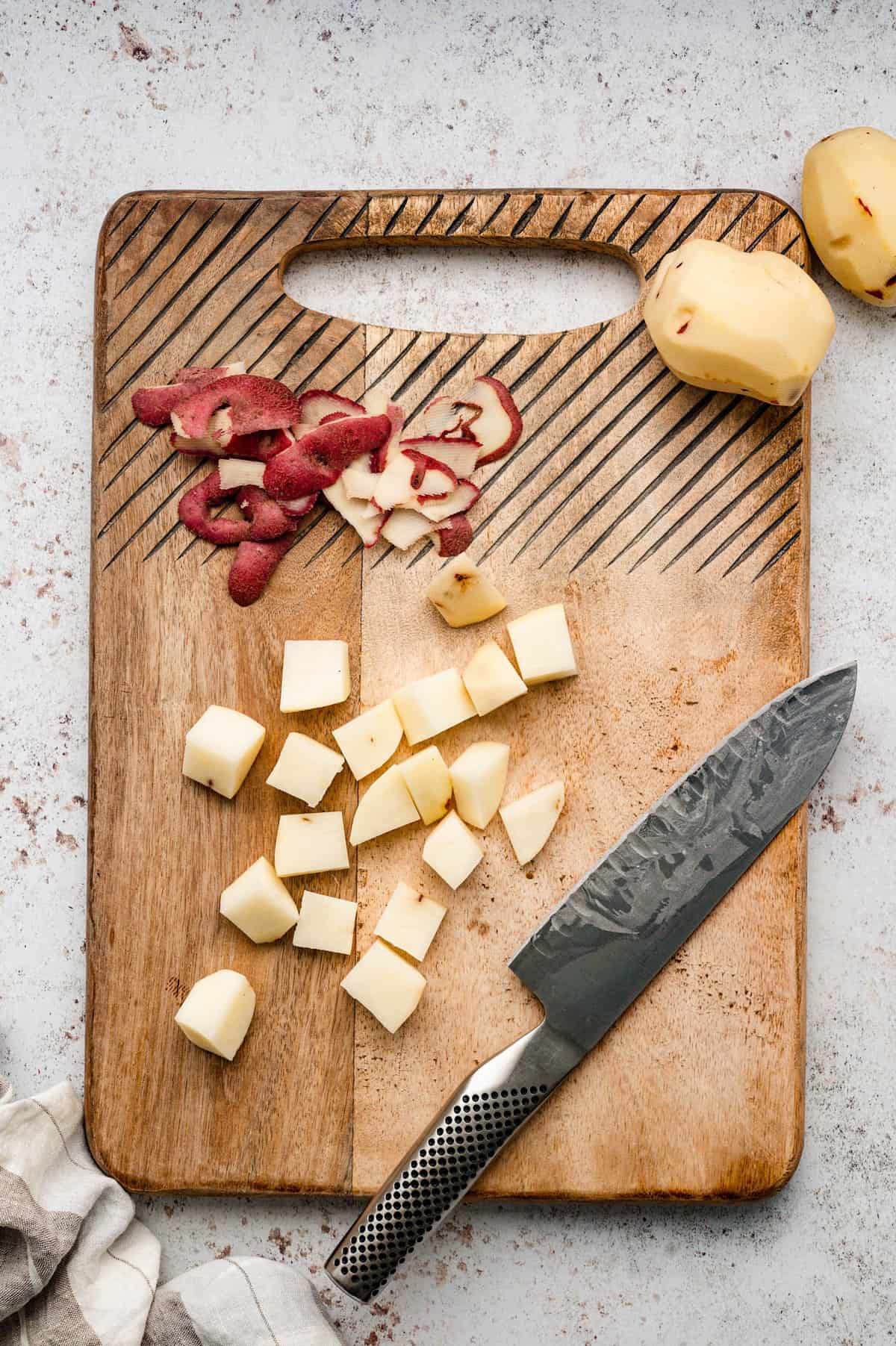 How to Make Potato Salad
Clean your potatoes well, then peel and dice them into chunks. Place the potatoes into a large stock pot and then cover with water.
Bring the diced potatoes to a rapid boil, then turn down to medium heat and boil for 5-7 minutes until the potatoes are tender. Drain the cooked potatoes and then allow them to cool.
In a medium bowl, mix together mayonnaise, vinegar, mustard, salt, pepper, garlic powder and onion powder until well combined.
Pour the condiment mixture over cooled potatoes and then peel and dice three hard boiled eggs. Add the eggs to the salad and gently mix until combined.
Peel the last three hard boiled eggs and slice them to use as a garnish on top of the finished potato salad.
Sprinkle with paprika and serve!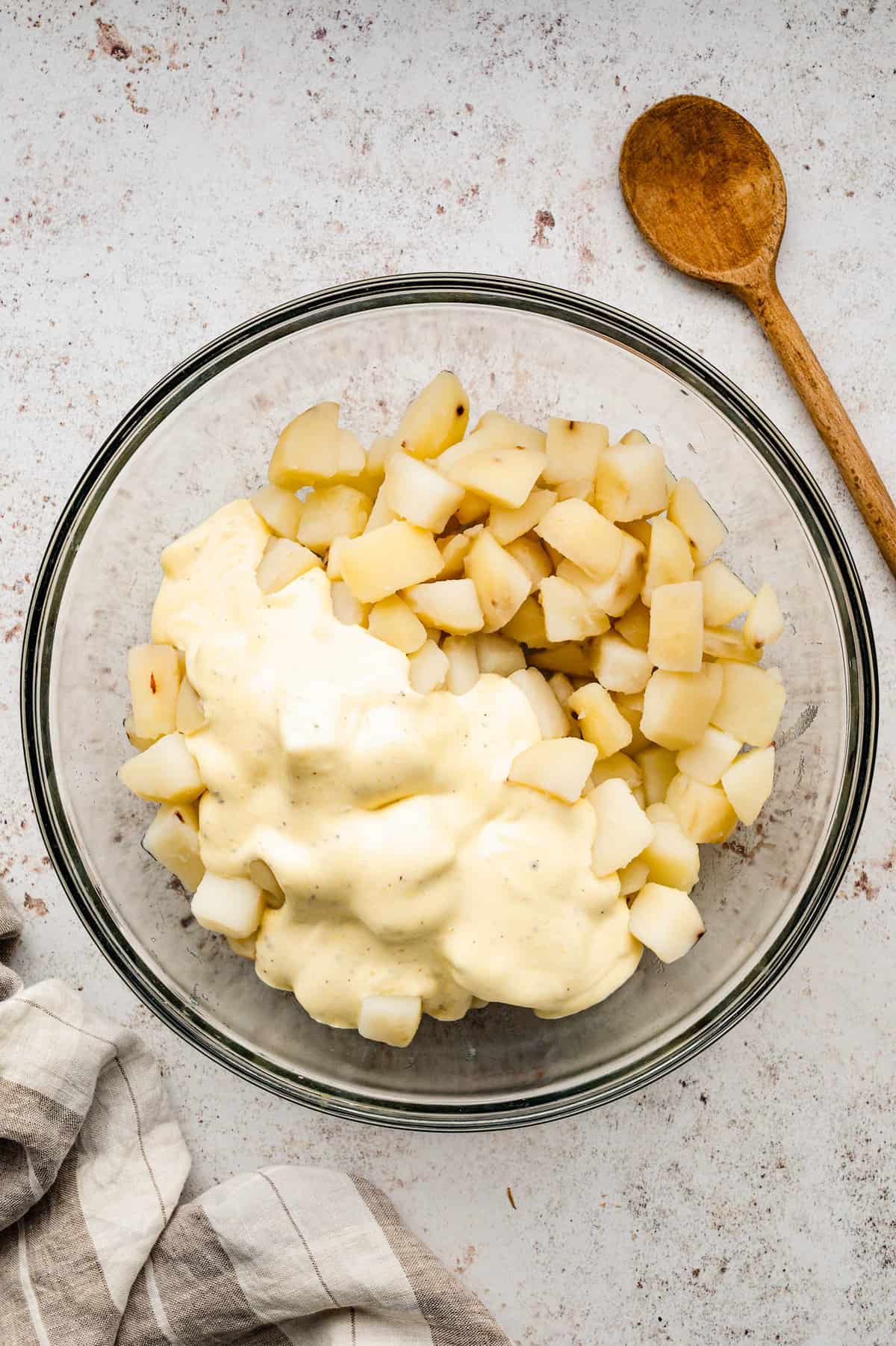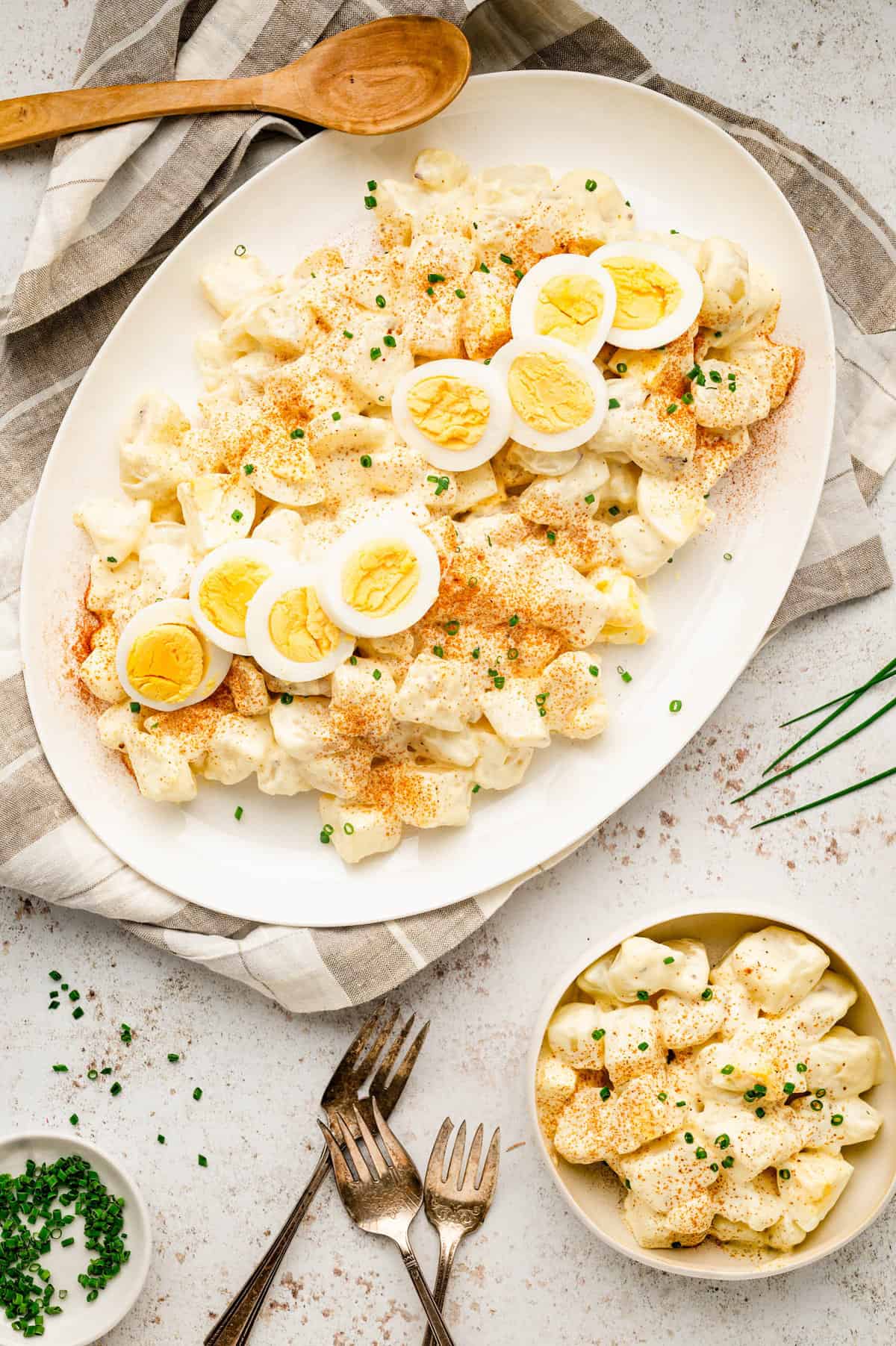 What to Serve with Potato Salad
It's is a staple for any cook-out and barbecue you host. It'd be super tasty with crock pot BBQ chicken and air fryer BBQ chicken legs. But if you're firing up the grill or smoker, make some burgers or brisket to go with homemade potato salad.
Smoked ribs and smoked chicken wings would make a great main dish too. And don't forget, BBQ baked beans on the grill are a classic side dish to pair with cold potato salad!
How to Store Leftover Potato Salad
Place leftovers in a freezer safe zip top bag or an airtight container, and smush it out to one even layer.
FRIDGE: Store leftovers in the refrigerator for 3-4 days. The longer the salad sits, the more the texture will change.
FREEZER: Leftovers can be frozen as well. Store in a freezer bag or airtight container in the freezer for up to 3 months.
What can I add to homemade potato salad?
Like I previously mentioned, this is a classic, basic potato salad recipe. If you want to create different flavor profiles please feel free to add in the ingredients mentioned above to suite you taste buds. This is a great recipe to jump off from and make it your own!
Traditional potato salad usually uses mayonnaise, but you can use Miracle whip if you prefer! It will give it a slightly sweeter taste. Adding onion will also give your potato salad a different flavor.
If you want some more tang, add 1/2 cup of sweet pickle relish…dill relish is good too! Diced celery will add a lovely little crunch to this dish. You can also add some bacon for a savory crunch. To change things up a lot, roast your potatoes!
Pro Tips!
Make sure to boil the potatoes until just tender. Over cooked potatoes will crumble and create a mush when you mix everything together.
Planning to serve this potato salad at a party? Make it ahead of time and allow it to chill for the best flavors.
Don't dice your potatoes too small. Once inch chunks are the perfect size!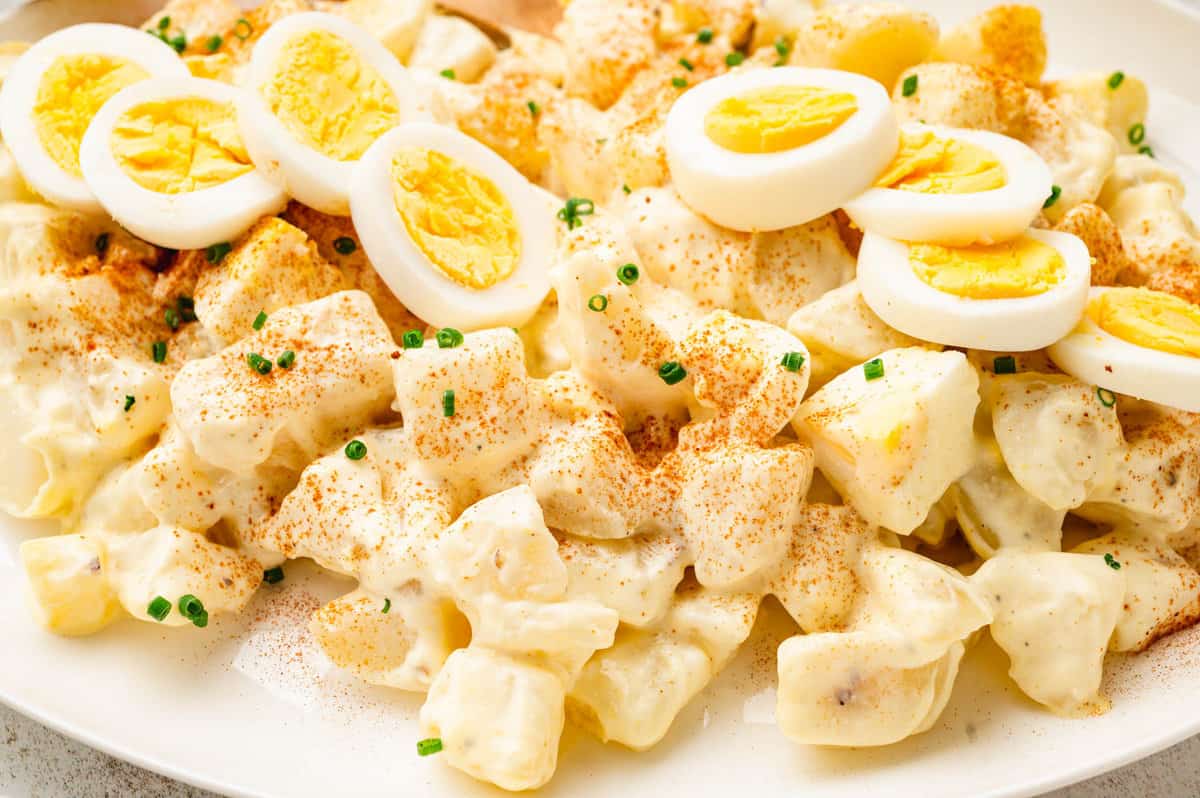 This perfect recipe is going to be a go-to for your cookouts and parties! Let us know what customizations you make, don't be afraid to get creative!
More Salad Recipes You'll Love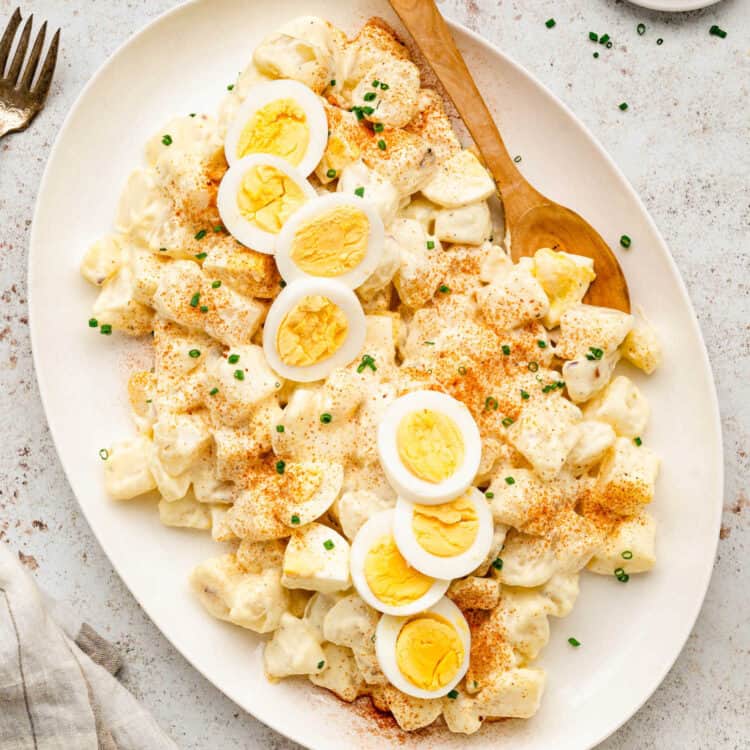 Potato Salad
Tender potatoes and hard boiled eggs make this traditional potato salad the BEST.
Ingredients
5

pounds

red potatoes

6

hard boiled eggs

2

cups

Miracle Whip or Mayonnaise

¾

cup

whipping cream

2

Tablespoons

prepared yellow mustard

¼

cup

sugar

¼

teaspoon

salt

⅛

teaspoon

pepper

¼

cup

white vinegar
Instructions
Peel and dice potatoes. Place in large stock pot and cover with water. Bring to rapid boil, turn down to medium heat and boil 5-7 minutes or until potatoes are tender. Drain potatoes and let cool.

In a medium mixing bowl whisk whipping cream for 1 minute. Stir in Miracle Whip, mustard, sugar, salt, pepper and vinegar. Mix until combined.

Pour mixture over cooled potatoes. Peel and dice three hard boiled eggs and add to potatoes. Mix until combined.

Peel last three hard boiled eggs and slice and place on top of salad.

Refrigerate until thoroughly cooled.
Tips
Traditional potato salad usually uses Mayonnaise instead of Miracle Whip. The Miracle Whip will give it a slightly sweeter taste. You can totally substitute Mayonnaise for the Miracle Whip if you prefer that.
If you'd like onion, add in 1/2 c. sweet onion finely diced.
Another great addition if you like pickle relish is adding in 1/2 c. sweet pickle relish.
Many people like to add in 1 Tbsp celery seeds or 1 tsp celery salt. You can even finely dice a few stalks of celery if you want that crunch!
I've also seen fresh chopped dill added to create another flavor profile.
Another option is to roast your potatoes like we do in this recipe.
Or, you could add bacon and ranch to it like we do in this one!
Make sure you boil your potatoes until just tender, over tender potatoes will crumble when you mix everything together.
We prefer using Yukon Gold potatoes, but red potatoes will work too. Just make sure your potatoes are starchy!
Make it ahead of time! Did you know it tastes better then next day after it's been chilled because the flavors come together? Perfect for party planning!
Nutrition Information
Calories:
494
kcal
(25%)
,
Carbohydrates:
35
g
(12%)
,
Protein:
8
g
(16%)
,
Fat:
36
g
(55%)
,
Saturated Fat:
9
g
(56%)
,
Polyunsaturated Fat:
17
g
,
Monounsaturated Fat:
9
g
,
Trans Fat:
0.1
g
,
Cholesterol:
126
mg
(42%)
,
Sodium:
382
mg
(17%)
,
Potassium:
917
mg
(26%)
,
Fiber:
3
g
(13%)
,
Sugar:
8
g
(9%)
,
Vitamin A:
388
IU
(8%)
,
Vitamin C:
16
mg
(19%)
,
Calcium:
46
mg
(5%)
,
Iron:
2
mg
(11%)