Instant Pot Hard Boiled Eggs
The best hard boiled eggs ever plus they are so easy to make! These Instant Pot Hard Boiled Eggs are perfectly cooked every time, easy to peel the shell off and they are ready in 15 minutes!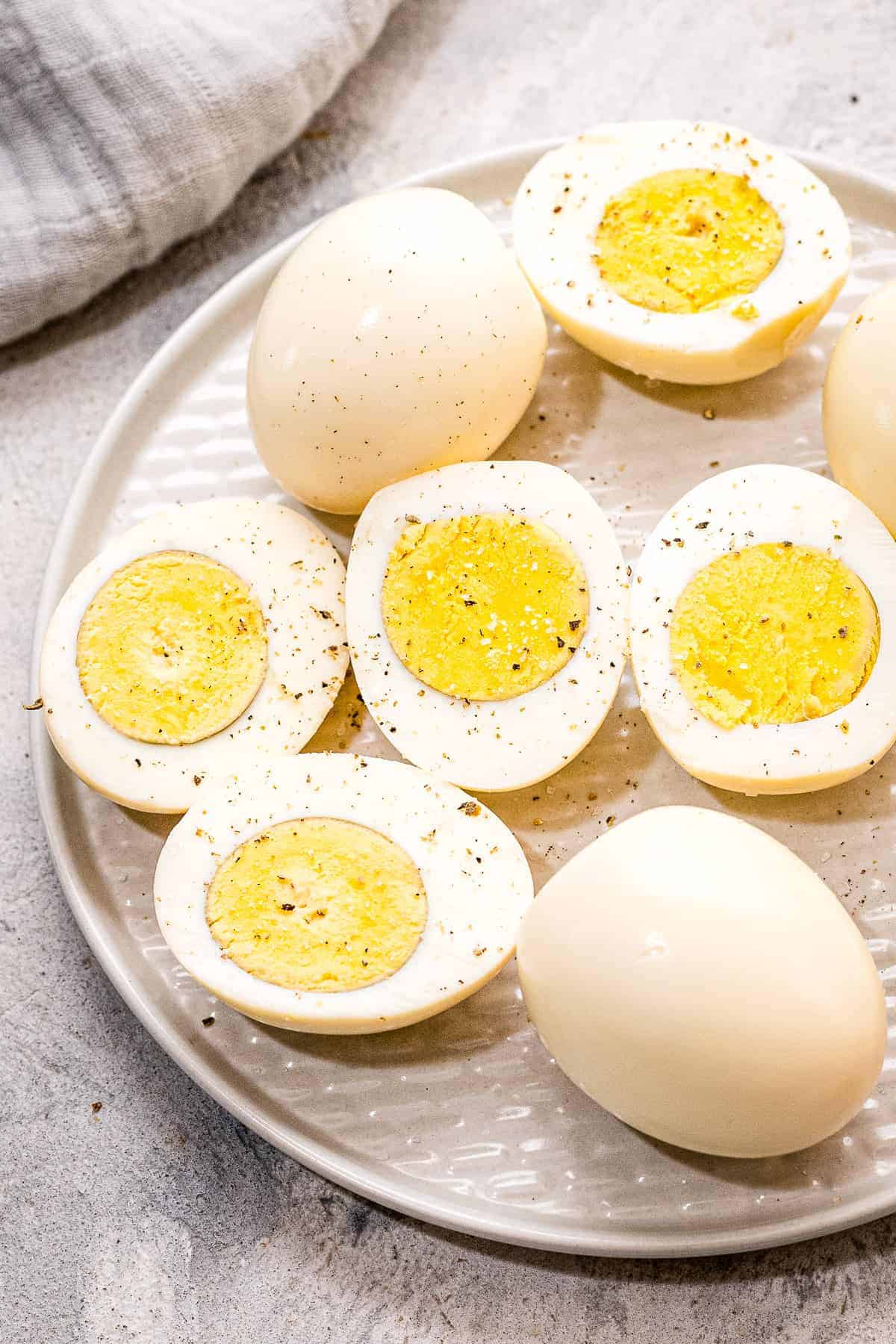 When you need to cook a bunch of eggs there's no easier way to do it than with an Instant Pot. Not only is it easy but it makes the BEST hard boiled eggs.
4 Reasons to Hard Boil Eggs in an Instant Pot
There's no guesswork! Follow the instructions, and you will get perfectly cooked eggs every time.
It only takes 15 minutes from start to finish!
You can cook as many or as few as you like – this process works for cooking one egg or up to a dozen.
The eggs are super easy to peel – a lot easier than when you boil them on the stove. It saves a ton of time, and you get pretty hard-boiled eggs!
Whether you need a big batch to dye Easter eggs or a few to use in recipes that call for hard-boiled eggs, you are going to love this Instant Pot method. It makes the best eggs!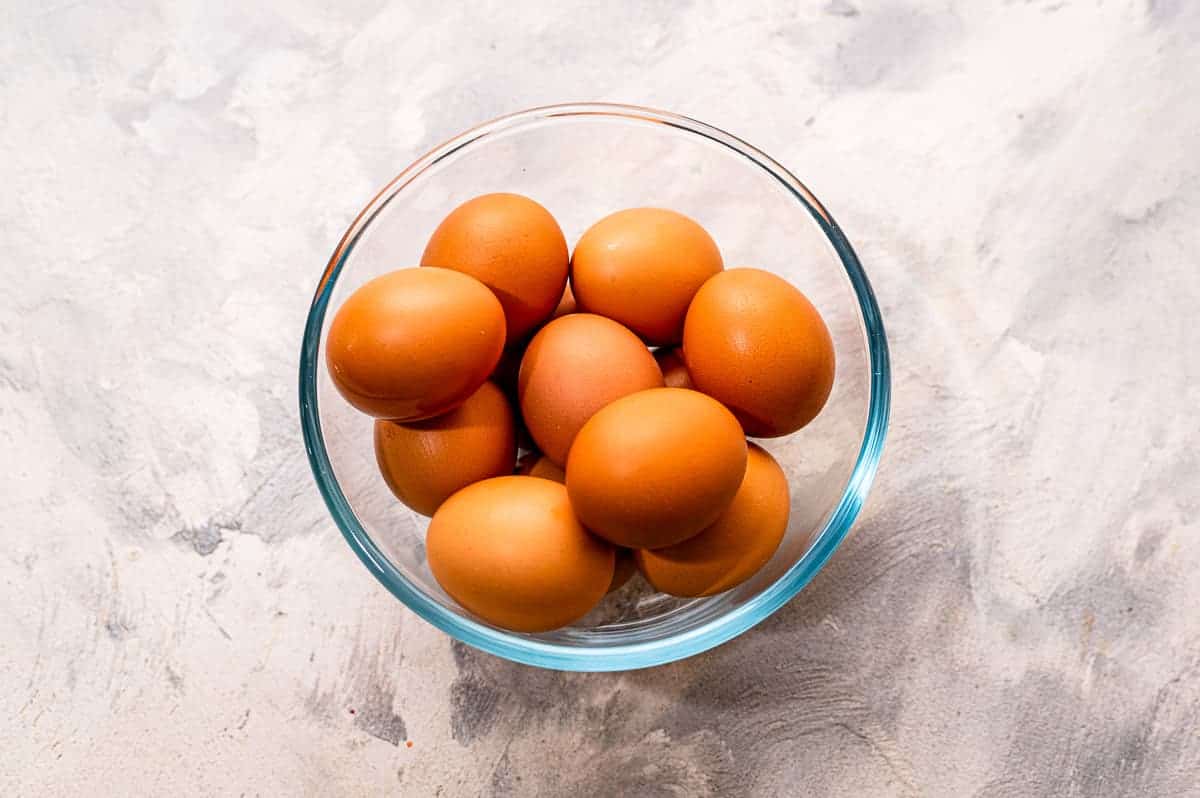 Steps
Like I mentioned, this process works for one egg or up to a dozen!
Prep: Start by adding one cup of water to the Instant Pot. Place the metal trivet in after adding the water. Place the eggs in an even layer on the trivet.
Cook: Secure the lid and close the steam valve. Choose the manual setting and set it for five minutes.
Release: Once the timer goes off, allow the steam to vent naturally for five minutes. While you wait, prepare an ice bath by filling a large bowl with ice and water. Open the valve to release the rest of the steam and then remove the lid.
Cool: Transfer the eggs to the ice bath. This will stop the cooking process and cool them down quickly.
Peel: Lightly rap an egg on a hard surface to crack the shell. Remove the entire shell – you'll see how easy it is!
Storage Tips
Once you've cooked the eggs and chilled them in the ice bath, you can peel them right away or store them with the shells.
You can keep peeled eggs in an airtight container in the refrigerator. They do tend to dry out, so lining the container with a damp paper towel will help with this.
I prefer to leave the shells on if I'm not using them right away. You can just place them in a bowl in the fridge – no airtight container required!
If your family likes them as a snack it's worth making a big batch – hard boiled eggs will keep for up to a week in the refrigerator.
Recipes with Hard-Boiled Eggs
Now that you have amazing Instant Pot hard-boiled eggs, here are some ways to use them up!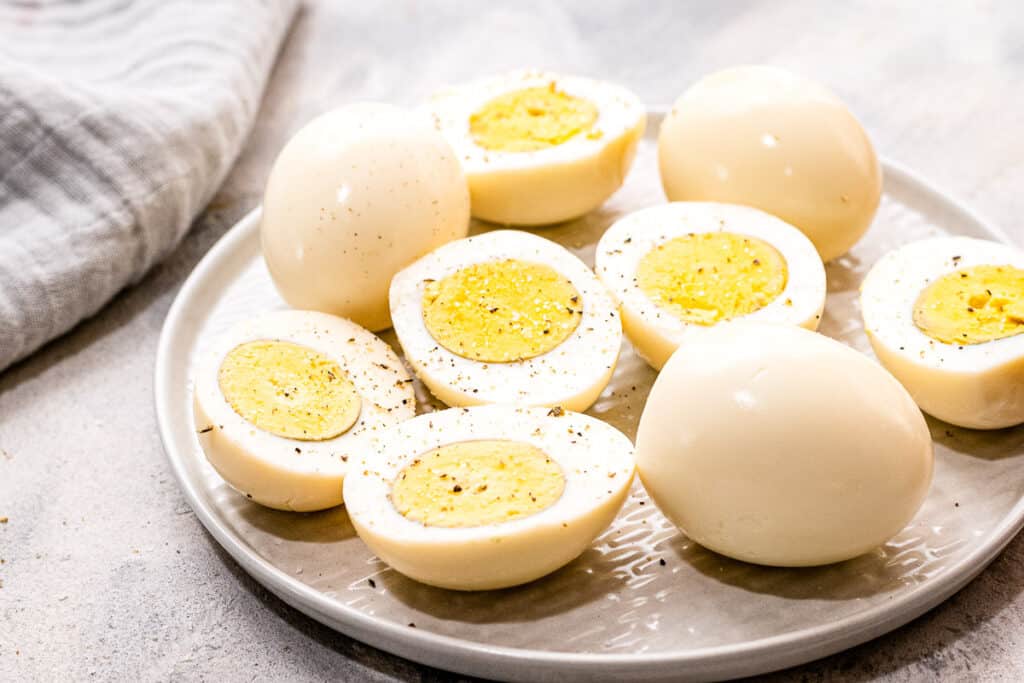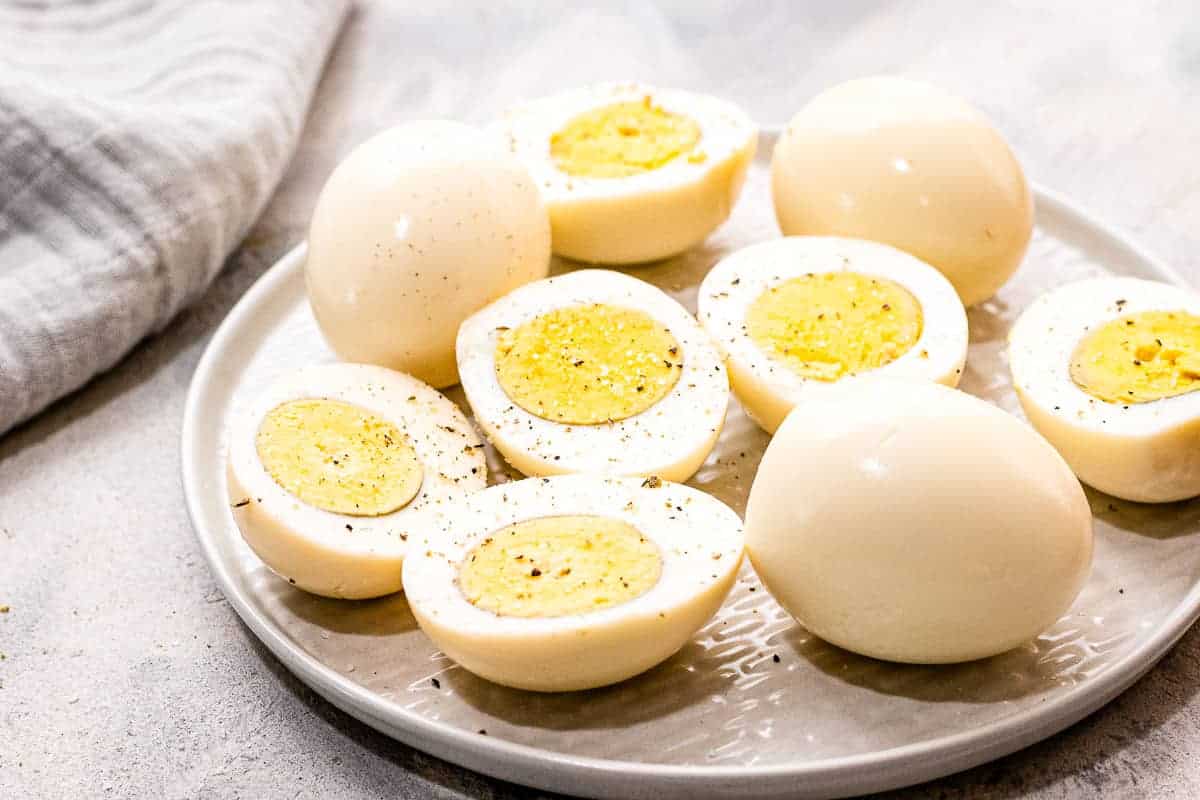 Once you try Instant Pot hard-boiled eggs, you won't go back to the boiling method again. It's so easy, and you get perfect results every time!
More Ways to Use Your IP!
Use it to make delicious Shredded Chicken to use in lots of recipes that call for cooked chicken!
Make the best Corn on the Cob! This is great when you don't want to turn on the stove during the summer.
Make Baked Potatoes in your IP for an easy side dish. They only take 20 minutes!
Try it and love it? Rate it, please!!!? Seriously though a five-star rating below will make my day! If you snap a photo, please be sure tag me on Instagram at @julieseatsandtreats or #julieseatsandtreats so I can see your delicious dish!!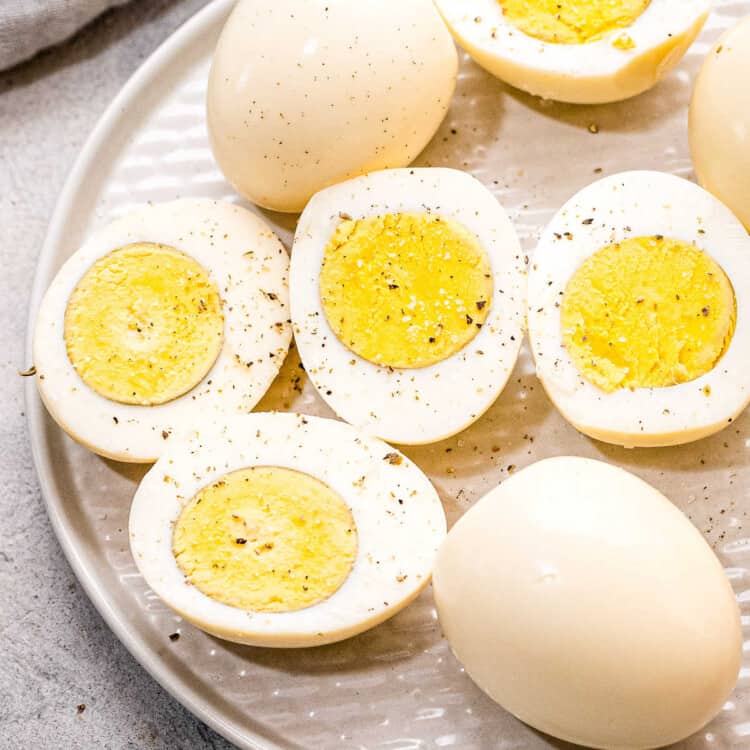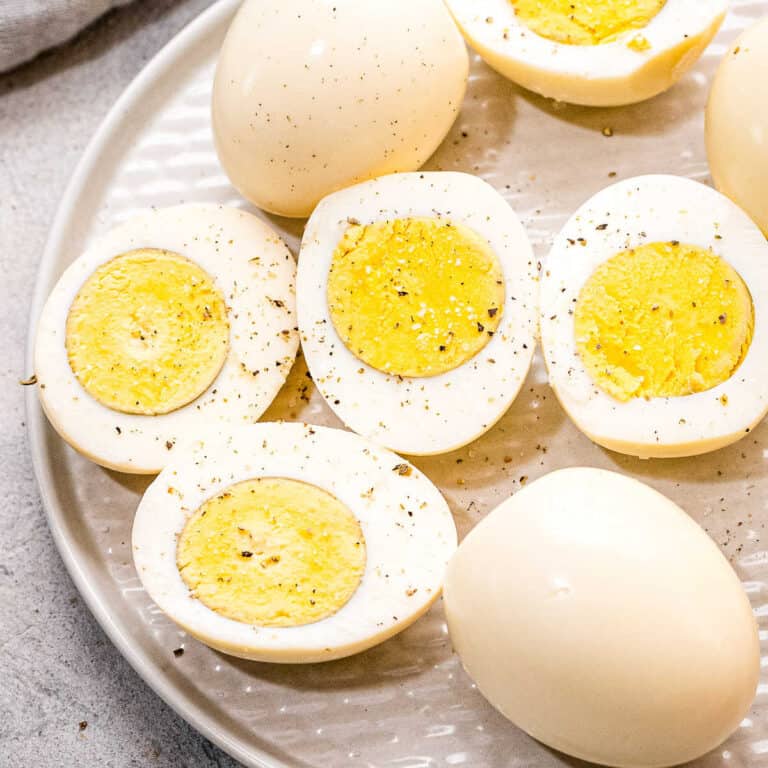 Instant Pot Hard Boiled Eggs
Make your hard boiled eggs in your Instant Pot in less than 15 minutes. Perfectly cooked and easy to peel every single time!
Instructions
Add 1 c. of water to your Instant Pot. Place the metal trivet inside that comes with your Instant Pot.

Place the eggs on top of the trivet. You can use up to 12 eggs in a 6 quart Instant Pot or as little as 1 egg.

Secure the lid onto the pot and make sure the vent is turned to the "sealing" position.

Press the manual button on the Instant Pot and adjust to 5 minutes of cooking time.

Once the Instant Pot cycle is complete and it beeps, wait for an additional 5 minutes to naturally release the pressure. Then use a quick release to release any remaining pressure.

Unlock the lid and remove from the Instant Pot.

Place the eggs in a bowl of ice water and let them sit for five minutes to cool.

Remove from water and peel. To peel gently tap the eggs against a hard surface and peel off the shell. Rinse egg under cold water to make sure all egg shells are removed. Gently pat dry.
Nutrition Information
Calories:
63
kcal
(3%)
,
Carbohydrates:
1
g
,
Protein:
6
g
(12%)
,
Fat:
4
g
(6%)
,
Saturated Fat:
1
g
(6%)
,
Trans Fat:
1
g
,
Cholesterol:
164
mg
(55%)
,
Sodium:
62
mg
(3%)
,
Potassium:
61
mg
(2%)
,
Sugar:
1
g
(1%)
,
Vitamin A:
238
IU
(5%)
,
Calcium:
25
mg
(3%)
,
Iron:
1
mg
(6%)