Lemon Crumb Bars ~ These lemon bars are sweet and salty from the addition of saltines!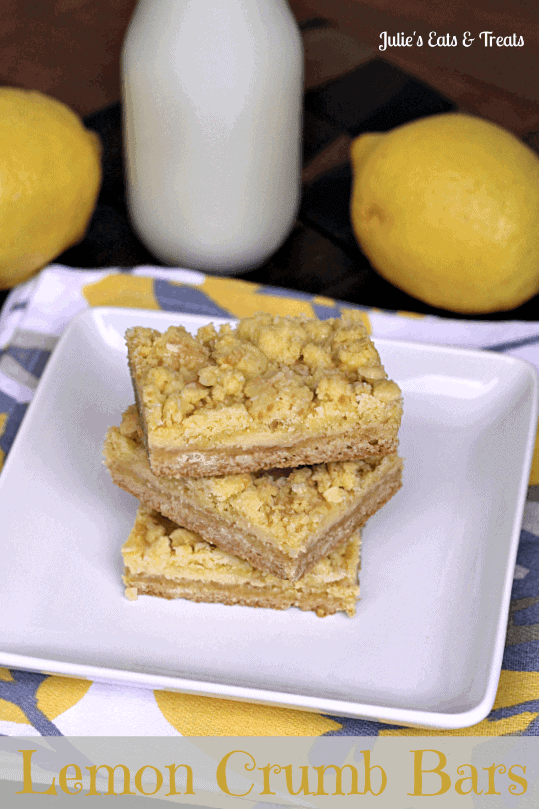 I never realize how many people actually read my blog. It simply amazes me. Last night I had two incidents like that. To me I just write and post and never think that people that are my friends, neighbors and relatives are waiting for the next recipe.

First incident last night – Now you have to realize in both cases I live in a small town in west central Minnesota. Pretty much everyone is related or knows each other. For example going to the grocery store is a social event. I'm not joking. You should typically expect to spend no less than a 45 minutes if you go in to get a loaf of bread and a gallon of milk. Last night I stopped there after work, well actually twice but the second time was actually a quick affair i.e. I put my head down and dashed in and out! The first time I ran into my high school classmate who was actually my prom date too. I love the kid. He's seriously awesome and knows how to make my day just by saying hi. I was going from aisle to aisle when I hear him say Hey Julie I love your blog! I was like whoa you actually read it? He goes on to tell me when his girlfriend and aren't sure what to make they go to my blog and look for ideas. He reported he made both the Taco Pie and the Pizza Paninis and they were great! Now that's how you put a smile on this girl's face! I was on cloud nine and ever called my mom afterwards to tell her. She's loves him too. He just went up a few more notches in both our books!

Second incident last night – My hubby and I were at a visitation last night for his relative that passed away. As we exited the funeral home his best friend's mom yells Hey it's Julie's Eats & Treats! I was like oh my goodness she reads my blog? I never knew! Woohoo do a little dance for finding out about TWO new readers tonight.

Moral of the story is I LOVE hearing about you guys and what you think of my recipes so don't stop commenting and telling me about it.

Now I bet you are wondering about these Lemon Crumb Bars so I'll get off my soapbox and give you the recipe. They aren't the typical gooey lemon bar. They have a nice thick lemon crust with a little gooey then a nice crumb topping on top. I think they are just wonderful, but you already know that because I'm sharing them with you. So if you are looking for a bit of a different twist on the typical lemon bar you are in luck. Enjoy!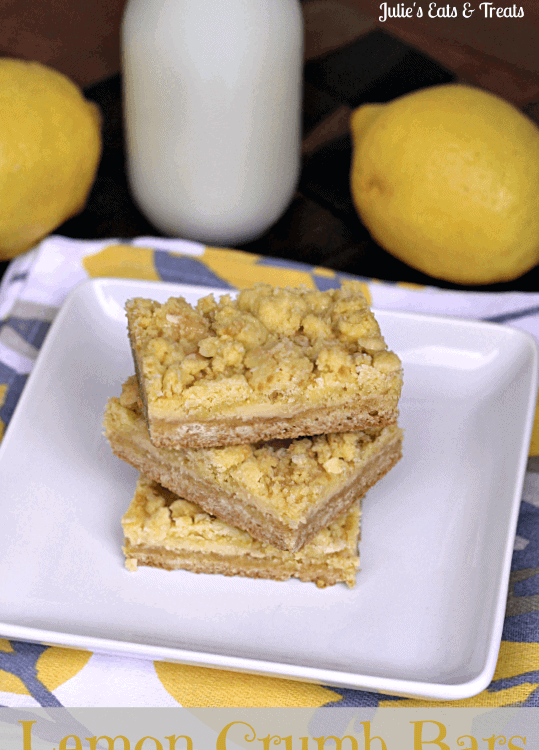 Lemon Crumb Bars
These lemon bars are sweet and salty from the addition of saltines!
Ingredients
1

package

18 1/4 ounces lemon cake mix

1/2

c.

cold butter

1

egg

2

c.

crushed saltines

about 60 crackers

3

egg yolks

1

can

14 ounces sweetened condensed milk

1/2

c.

lemon juice
Instructions
In a large mixing bowl, beat cake mix, butter and egg until crumbly. Stir in cracker crumbs; set aside 2 cups of the mixture for topping. Press remaining mixture into a 9 x 13 in cake pan coated with nonstick cooking spray.

Bake at 350 degrees for 18-20 minutes or until edges are browned.

In a small mixing bowl, beat the egg yolks; milk and lemon juice. Pour over crust; sprinkle with reserved crumb mixture.

Bake at 20-25 minutes longer or until edges are lightly browned. Cool on a wire rack. Cut into bars. Store in refrigerator.
Nutrition Information
Serving:
1
,
Calories:
303
kcal
(15%)
,
Carbohydrates:
51
g
(17%)
,
Protein:
5
g
(10%)
,
Fat:
8
g
(12%)
,
Saturated Fat:
4
g
(25%)
,
Cholesterol:
50
mg
(17%)
,
Sodium:
503
mg
(22%)
,
Potassium:
61
mg
(2%)
,
Fiber:
1
g
(4%)
,
Sugar:
24
g
(27%)
,
Vitamin A:
245
IU
(5%)
,
Vitamin C:
2.3
mg
(3%)
,
Calcium:
138
mg
(14%)
,
Iron:
1.9
mg
(11%)