Strawberry Pie Bars ~ Quick and Easy Bars Stuffed with Strawberry Pie Filling in between a Soft and Delicious Almond Crust then Drizzled with Almond Icing!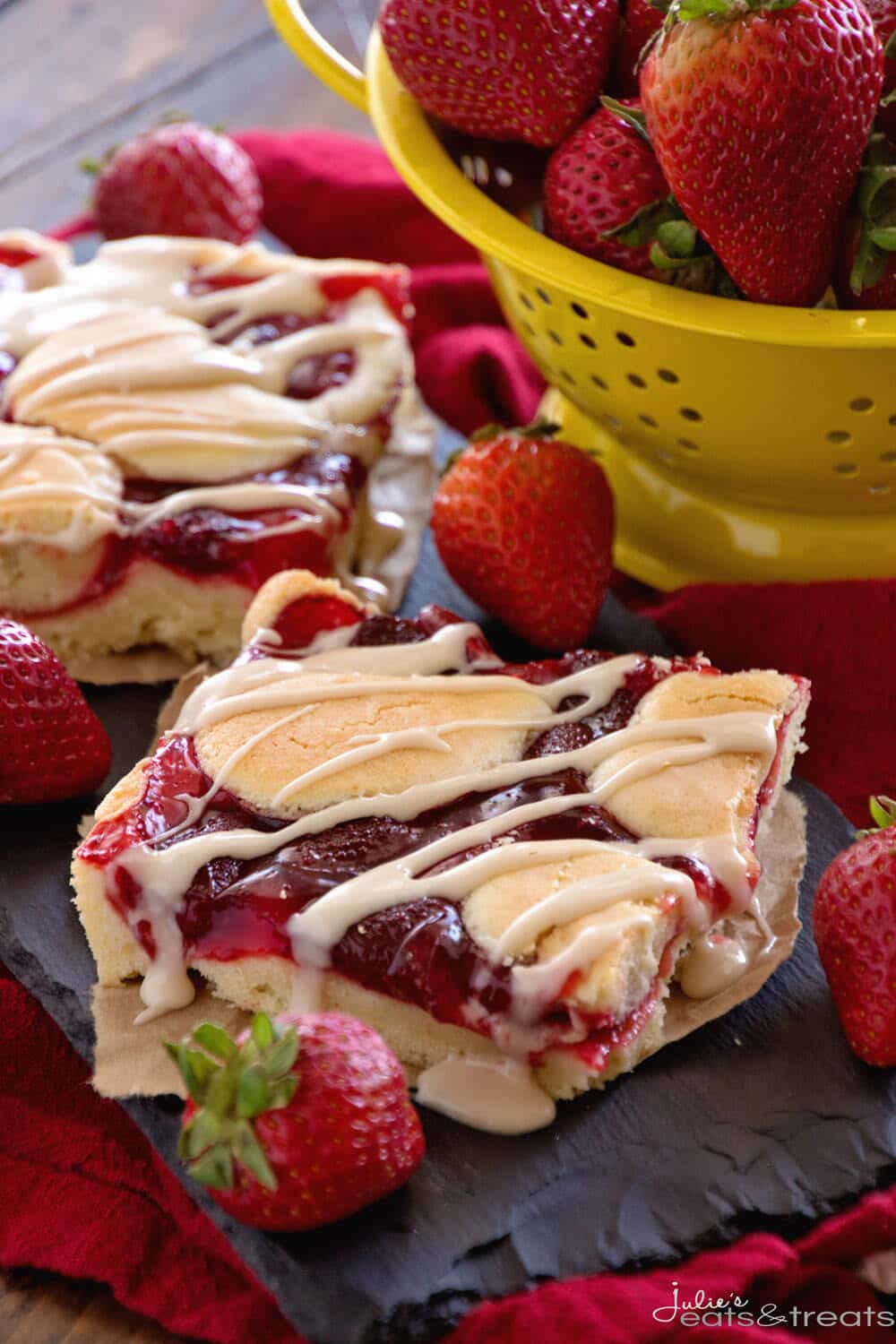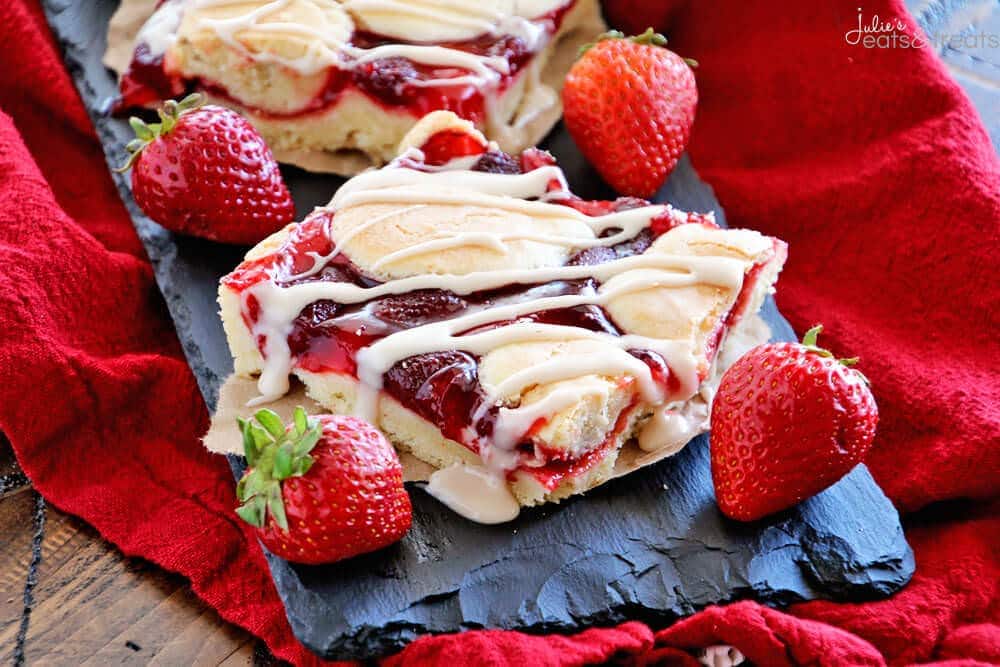 Anyone else scooping up all the strawberries at the store these days? I know I am. You can usually bet anytime I head there I come out with at least two containers in my bags. I can't stop, won't stop eating my strawberries. Miss K loves them too and asks for them all the time which I fully support. Then I grabbed some raspberries the other day and let her have some of those. She's all sorts of confused now. She calls them "little strawberries" and begs for them. Unfortunately Mom doesn't have any right now and she's not so impressed with me. It's super rough being two sometimes isn't it? I should probably get some more the next time I'm at the store to pacify her huh? For now she's still eating her "big strawberries" and seems to be somewhat content with those.
My hubs is also a huge strawberry lover. You should see him when my mom drops off a strawberry pie. He's shoveling it in as fast as he can so no one else gets more than their little slice. I really don't blame him since they are pretty amazing. When it comes to cherry dessert he's not such a fan and he's usually turning his nose up at them. It is really a struggle for this girl since I'm all about cherry desserts. I really should have had that on my questionnaire before I got married. Obviously I did not think that one through! Every single time I make these Cherry Pie Bars he looks at me with these sad puppy dog eyes and goes why can't you use strawberry pie filling? Please Julie? Please? And then being the terrible wife I am I never do it. Don't ask me why but I just don't.
A few weekends ago I was craving something sweet so I started contemplating his wish. It is strawberry season, he is outside working hard on my new office cabinets. I suppose I could do this for him. I could break down and use Strawberry Pie Filling just for him because I'm such a sweet wife life that. So I did. I love these bars because they are so great to whip up quickly when you need a last minute treat for an event. The secret to these is the almond extract in my opinion. If you aren't an almond lover like me then just substitute out for vanilla extract.
Now I'm asking myself why on earth did I not try these bars with Strawberry Pie filling sooner? Wow. They were gone in a flash and my parents, who also got treated to a few, were sharing in my hubs joy. As much I don't want to admit, sometimes that hubs has some great ideas when it comes to baking!
Looking for another fun way to enjoy fresh strawberries? Chocolate Nutella Mousse with Strawberries – A perfect dessert for family gatherings, parties or a picnic! It's rich in flavor, quick and tastes delicious!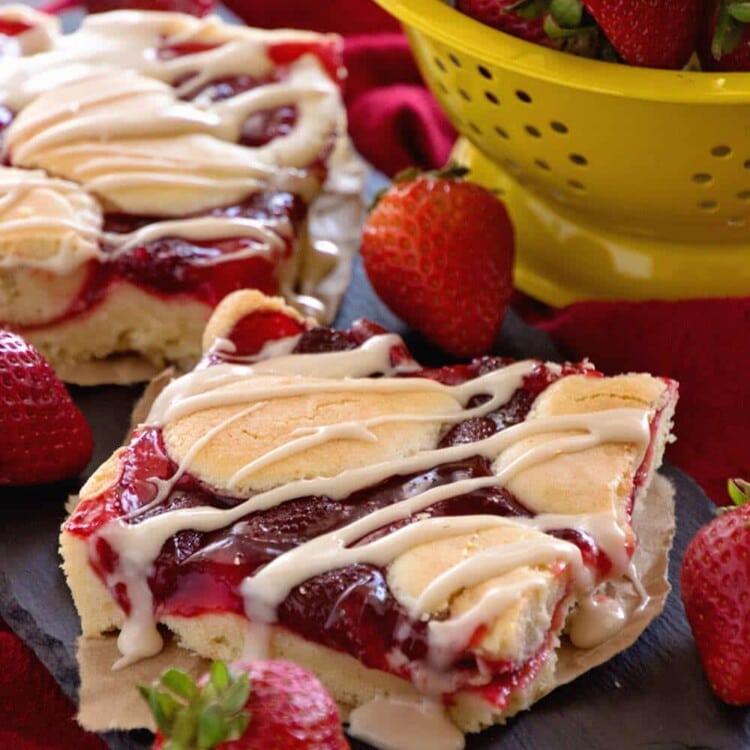 Strawberry Pie Bars
Strawberry Pie Bars ~ Quick and Easy Bars Stuffed with Strawberry Pie Filling in between a Soft and Delicious Almond Crust then Drizzled with Almond Icing!
Ingredients
1

c.

butter

softened

2

c.

sugar

4

eggs

1

tsp

vanilla extract

1/4

tsp

almond extract

3

c.

flour

1

tsp

salt

2

cans

21 ounce Lucky Leaf strawberry pie filling

Glaze

1

c.

powdered sugar

1/2

tsp

vanilla extract

1/2

tsp

almond extract

2

Tbsp

milk
Instructions
Cream butter and sugar together. Add eggs, beating after each addition. Mix in extracts. Add flour and salt. Mix until well combined.

Spread 3 cups of the batter in a greased jelly roll pan. Spread pie filling on top of dough. Drop remaining dough by tablespoonfuls on top of strawberry pie topping.

Baked at 350 degrees for 45-60 minutes or until toothpick comes out clean. Cool.

Combine glaze ingredients and drizzle over bars. If serving the next day wait and do this before serving or the bars will be a bit soggy!
Nutrition Information
Serving:
1
,
Calories:
368
kcal
(18%)
,
Carbohydrates:
63
g
(21%)
,
Protein:
4
g
(8%)
,
Fat:
10
g
(15%)
,
Saturated Fat:
6
g
(38%)
,
Cholesterol:
58
mg
(19%)
,
Sodium:
215
mg
(9%)
,
Potassium:
57
mg
(2%)
,
Sugar:
35
g
(39%)
,
Vitamin A:
345
IU
(7%)
,
Vitamin C:
0.1
mg
,
Calcium:
15
mg
(2%)
,
Iron:
1.8
mg
(10%)
Things You Might Need for This Recipe!