Looking for a fun new shot? This Pickleback is great and is perfect for St. Patrick's Day! Wondering what a Pickleback is exactly? First of all, it's super simple and apparently, it's one of the most popular shots ordered in bars around the world! It's a shot of whiskey chased by a shot of pickle brine. Where are my pickle lovers? Now you can make your favorite shot at home!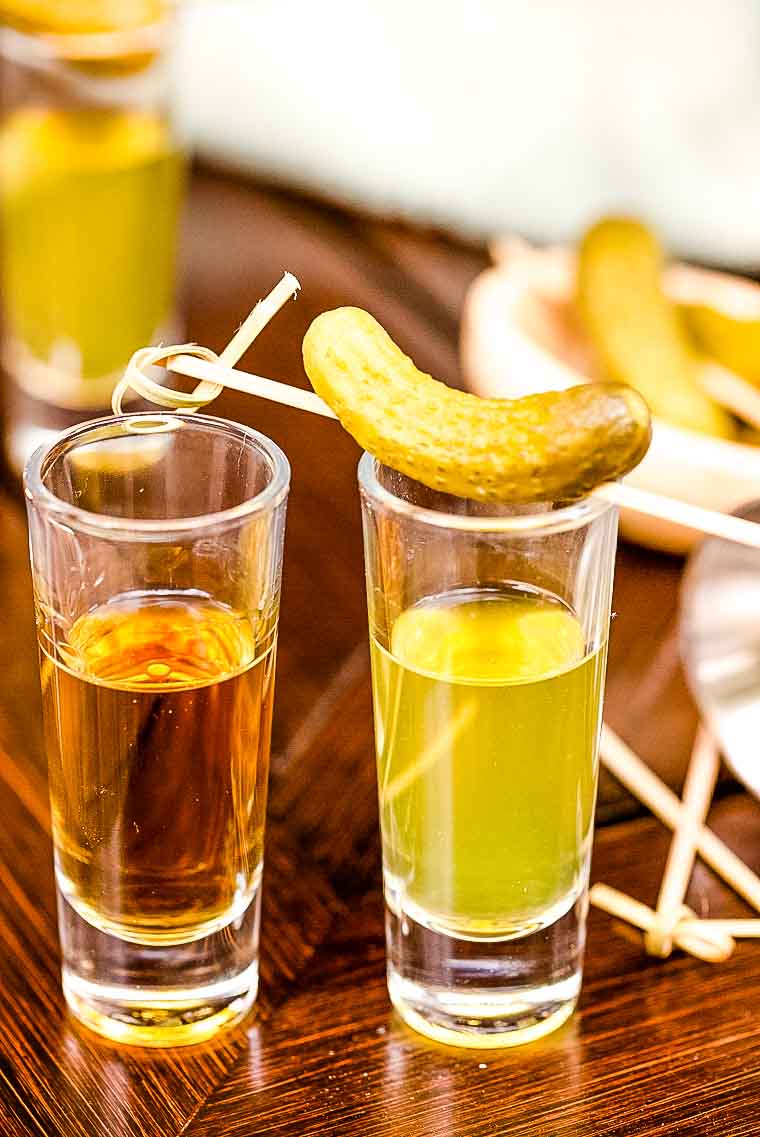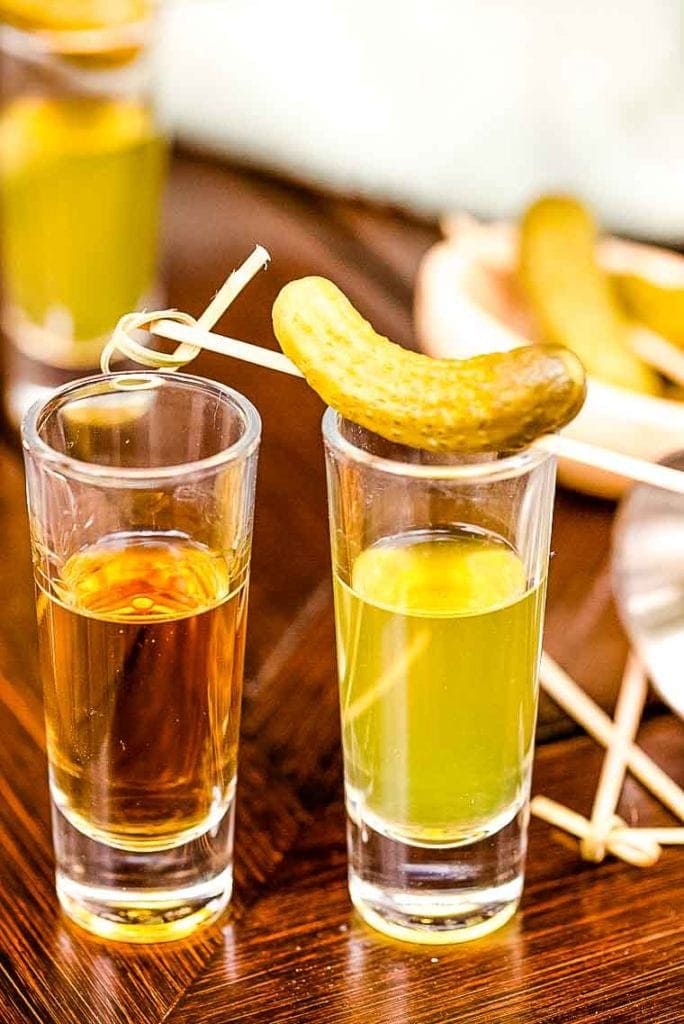 Pickleback
Who loves a great cocktail? Me, me, me!!! BBQ Bloody Mary Recipe, Pineapple Fruit Cocktail Drink Recipe or maybe a nice Winter Sangria is just perfect this time of year!
But today…. I have a fun new cocktail for you!
Have you ever heard of a Pickleback? Silly? Maybe! Fun, absolutely! And you're going to love how easy this cocktail is to make!
Before we get started though, I have a confession. I love pickles! Dilly pickles specifically. I love that tangy bite and delicious tang you get from a great dill pickle. That's why this is a great combination!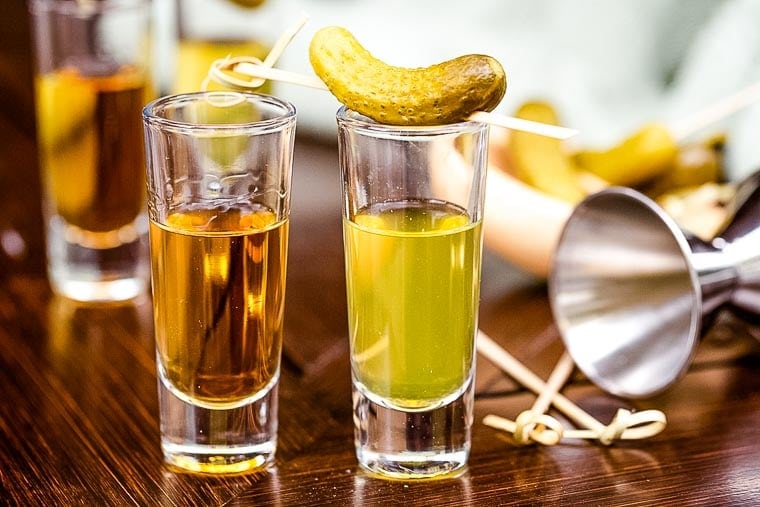 Pickleback Shot
When I was in Texas this past summer I asked for a beer with a pickle in it. There's just something about that combo! They looked at me like I was a crazy person.
Have you tried that combo? If not, give it a try! Epic!
Another mix in with beer that I love is Green Olives. It's just something about that salty mixture.
That's why I figured I'd love these Pickleback shots too!
Who invented the Pickleback?
This shot is fairly new. It made it's debut in New York about 13 years ago. Picture if you will a bar a couple doors down from a guy canning pickles in his house. Then he took those pickles to the bar where they were promptly gobbled up.
What are you left with? Pickle juice of course!
Is pickle juice a good chaser?
Absolutely! From homemade pickles preferably. Spicy, briny and salty pickle juice is a great chaser!
What is a Pickleback Shot?
A shot of whiskey followed by a shot of pickle juice!
What type of whiskey is used in this cocktail?
Old Crow was the original whiskey, but now Jameson is quickly becoming more popular! McClure's pickles are the pickle of choice, which is great if you're in Brooklyn but for the rest of us, not so much! Use a good spicy, garlicky dill pickle. Garnishing the top? That's up to you!
Where are Picklebacks from?
The term Pickleback is thought to originate from The Bushwick Country Club bar in Williamsburg, Brooklyn. Reggie Cunningham is thought to be the originator back in 2007. It is now sometimes referred to by bartenders as "The Pisky Whickle".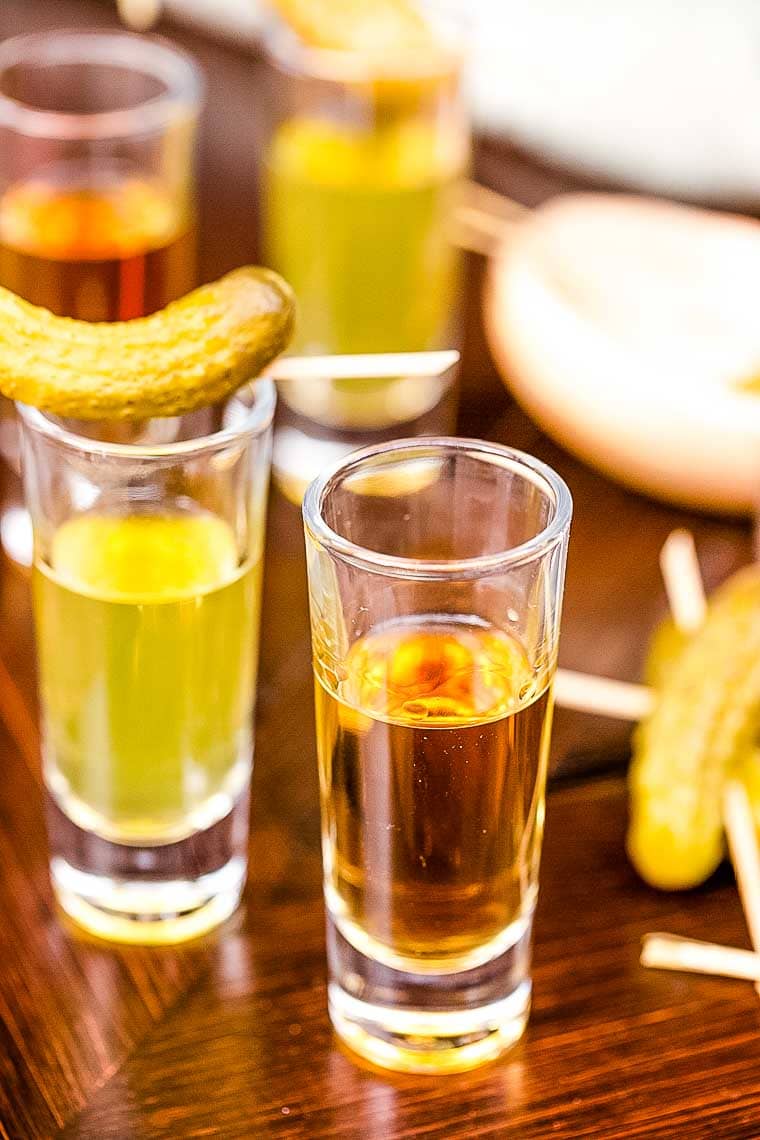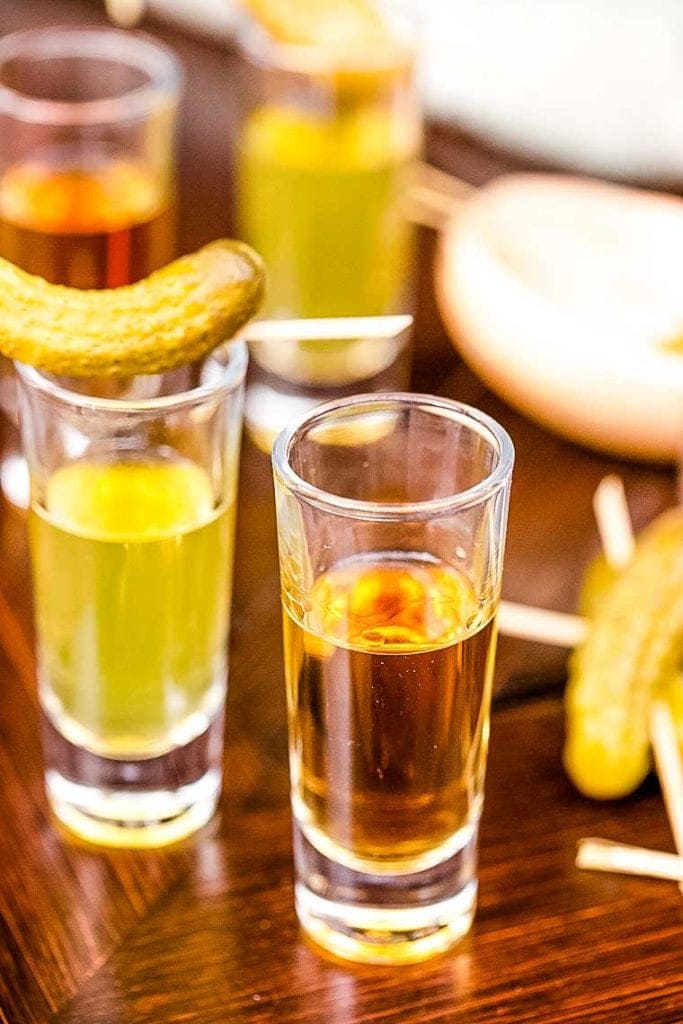 Pickle Back
Finish up your Jameson Pickleback with a Snit, which is Minnesota talk for a beer chaser? – come on you know you want to!! Better yet, make it a Green Beer, Irish Car Bomb or an Irish Trash Can!
Minnesota is where the cool people come from, obviously, so you need to get up on our lingo!
Want to make your own spicy pickles? Here's a great recipe to try – Homemade Claussen Knock-Off Pickles from Foodie with Family!
Line 'em up and give it a try! Let me know what you think of this great cocktail! I'm looking for that five-star rating below, cheers!!!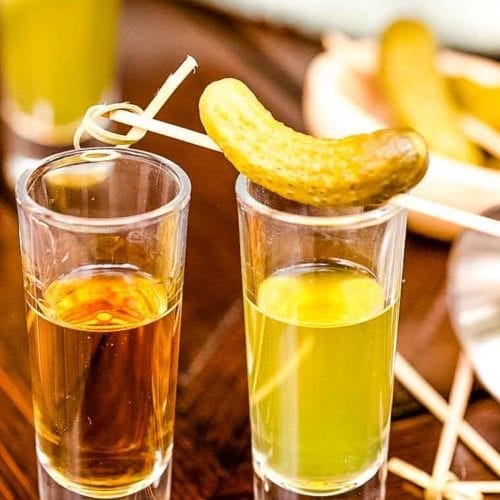 Pickleback Shot Recipe
Pickleback is great and is perfect for St. Patrick's Day! It's a shot of whiskey chased by a shot of pickle brine. Make this easy shot recipe at home!
Print
Pin
Rate
Ingredients
1

oz

whiskey

such as Jameson

1

oz

pickle brine

chilled
Instructions
Take the shot of whiskey. Then take the shot of pickle juice.
Nutrition
Calories:
78
kcal
|
Carbohydrates:
2
g
|
Sodium:
425
mg
LEAVE A COMMENT