You don't have to be Irish to enjoy this beverage!  This Irish Trash Can drink is a fun cocktail that mixes up a half dozen varieties of alcohol and then is topped with a can of Red Bull.
It's the perfect cocktail for celebrating St. Patrick's day! The "Irish" name is simply because this beverage turns green after it mixes together. Plus, it's pretty and delicious to drink!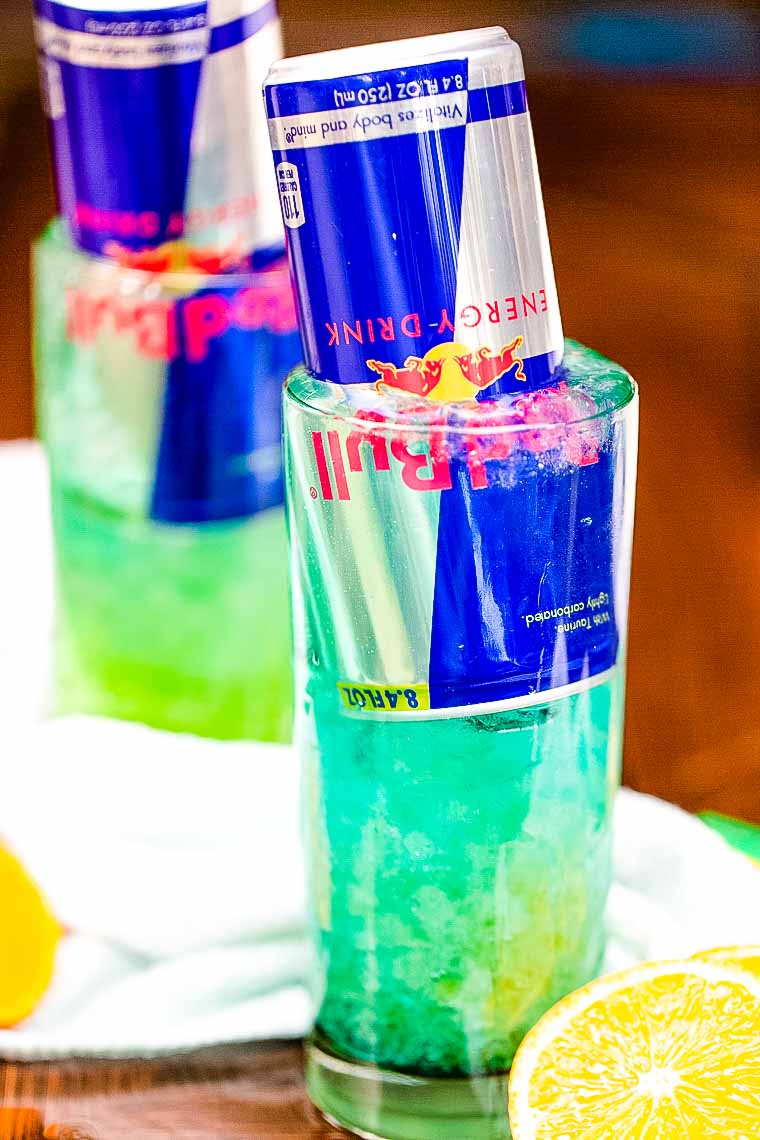 I've been introducing some great new cocktails on the blog, haven't I? Have you tried the Pickleback yet? There a bunch of Easy Cocktail Recipes on the blog or do you have Green Beer on the menu for St. Patrick's Day?
WAIT! Before you make your trip to the liquor store to stock the bar I'm gonna give you one more cocktail for the party!
Have you ever had an Irish Trash Can?
No? Oh my, that needs to change stat!!
This is a great cocktail that mixes half dozen varieties of alcohol and then is topped with a can of Red Bull! How fun does that sound? It's a great cocktail and a perfect way to start off your party!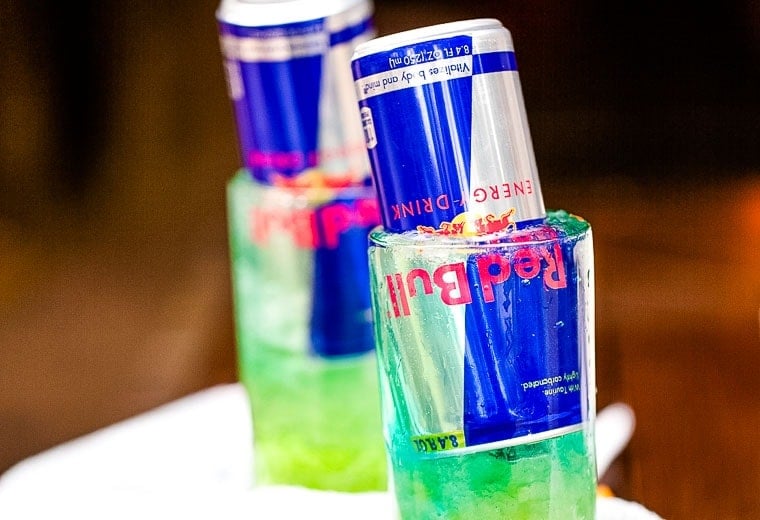 It also seems like the drink I probably would have consumed back when I was a little more youthful.
Red Bull was a big thing back then.
If you are looking to relive your younger days I promise you this drink will help you do that!
What is an Irish Trash Can?
It's a form of jungle juice that combines 6 different liquors and is served with a can of Red Bull on top for a boost of caffeine. It starts as blue on the top and transforms to green in the middle and bottom of the cocktail.
It's not actually an Irish cocktail, but the gorgeous green color makes it perfect for celebrating St. Patrick's Day with.
Irish Trash Can Ingredients
Gin
Light rum
Vodka
Peach schnapps
Blue curacao
Triple sec
Red Bull Energy Drink
Straws
Additionally, you may need Collins Cocktail Glasses. Tall and slender and this glass holds the Red Bull when it's tipped over without sinking to the bottom of the glass. These are a must for this cocktail!
How to Make an Irish Trash Can Cocktail
Fill a large Collins glass with ice.
Add all the liquors, and stir thoroughly.
Open the Red Bull and drop in the full can.
Insert a straw and enjoy!
Expert Tips
Use a tall thin glass, or the Red Bull will topple out of the cocktail.
Leave room in the drink for the addition of the can of energy drink so it doesn't overflow!
Ease the Red Bull in so it drizzles (rather than pours) into the cocktail.
How strong is an Irish Trash Can?
Typically this drink is about 40% alcohol by volume or abv, but it depends on the brand of alcohol you use. This is a potent cocktail with 5 types of alcohol so please drink responsibly.
Is an Irish Trash Can a form of Jungle Juice?
It can be considered jungle juice since the definition of jungle juice is an improvised alcoholic drink, but since I'm giving you a recipe, can we call it improvised?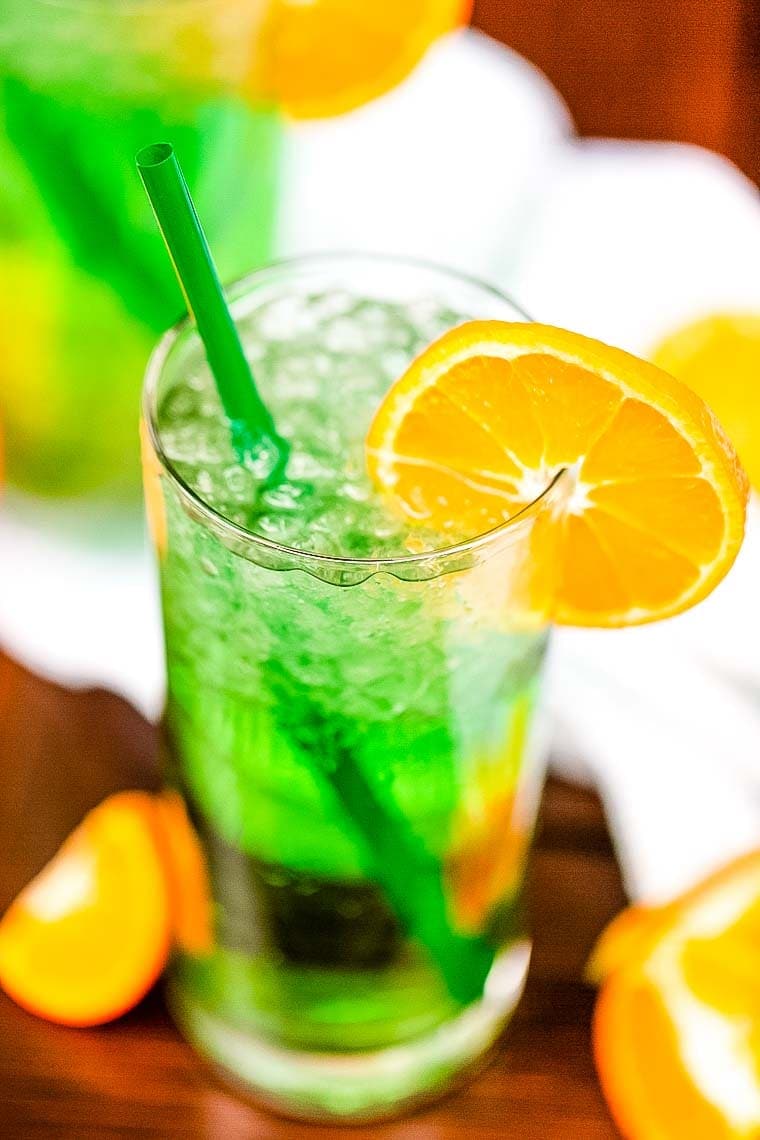 Half the fun of this drink is that once all the alcohol mixes together it makes a pretty blue drink.
I'm all about pretty things, so my drinks might as well be pretty too!
If you're looking for some good party eats, here are a couple of great ideas! Corned Beef Bagel Dip and Irish Soda Bread and when you're wrapping up dinner, check this out for St. Patrick's Day Desserts recipes!
More Delicious Cocktail Recipes!
Warm up with an Irish Coffee! With only four ingredients it's the perfect cocktail to warm up with during the fall and winter months!
Serve a White Russian during your parties. It's perfect for before or after dinner. A creamy three ingredients cocktail that's smooth.
Craving a refreshing cocktail? Mix up an Arnold Palmer! A blend of lemonade, iced tea and vodka!
Other Recipes You'll Enjoy!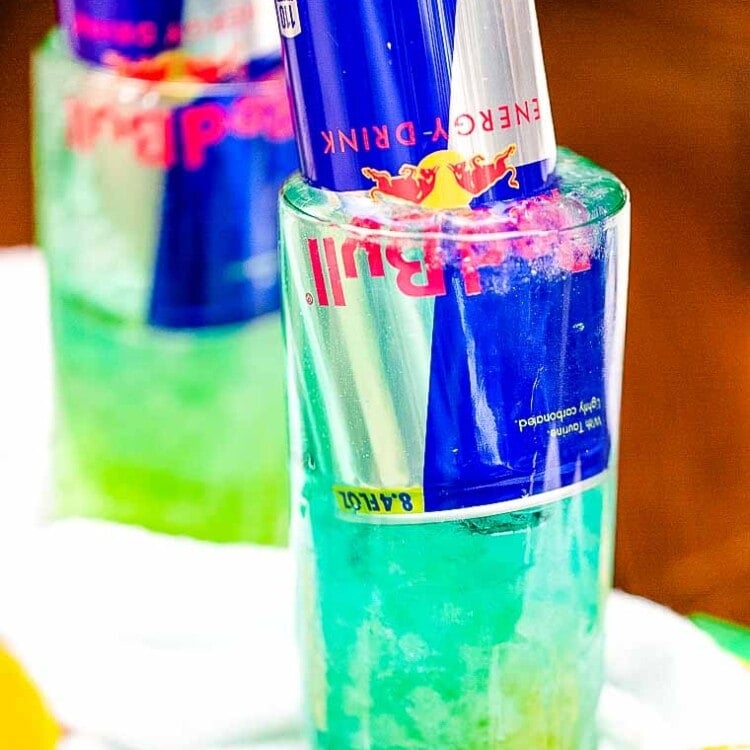 Irish Trash Can Recipe
The perfect fun St. Patrick's Day drink! This Irish Trash Can Recipe is a festive drink that turns green when all the ingredients are mixed together! Make a cocktail today!
Ingredients
½

ounce

gin

½

ounce

light rum

½

ounce

vodka

½

ounce

peach schnapps

½

ounce

blue curacao

½

ounce

triple sec

5

ounces

Red Bull Energy Drink
Instructions
Fill a large Collins glass (or tall, slender glass with a 12 oz capacity) with ice. Add all the liquors, and stir thoroughly.

Last open and drop in a full can of Red Bull upside-down. The can will float at first, then as the energy drink empties, it will slowly sink, turning your drink green as it does.
Nutrition Information
Calories:
223
kcal
(11%)
,
Carbohydrates:
13
g
(4%)
,
Sodium:
37
mg
(2%)
,
Sugar:
10
g
(11%)
,
Calcium:
96
mg
(10%)