Everything you need to know to make the perfect, festive Green Beer for St. Patrick's Day! Whether you are hosting a St. Paddy's Day party or simply treating yourself to a pint of beer, these tips and tricks will help you make the perfect pint of beer. So much fun to enjoy with friends during this holiday. Cheers!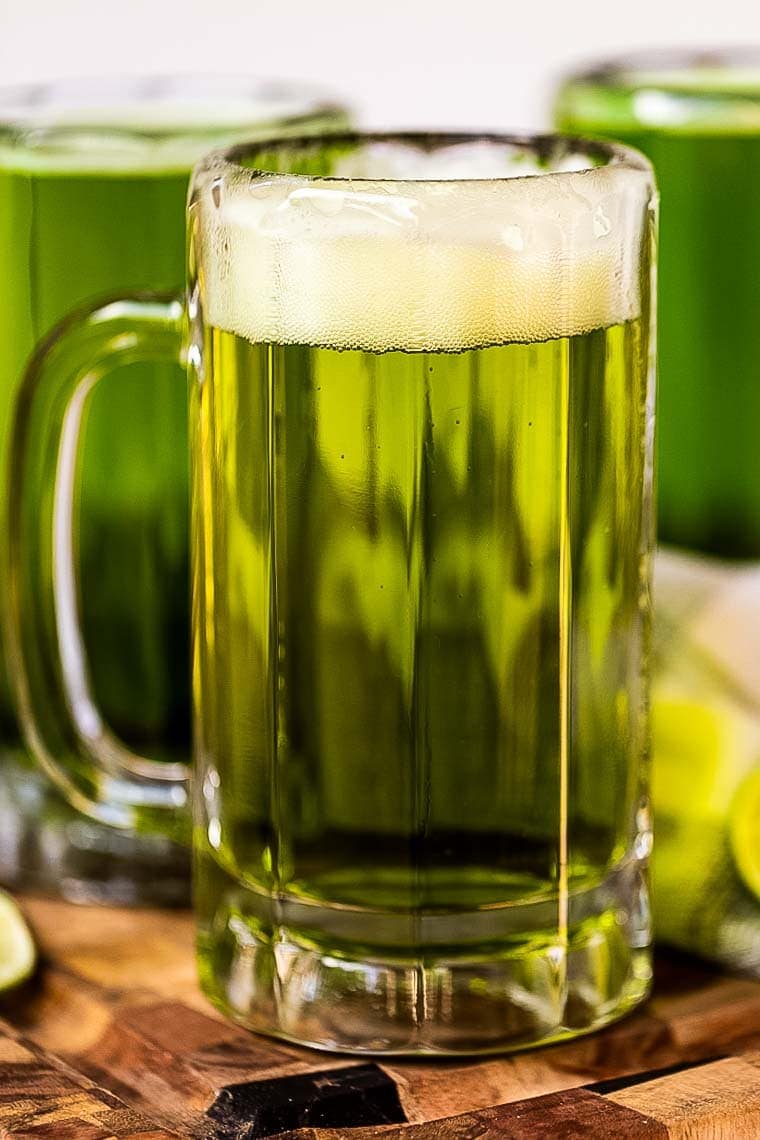 Are you ready for St. Patrick's Day? Everyone is a little Irish on the holiday wouldn't you agree?!! Whether you're serving up Lucky Leprechaun Munch for an easy snack, Mint Chocolate Sandwich Cookies for a little something green or Corned Beef Hash Overnight Breakfast Casserole for the morning after, you gotta be thinking about party stuff, right?!!
Good, because it's just around the corner and I know you need to be planning your menu, right?!!
Yes?!! Me too and it's starting with a beverage or two and I want to make it fun! Maybe a Grasshopper Drink or Jameson Pickleback and a great snack mix, because I know we're going to need something to soak up this tasty green beer!
If you've been visiting your favorite local establishment so you can enjoy a pint of festive beer for St. Patrick's Day you can make it at home and skip the crowds. Perfect for a party at your house!
Why this recipe works!
There's not special bar tending skills needed. It's so simple to make, yet perfectly festive for a party.
Any beer will work, but we recommend grabbing a lighter beer to really let the green shine through.
It's fun, easy to make, yet makes you look like the best party host or hostess out there! We won't tell them exactly how easy it is to make.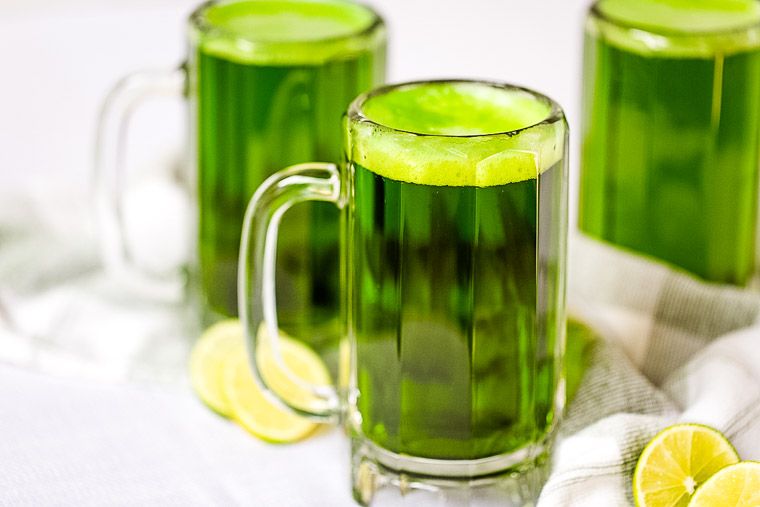 Only 2 Ingredients Needed!
Beer – The more pale the beer the better the green will show!
Green food coloring
Simple enough, right? This drink is easy and fun and perfect for St. Paddy's Day!
How to make Green Beer
Add the food coloring to the mug, start with three drops.
Pour the beer into a clear mug. Pale beer works the best!
Why is beer green on St Patrick's Day?
Green beer is a tradition that is most often enjoyed on Saint Patrick's Day. But it's not an Irish tradition but an American beverage! The Irish would prefer a pint of Guinness or a shot of Irish Whiskey over our American Green Beer!
According to legend a doctor actually created it. Dr. Thomas Curtin, a coroner's physician and eye surgeon created it in 1914 in the Bronx at a St. Patrick's Day part held at the Schnerer Club of Morrisania.
Did you know that there is even a Green Beer Day here in the USA? It is a day-long event where celebrants drink beer dyed green. This tradition started in Oxford, Ohio at Miami University in 1952. Now it's celebrated annually on the Thursday before spring break. Students start drinking it early in the morning with bars opening as soon as 5 a.m.!
What is the BEST beer to use?
A beer that is light in color, like a pilsner or an ale, will be the best choice. Many popular choices would be an American Lager. For example Budweiser, Miller, Busch or Coors are great options to produce the brightest green color in your beer.
If you choose to go with a pilsner or darker beer it will have a different effect than a pale ale.
Stouts or other dark beers have a rich color which is not transparent enough to let that green food coloring shine through and give your beer that pretty emerald green look. Instead the beer will turn darker and have an evergreen hue in the right light. The foam will pick up the green hue. Still fun and pretty, but a different effect.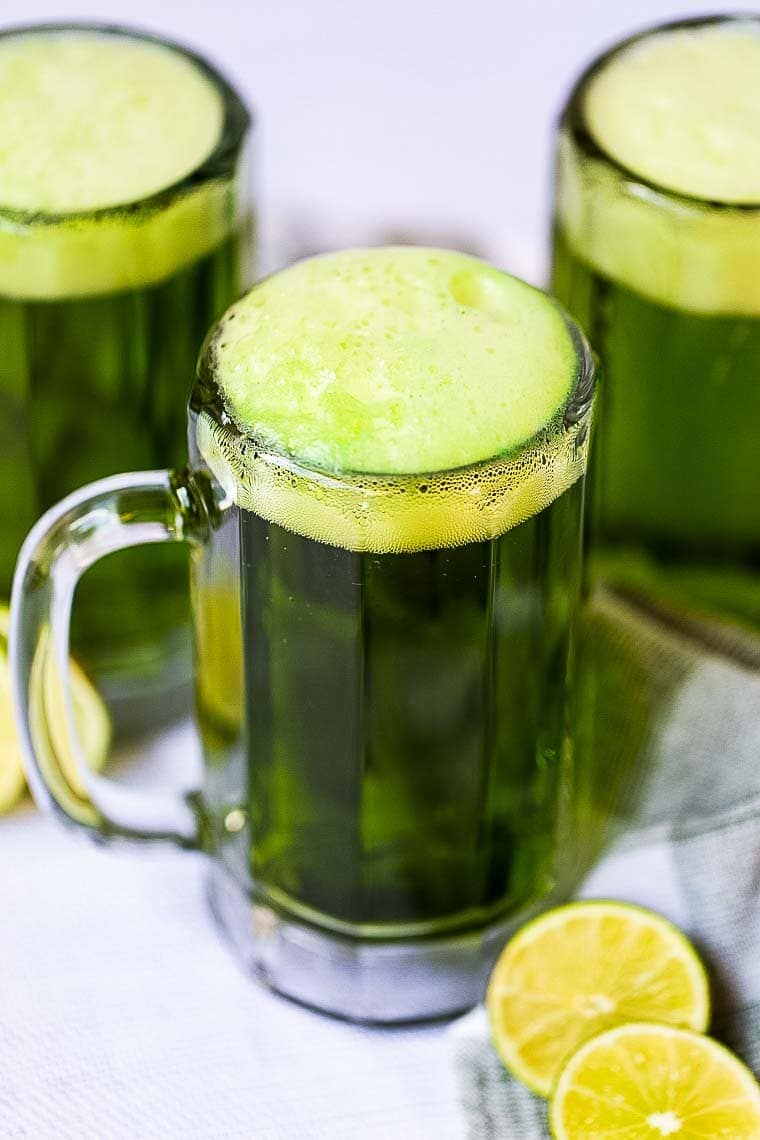 More delicious recipes to celebrate St. Patrick's Day!
Want another green beverage? An Irish Trash Can is a fun cocktail that mixes up a half dozen varieties of alcohol and then is topped with a can of Red Bull. When mixed together they turn a fun green color.
Want a fun shot? Jameson Picklebacks are a shot of whiskey chased by a shot of pickle brine. Where are my pickle lovers?
Craving a dark beer? Irish Cream Liqueur, Irish Whiskey and a Guinness Beer make up this Irish Car Bomb. A fun bomber style shot.
Maybe a dessert drink is more your style. This Grasshopper Drink only has three ingredients and is a beautiful green color from the crème de menthe.
Isn't this cocktail perfect for your party? Be sure to snap photos of your of your St. Patrick's Day fun and tag me on Instagram @julieseatsandtreats or #julieseatsandtreats so I can see your party fun!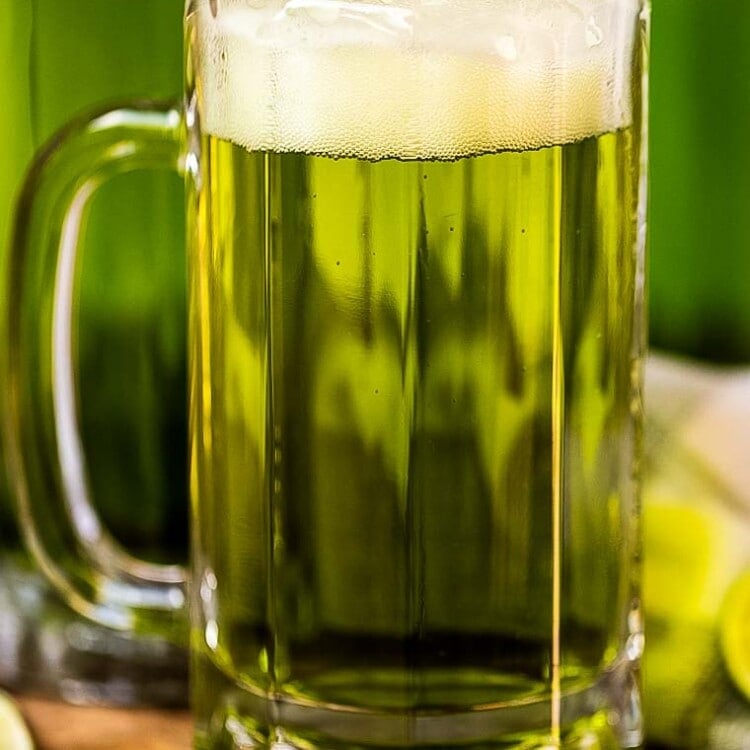 How to Make Green Beer
Learn how to make the perfect, festive beer for St. Patrick's Day! These tips and tricks will help you make the perfect pint.
Ingredients
1

pint

of pale beer

3

drops of green food coloring
Instructions
Grab a pint glass and add 3 drops of green food coloring. The classic green food coloring that comes in the little squeeze bottles works the best!

Slowly pour your pale beer into the pint glass and watch the color mix as the beer is added. The lighter the beer, the bright the color. If you want the coloring more vibrant add a few more drops of food coloring.
Tips
Beer - We recommend using a pale beer so the green can shine through.
Green food coloring - If you prefer to skip the food coloring you can substitute wheatgrass juice for it.
Nutrition Information
Calories:
137
kcal
(7%)
,
Carbohydrates:
7
g
(2%)
,
Protein:
1
g
(2%)
,
Sodium:
18
mg
(1%)
,
Potassium:
99
mg
(3%)
,
Calcium:
19
mg
(2%)