Everything you need to know to make the perfect, festive Green Beer for St. Patrick's Day! Whether you are hosting a St. Paddy's Day party or simply treating yourself to a pint of beer, these tips and tricks will help you make the perfect pint of green beer. So much fun to enjoy with friends during this holiday. Cheers!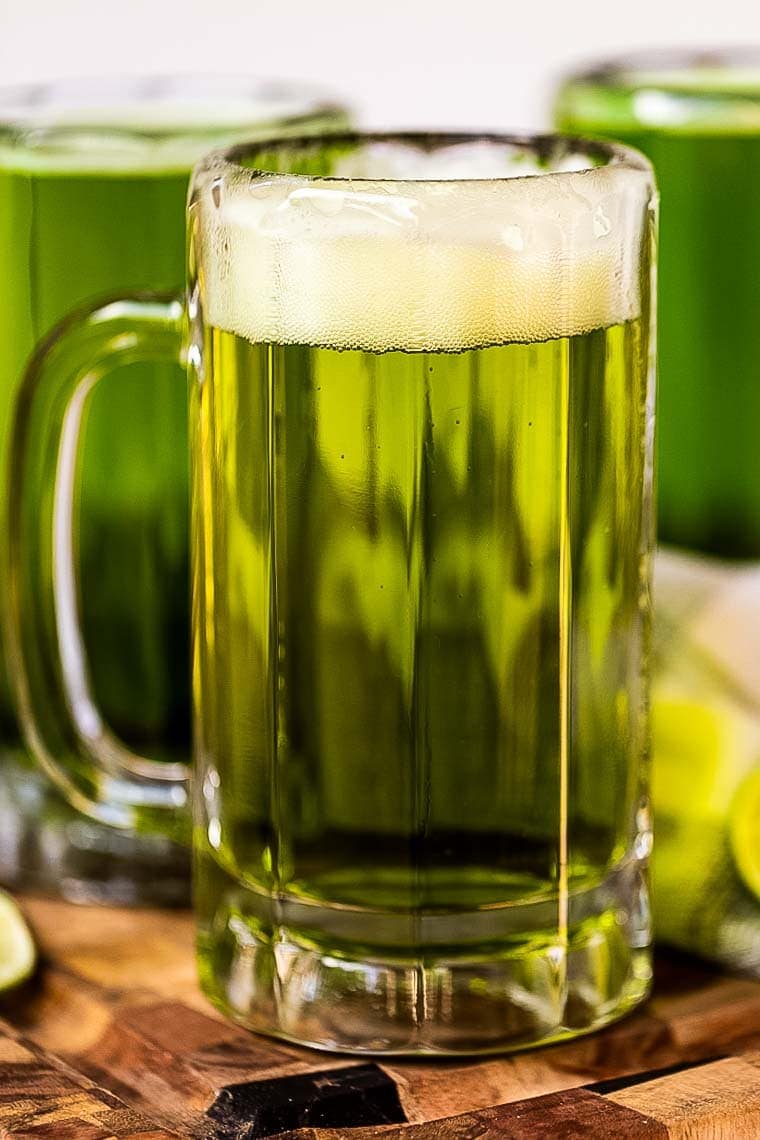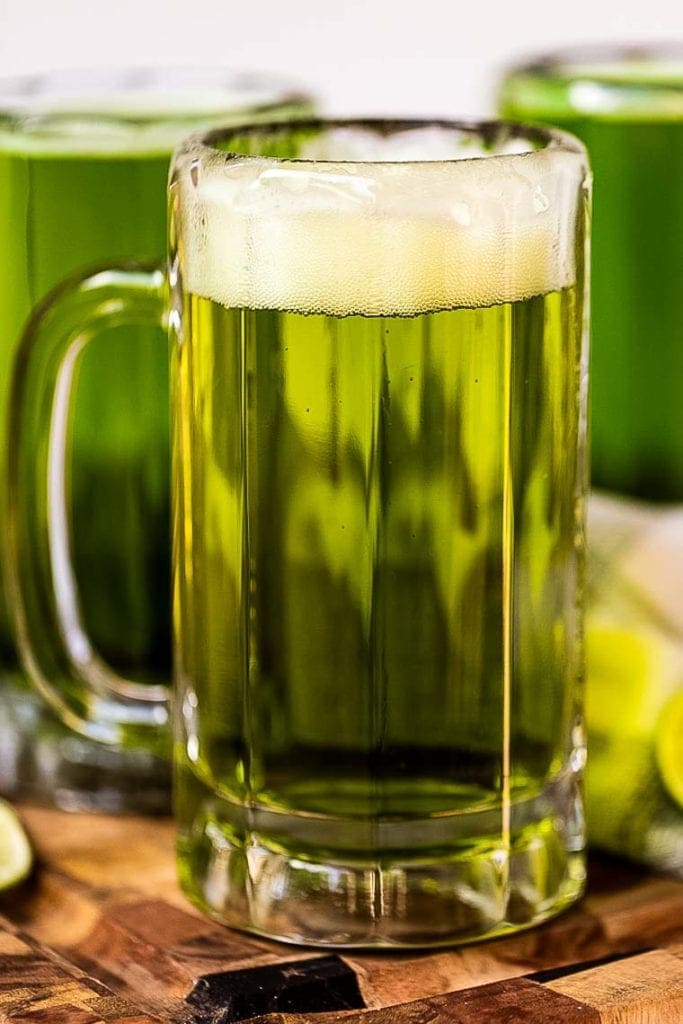 Green Beer
Are you ready for St. Patrick's Day? Everyone is a little Irish on the holiday wouldn't you agree?!! Whether you're serving up Lucky Leprechaun Munch for an easy snack, Mint Chocolate Sandwich Cookies for a little something green, Corned Beef Brisket for dinner or Corned Beef Hash Overnight Breakfast Casserole for the morning after, you gotta be thinking about party stuff, right?!!
Good, because it's just around the corner and I know you need to be planning your menu, right?!!
Yes?!! Me too and it's starting with a beverage or two and I want to make it fun! Maybe a Grasshopper Drink or Jameson Pickleback and a great snack mix, because I know we're going to need something to soak up this tasty green beer!
I think St. Patrick's Day is kind of one of those holidays you REALLY love and get into or you just kind of ignore and wonder why people get so excited over it!
My sister-in-law is one that REALLY gets into it. She attends the parades, dresses up from head to toe and has a good time.
I just might be the other one. Now, with that said, I still go out and have a green beer or two but you probably won't catch me dressing up in green from head to toe and painting my face!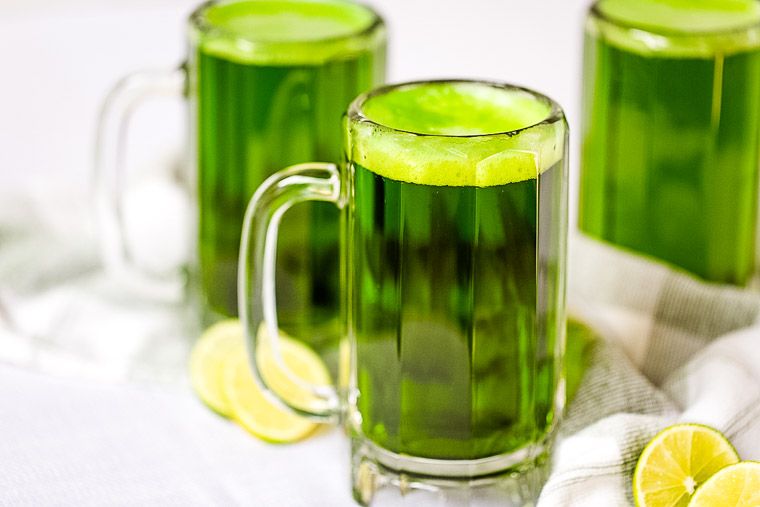 Can green beer make you sick?
I remember a long time ago my cousin said she only drank a certain brand of vodka, because the other brand(s) gave her a hangover. I laughed and said, no…. it's because you're drinking too much vodka that you have a hangover!
The same can be said of Green Beer. Drinking makes you sick when you drink too much!
For the record this has never happened to me so I'm just going off what others say ?
Why is beer green on St Patrick's Day?
Green beer is a tradition that is most often enjoyed on Saint Patrick's Day. But it's not an Irish tradition but an American beverage!
Grocery List for Green Beer
Yes, it's that easy!
What is the BEST beer to use?
A beer that is light in color, like a pilsner or an ale, will be the best choice.
How to make Green Beer
Add the food coloring to the mug, start with three drops.
Pour the beer into a clear mug. Pale beer works the best!
Simple enough, right? This drink is easy and fun and perfect for St. Paddy's Day!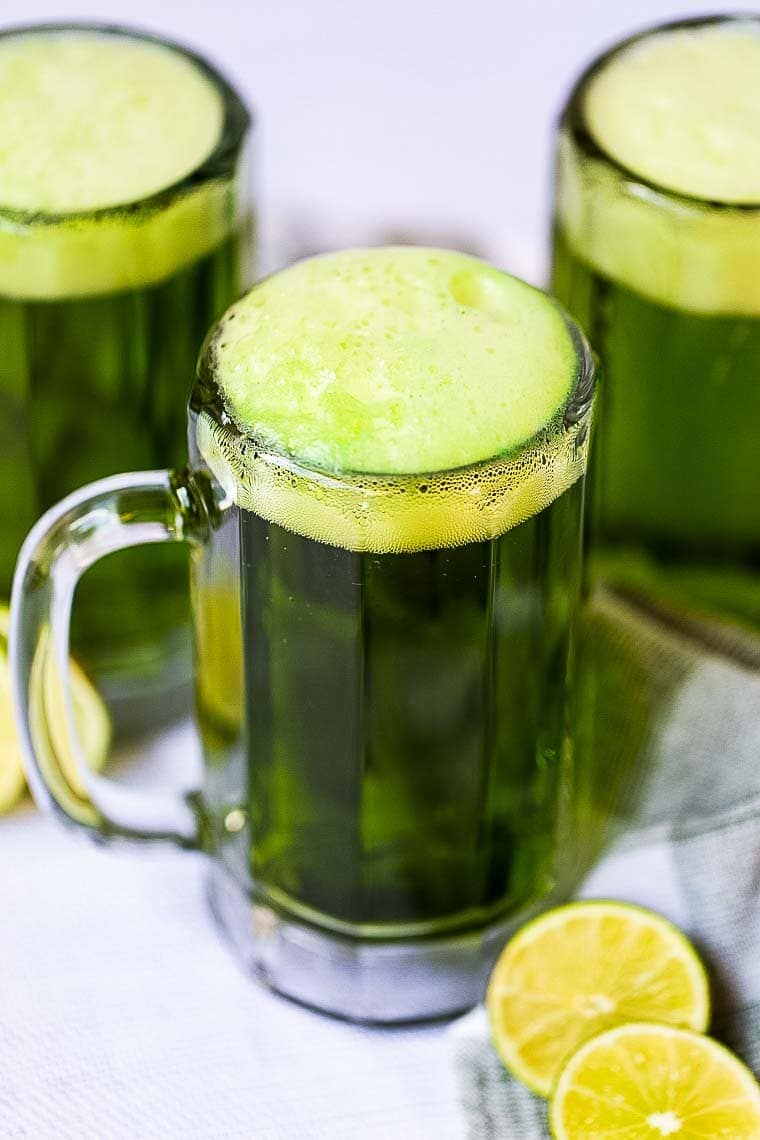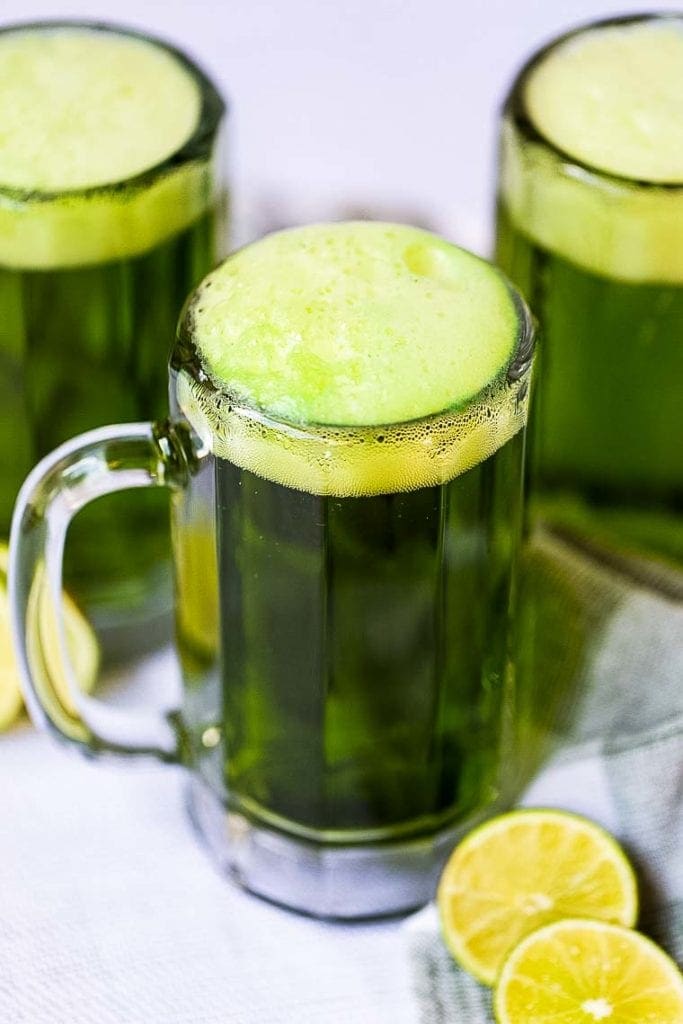 More fun cocktails to celebrate St. Patrick's Day!
Here are some of my favorite eats for easy party food recipes!
Isn't this cocktail perfect for your party? Be sure to snap photos of your of your St. Patrick's Day fun and tag me on Instagram @julieseatsandtreats or #julieseatsandtreats so I can see your party fun!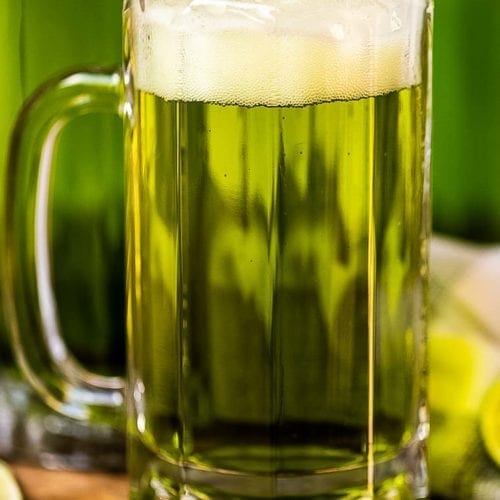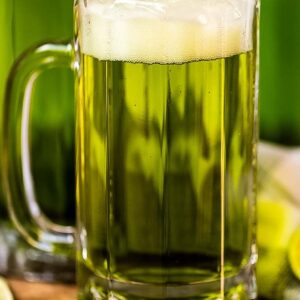 How to Make Green Beer
Learn how to make the perfect, festive beer for St. Patrick's Day! These tips and tricks will help you make the perfect pint.
Ingredients
1

pint

of pale beer

3

drops of green food coloring
Instructions
Grab a pint glass and add 3 drops of green food coloring. The classic green food coloring that comes in the little squeeze bottles works the best!

Slowly pour your pale beer into the pint glass and watch the color mix as the beer is added. The lighter the beer, the bright the color. If you want the coloring more vibrant add a few more drops of food coloring.
Notes
Beer - We recommend using a pale beer so the green can shine through.
Green food coloring - If you prefer to skip the food coloring you can substitute wheatgrass juice for it.
Nutrition
Calories:
137
kcal
Carbohydrates:
7
g
Protein:
1
g
Sodium:
18
mg
Potassium:
99
mg
Calcium:
19
mg