Shirley Temple Drink is the best mocktail to serve to kids, expecting mothers, designated drivers or anyone that loves a fun, sweet beverage at a party without the alcohol. They are super easy to make with only three ingredients. Kids LOVE them because they feel fancy drinking them. Such a fun, classic non-alcoholic drink for everyone!
I love coming up with adult-beverages but I think it's important to also have non-alcoholic options like my Strawberry Virgin Margarita and Sparkling Strawberry Lemonade. This year I want to make a mocktail that's both kid-friendly and great for adults!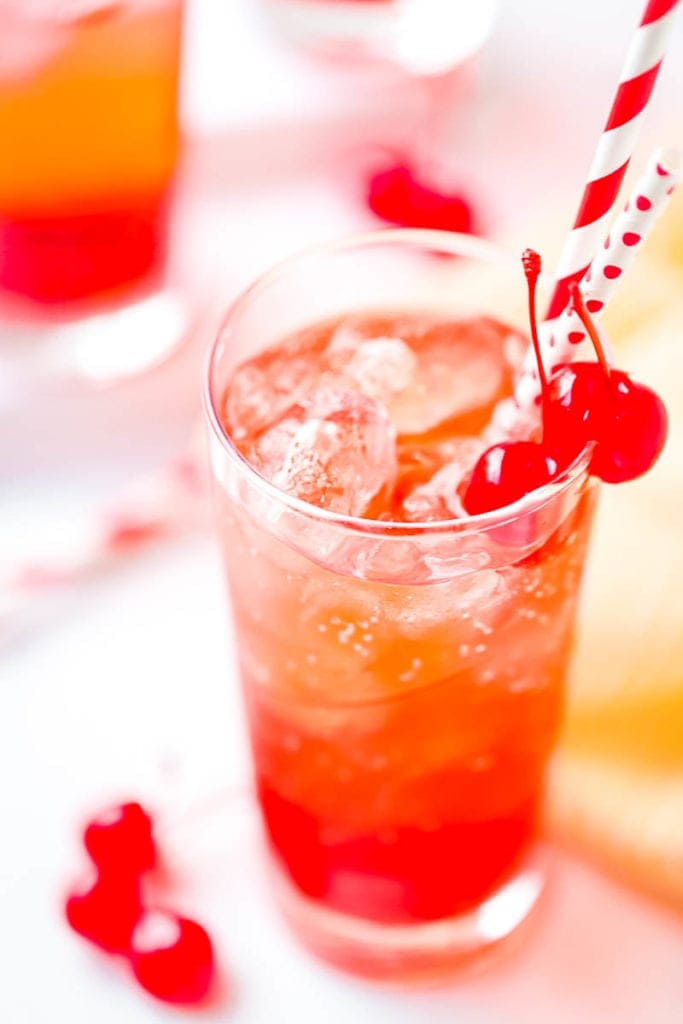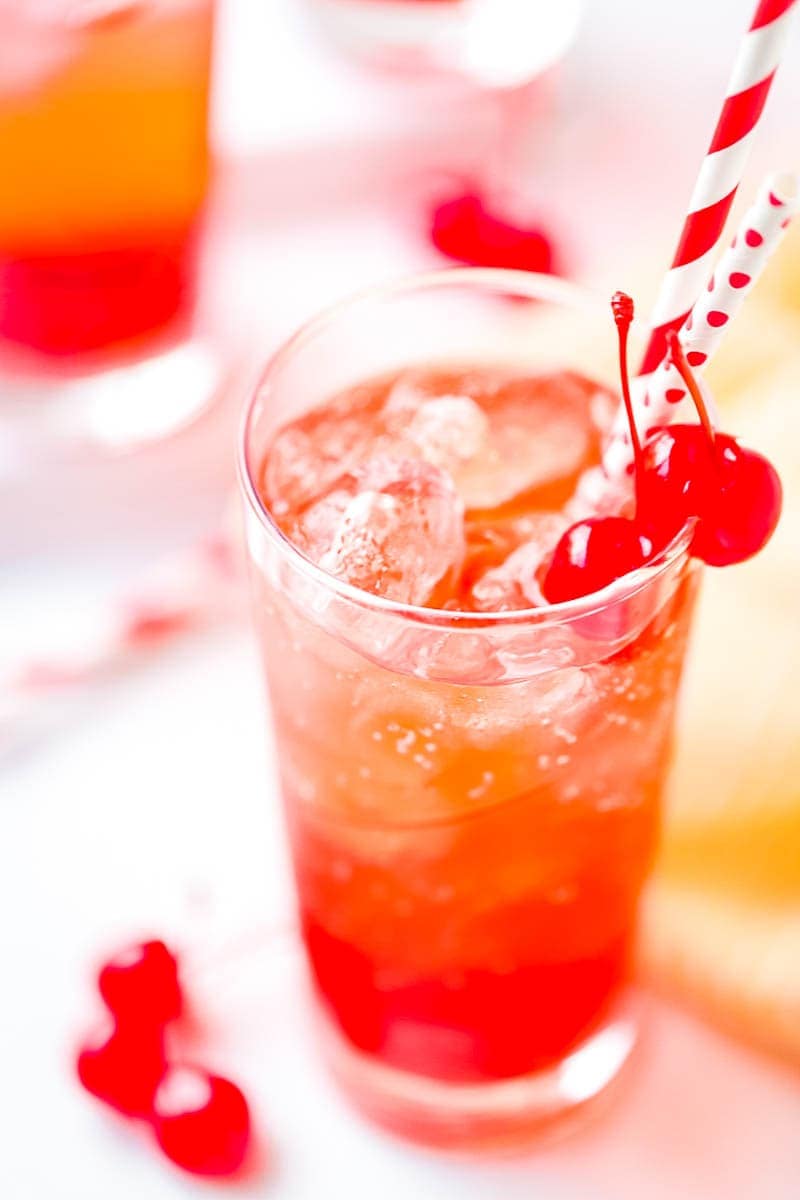 With summer just around the corner, it's time to start thinking about all the fun summer get-togethers with friends and family! Memorial Day is almost here and then the summer officially begins so there's no better time than now to start planning all the fun summer drinks.
A Shirley Temple is just a simple three-ingredient drink made with grenadine. It's totally appropriate for kids, but it's also a great option for adults who want a refreshing fizzy drink without any alcohol.
We always have a mix of kids and adults at our summer get-togethers and so I feel really good offering a fun mocktail that kids and adults will love. Plus, it's a really cute drink to serve and so easy to make.
What Is A Shirley Temple?
Shirley Temples have been around forever (the drink was created in the 1930's!) and it's a fun and easy drink to make. I love the ruby-red color and there's nothing better than a fizzy drink during the summer.
Unlike other mocktails, these are great for kids because it was created for a kid (hint: Shirley Temple, remember her?). I don't know about you, but I don't feel right serving kids a virgin margarita. Seems a little weird, right? So, it's perfect. Kids love them because they get their own fancy drink and adults love them because they probably loved them when they were a kid!
This is a classic non-alcoholic drink made with grenadine. Grenadine is a syrup made with pomegranate which gives the syrup it's tart flavor and the pretty color. It's sweetened with sugar and when you mix it with something fizzy you get a beautiful ruby-colored drink.
I like to mix lemon-lime soda with the grenadine or you can substitute ginger ale. I've also seen ones that have a combination of lemonade and soda water, but I think the lemon-lime soda works best.
Everything's better with a cherry on top, right? Shirley Temples are garnished with maraschino cherries which are just preserved sweetened cherries packaged in jars. You can drop them right on top of the drink or you can slice them half-way and perch them on the side of the glass. Add a cute straw and you're all set!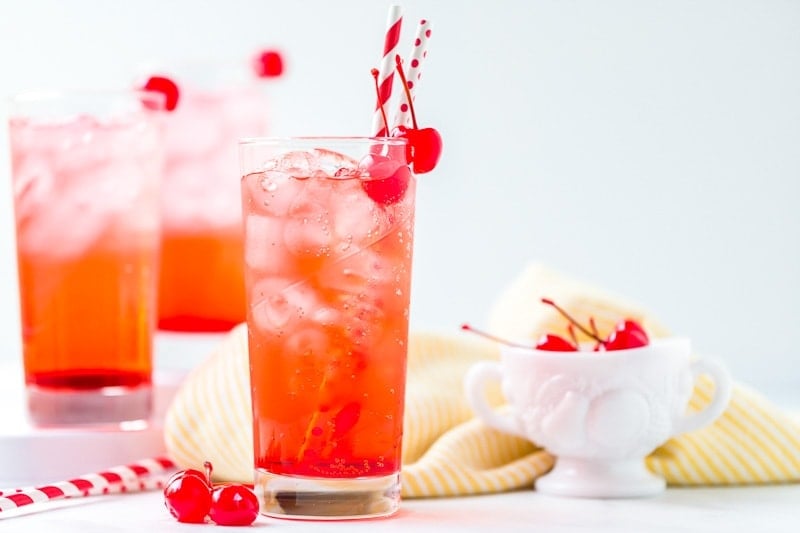 What's in a Shirley Temple?
A Shirley Temple is a refreshing easy mocktail that everyone will love and the best thing is that you don't need a bunch of ingredients to make one. All you need is:
lemon-lime soda
grenadine syrup
ice
maraschino cherries
How to Make a Shirley Temple
It's such an easy drink to make because all you need do is mix a little of the grenadine with lemon-lime soda, pour it into a highball glass with ice and garnish it with the maraschino cherries. That's it!
Batch Shirley Temple Drink Recipe for a Group
If I'm having a large gathering I often times will make this into a large batch of punch. It's perfect for serving to guests young and old alike.
Here's a quick run down on how to make a big batch.
Add about 2 lbs of ice to your punch bowl.
Pour in a 2 liter bottle of lemon-lime soda.
Mix in 10 ounces of grenadine syrup.
Finish it with maraschino cherries in the punch bowl.
If you are hosting a baby shower, graduation etc. you can also add scoops of lemon sherbet in the punch bowl.
Turn Your Shirley Temple Drink into a Cocktail with Alcohol
If you'd like to make this into a real cocktail just add 1 oz of vodka to the drink and you have yourself a Dirty Shirley cocktail the adults will love.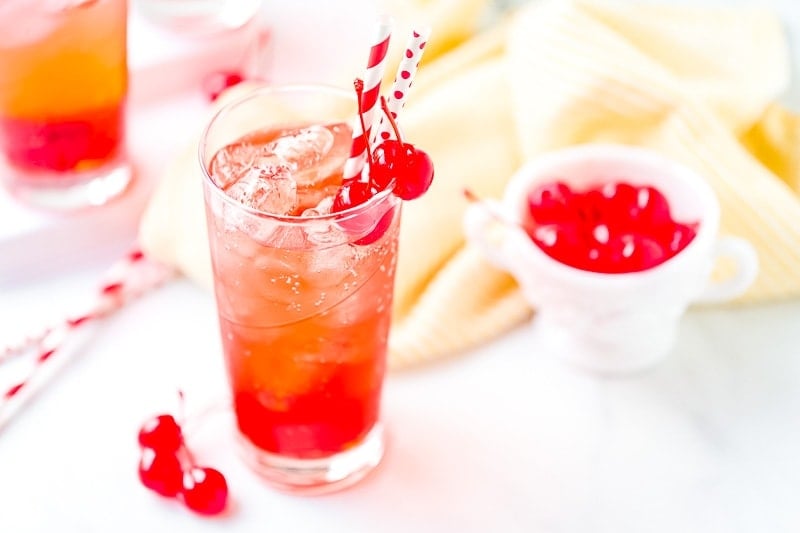 Shirley Temples are definitely kid-approved, but they're great for adults, too, and serving up glasses of this classic non-alcoholic drink is sure to make your guests smile. Who doesn't remember having these as a kid? It was always one of my favorites and still is!
Shirley Temple (Drink) FAQ
What does a Shirley Temple taste like?
It's a delicious bubbly drink. This mocktail has the perfect amount of sweetness from the lemon-lime soda and tartness from the grenadine.
Is Shirley Temple better with ginger ale or sprite?
The traditional way to make a Shirley Temple is with ginger ale, but as time went on it become more common to make it with lemon-lime soda, which we prefer. Try it both ways and see what your favorite is!
What is grenadine made of?
The main ingredient in grenadine is pomegranate juice. Usually a sweetened is added to it and red food coloring to obtain the bright red color we are familiar with.
What's the difference between a Roy Rogers and a Shirley Temple?
The main difference is that a Roy Rogers is made with Coca-Cola and grenadine and a Shirley Temple is made with lemon-lime soda and grenadine.
What do you mix with Shirley Temple?
A traditional Shirley Temple is mixed with ginger ale and grenadine syrup, but we prefer a lemon-lime soda mixed with the grenadine.
Try them both and decide which one you prefer!
More Great Mocktail Recipes to Enjoy!
MORE RECIPE'S YOU'LL LOVE!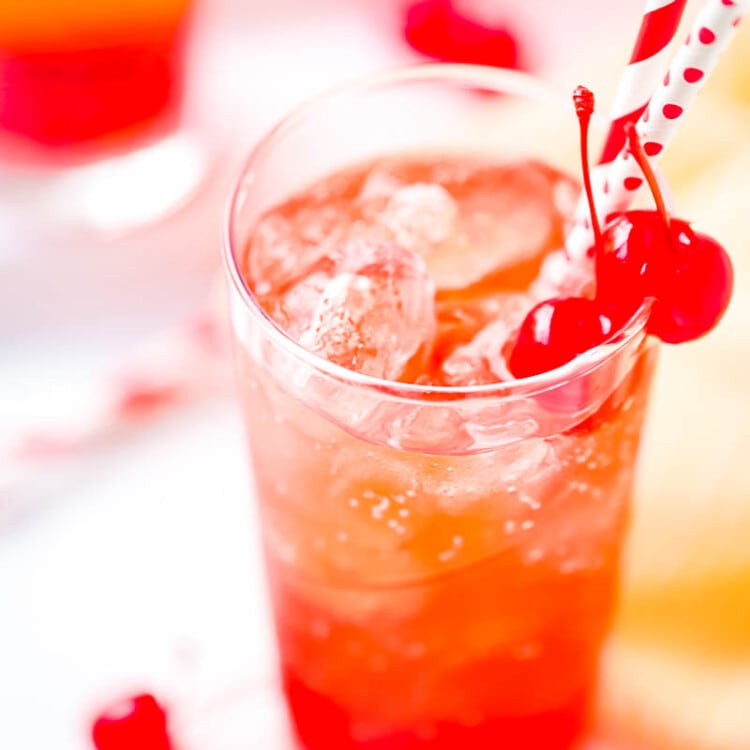 Shirley Temple Drink Recipe
Delicious non-alcoholic Shirley Temple is perfect for serving at parties for a mocktail option! Only three ingredients!
Ingredients
¼

c.

lemon lime soda

1 ½

Tbsp

grenadine syrup

ice

maraschino cherries

for garnish
Instructions
Mix together soda and grenadine.

Pour over ice.

Top with cherries
Tips
Large Batch Punch Directions
Add about 2 lbs of ice to your punch bowl. 
Pour in a 2 liter bottle of lemon-lime soda. 
Mix in 10 ounces of grenadine syrup.
Finish it with maraschino cherries in the punch bowl. 
Make it Alcoholic!
If you'd like to make this into a real cocktail just add 1 oz of vodka to the drink and you have yourself an alcoholic cocktail the adults will love.
Nutrition Information
Calories:
104
kcal
(5%)
,
Carbohydrates:
26
g
(9%)
,
Sodium:
14
mg
(1%)
,
Sugar:
20
g
(22%)