2-Ingredient Vodka Strawberry Lemonade Drink
This quick and easy summer cocktail is perfect when you have last minute company! You only need two ingredients to make this delicious Vodka Strawberry Lemonade Drink. Mix up a batch today and invite your friends over!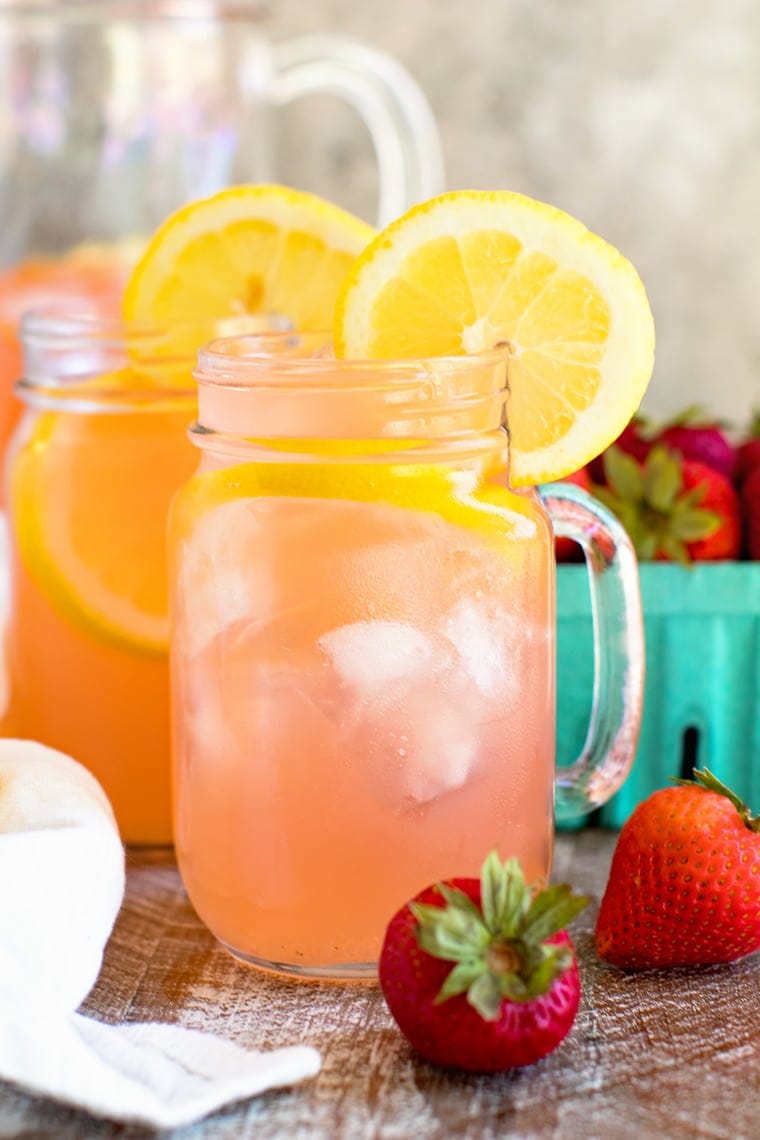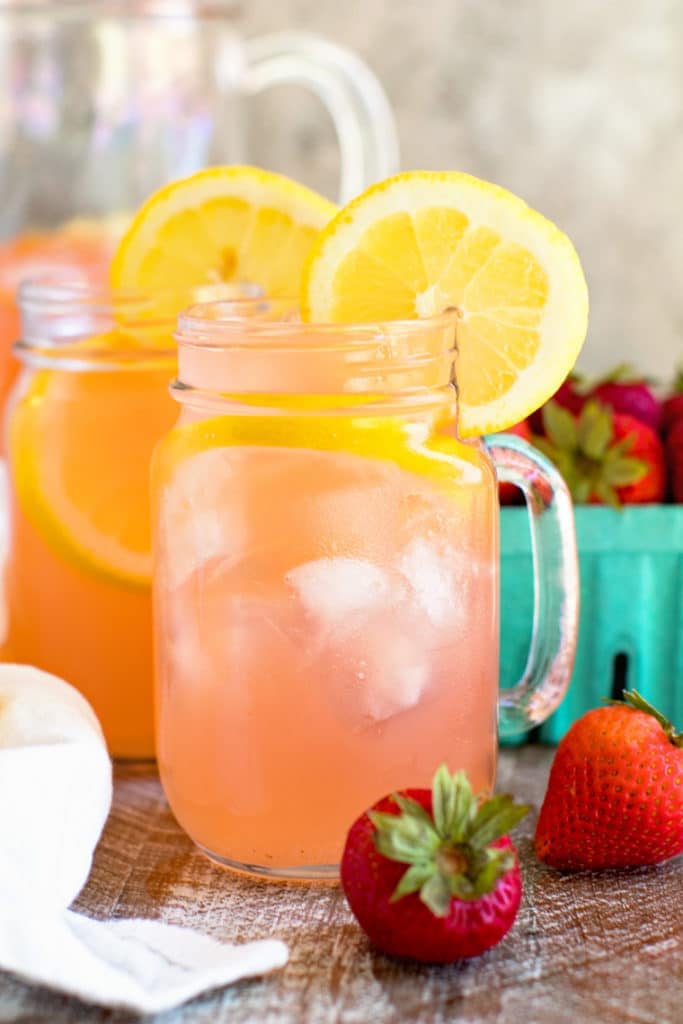 Vodka Strawberry Lemonade
Picture this. Sitting by the beach, toes in the sand sipping on a fruity beverage that only took you 3 minutes to make. Sounds perfect, doesn't it? This fruity beverage just happens to be this delicious Vodka Strawberry Lemonade! I'm not lying. It's TWO ingredients. They are Strawberry Lemonade (premade of course!) and Strawberry Lemonade Vodka.
I'll be honest, I pondered if I should even share this with you because it is so simple I'm not sure I can even call it a "recipe", but I mentioned it in my newsletter a few weeks ago and people were like "GIVE ME THE RECIPE".
I'm a people pleaser so I am giving you the recipe!
See, I'm always here to please you 🙂
You can please your friends by making them this delicious and simple Vodka Strawberry Lemonade when you have them over this summer!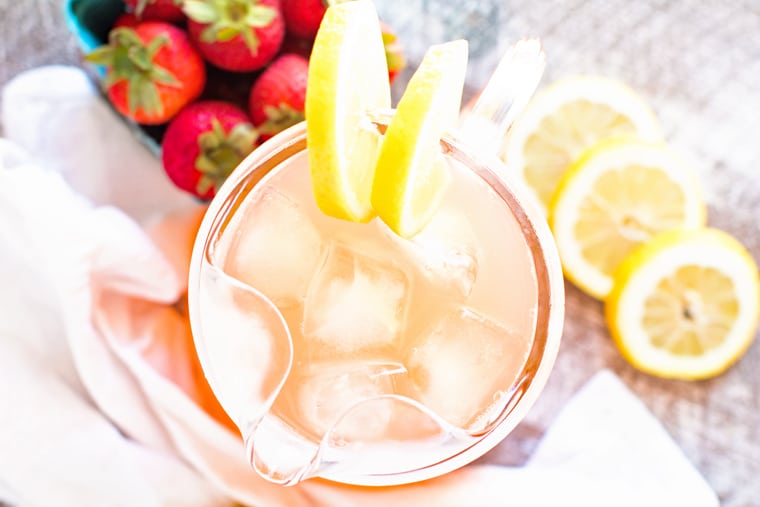 Strawberry Lemonade Vodka Drink
That's what I did. I made it for a friend when I had her over. Actually, you know what, I can't even say I did.
I happened to grab my leftover Strawberry Lemonade Vodka from the cabinet after making this recipe and brought it to the cabin for a weekend. Her family was joining us and she happened to grab the Strawberry Lemonade, but forgot her vodka.
This is why we are friends! We can pick up the pieces to each other without even knowing it. That's true friendship right there. I hope you have a friend like that!
We whipped up our adult beverages on a hot summer afternoon while our kids were playing in the lake along with our husbands. We each grabbed a mug, put on a bathing suit (always easier to put on when you are drinking, right?) and headed to join them.
We each grabbed a floatie to relax on because we are girls and we relax and not swim in the lake and proceeded to gossip and solve the world's problems. Pretty soon our kids were heading up to the cabin to change and take showers, the guys stepped up to the plate and got out of the lake and helped them along with finishing dinner for us.
So, you know what we did? We stayed right there in that lake and relaxed. These moments are few and far between and we were savoring this moment. It might have helped that we had this Strawberry Vodka Lemonade in our hand and didn't really care! We even got our men to refill our drinks for us while we stayed in the lake!
Eventually dinner was done, my husband yelled across the yard to come eat and we made our way off the lake. We even made it off our floatie without getting wet, which my friends, is a super power we have! Along with being a Mom. I have two super powers!
Maybe three if you count the fact I can mix up a delicious drink in 3 minutes?
What to mix with Strawberry Lemonade Vodka?
My short and simple answer is a premade Strawberry Lemonade. It's delicious and it's simple.
If you want to go all fancy on us and make your own strawberry lemonade and spike it with Strawberry Vodka Lemonade I have a recipe right here for that!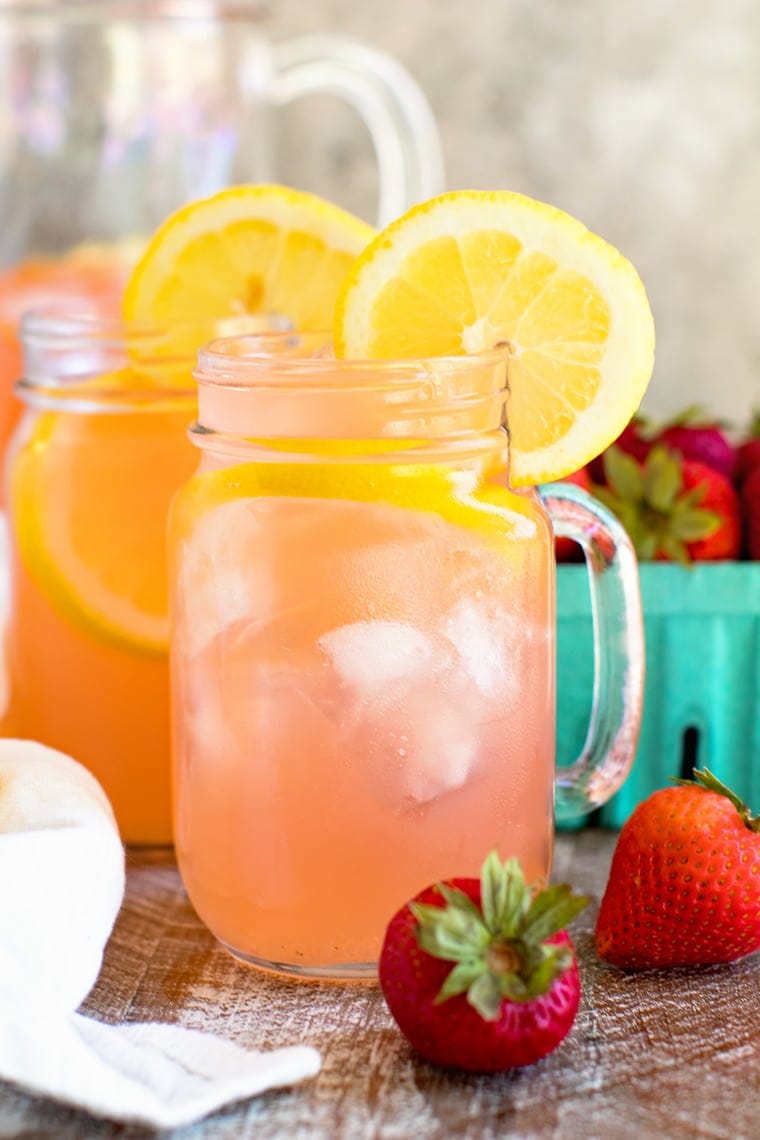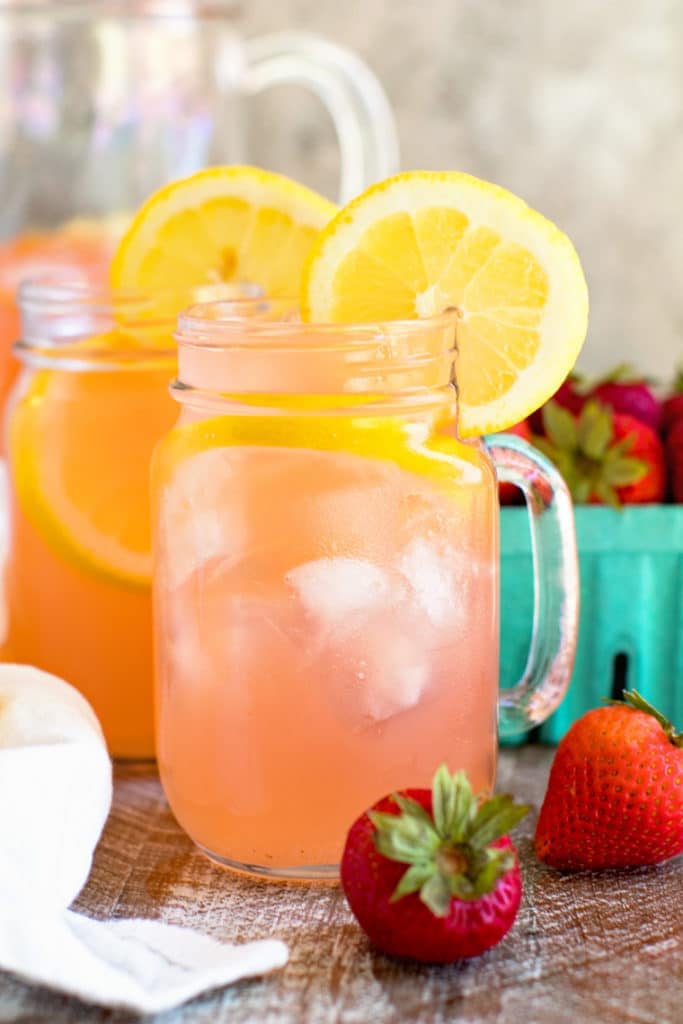 What do I need to make Spiked Strawberry Lemonade?
That's quick and easy!
You only need to two ingredients
Strawberry Lemonade
Strawberry Lemonade Vodka
If you want to get fancy grab some strawberries and lemons, slice them up and add them as a garnish. Totally optional though!
How do I make Vodka Strawberry Lemonade?
Another quick and easy questions.
Pour the Strawberry Lemonade into a pitcher. Then add your Strawberry Lemonade Vodka. Give it a good mix and then refrigerate until chilled or add ice cubes to pitcher to chill.
Grab a mug and enjoy with friends!
More Drinks with Vodka!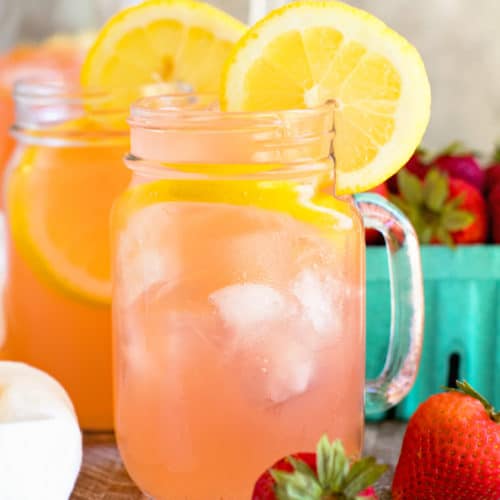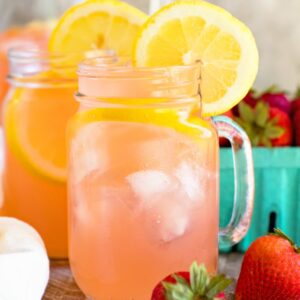 Strawberry Vodka Lemonade
You only need two ingredients to make this delicious Vodka Strawberry Lemonade Drink. Mix up a batch today and invite your friends over!
Ingredients
52

oz

Strawberry Lemonade

2

c.

Strawberry Lemonade Vodka
Optional Garnishes
Sliced Strawberries

Lemon Slices
Instructions
Mix strawberry lemonade and strawberry lemonade vodka in pitcher. Add ice to chill or refrigerate for 1-2 hours.

Garnish with sliced strawberries and lemon slices if desired.
Nutrition
Calories:
306
kcal
Carbohydrates:
31
g
Sodium:
16
mg
Sugar:
29
g