It doesn't get easier than this when the kids are craving hot dogs! Make these delicious Air Fryer Hot Dogs that are ready in less than ten minutes with a warm toasty bun to top it off with!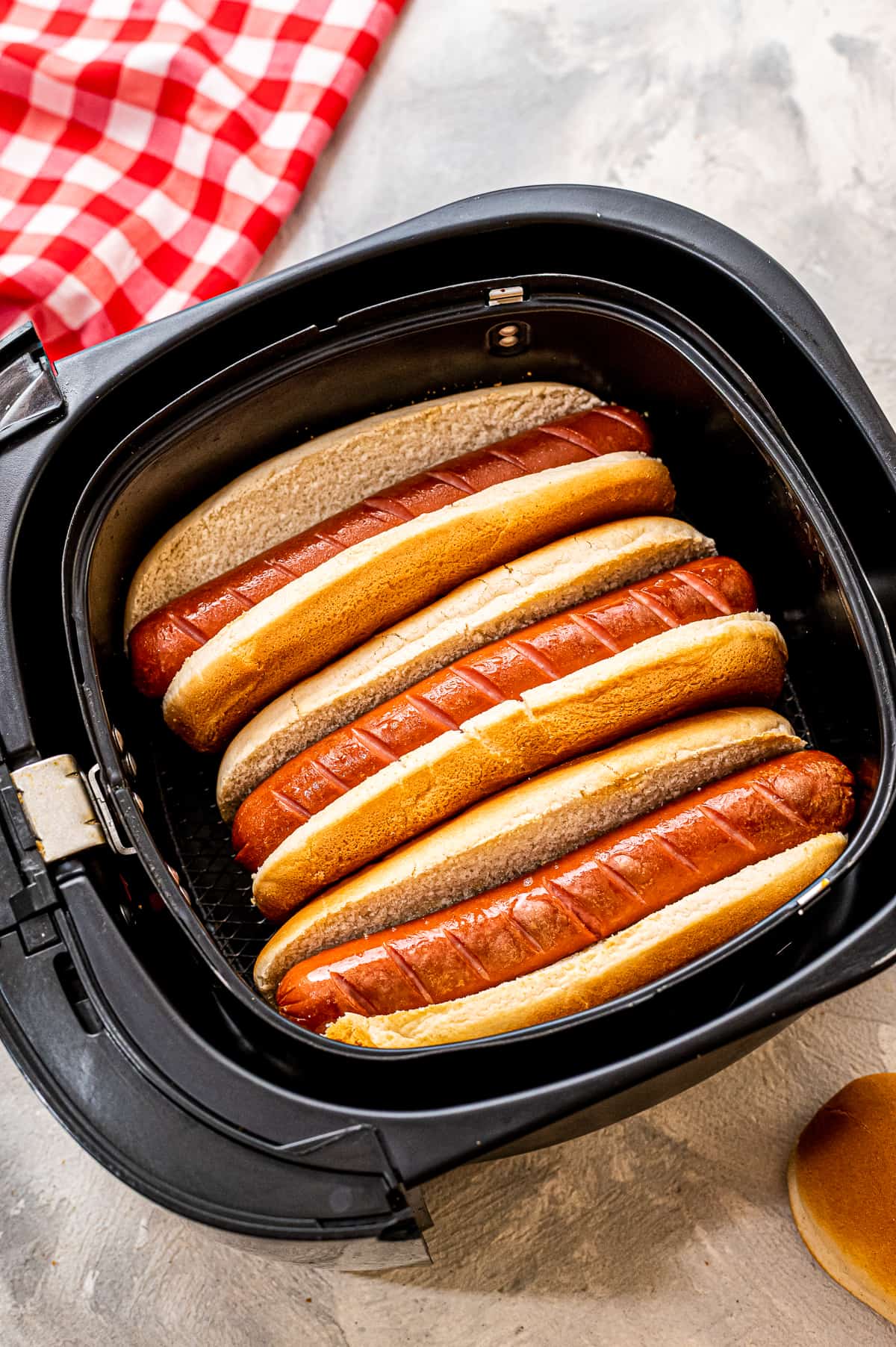 Skip the grill, the microwave, and the pot of boiling water – air fryer hot dogs are the best way to cook them! This is such and easy method and my favorite wait to cook them when the kids want hot dogs for lunch or dinner.
Why This Air Fryer Hot Dogs Recipe Works
There is nothing better than a juicy hot dog with crisp skin. You don't get this with the microwave or the boil method and grilling can be a hassle. Air-fried hot dogs get that perfect crisp and juiciness!
You cook the hot dogs first and then you add the hot dogs buns in the air fryer so they get warm and toasted. It's so good!
This is a quick recipe – they take less than ten minutes! Add some sweet potato fries, tater tots, or potato chips on the side for a dinner your kids are going to love!
Are air fry hot dogs good?
Hot dogs that are cooked in the air fryer are so delicious! They are juicy on the inside and crispy on the outside with the perfect toasted bun.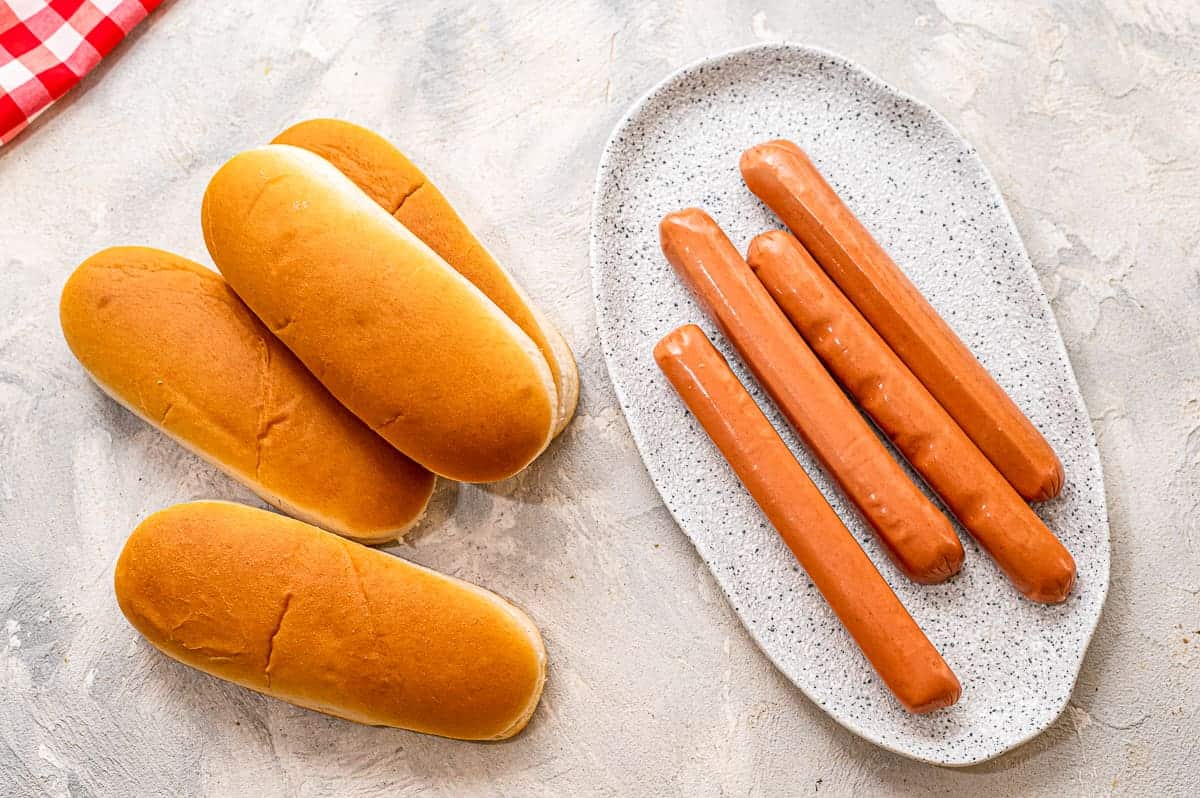 Ingredients for Hot Dogs in Air Fryer
Pick your favorite hot dog brand. You can even do brats this way – the only difference is that they need a few extra minutes to cook.
Hot dog buns – White or whole wheat, your choice!
Toppings that you love – Ketchup, mustard, mayonnaise, relish… anything you like.
How To Cook Hot Dogs In Air Fryer
If you're feeling fancy, cut small slits on one side of each hot dog. This makes it look a little like grill marks. No worries if you want to skip this step – they will cook fine without them.
Place them in an even layer in the air fryer basket. Cook them for four to six minutes at 390°F.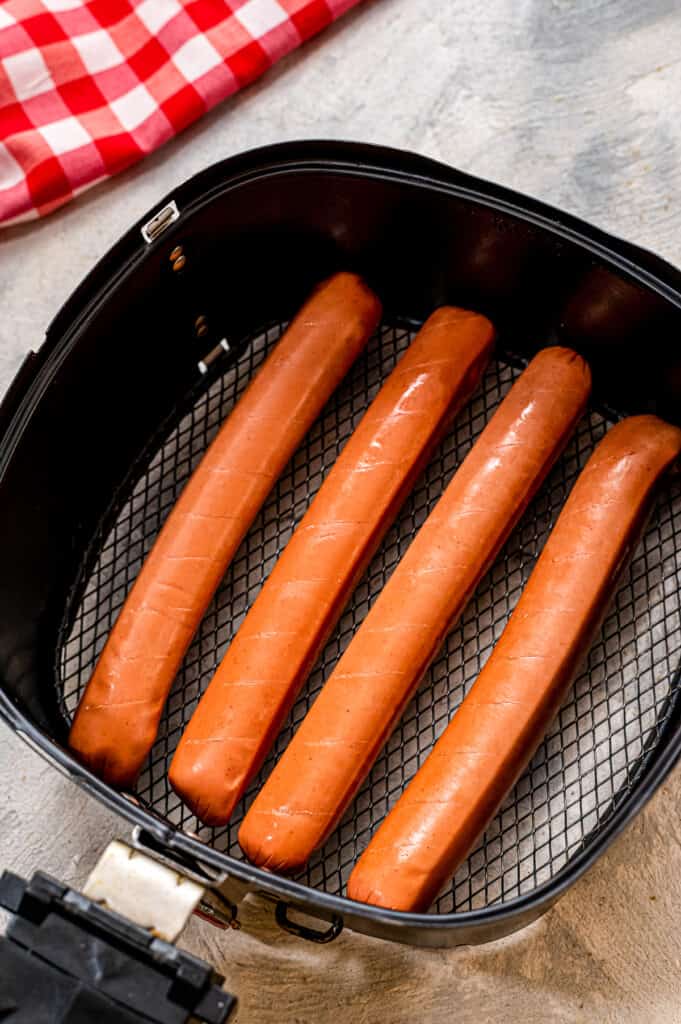 Use tongs to take them out and place them in the buns. Place the hot dogs and buns back in the air fryer. Cook them for two to three minutes at the same temperature or unil the buns are nice and toasted.
Serve with your favorite toppings!
Toppings for Air Fried Hot Dogs
The kiddos at our house are ketchup only, but if you or your kids are little more adventurous here are a few more ideas!
Sauces: Use your favorite mustard, mayonnaise, Miracle Whip, or even a sauce like BBQ sauce or salsa or fresh pico de gallo!
Veggies: Diced white or red onion, roasted red peppers, sauerkraut, or your favorite pickle relish.
Cheese: When you put the dogs with the buns back in the air fryer, add a slice of good melting cheese – American, Provolone, or Monterey Jack would work great!
Hot Dog in Air Fryer FAQ
What temperature do you cook hot dogs in an air fryer?
Cook the hot dogs in the air fryer at 390 degrees Fahrenheit.
How long should I air fry my hot dogs?
The hot dogs will take about 4-6 minutes to cook in the air fryer at 390 degrees Fahrenheit.
Can I air fry frozen hot dogs?
Yes! We recommend lowering the temperature of the air fryer to 360 degrees Fahrenheit and cooking for 7-8 minutes if the hot dogs are frozen.
Can I air fry hot dogs and buns at the same time?
You will want to cook the hot dogs on there own as stated in the directions then add the bun and finish cooking the hot dog. If you cook the hot dog with the bun the entire time the bun will burn, and the hot dog won't be cooked evenly.
Side Dishes to Pair with Air Fry Hot Dogs
We love these hot dogs with so many side dishes – here are a few of our favorites!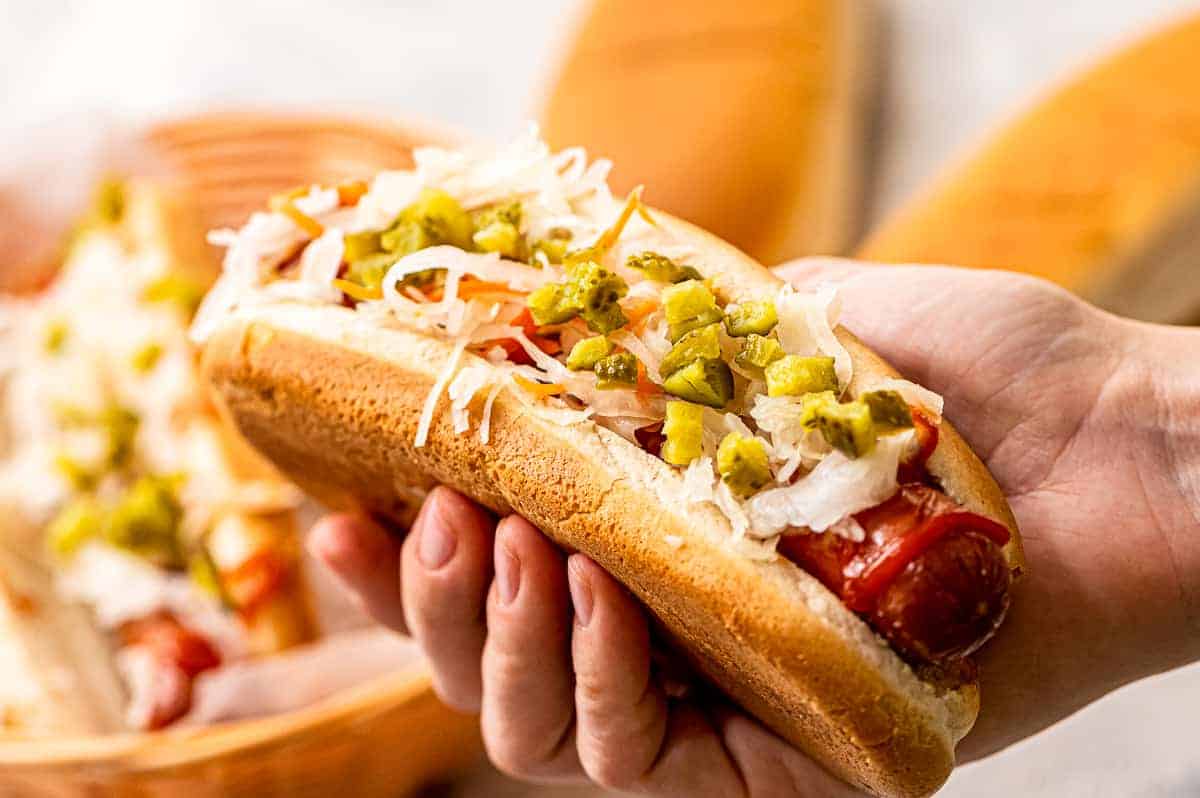 I can't tell you how many times these easy air fryer hot dogs have saved me – it's worth keeping the ingredients on hand when the kids are hungry and there's not much time to cook.
Once you try it you might not go back to the old way of cooking hot dogs. It's so easy and they always taste great!
More Easy Ways to Use Your Air Fryer
You can also make the best Hamburgers in your air fryer! Juicy on the inside with the perfect crust on the outside!
Who loves a classic Grilled Cheese Sandwich? Cook it in the air fryer and you get perfectly melted cheese and amazing toasted bread every time!
Break out the dipping sauce and make a batch of Popcorn Chicken. My kids go nuts for these – better than any chicken nugget.
MORE RECIPES YOU'LL LOVE!
Be sure to give this recipe a try! If you love this recipe as much as we do, be sure to leave a five-star rating below!
Don't forget to tag me on Instagram either, I'd love to see pictures of your good eats! @julieseatsandtreats or #julieseatsandtreats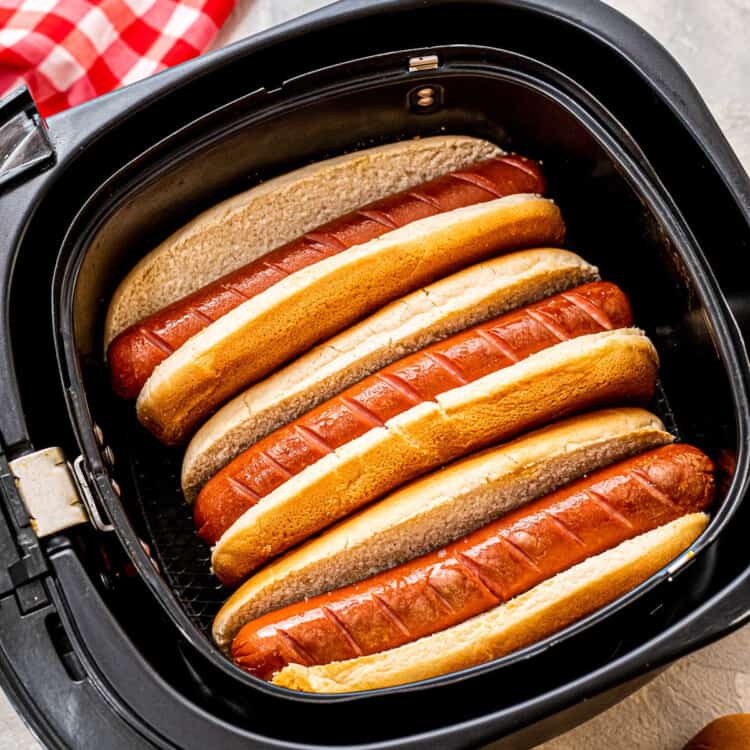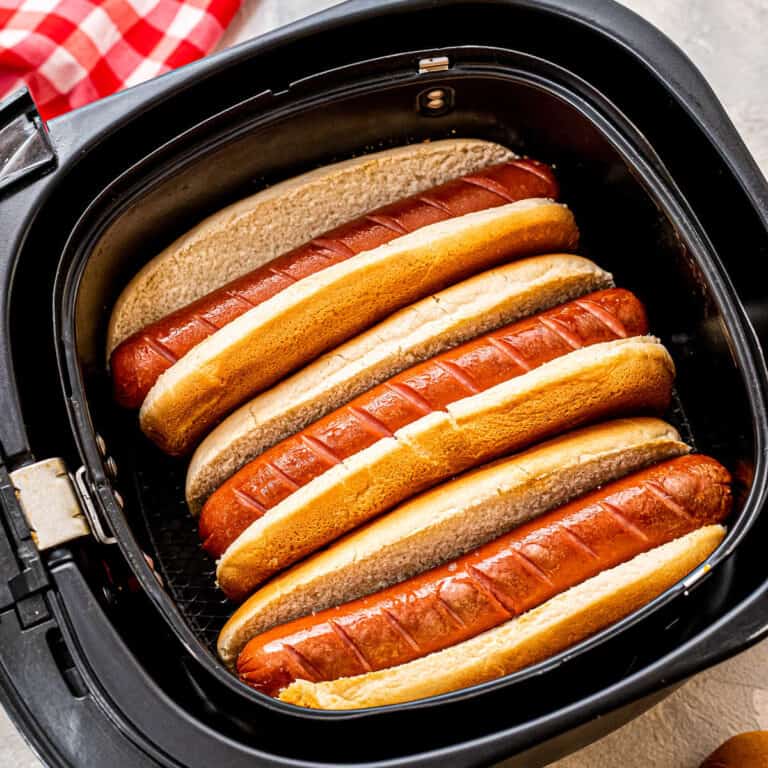 Air Fryer Hot Dogs
Delicious hot dogs cooked in the air fryer along with toasted buns!
Ingredients
4

hot dogs

4

hot dog buns

favorite toppings i.e. ketchup, mustard, sauerkraut, relish
Instructions
Cut small slits in one side of the hot dog. This is for appearance and optional.

Place hot dogs in an air fryer basket and cook at 390 degrees F for 4-6 minutes.

Remove hot dogs and place in buns. Return to the air fryer and cook at 390 degrees F for an additional 2-3 minutes or until buns are toasted.

Remove and top with your favorite toppings.
Nutrition Information
Calories:
229
kcal
(11%)
,
Carbohydrates:
30
g
(10%)
,
Protein:
9
g
(18%)
,
Fat:
8
g
(12%)
,
Saturated Fat:
3
g
(19%)
,
Cholesterol:
20
mg
(7%)
,
Sodium:
520
mg
(23%)
,
Potassium:
120
mg
(3%)
,
Fiber:
1
g
(4%)
,
Sugar:
3
g
(3%)
,
Vitamin A:
1
IU
,
Vitamin C:
1
mg
(1%)
,
Calcium:
84
mg
(8%)
,
Iron:
3
mg
(17%)