This old-fashioned custard based Strawberry Rhubarb Pie is the BEST pie ever for spring and summer! It's the perfect sweet, tart and tangy combo from the fresh rhubarb and strawberries. This pie is quick and easy and always a crowd pleaser!
Strawberry Rhubarb Pie
I'm dreaming of spring, how about you? Soon we will be spending weekends at the cabin and dangling our toes from the dock.
I'm so looking forward to that!
Along with hot lazy summer days I'm looking ahead to spring and summer foods too. Strawberries…. rhubarb… that means more pie don't you think? ?
Have you been loving all of the Rhubarb recipes I've been posting? Strawberry Pie, Strawberry Rhubarb Crisp, Rhubarb Pie and Rhubarb Crunch – what can I say, I love strawberries and rhubarb!!
Rhubarb is sweet and tart and full of flavor! This Strawberry Rhubarb Pie and a quart of vanilla ice cream? That be heaven right there!
Yes…. it just can't come soon enough!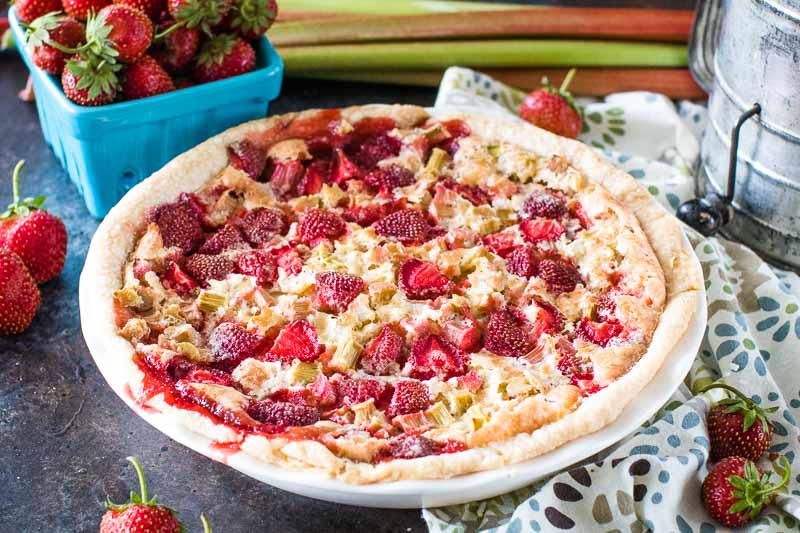 Strawberry Rhubarb Pie Recipe
For this recipe I took my Mom's delicious Rhubarb Pie recipe and subbed in strawberries for half of the rhubarb. I know it would be a winning combination since I already loved her custard rhubarb pie recipe.
I was totally right. This Strawberry Rhubarb Pie might just beat her plain rhubarb pie.
She was here when I made it and was totally fine with me saying that because she loved it as much as me!
I kind of feel like rhubarb is a love or hate thing with no in between. I feel that the strawberries in this pie recipe balance out the tartness of the rhubarb nicely. Even my husband who isn't usually a rhubarb fan thought this rhubarb dessert was great.
It could have been the five scoops of ice cream on top, too! ?
Ingredients for the BEST Strawberry Rhubarb Pie Recipe!
pie crust
eggs
all-purpose flour
rhubarb
strawberries
white sugar
I use a frozen pie crust because making pie crusts aren't my thing but if you are looking for a delicious homemade pie crust try this pie crust recipe!
How to Make Strawberry Rhubarb Pie
Preheat oven to 350 degrees.
Place crust in pie in, crimping the edges to make it pretty.
Clean the strawberries, remove the stems and roughly chop.
Slice the rhubarb into 1/2 inch piece.
Combine the remaining ingredients. Pour into the uncooked pie shell.
Bake in preheated oven for 60 minutes or until the middle of the pie is set.
I know we've talked about rhubarb a bit lately, but here are a few more tidbits and information!
Is the skin of rhubarb poisonous?
No, not at all! The leaves of the rhubarb are poisonous and must be discarded.
Do you have to peel rhubarb for pie?
No, there's no need to peel the stalks of rhubarb. Once baked it becomes tender.
Can I eat rhubarb raw?
Sure you can… though I'm not sure you'd want to! Having said that, by all means, give it a taste. You'll pucker up as it's quite tart. You can dip it in sugar or drizzle it with honey to sweeten it. Or be like me – bake it into this amazing pie with strawberries!!!
Pie Baking Tips!
Putting a sheet pan underneath the pie during baking will help keep the oven clean if it bubbles over.
Keeping the dough cold and handle it as little as possible. Warm dough doesn't bake up light and makes a tough crust.
If the crust on the pie is getting a little too dark, fold a wide strip of foil around the edges of the crust. This will keep the crust from getting burnt.
Allow the pie to cool completely before serving. If you serve a fruit pie warm, all of the filling will drizzle out and you won't have that beautiful slice of pie!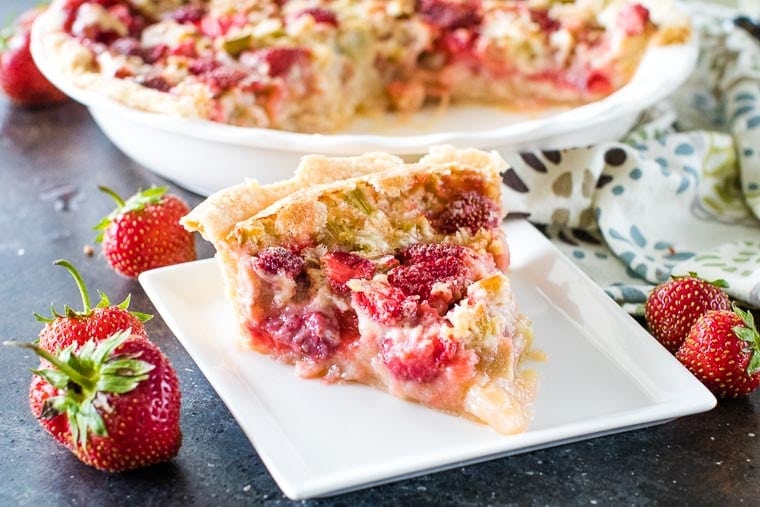 The BEST Strawberry Rhubarb Pie!
If you are looking for a fun, easy dessert to welcome spring and summer in you have to make this delicious pie.
I know it's going to be a family favorite at your house just like it is at ours!
Don't forget the ice cream!
I know you're going to love this and everyone will love it! Be sure and comment below with a five-star rating so I get to hear what you think!!
Don't forget to tag me on Instagram @julieseatsandtreats or #julieseatsandtreats that way I'm sure to see your pictures!!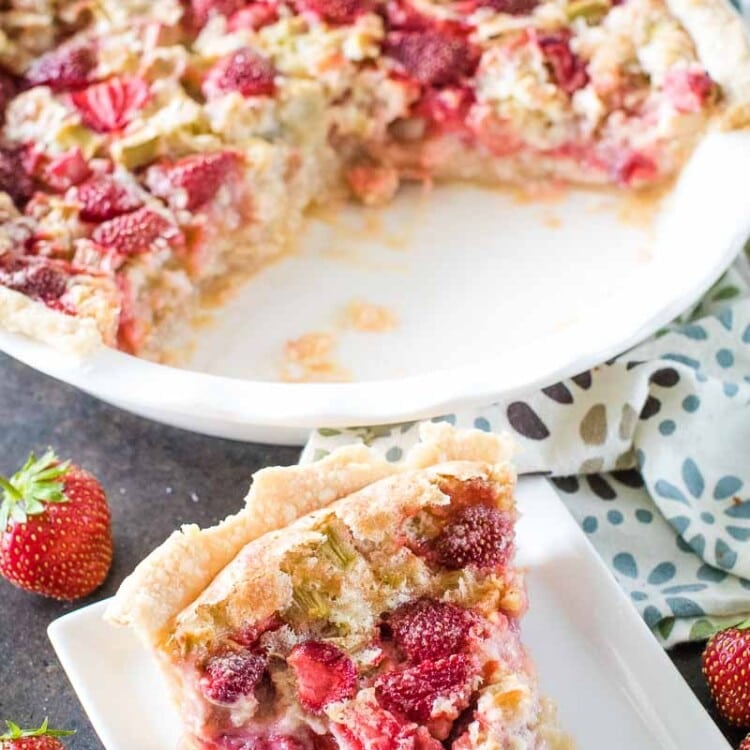 Strawberry Rhubarb Pie Recipe
Delicious homemade Strawberry Rhubarb Pie recipe with a custard base for the perfect spring or summer dessert!
Ingredients
1

pie shell

3

eggs

beaten

2

Tbsp

all-purpose flour

2

c.

rhubarb

chopped

2

c.

strawberries

chopped

1 1/2

c.

white sugar
Instructions
Preheat oven to 350 degrees F.

Place pie crust in pie plate according to directions.

Combine the rest of the ingredients. Pour into uncooked pie shell.

Bake in preheated oven for 60 minutes or until the middle of the pie is set.
Nutrition Information
Calories:
330
kcal
(17%)
,
Carbohydrates:
63
g
(21%)
,
Protein:
4
g
(8%)
,
Fat:
7
g
(11%)
,
Saturated Fat:
2
g
(13%)
,
Cholesterol:
61
mg
(20%)
,
Sodium:
113
mg
(5%)
,
Potassium:
304
mg
(9%)
,
Fiber:
2
g
(8%)
,
Sugar:
47
g
(52%)
,
Vitamin A:
155
IU
(3%)
,
Vitamin C:
39.5
mg
(48%)
,
Calcium:
74
mg
(7%)
,
Iron:
1.3
mg
(7%)