Sugar Cookie Chex Mix Recipe
Sugar Cookie Chex Mix Recipe ~ Celebrate the Holidays with this Fast and Easy Snack Mix Recipe that tastes just like Sugar Cookies!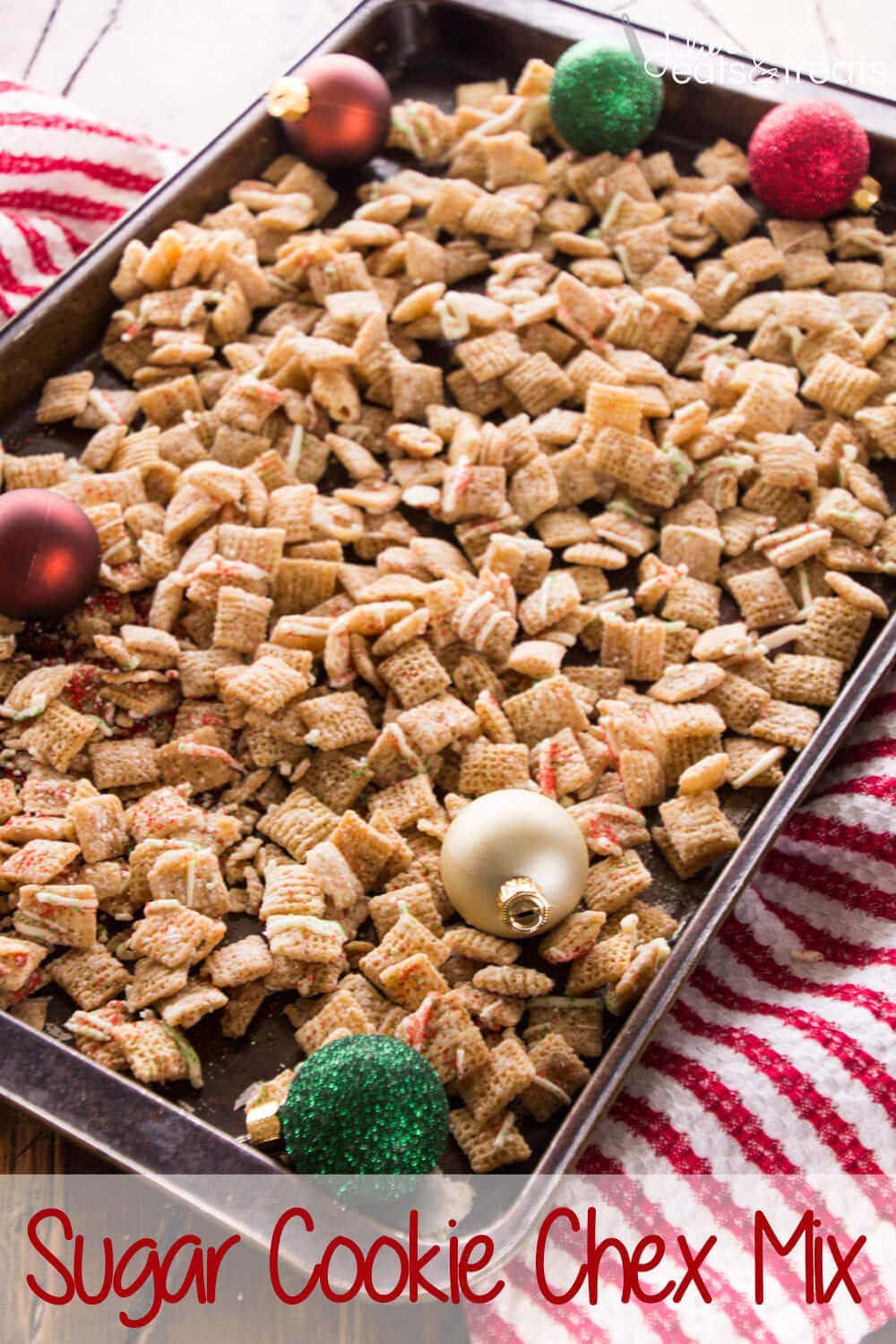 Let's talk snack mixes. Do you embrace them for holiday entertaining or look the other way. I'm all about the snack mix! You can see me grabbing handfuls anytime it's adorning a treat table at the holidays or really anytime at all! Some of my favorites are the traditional Snack Mix I grew up with that my Great Aunt brought to every single Christmas as I was growing up, I also adore this melt in your mouth White Chocolate Puff Corn, and if spicy is more you thing then Taco Chex Mix is for you!
I'm all about quick, fun treats at the holidays. You will not see me rolling out sugar cookies at all. I just don't have time for that. I am can you imagine that? There would be dough thrown across the kitchen from the girls, I'd be wearing it, they'd be smearing it in their hair. Not happening. I secretly hope someone else will bring those so I can enjoy them without the work! The only thing is I adore the flavors of sugar cookies. It's a real bummer when you don't want to take the time to roll them out and decorate them!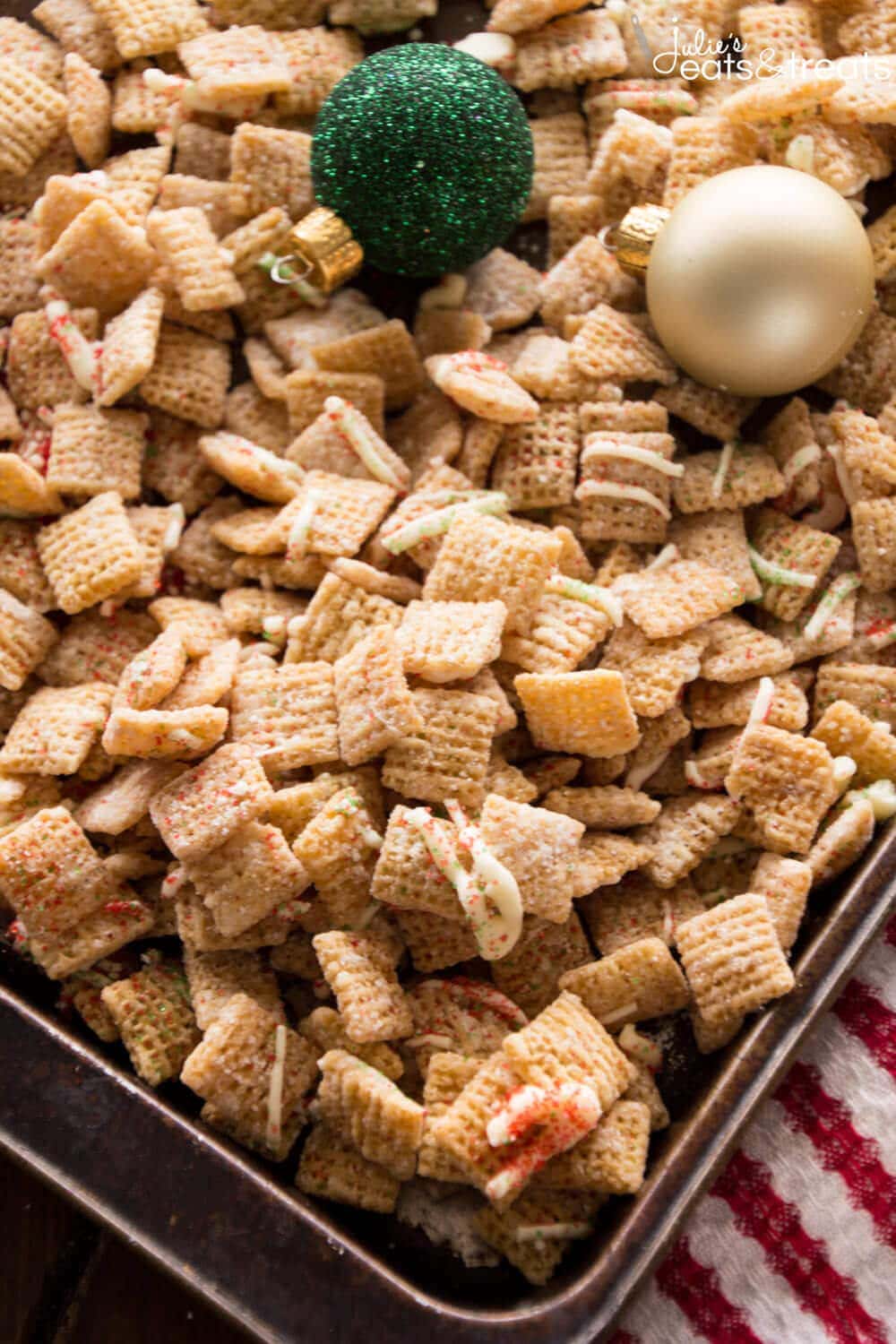 At Christmas time the traditional Chex Mix always makes an appearance. It's a tradition in our family. I grew up with my Grandma making it and now my mom makes it for us. When I was young I'd try to grab the container and sneak away with it. Now since I'm an adult I just openly eat as much I want! No shame here.
No judging me when I admit it's usually the entire container. If I get wind that Mom is making Chex Mix I might just think of an excuse of why I need to go to her house. Stat. There's no way I'm chancing the fact that my brother's also hear and get there before me and eat it all! No way. Not happening. In fact I just might throw an elbow to fend them off in the race to the Chex Mix. Best yet is when I can convince her to make a little extra and deliver it to my house to snack on. Win!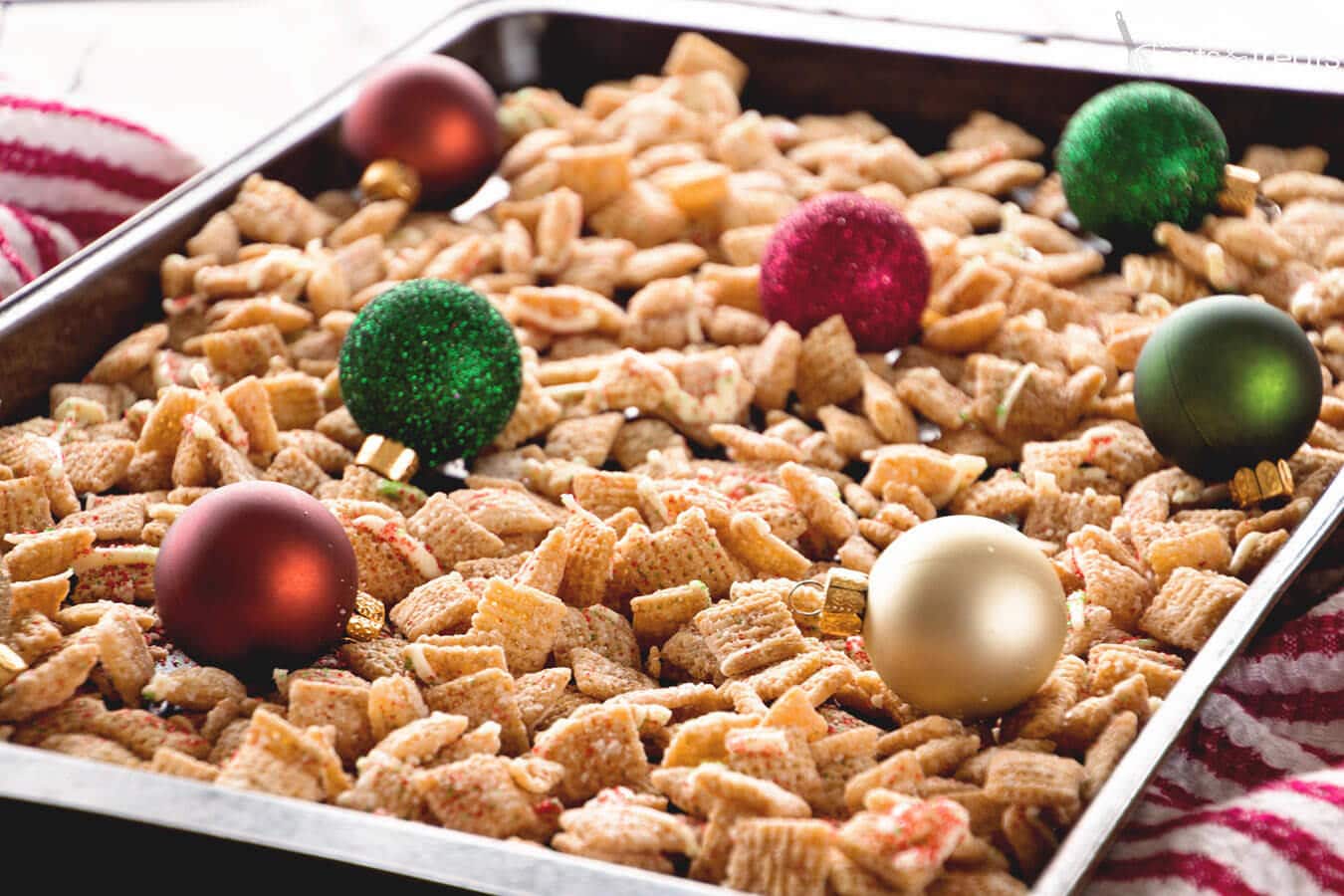 Apparently I don't discriminate when it comes to sweet and salty Chex Mix or just plain sweet like this fabulous Sugar Cookie Chex Mix. Once I started this I couldn't stop snitching it. I literally grabbed a handful each time I went past it on the kitchen counter. I tried to stay out of the kitchen for this reason, but I just found every excuse under the moon to keep going back for just one more handful. After 14 trips to the kitchen for nonexistent reasons the container was gone.
Sad face.
Good thing it's so super simple to make! Did you know that it's made in your microwave? High five for that! If you need me I'll be snitching the Sugar Cookie Chex Mix at the goodie table for the next month!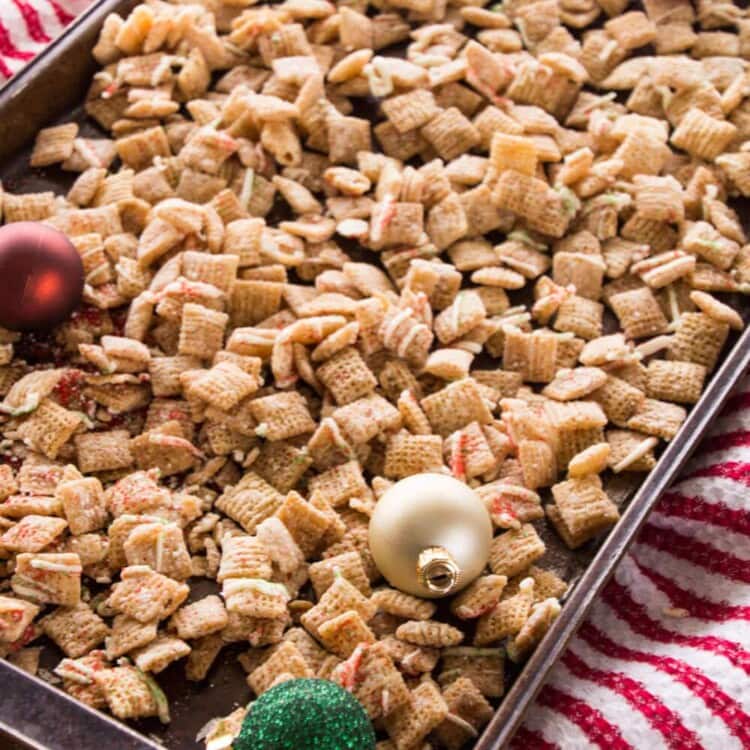 Sugar Cookie Chex Mix Recipe
Sugar Cookie Chex Mix Recipe ~ Celebrate the Holidays with this Fast and Easy Snack Mix Recipe that tastes just like Sugar Cookies!
Ingredients
6

c.

Rice Chex™ cereal

1/4

c.

butter

1/3

c.

granulated sugar

1 1/2

tsp

water

2

tsp

vanilla

1/4

c.

powdered sugar

1/4

c.

white vanilla baking chips

1to 2

teaspoons

gluten-free colored edible glitter or sugar sprinkles
Instructions
In large microwavable bowl, measure cereal; set aside. Line cookie sheet with waxed paper or foil.

In 2-cup microwavable measuring cup, microwave butter uncovered on High 30 seconds or until melted. Add granulated sugar and water; microwave uncovered on High 30 seconds or until mixture is heated and can be stirred smooth. Stir in vanilla. Pour over cereal, stirring until evenly coated.

Microwave uncovered on High 4 minutes, stirring every minute, until thoroughly glazed. Sprinkle with powdered sugar; mix well.

Spread on cookie sheet. In small microwavable bowl, microwave white chocolate uncovered on High 30 to 60 seconds, or until it can be stirred smooth. Place in small resealable food-storage plastic bag; cut off small corner of bag. Squeeze bag to drizzle white chocolate over snack mix; sprinkle with edible glitter. Cool until white chocolate is set, about 10 minutes.
Tips
For an easy and even way to apply the powdered sugar, pour sugar into large resealable freezer bag. After removing cooked snack mix from microwave, let stand in bowl 1 to 2 minutes to cool, then pour into bag and shake!
Nutrition Information
Calories:
483
kcal
(24%)
,
Carbohydrates:
101
g
(34%)
,
Protein:
7
g
(14%)
,
Fat:
5
g
(8%)
,
Saturated Fat:
3
g
(19%)
,
Cholesterol:
9
mg
(3%)
,
Sodium:
35
mg
(2%)
,
Potassium:
141
mg
(4%)
,
Fiber:
1
g
(4%)
,
Sugar:
11
g
(12%)
,
Vitamin A:
105
IU
(2%)
,
Calcium:
13
mg
(1%)
,
Iron:
3.2
mg
(18%)
This is a sponsored conversation written by me on behalf of ChexTM. The opinions and text are all mine.
Craving More Snack Mixes?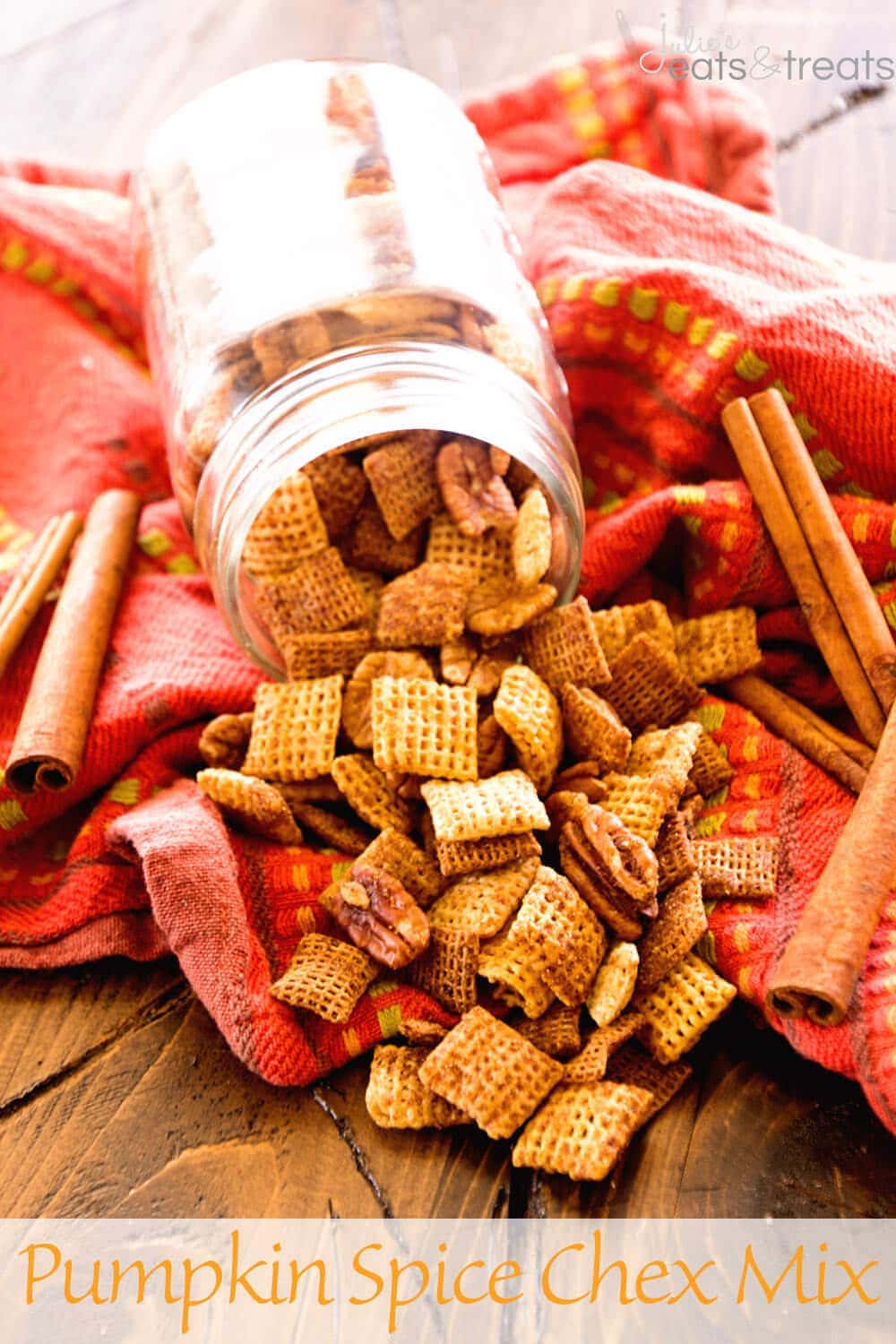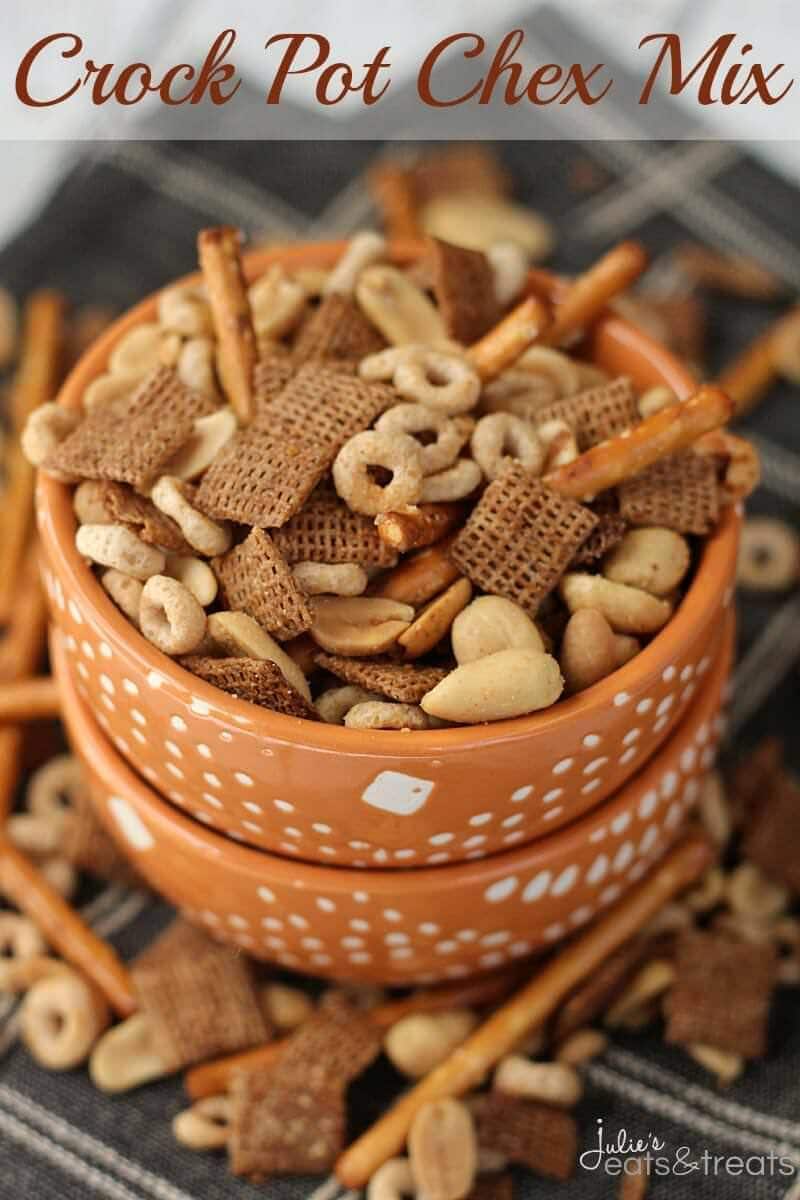 Pumpkin Chex Mix Recipe ~ Butter, Brown Sugar and Spice Make a Quick, Easy Sweet and Crunchy Chex Mix! Plus Make it in Your Microwave!
Samoa Chex Mix is an Easy Snack Mix Loaded with Toasted Coconut, Chocolate and Smothered in Caramel!

Crock Pot Chex Mix ~ Simple and Delicious Chex Mix Loaded with Cheerios, Pretzels, Peanuts and Chex Made in your Crock Pot!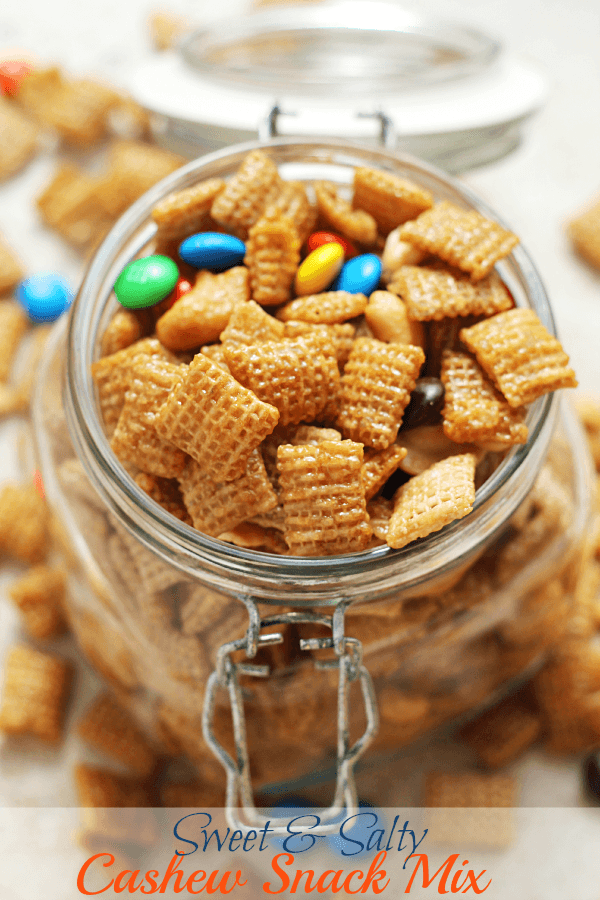 Sweet & Salty Cashew Chex Mix ~ Easy Snack Mix Loaded with Cashews, Chex, M&Ms & Cashews and Smothered in Caramel!