This quick and easy Pumpkin Chex Mix is perfect for a fall snack. It can be prepared in your oven or in your microwave. The result is a perfectly sweet, crunchy snack mix that is super addictive.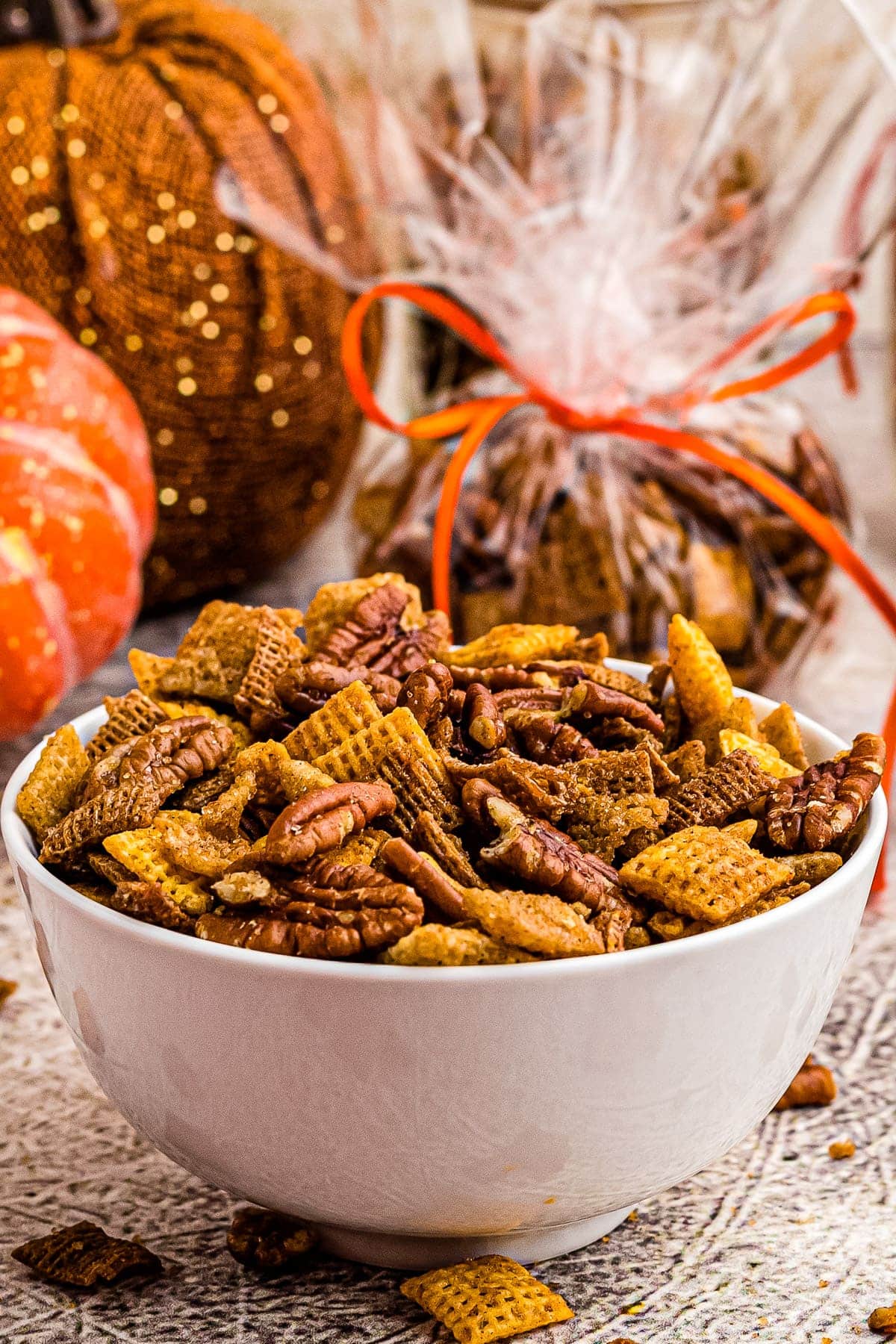 If I had to list my top ten favorite snacks you can bet that homemade chex mix would be on the list! I have loved the stuff since I was a girl and my grandmother would make batches of it for us to snack on.
I have a taco chex mix recipe, a caramel version, and, of course, a classic chex mix that my grandma used to make!
So, there's no shortage of chex mix recipes on this site and I am happy to share a perfect one for fall: pumpkin! There's always room for one more, right?
This is the Best Fall Snack Mix!
This is a sweet chex snack made with three different crunchy cereals and brown sugar.
A pumpkin spice mix gives it a fall-twist. Cinnamon, cloves, ginger… you know, all of the best fall spices!
You can bake it in the oven or you can make it in the microwave! Both ways work great so you can choose which works best for you!
This pumpkin spice chex mix is such an easy recipe! It's perfect for parties, holidays, or anytime you're craving something crunchy.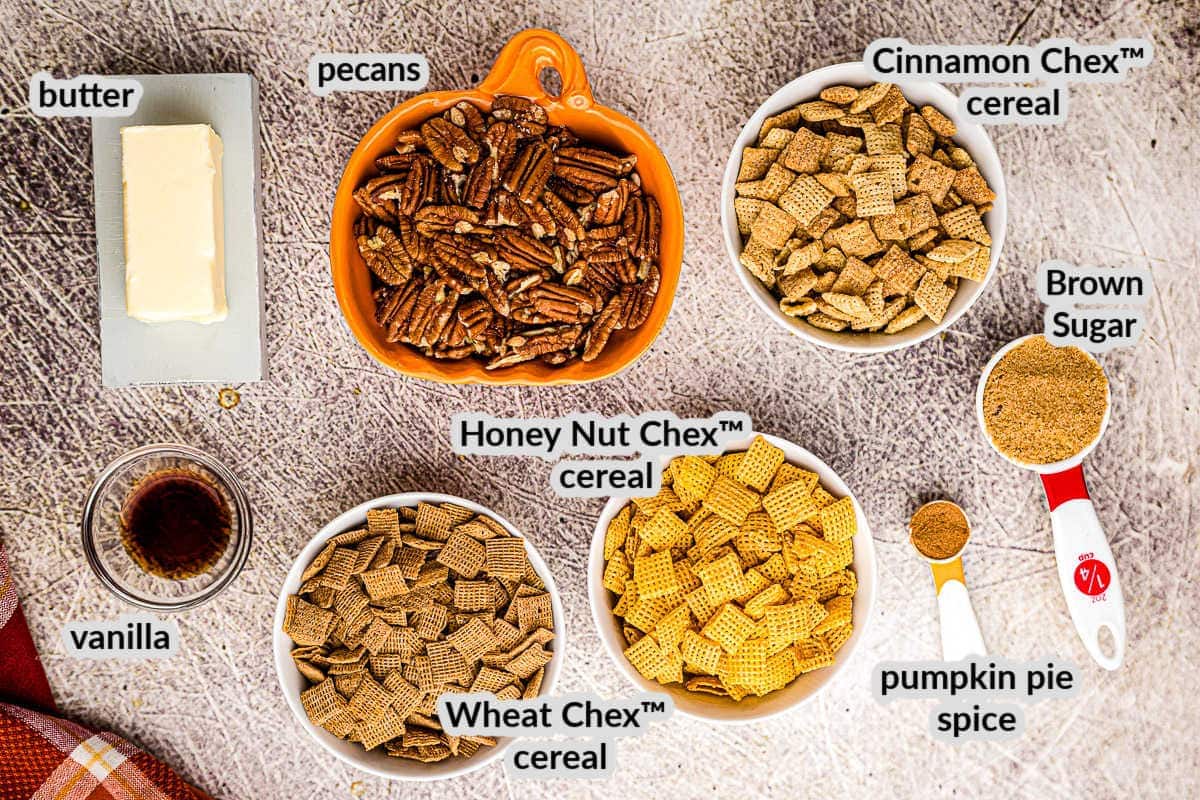 Notes about the Ingredients
I love to use a mix of different kinds of cereal and for this one we're using Wheat, Honey Nut, and Cinnamon Chex cereals.
Add some pecans for lots of crunch!
The mix is coated in butter, sugar, and pumpkin spice which is a mixture of fall spices that gives it the best flavor.
My recipe has the perfect amount of butter, spices and cereal so you get crispy, crunchy snack mix every time!
Make it in the Microwave or Oven
Whichever you choose I can promise it's super easy!
First, you will need to mix it all up:
Melt the butter in the microwave and then add the vanilla and stir.
Mix all three cereals with the pecans in a bowl (use a microwave-safe one if you'll be cooking it in the microwave).
Pour the butter mixture over the top and stir until everything is evenly coated.
Add the sugar and pumpkin spices and mix again.
Once you have everything mixed you can pop it in the microwave or in the oven!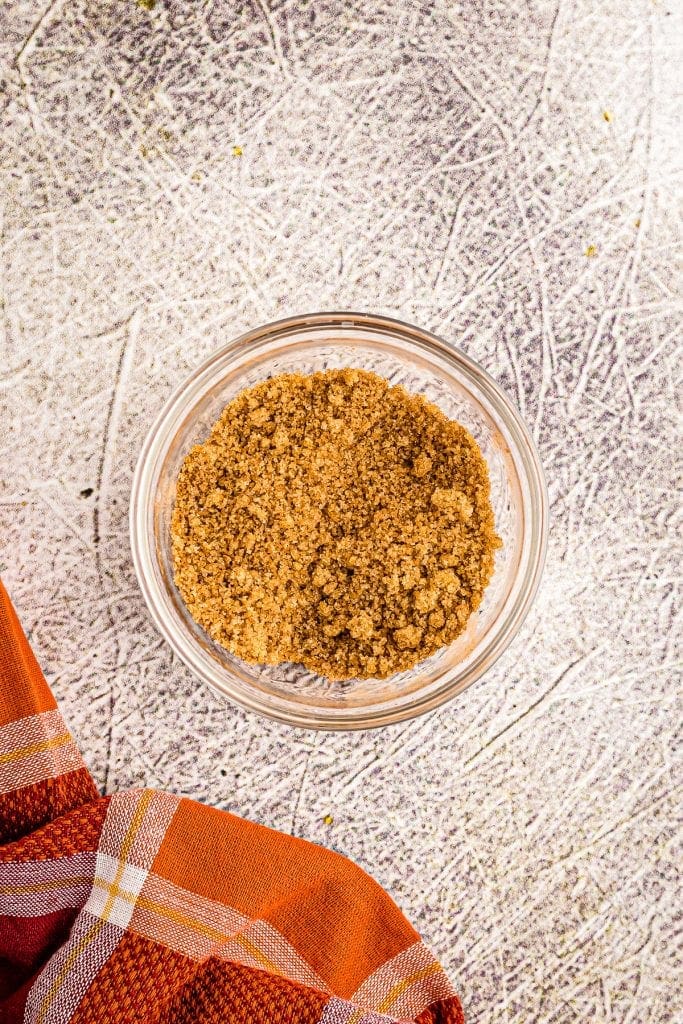 Microwave: leave the bowl uncovered and microwave on high for five minutes, stopping every minute to stir the mixture. Once it starts to brown it's done. Spread it out on wax paper to cool.
Oven: Spread the mixture evenly in a large baking pan. Bake it at 250 degrees F. for one hour, stirring it every 15 minutes so it bakes evenly. Spread it on a paper towel to cool.
Store it in an airtight container and it will last for several weeks. Although, it never lasts that long at our house!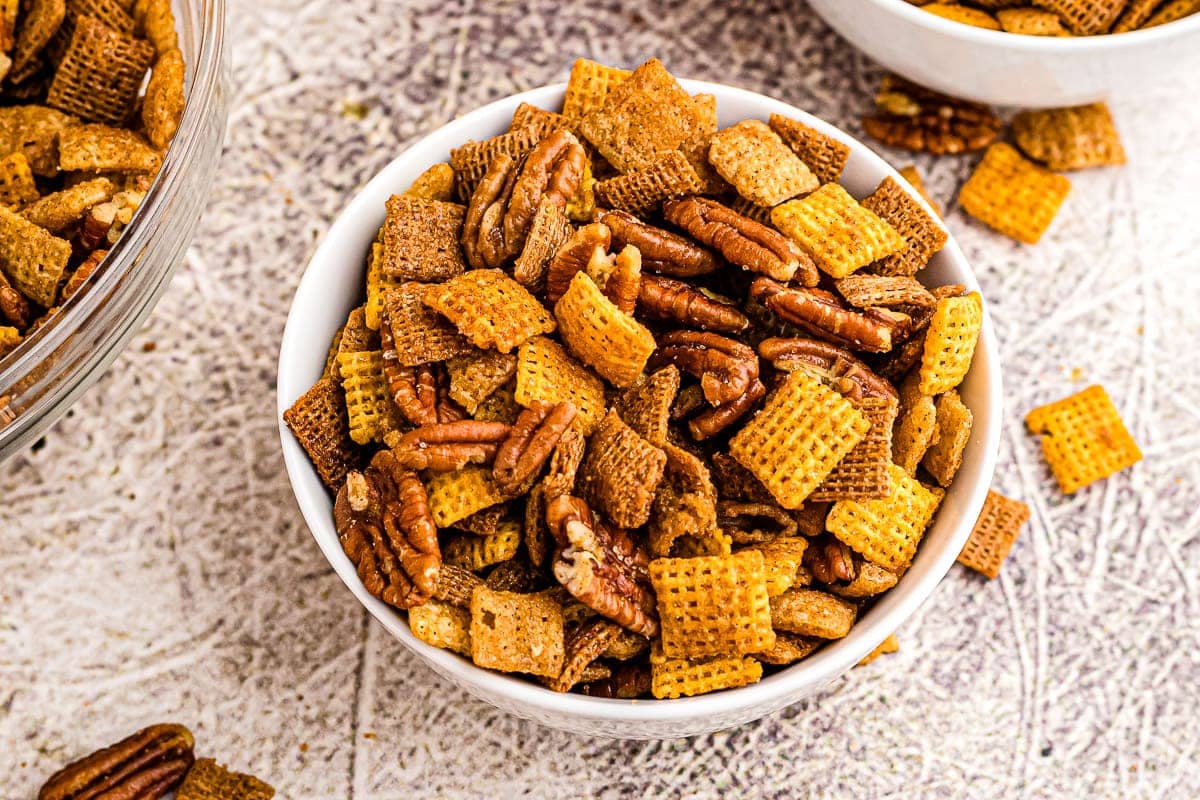 This is one of our favorite fall snacks and it's so quick and easy you'll want to make more than one batch.
Want more amazing snack ideas? Be sure to check out some of these other ones I love to make, too!
More Easy Snack Recipes
Did you try it?! If you love this recipe be sure to give this recipe five stars!! Tag me with your photos at @julieseatsandtreats or #julieseatsandtreats so I can see your yummy treat!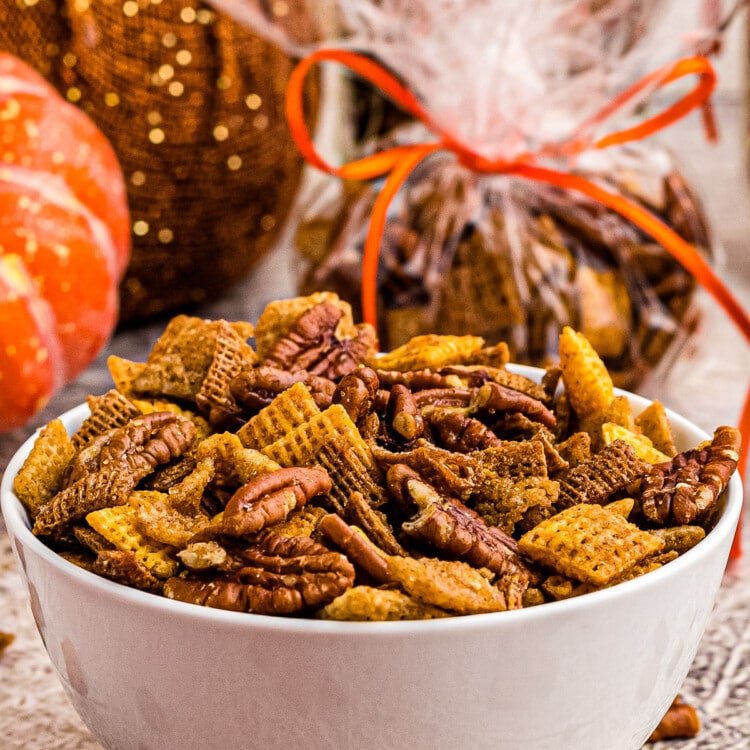 Pumpkin Chex Mix
A quick, easy, sweet and crunchy Chex Mix with a hint of pumpkin from pumpkin spice mix.
Ingredients
1/4

c.

brown sugar

1

Tbsp

pumpkin pie spice

1/4

c.

butter

2

tsp

vanilla

2

c.

Cinnamon Chex™ cereal

2

c.

Wheat Chex™ cereal

2

c.

Honey Nut Chex™ cereal

8

oz

pecans
Instructions
In small bowl, mix brown sugar and pumpkin pie spice; set aside.

In small microwave-safe dish, microwave butter on High about 30 seconds or until melted. Stir in vanilla.

In large microwavable bowl, mix all cereals and pecans. Pour butter mixture over cereal mixture, stirring until evenly distributed. Add sugar and spice mixture and stir until coated.
Microwave Directions
Microwave uncovered on High 5 minutes or until mixture begins to brown, stirring every minute. Spread on wax paper or a cookie sheet to cool. Store in airtight container.
Oven Directions
Spread evenly on 15'' x 10'' x 2'' baking pan. Bake in preheated oven at 250 degrees F for 1 hour, stirring every 15 minutes. Spread out on paper towel to cool. Stir in airtight container.
Nutrition Information
Calories:
455
kcal
(23%)
,
Carbohydrates:
80
g
(27%)
,
Protein:
9
g
(18%)
,
Fat:
14
g
(22%)
,
Saturated Fat:
2
g
(13%)
,
Cholesterol:
7
mg
(2%)
,
Sodium:
368
mg
(16%)
,
Potassium:
313
mg
(9%)
,
Fiber:
9
g
(38%)
,
Sugar:
10
g
(11%)
,
Vitamin A:
730
IU
(15%)
,
Vitamin C:
7.8
mg
(9%)
,
Calcium:
145
mg
(15%)
,
Iron:
19.4
mg
(108%)