White Chocolate Puff Corn Recipe
White Chocolate Puff Corn ~ Melt in your mouth puff corn coated in white chocolate! Perfect sweet and salty combo!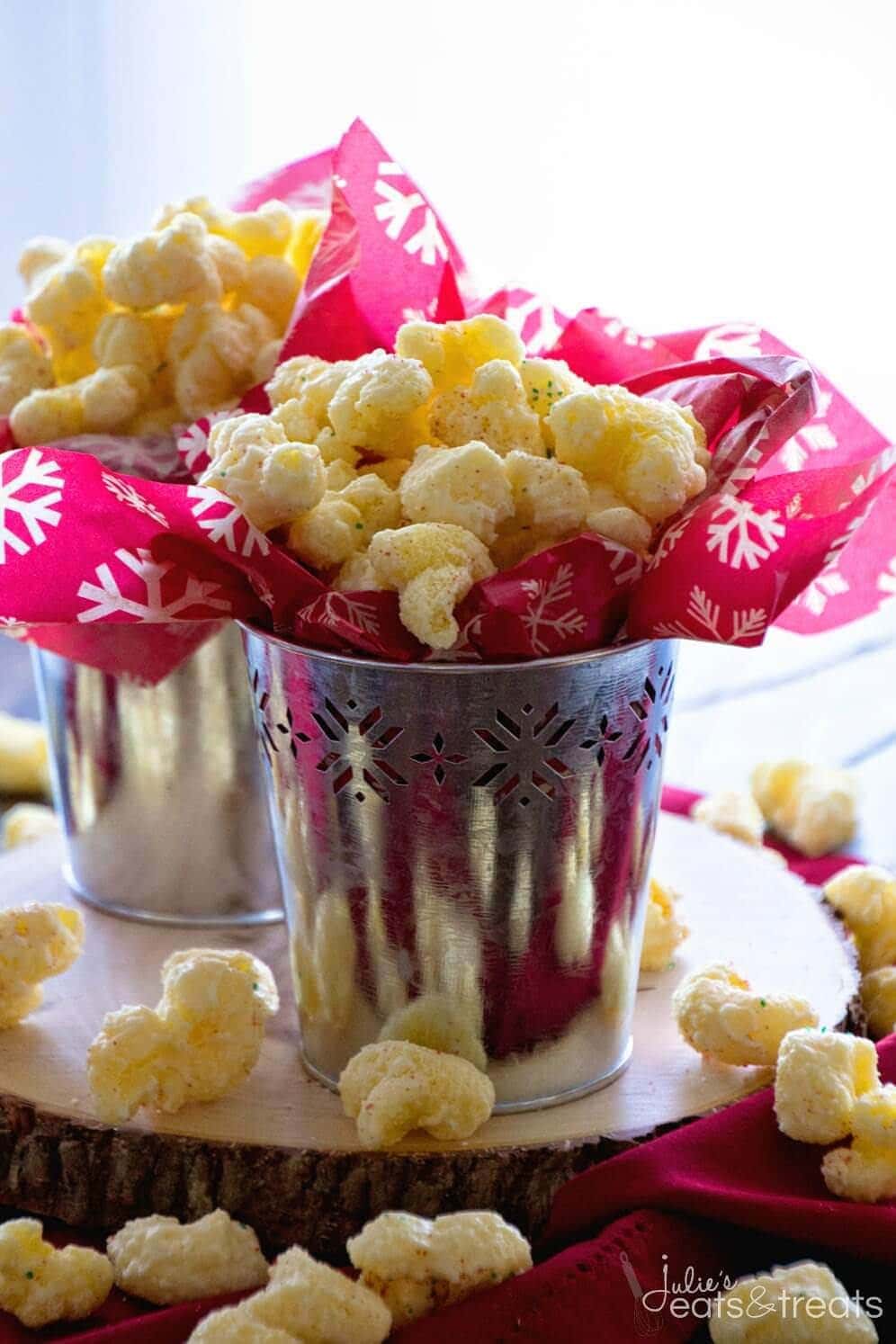 The story goes something like this. We were at our last family Christmas which for the record was #9. Oh I love my family dearly but I'm also enjoying my lazy Sunday at home with the hubby and Miss K.
Back to the story. I was sitting in the rocking chair with Miss K after supper and chit chatting with the sis-in-law and the hubby's aunt when all of a sudden there was a steady stream of people coming from the kitchen towards me with their eyes lit up. In their hands was the yummy puff corn treat. They said it was AH-MAZ-IING. They raved over it for a long time and I'm not going to lie, I enjoyed every minute.

I was going to hold off on posting this recipe until next Christmas since Christmas is over and all but the in-laws were begging for the recipe so I assured them I would post it. Then I got to thinking and it would be a super fun treat to make for a Super Bowl game and use the colors of your favorite team. Otherwise you could make it for Valentine's Day and use red or pink sprinkles.
So go make this. It's life changing. I promise you will love me even more than you already do of course!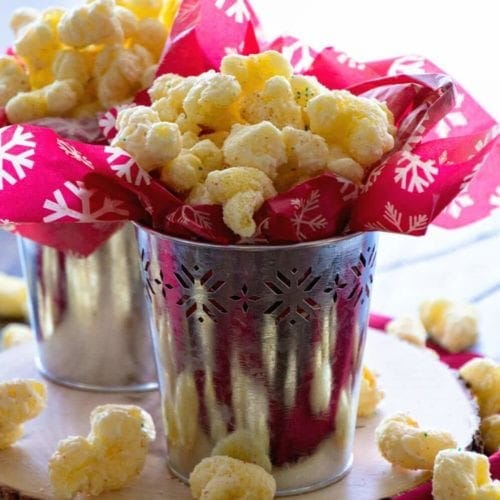 White Chocolate Puff Corn
White Chocolate Puff Corn ~ Melt in your mouth puff corn coated in white chocolate! Perfect sweet and salty combo!
Ingredients
1

bag puff corn

1

square white almond bark

1

package white chocolate chips

Sprinkles
Instructions
Put the puff corn in a large bowl.

Melt the square of white almond bark in double boiler. You can use the microwave if you don't have a double boiler.

Add chocolate chips and melt, stirring occasionally.

Pour white chocolate mixture over the puff corn. Stir until completely covered or put the lid on the bowl and shake like I did.

Put the puff corn mixture on wax paper. Sprinkle with the sprinkles. Let sit out until the white chocolate has hardened. Store in air tight container.
Nutrition
Calories:
166
kcal
Carbohydrates:
18
g
Protein:
1
g
Fat:
9
g
Saturated Fat:
6
g
Cholesterol:
5
mg
Sodium:
26
mg
Potassium:
81
mg
Sugar:
18
g
Vitamin A:
10
IU
Vitamin C:
0.2
mg
Calcium:
56
mg
Iron:
0.1
mg
Craving More Quick Snacks?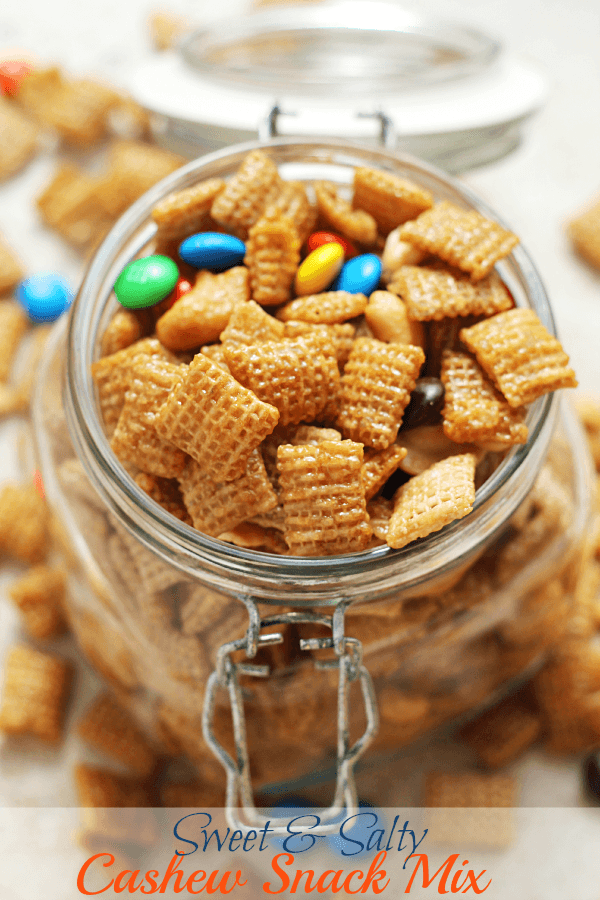 Sweet & Salty Cashew Chex Mix ~ Easy Snack Mix Loaded with Cashews, Chex, M&Ms & Cashews and Smothered in Caramel!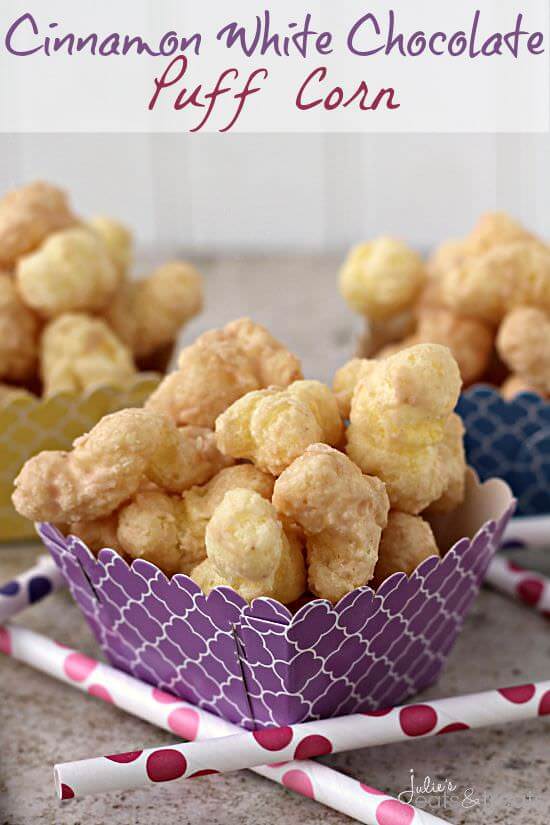 Cinnamon White Chocolate Puff Corn ~ Perfectly Sweet & Salty, Melt in Your Mouth Puff Corn Covered in a Cinnamon White Chocolate!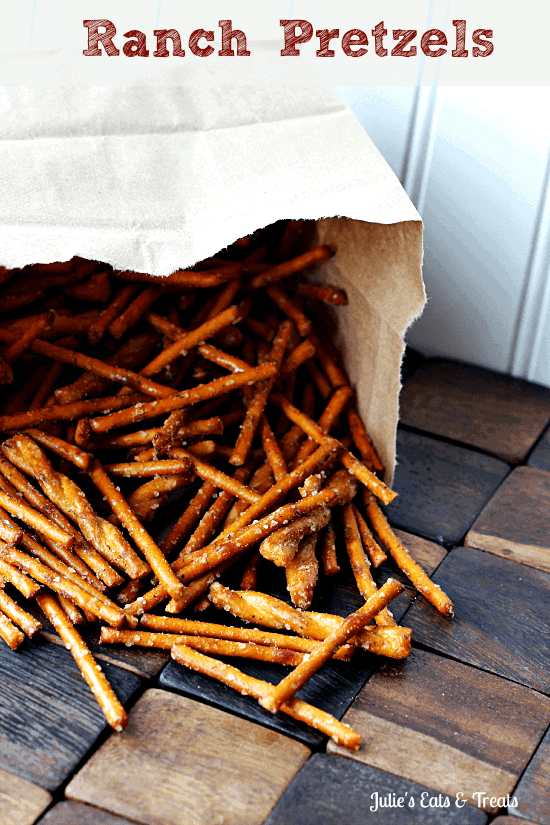 Ranch Pretzels ~ Easy and Addictive treat for everyone!