Vanishing Oatmeal Raisin Cookies
Tonight during supper I told my husband that I had this fabulous idea. He hesitantly asked what it was. I said I'm inventing leftover Fridays. That means that whatever is leftover in the fridge on Friday night that's what we eat for supper. He quickly came back with the fact that he eats leftovers for lunch all week, which he does, but we still have leftovers piling up in the fridge and it drives me bonkers! About two hours later we were sitting downstairs. Yes downstairs. It's finished and we can actually sit here and enjoy it!! AMAZING! We have doubled the space we have to live in and it's great. Ok back to the story at hand. We were sitting downstairs and he asks me if we still have a gift certificate to a local bar and grill and I said I thought so. Well he's thinking we should go out to eat tomorrow night to celebrate having the basement done. I started laughing and he couldn't figure out why. I asked him if leftover Friday night was really that awful. He claims he forgot but I'm doubtful on that one! This cookie recipe is awesome. The cookies are soft and chewy just how I like them. They seriously will vanish. I asked Jason what were were going to do with them all since there's only two of us and I used to bring extras to work but we don't have that many people at my new job. He promised that they would be gone in a few days because Julie I'm going to eat at least half a dozen tonight, a few tomorrow morning for breakfast because they do have both oatmeal and raisins and that's a good breakfast, a few for dinner and so on…he has made a big dent in them already. I may have helped him out also. My mom also confessed she stopped over to peak at the finished basement and just may have took a cookie! Enjoy!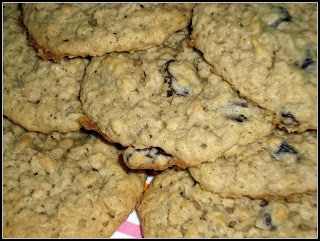 Vanishing Oatmeal Raisin Cookies
Printer Friendly Recipe
Ingredients
1 stick plus 6 Tbsp butter
3/4 c. Brown Sugar
1/2 c. Sugar
2 Eggs
1 tsp Vanilla
1 1/2 c. Flour
1 tsp Baking Soda
1 tsp Cinnamon
1/2 tsp Salt
3 c. Quick Oats
1 c. Raisins
1. Heat over to 350 degrees.
2. Beat together butter and sugars until creamy. Add eggs and vanilla, beat well.
3. Add combined flour, baking soda, cinnamon and salt, mix well.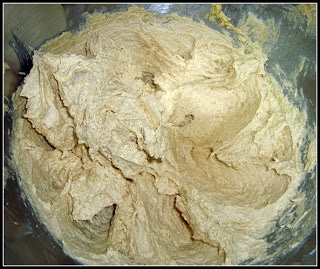 4. Stir in oats and raisins, mix well.
5. Drop onto ungreased cookie sheet. Bake 10-12 minutes until golden brown. Do not over bake. Make sure they are just golden brown on the edges. This keeps the cookie nice and chewy! Cook 2-3 minutes on cookie sheet.