Sparkling Strawberry Lemonade
Sparkling Strawberry Lemonade ~ Quick, Easy, Refreshing Lemonade for those Hot Summer Nights! Only 3 Ingredients and You Will Be Sipping this Amazing Strawberry Lemonade!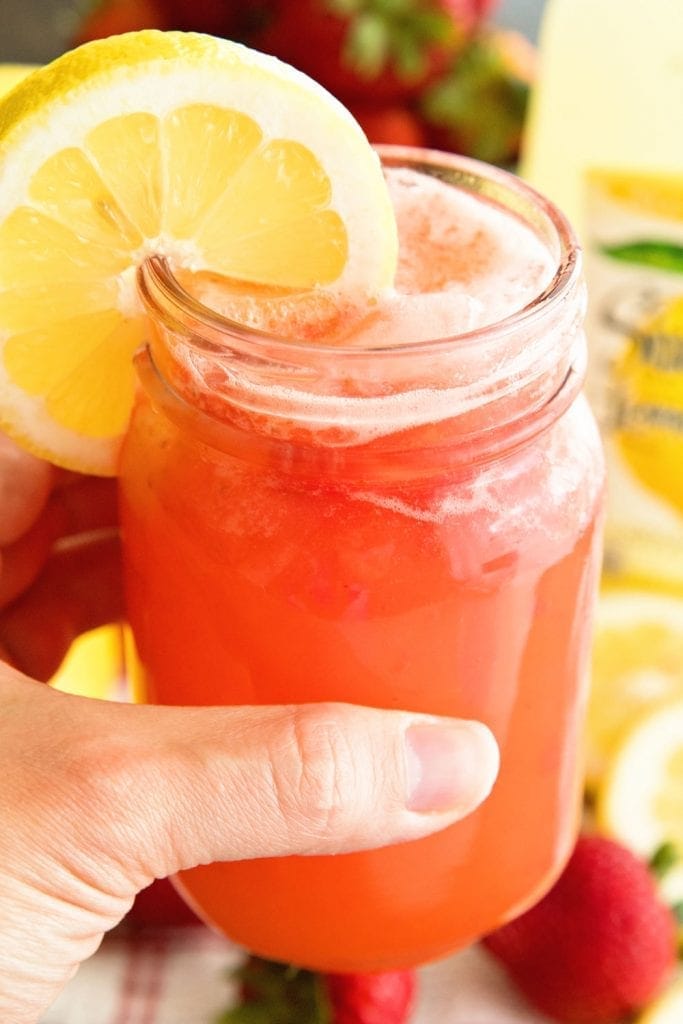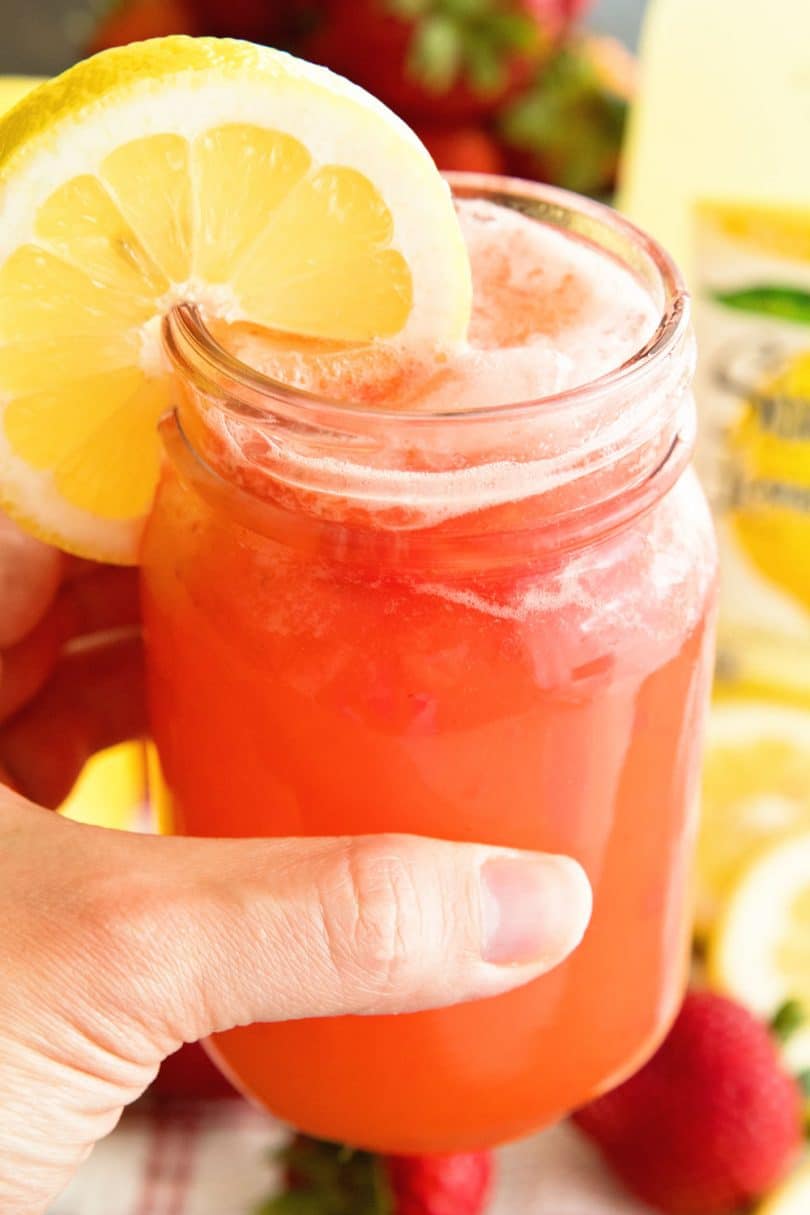 This post has been sponsored The Coca-Cola Company. All thoughts and opinions are my own.
Ahhhh you guys! I saw Back to School ads this week. Say what?? I feel like it was just yesterday I was picking Miss K up from her last day of Pre-K and looking forward to the summer days ahead. Then life happened, I blinked and now the back to school ads are happening.
Sigh.
Life, I tell ya. It just moves to fast for me! They, I'm not sure who "they" actually are, but they told me life goes faster the older you get and I totally, 100%, believe them right now! Jeepers! It's flying by at lightening speed. I can't imagine what it will be like when I'm as old as my Mom. Just kidding Mom. I love you!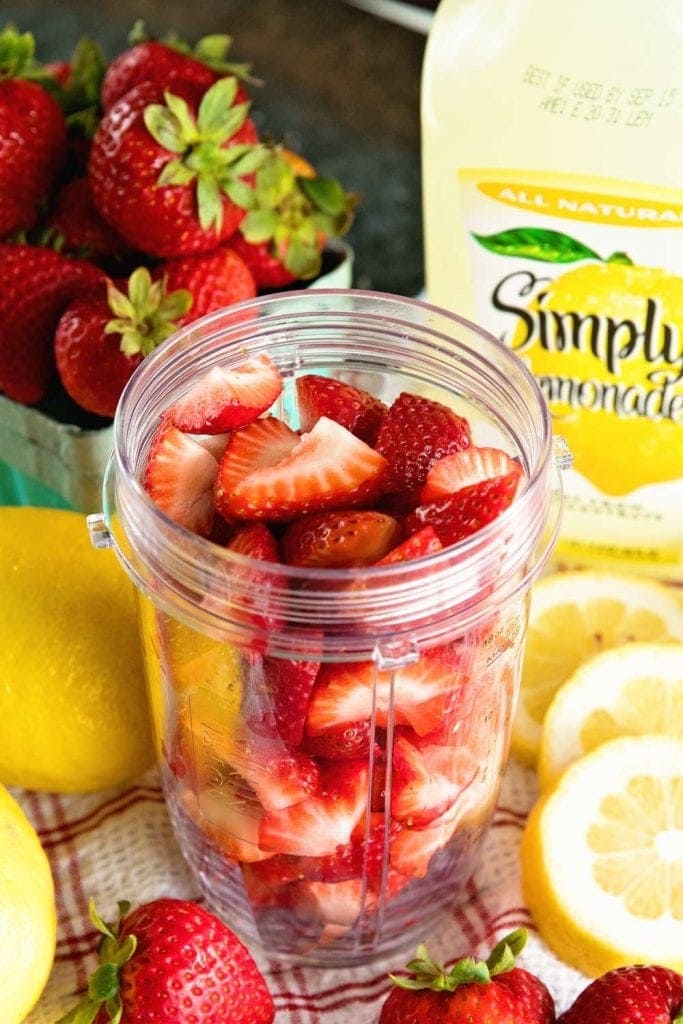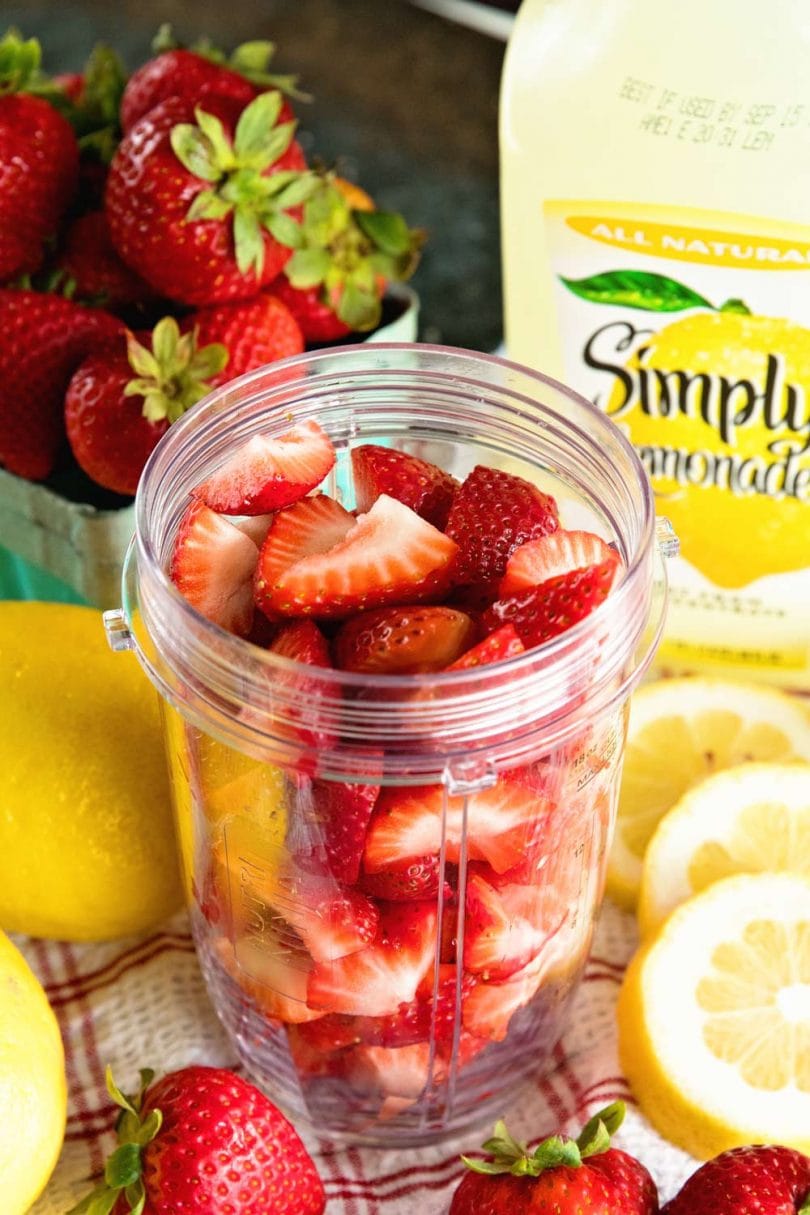 Soon we will be shopping for back to school items for Miss K because she starts kindergarten this year. Cue all the tears. All the tears. When did that girl get so grown up? Oh, she's my little honey. She loves like a big teddy bear and is always quite concerned about everyone. She's such a help to me that I'll miss her when she's in school!
I do feel that it's true, the oldest grows up the fastest because they are quickly expected to help out around the house and with their siblings. Miss K typically takes this all in stride and is quite proud of helping with the baby! Trust me, I praise her and say many thanks every time she helps. She needs to know I appreciate it!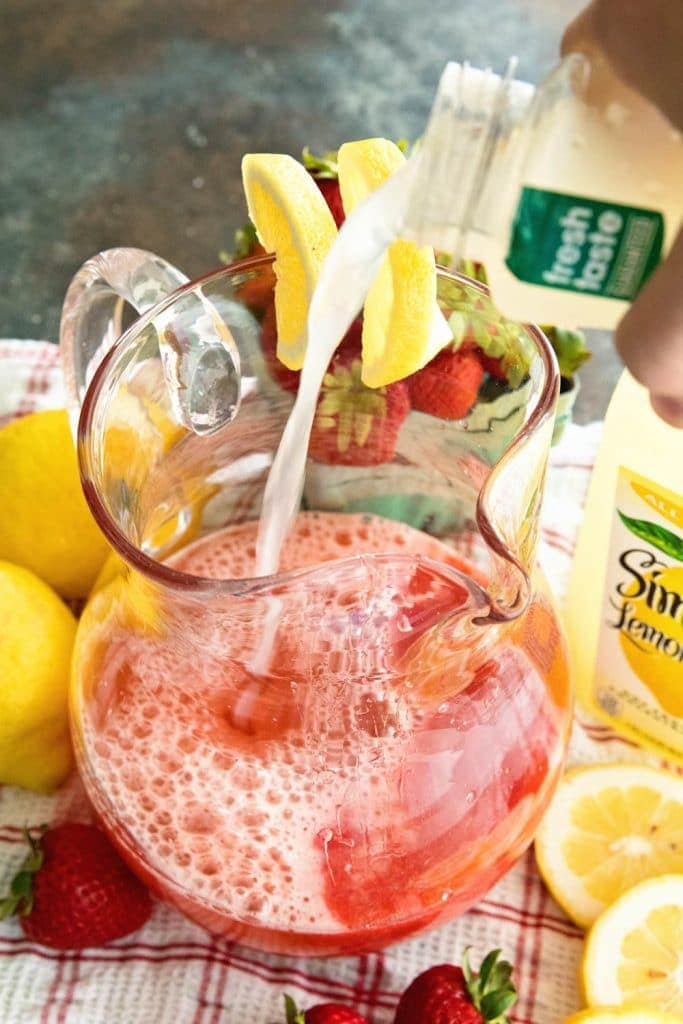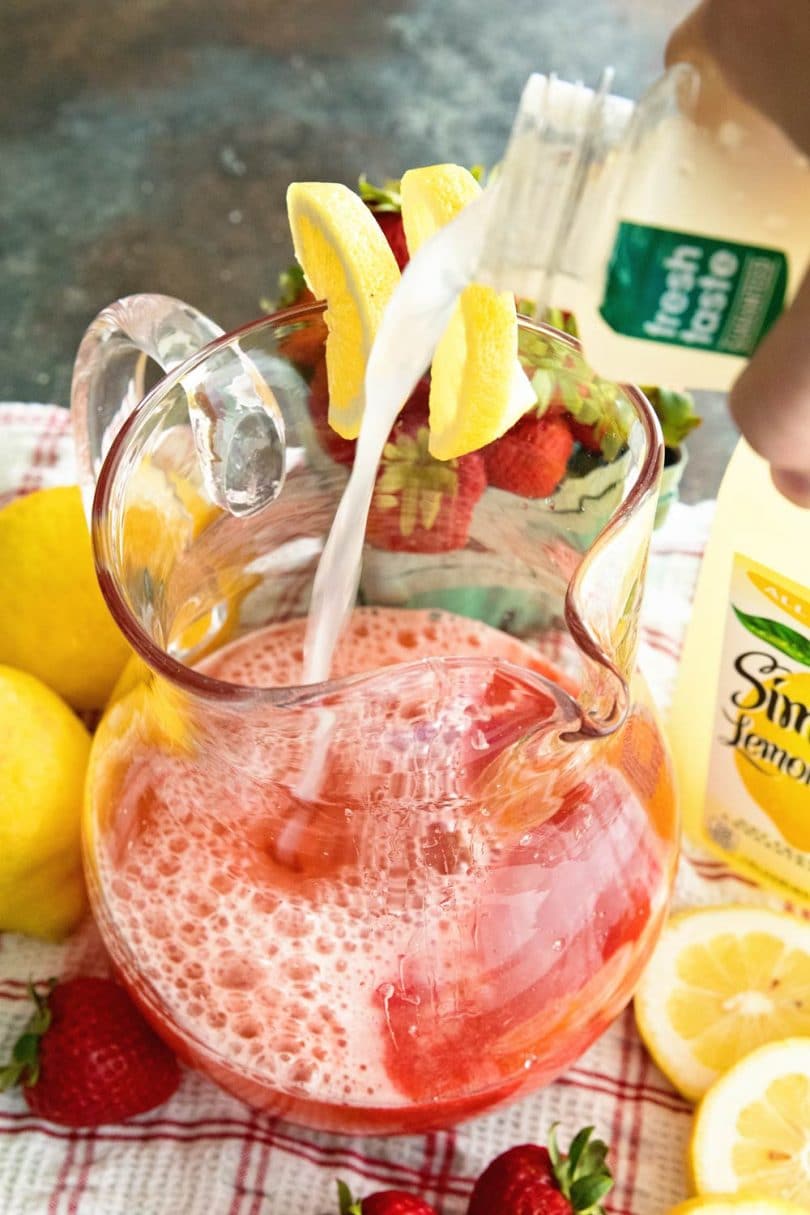 In the middle of all the juggling of kids and life I try to always take one day out of the summer and go back to school shopping with Miss K. She gets lost in the shuffle and I think it's important to have some one-on-one time with her. Usually it's a quick trip because she's five and well, marathon shopping trips are not her thing!
One place I know we will go is Walmart to pick up all her school supplies. Oh, she loves picking those out. I try to stand there and bite my tongue while she picks all the themed school supplies out because I'd go for the more "tasteful" ones. Any other Moms struggle with this? Oye! It's a hard one isn't it? As long as she's happy, I'm happy, because you know they won't use it unless they like it!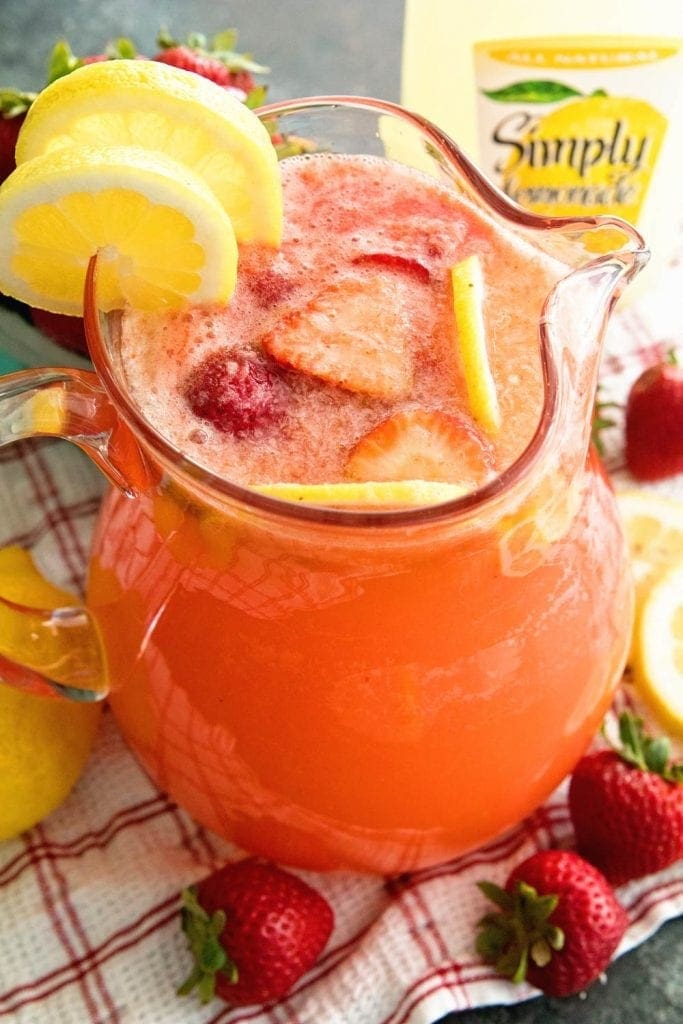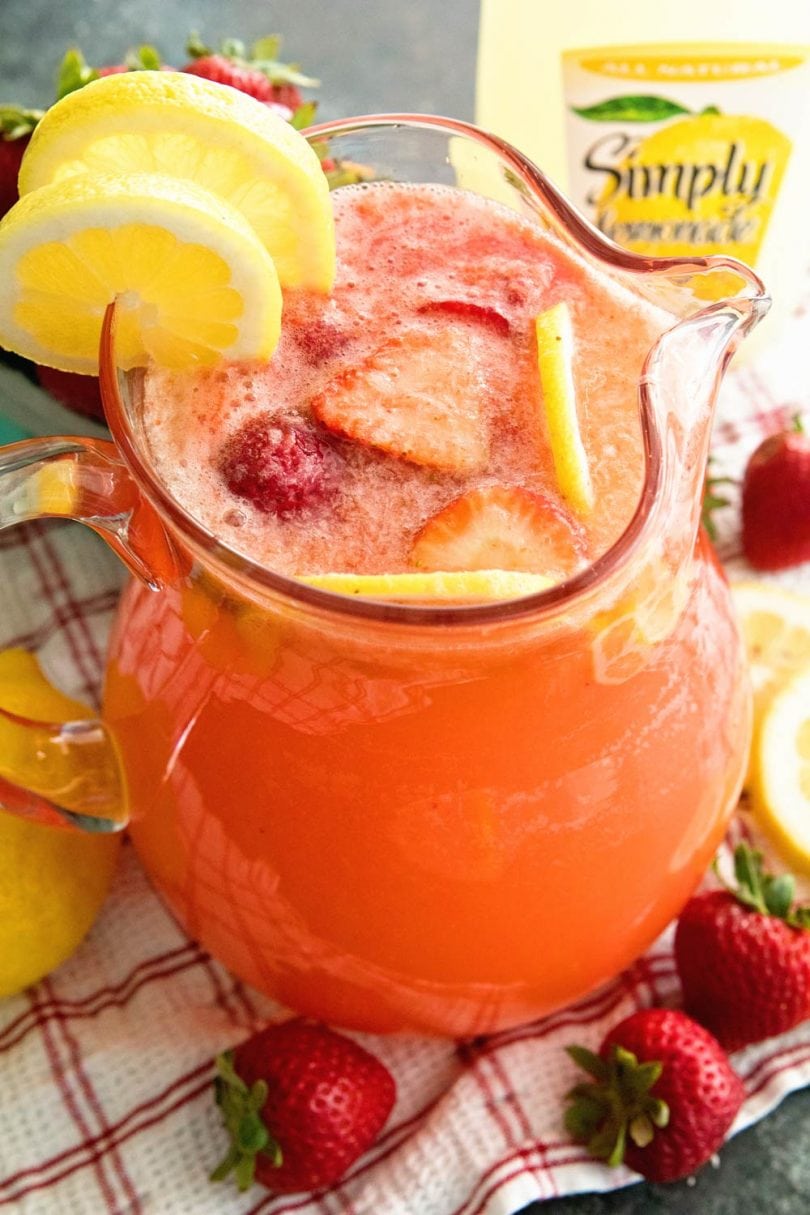 While we are at Walmart getting school supplies I'm going to make sure to pick up some delicious Simply Lemonade® in the refrigerated section to make this refreshing Sparkling Strawberry Lemonade for all our backyard grill outs before fall comes!
I'm going to be trying to soak up every last minute of summer before fall rolls around and the hustle and bustle starts again. The perfect way to do it is grilling out and having some friends and family over! I love the adult interaction and the kids love playing with their friends!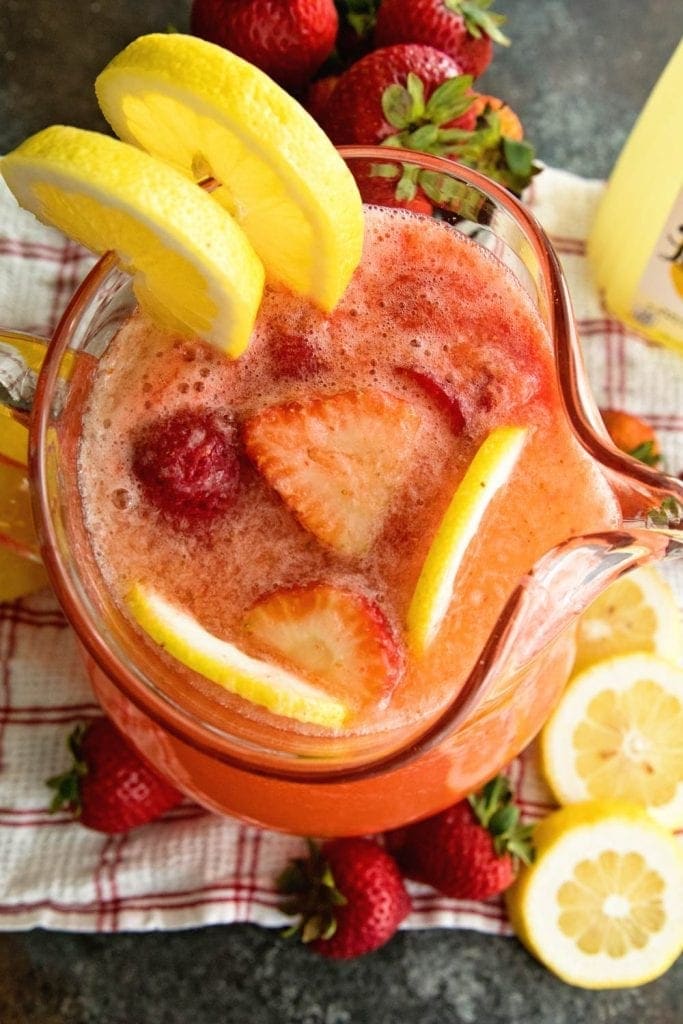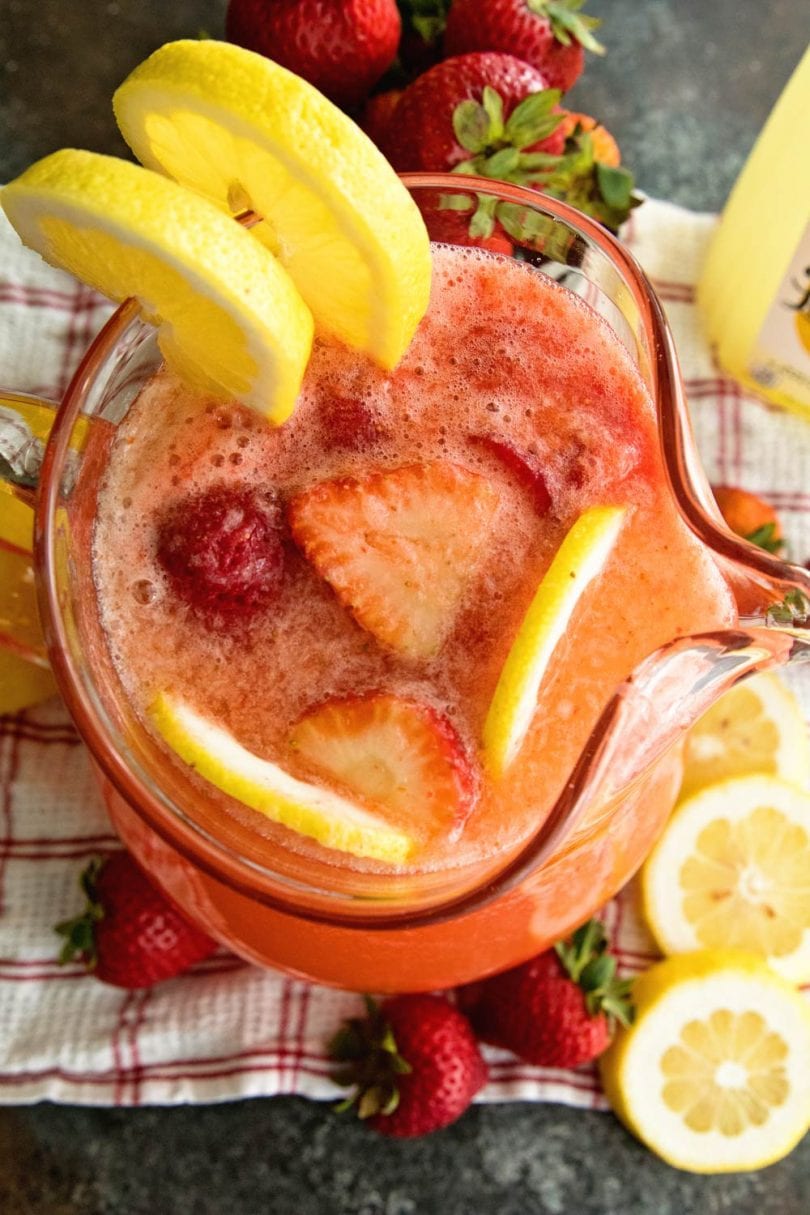 The key to these backyard parties is EASY. Easy. Easy. Easy. That way you can still enjoy them! Good thing this Sparkling Strawberry Lemonade is super, duper easy peasy.
Trust me.
It's only THREE ingredients.
Winner! Winner!
But it's so delicious no one is ever going to guess that it took you a matter of ten minutes to make. Don't worry your secret is safe, I won't tell them either!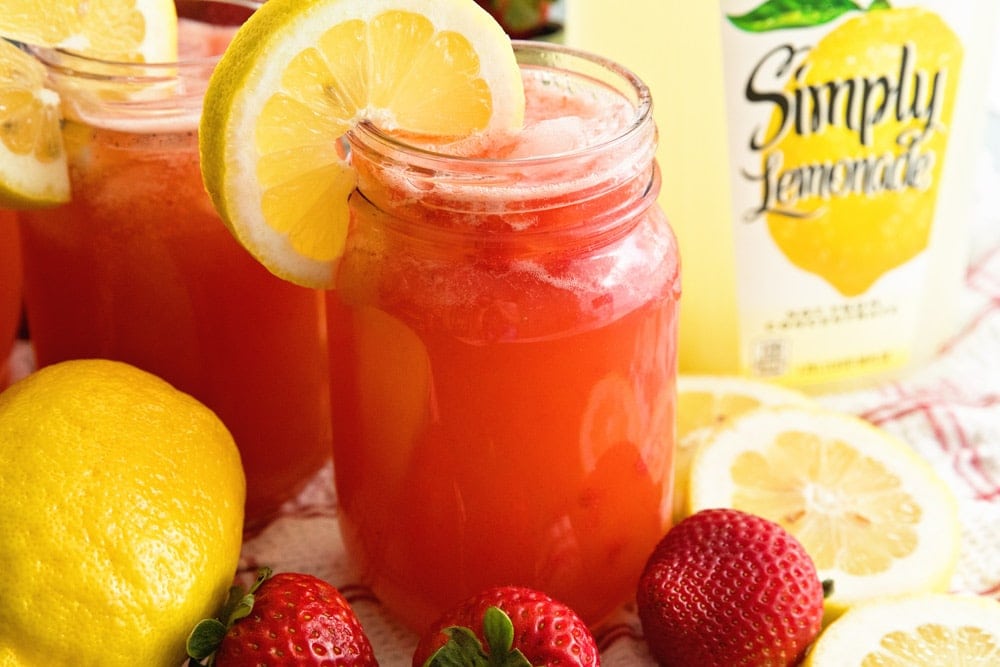 So, while you are browsing the back to school aisles at Walmart, make sure to grab a jug or two of Simply Lemonade and whip up this easy Sparkling Strawberry Lemonade, invite a few friends over and soak up the last moments of our summer!
Sparkling Strawberry Lemonade Ingredients
Fresh Strawberries
Simply Lemonade
Lemon Lime Soda
Love this Sparkling Strawberry Lemonade? Here's another great mocktail to enjoy, Sparkling Cranberry Cocktail! Or make some easy Roy Rogers Drinks! This easy Watermelon Mint Lemonade recipe is the perfect summer beverage!
If you are going all out you can always offer different flavors of lemonade at your parties! Or even mix Simply Lemonade and Gold Peak® Sweet Tea together!
Use the store locator to find your nearest Walmart!
For more summer entertaining tips, tricks, and recipes visit here!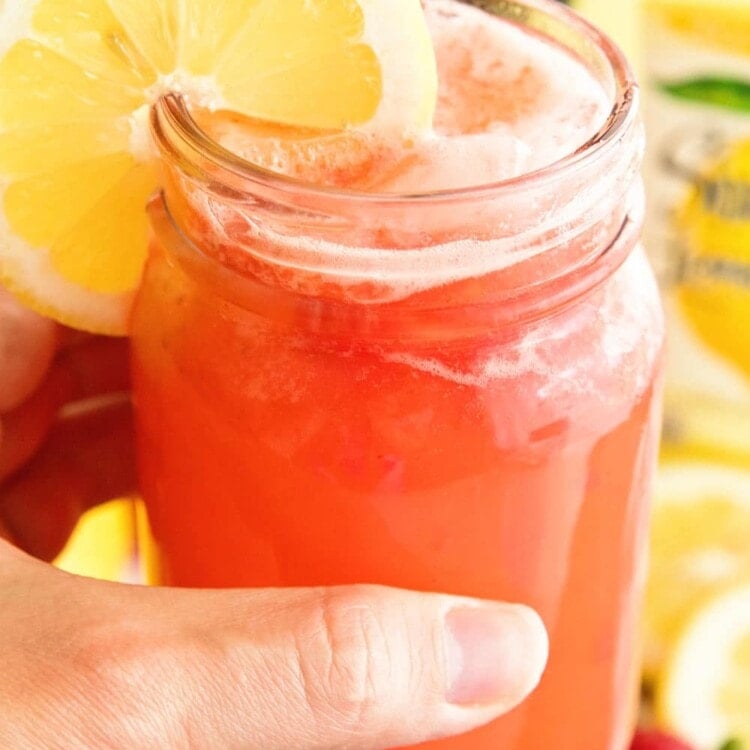 Sparkling Strawberry Lemonade
Quick, Easy, Refreshing Lemonade for those Hot Summer Nights! Only 3 Ingredients and You Will Be Sipping this Amazing Strawberry Lemonade!

Ingredients
1

16 oz carton strawberries, rinsed, hauled and quartered

1

59 oz carton Simply Lemonade

2

c.

lemon lime soda

3

lemons

optional

1

c.

strawberries

sliced (optional)
Instructions
Puree strawberries in blender or food processor.

In a large pitched mix together strawberry puree, Simply Lemonade and lemon lime soda. Stir until combined.

Stir in sliced strawberries if desired.

Slice lemons into thin slices. Use several slices in Strawberry Lemonade and additional slices for garnish on glasses for serving.
Nutrition Information
Calories:
135
kcal
(7%)
,
Carbohydrates:
34
g
(11%)
,
Sodium:
16
mg
(1%)
,
Potassium:
150
mg
(4%)
,
Fiber:
2
g
(8%)
,
Sugar:
28
g
(31%)
,
Vitamin A:
15
IU
,
Vitamin C:
57.8
mg
(70%)
,
Calcium:
19
mg
(2%)
,
Iron:
0.5
mg
(3%)