BBQ Baked Chicken Fingers Recipe
BBQ Baked Chicken Fingers Recipe ~ Homemade Chicken Fingers that are Marinated in BBQ Sauce then Dipped in Egg and Panko Crumbs for a Delicious Homemade Chicken Finger!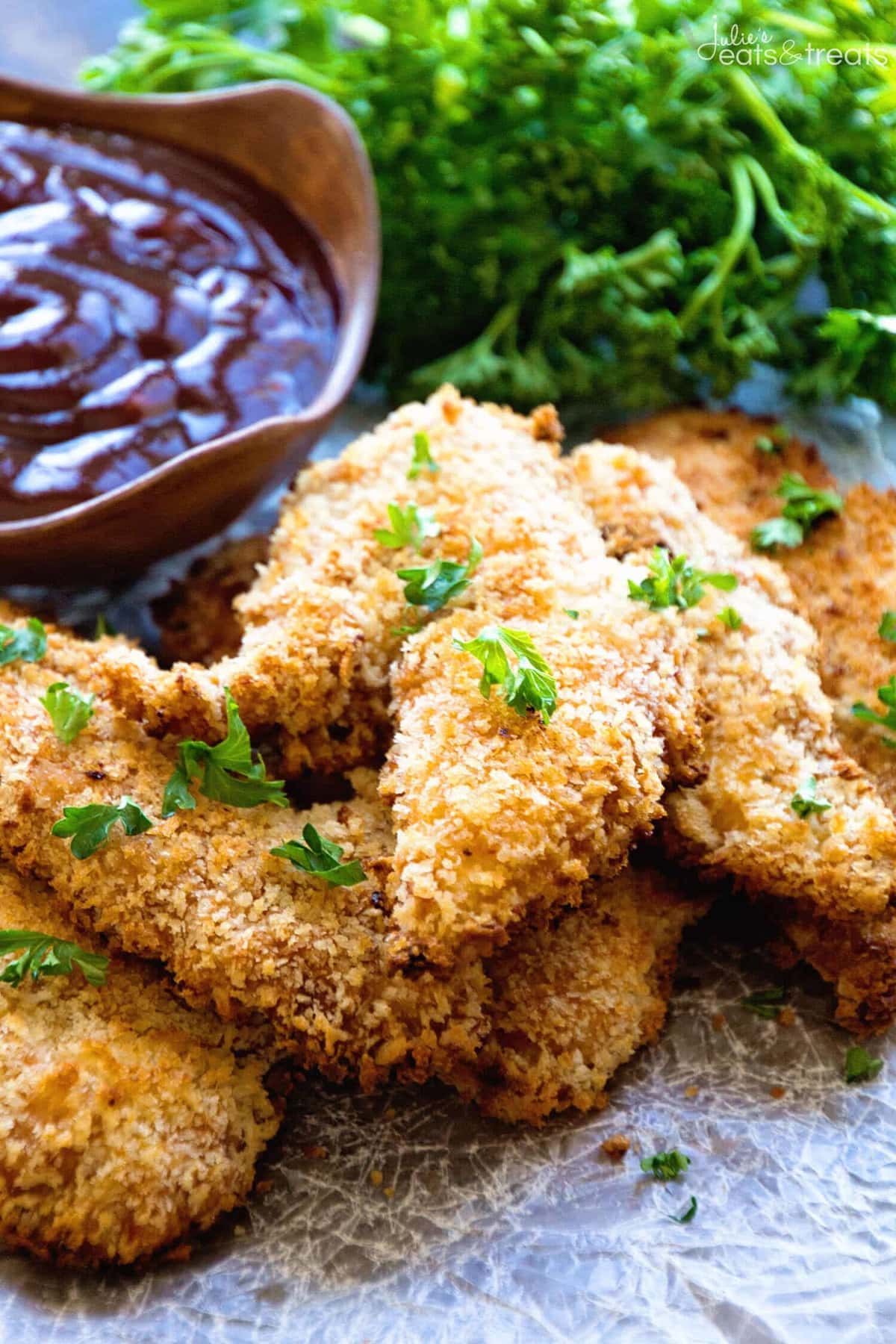 I'll admit it. I have favorites. I play favorites with recipes. Some get tons of love and some don't get quite as much love on this blog. For example, these recipes get tons and tons of love. If I'm asked to bring bars to a get together you'll find me whipping up a batch of these Monster Cookie Bars. It makes a HUGE pan and it's so much easier than making Monster Cookies!
These BBQ Baked Chicken Fingers have quickly became another go to recipe. I needed to perfect the recipe so I made it quite a few times and I can't say we minded one bit! These BBQ Baked Chicken Fingers have the sweet tang from the BBQ Sauce and the crunch from the Panko. They are so delicious. Plus, I love knowing that they contain real chicken breast in there. Just sayin'!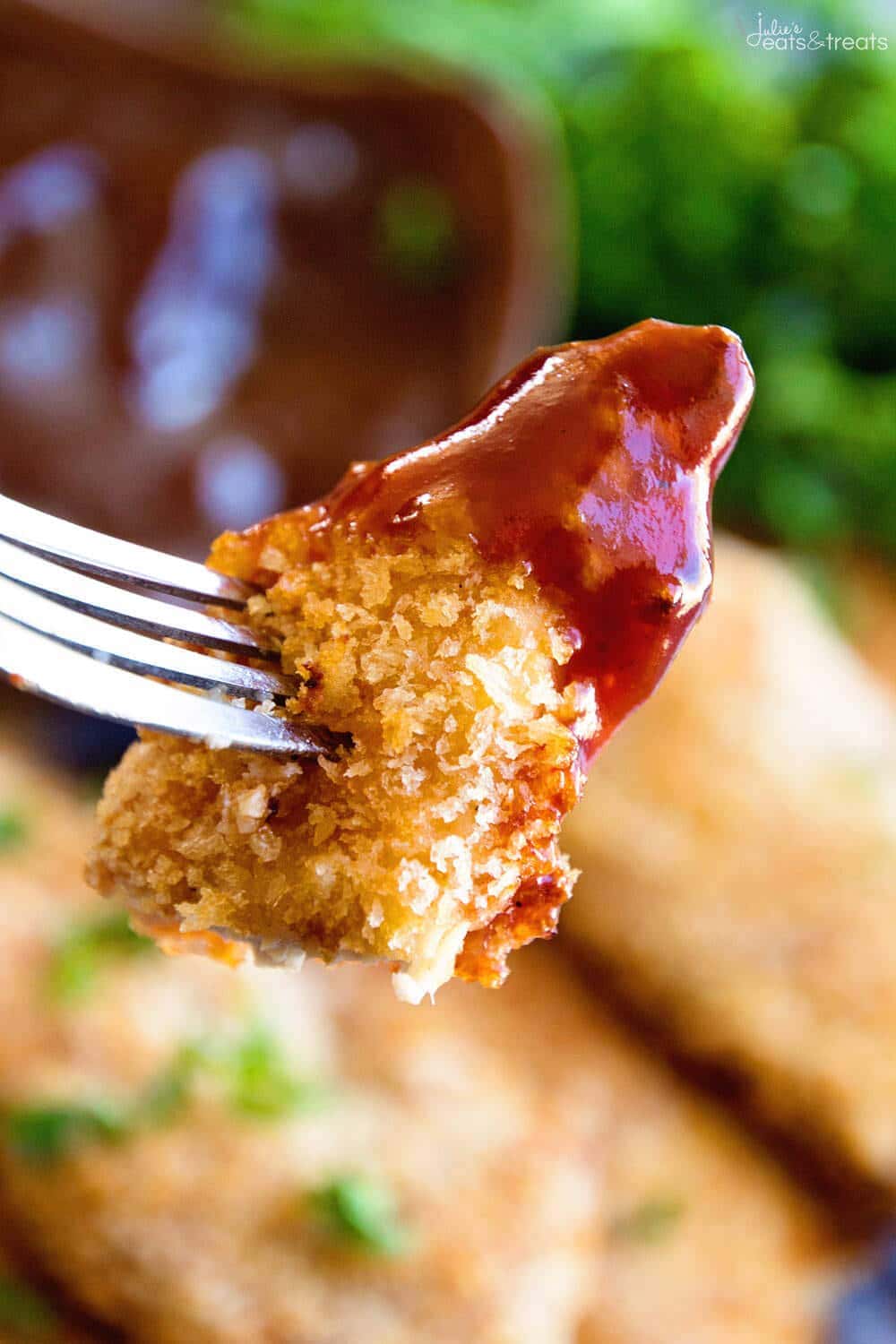 It's been a rough week here with sickness. Miss RyRy had a fever at the beginning of week so I was home with her for a few days. The hubs swapped off for me one afternoon so I could go to work for a bit. I said hi and dashed out of the house as he arrived. I happened to work late to get a project done that I was working on. He kept asking when I was going to be home for dinner. I was starting to find this quite annoying because I was going as fast as I could and I wanted to get home just as much as he apparently wanted me there!
After I left work I still needed to run to the grocery store quick and get a few things for the girls. This ended with me opening up the back of my SUV and the milk jug crashing to the ground and spraying EVERYWHERE!!! Seriously, how many times do I need to ask for them to put it towards the front! Anyway, that's a different story and a different rant.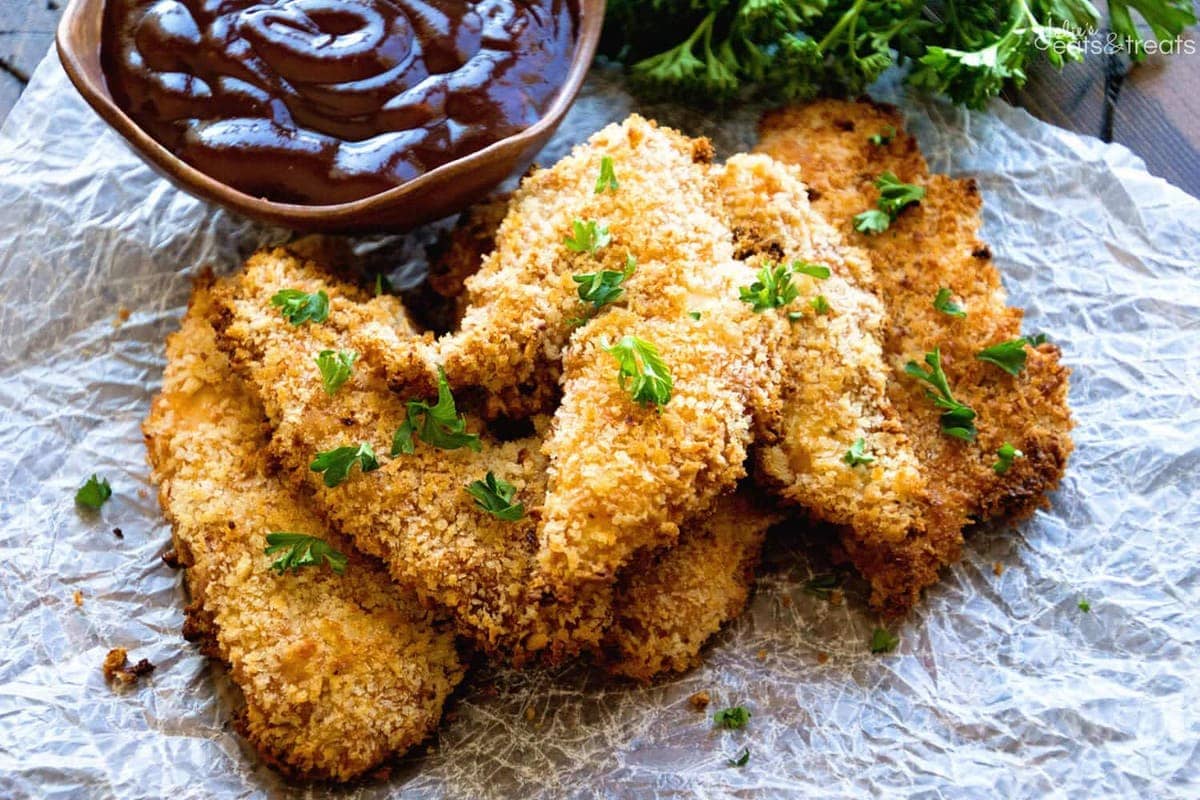 So after the crashed milk and slight annoyance of the hubs pestering me about when I was going to be home I quickly learned why. The man had made me Steak and Potatoes on the grill! Cue the angels singing above. No wonder why he wanted to know what time! It was amazing. The steak was nice and juicy and that potatoes were perfectly cooked. The guy even pulled out a cookbook and found a marinade for the steak. Now that my friends is impressive. The marinade is coming to the blog this summer. Trust me. Amazing.
Oh and did I mention there were freshly baked Chocolate Chip Cookies on the counter? That's right he made cookies with Miss K. He found his Grandma's Chocolate Chip Cookie recipe and got to work. They are melt in your mouth amazing. That cookie is coming soon too. I was raving about how pretty they were. Perfectly round and beautiful and he said, "Are you going to blog them? Are you?" You bet I am!
That night I didn't mind cleaning up the dishes one bit!
Be sure to try Simple Chicken and Vegetable Sheet Pan Dinner, a Quick and Easy Dinner Recipe! Crispy-Skinned Chicken Thighs, Tender Potatoes and Asparagus!
Chicken Cordon Bleu Casserole is any easy casserole with layers of chicken, ham, a delicious cheese sauce, and topped buttery Panko breadcrumbs.
Chicken Alfredo Bubble Up are Biscuits Loaded with Chicken and Smothered in Alfredo Sauce & Cheese!
Easy Chicken Pot Pie is a classic dinner of comfort food.
You can't beat a classic like this creamy, cheesy and delicious Chicken Tetrazzini!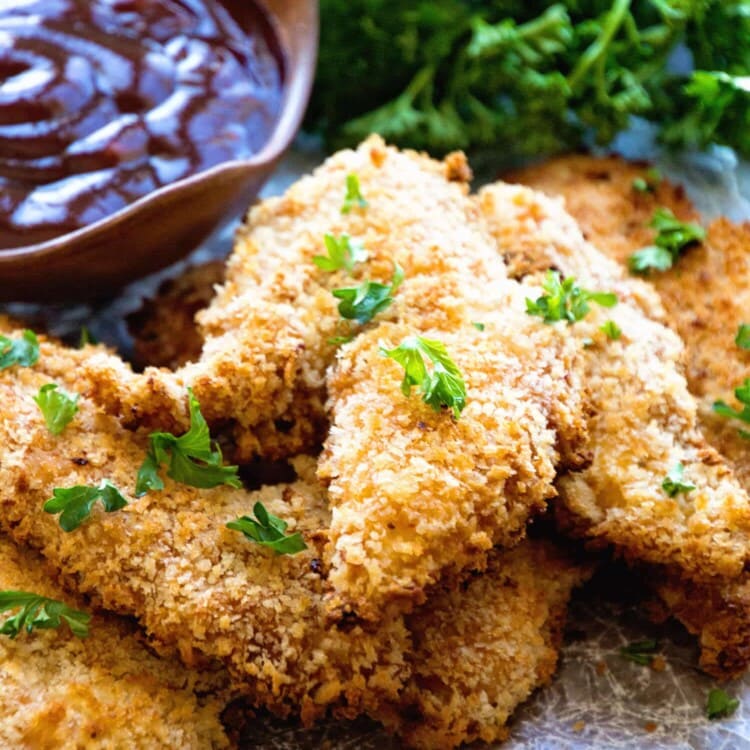 BBQ Baked Chicken Fingers
Homemade Chicken Fingers that are Marinated in BBQ Sauce then Dipped in Egg and Panko Crumbs for a Delicious Homemade Chicken Finger!
Ingredients
1

lb

skinless

boneless chicken breasts

1/2

c.

BBQ sauce

1/2

c.

white whole wheat flour

1/2

tsp

salt

1/2

tsp

black pepper

1/2

tsp

smoked paprika

2

large eggs

1 1/2

c.

Panko crumbs

Non-stick spray
Instructions
Pound down chicken breasts and cut into strips. Place in bowl and cover with bbq sauce. Cover tightly and marinate in the refrigerator for at least 30 minutes and up to 6 hours. The longer they marinate the more bbq flavor your chicken will have.

Preheat oven to 400 degrees. Line a baking sheet with silicone baking mat or coat heavily with nonstick spray.

Combine flour, salt, pepper, and smoked paprika in a shallow dish. In another dish beat eggs. Pour Panko breadcrumbs into a third shallow dish. Coat each chicken strip in flour mixture, shake off excess. Then dip in egg mixture, let excess drip off. Then roll chicken strip in Panko crumbs, shaking excess off. Place chicken strips on baking sheet. Spray each with nonstick spray. You MUST do this!

Bake for 10 minutes. Turn each piece over and spray with nonstick spray on this side. Bake an additional 10 minutes or until chicken is cooked through.
Nutrition Information
Calories:
667
kcal
(33%)
,
Carbohydrates:
97
g
(32%)
,
Protein:
40
g
(80%)
,
Fat:
12
g
(18%)
,
Saturated Fat:
2
g
(13%)
,
Cholesterol:
189
mg
(63%)
,
Sodium:
1376
mg
(60%)
,
Potassium:
583
mg
(17%)
,
Fiber:
7
g
(29%)
,
Sugar:
15
g
(17%)
,
Vitamin A:
335
IU
(7%)
,
Calcium:
214
mg
(21%)
,
Iron:
6.5
mg
(36%)