Blueberry Cream Cheese Coffee Cake
Blueberry Cream Cheese Coffee Cake ~ Delicious Coffee Cake Stuffed with Blueberries and Cream Cheese! Topped with a Crumb Topping and Glaze!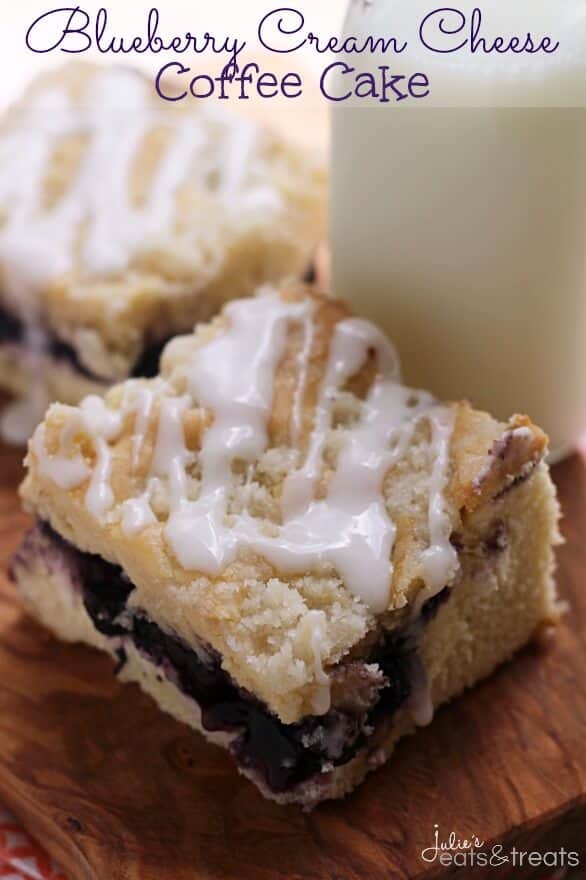 *I was compensated by Lucky Leaf to create this recipe & post. All opinions expressed are completely my own.
Breakfast is one of my favorite meals of the day and I think it gets forgotten about a lot of the time. Usually I'm inhaling a cold bowl of cereal or some eggs and trying to rush around getting Miss K ready so we can get out the door, to daycare and me to work on time! Let's just say there isn't a lot of leisurely time in the morning spent enjoying my breakfast yet alone making a delicious homemade breakfast. It just does not happen.
On the weekends I usually try to make one homemade breakfast if time allows. It usually falls on Saturday morning when we are laying around trying to get going for the weekend. I wish I was that awesome Mom on Sunday mornings that jumped out of bed early and greeted the morning with a smile on her face rushing to the kitchen to make breakfast for my family as they slept in and then awoke to the aromas a fresh baked breakfast.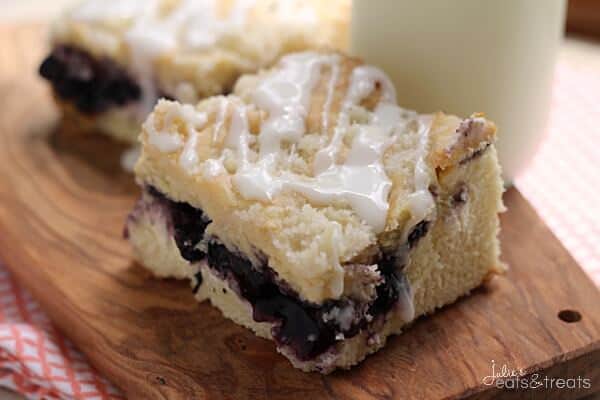 I am not the Mom. Not in any way, shape or form am I that Mom. Do you want to know what type of Mom I am? Well if you don't then skip to the recipe. If you do then keep reading.
I'm that Mom that is still laying in bed when my child wakes up and screams to wake me up. Then I'm usually the Mom that lays there and prays that her child might go back to sleep. Does this happen? No, usually not unfortunately. After about 15 minutes of Miss K whining I drag my lazy butt out of bed and go and get her. I greet her with a smile because really it's not that bad! At least it's usually after 7 am and not some horrific hour of the morning like 5 am. Please say a silent prayer that baby #2 does not punish me with an early alarm clock.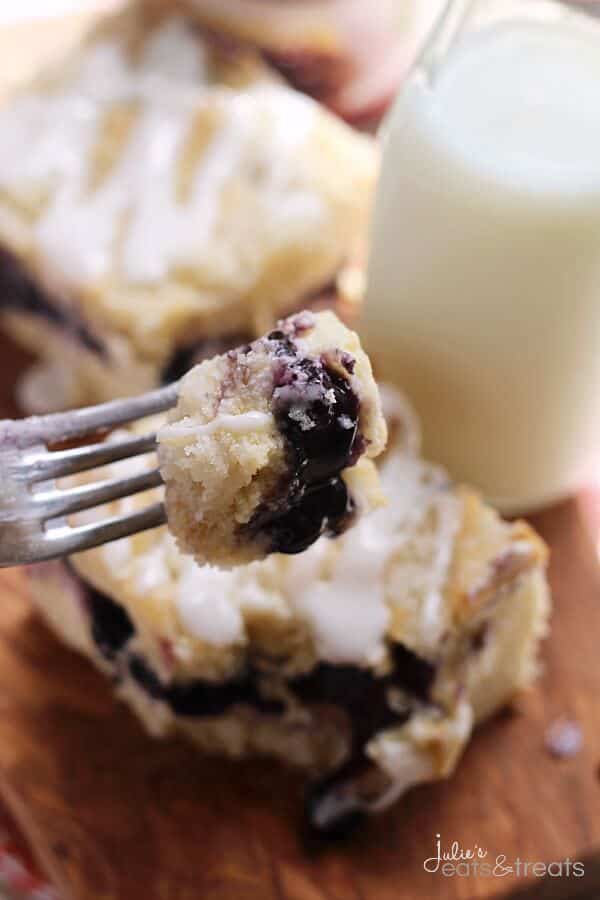 If baby #2 is a morning baby it will become it's father's child while I sleep. My husband does not have a choice in this. I will just inform him. Trust me, it's better for the entire family if he embraces this duty and let's me sleep. I need my sleep. Just ask my parents. Ask my husband. It gets ugly fast when I don't get enough sleep.
Since I like breakfast and I like my sleep this causes a certain challenge. The perfect solution would be a husband that gets up a hour before me, makes me a hot cup of coffee, a homemade breakfast and wakes me up with a kiss when it's ready. Who's laughing with me? I do have to give him a little credit though. While I was dying from morning sickness this did happen. Well he let me sleep and him and Miss K made a whole lot of pancakes and eggs on the weekends while I tried to forget that I felt like I might die. So glad that's over with.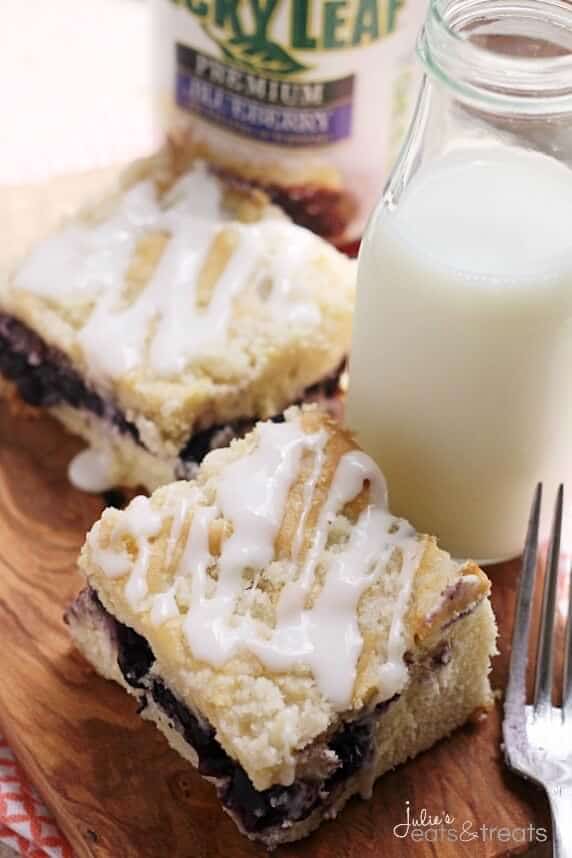 Since I don't have a husband like that and I don't have a servant the next best thing is getting up in the morning and trying to embrace the morning or making a breakfast the night before that I can enjoy in the morning! Guess what? I have a treat today that is going to fit both of those bills! It's pretty easy, but it does take a while to cool and everything so I made it the night before. I was so excited that it stayed fresh in the fridge and with about a 20 second ride in the microwave it tasted like it was fresh out of the oven!
This Blueberry Cream Cheese Coffee Cake is stuffed with a cream cheese layer and blueberries. Then it's topped with a yummy crumb topping and drizzled with a powdered sugar glaze. If you are looking for a weekend treat this is it! Enjoy it with an ice cold glass of milk or if you are me a large glass pot of coffee! Fresh blueberries make this Blueberry Cobbler recipe so amazing! This blueberry coffee cake recipe is made from scratch and has the best tender, moist crumb. Blueberry Lemon Pound Cake is a Moist, Delicious Pound Cake Recipe Packed with Fresh Blueberries! Sweet and tart Cranberry Scones are the perfect fall or holiday treat for breakfast or with coffee. Delicious Banana Coffee Cake loaded with flavor from mashed bananas and white chocolate chips then topped with brown sugar and slivered almonds. Love warm, fresh muffins in the morning? Don't want to do all the work? These Refrigerator Bran Muffins are the answer! If you like this recipe you have to check out my Crumb Cake, too!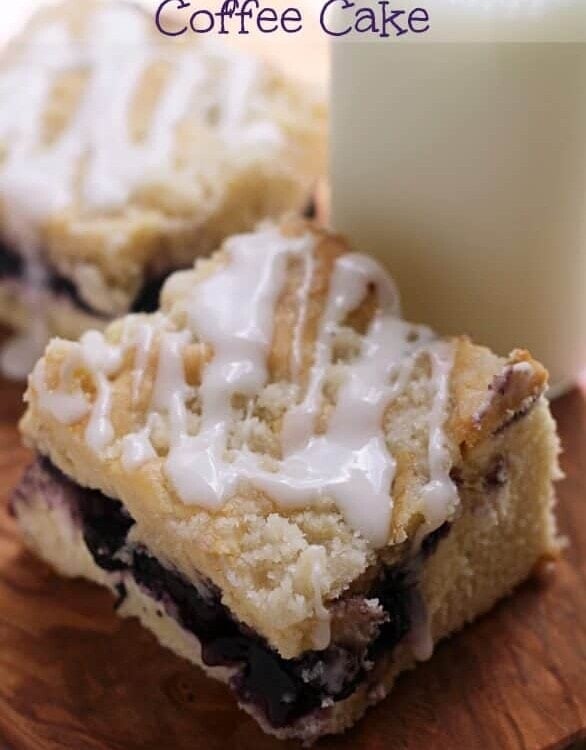 Blueberry Cream Cheese Coffee Cake
Delicious Coffee Cake Stuffed with Blueberries and Cream Cheese! Topped with a Crumb Topping and Glaze!
Ingredients
Cake
2 1/2

c.

all-purpose flour

1

c.

granulated sugar

1/2

tsp

baking powder

1/2

tsp

baking soda

3/4

c.

butter

softened

3

eggs

2/3

c.

buttermilk

1

tsp

almond extract
Filling
2

8 oz packages cream cheese softened

1/2

c.

granulated sugar

1

egg

1

21 oz Blueberry Lucky Leaf Pie Filling
Crumb Topping
1/2

c.

sugar

1/4

c.

flour

3

Tbsp

butter

melted
Icing
1

c.

powdered sugar

1-2

Tbsp

milk
Instructions
Preheat oven to 325 degrees. Grease a 13×9 in pan and set aside. In a large mixing bowl beat flour, sugar, baking powder and baking soda until combined. Add butter and beat until crumbly. Ad in eggs, almond extract and buttermilk. Continue to beat until the mixture is light and fluffy. Pour half of mixture into prepared pan spreading evenly.

In a separate bowl beat the cream cheese, sugar and egg until combined and fluffy. Pour over batter and spread out evenly. Top with blueberry pie filling and spread evenly over cream cheese mixture. Top with remaining batter spreading out evenly.

Mix ingredients for crumb topping together and sprinkle over batter. Bake at 325 degrees for 50-60 minutes or until golden brown and tests done. Cool completely.

Once coffee cake is cooled mix together ingredients for icing. You want this to be thick but yet thin enough to drizzle!

Store in fridge.
Nutrition Information
Serving:
1
,
Calories:
484
kcal
(24%)
,
Carbohydrates:
74
g
(25%)
,
Protein:
6
g
(12%)
,
Fat:
18
g
(28%)
,
Saturated Fat:
10
g
(63%)
,
Cholesterol:
82
mg
(27%)
,
Sodium:
208
mg
(9%)
,
Potassium:
137
mg
(4%)
,
Fiber:
1
g
(4%)
,
Sugar:
47
g
(52%)
,
Vitamin A:
645
IU
(13%)
,
Vitamin C:
0.2
mg
,
Calcium:
58
mg
(6%)
,
Iron:
2
mg
(11%)