Caramel Apple Cobbler ~ Only 5 Ingredients to Perfection! Ooey Gooey Caramel Apple Pie Filling with a Buttery Topping!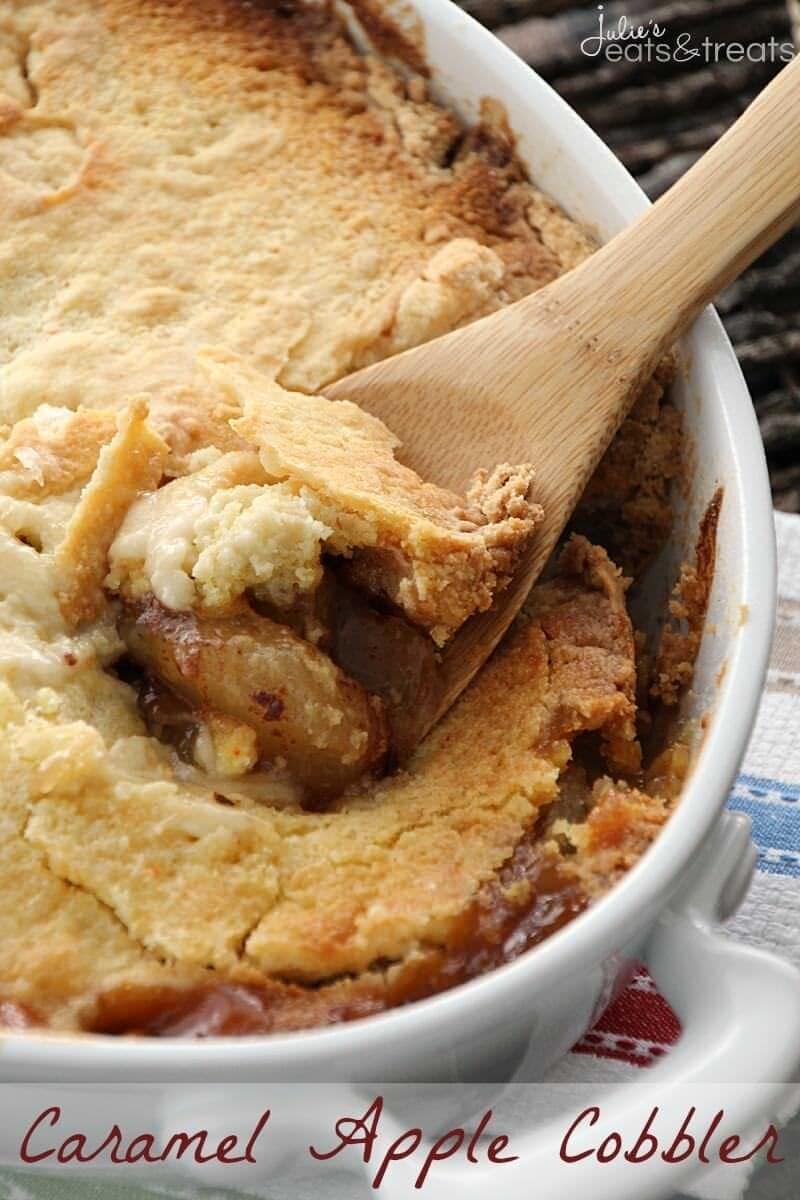 I'm a farm girl through and through. You can take the girl off the farm but you can't take the farm out of the girl. It will never leave me. It's a lifestyle. Not that I'm very far from the farm. I moved to "town", which happens to be a whopping 5,000 people. The farm is all of a great seven miles away.
Every spring I'm calling Daddy (that's right "Daddy" I'll always be his little girl) and asking how much he's got in the field, what field he's in or bugging my little bro about what's going on out at the farm.
Fall time rolls around and I'm constantly scanning the fields for the first sign of harvest. I love that sweet smell of fall. The crops coming out, crisp autumn leaves, fresh dirt from the fields being worked. I'm a dork. Have you noticed yet?
My family is also spoiled. My amazing mother, seriously amazing, brings a hot meal out to the field every night. How's that for service? It's like meals on wheels. She gets tired and burned out though, so being the wonderful daughter I am (I'm saying this only to boost my ego) I volunteer a couple times every fall and bring supper out.
I love it. The guys rave and ooh and ahh over what you make. Shovel it in their mouths and run back to their combine, truck, tractor or whatever their wheels happen to be. Then I climb in with one of them, usually the little bro in the combine and tag along. We have some good talks in that combine. We solve all our problems, tease each other and just hang out while watching the deer wander by. True bonding time. Miss K even got in on this year's combine ride!
I love the farm. End of story.
This little treat I whipped up is super easy and the guys loved it as a dessert for their meal out in the field.
Ooh! Before I go… since we're talking fall here's another recipe you'll love Apple Cranberry Crisp SO good!!!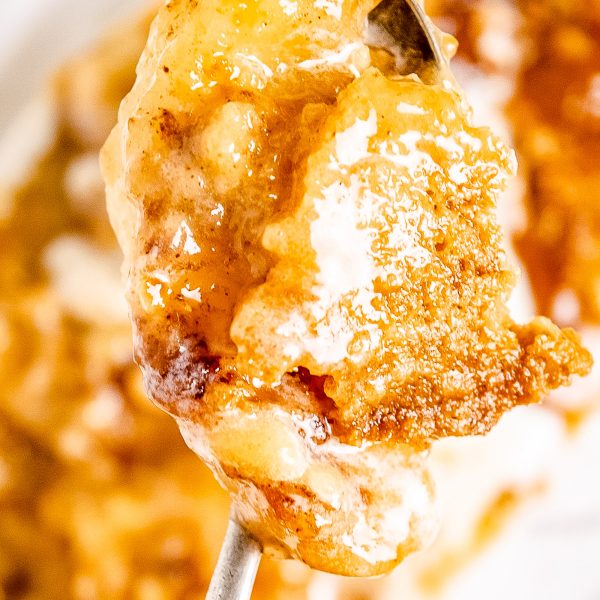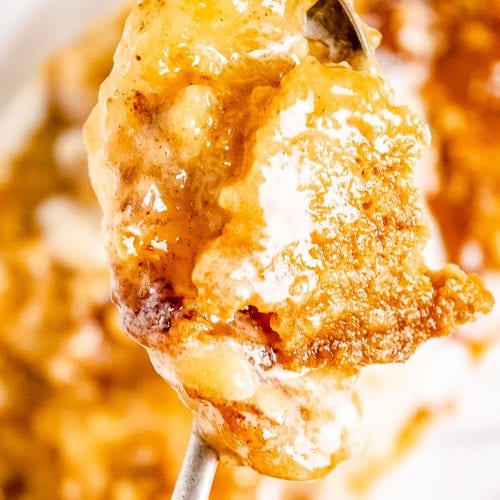 Caramel Apple Dump Cake
Only 5 Ingredients in this quick and easy dessert! Layers of apple pie filling, caramel sauce, cinnamon and a top crust made of cake mix.
Ingredients
15.25

oz

box yellow cake mix

2

cans apple pie filling

21 oz each

1

Tbsp

ground cinnamon

1

c.

butter

melted

1/4

c.

caramel ice cream topping
Instructions
Preheat oven to 350 degrees.

Pour apple pie filling into bottom of greased 8×11 casserole pan or 2 1/2 quart casserole dish. Sprinkle cinnamon over the top of pie filling. Top with caramel ice cream topping. Pour dry cake mix over filling.

Pour butter on top of cake mix.

Bake at 350 degrees for 50-60 minutes.
Notes
LEFTOVERS
If you have leftovers, cool completely and store in airtight container.
We recommend refrigerating the leftovers to maximize the length they stay fresh. It will be good for 3-5 days.
I think it's best enjoyed warm so stick in the microwave or oven to warm it up!
CAN I USE A DIFFERENT FILLING?
Yes! I'd skip the caramel and then just switch up the pie filling for different flavors.
Cherry, Blueberry, Pumpkin and more! The possiblities are endless.
CAN I USE A DIFFERENT CAKE MIX?
Yes! We recommend sticking with vanilla, yellow or you could do a spice cake mix with this apple filling.
If you use the spice cake mix you might want to skip the cinnamon in this recipe.
CROCK POT DIRECTIONS
You can make this in the crock pot too!
Spray the crock pot liner with non-stick spray.
Assemble as instructed.
Place lid on crock pot and cook on high for 2 hours or low for 4 hours.
Expert Tip: Place a paper towel or tea towel between below the lid to catch extra moisture. Simply drape it over the top of the crock pot and seal with the lid!
Nutrition
Serving:
1
g
Calories:
387
kcal
Carbohydrates:
59
g
Protein:
2
g
Fat:
17
g
Saturated Fat:
11
g
Cholesterol:
42
mg
Sodium:
467
mg
Potassium:
70
mg
Fiber:
2
g
Sugar:
29
g
Vitamin A:
521
IU
Vitamin C:
2
mg
Calcium:
94
mg
Iron:
1
mg
 Craving More Apples?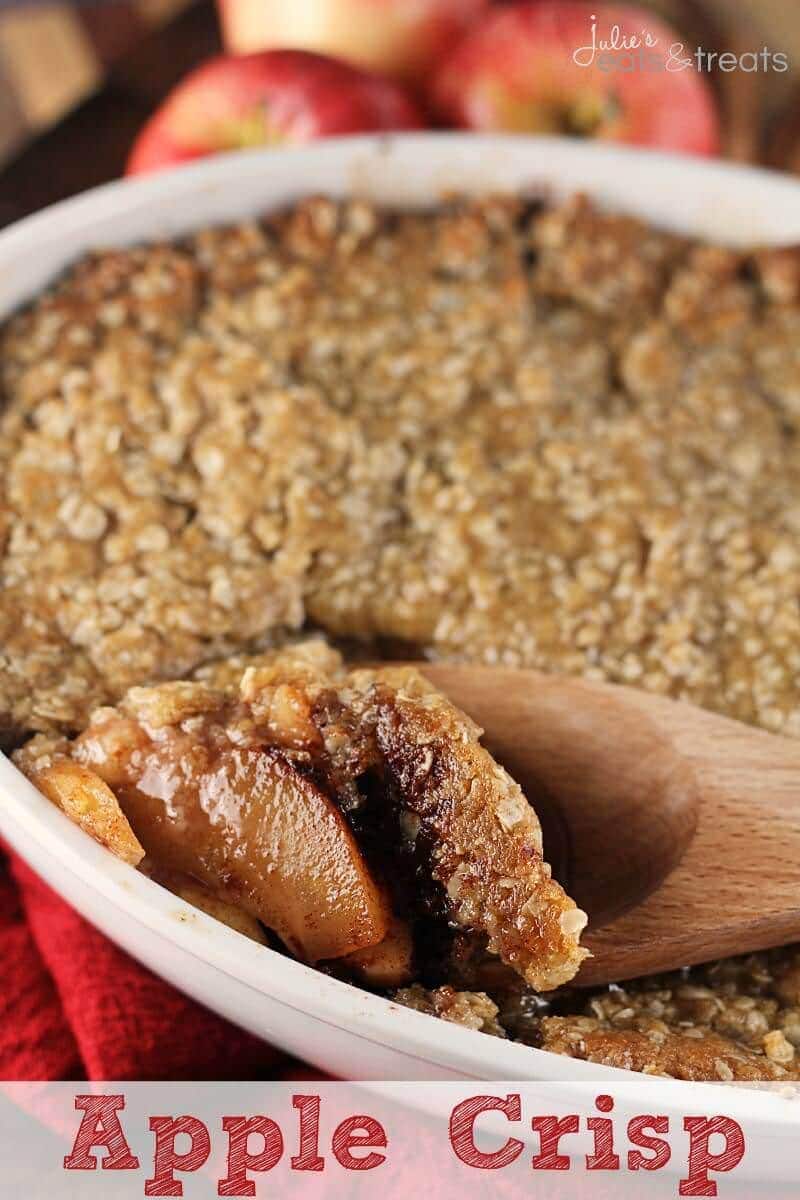 Apple Crisp ~ Traditional, Comforting Apple Crisp Loaded with Apples, Cinnamon and Oatmeal!