Easy Pumpkin Dump Cake ~ Quick, Easy Dessert Recipe Loaded with Pumpkin, Spices and Yellow Cake Mix!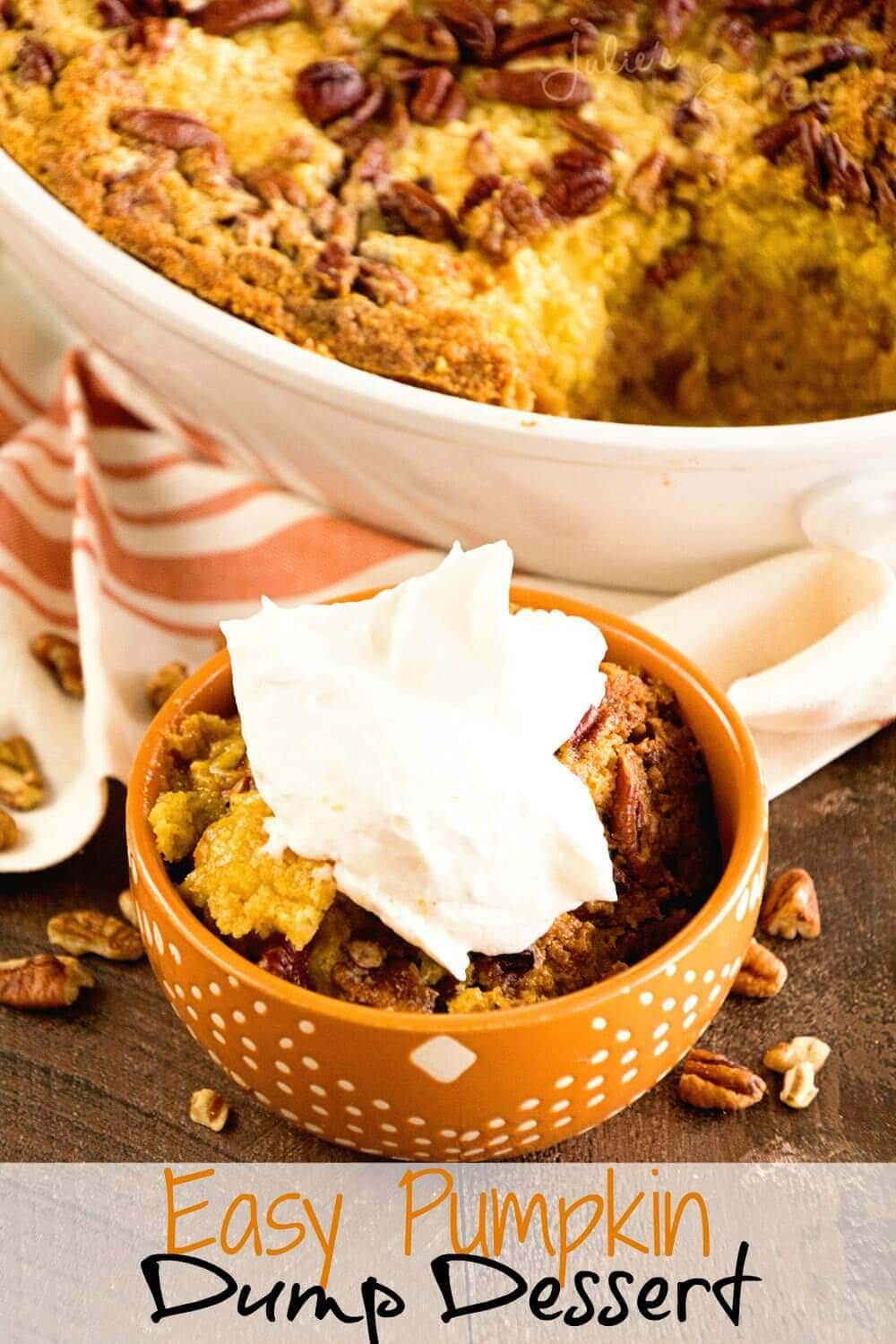 My daughter is turning into a puppy. Seriously you guys. Is it something with the second child or what? She's into everything! Her favorite thing to do is dig in my cupboards which I'm ok with except when it's the cupboard under the sink. That one isn't meant for babies at all. I'm currently begging the hubs to install safety latches on it, but you know that tractor driving is way more important than our child's well being apparently. She also is in the, putting everything I see into my mouth because that's awesome Mom, stage. I can not turn my back for a minute and I find something in her mouth. I think my house is relatively clean but apparently I'm totally wrong about that. She has the site of a hawk. There is one thing I don't worry about and that's her eye site. She can spy something from a mile away and crawl at the speed of lightening to it and ingest it before I can get my shoes off. The first thing I do when I get home is tell Miss K to go and shut all the doors to the the rooms upstairs. Luckily for me Miss K thinks it's a game. She rushes off and then tells RyRy that she's ok to play now. I'm thinking about fencing that child in. No lies.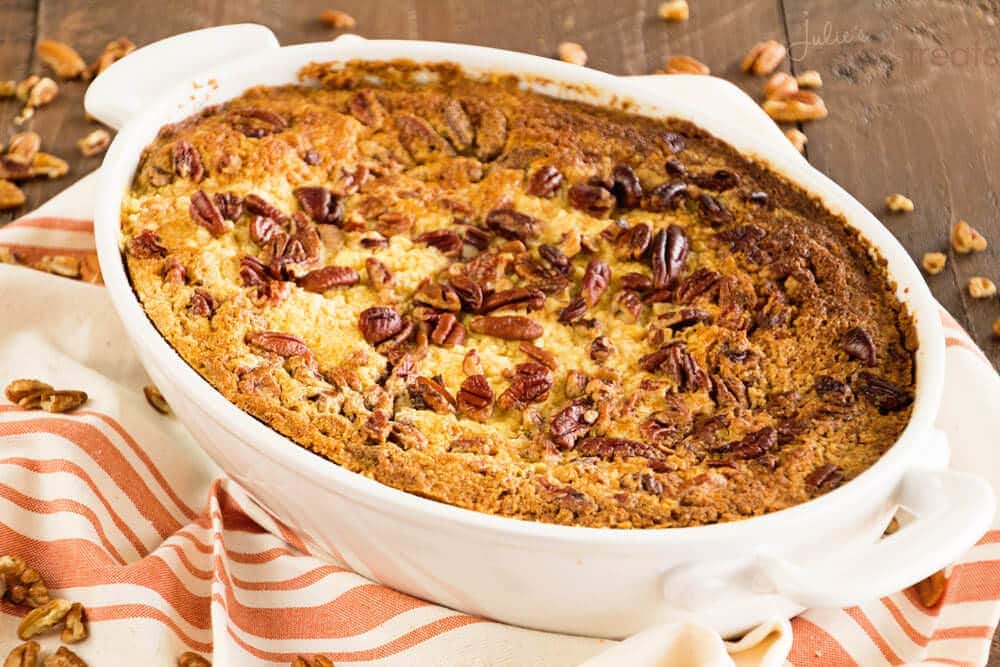 My mother always told me that Miss K was a very good child and I was going to pay for it the next time around. Others usually nodded in agreement. I think they may have been right. Now, don't get me wrong RyRy is still an awesome child and I have no complaints. She has a mild demeanor and is usually entertaining herself unless she's hungry or tired. But, seriously, child you are not a puppy. We never really baby proofed with Miss K. She just wasn't interested in all those things. RyRy is totally different I'm quickly learning. Like, for example, this morning I turned my back to make coffee and heard RyRy choking. Alarm bells are going off in my head. I rush over to her and she has a Kleenex in her hand, which is half ate. Then she pukes all over herself and the floor from eating it. Onto a quick outfit change before we rush out the door to daycare. Please don't call me into family services. I promise I'm a good mom. Just trying to keep it real!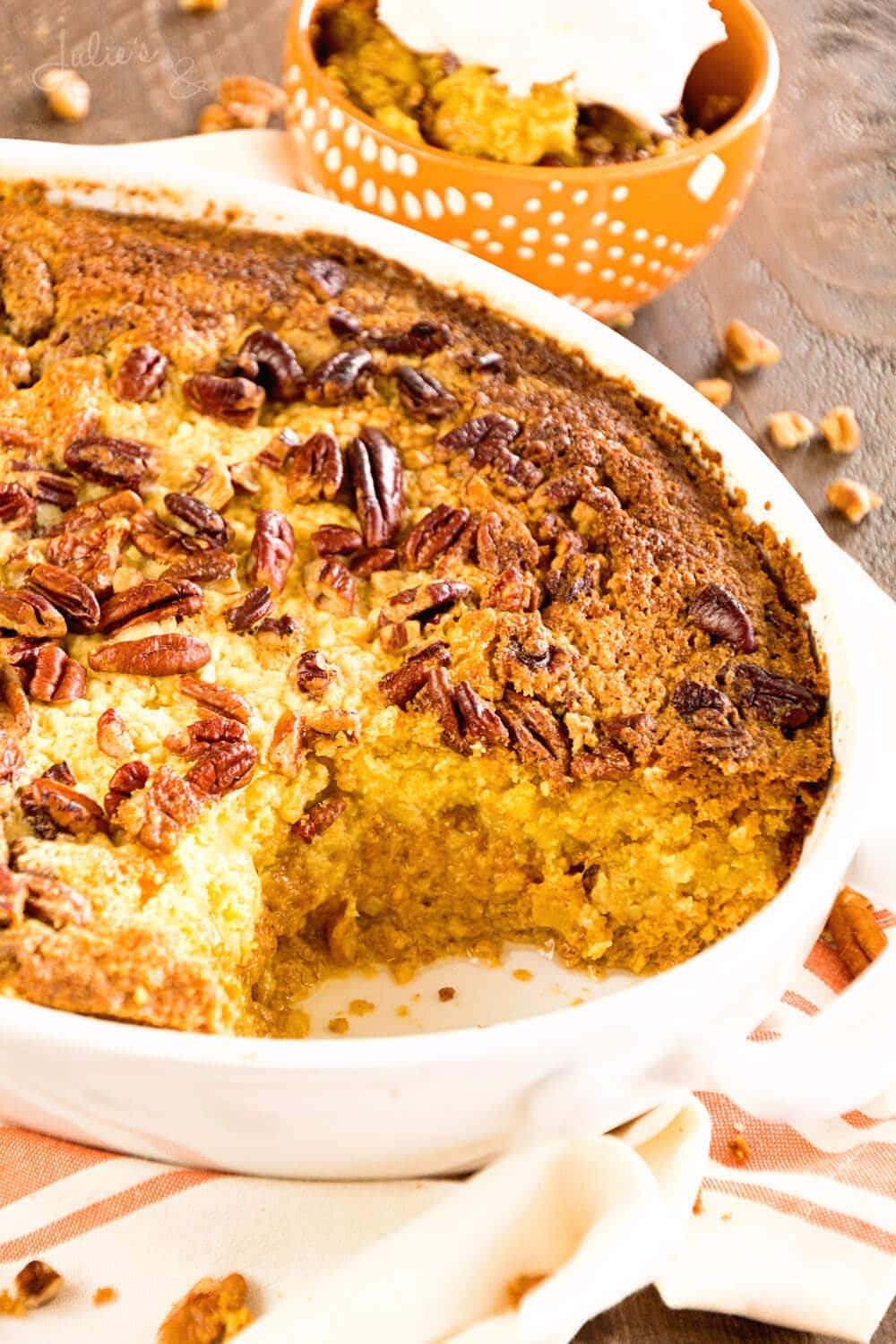 Since my life is so glorious and exciting with tons of time to spend on fancy dessert I'm bringing you this really hard, labor intensive dessert. NOT. You guys, this is way better than pumpkin pie and you should totally replace the pumpkin pie with Easy Pumpkin Dump Dessert. Trust me, no one will be complaining at Thanksgiving. If you aren't that daring then make both of them. Test the waters. I promise you that next year you'll only be making this delicious Pumpkin Dump Dessert. Personally, I will be crying if my Thanksgiving doesn't include it! It has a delicious pumpkin layer on the bottom then it's topped with yellow cake and walnuts!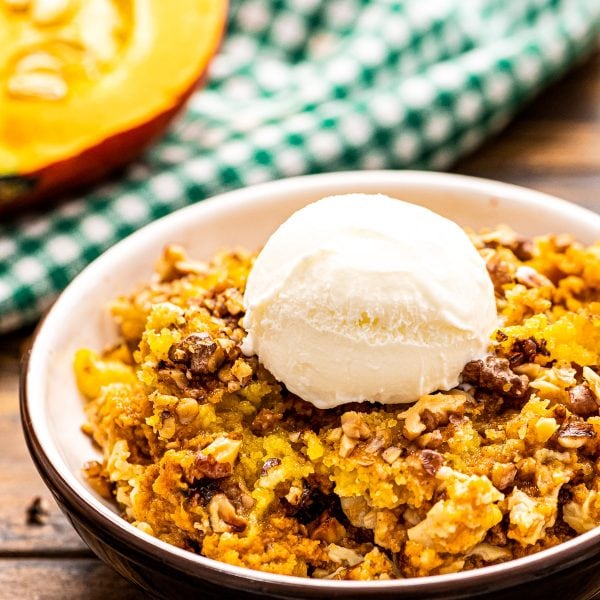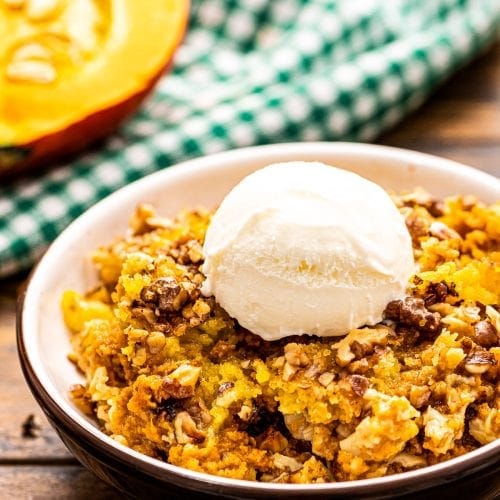 Pumpkin Dump Cake
Quick, Easy Dessert Recipe Loaded with Pumpkin, Spices and Yellow Cake Mix!
Ingredients
15

oz

can pumpkin puree

2

tsp

pumpkin pie spice

12

oz

evaporated milk

3

eggs

1

c.

white sugar

15.25

oz

pkg. yellow cake mix

3/4

c.

butter

melted

1 1/2

c.

chopped walnuts
Instructions
Preheat oven to 350 degrees.

In a large mixing bowl mix together pumpkin, pumpkin pie spice, evaporated milk, eggs, and sugar. Pour into greased 9 x 14 in pan or 2.5 quart baking dish.

Sprinkle dry cake mix over the top of pumpkin mixture. Drizzle butter over the top of cake mix. Top with walnuts. Bake for 1 hour or until a knife inserted into the middle comes out clean.

Serve with Cool Whip or ice cream.
Notes
It is made with yellow cake mix, which I think works really well. You could also use spice cake mix, too.
The cake is topped with crunchy walnuts which gives it a great texture. If you don't like walnuts feel free to substitute chopped pecans instead.
Be sure to use canned pumpkin puree and not pumpkin pie filling. They aren't the same thing, so double check the label!
Add a scoop of vanilla ice cream. This is really good when you serve the cake warm because the ice cream melts over the top – yum!
Keep it really easy and add a scoop of Cool Whip on each serving. Sprinkle a little ground cinnamon or pumpkin pie spice over the top!
There's nothing better than a dollop of homemade whipped cream!
Add a drizzle of caramel sauce to make it extra special!
Nutrition
Calories:
576
kcal
Carbohydrates:
59
g
Protein:
10
g
Fat:
36
g
Saturated Fat:
12
g
Cholesterol:
81
mg
Sodium:
416
mg
Potassium:
325
mg
Fiber:
3
g
Sugar:
40
g
Vitamin A:
6018
IU
Vitamin C:
2
mg
Calcium:
200
mg
Iron:
2
mg
Things You Might Need for this Recipe!
Craving more Pumpkin Desserts?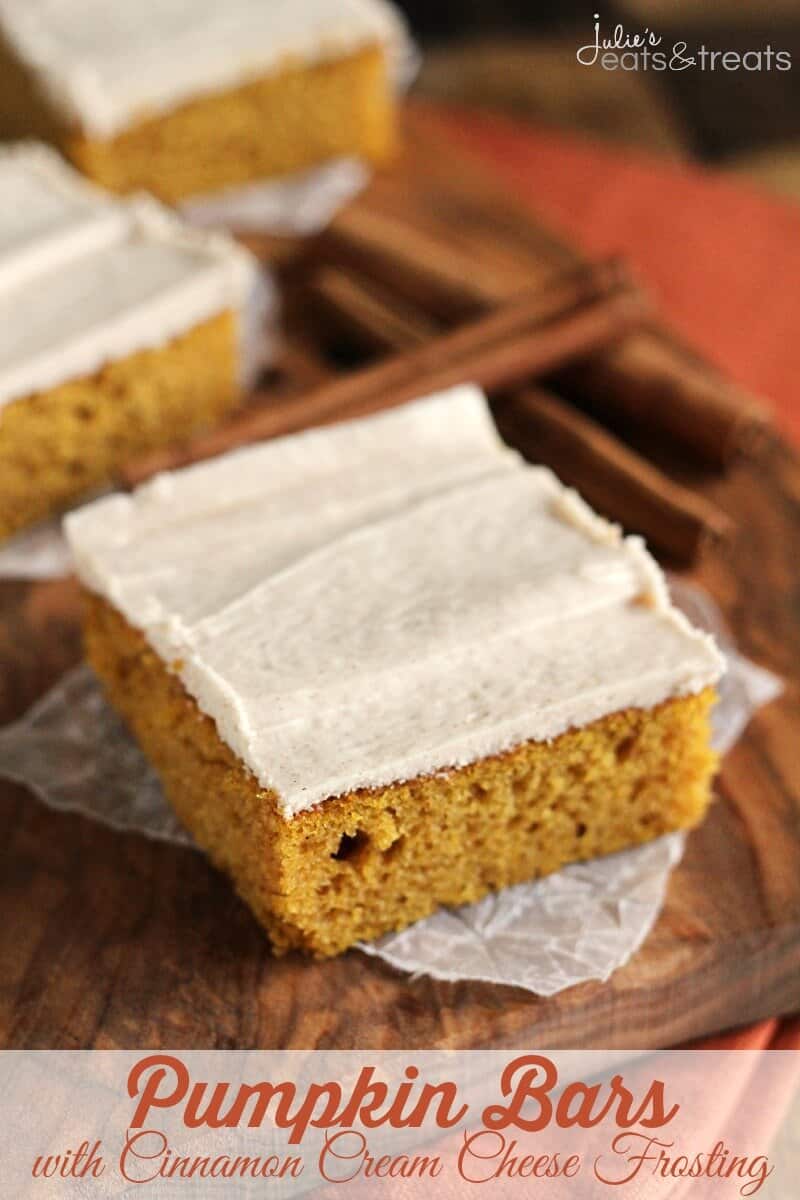 Pumpkin Bars with Cinnamon Cream Cheese Frosting ~ Perfectly Soft, Easy and Delicious Pumpkin Bars Topped with a Cream Cheese Frosting Spiced with Cinnamon!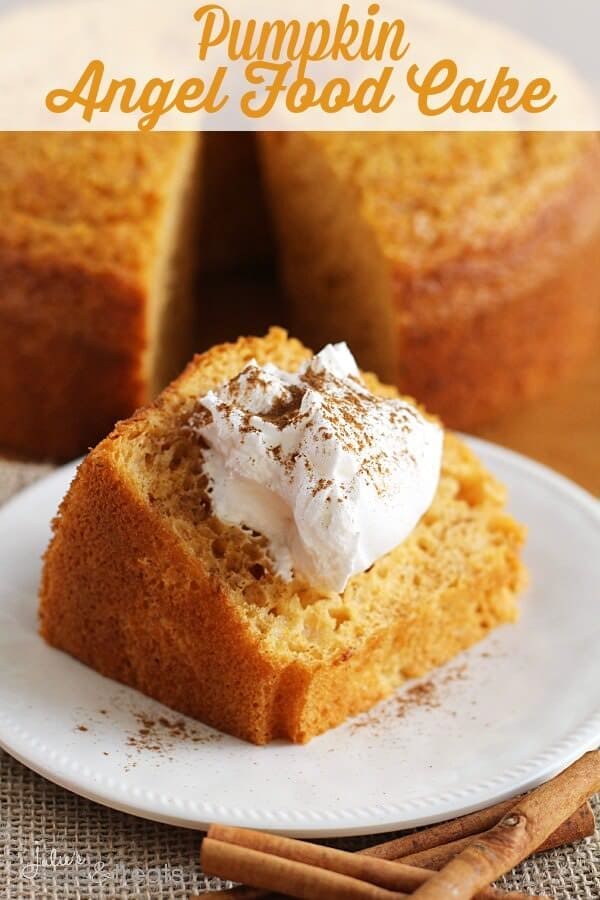 Pumpkin Angel Food Cake ~ Light, Airy Angel Food Cake with a Hint of Pumpkin!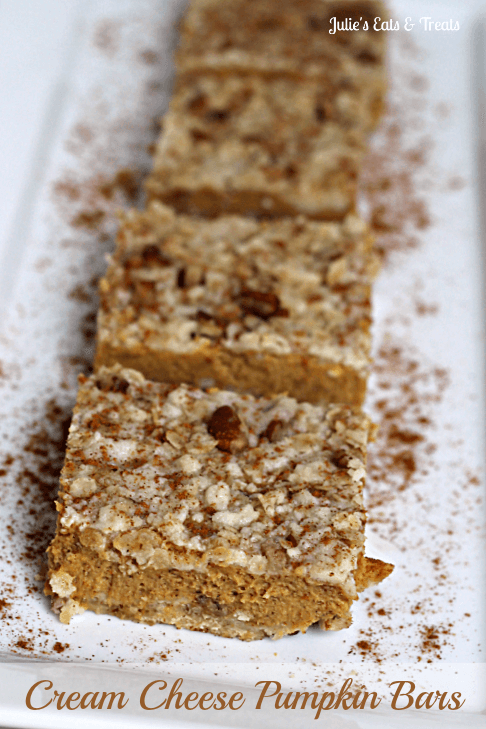 Cream Cheese Pumpkin Bars ~ Light, Smooth, Nutty, Creamy Pumpkin Bars!