Easy Cheesy Chicken Sandwiches
Cheesy Chicken Sandwiches ~ Super Easy Chicken Sandwiches Loaded with a Cheese Sauce!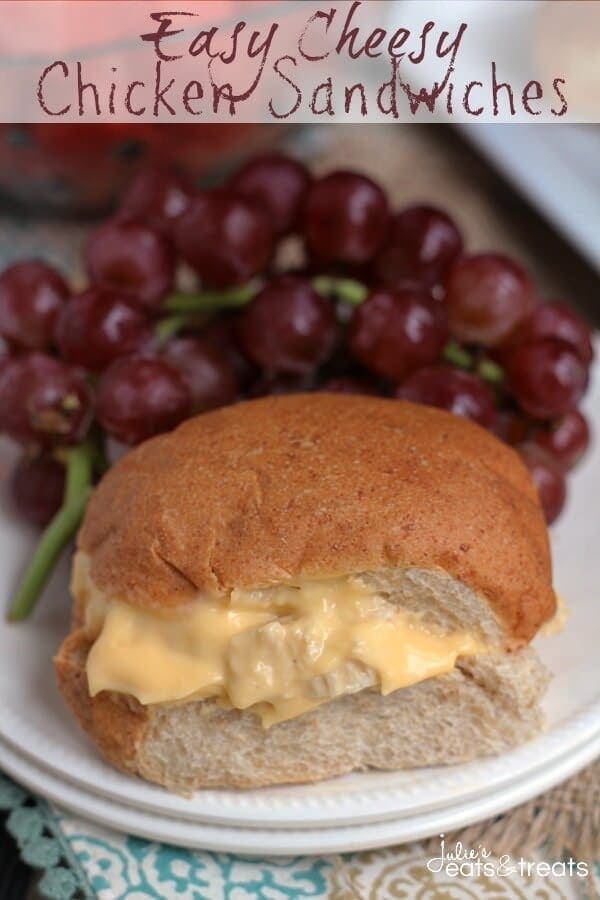 Have you ever noticed how each family has their own "style" of eating and favorite family recipes that you know will show up at any family gather? I know my family does and I'm not going to lie, if Mom varied to much from the expected favorites we might all rebel a little. There would be a lot of disappointed faces that the holidays! We are so boring that for Christmas we always have chicken breast wrapped in bacon and hash brown potatoes (that I really need to post!) and we all look forward to it including my sister-in-law! Last year I was sick on Christmas, bummer right? I made such a big deal out of missing this meal that my mom actually made me my own "Christmas Re-do" meal in January.
Have I mentioned lately how much my Momma rocks? She does. The hubs likes to remind me I'm spoiled quiet frequently and I just tell him I'm loved, not spoiled. Duh right?
When I got married to my fabulous husband, mentioned above, I started noticing that his family had their certain dishes that always seemed to make an appearance at get-togethers. There is this amazing Cauliflower Salad with Doritos that one of his Aunt makes and she has no recipe so I have yet to beg it out of her. I need to at least get a list of ingredients because I pretty much cry if it's not at a holiday. Little does she know this, well maybe now she does! Not sure if she's a blog reader or not. Beware…. family and friends you might just appear on my blog. This is your warning.
Another standard is these yummy Easy Cheesy Chicken Sandwiches. They are perfect for dinners after church on Sunday because they are so simple and you can make them ahead then just pop them in the oven for a few minutes to warm them up and serve them right to your guests. Obviously they make a lot of appearances!
With that being said they would also make a great option for a quick weeknight meal when everyone is on the go. Simply make them up ahead of time and grab them on the go! I'm all about making your life simpler you know that right?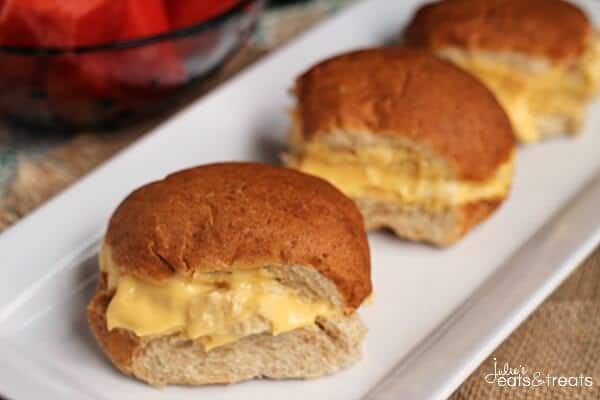 My husband's cousin got married this summer and his young, beautiful bride (whom I think reads this blog) made the comment as I was congratulating her "Julie you HAVE to let me know what to bring to the holidays for food ok?" Obviously she knew that there are always certain go to foods for families that I learned a little later in my married life.
Obviously she also thinks I'm the food guru.
Wonder where she got that from?!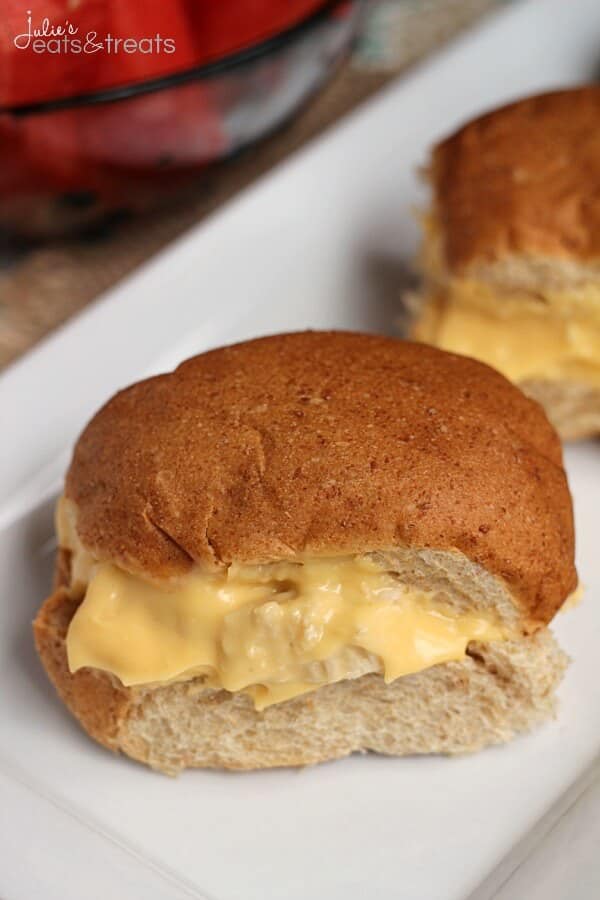 With the kiddos back in school and life is getting crazier by the minute make sure to try out these simple, family-friendly Easy Cheesy Chicken Sandwiches! They would also make an awesome game day treat for your guests or family. Just saying!
If you like these chicken sandwiches you might like my Ranch Ground Chicken Burger recipe, too!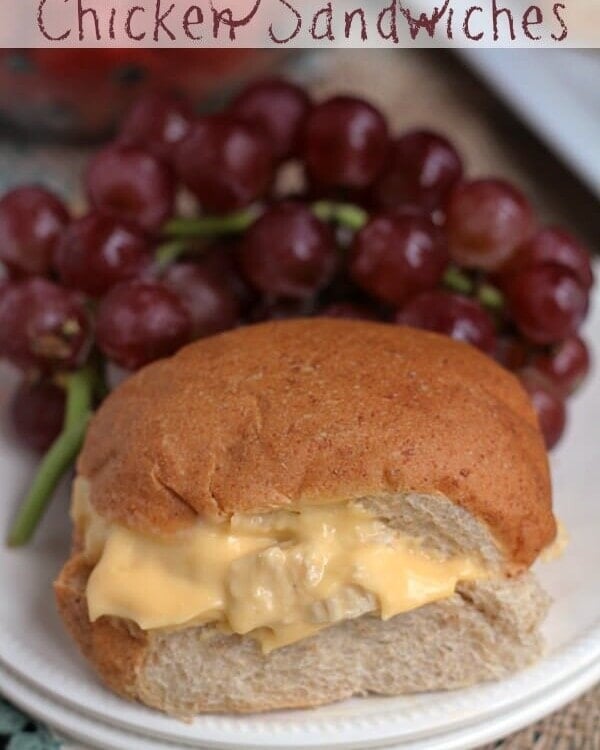 Easy Cheesy Chicken Sandwiches
Cheesy Chicken Sandwiches ~ Super Easy Chicken Sandwiches Loaded with a Cheese Sauce!
Ingredients
4

c.

cubed

cooked chicken

1

15 oz jar Cheez Whiz

1 1/2

c.

Miracle Whip

1

tsp

garlic powder

2

dozen medium sized buns

sliced

Tinfoil
Instructions
In a large bowl mix together chicken, Cheez Whiz, Miracle Whip and garlic powder.

Divide mixture evenly between buns. Wrap each bun in tinfoil and place on baking sheet.

Bake at 350 degrees for 7-10 minutes or until heated through.
Nutrition Information
Serving:
1
,
Calories:
142
kcal
(7%)
,
Carbohydrates:
19
g
(6%)
,
Protein:
9
g
(18%)
,
Fat:
3
g
(5%)
,
Cholesterol:
22
mg
(7%)
,
Sodium:
631
mg
(27%)
,
Potassium:
8
mg
,
Fiber:
1
g
(4%)
,
Sugar:
4
g
(4%)
,
Vitamin A:
10
IU
,
Calcium:
25
mg
(3%)
,
Iron:
1.2
mg
(7%)
Looking for more Tasty Sandwiches?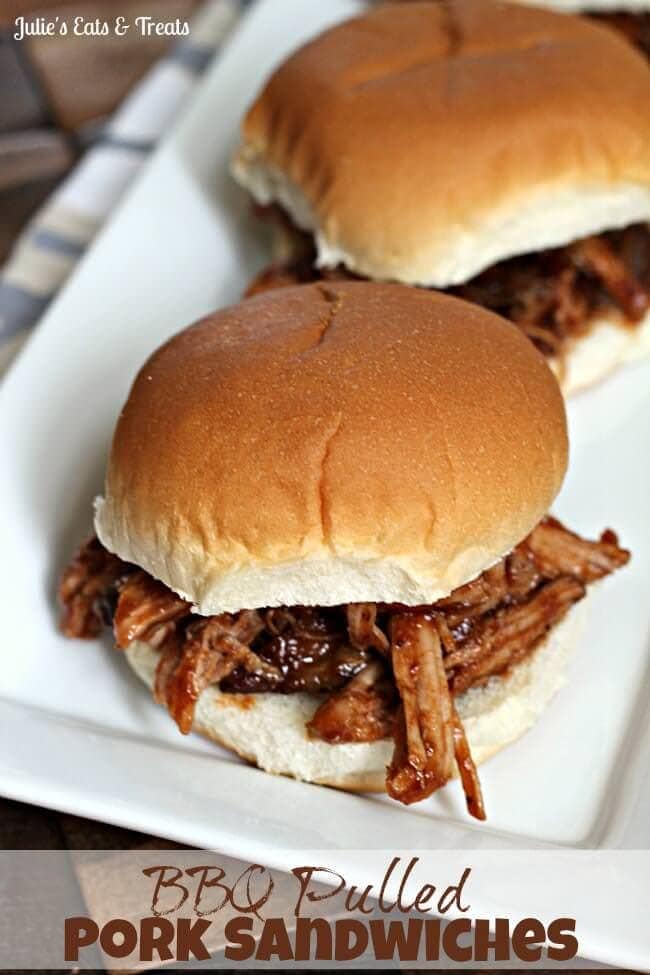 BBQ Pulled Pork Sandwiches ~ Savory smoke flavored pulled pork piled high!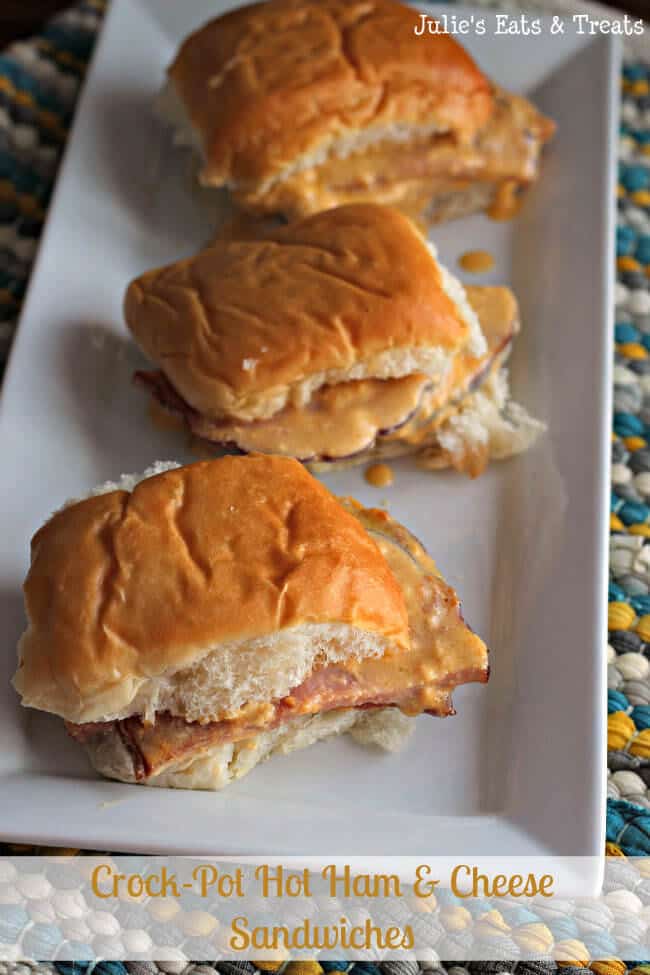 Crock-Pot Hot Ham & Cheese Sandwiches ~ Quick and Easy Sandwiches for a busy day!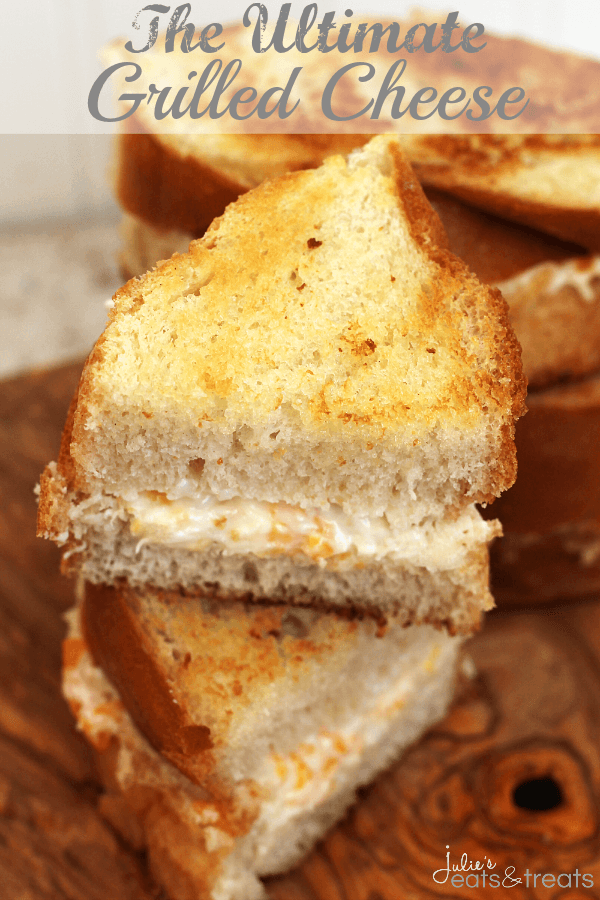 The Ultimate Grilled Cheese ~ French Bread Stuffed with THREE Different Types of Cheese and Grilled to Perfection!