French Silk Pie is a delicious homemade pie recipe. A flaky pie crust topped with silky, smooth chocolate filling and whipped topping. It's perfect for serving at holidays!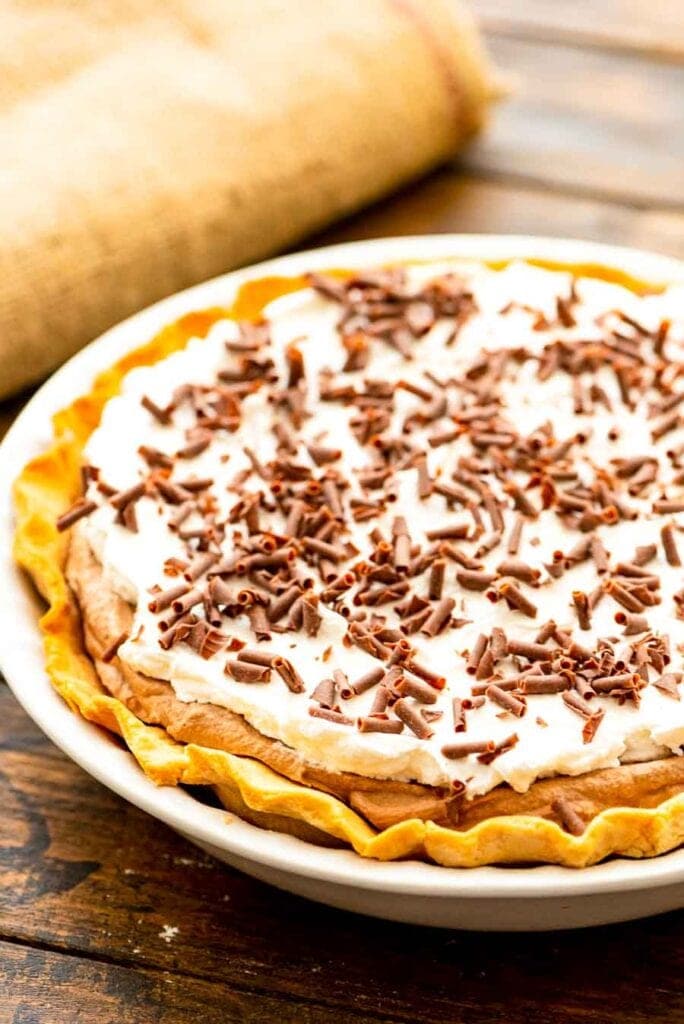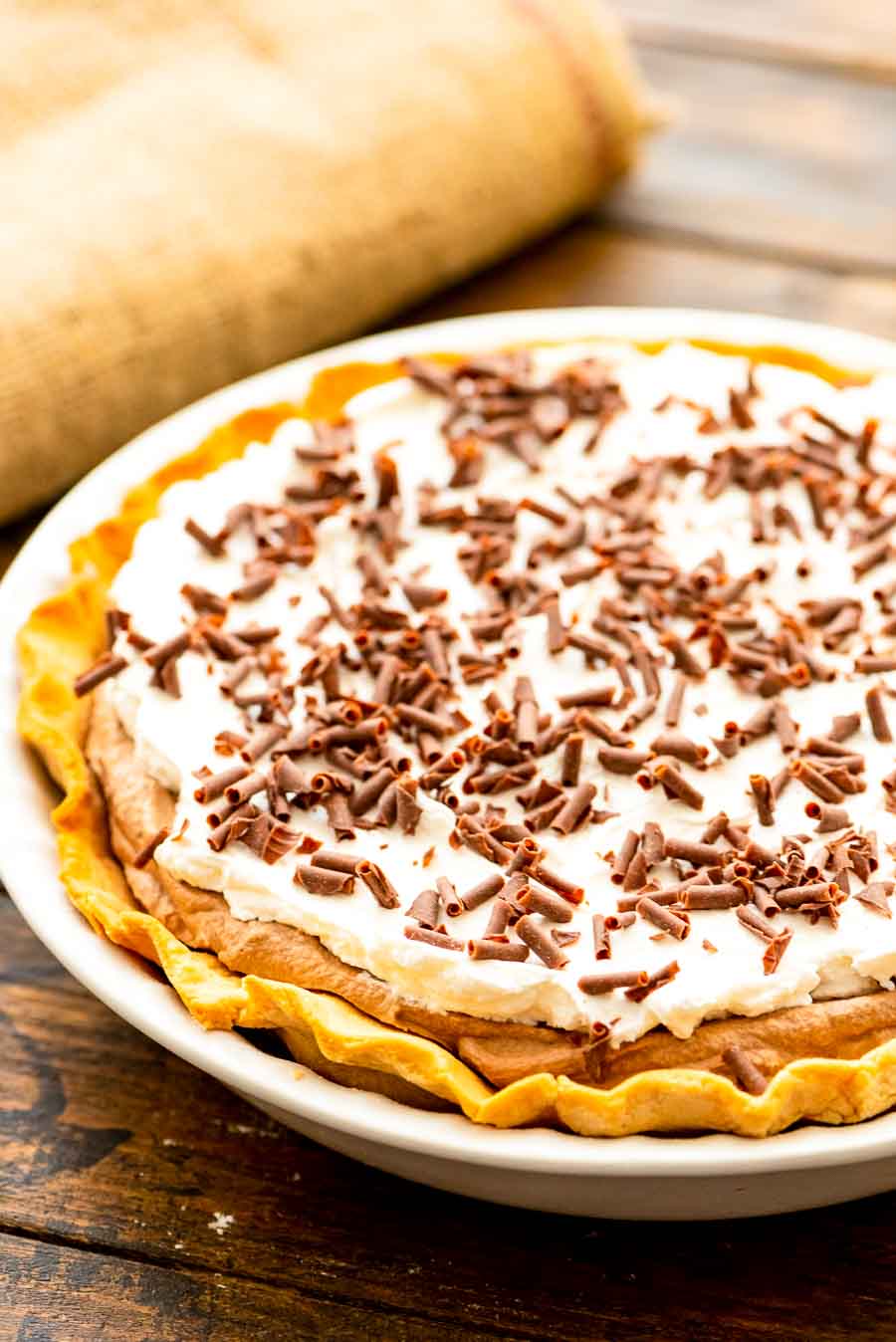 French Silk Pie is one of those pies that's totally appropriate all-year-round and my recipe is so not fussy so there's no reason to not trot this one out on a regular day like, um, today, maybe? Silky creamy chocolate in a flaky pie crust and topped with whipped cream?
Don't torture yourself and wait to try this one later – you probably have most of the ingredients to make now! Surprise your family with it along with some Irish Coffees for the adults!
Or, if you're more of a "let's save the pie for the holidays" type you'll definitely want to file this one away for your holiday dessert menu. Everyone might expect a pumpkin pie or apple pie, but I bet it'll be this French Silk Pie everyone will remember!
You'll love how easy it is – all you have to do is bake the crust, fill it with the no-bake pie filling, and chill it – but no one will ever guess! It's so rich and decadent everyone will think you spent hours making it, but your secret's safe with me!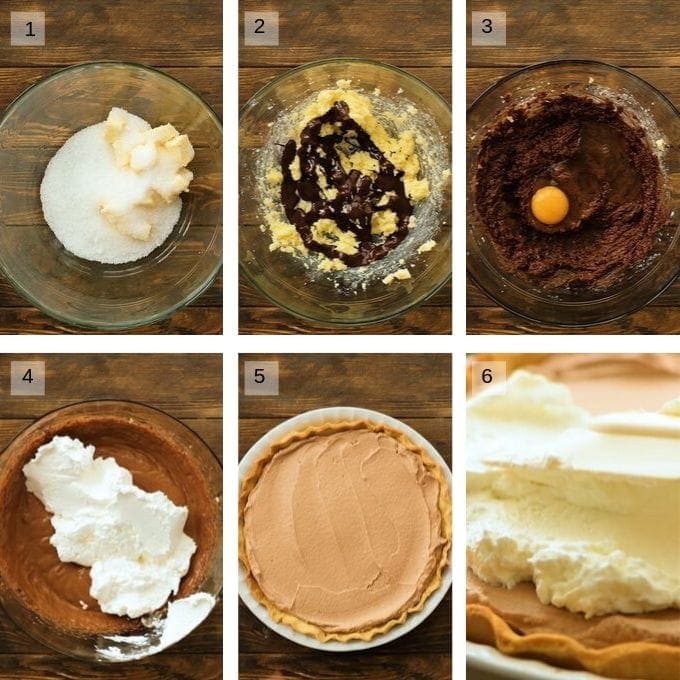 What is French Silk Pie made of?
If you'd rather skip my (very helpful, I think) tips and tricks, essential cooking info, and similar recipe ideas – and get straight to this delicious recipe – simply scroll to the bottom of the page where you can find the printable recipe card.
Store-bought pie shell (baked according to package instructions)
Butter
White sugar
Melted unsweetened chocolate
Eggs
Cool Whip
Chocolate curls
How is French Silk Pie made?
Step by Step photos above!
Mix – combine the butter and sugar together in a mixing bowl and whip it until it's smooth and creamy. Add the melted chocolate and mix to combine. Add the eggs one at a time until they are fully mixed into the filling. Once the eggs are added, mix the filling for five minutes. (Pictures 1-3)
Fold – add the Cool Whip and gently fold it into the chocolate mixture. Spoon the filling into the baked pie crust. (Picture 4 & 5)
Chill – keep the pie in the refrigerator for at least six hours. Before serving, top the pie with more Cool Whip and garnish with chocolate curls. (Picture 6)
What tools do I need to make French Silk Pie?
large mixing bowl
hand-held mixer or stand mixer
spatula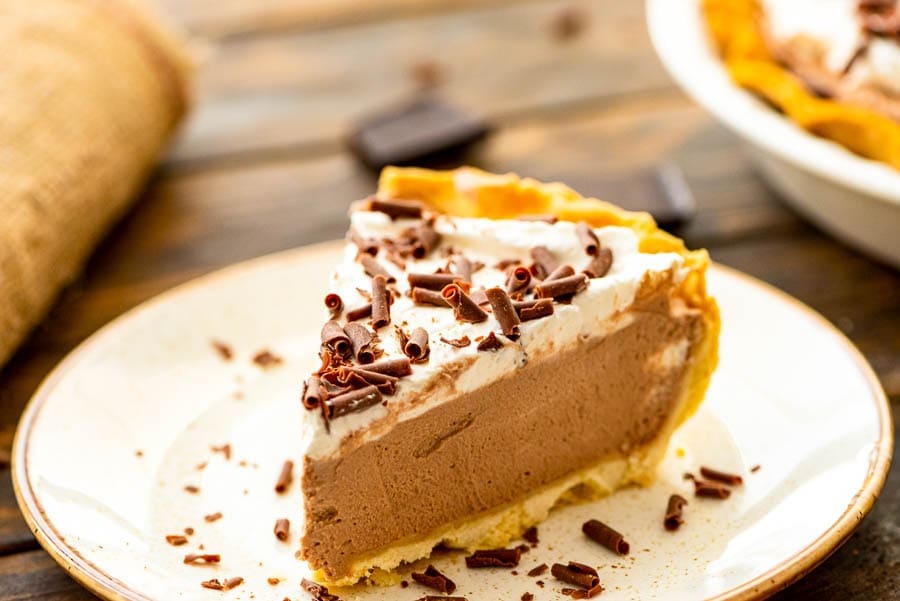 Is French Silk Pie Safe to eat?
Because French Silk Pie has raw eggs in the filling I know I'll get questions about whether it's safe or not and that's okay! So, I wanted to address it here. I've always had French Silk Pie made this way and I feel comfortable using raw eggs because I use pasteurized eggs, which are eggs that have been cooked just long enough to kill any bacteria but they are still raw. You can buy pasteurized eggs at the store, just look at the label to see if they are pasteurized. That said, you should always use your best judgment!
Can you freeze it?
Yes, you can freeze French Silk Pie, which makes it a great make-ahead dessert for parties and holiday dinners. Once you scoop the filling into the pie crust, tightly wrap the pie and it will keep in the freezer for up to three months. To thaw, transfer it to the refrigerator a day before you want to serve it. Before serving the pie top it with the Cool Whip and chocolate curls.
How long is it good for?
Leftover French Silk Pie should be kept in the refrigerator. Technically, it will keep for up to a week, but the texture of the crust will change. Once it's in the refridgerator the crust will soften, so it's best enjoyed within a day or two.
How do you pasteurize egg yolks?
If you can't find pasteurized eggs, you can do it yourself at home but it's a very precise method so be sure to follow the steps. We referenced this great article, How to Pasteurize Eggs, but here are the directions.
Start with room temperature eggs. This will ensure they heat evenly.
Place the eggs in a saucepan and cover them with cool water. You want to cover them with 1-inch of water.
Use an instant-read (digital) thermometer. You'll be heating the eggs to a very precise temperature so this kind of thermometer is the best to use. Attach it to the side of the pan.
Heat the eggs over medium heat until the temperature is 140 degrees F. Maintain that temperature and cook the eggs for three more minutes. It's important to not let the temperature get any higher or lower, so adjust the heat or move the pan off the heat, if necessary.
After three minutes, rinse the eggs under cold water and then submerge them in a bowl with ice water to stop the cooking process. Refrigerate the eggs until you are ready to use them.
More easy Pie recipes!
Pies do not have to be difficult to make. Here are a few of our favorite quick and easy pie recipes that are simple, so anyone can make them!
Apple Pie – A classic pie recipe! Flaky pie crust piled with tender, juicy apple pie filling and topped with another pie crust!
Strawberry Pie – Flaky pie crust topped with fresh strawberry pie filling!
Rhubarb Pie – Custard rhubarb pie filling in a flaky pie crust!
WATCH THE STEP BY STEP VIDEO FOR THIS RECIPE BELOW:
If you enjoy watching these videos make sure you subscribe to my YouTube Channel to be notified each time a post a new video!
Try it and love it? Rate it, please!!! ? Seriously though a five-star rating below will make my day! If you snap a photo, please be sure tag me on Instagram at @julieseatsandtreats or #julieseatsandtreats so I can see your yummy treat!!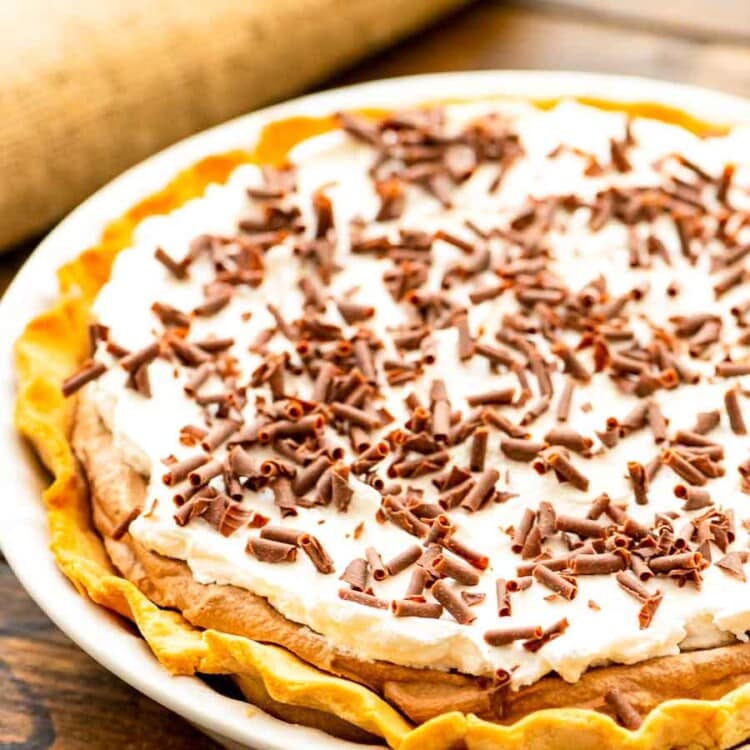 French Silk Pie
French Silk Pie recipe is made in a flaky pie crust with smooth, silky chocolate filling, topped with whipped topping and chocolate shavings!
Ingredients
1

pie shell

baked according to package directions and cooled

½

c.

butter

softened

¾

c.

white sugar

2

oz

unsweetened chocolate

2

eggs

pasteurized

3

c.

Cool Whip

divided

Chocolate Curls
Instructions
In a mixing bowl whip butter and sugar until smooth and combined.

Melt unsweetened chocolate and mix into butter and sugar.

Add eggs one at a time, beating after each addition. Mix for five minutes.

Fold in 2 c. whipped topping. Place mixture in cooled pie shell.

Chill for at least 6 hours before serving. Top with remaining 1 c. of Cool Whip and chocolate curls. Refrigerate leftovers.
Nutrition Information
Calories:
472
kcal
(24%)
,
Carbohydrates:
57
g
(19%)
,
Protein:
6
g
(12%)
,
Fat:
27
g
(42%)
,
Saturated Fat:
15
g
(94%)
,
Cholesterol:
87
mg
(29%)
,
Sodium:
274
mg
(12%)
,
Potassium:
190
mg
(5%)
,
Fiber:
2
g
(8%)
,
Sugar:
36
g
(40%)
,
Vitamin A:
584
IU
(12%)
,
Calcium:
117
mg
(12%)
,
Iron:
2
mg
(11%)