Italian Burger ~ Perfectly Grilled Burger Loaded with Italian Seasonings and topped with Mozzarella and Marinara Sauce!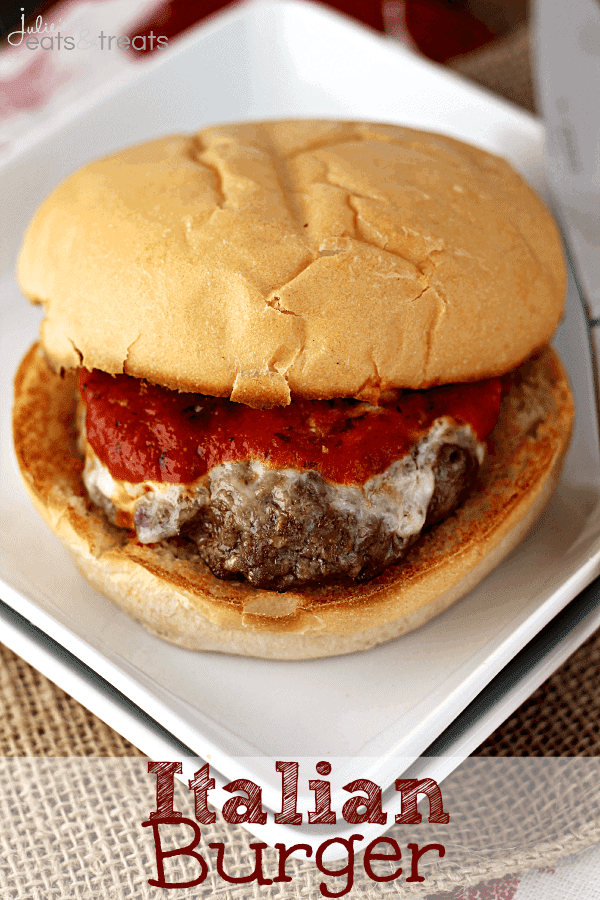 *This is a sponsored post written by me on behalf of Barilla, but opinions are my own.
Do you have a meal time ritual every night? We do! It includes me making supper (I wouldn't mind if my hubs did though!), Miss K hanging out in the kitchen with me helping out and then setting the table for dinner. After we all eat together we pitch in and clean up as long as one of us doesn't have something to run to after dinner! Miss K even gets on cleaning up. She thinks it's great fun to "help" wipe the dishes. I wish I could bottle up that enthusiasm for her teen years!
This "ritual" stems from my childhood. It's pretty much the same thing that we did every night. We all sat down and ate our dinner together as often as possible. Dad came in from working on the farm, we all came to the supper table at exactly 6:30 pm and Mom made us a meal. I remember those meals and exactly where we sat each night. I also remember we talked a lot of farming. Growing up on a farm has some interesting attributes. It's not your families job it's really just your way of life. I always knew if the corn was planted, if the beans came up, if we needed rain, if the weeds were out of control, if I needed to go pick rocks (ICK!), how the yield was looking etc. My dad was an open book and he shared all of his knowledge with us around that dinner table. I truly believe this is what lead me to become a successful business person and also my brothers.
Don't worry, we had a few arguments, a few moments of teasing and general family fun around that dinner table too! It was the one time in the day that our lives all quieted down and we got to hang out together. You better have drank all your milk to or soon mom's famous line of, "Julie come drink the rest of your milk!" would be yelled down the stairs. Not even my friends got away with leaving milk in their glasses and they all knew it!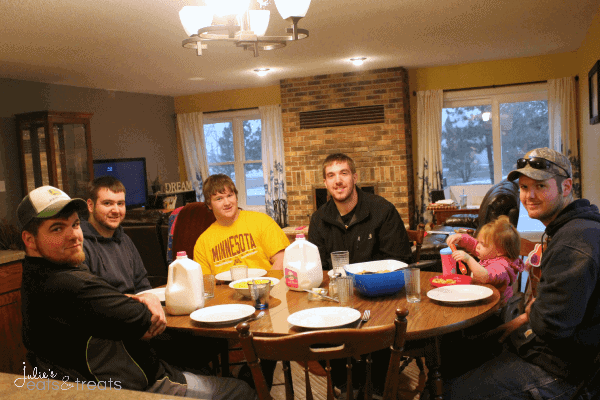 I like to think this is a normal thing in the midwest, but my friends were talking the other night how many of them didn't do this. I was flabbergasted. You didn't sit down as a family and eat together every night (well as much as possible)?? It's one thing that I'm hoping to start with my family and so far so good! In fact so far so good it seems to have caught on with "extended" family members! The other night I invited my little brother over for supper and he of course said YES! I mean he's single (he does have a GF but she goes to school 3 hours away) and lives alone do you really think he wouldn't come?
About thirty minutes before supper was going to be served he texted me to see if his friends could come with (said friends happen to my hubs little brother and cousin) and I said of course! Also, single men so I'm not going to let them starve! They show up and bring one more along (my nephew). Let's just say it was a good thing I made a huge batch of Scalloped Potatoes and Ham to feed them! I also told them I need a bigger table!
Don't get me wrong it was so much fun to catch up with them, tease them a little and have Miss K know that she's always got the boys to protect her!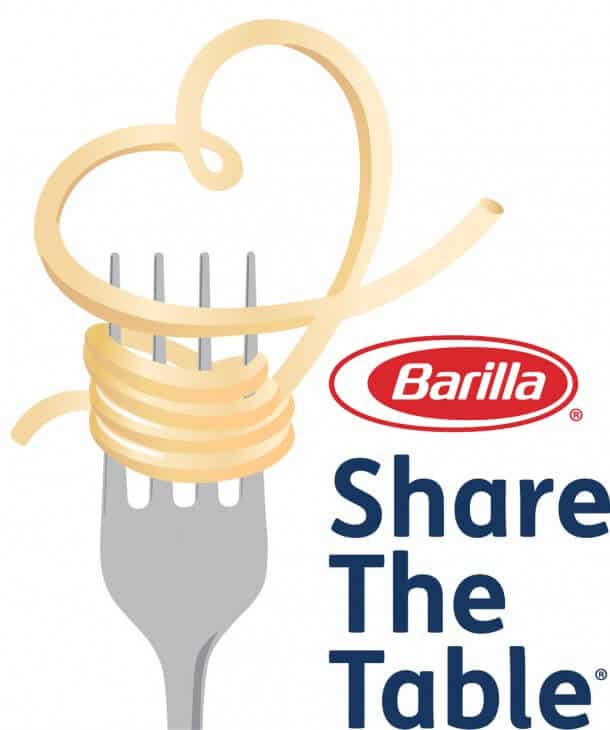 Unfortunately we are all not as blessed as knowing where every meal is going to come. Sometimes bad things happen, life happens and people need help. My friends over at Barilla have this amazing movement called Share The Table® . Feeding America is the nation's largest organization dedicated to fighting domestic hunger through a network of food banks, and Barilla supports that goal. As part of the #ShareTheTable initiative, Barilla will provide 10 meals to Feeding America– a nationwide nonprofit organization that helps feed communities across America– for every #ShareTheTable photo shared on Facebook, Instagram, or Twitter. So at your next meal, grab you family, take a "famie" instead of a "selfie" post it using Social Media and the #ShareTheTable hashtag and be part of this great movement!
Need a new recipe to try around the dinner table? Spring is here and it's time to dust off that grill! I've got an amazing burger recipe for you today that is so yummy and easy! The burger is stuffed full of Italian seasonings, piled with mozzarella and marinara and served on a toasted bun. Your family will be all smiles around the dinner table when they see this burger coming their way!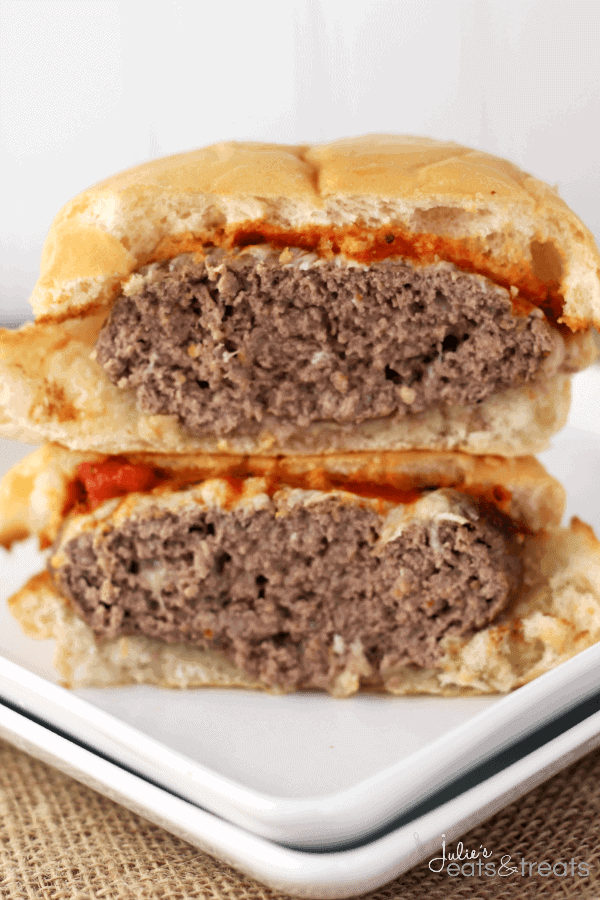 Do you share a meal together every day as a family? I would love to know what kind of traditions your family has around the table! Do you all have a specific part of planning dinner? Maybe you have assigned seat? Or does someone say Grace every meal? What ever it is tell me about it!
*This is a sponsored post written by me on behalf of Barilla.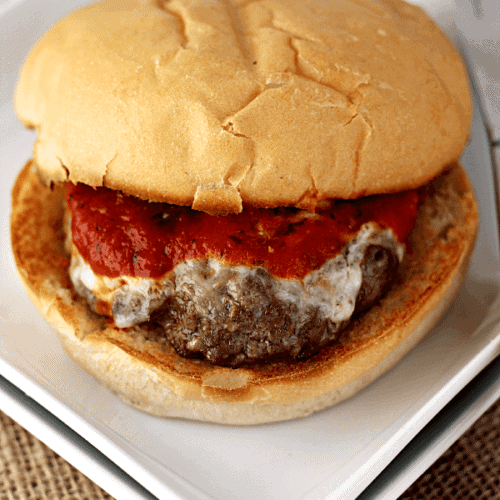 Italian Burgers
Italian Burger ~ Perfectly Grilled Burger Loaded with Italian Seasonings and topped with Mozzarella and Marinara Sauce!
Print
Pin
Rate
Ingredients
1

c.

shredded Mozzarella cheese

1

tsp

Worcestershire sauce

1/4

tsp

garlic salt

1/4

tsp

pepper

1

tsp

dried onion flakes

1/8

tsp

oregano

1

lb

ground beef

1/2

c.

marinara sauce

4

buns

Butter for buns
Instructions
In a large bowl combine 1/2 c. Mozzarella cheese and seasonings. Add beef and mix until combines. Shape into four patties about 1/2 in thick.

Grill burgers over medium heat or broil 4 inches from heat sources of 4-5 minutes on each side or until thermometer reads 160 degrees. Sprinkle with remaining cheese and grill covered 1-2 minutes longer or until cheese is melted. Remove from grill. Butter inside of each bun and place buns, butter side up, on grill and grill until tops are light golden brown. Remove from grill, top with burger, top burger with marinara sauce.
Nutrition
Serving:
1
g
|
Calories:
607
kcal
|
Carbohydrates:
36
g
|
Protein:
40
g
|
Fat:
32
g
|
Saturated Fat:
14
g
|
Cholesterol:
123
mg
|
Sodium:
1053
mg
|
Potassium:
509
mg
|
Fiber:
1
g
|
Sugar:
6
g
|
Vitamin A:
530
IU
|
Vitamin C:
3
mg
|
Calcium:
329
mg
|
Iron:
13.7
mg
LEAVE A COMMENT
Warm up that grill!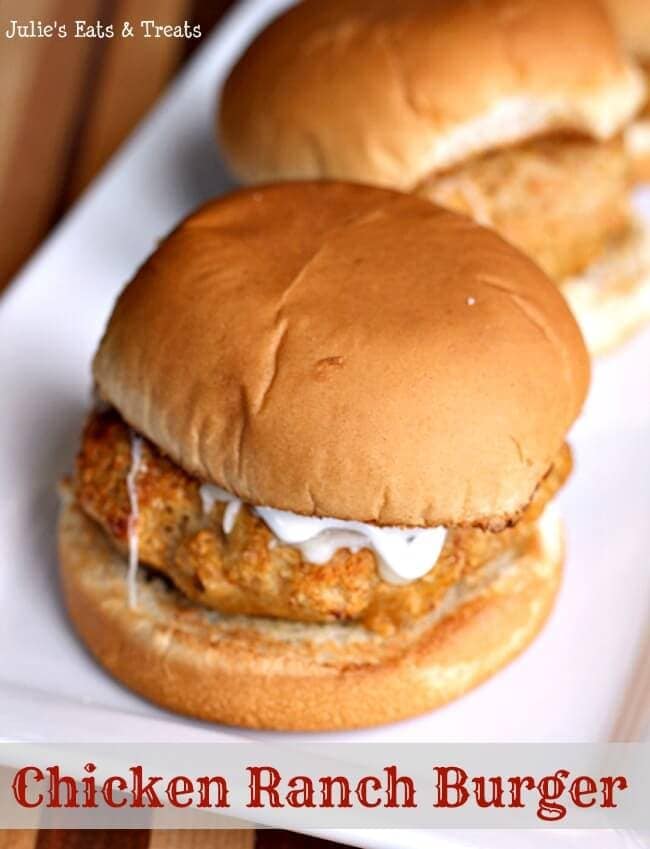 Chicken Ranch Burger ~ Mix up your life with this yummy grilled burger!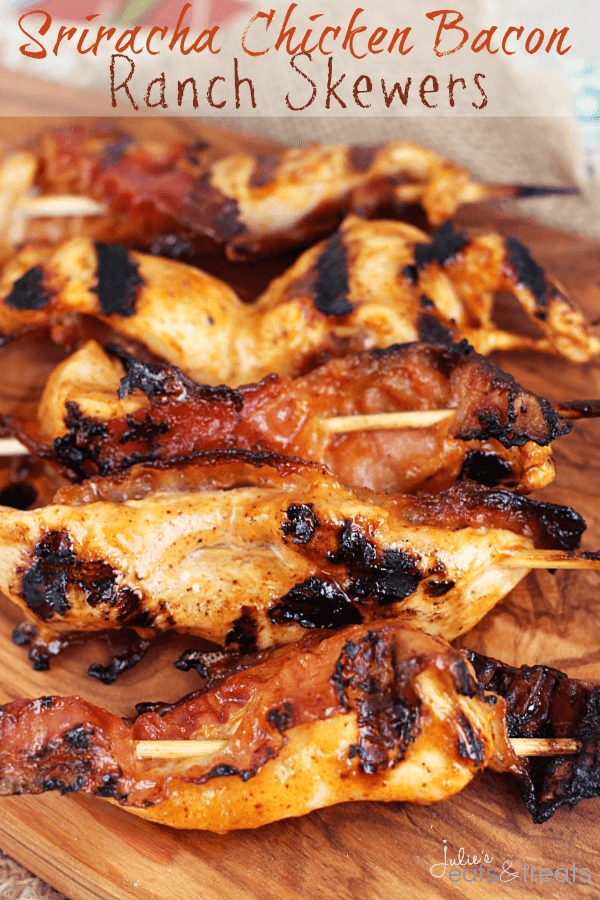 Sriracha Chicken Bacon Ranch Skewers ~ Chicken Marinated in Bacon Ranch and Kicked up with Sriracha then Grilled on Skewers with Bacon!