I don't grill. I struggle with steaks. They scare me.
Until now.
This is seriously the most amazing steak recipe, if you call it that, I have ever had. It beats my hubby's grilled steaks hands down. He even admitted it! He also said that he's never had a steak at a restaurant that good either. Plus it was fast and easy. I didn't even have to marinate it.
This story goes something like this. My mom doesn't like to make steaks either. My mom is sure mentioned a lot in this blog isn't she? It's just cause I love her so dang much!
Lil brother enters the picture telling mom how awesome these steaks that his roommate makes are. We beg, plead, bribe etc. but little bro does not follow through on telling us how the roomie makes these. Us ladies then in return take matters into our own hands, wait, MOM takes matters into her hands. I won't take credit.
Luckily for us roomie works at the grocery store. Mom tracks him down one day and he tells her how he makes the steaks plus leads her to the seasonings and shares his secrets. Then the story goes like this, mom makes steaks, raves about steaks, brings me seasoning, I make steaks, rave about steaks, YOU make steaks! Got it?? Remember it's winter and I live in MN so this is double awesome because we can have "summer" food inside!!!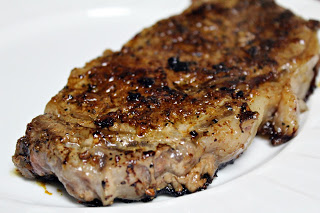 Griddle Steaks
Printer Friendly Recipe
Ingredients
Steaks, of your choice
Seasoning Salt
McCormick Grill Mates Montreal Steak Seasoning
1. Preheat griddle to 300 degrees. Place steaks on griddle. Seasoning the steak with the two seasonings. Apply a liberal amount, or at least I did, but I like seasoning!
2. Flip the steak after 5-10 minutes. Seasoning other side of steak. Continue to flip steaks every 5-10 minutes until steaks are cooked to your desired doneness. Mine took about 30 minutes. It will depend on the cut and thickness of your steaks also.