Crock Pot Steak Fajitas ~ Loaded with Steak, Red Peppers, Green Peppers, Yellow, Peppers, Onions and Spices! Piled High on a Tortilla Shell! The Perfect Quick, Easy Weeknight Recipe!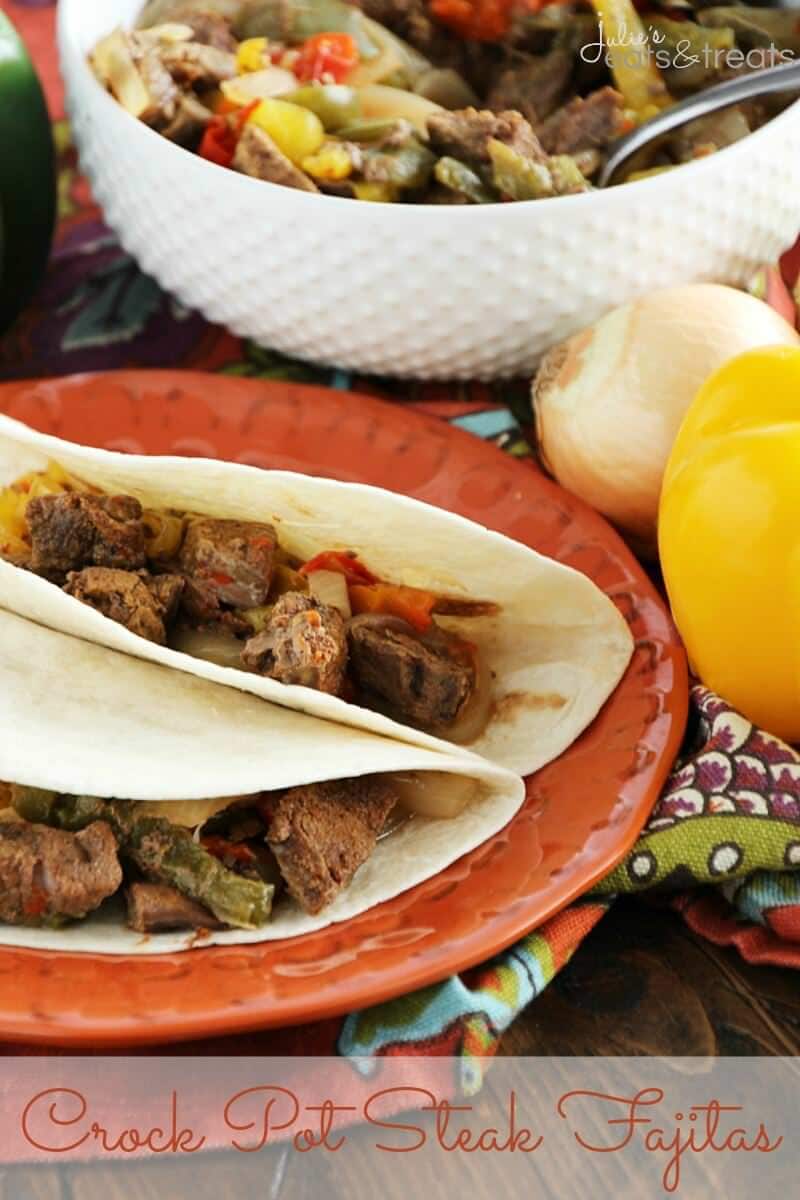 Something really, really big happened in the small Minnesota town that I live in. I bet you are wondering what on earth could be that amazing. This is it guys, a Mexican restaurant opened. I'm talking authentic Mexican food that is delicious and to die for. Ok, ok it wasn't really that epic but in this small community getting a new restaurant is a pretty big deal and it's been in the works for about two years, or so it seemed. Everyone kept waiting and waiting. Then they tried to open quietly so they weren't overwhelmed. Epic fail.
[et_bloom_inline optin_id="optin_1″]
The newspaper announced it on their website and on Facebook and it spread like wildfire which resulted in a two hour wait for just a table! We get pretty dang excited over things like this apparently. Then a Chinese restaurant opened a few months later. Big things are happening peeps. So we have a Italian, Mexican and Chinese restaurant now and we are all smiling and are pants appear to be getting tighter around these parts or at least mine are.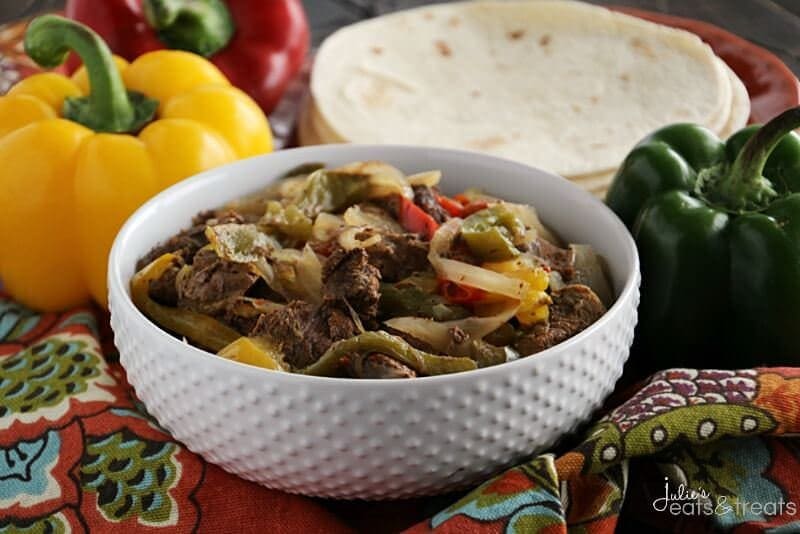 Here's the deal I'm a bit of a wuss and don't try to many new things. So I went to the Mexican restaurant the first time and got a chicken enchilada. Totally in my comfort zone, but at least it wasn't a quesadilla right? Ok, I lied actually the first time I went was with Danielle over at The Creative Bite, who is much much more daring than I am. I got a platter that had like three different things on it and the only thing I liked was the enchilada so I was a bit bummed for going out of my comfort zone. The next time I went I got the enchilada cause I was not putting on my big girl panties and trying something new again. I just wasn't doing that. Well, long story short is hey I ate there AGAIN. For the record this place has been open since the new year and I don't eat there like every week as much as I'd like too. So on this third go around, I was once again dining with Danielle, ok so we like each other a little or something. She ordered the fajitas. I took a breath and did the same thing. Guess what peeps? I LOVED them. I mean as in I ordered then the next time I went too. Wait, it really does sound like I live there doesn't it?
[et_bloom_inline optin_id="optin_1″]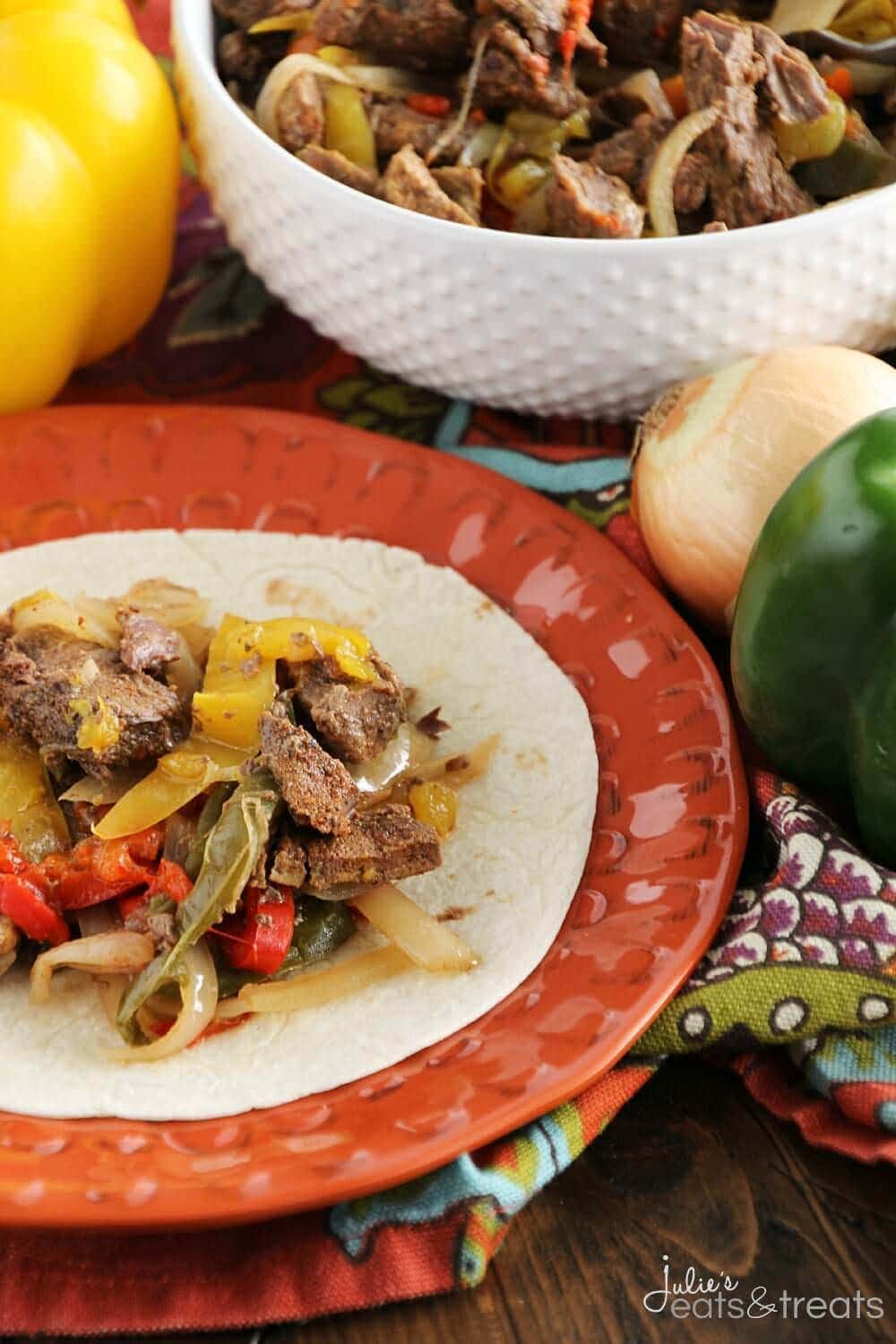 So by this time I kind of dreamed about their fajitas and I couldn't go there every week and get them as it appears I was on that route previously so I decided to make them at home. I started brainstorming and I knew I wanted to put them in slow cooker because I'm just a little bit lazy or maybe just a little crazy busy and after work I want supper stat. So I popped them in the crock pot and they were divine!
[et_bloom_inline optin_id="optin_1″]
I prepped all the ingredients the night before and just through the steak in the seasoning and threw everything in the crock pot. Heaven on earth. Now I think I need to go back to the said Mexican restaurant for inspiration don't you think? Glad we think alike.
Looking for another delicious steak recipe? Try this recipe for Pepper Steak!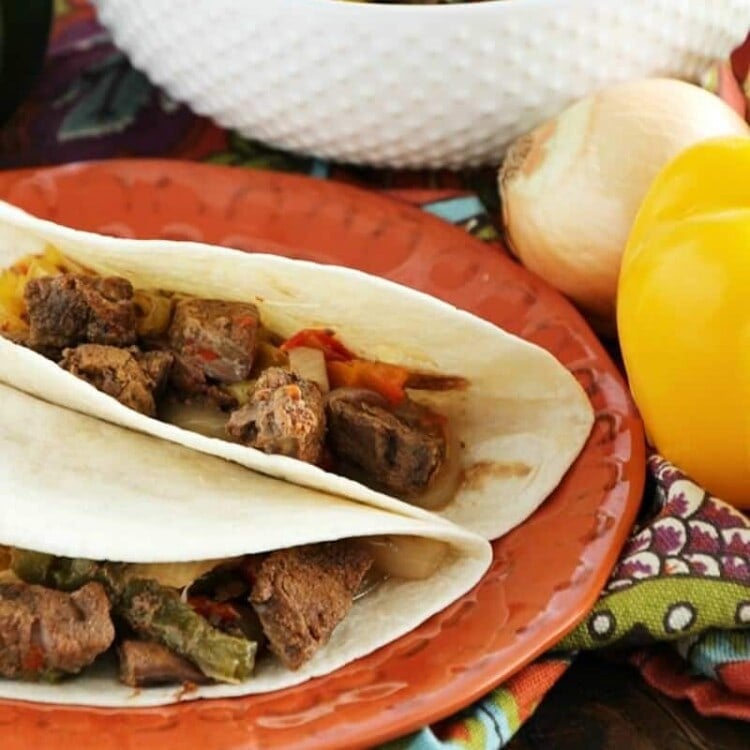 Crock Pot Steak Fajitas
Crock Pot Steak Fajitas ~ Loaded with Steak, Red Peppers, Green Peppers, Yellow, Peppers, Onions and Spices! Piled High on a Tortilla Shell! The Perfect Quick, Easy Weeknight Recipe!
Ingredients
2

lb

sirloin steak

1

green pepper

sliced

1

yellow pepper

sliced

1

red pepper

sliced

1

small yellow onion

sliced

3/4

c.

beef broth

low sodium

1

c.

water

2

Tbsp

red wine vinegar

1

Tbsp

lime juice

1

tsp

chili powder

1

tsp

cumin

1/2

tsp

smoked paprika

1/2

tsp

salt

1/4

tsp

pepper

16

Tortillas
Instructions
Put chili powder, cumin, smoked paprika, salt, and pepper in a gallon resealable bag.

Slice sirloin against the grain into small strips. Put in resealable bag and shake until steak is coated with spices.

In a medium sized bowl whisk together beef broth, water, vinegar and lime juice.

Place peppers and onion on bottom of slow cooker. Top with steak and then pour liquid mixture over steak.

Cook on low 6-8 hours or until steak is cooked through and vegetables are tender.
Tips
*Please be aware all slow cookers cook at different heat levels, please adjust accordingly.
Nutrition Information
Serving:
2
,
Calories:
355
kcal
(18%)
,
Carbohydrates:
35
g
(12%)
,
Protein:
30
g
(60%)
,
Fat:
9
g
(14%)
,
Saturated Fat:
2
g
(13%)
,
Cholesterol:
69
mg
(23%)
,
Sodium:
713
mg
(31%)
,
Potassium:
611
mg
(17%)
,
Fiber:
2
g
(8%)
,
Sugar:
4
g
(4%)
,
Vitamin A:
710
IU
(14%)
,
Vitamin C:
59.8
mg
(72%)
,
Calcium:
105
mg
(11%)
,
Iron:
4.3
mg
(24%)
Things You Might Need to Make this Recipe!
Need More Crock Pot Main Dishes?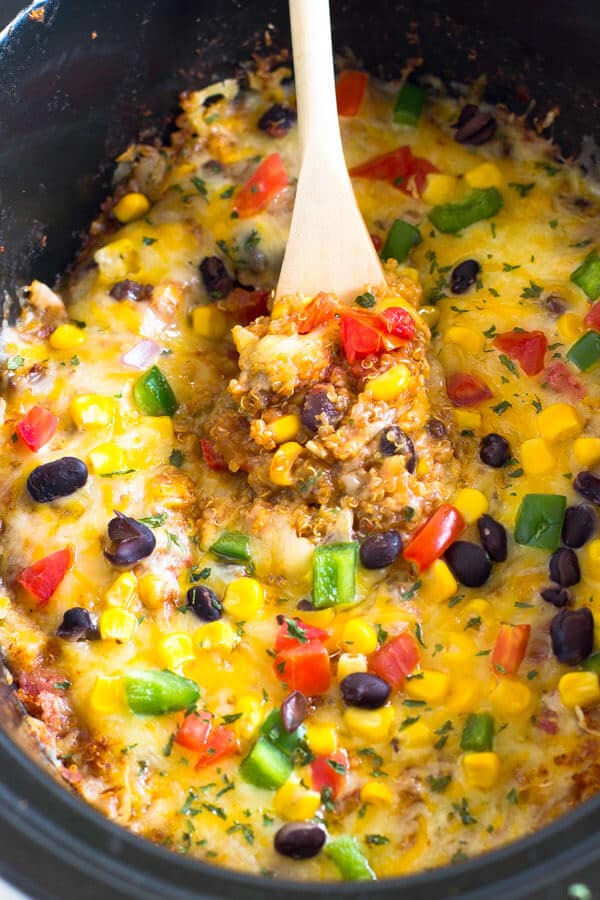 Slow Cooker Mexican Quinoa Bake ~ Only 10 minutes of prep work and is made with quinoa and all your favorite Mexican ingredients for a thick, filling and delicious slow cooker weeknight meal!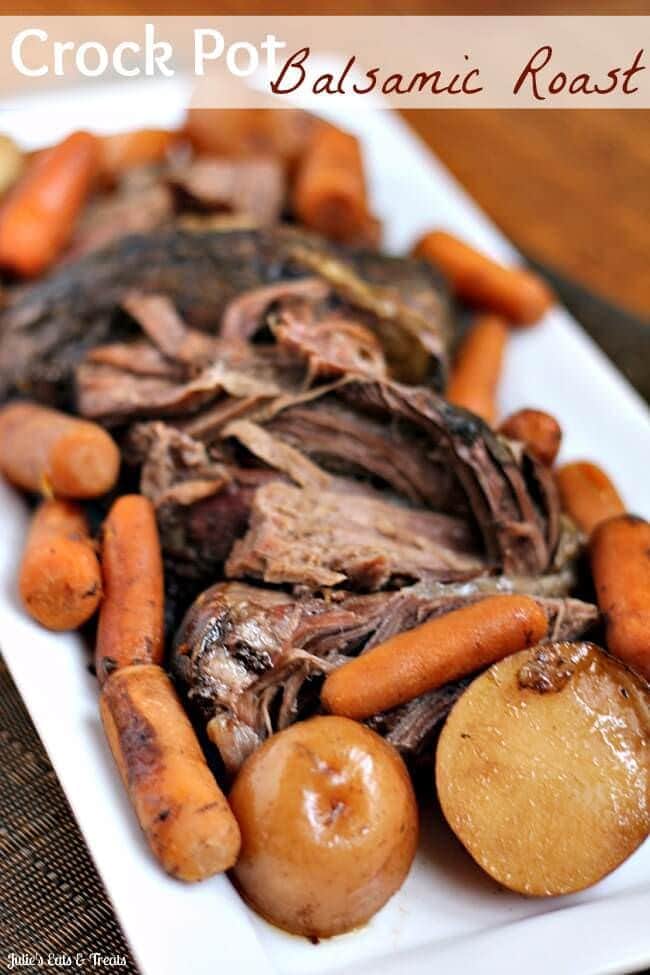 Crock Pot Balsamic Roast ~ Savory Roast, Carrots & Potatoes!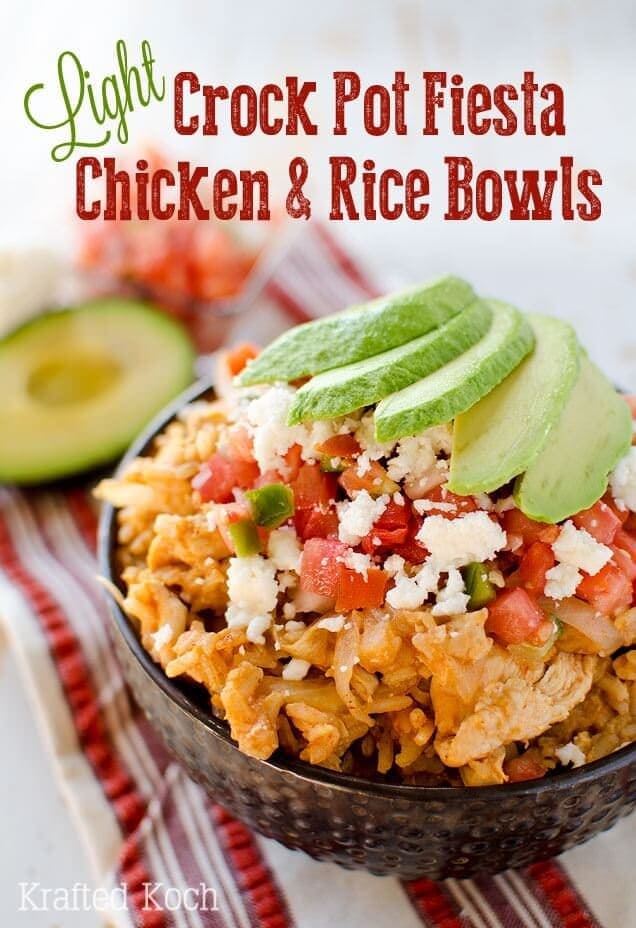 Light Crock Pot Fiesta Chicken & Rice Bowls – An easy weeknight dinner recipe, loaded with bold Mexican flavor, made in your slow cooker for a healthy and delicious dinner.
Tender, juicy flank steak marinaded in lime juice and then rubbed with spices. Followed by a visit to the grill and then sliced for these delicious Chile Lime Steak Bowls in a homemade taco bowl made with the Rotimatic!
With only five ingredients dinner doesn't get easier than this Crock Pot Cube Steak and Gravy!