Hamburger and Zucchini Skillet
Hamburger and Zucchini Skillet ~ Delicious One Pan Dinner That is Light & Healthy! Loaded with Zucchini, Hamburger, Brown Rice, Green Pepper, and Tomatoes! On the Table in 30 Minutes!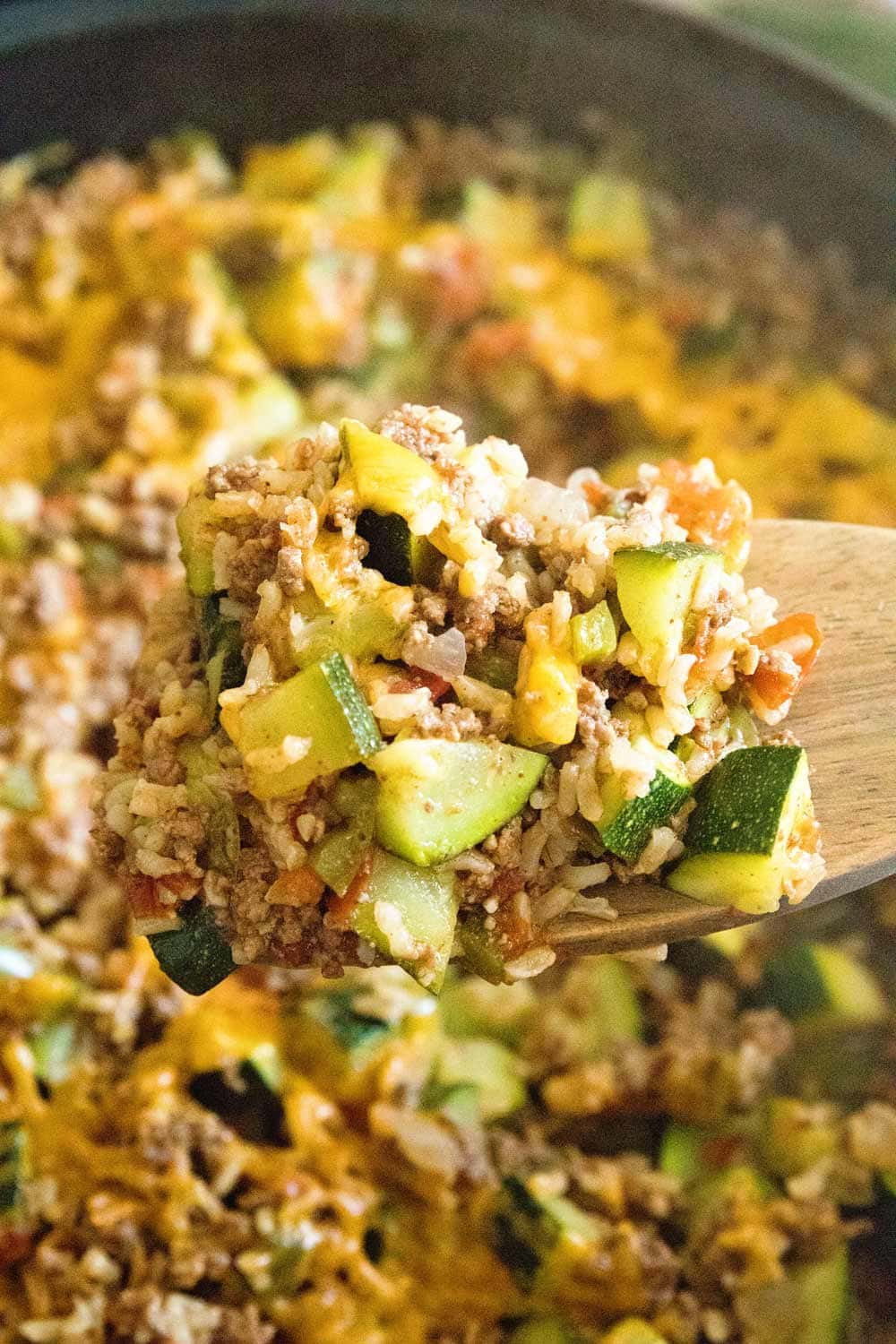 Motherhood is dang hard you guys. It's like you just wait for the other foot to drop 90% of the time. Things are going along well and you know, you just know that in the next moment it's all going to crumble around you more than likely. It's enough to cause someone anxiety. I sometimes think I have it because I'm always waiting for something to go wrong again!
You want to know what brought on this thought of mine? Sickness that's what brought it on. We were flying through summer healthy which is a HUGE accomplishment for us. I feel like we are sick most of the time for some reason. I guess when you have three littles that will happen to you!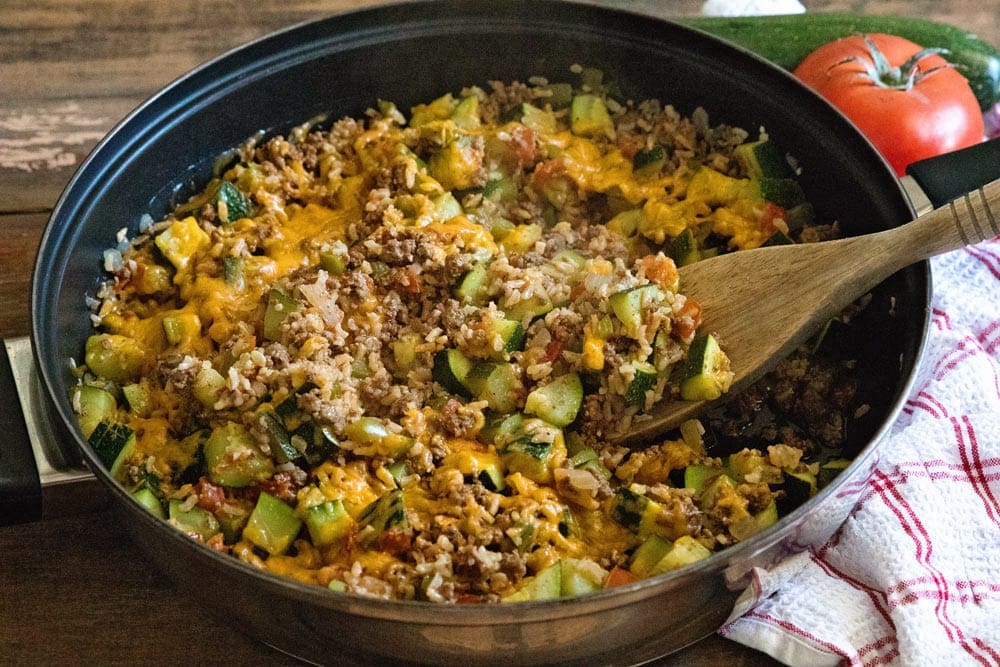 I've resorted to feeding the girls multivitamins, probiotics etc. because I felt like we were always sick. To bad it hasn't helped much! I'll still keep doing it and trying to beat the sickness. On Friday I mentioned to our daycare provider that I heard Hand, Foot, Mouth Disease was going around and I was sure hoping we wouldn't end up with it.
Seriously, Julie? Why did you mention something? Jinxed myself there!
Sunday we started noticing some dots and a tell tale blister on the side of RyRy's big toe. Off to Urgent Care we went to confirm that we had it. Yup. Sure did.
Now it's just a waiting game and letting it run it's course. I'm praying we ended up with a mild strain. I've heard horror stories about it!
Tonight I found another blister on RyRy's hand. Seems she's ahead of Miss K who just has the red dots so far. We are trying to quarantine the girls away from Koert and keep him healthy. Say some prayers for me that it works!!
When I called to talk to our daycare provider she informed me that Miss K is the hand washing Nazi around there. She makes sure everyone washes their hands after they go the bathroom, play outside etc. Apparently she totally calls the other kids out if they don't! I was slightly embarrassed and she kept telling me it's a great thing. To bad it doesn't seem to keep us healthy! I need to get RyRy on the hand washing bandwagon, but usually they start doing that when they potty train and that's still at a stand still.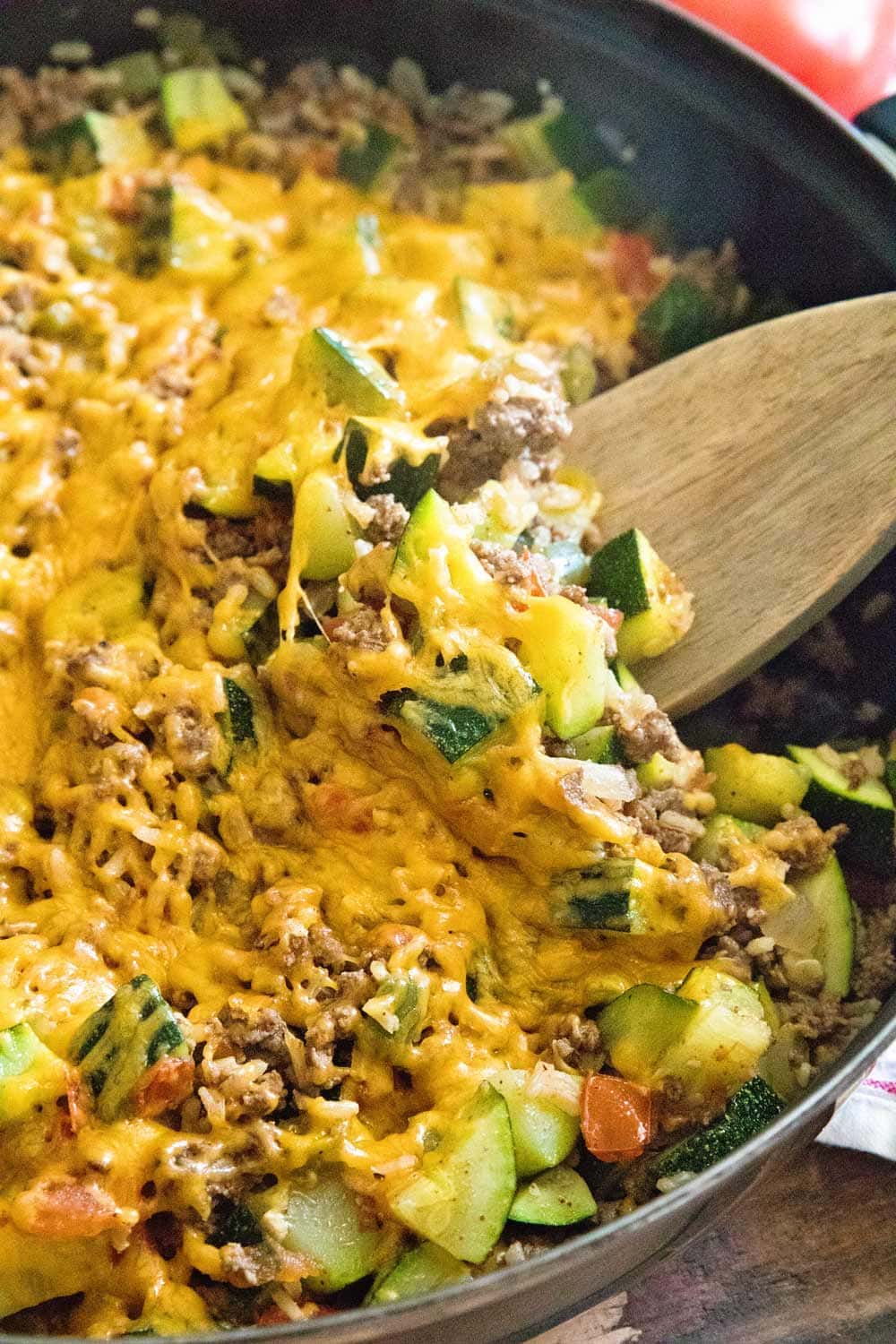 While we are sick at home we will have plenty of time to pick our garden! It's producing zucchini like CRAZY. Only one of our plants is currently producing and I still have it coming out of my ears. There's only so many side dishes with zucchini that I can handle, so I was on the look out for a new twist on a main dish. I was a little hesitant to try this one but I loved it!
Let's just say peppers aren't my typical jam and I was a little worried about the tomatoes but I seriously had nothing to worry about! I love that it uses up so many veggies from the garden!
Last night I made it again but I didn't have pepper or tomatoes so I left them out. My husband even inhaled this one! The girls each had two helpings. That's when I know it's a win! I can't wait to give this a Mexican twist too!
Another easy meal that everyone loves is 
Instant Pot Hamburger Helper
!!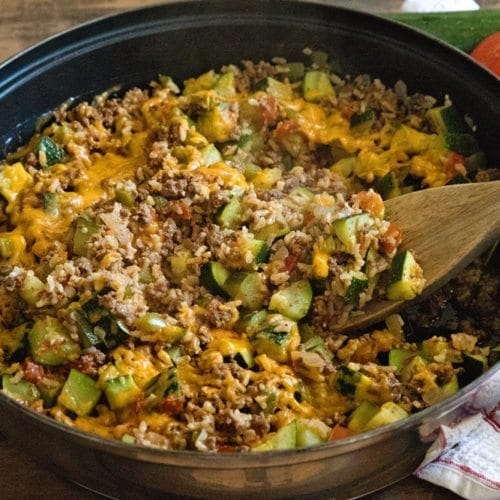 Hamburger and Zucchini Skillet
Delicious One Pan Dinner That is Light & Healthy! Loaded with Zucchini, Hamburger, Brown Rice, Green Pepper, and Tomatoes! On the Table in 30 Minutes!

Print
Pin
Rate
Ingredients
1

lb

ground beef

1

medium yellow onion

chopped

1

small green pepper

seeded and chopped

3

cloves

garlic

minced

2

tsp

chili powder

3/4

tsp

salt

1/3

tsp

pepper

3

medium zucchini

cubed

2

large tomatoes

seeded and diced

1/4

c.

water

1

c.

uncooked instant brown rice

1

c.

shredded colby jack cheese
Instructions
Cook ground beef with onion and pepper in a large skillet over medium-high heat until not longer pink, about 5-7 minutes; drain.

Stir in seasonings, vegetables, water and rice; bring to a boil. Reduce heat, cover and simmer until rice is tender, about 10-15 minutes. Sprinkle with cheese. Remove from heat; let stand until cheese is melted.
Nutrition
Serving:
1
g
|
Calories:
508
kcal
|
Carbohydrates:
41
g
|
Protein:
28
g
|
Fat:
24
g
|
Saturated Fat:
12
g
|
Cholesterol:
88
mg
|
Sodium:
609
mg
|
Potassium:
721
mg
|
Fiber:
3
g
|
Sugar:
5
g
|
Vitamin A:
1270
IU
|
Vitamin C:
40.9
mg
|
Calcium:
322
mg
|
Iron:
5.1
mg
LEAVE A COMMENT