Chocolate Chip Pumpkin Muffins
Chocolate Chip Pumpkin Muffins ~ Delicious, Homemade Chocolate Chip Pumpkin Muffins Perfect for Breakfast on the Go! Naturally Sweetened with Honey!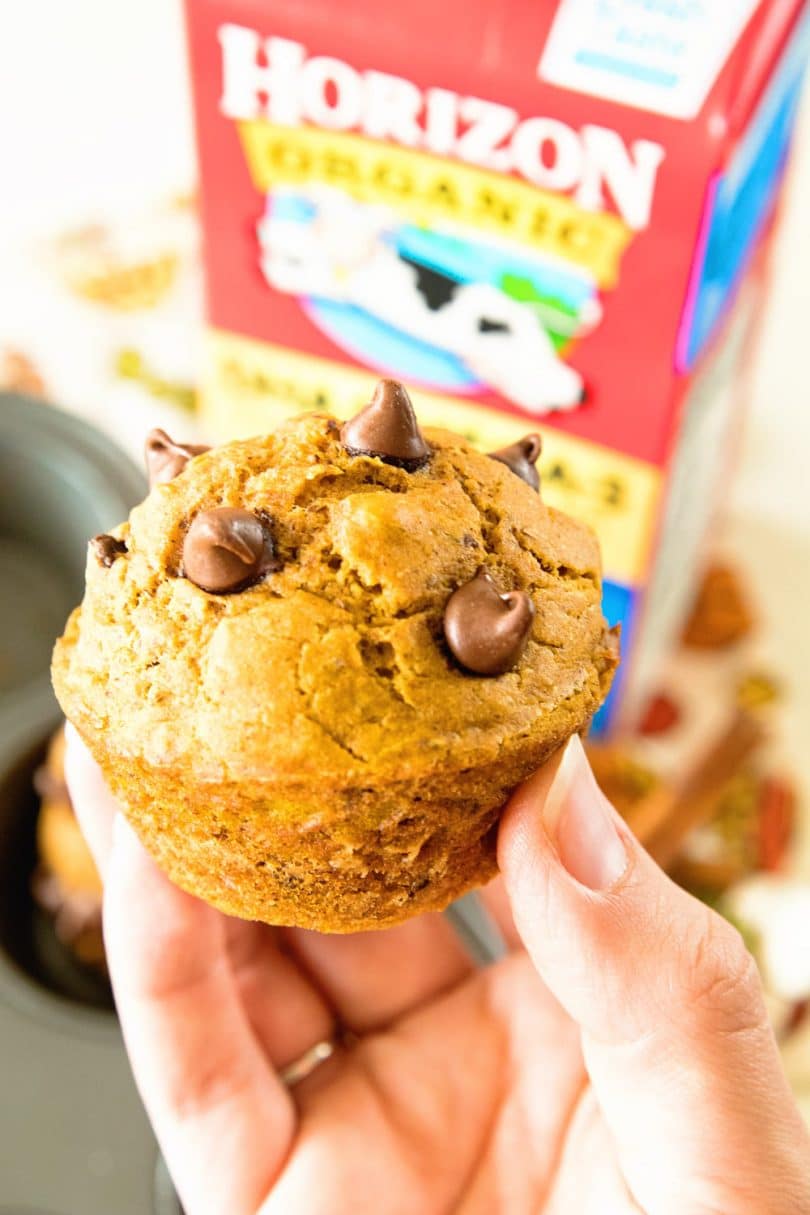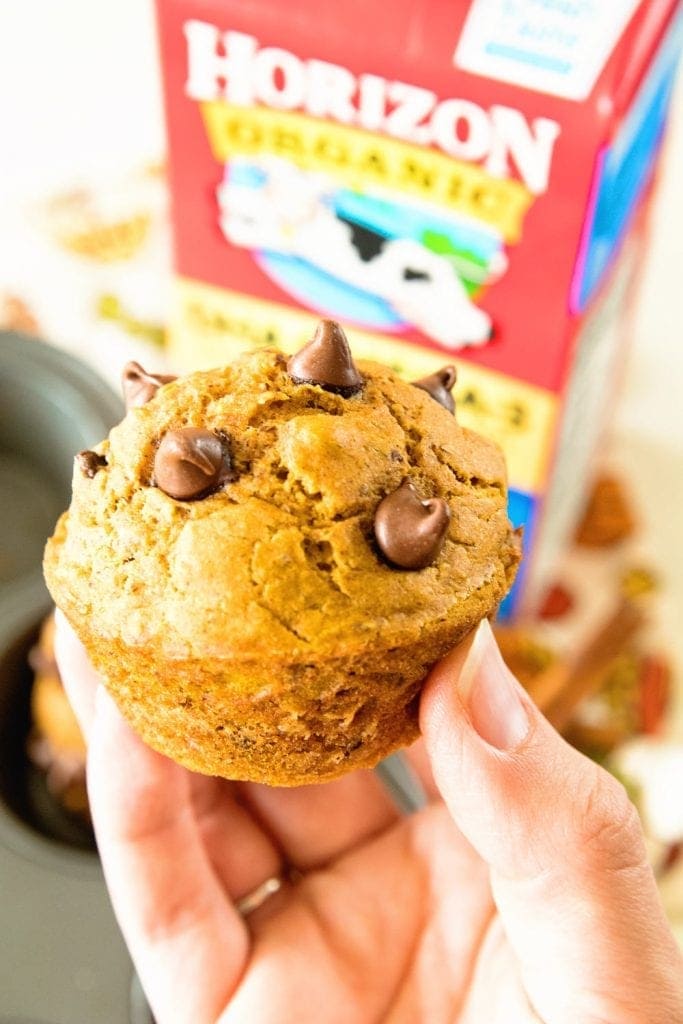 Pumpkin Season! Back to School Season! It's fall y'all!
I know. I'm Midwestern. That y'all just sounds awkward doesn't it? But, anyways, I'm so excited for all the Pumpkin things. Like Pumpkin Angel Food Cake, Baked Pumpkin French Toast, Pumpkin Hot Chocolate.
Fall is made for pumpkin, hot chocolate, bon fires and hoodies! Anyone else obsessed with Pumpkin Spice and everything nice? It'd be perfect on a brisk morning as the sun rose. Of course accompanied with these delicious Chocolate Chip Pumpkin Muffins! I act like I have a lot of mornings where I relax and watch the sun rise. Sorry, I don't, but it sure does sound nice doesn't it?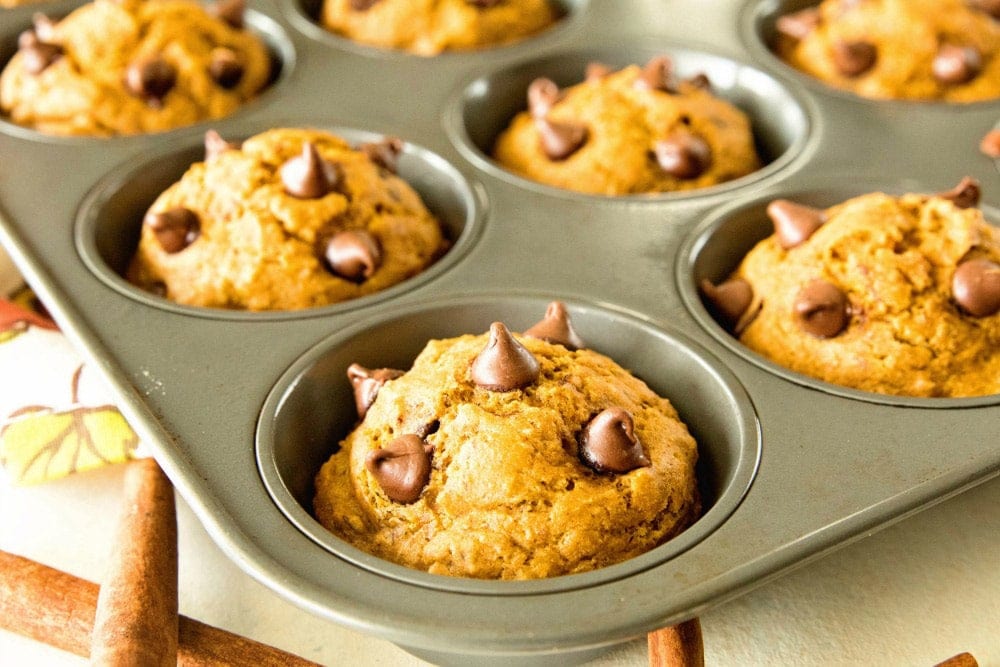 It's busy again you guys, like so busy. I need all the help I can to get my kids out the door in the morning to catch the bus! These little Chocolate Chip Pumpkin Muffins are just the answer. They are loaded with fall flavor and they have chocolate, so can you really go wrong? I think not!
Miss K is riding the bus now. Wow. I think I was more nervous that she was that first day. As we walked out to wait for the bus she says in her cute little 5 year old voice, "Mommy, I'm scared." My heart broke. I wanted to scoop her back into my arms, rush her inside and protect her forever. Can you say helicopter Mom? But, I refrained. I encouraged her and told her she was a big girl, smiled and sent her on her way. All while my heart was breaking inside.
The bus came and she bounced off to get on it smiling as she went.
She may have said she was scared but she sure didn't look like it! I'm so proud I have equipped her with the tools that she needs to spread her wings and fly. It makes me proud. I hope she becomes a strong independent young woman and I can't wait to watch her even though I'm sure I'm going to have many moments where I want to scoop her back up and rush her home to protect her.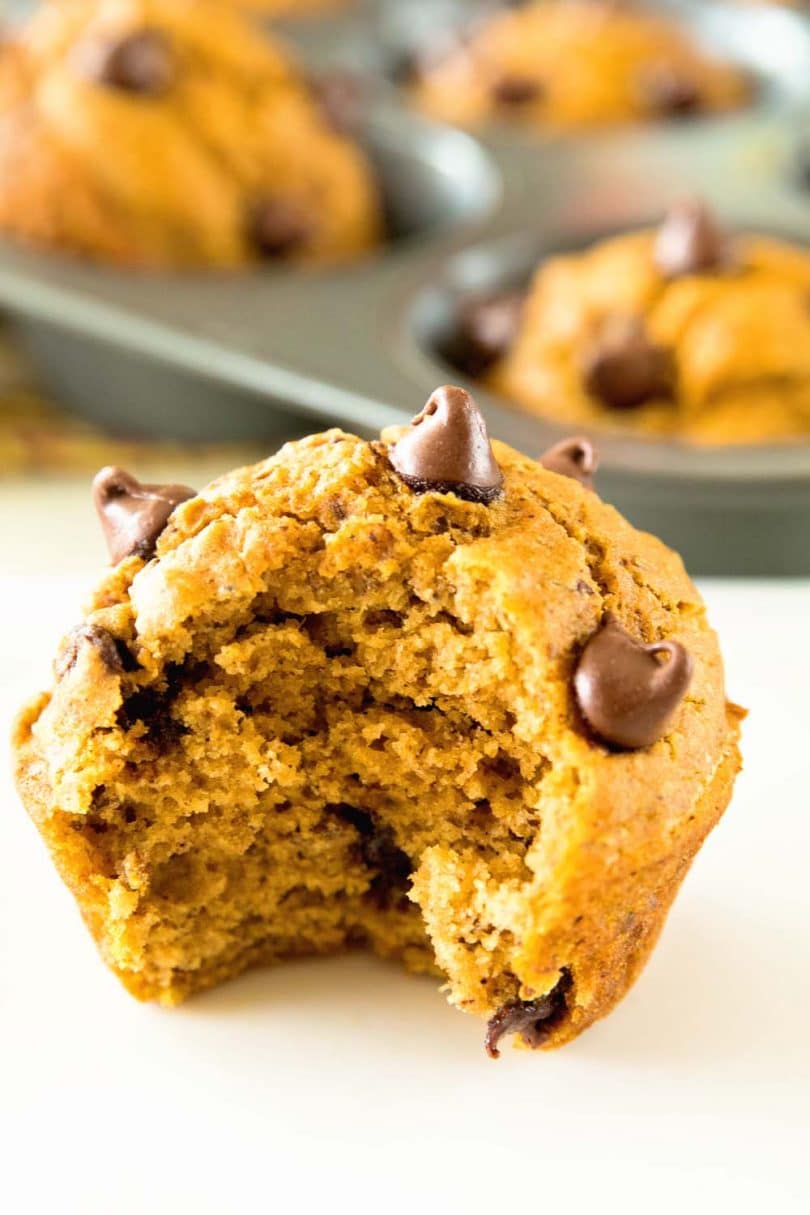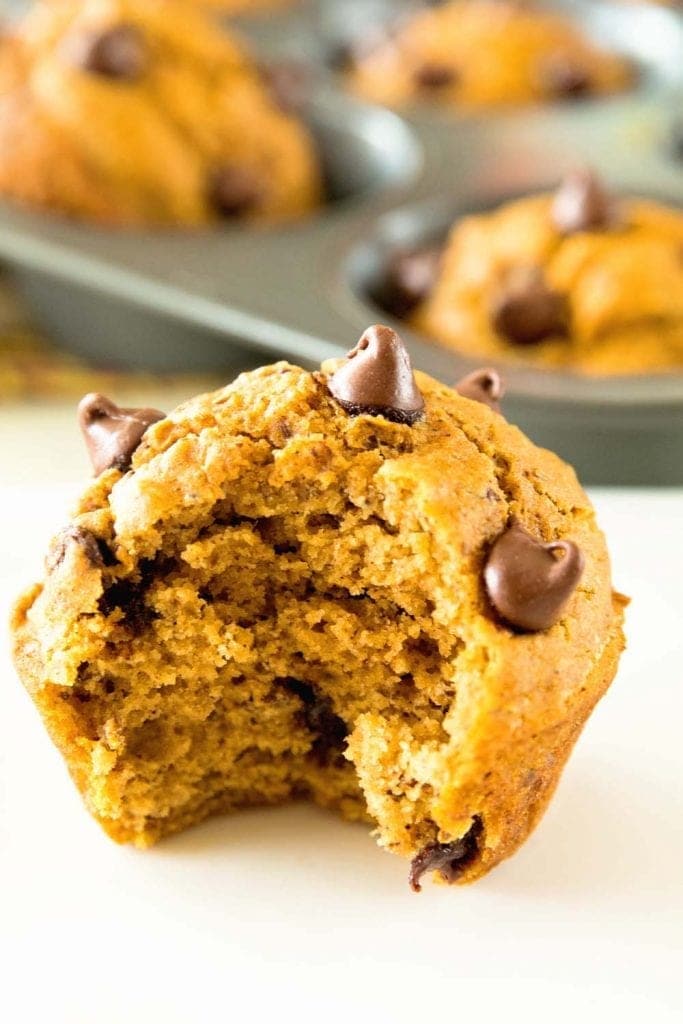 There are so many emotions when you send your kids back to school, but that doesn't mean the hustle and bustle has to compromise nutrition. Help your kids start school off on the right foot by finding ways to make healthy and delicious food so they choose it over junk food!
I love that this Chocolate Chip Pumpkin Muffin Recipe is made with Horizon Organic milk and sweetened with honey. I bet you have all the ingredients on hand to make these muffins too!
Homemade Chocolate Chip Pumpkin Muffins Recipe Ingredients!
White whole wheat flour

Ground flax

Baking soda

Baking powder

Cinnamon

Pumpkin spice

Salt

Eggs

Horizon Organic Milk

C

hocolate chips

Pure maple syrup

Butter

Vanilla

Pureed pumpkin
I feel good about having them grab one before they run out the door in the morning, popping them in lunch boxes and grabbing one for a snack when I'm hungry!
Side note – turn them into mini muffins for little fingers!
Bake up a batch of these Homemade Chocolate Chip Pumpkin Muffins and everyone will be grabbing for them!
This is a sponsored conversation written by me on behalf of Horizon Organic. The opinions and text are all mine.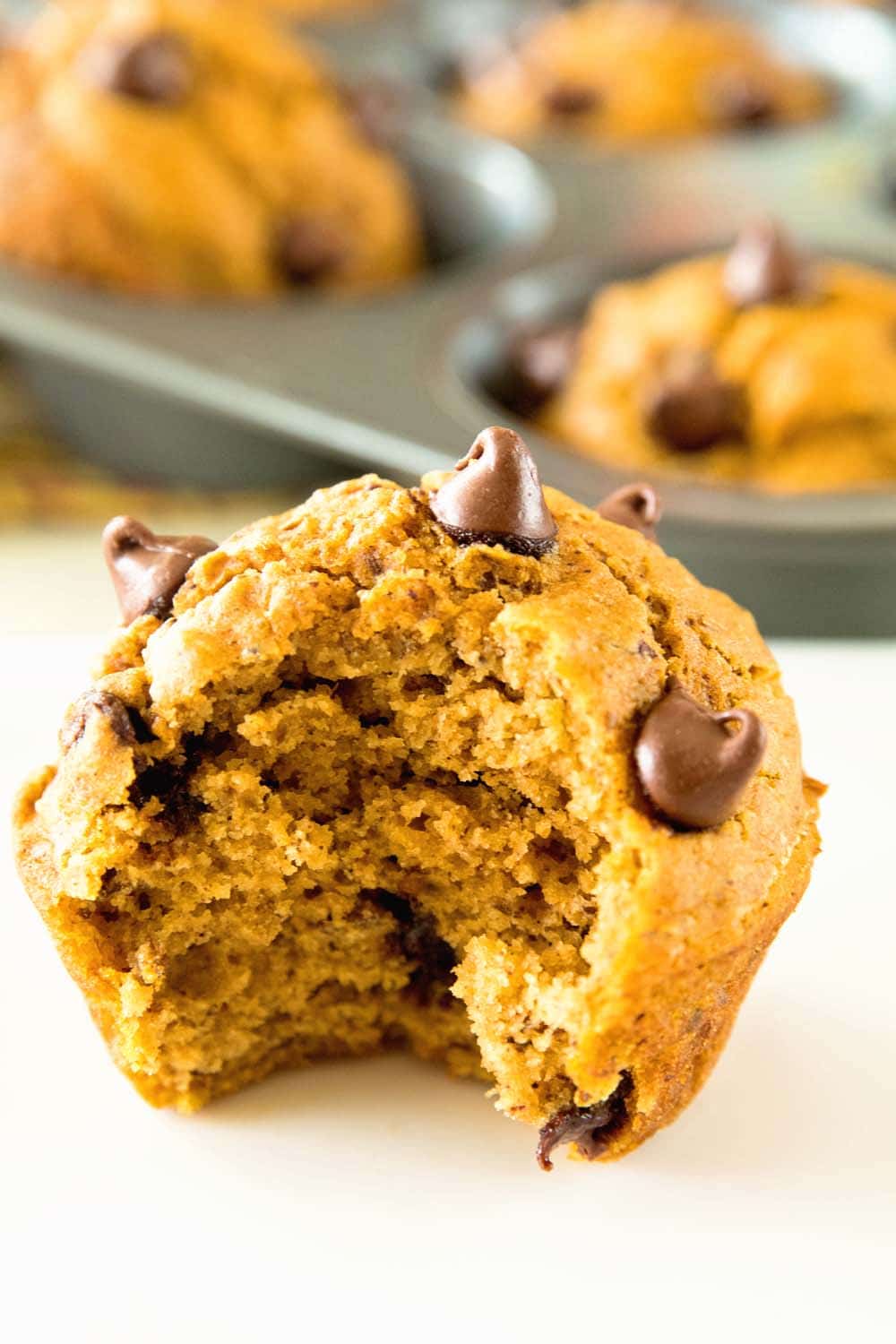 Chocolate Chip Pumpkin Muffins
Delicious, Homemade Pumpkin Muffins Perfect for Breakfast on the Go! Naturally Sweetened with Honey!
Ingredients
1 1/3

c.

white whole wheat flour

3

Tbsp

ground flax

3/4

tsp

baking soda

3/4

tsp

baking powder

2

tsp

cinnamon

1

tsp

pumpkin spice

1/4

tsp

salt

2

large eggs

1/2

c.

Horizon Organic Milk

1

c.

chocolate chips

1/3

c.

honey

3

Tbsp

butter

melted

1

tsp

vanilla

1/2

c.

pureed pumpkin
Instructions
Preheat oven to 350 degrees

Line muffin tin with parchment paper baking cups or spray with non-stick spray.

In a medium sized bowl, combine flour, flax, baking soda, baking powder, cinnamon, pumpkin spice, salt and mix until combined.

In a larger bowl combine eggs, milk, honey, melted butter, vanilla and pumpkin. Whisk until mixed together.

Slowly mix flour mixture into wet mixture until just combined.

Fold in chocolate chips.

Divide batter between 12 prepare muffin cups.

Bake in preheated oven for 14-16 minutes or until you insert a toothpick in the middle of muffin and it comes out clean. 

Remove muffins from oven and let cool.

Store leftover muffins in air tight container for up to four days or freezer for a month.
Notes
MIX IN IDEAS
Chopped pecans
Coconut
Walnuts
EXPERT TIPS
Place a few chocolate chips on top of the muffin batter before baking for presentation.
Prep the batter up to a day ahead, store in the refrigerator and then use these when you need a snack.
Fill muffin cups 3/4 of the way full with batter.
Make these with either semi-sweet or milk chocolate chips.
Store leftovers in airtight container for 3-4 days.
To freeze the muffins place them in a freezer resealable bag and freeze for up to 3 months. Thaw muffins at room temperature or warm them up in the microwave when you are ready to enjoy.
Nutrition
More Pumpkin Recipes!