The Best Pumpkin recipes perfect for fall! Tons of recipes for breakfast, dessert, snacks and more to enjoy this pumpkin season. A few of our favorites are pumpkin bars, pumpkin pancakes, and pumpkin angel food cake. Maybe you'd love to warm up with a warm Pumpkin Hot Chocolate by the fire.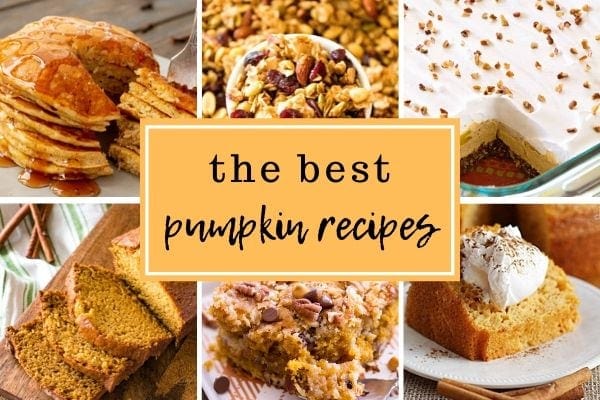 The Best Pumpkin Recipes!
It's fall and that means it's time to "Pumpkin Everything"! There are so many different pumpkin recipes online and it's hard to know what ones to choose. To make things easy for you we rounded up all of our pumpkin recipes that are always quick and family friendly.
This round up included tons of your favorite recipes. Everything from breakfast, dessert to snacks. All these recipes are quick, easy and family friendly.
Remember to grab the pumpkin puree when baking with pumpkin and not the pumpkin pie filling unless directly specified in a recipe.
We hope you find a few to enjoy through the season!
If you click on the headings below like Breakfast & Breads, Pumpkin Desserts or Appetizers, Sides & Drinks it will bring you directly to that category. 
Pumpkin Breakfast & Breads
Pumpkin Desserts
Pumpkin Appetizers, Sides & Drinks