The Best Pumpkin recipes perfect for fall! Tons of recipes for breakfast, dessert, snacks and more to enjoy this pumpkin season. A few of our favorites are pumpkin bars, pumpkin pancakes, and pumpkin angel food cake. Maybe you'd love to warm up with a warm Pumpkin Hot Chocolate by the fire.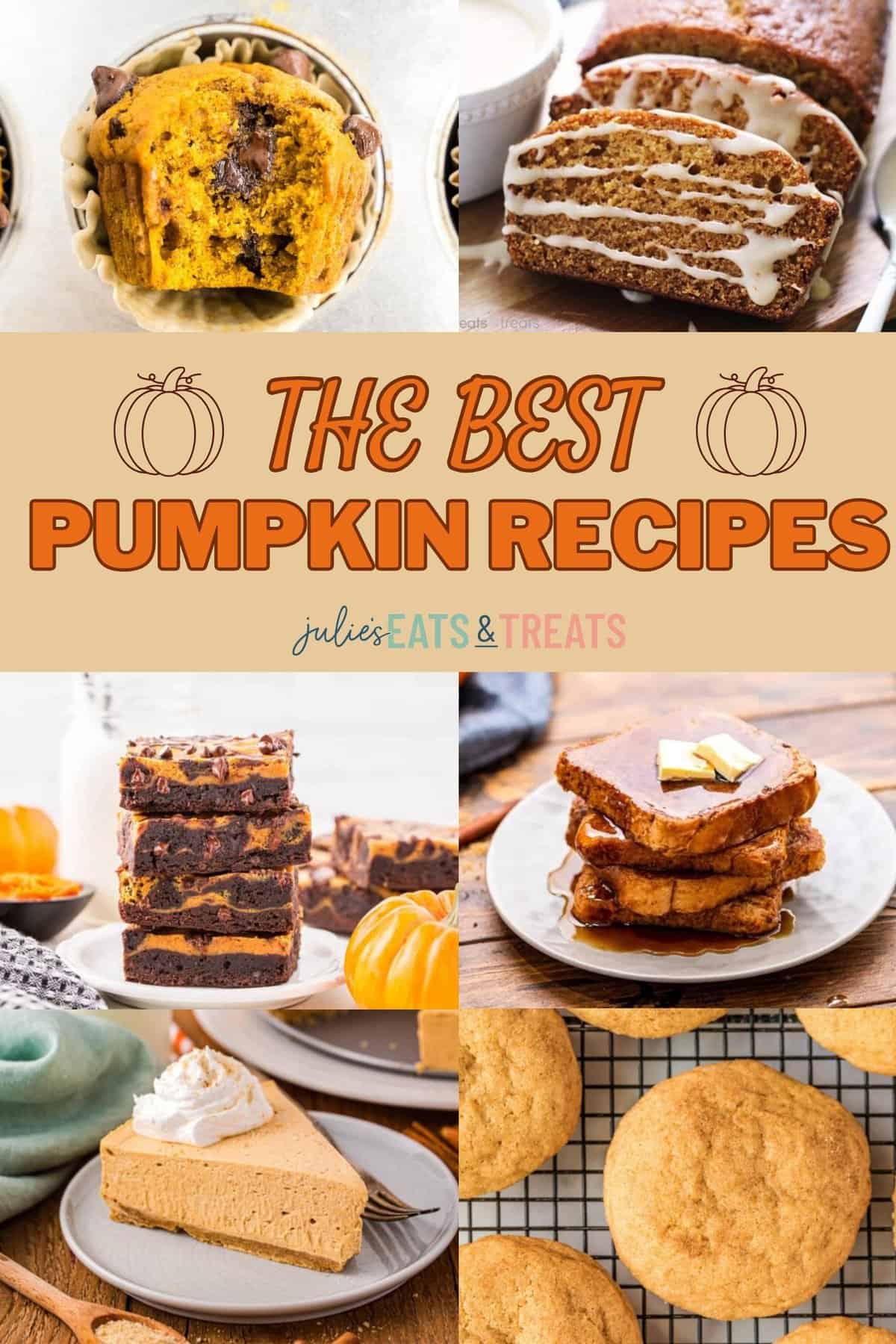 The Best Pumpkin Recipes!
It's fall and that means it's time to "pumpkin everything"! There are so many different pumpkin recipes online and it's hard to know what ones to choose. I mean, there are quite a few flops out there and I don't want you to end up with a mushy and sad loaf of pumpkin bread, right?
To make things easy for you we rounded up all of our incredible pumpkin recipes that are always quick and family friendly. This round up included tons of your favorites.
Everything from breakfast, to snacks, to pumpkin dessert recipes. All these recipes with pumpkin are a guaranteed hit! Remember to grab the pumpkin puree when baking with pumpkin and not the pumpkin pie filling — unless directly specified in a recipe.
Happy baking! We hope you find a few amazing pumpkin recipes to enjoy throughout the season!
If you click on the headings below like Breakfast & Breads, Pumpkin Desserts or Appetizers, Sides & Drinks it will bring you directly to that category.
Pumpkin Breakfast & Breads
Flip your morning routine with a stack of fluffy Pumpkin Pancakes! 🥞🎃 The fall breakfast you never knew you needed.
Indulge in the cozy comfort of fall with our scrumptious pumpkin bread, drizzled in rich caramel glaze. One of the best pumpkin recipes!
Prepare to wake up to a slice of pumpkin paradise with our overnight pumpkin cheesecake french toast casserole! 🎃🍰 Easy peasy and oh so delicious.
Recipes with pumpkin are already super moist, but add it into zucchini bread and you've got a deliciously moist bread that is to die for. Mixing up fall and summer flavors, our pumpkin zucchini bread is a slice of seasonal fusion!
Fall into flavor with our classic Pumpkin Bread! 🍂 Add this to the list of tried and true pumpkin recipes.
Chocolate makes everything better. Indulge in a sweet autumn embrace with our pumpkin chocolate chip bread! 🎃🍫
Ready to snack your way through the season? Sprinkle this incredible pumpkin granola over yogurt, top your smoothie bowls, or munch it by the handful.
Who's in for a delightful chocolaty twist on pumpkin goodness? 😋 Pumpkin chocolate chip muffins are one of our favorite pumpkin recipes around here!
Brace yourselves for a morning masterpiece: Baked Pumpkin French Toast! Yes, you read that right. All the goodness of pumpkin and french toast in one dish.
This sweet and spiced sensation will have your taste buds dancing. Pumpkin roll cinnamon bake is just the most delicious combination!
Not all recipes with pumpkin have to be pumpkin dessert recipes. This baked oatmeal is a great way to use pumpkin. Start your day with a warm and cozy hug from our Pumpkin Baked Oatmeal!
Fall in love with breakfast all over again with our Pumpkin French Toast! Such an easy and tasty recipe.
Pumpkin butter is the cozy companion you need as the leaves change colors and the air gets crisp. So go ahead, grab a jar, and get ready to embrace the warm, fuzzy feeling of fall, one delicious spoonful at a time. 🍂🎃
Rise and shine with these pumpkin cream cheese muffins! Moist, spiced pumpkin goodness meets a creamy, decadent surprise in every bite.
Pumpkin Desserts
Dive into dessert heaven with our pumpkin lasagna. A pumpkin dessert recipe that most people would never find!
These individual delights are like autumn in a glass, perfect for satisfying your sweet cravings. Who's up for a trifecta of pumpkin bliss?
It's as easy as dump, bake, and enjoy the cozy magic of pumpkin season. This is one of the most simple pumpkin recipes out there.
These soft, cinnamon-spiced delights are like a cozy hug for your taste buds. A pumpkin twist on a classic recipe!
Indulge in guilt-free delight with our skinny gluten-free pumpkin cheesecake bars! So creamy and so addictively good.
These sweet squares are the perfect blend of spiced pumpkin and creamy indulgence. Fair warning, it's hard to just eat one!
This heavenly creation is a light and airy twist on traditional pumpkin treats.
These little bites of heaven are a burst of spiced pumpkin goodness, topped with a swirl of cinnamon-infused delight. Add this to the list of pumpkin recipes you've gotta try!
Get ready for a cookie adventure like no other! Cinnamon chip pumpkin cookies are one of those pumpkin dessert recipes that I can't live without now that I've tried it. They're AMAZING!
Who's ready to savor a mouthwatering slice of tradition? 😋 Our go-to pumpkin pie recipe is so easy to make.
Unwrap the sweet flavors of the season with our pumpkin dessert bars! The perfect shareable treat for all of your fall parties.
This isn't your ordinary cake – it's a fun, friendly, flavor quake that'll leave your taste buds dancing.
When pumpkin meets chocolate, it's a match made in dessert heaven! These pumpkin brownies are insanely rich and truly incredible. One of my favorite pumpkin recipes now.
🎃 Pumpkin Cheesecake Bars: the perfect blend of creamy, dreamy cheesecake and the cozy embrace of pumpkin spice. One bite and you'll be falling head over heels for these autumn-inspired delights!
Creamy, dreamy, and bursting with pumpkin spice, it's the effortless way to satisfy your fall dessert cravings. Keep that oven space free for all of the other recipes with pumpkin you plan to bake!
Soft, melt in your mouth Pumpkin Crescent Rolls are the perfect dessert when you are craving pie and are short on time. And maybe have one for breakfast instead — who says you can't?
Enjoy a slice of pumpkin bundt cake today or serve it for your holiday parties! Such an easy add-on to that growing list of must-bake pumpkin recipes.
The best part about pumpkin crisp is that it is so quick and easy to make that you'll be making it all season long. Serve it warm and don't forget to add the scoop of vanilla ice cream on top.
This pumpkin cake with cream cheese frosting is the best cake when you need dessert for a crowd!
Easy to make and always crowd hit. Make pumpkin cupcakes in just a few simple steps!
Pumpkin Appetizers, Sides & Drinks
It's so quick and easy to make and the perfect addition to your morning coffee or pumpkin spice latte! Skip the store-bought stuff and make this showstopper of pumpkin recipes in your own home.
These are perfect for when you are craving a PSL and don't want to leave the house, plus way more inexpensive. A win win situation!
It's made with a few simple ingredients and so quick and easy to prepare. Stock your fridge with this all fall.
Pumpkin hot chocolate is like a warm, liquid hug from autumn itself. Who's in for a sip of creamy, spiced bliss? Pair with one of the pumpkin dessert recipes here in this round-up for a cozy fall treat!
Spice up your snacking game with our pumpkin Chex mix! A sweet snacking experience that you've got to try out.
Perfect for pairing with apples, graham crackers, or even as a spread on bagels. This pumpkin dip recipe is amazing!