Oreo Poke Cake ~ Chocolate Cake Topped with Oreo Pudding, Cool Whip and Crushed Oreos! Quick, Easy Poke Cake That Everyone Will Love!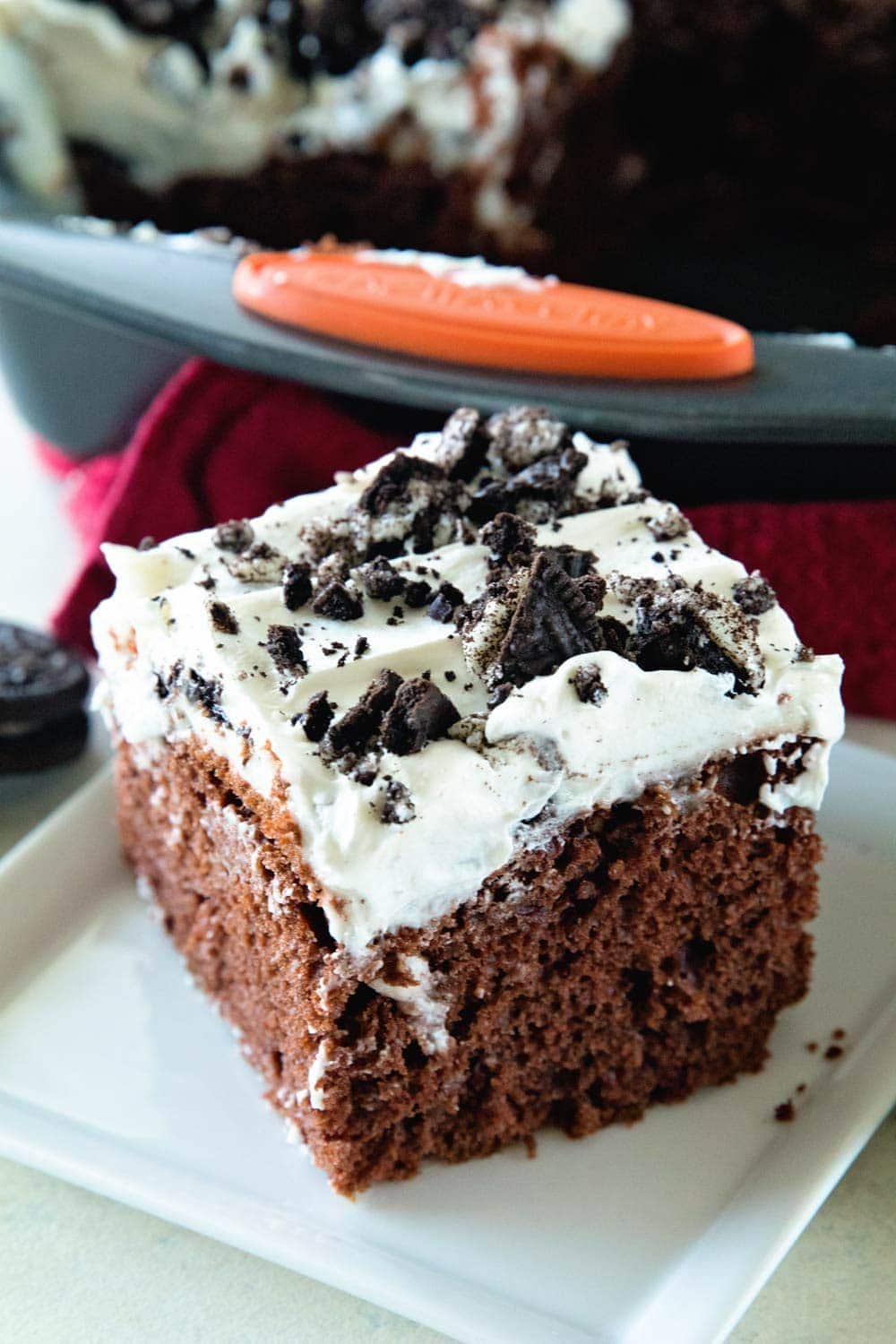 I am ashamed to admit how much I love Oreos. I mean, I'm a blogger and should have fancier tastebuds then ones that love and adore a premade cookie like that right? Nope. I give anything for them! Plus who doesn't like a piece of chocolate cake? Combine the two into this Oreo Poke Cake and I'm a total goner!
This quick and easy poke cake is impressive, yet easy enough that the non-experienced baker can totally pull it off. My warning is that if you make this cake, people will become your new best friends just to get a piece. It's amazing! It's right up there with my favorite Better Than Sex Cake, which is another easy poke cake recipe.
So amazing that when I made it I knew I needed it to leave my house stat because I was going to eat every last piece of it in a flash. That is, if my children didn't get it first. I've never seen Miss K eat a piece of cake so fast. Then promptly say, "More Mommy?"
When I know things need to leave my house my unsuspecting neighbors get random text messages to see if they are home so I can find the food a new home. Sometimes it takes them a bit by surprise. For example I texted a neighbor asking if she was home or anyone in her family. Unfortunately, she thought I was in some kind of trouble and quickly repsonded asking was what was wrong and what she could do to help.
Uhhhh just need you to eat my cake that's all! She thought she could handle that!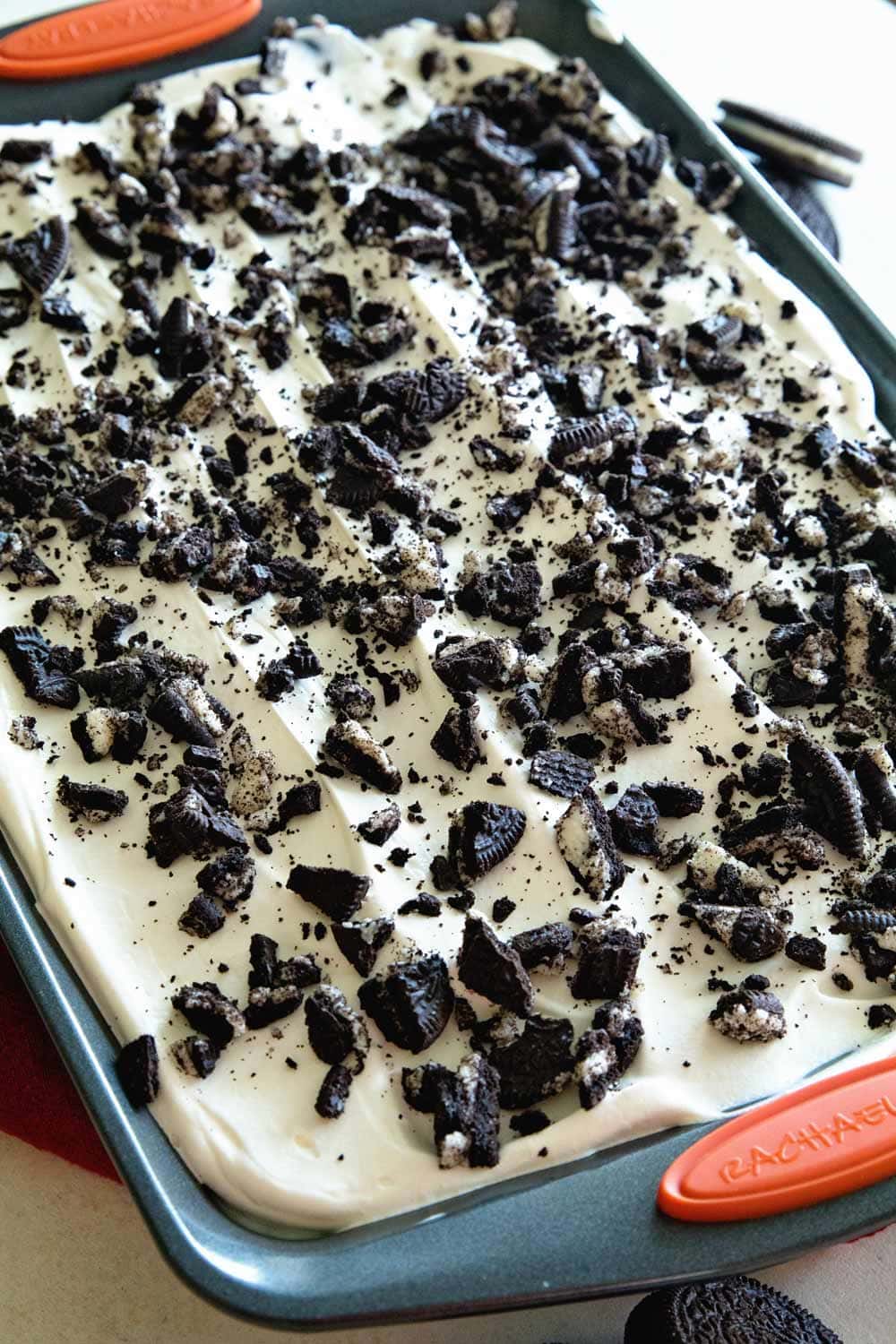 I'm guessing her two teenage boys probably helped her out with the task! Plus, it gives me a chance to swing by and say hi! It always amazes me how you can live right by someone and never see them because of life. Life is so busy! I find myself getting into a routine and I never break from it. I go about my business in my own little bubble and forget anyone else exists!
If you are guilty of this too I have the perfect remedy for the situation. Just make this Oreo Poke Cake and then go gifting it to neighbors. They'll forgive you right away for ignoring them for years in hopes that you will continue to bring them cake like this!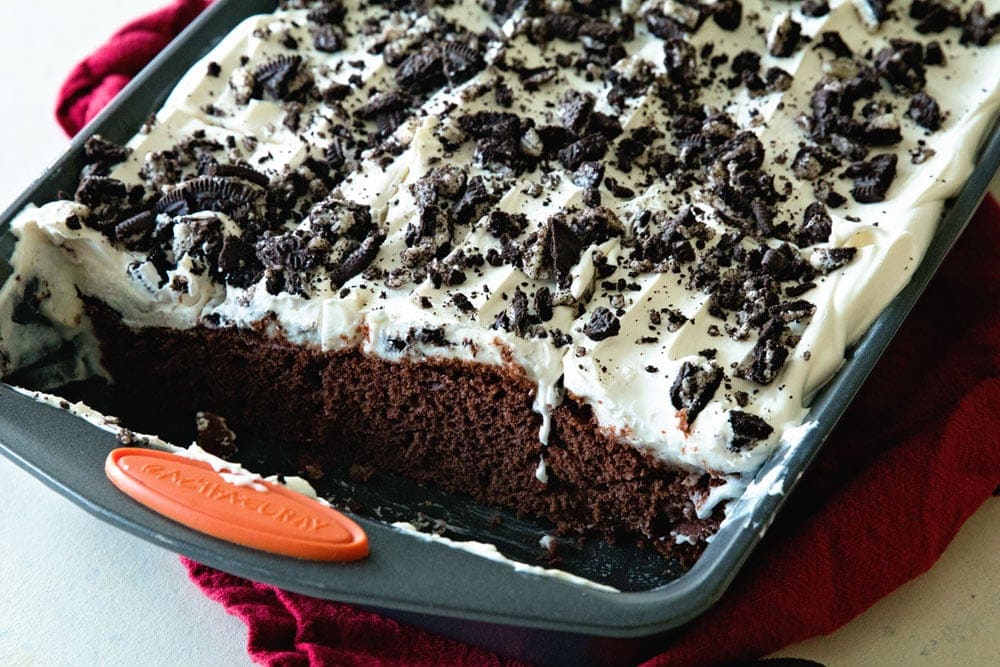 I also have the warning your husband might get angry with you when you give Oreo Poke Cake away! He was not impressed that I gave most of this away and neither were the girls.
When he saw the video for this recipe his eyes lit up and quickly told me that I need to make this as soon as possible again.
I'm sure there are more neighbors that will help me eat this right?
Are you wishing you were my neighbor by now?
Love Oreos like I do? You have to try my easy Oreo Balls, too!
WATCH THE STEP BY STEP VIDEO FOR THIS OREO POKE CAKE RECIPE BELOW:
If you enjoy watching these videos make sure you subscribe to my YouTube Channel to be notified each time a post a new video!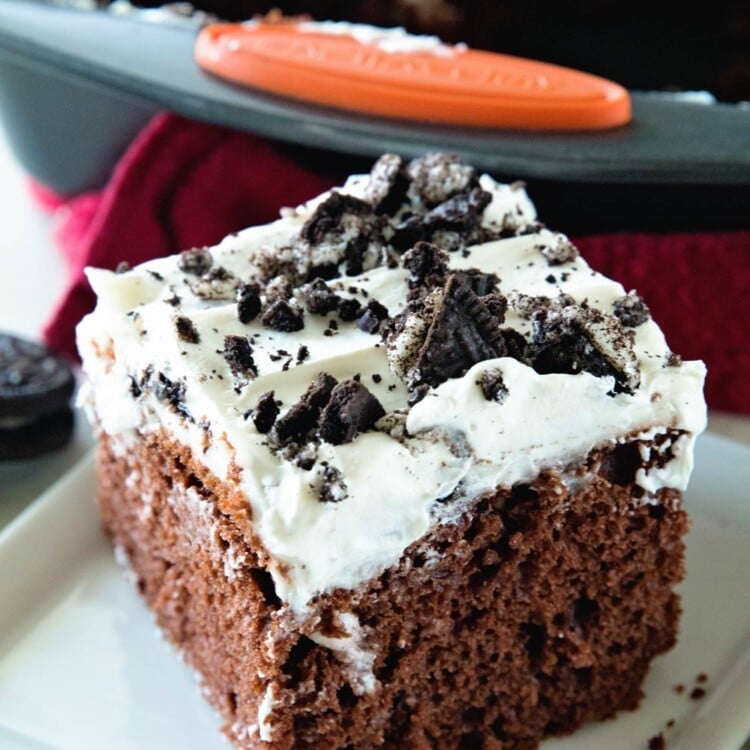 Oreo Poke Cake
Chocolate Cake Topped with Oreo Pudding, Cool Whip and Crushed Oreos! Quick, Easy Poke Cake That Everyone Will Love!
Ingredients
1

box chocolate cake mix

Plus ingredients to make cake

2

4 oz. packages of Instant Oreo pudding

4

c.

2 % milk

1

Container Cool Whip

1

c.

Crushed Oreo Cookies
Instructions
Make cake mix according to directions and bake in a greased 9×13 pan.

When cake is done, immediately poke holes over the cake using the end of a wooden spoon in about 1 in. intervals.

Let cake cool while you prepare pudding mixture. In a medium size bowl whisk together milk and pudding mix. Make sure to whisk out all of the lumps. Let the pudding mixture sit for about 2 minutes. You want it somewhat thickened but not set like pudding.

Pour pudding mixture over warm cake. Allow the cake to cool for a few minutes. Put in the fridge to set up which takes about an hour.

When cake is set spread Cool Whip over top and sprinkle with crushed Oreo cookies. If you don't plan on eating all the cake just sprinkle Oreos on what you will eat or they get soggy.
Nutrition Information
Calories:
172
kcal
(9%)
,
Carbohydrates:
26
g
(9%)
,
Protein:
3
g
(6%)
,
Fat:
6
g
(9%)
,
Saturated Fat:
2
g
(13%)
,
Cholesterol:
3
mg
(1%)
,
Sodium:
256
mg
(11%)
,
Potassium:
162
mg
(5%)
,
Sugar:
15
g
(17%)
,
Vitamin A:
50
IU
(1%)
,
Vitamin C:
0.1
mg
,
Calcium:
92
mg
(9%)
,
Iron:
2
mg
(11%)
Recipe slightly adapted from: The Country Cook