Strawberry Vanilla Poke Cake ~ Quick & Easy, But Impressive for Guests! This Light Cake Starts with a Box Mix and is Topped with Strawberry Jell-O, Vanilla Pudding and Cool Whip! Perfect Comfort Food Dessert!
Be sure to subscribe to my newsletter HERE so you never miss a new recipe!
Check out our online Home Decor & Clothing Boutique Drops of Sunshine!
Pictures updated 7/17/16
Video Added 7/5/17

MY OTHER RECIPES
I've been thinking I should make this recipe for awhile but I've never got around to it. It's a frequent visitor at meals when I go to other people's houses. So I made a phone call to my hubby's stepmom one Sunday morning and requested the recipe.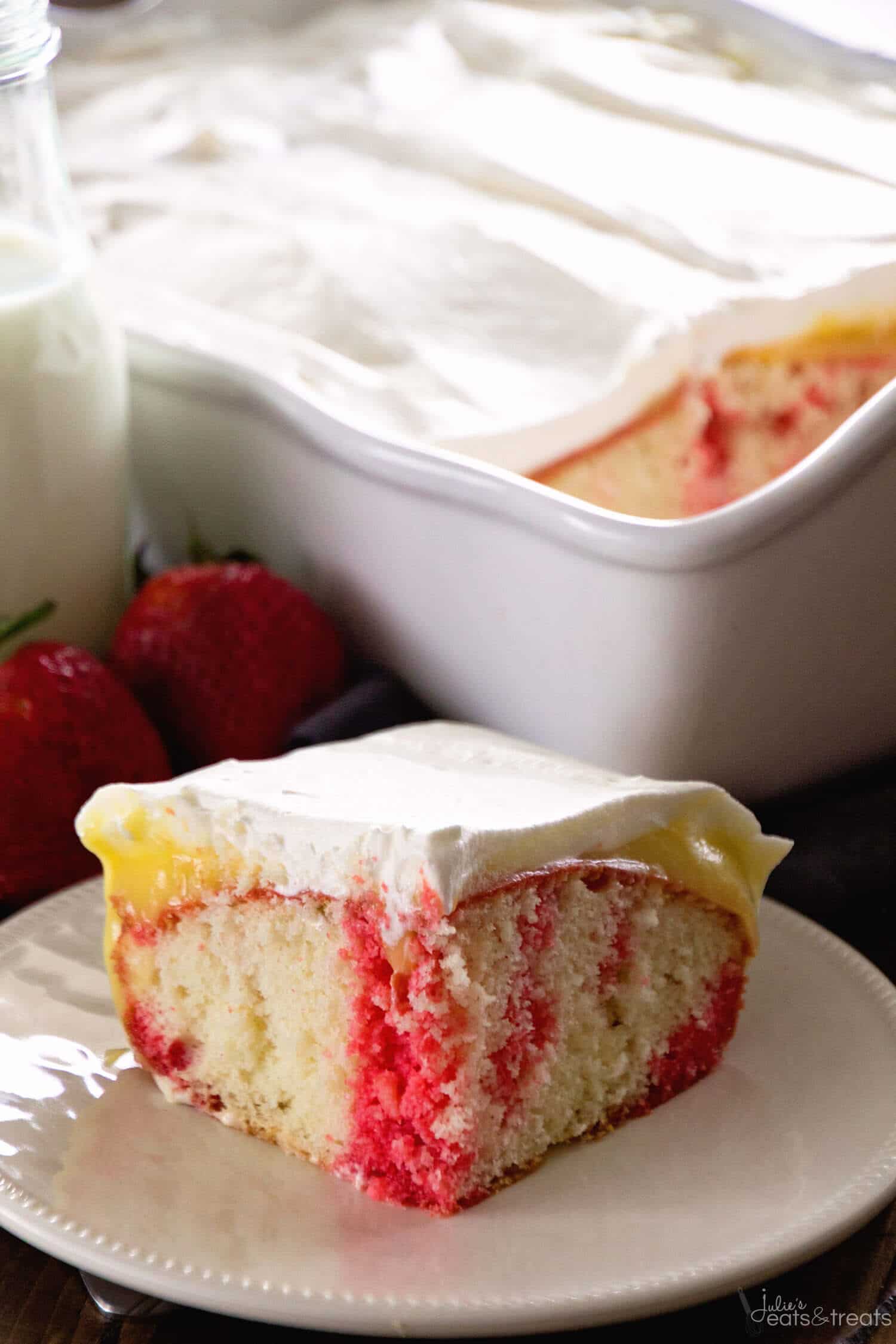 I needed something simple and fast to make for a dessert and this fit the bill.My mom had hemmed a pair of jeans for the hubby and decided that for her "pay" she wanted to come over for Creamy Chicken Enchiladas. This is the one recipe she refuses to make saying that it's my "treat" recipe when she's craving it.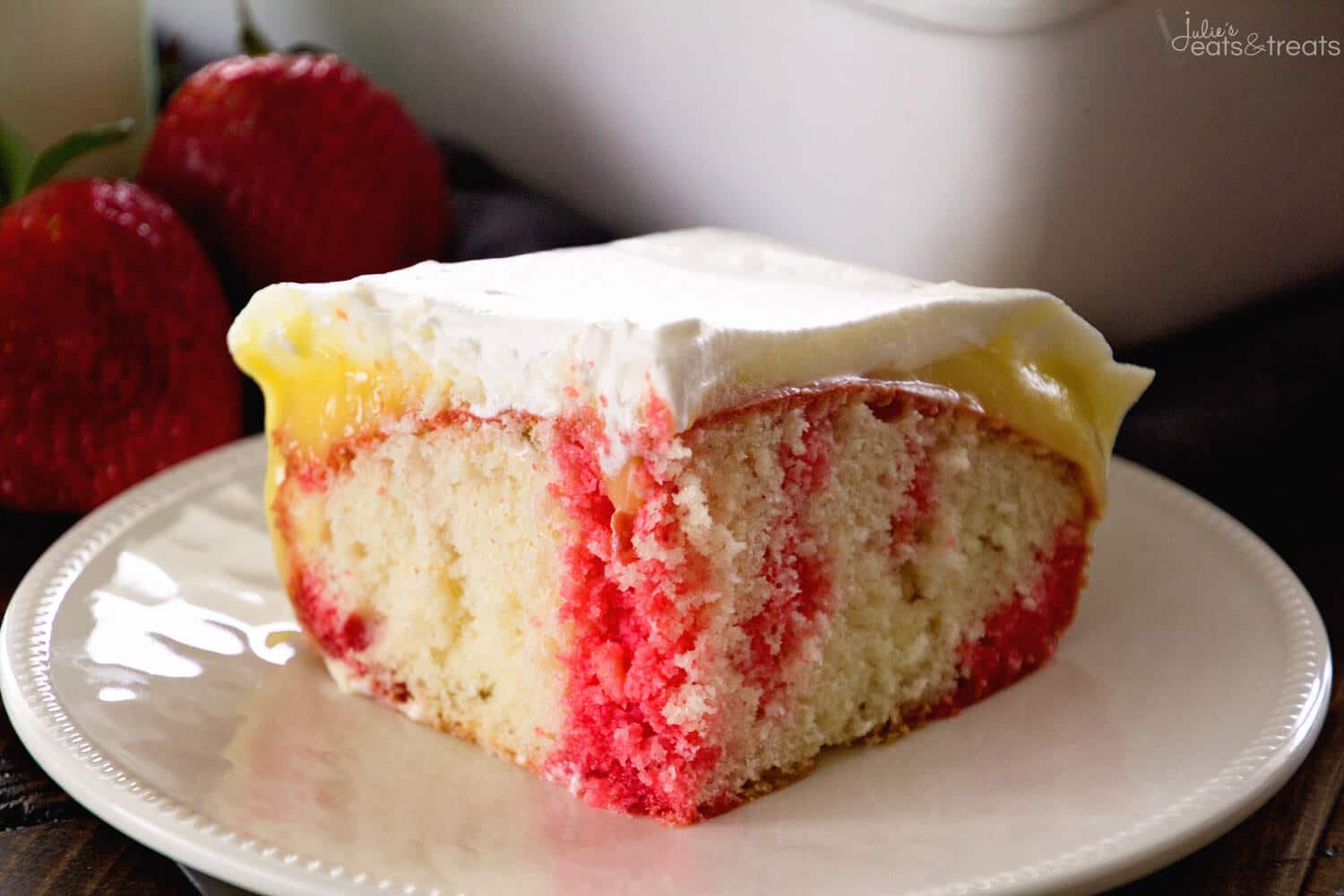 My little bro also loves these, so I made sure to invite him over to or I wouldn't hear the end of it!  Plus I had all the ingredients on hand which is an extra WOOHOO in my life. I try to avoid the grocery store as much as possible because I can never walk out of there with just what I went for even if it was a box of cake mix!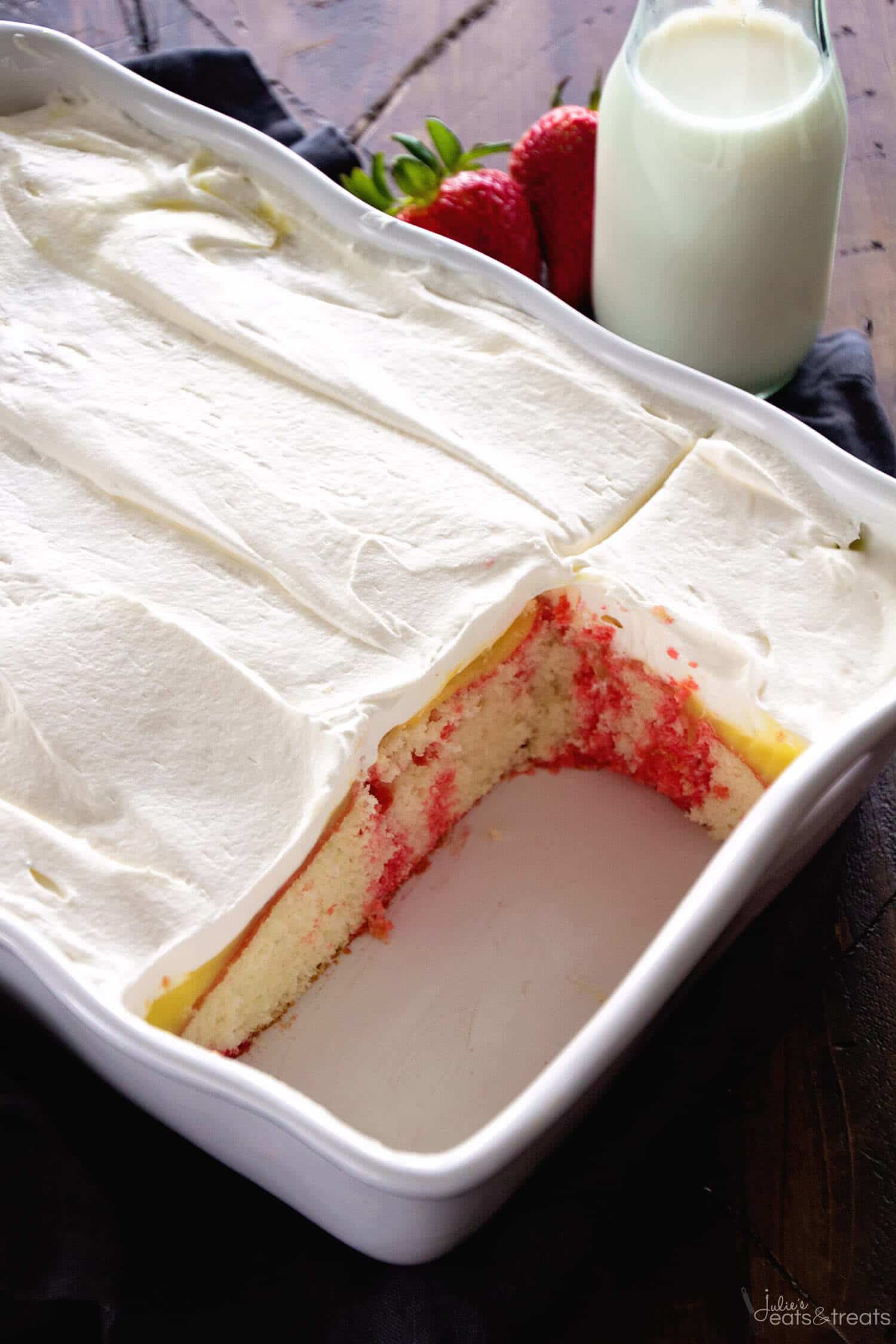 Now I couldn't just leave the cake as is could I? I jazzed it up with a layer of vanilla pudding between the cake and the cool whip layer. It was terrific. If you don't have vanilla pudding mix you surely can get by without it, but it was fun to dress it up a bit. I used all sugar free mixes but you can use the regular ones too. I knew it was a hit when Mom said, "You will blog this one right?!"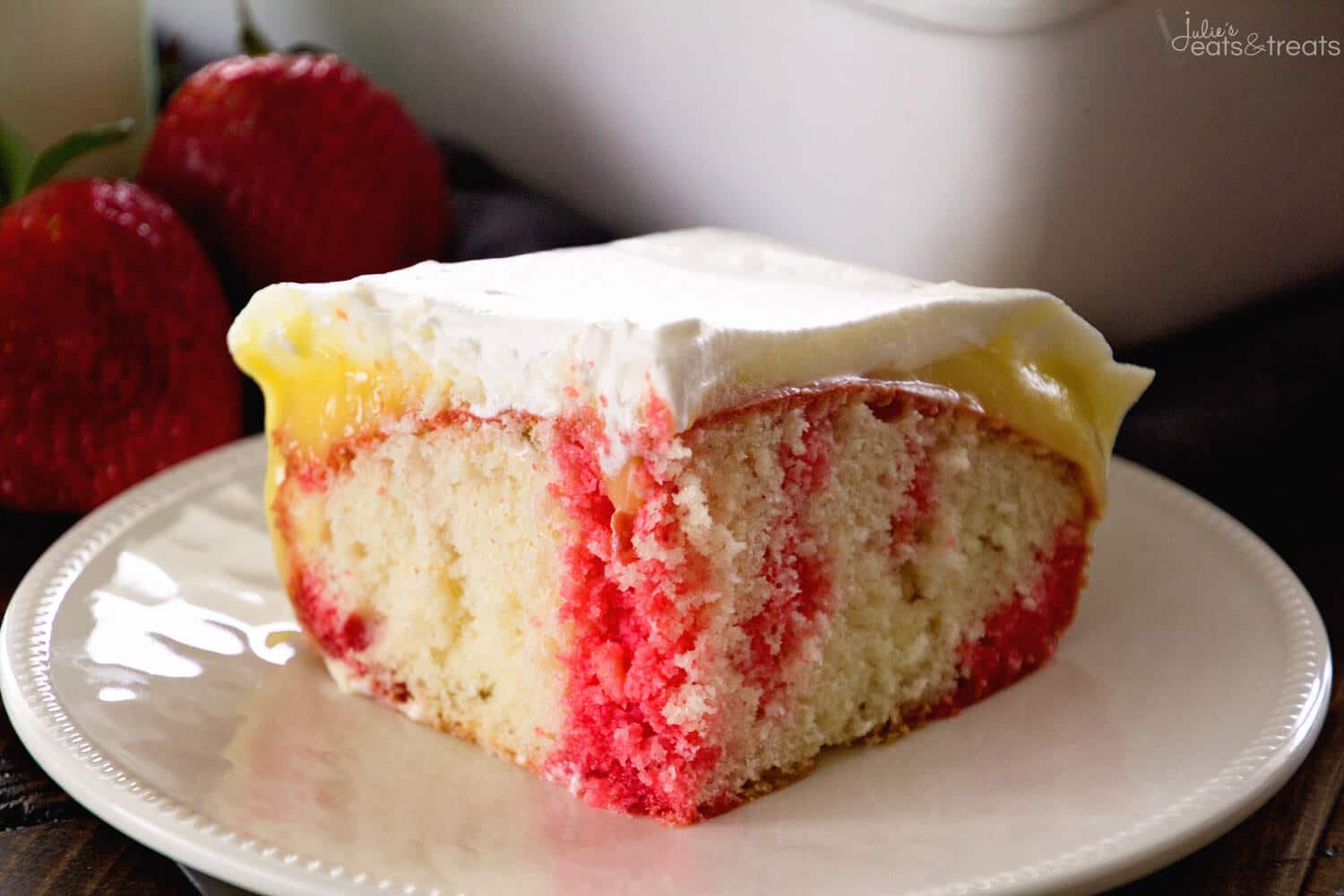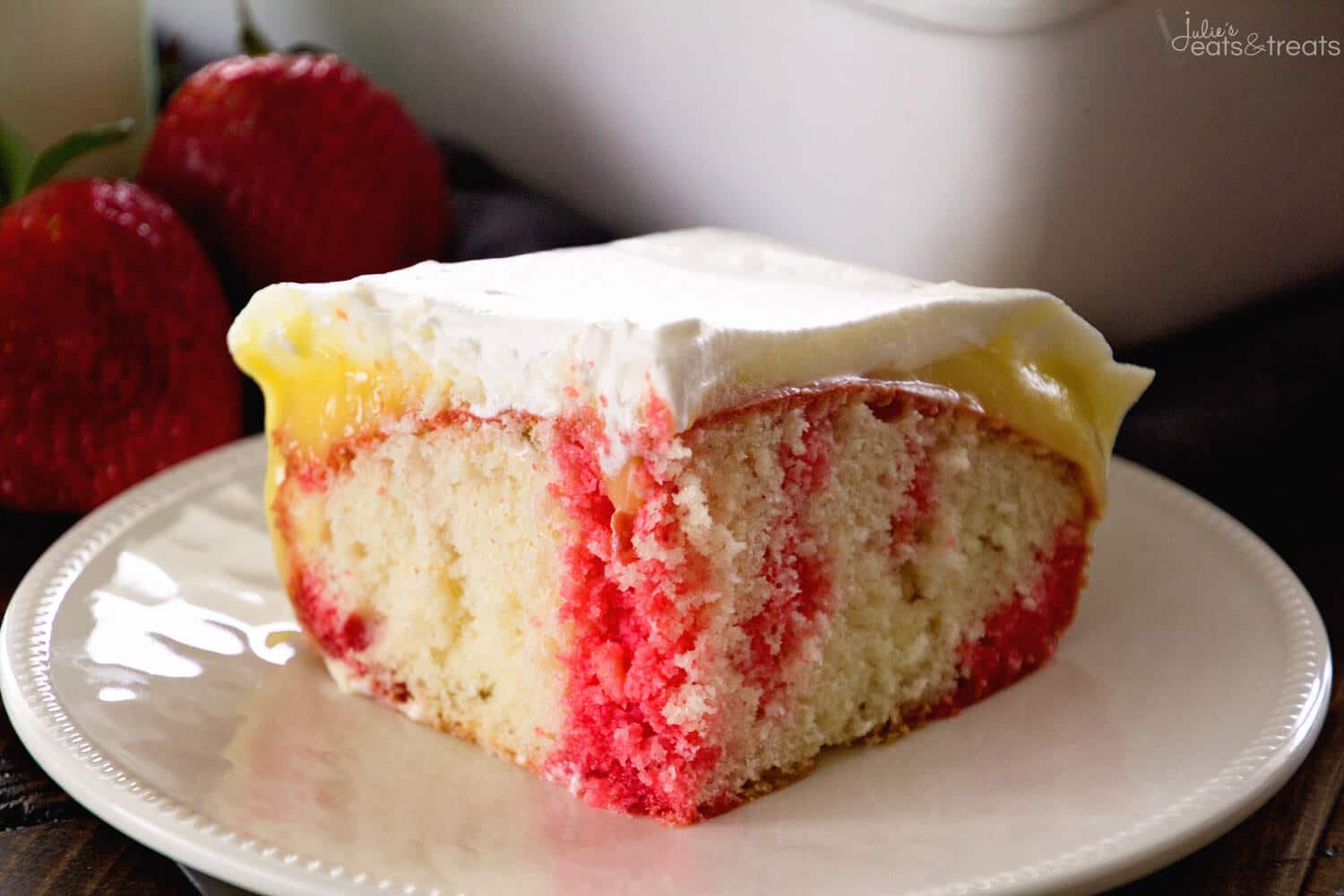 Strawberry Vanilla Poke Cake
Ingredients
1

(16.25 oz) box white cake mix (prepare with ingredients on box)

1

box (.3 oz) strawberry jello mix sugar-free

1

(3.4 oz) box instant vanilla pudding mix sugar free

1

container (8 oz) cool whip

1 1/2

c. water

2

c. milk
Instructions
Prepare your cake as it calls for on the box. When the cake is done baking poke holes in the cake with a the handle end of a wooden spoon. Place in the fridge to chill for 3-4 hours.
Prepare Jell-O with 1 c. boiling water and 1/2 c. cold water. Mix together until jello mix is dissolved. Pour over the cake. This will seem like a lot of liquid but the cake will absorb it and it won't become mush.
Place the cake in the fridge while you prepare the vanilla pudding mixture. Mix the vanilla pudding with 2 c. milk. Let it sit until soft set. Smooth over the top of your cake. Top with the cool whip.
Things You Might Need for this Recipe!
Craving More Poke Cake?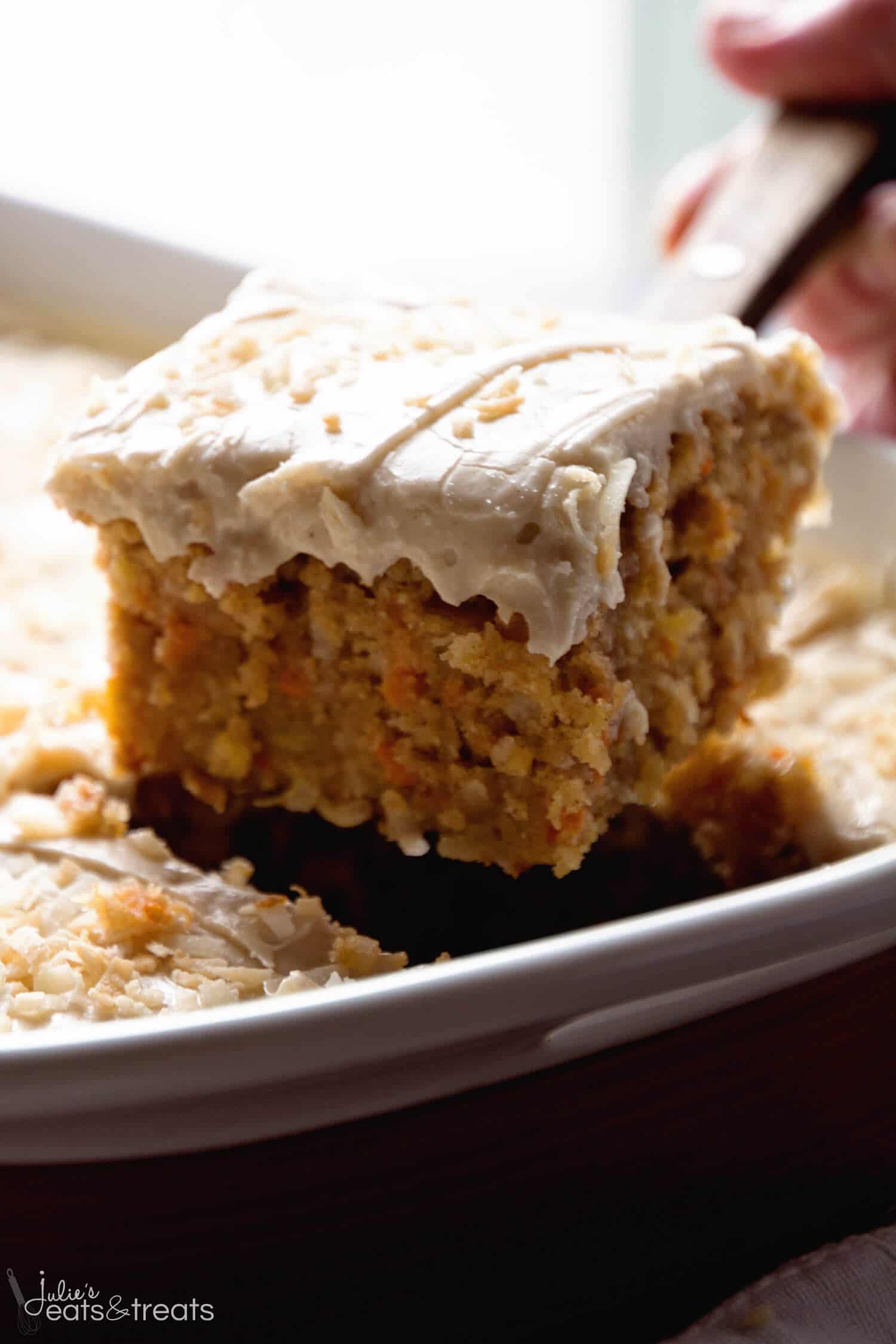 Gooey Cinnamon Carrot Poke Cake ~ Amazingly Moist Cake Stuffed with Carrots, Coconut, Pineapple, Topped with a Buttermilk Glaze and Cinnamon Cream Cheese Frosting!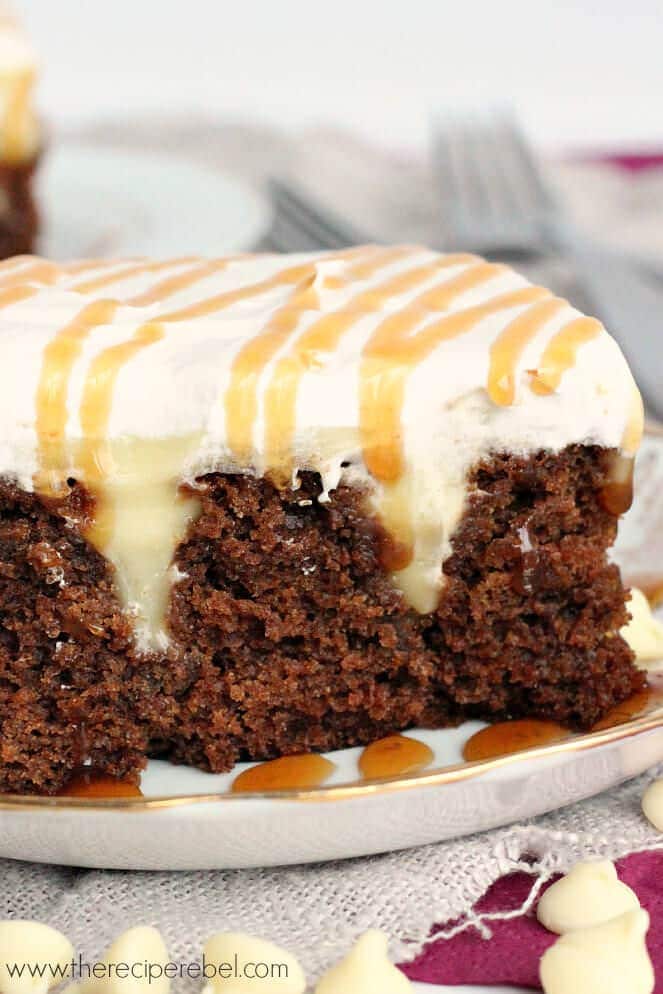 White Chocolate Gingerbread Poke Cake ~ Delicious, Moist Gingerbread Cake Layered with White Chocolate Pudding and Cool Whip!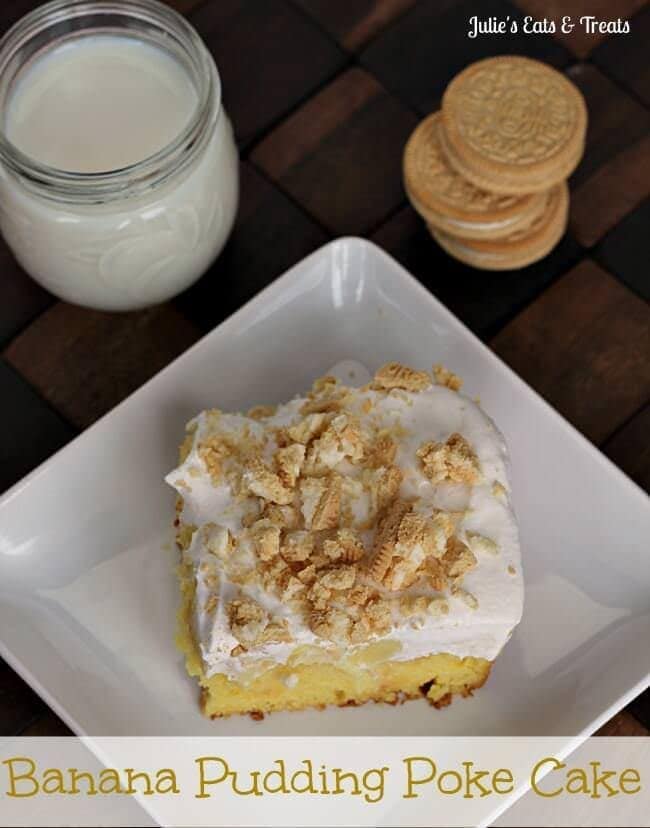 Banana Pudding Poke Cake Recipe ~ Moist, Delicious Poke Cake Layered with Banana Pudding, Frosting and Topped with Golden Oreos!