This quick and easy dinner recipe features your favorite Ramen Noodles! Pork Stir Fry is a fun and delicious twist on Ramen Stir Fry. This will be your family's new, favorite dinner recipe!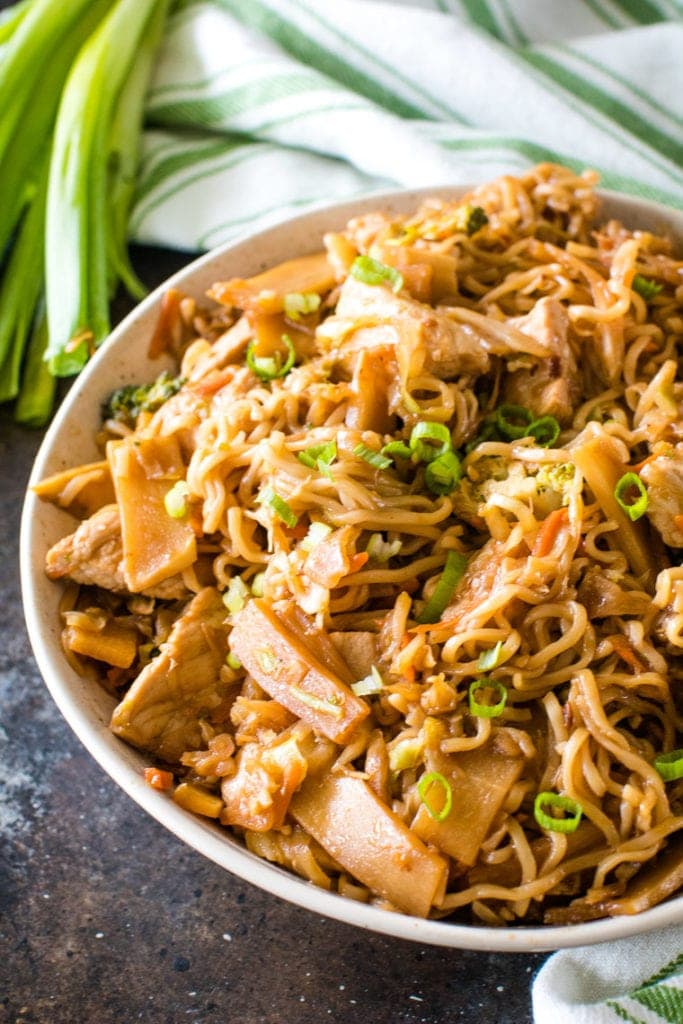 Pork Stir Fry
The night I made this wonderful Pork Stir Fry my niece had called to see if she could come swipe a part for the Wii she had broke and NEEDED immediately. She was going to die if she couldn't play her Wii, so obviously because I'm a cool aunt I saved her.
[et_bloom_inline optin_id="optin_2″]
When she showed up with her Mom I was busy sitting on the floor photographing this ramen stir fry. This is a totally normal occurrence in my life and my family seems to have began to feel this is normal too. So I'm chit chatting away, not looking up, while taking my pictures. This may have included yelling at my husband when he flipped on the overhead light, because duh, everyone knows natural light is the winner, artificial is not right?!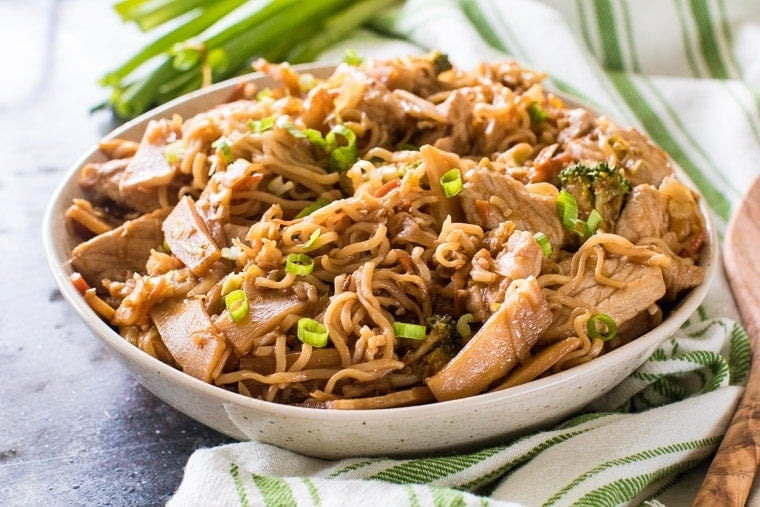 Ramen Stir Fry
Well, when I eventually looked up there was a random girl in my living room. I immediately looked at her and said, "You must think I'm very odd right now." She just grinned and giggled. Yes, yes, now she thinks my niece has a weird aunt. But hey, I do it for you guys! So I'll be weird so you can keep coming back for insanely yummy dishes.
This is a bit out of my husbands "comfortable" food range. I, on the other hand, was SUPER excited about it probably because it was out of the "normal". I was a tad bit nervous of what Miss K was going to do with ramen stir fry because she's going through one of those, I like it today, I'm not going to like this tomorrow stages. My saving grace, there is always grilled cheese she likes everyday.
SHOPPING LIST FOR RAMEN STIR FRY
reduced-sodium soy sauce
ketchup
Worcestershire sauce
sugar
crushed red pepper flakes
canola oil
boneless pork loin chops
broccoli florets
coleslaw mix
can bamboo shoots
garlic cloves
ramen noodles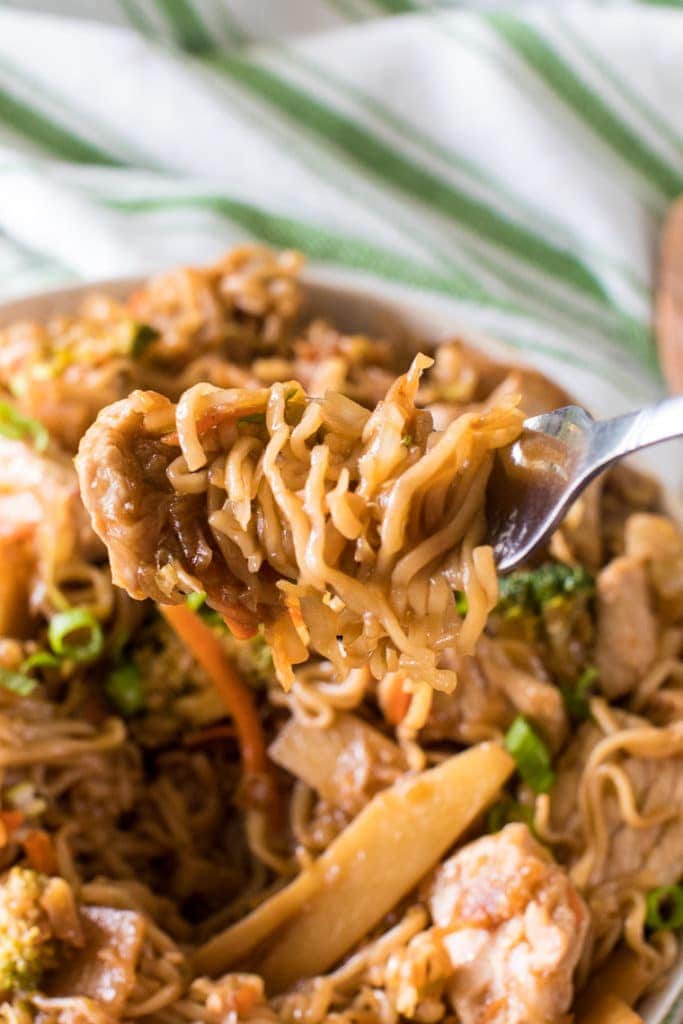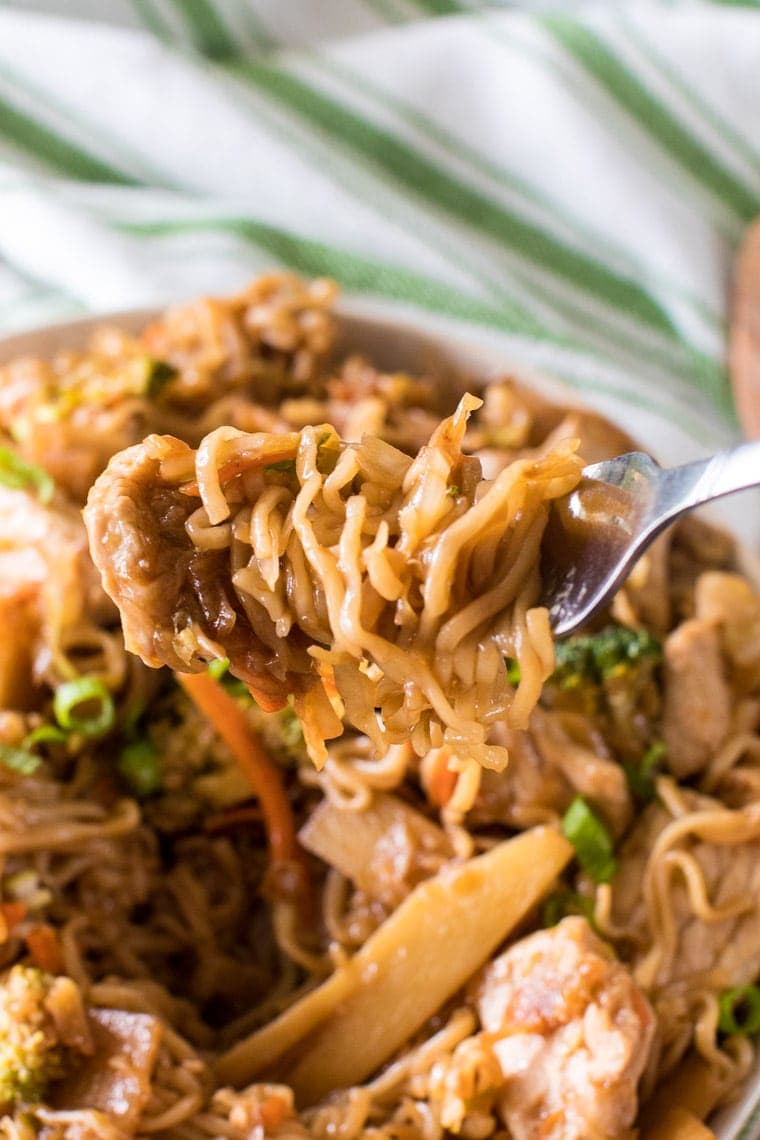 Ramen Noodle Stir Fry
I'm proud to report that she was two fisting noodles into her mouth as fast as she could. Ramen Noodle Stir Fry was Miss K approved! As for the hubs, he informed me if I'd just make the Ramen noodles and pork he'd be good. Heck, if I should sneak anything healthy into it!
HOW DO YOU MAKE PORK STIR FRY?
Whisk first five ingredients together.
Heat 2 tsp oil in a large skillet.
Add pork and cook until no longer pink, remove from pan.
Cook broccoli for 3 minutes. Add coleslaw mix, bamboo shoots and garlic.

Stir Fry the vegetables 3-4 minutes or until broccoli is crisp-tender.

Stir in soy sauce mixture and pork.
Cook noodles according to package directions, drain

Add noodles to the pork mixture, toss to combine.
WHAT KIND OF PORK DO YOU USE FOR STIR FRY?
I recommend boneless pork loin chops for ramen noodle stir fry, though you can also use pork tenderloin.
HOW LONG DOES IT TAKE TO MAKE RAMEN NOODLE STIR FRY?
You're going to love pork stir fry because it comes together so quickly! Start to finish in just 30 minutes – who doesn't love that?!! Plus you can also substitute with your favorites vegetables if you want to mix things up a bit. I love this meal, it's easy and uncomplicated perfect for busy Moms!
More GREAT Asian recipes to try!
[et_bloom_inline optin_id="optin_2″]
WATCH THE STEP BY STEP VIDEO FOR THIS PORK RAMEN STIR-FRY RECIPE BELOW:
If you enjoy watching these videos make sure you subscribe to my YouTube Channel to be notified each time a post a new video!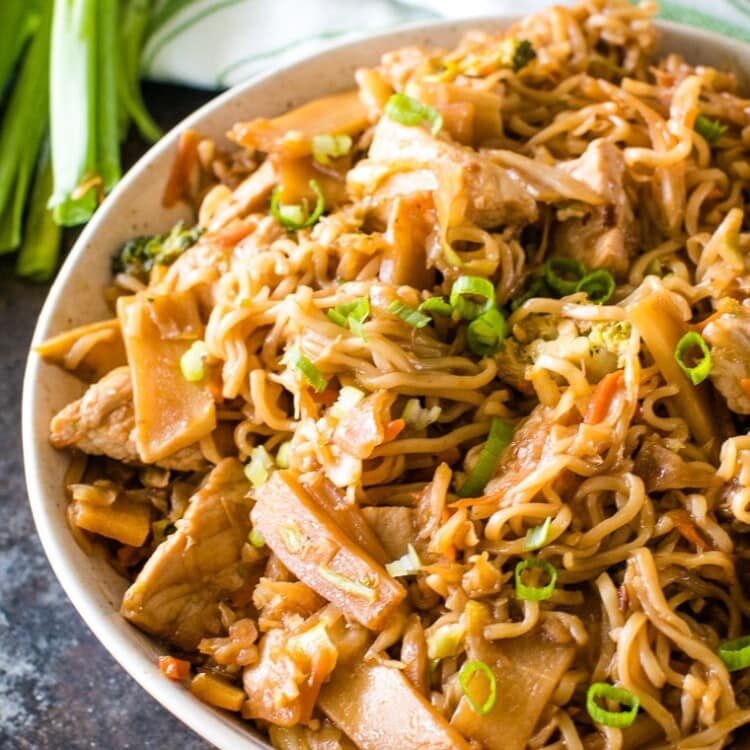 Pork Ramen Stir-Fry
Ramen Noodle stir fry adds a fun spin on your typical pork stir-fry that you'd normal serve over rice with a delicious extra crunch from coleslaw mix!
Ingredients
1/4

c.

reduced-sodium soy sauce

2

Tbsp

ketchup

2

Tbsp

Worcestershire sauce

2

tsp

sugar

1/4

tsp

crushed red pepper flakes

3

tsp

canola oil

divided

1

lb

boneless pork loin chops

cut in 1/2 in strips

1

c.

broccoli florets

4

c.

coleslaw mix

1

can

8oz bamboo shoots, drained

4

garlic cloves

minced

2

pkg

3 oz each Ramen noodles
Instructions
Whisk the first five ingredients together in a small bowl.

In a large skillet, heat 2 tsp oil over medium heat. Add pork and cook until no longer pink. Remove from pan.

Add remaining oil to pan and cook broccoli for 3 minutes. Add coleslaw mix, bamboo shoots and garlic. Stir Fry 3-4 minutes or until broccoli is crisp-tender. Stir in soy sauce mixture and pork. Heat through.

Meanwhile, cook noodles according to package directions. Discard seasoning mix from Ramen noodles. Drain and then add noodles to the pork mixtures.

Toss to combine.
Nutrition Information
Serving:
1
,
Calories:
324
kcal
(16%)
,
Carbohydrates:
26
g
(9%)
,
Protein:
30
g
(60%)
,
Fat:
11
g
(17%)
,
Saturated Fat:
3
g
(19%)
,
Cholesterol:
75
mg
(25%)
,
Sodium:
782
mg
(34%)
,
Potassium:
1145
mg
(33%)
,
Fiber:
7
g
(29%)
,
Sugar:
13
g
(14%)
,
Vitamin A:
680
IU
(14%)
,
Vitamin C:
141.7
mg
(172%)
,
Calcium:
147
mg
(15%)
,
Iron:
2.9
mg
(16%)