Love Zucchini Bread so much you wish you could have it all the time? Now you are in luck! Have it with your breakfast with these amazing Zucchini Bread Pancakes!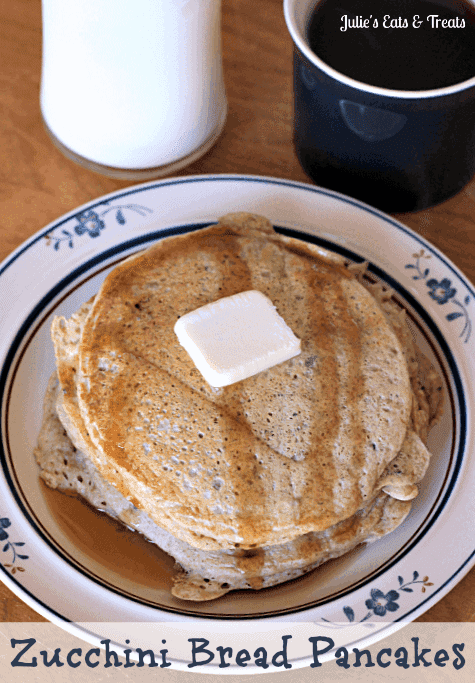 Fall is sure in the air around here. In the mornings I wake up to that crisp air that reminds me of walking out to the school bus with leaves covering the ground. The leaves aren't covering the ground yet but by the feel in the air it might not be long. Then I went and looked at the forecast and it looks like it's going to be close to 90 degrees on Thursday. There went that theory out the door!
I'm excited for fall. It's one of my favorite seasons. I'm dreaming of all kinds of pumpkin and apple desserts and we will throw in a few Halloween themed dishes too! There's nothing better than coming home at night and throwing on my sweats and hoodie and hunkering down for the night. Ahhhh this makes me excited! Throw in some football games with yummy appetizers and what's a girl not to love? Plus I love my Scentsy and I'm so excited for all the fall scents. In fact I broke down and tried out the new Pumpkin Marshmallow scent tonight and it's simply amazing!
It was a rainy and dreary day today and if the hubby was home I think I might have made this recipe again for supper because in my opinion breakfast for supper on days like this is a marvelous invention. Either that or something in the crock pot or soup. Wait. Soup in the crock pot. Now we are talking! Sweet. Another thing I'm excited to make this fall.
Ok where were we? Back to this recipe. My wonderful coworker brought a bag of zucchini to share and I snatched up a few. I've been dieing to try out this recipe I've had "pinned" on Pinterest. Addicting website I tell you. I've got a gazillion recipes and add about 20 more a day. I could cook 12 hours a day for a year and I wouldn't be able to make them all. Wow I'm having a hard time focusing tonight! The recipe….I like to try out new things with zucchini and this sounded wonderful. It's like a pancake and zucchini bread mixed into one yummy creation. It's a bit sweet but just a bit so it's still great like a pancake. If you are trying to use up all that zucchini before you start tackling those yummy fall recipes I would definitely try this one out. I'll give you fair warning that it makes a ton of pancakes so if it's just two of you I would cut it in half or freeze the extras. Enjoy!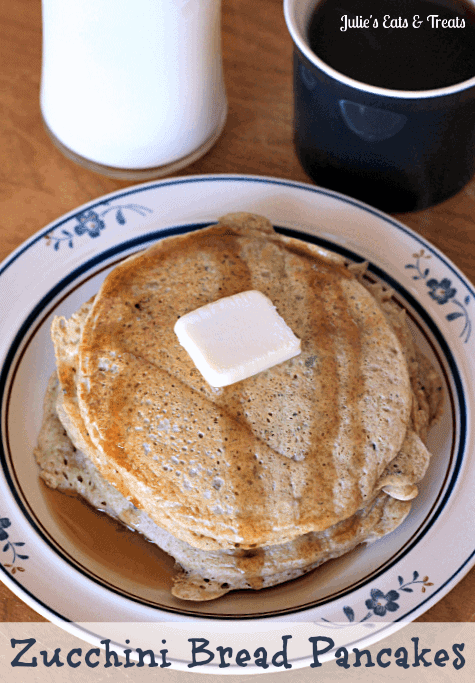 Zucchini Bread Pancakes
Love Zucchini Bread so much you wish you could have it all the time? Now you are in luck! Have it with your breakfast with these amazing Zucchini Bread Pancakes!
Ingredients
1.

c

all purpose flour

3/4

c.

whole wheat flour

1

tsp

salt

4

tsp

baking powder

3

Tbsp

sugar

1

tsp

cinnamon

1/4

tsp

nutmeg

1 1/2

c.

milk

2

eggs

2

c.

zucchini

shredded

1

tsp

vanilla

3

Tbsp

butter

melted
Instructions
In a large mixing bowl, combine dry ingredients: flour, salt, baking powder, sugar, cinnamon, and nutmeg. In another bowl, whisk together milk, eggs, zucchini, vanilla, and melted butter. Pour wet ingredients into dry ingredients and stir until well-combined.

Coat a griddle with butter or spray with cooking spray and set to medium-high heat. Drop 1/4 c. of batter onto the griddle; cook 1-2 minutes on each side, until brown and cooked through.
Freezing Directions
Flash freeze on a baking sheet lined with parchment paper. When frozen, transfer to gallon freezer bag. To defrost, place three pancakes on a plate and microwave for 30-60 seconds, until warm throughout.
Nutrition Information
Serving:
1
,
Calories:
491
kcal
(25%)
,
Carbohydrates:
75
g
(25%)
,
Protein:
16
g
(32%)
,
Fat:
15
g
(23%)
,
Saturated Fat:
8
g
(50%)
,
Cholesterol:
113
mg
(38%)
,
Sodium:
742
mg
(32%)
,
Potassium:
1155
mg
(33%)
,
Fiber:
7
g
(29%)
,
Sugar:
16
g
(18%)
,
Vitamin A:
765
IU
(15%)
,
Vitamin C:
21.2
mg
(26%)
,
Calcium:
377
mg
(38%)
,
Iron:
4.3
mg
(24%)