Cashew Coleslaw Salad ~ Creamy Coleslaw Loaded with Cauliflower, Cashews and Bacos!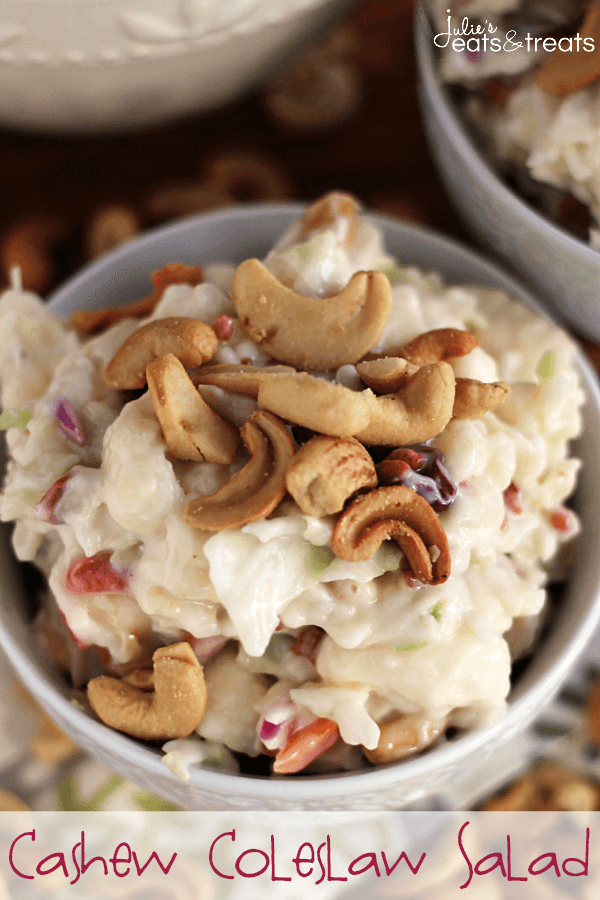 Is this week over yet so we can have a long weekend? It's a whirlwind of a week around my house and I can't wait till it's over. I looked at the hubby last night and asked when did life get so busy? Something has got to go. He informed me his life isn't so busy he just works a lot. I can't say he doesn't. He's a carpenter and owns his own business along with his older brother and living in the great land of Minnesota you have to make the days count when you have good weather! It's so busy that I'm eating lunch and posting this over my noon hour because I knew you had to have this recipe in case you are looking for a great salad for the holiday weekend. Tonight we have a "cook-out" fundraiser for our Relay for Life team. Relay for Life is near and dear to our hearts. My hubby's mother passed away from cancer a few years ago and my grandpa passed away from cancer. We have a Relay for Life team every summer and I also serve on the county Relay for Life committee.. On to the recipe that I am sharing with you. This is one of my favorites and also my wonderful mother's favorite. We were just talking about how we wait for special events so we can make this and eat it too. It's a little bit of a twist on just plain coleslaw and it adds a special crunch to it. I'm all about the crunch! This would make a perfect salad to bring to your 4th of July picnics this weekend! Enjoy!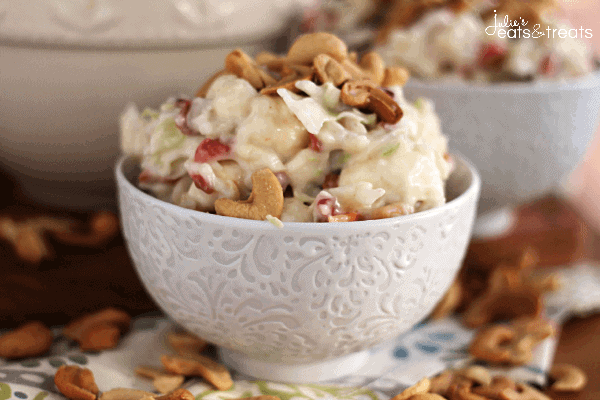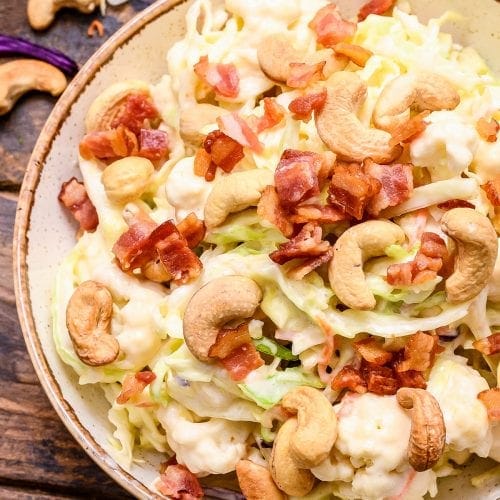 Cashew Coleslaw Salad
Easy homemade coleslaw salad with the addition of chopped cauliflower, bacon and cashews.
Print
Pin
Rate
Ingredients
1/3

c.

sugar

2

c.

Miracle Whip

1/2

head cauliflower

cut up

1

16 oz bag coleslaw

1

c.

cashews

1/2

c.

chopped bacon
Instructions
Mix sugar and Miracle Whip. Add coleslaw and cauliflower. Refrigerate for 2 hours or until serving.

Right before serving add cashews and bacon.
Notes
How far advance can I make it?
The salad holds well in the refrigerator for up to a day, so if you want to make it the night before you want to serve it that will work! Leftovers will keep for three to four days in the refrigerator, but after a couple of days the dressing may break down a bit, so it's a good idea to use up the leftovers within a day or so.
Can I use mayonnaise instead of Miracle Whip?
Miracle Whip and mayonnaise are made with the same ingredients but Miracle Whip has a few more ingredients that give it a sweeter and little spicier flavor than mayo. So, yes you can use them interchangeably but the salad will be less sweet if you use mayo.
How long can it sit at room temperature?
Whether you use Miracle Whip or mayo you shouldn't let the slaw sit out at room temperature for too long. The rule of thumb is up to two hours, but if it's warm or hot I would put it back in the fridge sooner. When I serve it for parties I wait to bring it out until just before we plan to eat it and then, once everyone has helped themselves, I put it back in the fridge. 
Just to be safe you can put ice in a bowl and then place the bowl of salad on top of it so it will keep it cold while you serve it. 
Nutrition
Calories:
224
kcal
|
Carbohydrates:
21
g
|
Protein:
7
g
|
Fat:
13
g
|
Saturated Fat:
2
g
|
Cholesterol:
13
mg
|
Sodium:
490
mg
|
Potassium:
276
mg
|
Fiber:
2
g
|
Sugar:
13
g
|
Vitamin A:
65
IU
|
Vitamin C:
16.1
mg
|
Calcium:
27
mg
|
Iron:
1.7
mg
LEAVE A COMMENT
Looking for more tasty salads?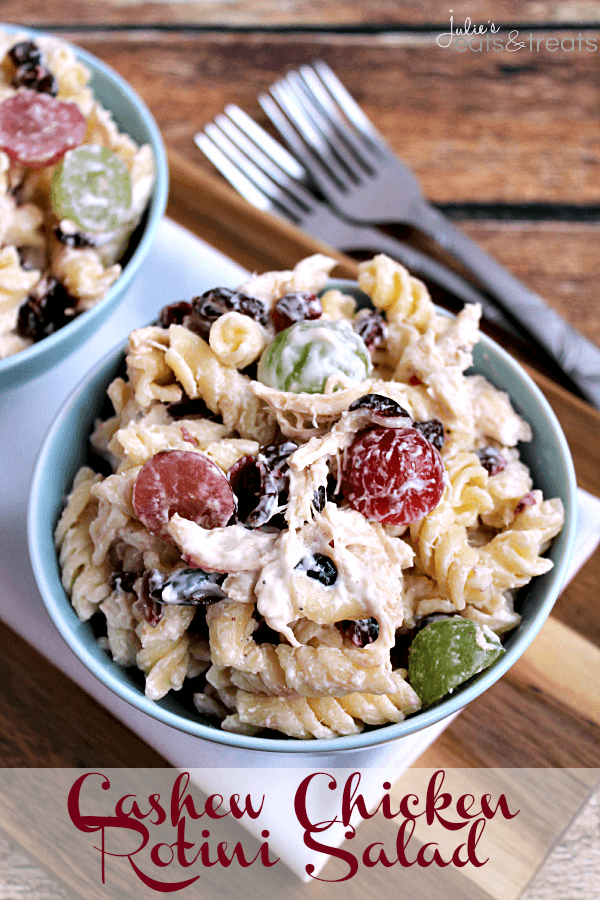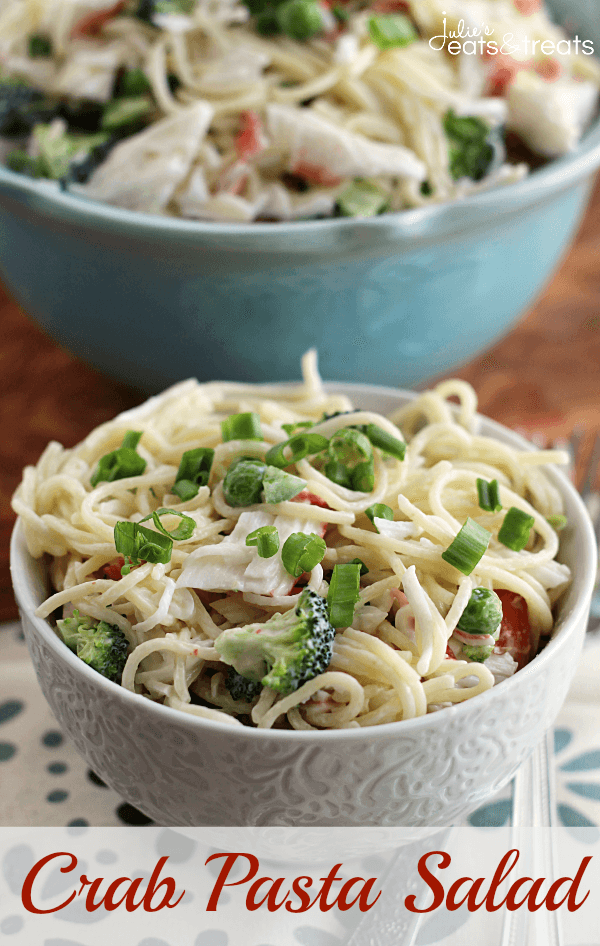 Crab Pasta Salad ~ Pasta Salad Loaded with Crab Meat, Peas, Broccoli, Green Pepper and Onion!