Chocolate Zucchini Cake with Chocolate Chips
Chocolate Zucchini Cake with Chocolate Chips is a great dessert recipe to use up all your zucchini! This Chocolate Zucchini Cake is dense, tender and loaded with chocolate chips. No worries. You won't even know it has zucchini in it, it just adds moisture! Even with sneaky vegetables it's amazingly rich and decadent.
This Zucchini Cake is a family favorite dessert along with our famous Zucchini Bread. If you are a chocolate lover then don't miss out on Double Chocolate Zucchini Bread. Remember to welcome fall flavors in with this to-die-for Apple Zucchini Bread!
The BEST Chocolate Zucchini Cake!
Every summer I prepare for all of the zucchini we'll get from friends and neighbors because (and if you garden you know this!) it's grows like crazy and we often open our front door to see a bag of zucchini left by someone who had too much to use themselves. It's all right by me because I love fresh zucchini and one of my favorite ways to use it is in this Chocolate Zucchini Cake!
Oh, sure, we love to grill it and roast it for savory recipes but, seriously, I love to use zucchini in cakes and quick bread. It adds so much moisture and you can't even taste it. My kids gobble this cake up and they don't even know there's zucchini in it! All they know is that it's rich and chocolatey with lots of chocolate chips.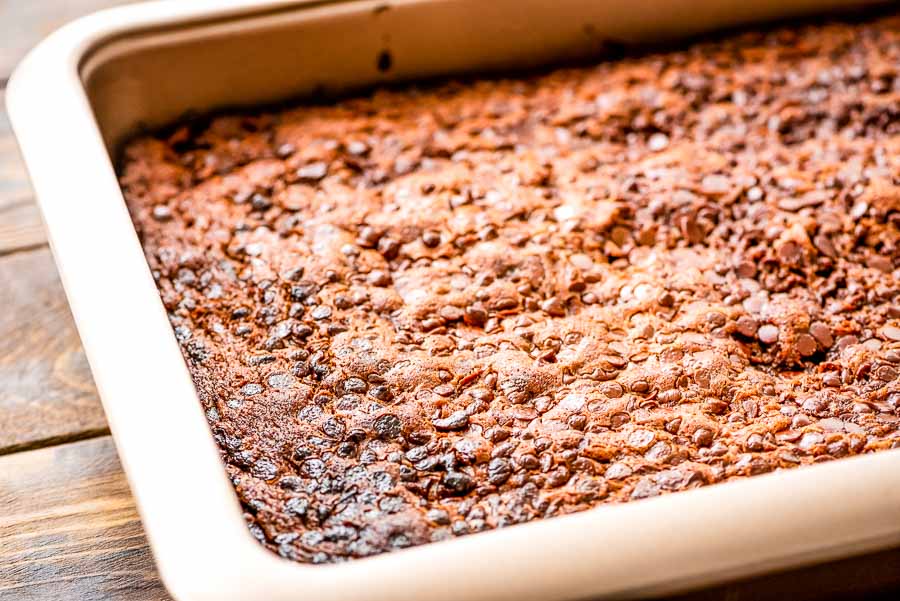 Chocolate Chip Zucchini Cake with Chocolate Chips!!
This recipe is passed to me by my sister-in-law. In fact, I think as soon as she entered our lives we got this recipe from her! She's gotta earn her keep somehow right? Actually, I love her dearly and this Zucchini Cake was just an added bonus. But hey I'll take it!
I'm so glad she shared it because we love this chocolate zucchini cake! There are two whole cups of grated zucchini in it that adds tons of moisture to the cake, but you don't even know it's in there! It has the best chocolate flavor and it's topped with semi-sweet chocolate chops that melt over on top of the cake as it bakes, so you don't need any frosting – it's so rich all on its own!
What do I need to make Chocolate Chip Zucchini Cake?
If you'd rather skip my (very helpful, I think) tips and tricks, essential cooking info, and similar recipe ideas – and get straight to this delicious easy Chocolate Zucchini Cake recipe – simply scroll to the bottom of the page where you can find the printable recipe card.
butter
canola oil
white sugar
eggs
buttermilk
vanilla
flour
cocoa powder
baking powder
salt
zucchini
semi-sweet chocolate chips
How do I make Chocolate Zucchini Cake?
First things first! I use two bowls for this chocolate zucchini cake: one to combine the wet ingredients and one to combine the dry ingredients together. This makes it so much easier to add the dry ingredients to the wet ones without over mixing the batter! If you over mix the batter the cake won't be as tender so it's worth the extra bowl!
After you cream the butter and sugar together with the oil and eggs add the buttermilk and vanilla.
Sift the flour with the cocoa powder, baking powder, and salt. Add the dry ingredients to the wet ones and stir just until combined.
You can use one 9×13-inch baking pan or two 8×8-inch baking pans to bake the cake. Just pour the batter into the pan(s) and sprinkle the chocolate chips over the top of the batter.
If you use a 9×13-inch pan, bake the cake for  40 to 45 minutes at 350F. If you use 8×8-inch pans, bake the cakes at the same temperature but only for 35 minutes.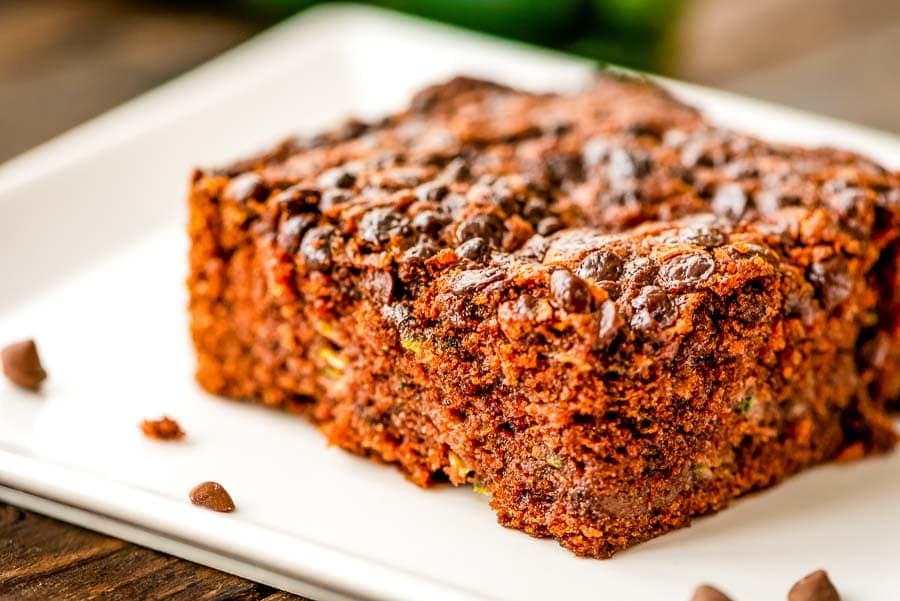 Tips and Tricks on Baking with Zucchini!
What I love about baking with zucchini is that it adds so much moisture. Depending on what you're making you can't taste it at all, like this chocolate zucchini cake. Zucchini is mostly water so when it bakes in the cake it releases all of its moisture and practically disappears.
You don't have to peel the zucchini first, just grate it and you're done! You can use a box grater or you can use the grating attachment on your food processor to grate the zucchini.
You don't want to chop the zucchini with a knife because the pieces will be too big and the zucchini won't disappear into the cake. Not sure my kids would eat cake with big chunks of zucchini in it! Grating it is the way to go!
You need two cups of grated zucchini for this recipe and it's a good idea to use small to medium-sized zucchinis. Big zucchini often have a lot of seeds, which you can remove but it just adds one more step. You don't need to worry about the seeds with smaller ones and you can just grate them up.
Don't squeeze the grated zucchini to remove the moisture! You want all of that moisture to be in the cake.
Tips for this Chocolate Zucchini Cake!
I've already mentioned it, but for the best chocolate zucchini cake use two bowls to make the cake! I know it means one more bowl to wash, but I promise it makes a big difference. The texture of the cake will be so much better because when you use two bowls you don't have to worry about over mixing the cake.
Once you add the dry ingredients to the wet ones you want to mix the batter until it's just combined. That way you won't overwork the flour and your cake will be a lot more tender.
You can make one big cake or two smaller ones just be sure to note the bake times depending on the pan size you use. Two 8×8 cakes will need about 5 to 10 minutes less bake time than a 9×13-inch cake. It's always a good idea to start checking on the cake a little early because, depending on your oven, you may need more or less time to bake your cake. You know when it's ready when an inserted toothpick comes out clean!
You could stir the chocolate chips into the batter but I love how they look sprinkled over the top of the cake. They add some texture and a chocolate layer on the cake. Plus, I love the way the look on the finished cake!
Why do you put zucchini in cake?
There's one main reason to add zucchini to cake: moisture! Zucchini is one of those vegetables that contain a lot of water, but it has a very mild flavor so it's great to add to baked goods because it makes them very moist. As the cake bakes, the zucchini releases its moisture and practically disappears.
Can you taste zucchini in cake?
Most of the time (and, really, it depends on the recipe!) you can't taste zucchini in cake and you definitely can't taste it in this chocolate zucchini cake!
What does Zucchini replace in baking?
Typically, if you're using zucchini in baking, you don't need to add as much oil to the batter! This chocolate zucchini cake has oil but not as much is needed since the zucchini gives the cake so much moisture.
Why does Zucchini make a moist chocolate cake?
It's all about the moisture! When you add zucchini to chocolate cake you can't taste it but the zucchini adds lots of moisture to the cake.
Can I freeze this zucchini cake?
Yes, you can freeze zucchini cake! Just be sure to wrap it tightly before you pop it in the freezer.
WATCH THE STEP BY STEP VIDEO FOR THIS CHOCOLATE ZUCCHINI CAKE RECIPE BELOW:
If you enjoy watching these videos make sure you subscribe to my YouTube Channel to be notified each time I post a new video!
Try it and love it? Rate it, please!!! ?Seriously though a five-star rating below will make my day! If you snap a photo, please be sure tag me on Instagram at @julieseatsandtreats or #julieseatsandtreats so I can see your delicious Chocolate Zucchini Cake!!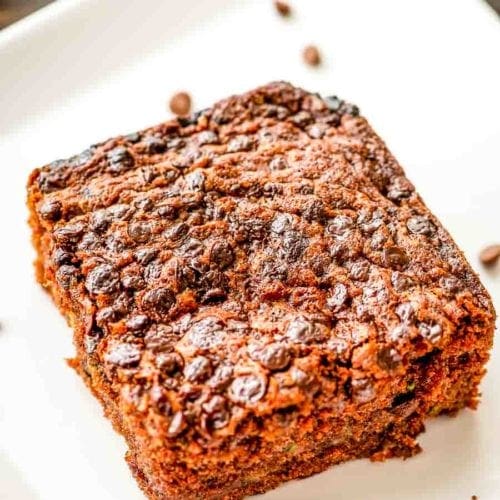 Chocolate Zucchini Cake with Chocolate Chips
Chocolate Zucchini Cake with Chocolate Chips is the best zucchini dessert recipe! Easy, tender, dense and loaded with chocolate flavor!
Ingredients
1/2

c.

butter

softened

1/2

c.

canola oil

1 3/4

c.

white sugar

2

eggs

1/2

c.

buttermilk

1

tsp

vanilla

2 1/2

c.

flour

4

Tbsp

cocoa

1/2

tsp

baking powder

1

tsp

soda

1

tsp

salt

2

c.

zucchini

grated

1

c.

semi sweet chocolate chips
Instructions
In a large mixing bowl cream butter, oil, eggs and sugar. Add buttermilk and vanilla. Mix until combined.

Sift dry ingredients together. Add to creamed mixture until just combined. Stir in zucchini.

Spread in a greased 9x13 inch baking pan or 2 - 8x8 inch pans. Sprinkle chocolate chips over the top.

Bake at 325 degrees for 40-45 minutes for the 9x13 inch pan or 35 minutes for the 8x8 inch pan.
Notes
This Zucchini Cake is perfect for freezing!
Nutrition
Serving:
1
g
Calories:
460
kcal
Carbohydrates:
64
g
Protein:
6
g
Fat:
20
g
Saturated Fat:
8
g
Cholesterol:
38
mg
Sodium:
219
mg
Potassium:
255
mg
Fiber:
3
g
Sugar:
33
g
Vitamin A:
295
IU
Vitamin C:
5.3
mg
Calcium:
41
mg
Iron:
3.1
mg