Making dinner in the Crock Pot is so easy and makes for a stress-free night when things are crazy. We have gathered our favorite easy Crock Pot Dinner recipes. Everything from sandwiches, pasta, soups and more!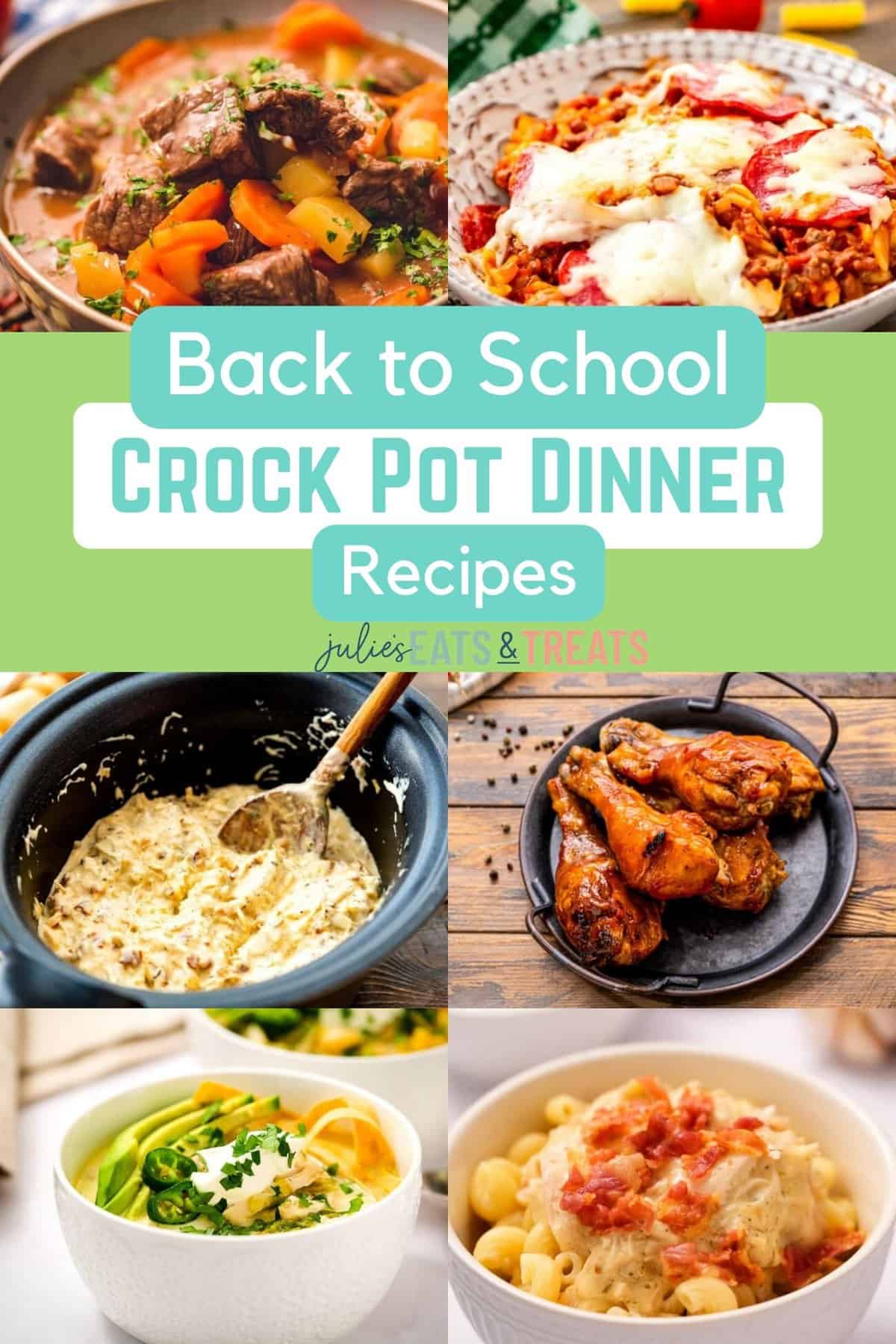 It's that time of year again! The hustle and bustle of the kids going off to school. The schedules that need to be learned and mastered for everyone. It creates a lot of stress in our lives doesn't it?
This amazing round up of Crock Pot recipes is here to help you take the headache out of dinner! Push the easy button and try out a few of these amazing meals that will satisfy the entire family.
They are perfect not only for back to school headaches, but all year long as they take the guesswork out of, "Mom, what's for dinner?"
Try two, try five or try all of these easy slow cooker family meals! Enjoy!
Click any of the headings below to jump straight to that section!
Soup and Stew Recipes
Simmered to Perfection: Hearty Crock Pot Beef Stew that Warms the Soul 🍲❤️
Set it and forget it for a delicious, no-fuss meal that'll leave your family asking for seconds. 📚🥄
Dive into a Bowl of Cheesy Wild Rice Soup 🧀🍚 Warmth and Flavor in Every Spoonful!
Slow Cooked Elegance: Indulge in Creamy Comfort with Crock Pot Cream Cheese Ham & Potato Soup 🥔🧀
Cozy Up to Flavor: Savor the Simmered Goodness of Crock Pot White Chicken Chili 🍲
Pair this Tomato Basil Soup with a grilled cheese for a delicious meal!
Soul-Warming Simplicity with this easy Chicken Noodle Soup made in the Slow Cooker!😋
Wholesome Medley of Flavors Slow-Cooked to Perfection in this easy Beef and Vegetable Soup prepared in your slow cooker.
Sandwich Recipes
Back to School, Back to Flavor: Try Our Italian Beef Recipe for Effortless Weeknight Dinners.
A Flavor Explosion that's Quick, Easy, and Totally Addictive. Get ready to conquer the dinner rush with a dish that'll have your family begging for seconds of this chicken, bacon, ranch mixture served on buns.
Finger-Lickin' Goodness Cooked to Perfection! Tender, juicy chicken breasts slow cooked in bbq sauce great for sandwiches, pizzas and more.
Melty Perfection Awaits: Dive into Hot Ham and Cheese Sandwiches 🥪🧀
🔥 Savory, Tender Pulled Pork slow cooked all day and Bursting with Flavor!
Pasta Recipes
Slow-Cooked Comfort and Cheesy Goodness in Every Bite! A hands off white chicken lasagna made in your crock pot.
Save time without sacrificing taste – a delicious solution for your back-to-school hustle. You'll love the ease of this Lasagna cooked in your Crock Pot for an easy dinner recipe.
Hearty Chili and Creamy Mac in One Bowl that's slow cooked in your Crock Pot.
Cheesy Meatball Bliss: Elevate Your Dinner with Crock Pot Cheesy Meatball Tortellini.
Creamy, Savory, and Oh-So-Satisfying! Pasta served with a tender chicken, bacon, ranch mixture.
Back to School, Back to Simplicity: Serve Up Easy and Delicious Crock Pot Spaghetti 🍝
🧀🍲 A Cheesy Dream Slow-Cooked to Perfection! Kids will gobble up this cheesy Crock Pot Mac and Cheese recipe.
Meatball Goodness in Every Bite!
All the Pizza Flavors in a Warm, Cheesy Dish! Make your favorite pizza casserole in your crock pot!
Chicken Recipes
Elevate your weeknight dinners with these finger-licking wings that are ready to welcome you back to flavor town.
Flavorful Fiesta Awaits: Dive into Crock Pot Spanish Chicken for an easy weeknight dinner.
Enjoy comfort and convenience in every bite with this Slow Cooker Chicken Pot Pie, as you conquer those hectic school days with a satisfying meal that's ready when you are.
A Hearty Blend of Protein and Grains Slow-Cooked to Satisfy at Dinner Time! This chicken and rice dinner is hearty, satisfy and packed with flavor. Make a great meal prep too.
A Sweet and Savory Delight Slowly Infused with Flavor! Hit the easy button with Chicken Teriyaki prepared in your Crock Pot.
Our Italian Crockpot Chicken is a Flavorful Adventure with a Dash of Homey Goodness.
Get ready for a taste-packed journey that'll make your taste buds salsa with Chicken and Rice Fiesta Bowls. 🎉
A Rustic Italian Classic that's Warm, Hearty, and Simply Irresistible! Best part is you make it in your Crock Pot.
Taco Tuesday Made Effortless: Feast on Crock Pot Chicken Tacos 🌮This is an easy three ingredients taco recipe that's mouthwatering.
Slow-Cooked Comfort with a Crispy Twist of Flavor! Crock Pot Chicken Parm is the easiest way to make a classic fave.
Prep, set, and enjoy a stress-free meal that'll keep the whole family smiling. Juicy Crock Pot Chicken Legs that are always a hit dinner recipe. 🙌
Experience the cozy magic of a home-cooked meal with minimal effort. Comfort food at its finest in this easy Crock Pot Chicken and Stuffing.
Beef and Pork Recipes
Tender Deliciousness in Every Bite. Elevate your Crock Pot Roast with this twist.
Fueling up for a successful school year with the ultimate comfort dish: Crock Pot Bacon Cheeseburger Tater Tot Casserole!
Elevate your weeknight dinners with the rich and tender embrace of Mississippi Pot Roast.
A Sweet and Savory Delight Slowly Cooked for Pure Bliss! Savory Crock Pot Pineapple Ham is fancy enough for the holidays and easy enough for the weeknight.
A Mouthwatering Journey of Tender Meat and Bold Flavors!
Get ready to savor the magic of cranberry-infused goodness that'll make your taste buds dance with joy.
Get ready to embrace the heartwarming goodness that only a home-style casserole can deliver. Requested over and over again by our kids.
A Classic Feast Slowly Cooked to Perfection! The ranch gravy on this Crock Pot Roast is epic.
Creamy, Cheesy Layers in this Scalloped Potatoes and Ham!
A Flavorful Journey of Marinated Meat and Colorful Peppers Slowly Cooked to Perfection!
No need to stress – just set it and forget it, and enjoy a cozy meal that'll fuel your family for success.
Get ready to enjoy fall-off-the-bone Crock Pot Ribs without the hassle.
With minimal effort, you'll have a hearty Meatloaf with potatoes and carrots is so convenient on busy school nights.
Desserts
Make weeknight dinners a breeze with this warm and comforting Peach Crips dessert that's as easy as ABC.
Embrace the comforting flavors of fall with this easy, fuss-free dish that's perfect for back-to-school evenings. Serve these Cinnamon Apples over ice cream.