With only six ingredients anyone can make these easy homemade Dinner Rolls! This recipe make soft, light, buttery rolls that are perfect for a holiday dinner or anytime you want them.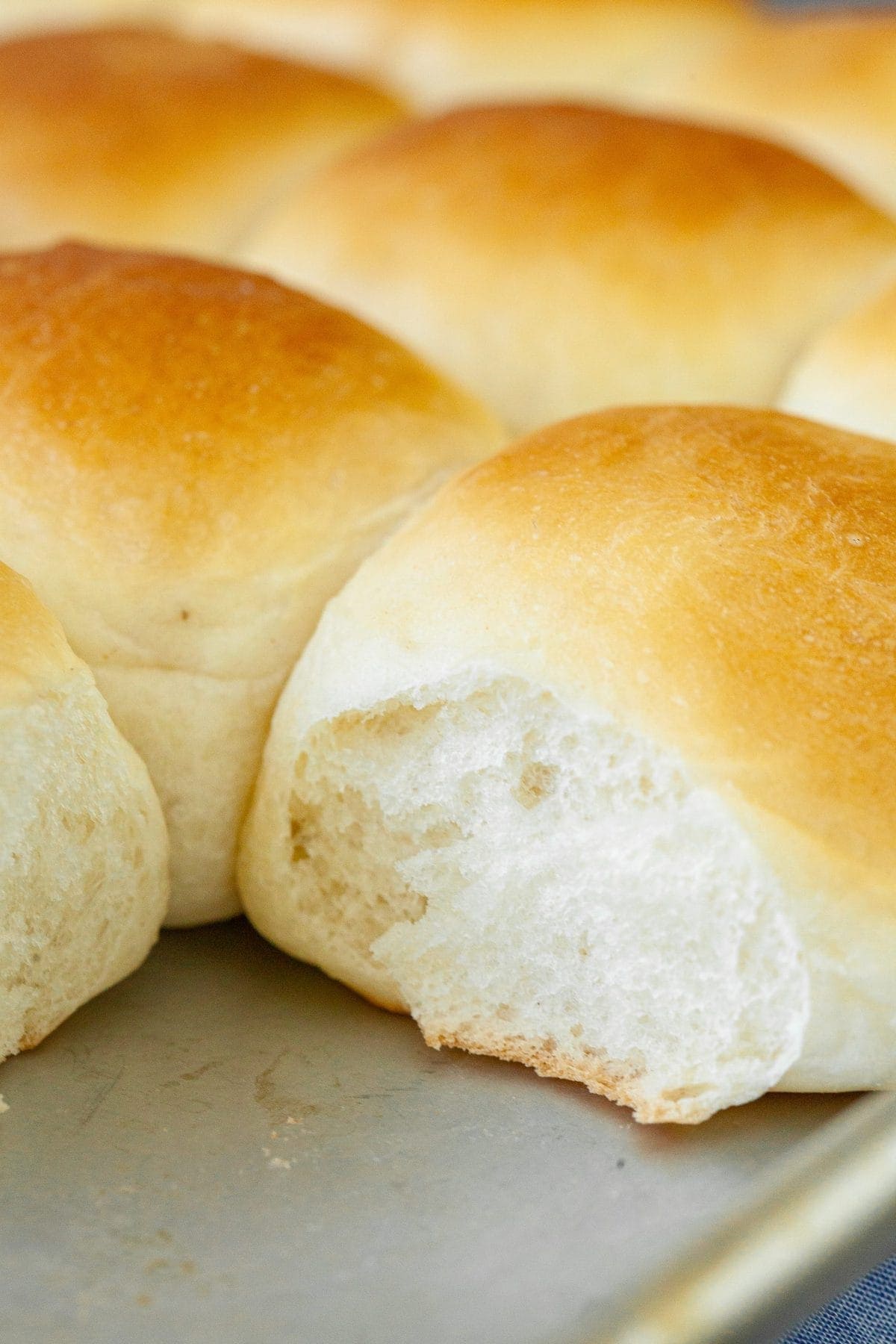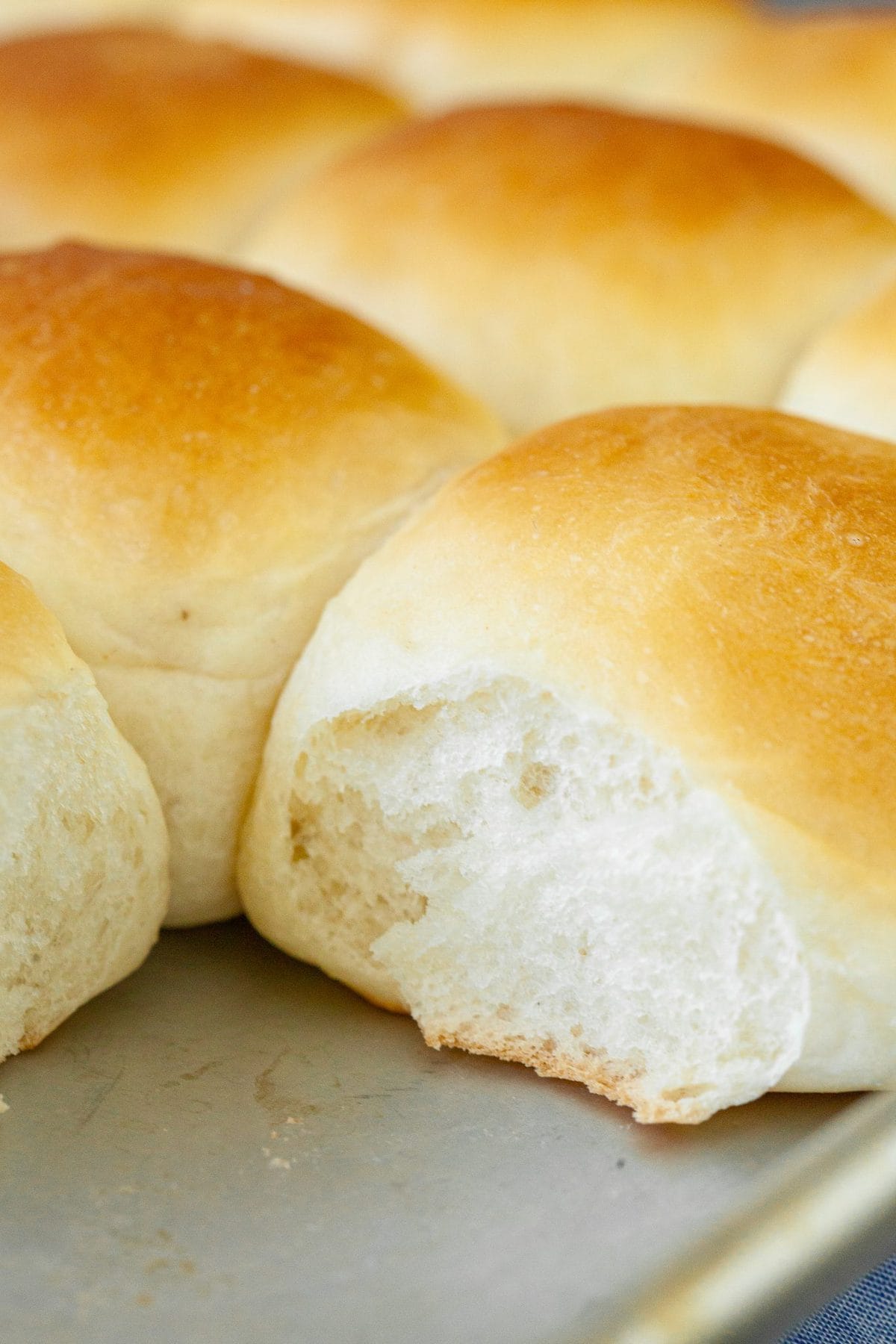 Learn how to make dinner rolls that are light, fluffy and so good everyone will beg you for the recipe! There is nothing better for a special dinner than a batch of homemade rolls and this is my favorite recipe because you don't need to be an expert baker to make them!
You Will Love this Recipe!
These are yeast rolls and I am sharing tons of step-by-step photos plus my best tips so they turn out perfectly!
You only need six ingredients – you probably already have most of them on hand!
They are not difficult to make – they just take time and it's so worth it when you take that first bite. They are so soft and fluffy and so much better than store-bought rolls.
I've made these dinner rolls for so many holidays and they go with everything – honey baked ham, beef stew, pork loin, and turkey! Trust me, you'll want a basket of these on the table for your next holiday dinner!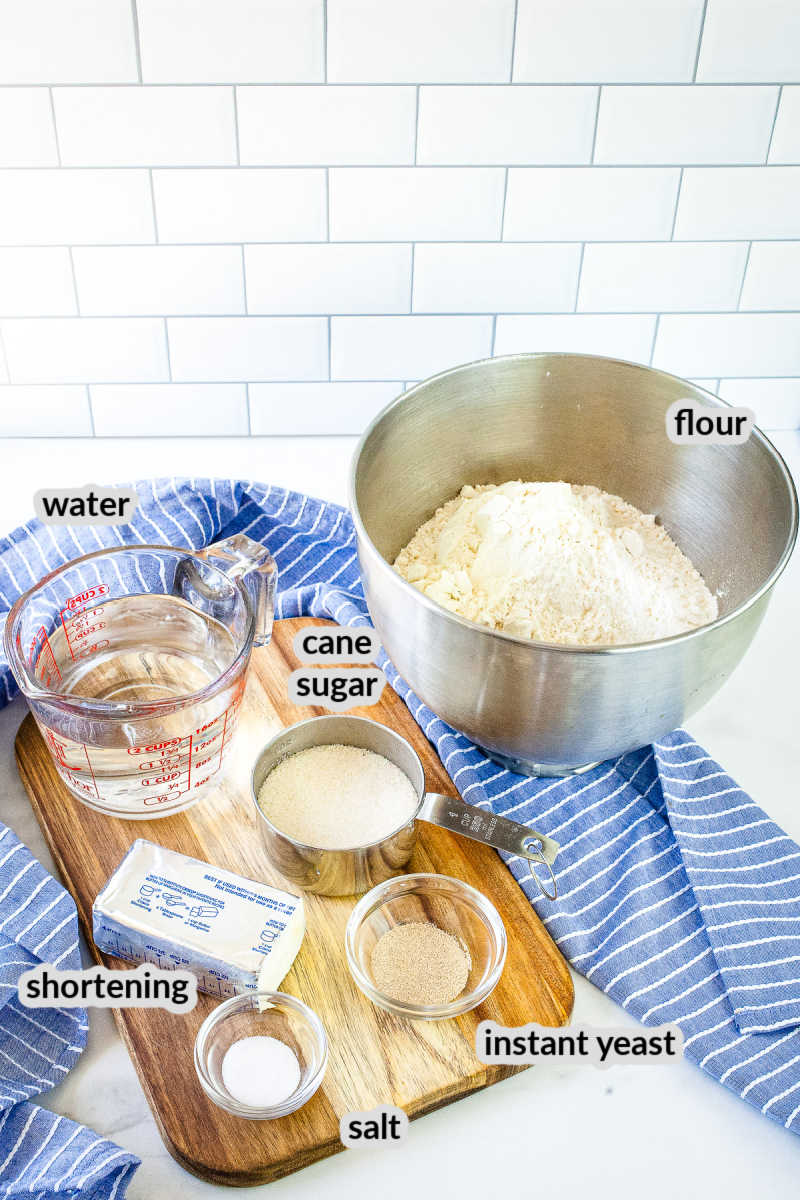 Ingredient Tips!
For this recipe, you will want to use instant yeast. It's not the same as dry active yeast so double check the package when you buy it.
Also, double-check the expiration date on the yeast. If it is expired toss it and use a fresh one otherwise the yeast won't work properly and your rolls won't rise.
You will also need shortening which gives the rolls the softest texture once they're baked. The rolls will also stay softer longer when you use shortening!
You will need warm water to activate the yeast. The temperature should be between 105° and 110°F. If it's too cold the yeast may not activate. If it's too hot it can kill the yeast which means it won't make your rolls rise. So, I recommend using a thermometer to check the temperature of the water, especially if you've never made yeast rolls before.
The sugar sweetens the rolls, but it's also used to feed the yeast, which causes the yeast to emit a gas that makes the rolls to rise. It's probably more scientific than that, but that's it in a nutshell!
There's some salt to flavor the rolls and, of course, all-purpose flour! When you measure the flour be sure to lightly spoon it into the measuring cup and then level it off. This will ensure you don't end up with too much flour in the dough which can make your rolls too dense.
How to Make Soft Dinner Rolls
Activate the yeast: Combine the yeast with the warm water and a small amount of sugar in a small bowl and leave it for 5 to 10 minutes. When it's activated it the mixture will be a little bubbly and foamy.
Mix the dry ingredients: Start by fitting the mixer with the whisk attachment. Whisk the flour, sugar, and salt. Add the shortening and mix until it's worked into the dough. The dough will look crumbly at this point.
Add the yeast: Switch the whisk for the dough hook attachment and pour the yeast mixture into the flour mixture. Mix on low for two minutes and then increase the speed and mix for 10 more minutes. It is during this time that the hook will knead the dough which will develop the gluten in the flour. That's what gives the rolls their structure.
You can tell when it's ready when the dough starts to pull away from the sides of the bowl. The dough will also be elastic and pliable.
First Rise
Grease a large bowl and place the dough in it. Turn it so it is evenly coated in the oil. Cover it with a damp kitchen towel or a piece of plastic wrap and leave it in a warm place to rise for two hours or until it's doubled in size.
Depending on the temperature where you leave it, it could take longer or less than two hours, so be sure to check on it. If it's very warm (or hot) it will take less time. If it's chillier it will take more time for it to double.
Second Rise
Once it's done rising, punch it down and divide it into pieces. I like to weigh each dough piece so they are equally sized (50 grams each). If you don't have a scale, divide it into 1 1/2-inch pieces.
Shape each one into a smooth ball and place them on a greased baking sheet. Cover dough balls with a towel and leave them to rise for 30 minutes.
Bake Them!
Before you bake them you can brush them with melted butter, but this is optional. Bake the rolls for about 20 minutes or until they are golden brown on top.
Cool them in the pan for a few minutes and then transfer them to a baking rack to cool completely.
Dinner Rolls Recipe FAQs!
I don't have a mixer – can I knead the dough by hand?
Yes, but it will take more time and work. Kneading is a workout and it will take about twice as long to do it by hand.
Can I substitute butter for shortening?
I haven't tested this recipe with butter, so I can't say how it will turn out. Generally, you can swap shortening for the same amount of butter in recipes but it will change the flavor and texture.

The main reason why I like to use shortening is that it gives the rolls a really nice soft texture and they stay soft for a few days. If you try butter let me know in the comments how it worked!
My dinner rolls aren't rising! What happened?
Is the yeast expired? That's always the first thing to check – expired yeast is often the reason people have this issue.

Where did you leave the dough to rise? If it's cold it will take longer for the dough to rise, so it might need more than two hours.
Why are my rolls browning so fast?
Is your baking sheet dark metal? I prefer to use light aluminum baking sheets for this recipe because the rolls don't brown as fast. By the time they're done they're perfectly golden.
Why are my rolls dense instead of fluffy?
There might be too much flour in the dough. The most precise way to measure flour is with a scale, but not everyone has one. So, the second-best way to measure it is with a dry measuring cup using the spoon and level method.

Don't scoop the flour with the measuring cup because that compresses it and you end up with more. Too much flour will make the rolls dense once they're baked.
How long do dinner rolls keep?
Once they are fully cooled, store them in an airtight container and they will keep well at room temperature for two to three days. Or, you can keep them in the refrigerator for up to two weeks!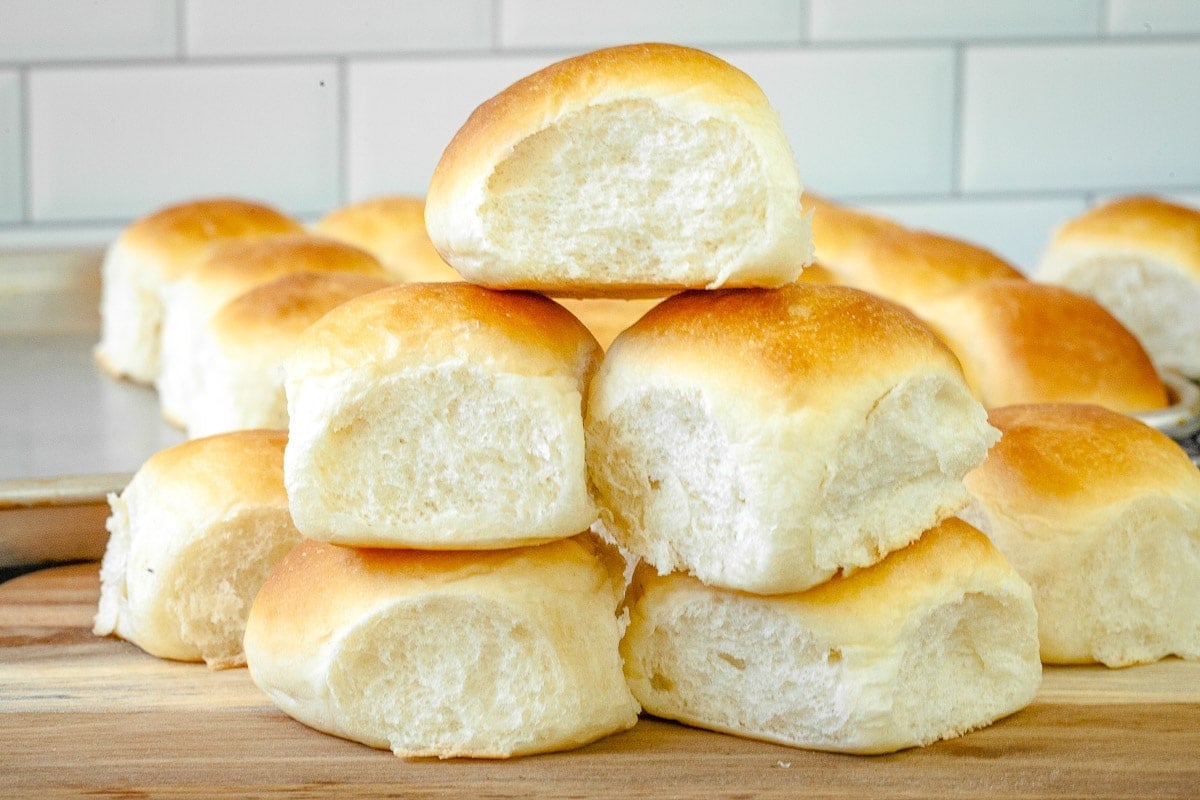 I hope these tips and tricks are helpful and that you give these soft dinner rolls a try! You will wow your family when you pull a pan of fresh-baked dinner rolls out of the oven!
If you're looking for recipes to go with your homemade rolls you have to give these a try:
Did you love this recipe? I knew you would! Rate it, please!! It would be awesome if you'd give it a five-star rating below!
If you snap any photos, don't forget to tag me on Instagram @julieseatsandtreats or #julieseatsandtreats that way I'm sure to see your pictures!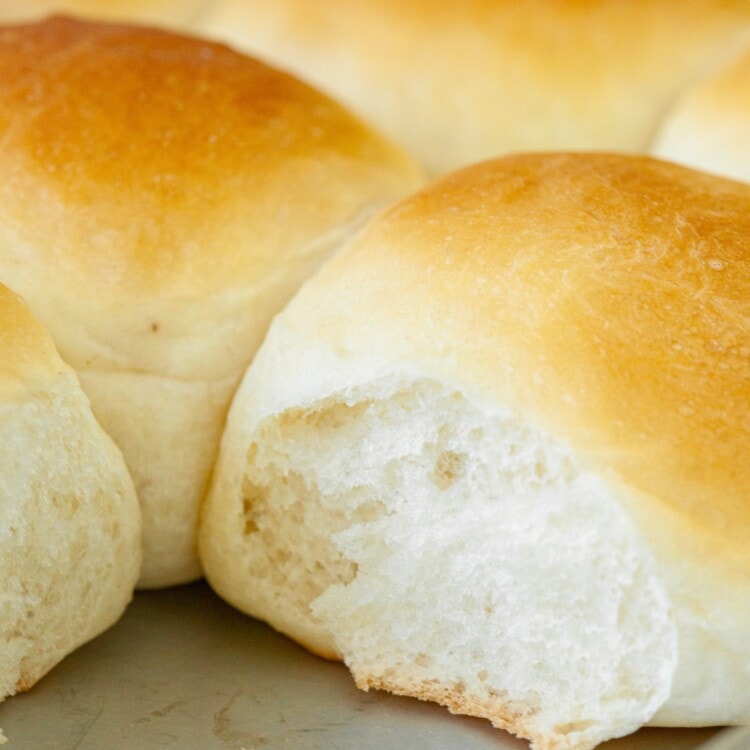 Dinner Rolls
Light, fluffy dinner roll recipes that's easy to make with only 6 ingredients
Ingredients
5 ½

c.

all-purpose flour

¾

c.

+ 1 teaspoon of cane sugar

divided

1

tsp

salt

⅓

c.

shortening

2

tsp

instant yeast

2

c.

water

warmed between 105°F to 110°F
Instructions
Prepare the dough:
Mix the warm water, yeast, and 1 teaspoon of sugar in a cup and allow to sit for about 5-10 minutes to activate the yeast.

In the bowl of your stand mixer, whisk together 5 cups of all-purpose flour, sugar, and salt. Next, add shortening and mix until flour is semi-crumbly.

Add the yeast mixture to the flour mixture and fitted with a dough hook or paddle attachment- beat on low for about 2 minutes. Increase the speed and allow it to mix for at least 10 minutes. The dough will start to pull away from the sides and the dough will become pliable.
1st Rise:
Lightly grease a large bowl with oil or nonstick spray. Place the dough in the bowl, turning it to coat all sides in the oil. Cover the bowl with plastic wrap, or a clean damp kitchen towel. Allow the dough to rise in a relatively warm environment for 2 hours or until double in size. (I always let it rise in my microwave for 2 hours.)

Grease a baking sheet.
Shape the rolls:
When the dough is ready, punch it down to release the air. Cut the dough into 1 ½ inch pieces (I like to weigh each dough to 50g for uniformed dinner rolls). Then shape each piece into a smooth ball using your hands and place on the greased cookie sheet.
2nd Rise:
Cover dinner rolls with a damp kitchen towel or plastic wrap and allow it to rise for 30 minutes.
Bake the rolls:
Brush the top of dinner rolls with vegan butter (optional), and bake for 17-20 minutes in a preheated oven at 350 degrees F or until golden brown on top. Remove from the oven allow dinner rolls to cool for 5 minutes before transferring to a cooling rack to cool completely.
Tips
To avoid a dense dough, spoon and level your flour, do not scoop it out of the package.
If you do not own a mixer, you can mix this dough with a large wooden spoon. It will take a lot of elbow grease and kneading by hand, will take at least 15-20 minutes. (If you have muscle- 15 minutes)
Cover leftover rolls in an airtight container and store at room temperature for 2-3 days or in the refrigerator for up to 2 weeks.
I prefer baking on a light aluminum because I find they brown a little too quickly in dark metal.
Nutrition Information
Calories:
221
kcal
(11%)
,
Carbohydrates:
42
g
(14%)
,
Protein:
5
g
(10%)
,
Fat:
3
g
(5%)
,
Saturated Fat:
1
g
(6%)
,
Sodium:
85
mg
(4%)
,
Potassium:
58
mg
(2%)
,
Fiber:
1
g
(4%)
,
Sugar:
6
g
(7%)
,
Calcium:
7
mg
(1%)
,
Iron:
2
mg
(11%)