Make your own frozen uncrustables at home! This DIY Uncrustables sandwich is so easy to make at home. They are perfect for road trips, school lunches, snacks, vacations and so much more. Grab your bread, jelly and peanut butter and stock your freezer with these.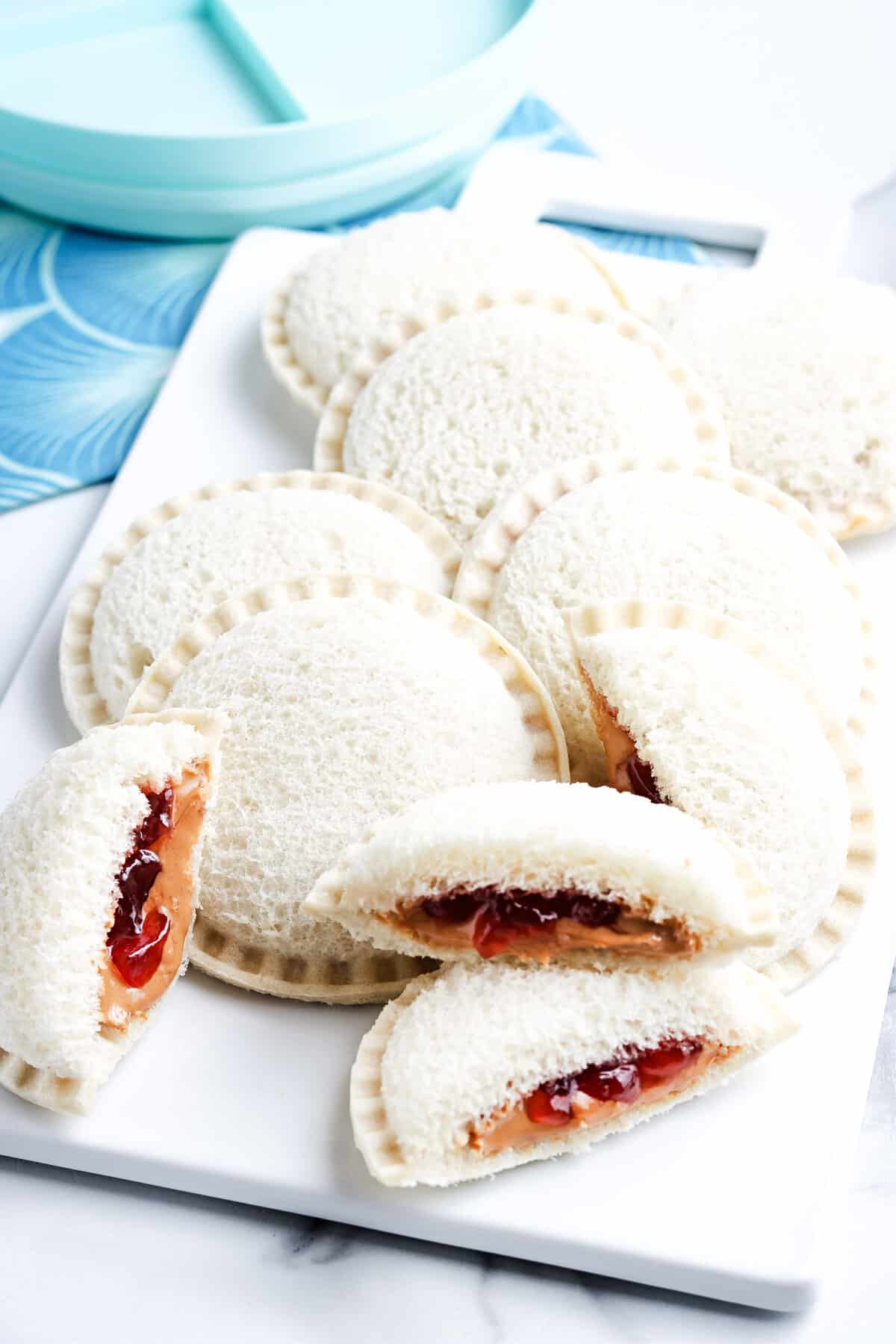 Those perfect little pockets of peanut butter and jelly they sell in the freezer section are a staple in our house! But you know what's even better than those? Making DIY Uncrustables with your favorite peanut butter and any jelly that your heart desires.
I love rotating homemade Uncrustables, ham and cheese pinwheels, and tortilla pinwheels for lunch time during the summer. They're super easy and I can store leftovers with no issue. Plus, if the kiddos get hungry during the day my "there's food in the kitchen" statement will be true!
Make this recipe even better by getting the kids involved and teaching them how to make them. Before you know it, they'll be making a batch of them all on their own!
Why You'll Love DIY Uncrustables
A PB & J that has no crust at all is a winning food item to give to picky eaters who hate crust.
You can freeze homemade Uncrustables and store them for a long period of time. So make a double or triple batch and you'll be stocked for weeks!
Making your own means that you can add any filling that you want. Get creative and add adapt this recipe to whatever preferences you have.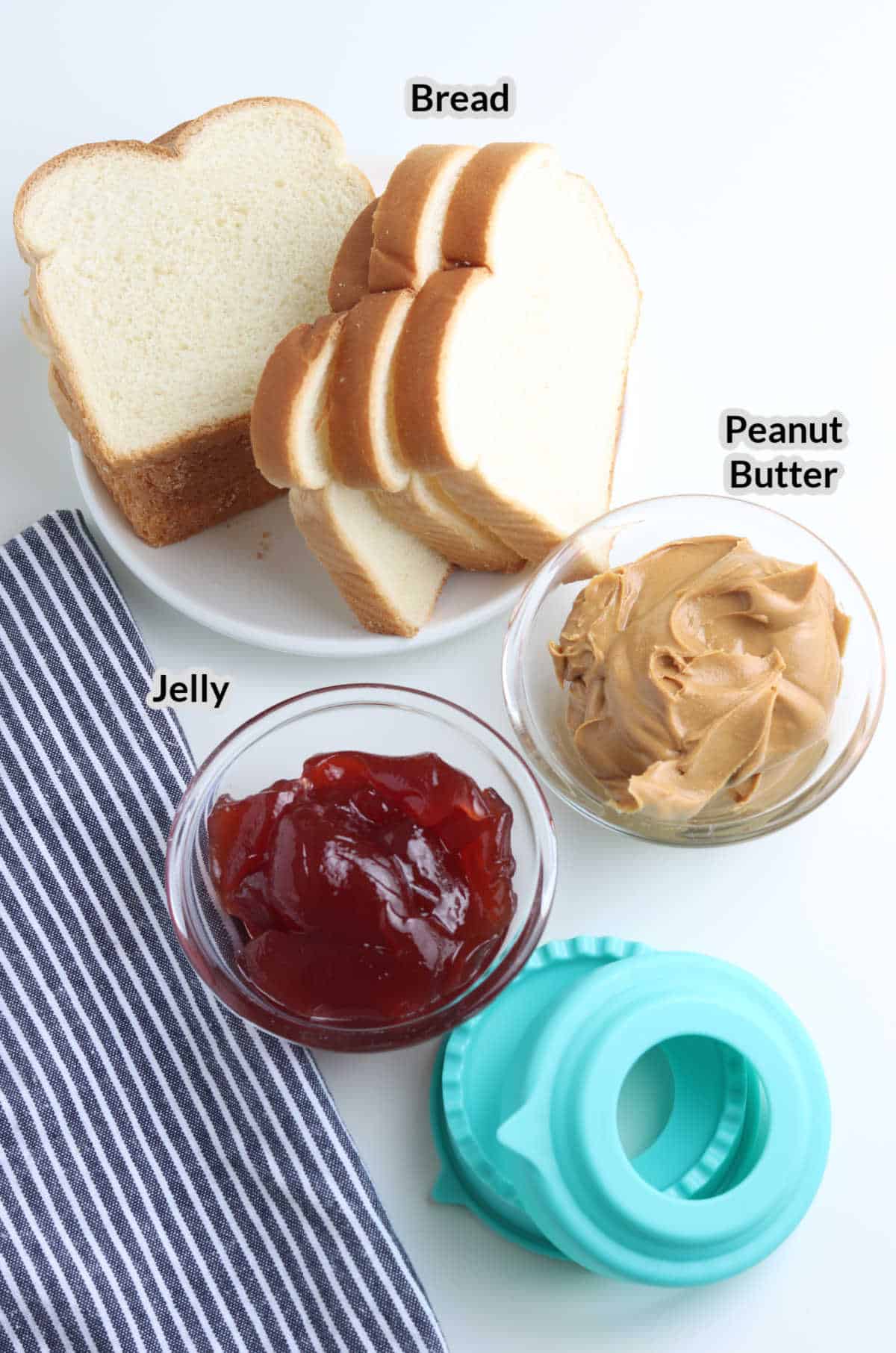 Ingredients for DIY Uncrustables
Bread – Fluffy white bread is the most classic and tasty option. But feel free to choose a healthier bread like whole wheat or whole grain. I recommend avoiding bread with seeds in it, as it could affect how well the sandwich seals.
Peanut butter – I personally prefer to use creamy peanut butter, but crunchy peanut butter is a good option too.
Jelly – Grape jelly and strawberry jelly are the two most popular options. Any of your favorite jellies will be perfectly tasty!
How to Make Uncrustables
Begin by evenly spreading peanut butter into the middle of both slices of bread. By adding peanut butter to both sides it will keep the jelly from seeping out of the sides of the sandwich.
Top one side of peanut butter with your choice of jelly. Then, add the other slice of bread on top.
Cut the PB & J with a a circle sandwich cutter. Turn the sandwich over and place the sealer on top then firmly press.
Remove from the cutter and repeat this process until you've made as you want.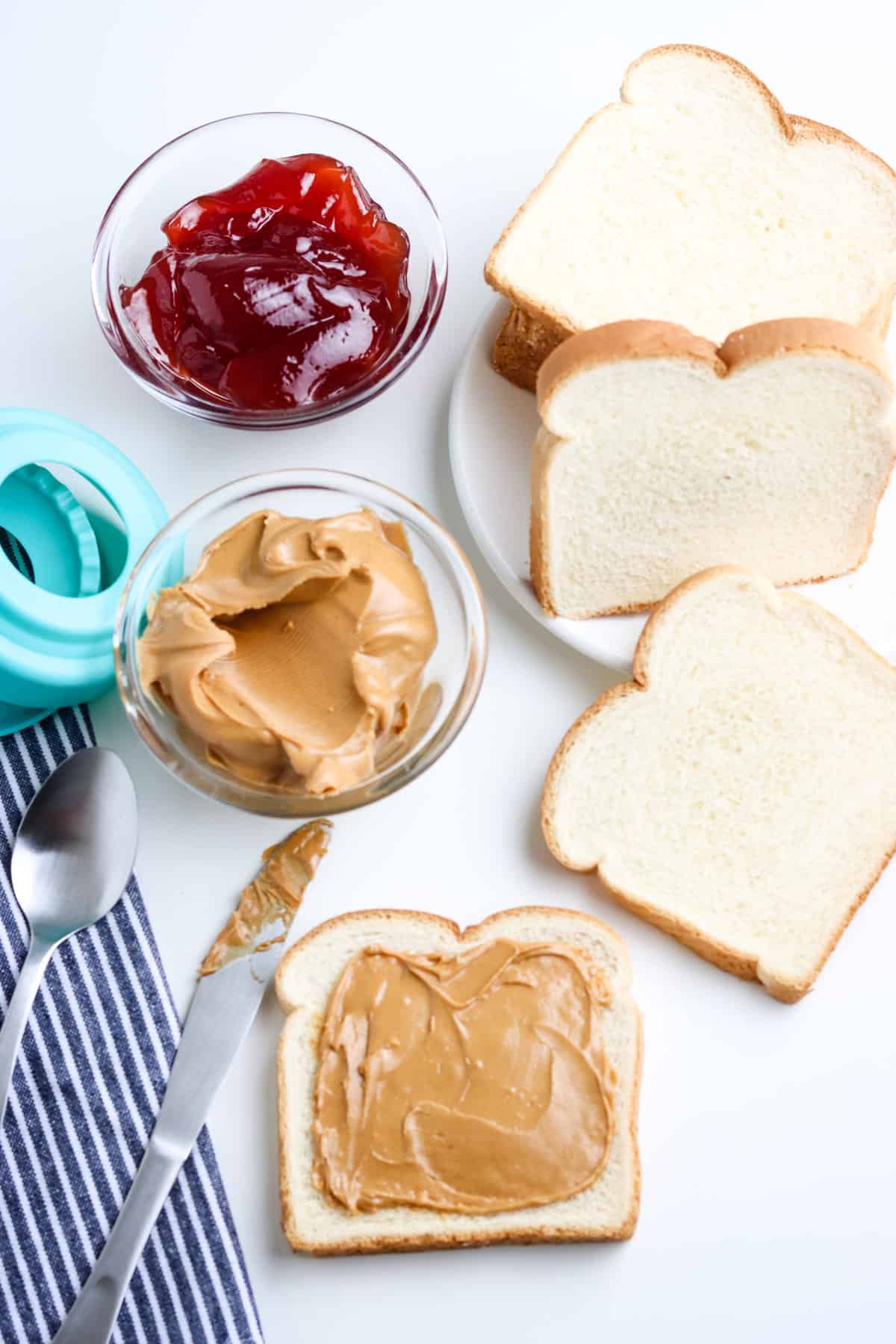 How to Store DIY Uncrustables
You can freeze these easy sandwiches just like the ones you buy in the store! Wrap each sandwich in plastic wrap or place them in individual sandwich freezer bags. Store in the freezer for up to 2 months. Allow to thaw before eating.
If you choose to refrigerate your sandwiches, eat within 24 hours to avoid having soggy bread.
Can I use a different nut butter?
If you're allergic to peanuts or need another nut butter, feel free to use something different in this recipe! Sunflower seed butter and almond butter are great alternatives. You can also make a nutella sandwich by just adding nutella to each side of bread and leaving off the jelly.
How to make DIY uncrustables without a sandwich cutter
If you don't have a sandwich cutter, you can still make this uncrustables recipe! Make the sandwich per the instructions, then grab a cup or biscuit cutter and press down to "cut" the sandwich.
Then, take a fork and gently press it against the edges to seal the peanut butter and jelly in between the bread.
What types of jelly can I use?
Go classic and use grape or strawberry jelly! Raspberry jelly is not a widely used option but it's super tasty. You could also use blackberry jelly or apple jelly. Mixed fruit jelly is another popular flavor that you can find in your local grocery store.
Pro Tips for the Best DIY Uncrustables
Don't overload your bread with peanut butter or jelly! Add the amount called for and spread it into an even layer so that the sandwich seals properly.
Have you ever tried toasting an uncrustable? If you haven't, you've gotta try it with this recipe! Warm peanut butter and jelly is so good.
Keep the peanut butter and jelly to the center of the bread so that you don't waste ingredients on the edges after slicing the sandwich.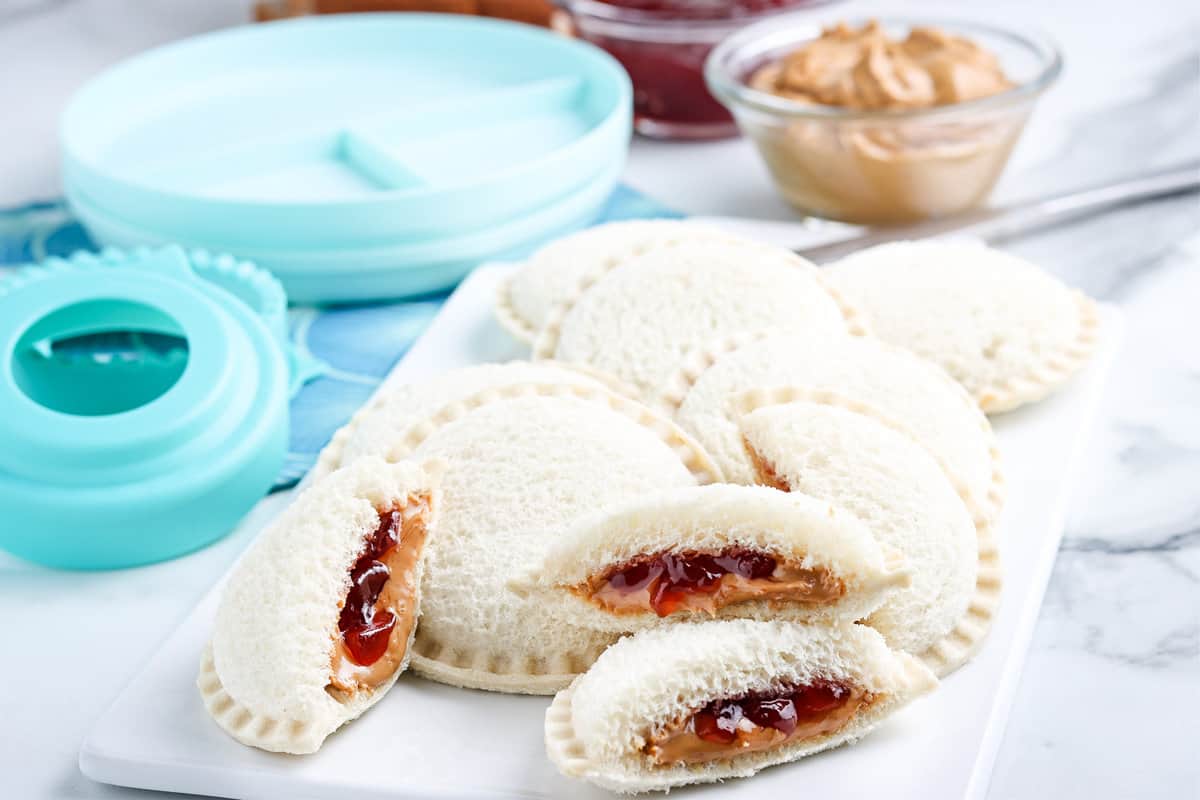 Summer lunches, and school lunches, just got so much easier! And making your own homemade uncrustables is more affordable too. Easy on the pocket book and easy on your time in the kitchen.
More Easy Recipes You'll Love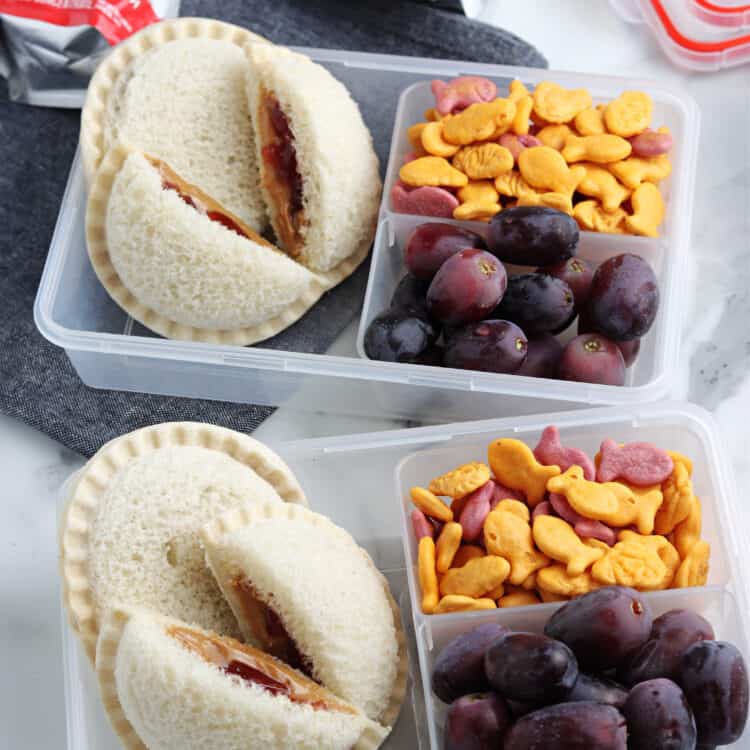 Homemade Uncrustables
Make your own frozen peanut butter and jelly sandwiches. These homemade uncrustables are made with bread, jelly and peanut butter.
Ingredients
2

slices

bread

2

Tablespoons

Peanut butter

or nut butter

1

Tablespoons

jelly
Instructions
Spread peanut butter or nut butter into middle of both slices of bread. This is the trick to not have the jelly seep out of the sandwich after you press it.

Top with jelly.

Add slice of bread to the top of the jelly and peanut butter bread.

Cut circle with sandwich cutter, turn sandwich over and place sealer on top, lining up pointers and firmly press sealer in.

Remove from cutter.
Tips
You can freeze these easy sandwiches just like the ones you buy in the store! Wrap each sandwich in plastic wrap or place them in individual sandwich freezer bags. Store in the freezer for up to 2 months. Allow to thaw before eating.
Nutrition Information
Calories:
400
kcal
(20%)
,
Carbohydrates:
48
g
(16%)
,
Protein:
13
g
(26%)
,
Fat:
19
g
(29%)
,
Saturated Fat:
4
g
(25%)
,
Polyunsaturated Fat:
5
g
,
Monounsaturated Fat:
8
g
,
Trans Fat:
0.02
g
,
Sodium:
409
mg
(18%)
,
Potassium:
275
mg
(8%)
,
Fiber:
4
g
(17%)
,
Sugar:
16
g
(18%)
,
Vitamin A:
1
IU
,
Vitamin C:
2
mg
(2%)
,
Calcium:
90
mg
(9%)
,
Iron:
3
mg
(17%)