This list of leftover ham recipes brings you all the recipes using ham! So many different combos that you are sure to find a few that you will love. Check out these recipes for leftover ham, which are the best on the planet, and make of list of which ones to try first!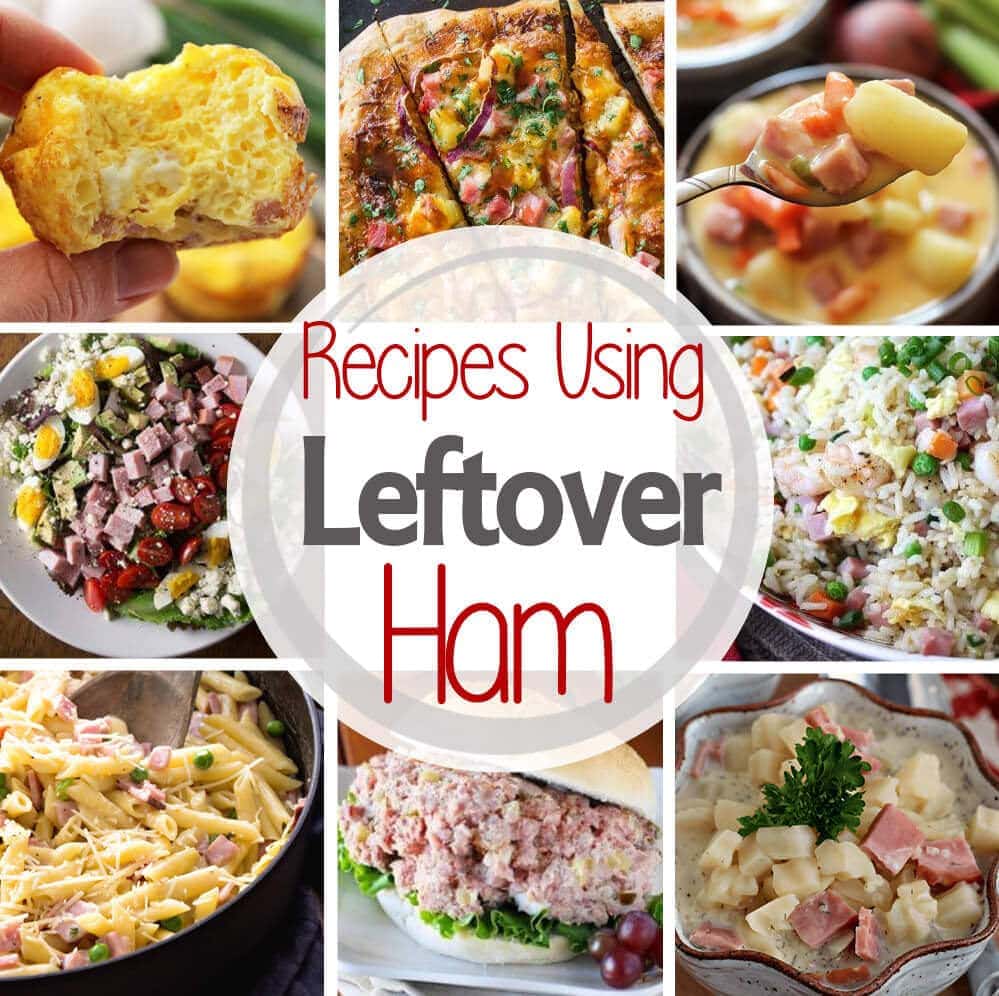 Guess what today calls for?
Leftover Ham Recipes!
After you bake the ham and enjoy dinner, what are you going to do with all of the leftovers? I love leftovers because it means I can make even more delicious meals. Here are over 40 recipes using leftover ham. I've included everything from ham salad and pasta to breakfast bars.
So Many Great Recipes for Leftover Ham!
Sometimes I think people get worried about having leftover ham, but I embrace it. That's right embrace it. This gives me so many options for the meals that week.
Some say the best part of the meal are leftovers. I'm going to have to agree with that statement! If you are wondering what to do with leftover ham I have the answer for you. Keep reading, there are so many options listed below.
There are plenty of recipes listed below from breakfast, lunch and dinner. One thing I know is that they are all tasty.
Use up that leftover ham from Easter or Christmas and enjoy!
**As always please feel free to pin the collage. If you see a recipe you love, please click through to that site to pin. Please do not pin the images below. Bloggers around the world thank you.**
Ham & Cheese Egg Muffins ~ Julie's Eats & Treats
Quick, Easy and Delicious Breakfast or Snack! Fluffy Egg Muffins with Leftover Ham & Cheese!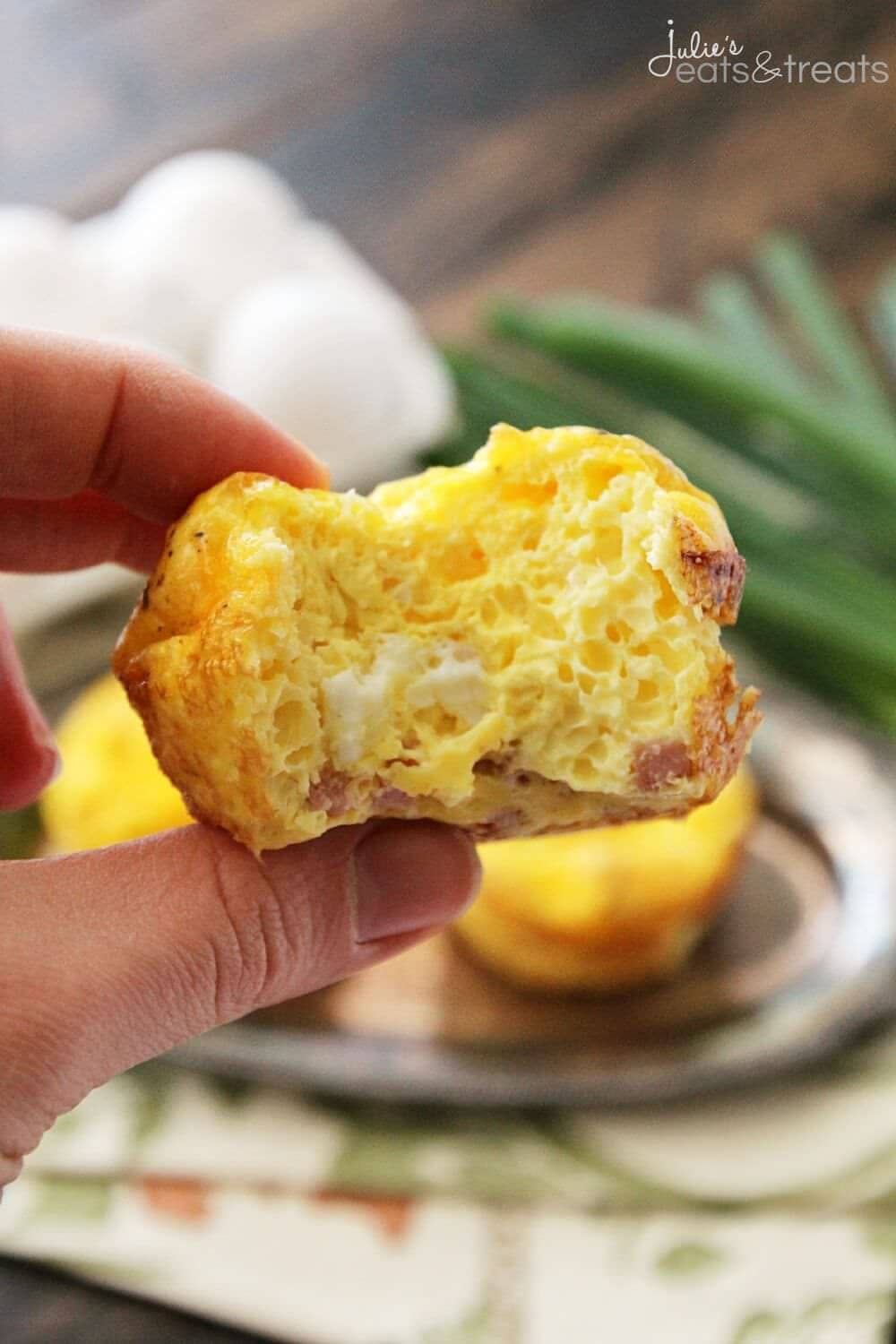 Leftover Ham & Spinach Casserole ~ Julie's East & Treats
Delicious way to use your leftover ham up! This casserole is stuffed with spinach, leftover ham, cheese and ziti noodles for a delicious dinner recipe! Perfect recipe to use leftover ham up!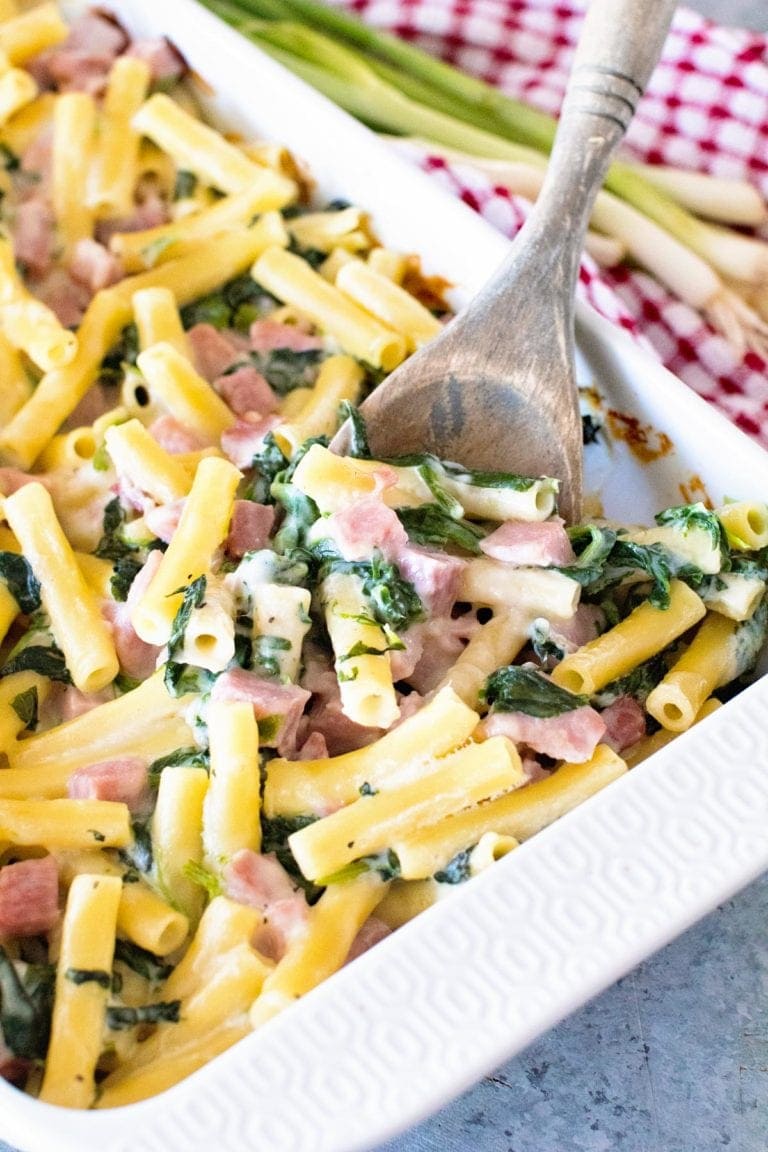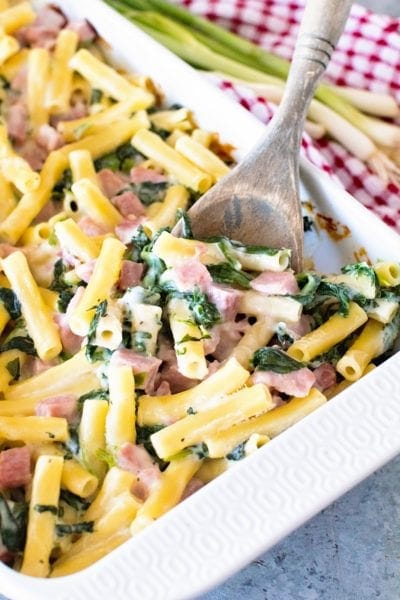 Cheesy Chowder ~ Julie's Eats & Treats
Incredibly easy, cheesy chowder loaded with carrots, potatoes, celery and leftover ham!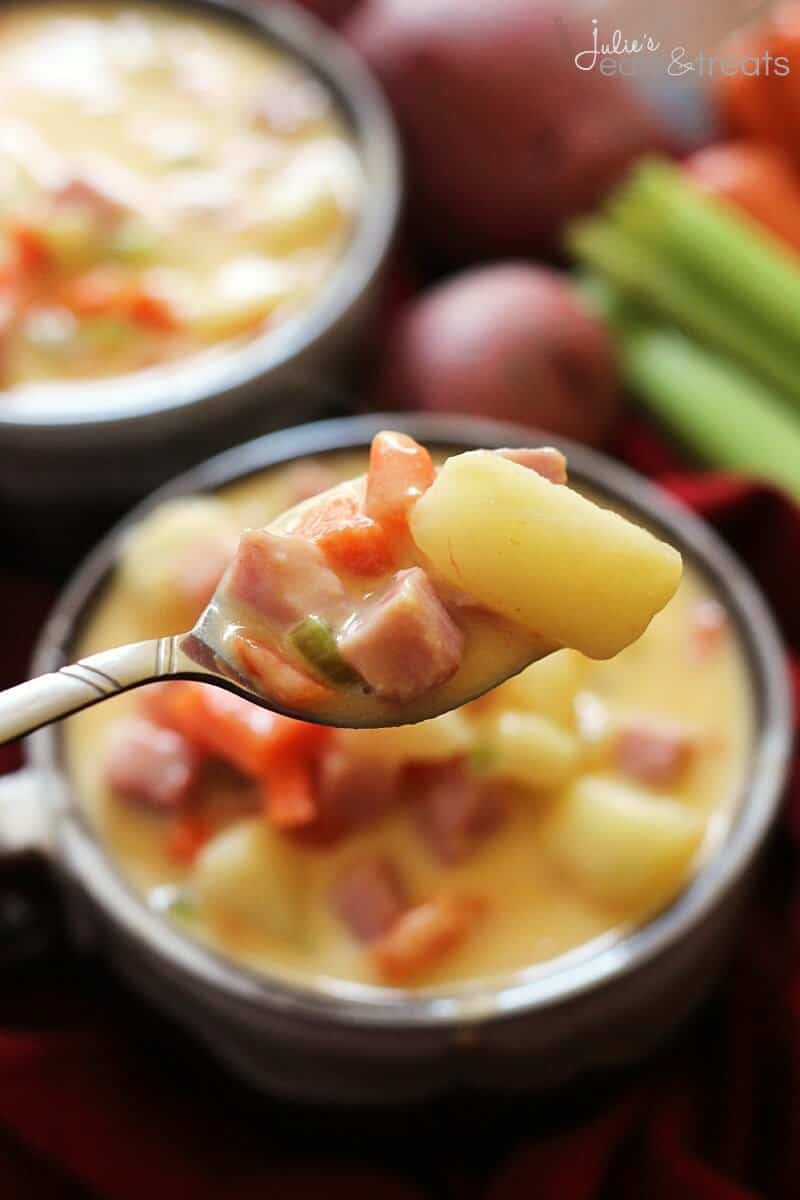 One Pot Ham & Penne Skillet ~ Julie's Eats & Treats
Delicious pasta perfect for a quick dinner! Loaded with leftover ham, penne and peas. It's been pinned over 135 thousands times!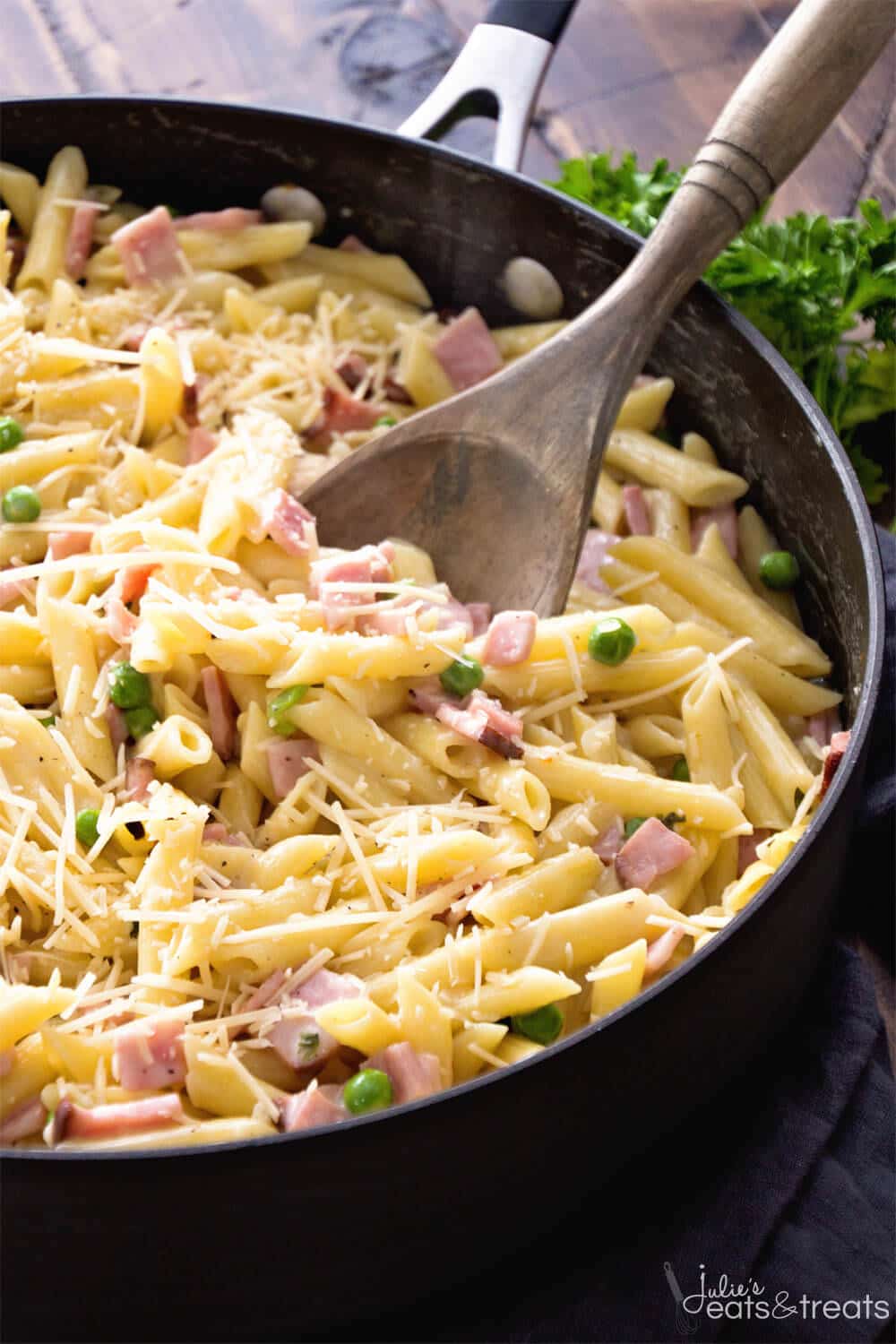 Cheesy Ham Oven Baked Omelet ~ Julie's Eats & Treats
Light & fluffy omelet that is baked in the oven. Full of leftover ham and cheese! Perfect for a brunch or breakfast recipe. Make it ahead of time and warm it up for breakfast on the go!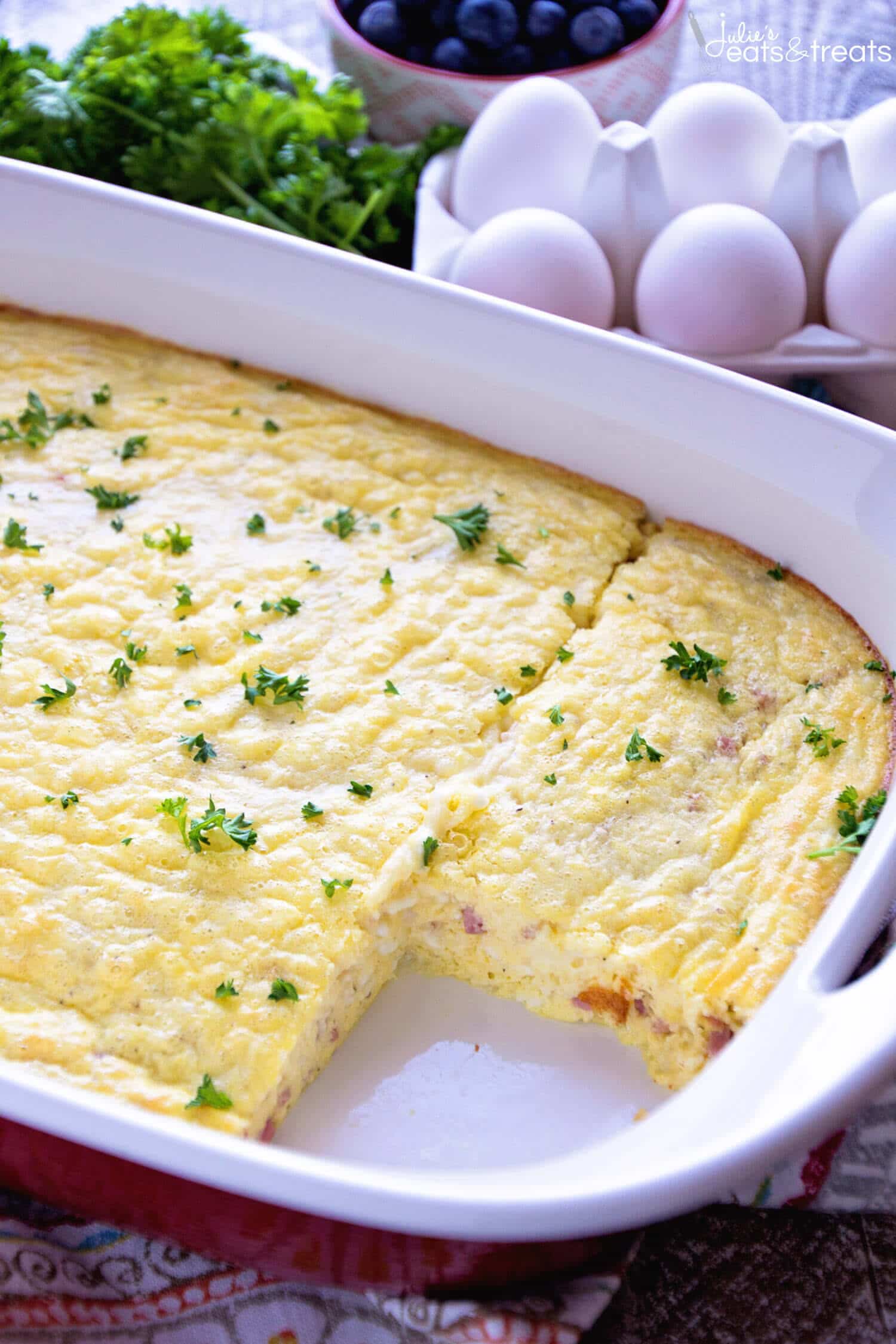 Cheesy Ham & Noodle Casserole ~ Julie's Eats & Treats
Quick, Easy Ham Casserole to Keep Your Weeknight Dinner Simple! Perfect Recipe for Using Up Leftover Ham. This Casserole is Full of Pasta, Ham and Topped with a Cheese and Sour Cream Sauce!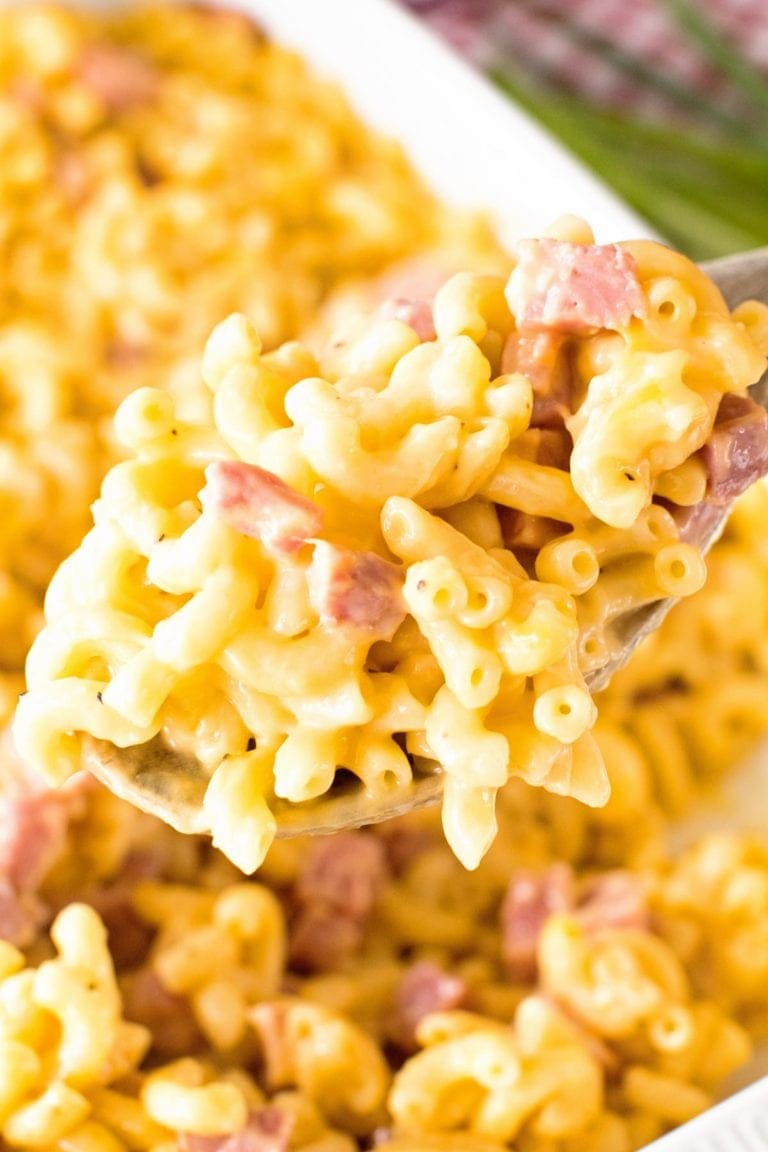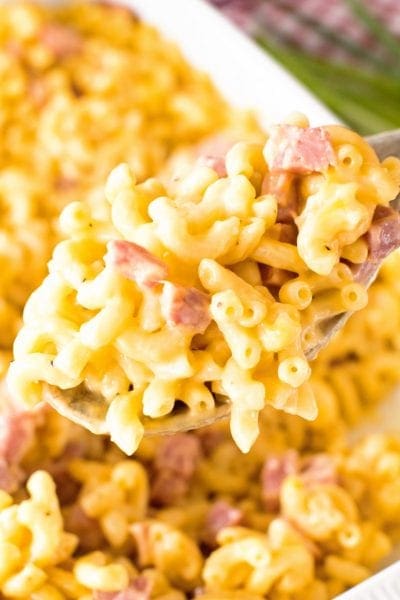 Ham Salad ~ Julie's Eats & Treats
Have you ever had Ham Salad? I remember my Mom having it for a quick lunch when we were kids! It's the perfect recipe for using up leftover ham and is full of flavor.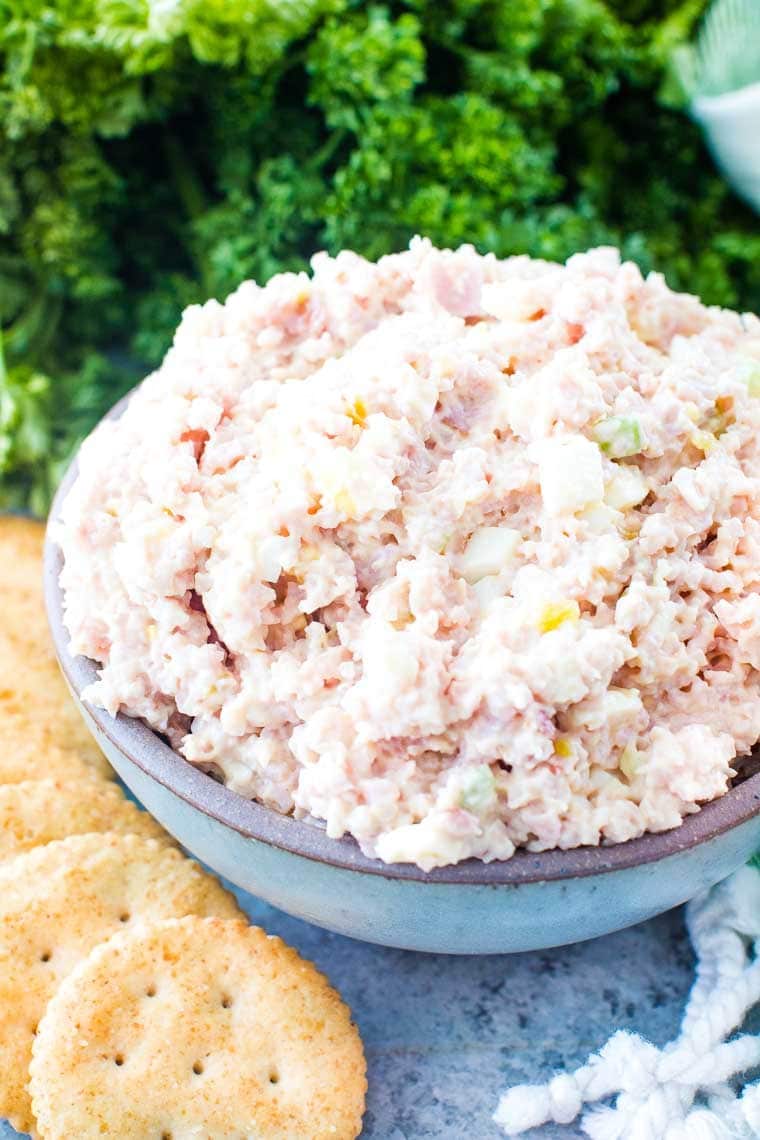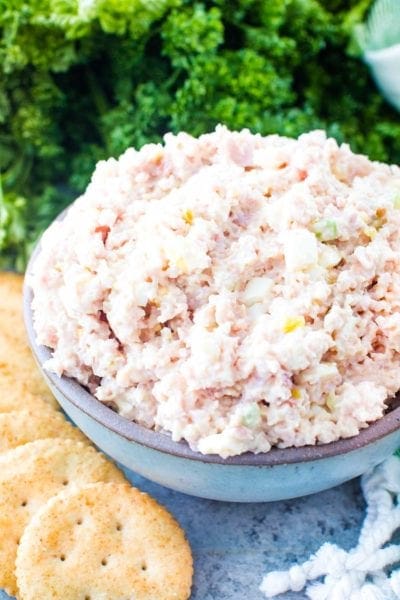 Ham & Green Bean Casserole ~ Julie's Eats & Treats
Your favorite green bean casserole made into a main dish with leftover ham! Perfect easy dinner recipe for busy weeknights.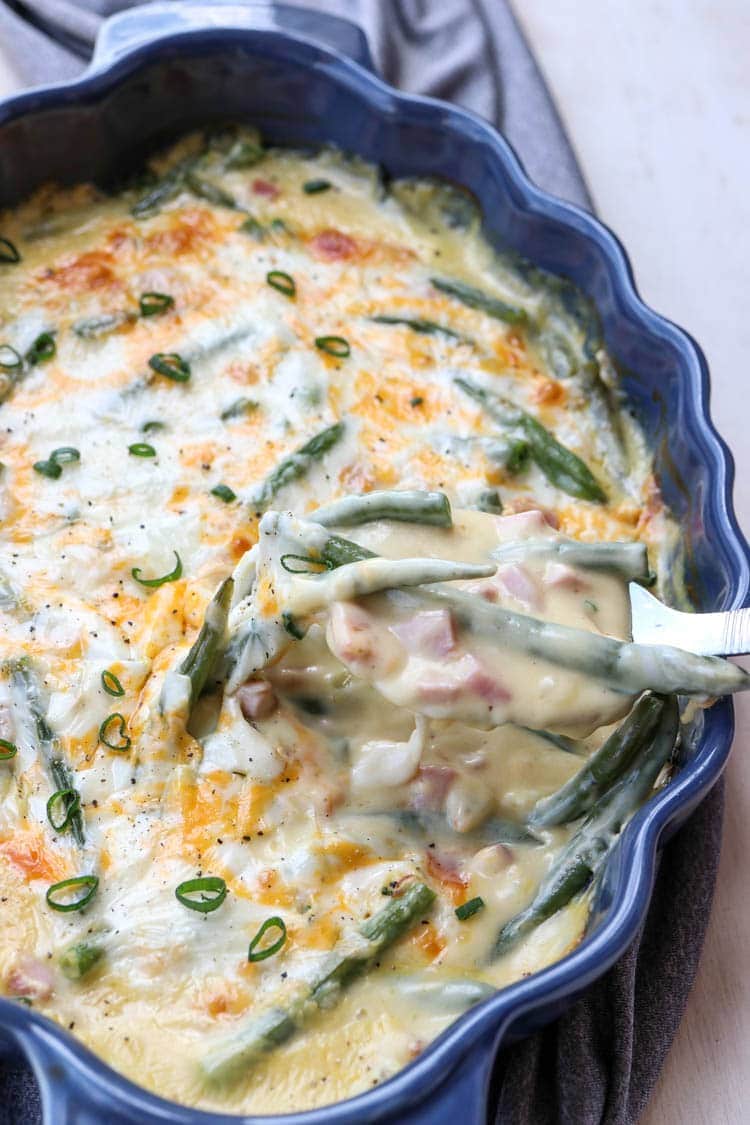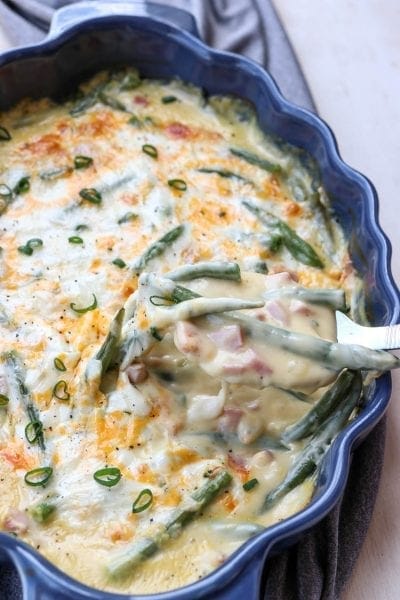 Crock Pot Cream Cheese Ham & Potato Soup ~ Julie's Eats & Treats
Easy slow cooker soup that is made with leftover ham and potatoes. Great for a dinner or lunch!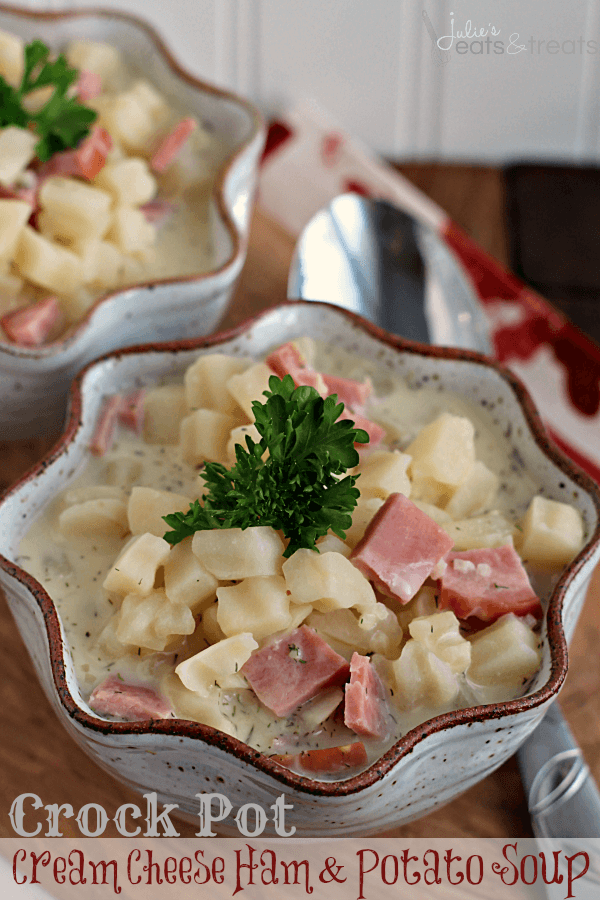 Ham & Cheese Overnight Breakfast Lasagna ~ Julie's Eats & Treats
Such a fun twist on lasagna! Lasagna noodles with a delicious homemade cheese sauce, leftover ham, bacon and more cheese! Prep this the night before and enjoy it for breakfast or brunch.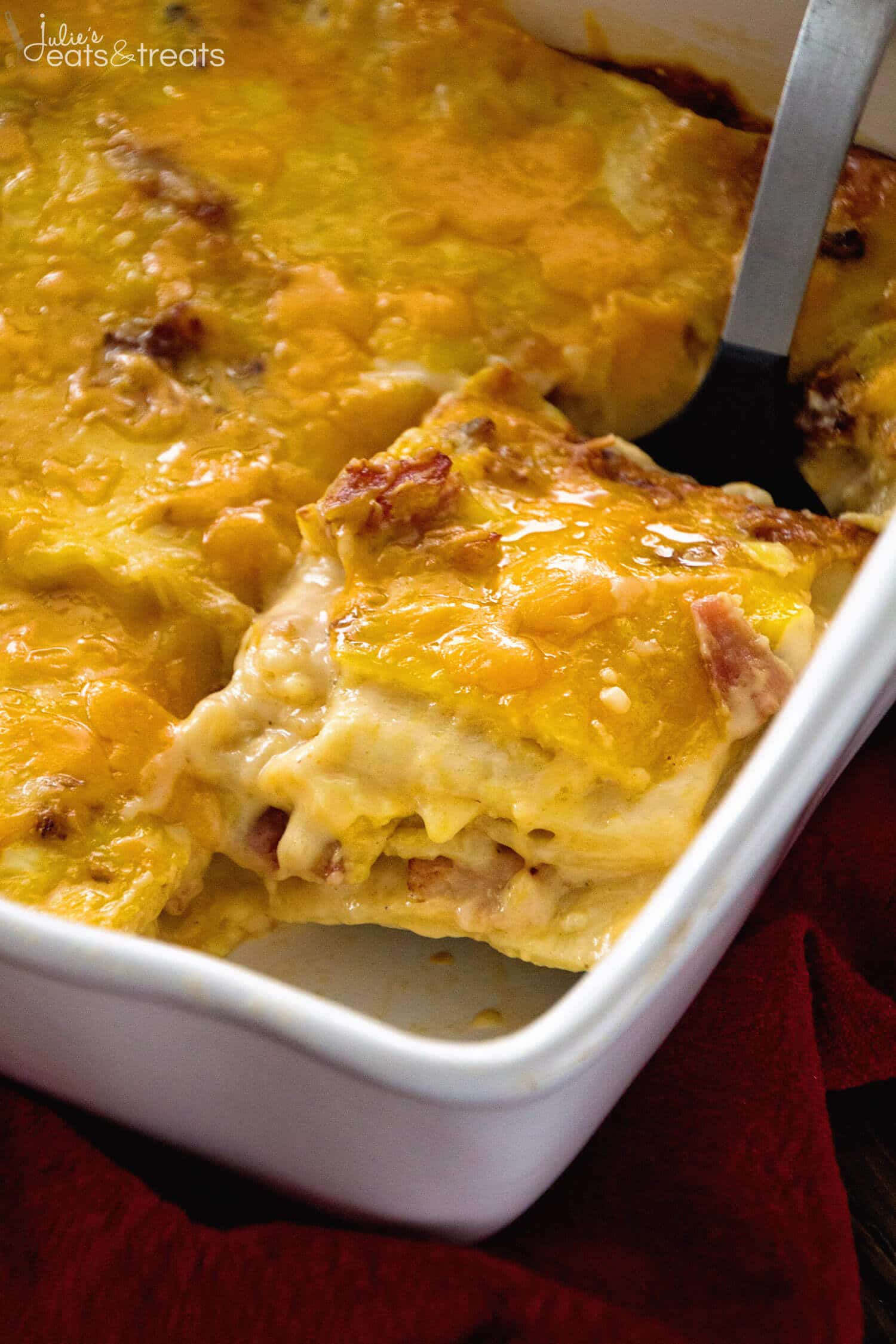 Cheddar & Ham Quiche Cups ~ Julie's Eats & Treats
These easy Cheddar and Ham Quiche Cups are made with a puff pastry crust, making these a great quick-and-easy breakfast recipe!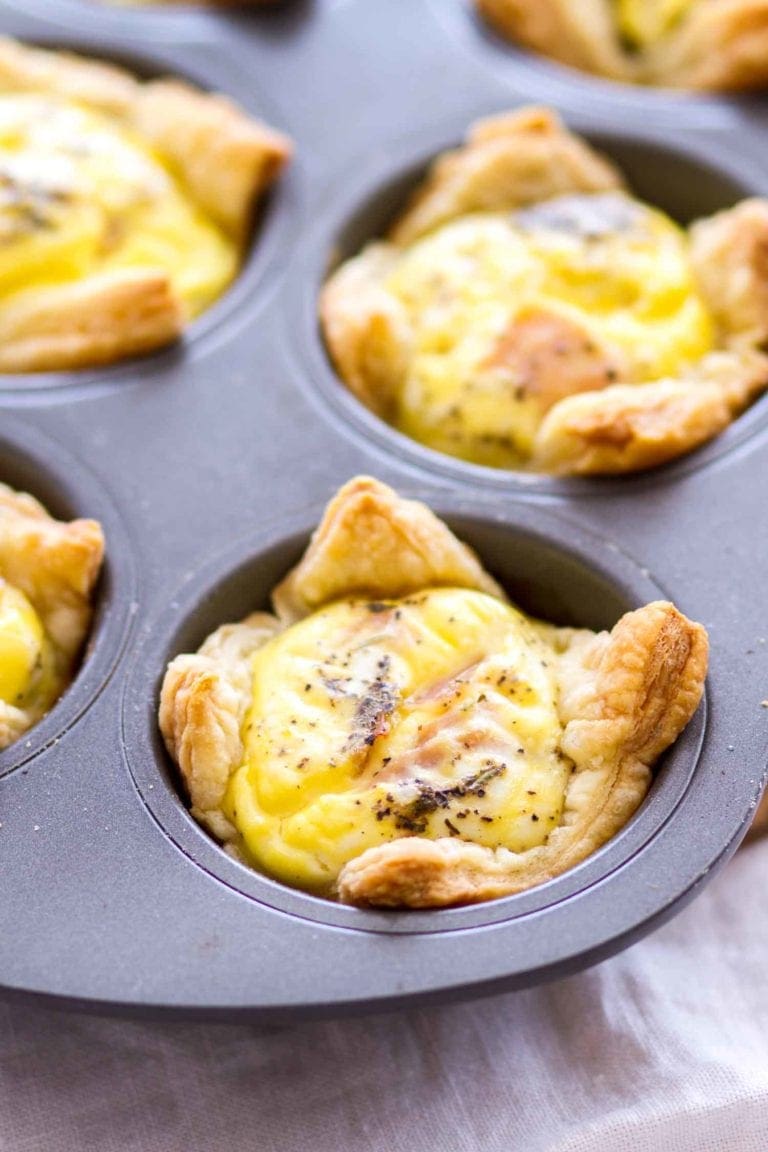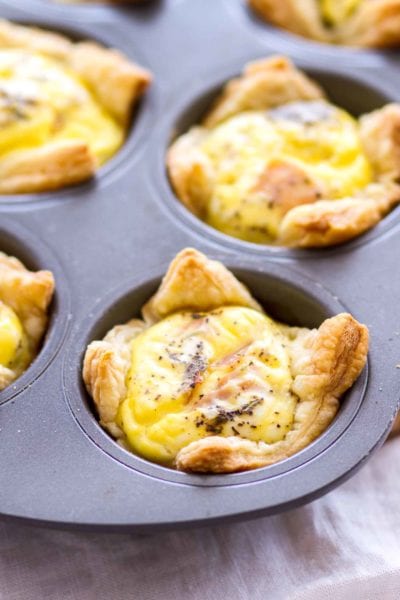 Ham & Cheese Bowties ~ Julie's Eats & Treats
Comforting casserole with bowtie pasta, leftover ham and cheese. The kids will love that bow tie pasta! Such and easy dinner recipe!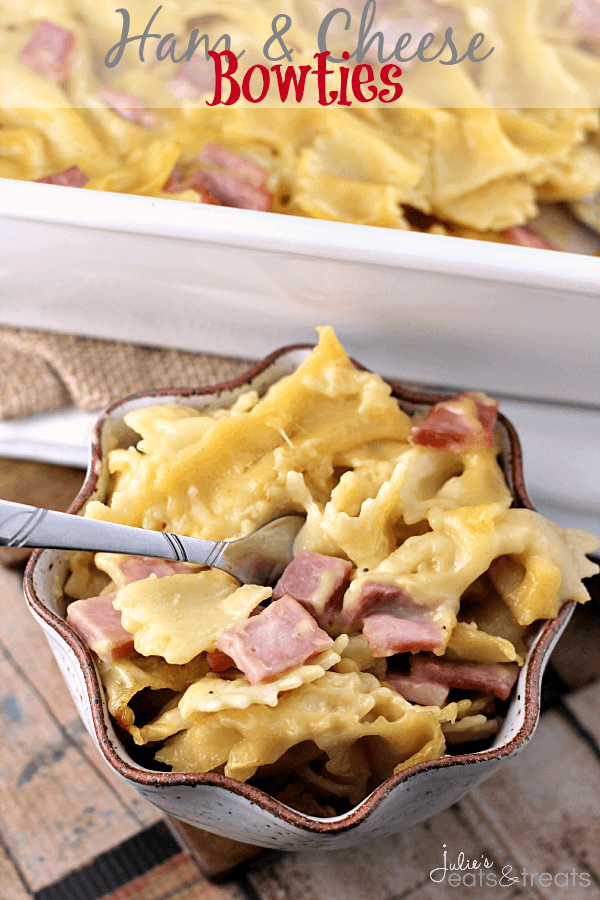 Cheesy Ham & Bacon English Muffins ~ Julie's Eats & Treats
Super easy breakfast idea for mornings on the go! These english muffins are layered with cheese, leftover ham and bacon! Warm them up and run out the door.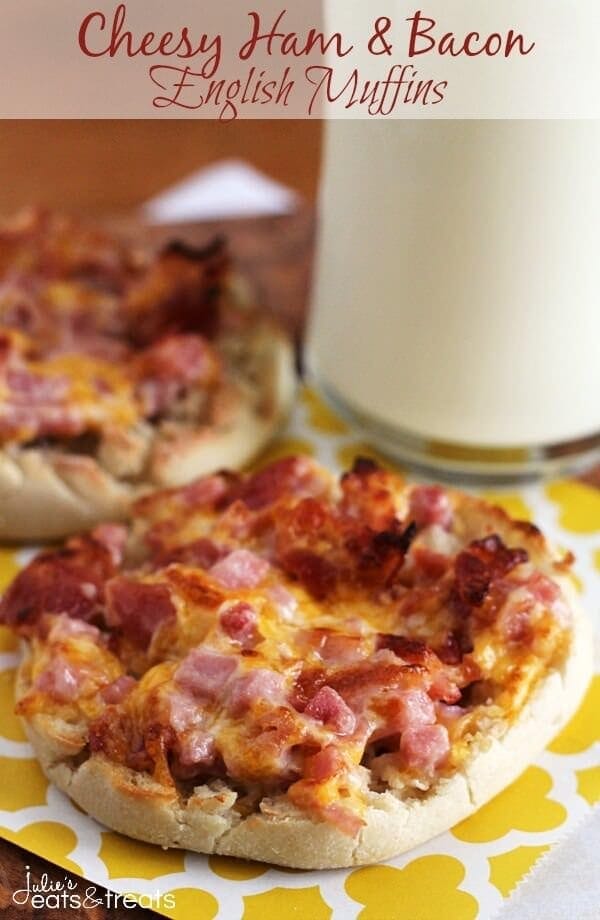 Linguine Casserole ~ Julie's Eats & Treats
This casserole is loaded with leftover ham, Swiss cheese and linguine. It's soon to become your favorite. Makes a great freezer meal too!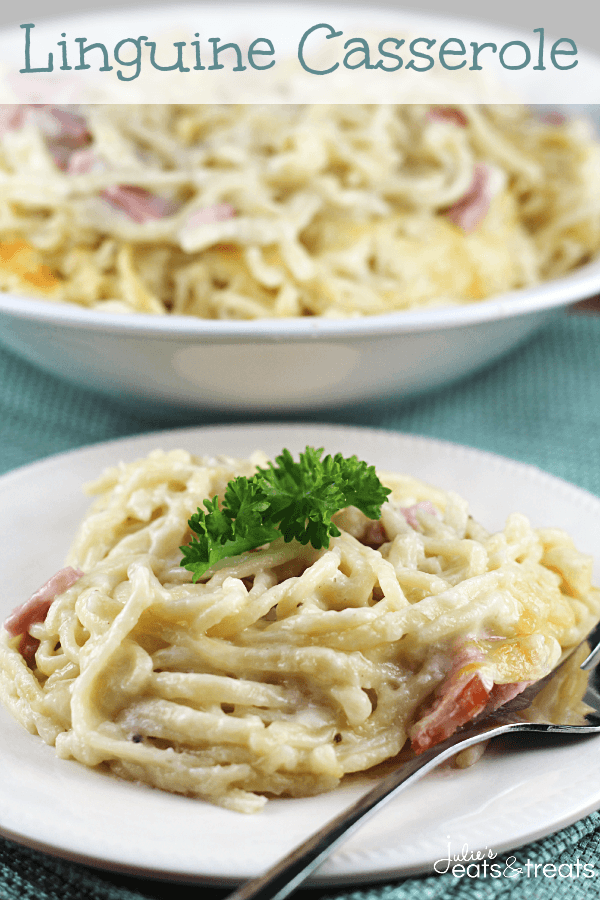 Tempting Tortellini & Ham ~ Julie's Eats & Treats
Tender cheese tortellini in a homemade cream sauce with leftover ham and peas. A great twist on your pasta recipes!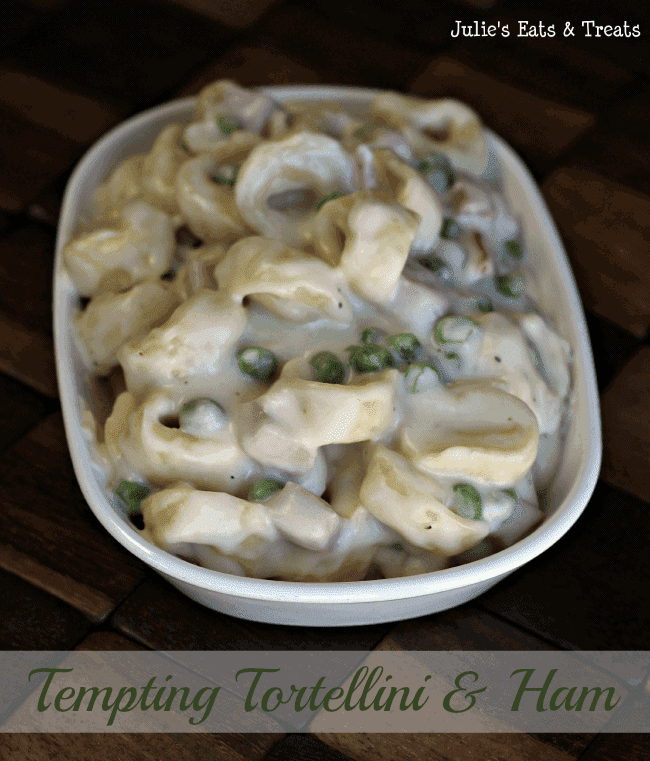 Monte Cristo Sandwich ~ Julie's Eats & Treats
I love that it's super simple and comes together for a quick lunch on a weekend. The hubby got all excited when he saw the recipe sitting on the counter to try out!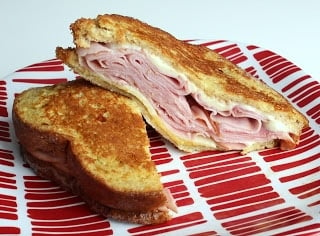 Creamy Spring Gnocchi ~ Dinners Dishes and Desserts
A great use for leftover ham and spring veggies! Make this creamy spring gnocchi recipe in minutes, plus it is lightened up for spring!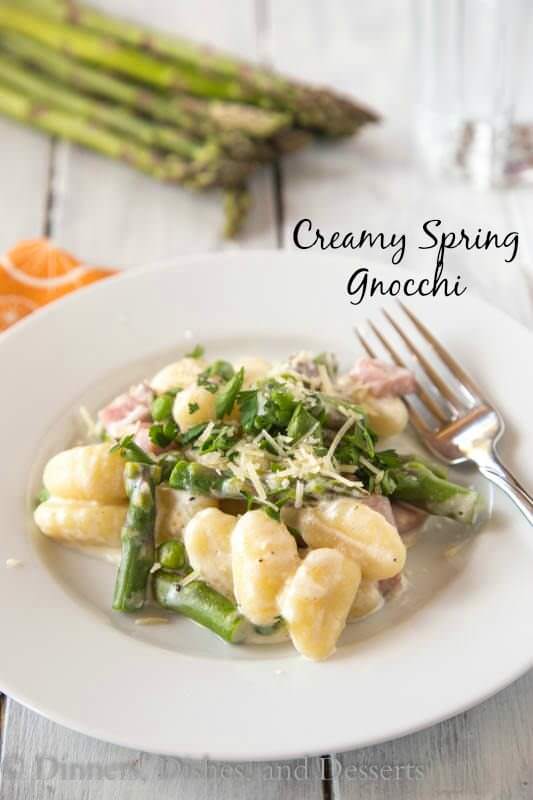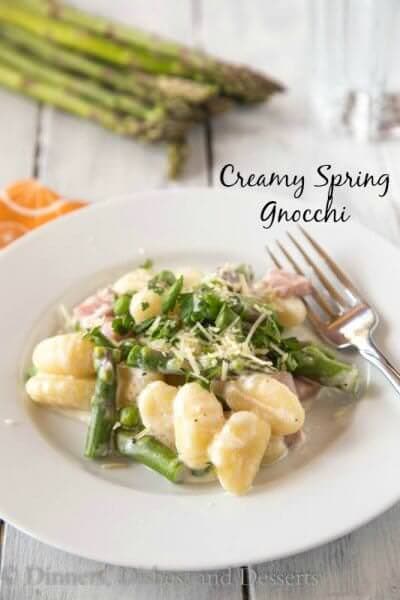 Ham & Pineapple Salad ~ Inside BruCrew Life
A healthy option for leftover ham! Salad greens topped with ham, pineapple, mozzarella cheese and ranch barbecue sauce. Healthy eating never tasted so good.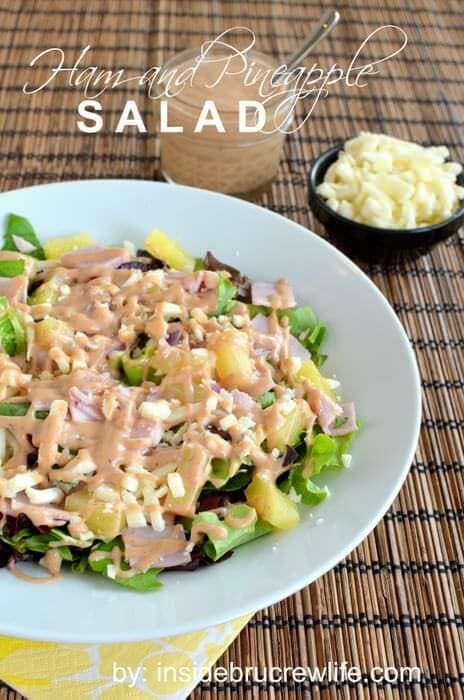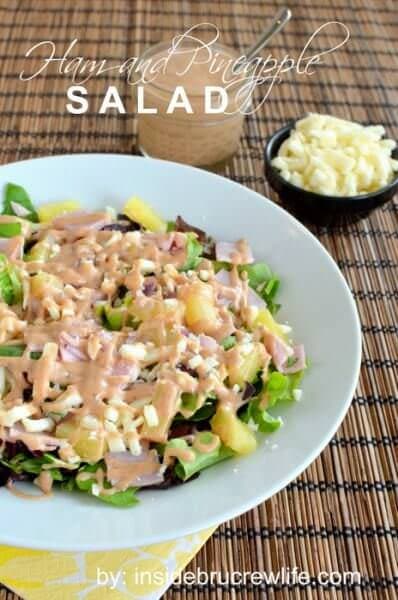 Ham Noodle Soup ~ Tastes of Lizzy T
A true comfort meal that the whole family will love. Serve with a side salad and dinner roll for a meal that comes together in just about 30 minutes!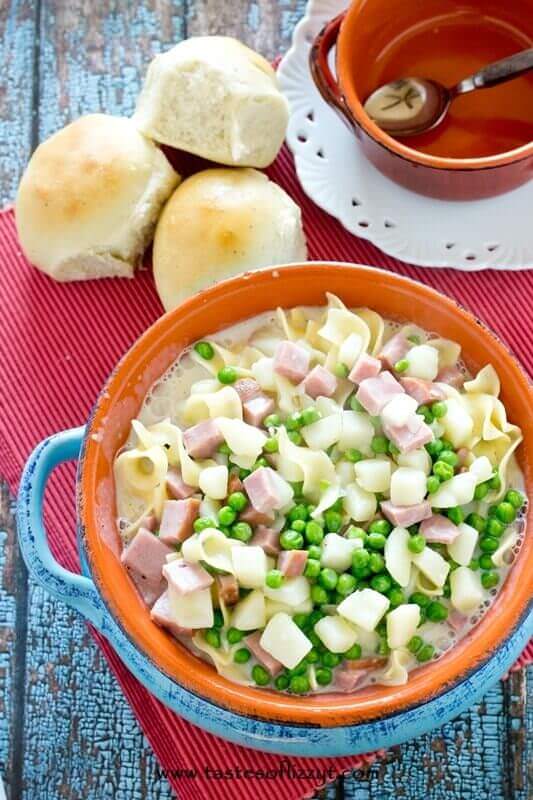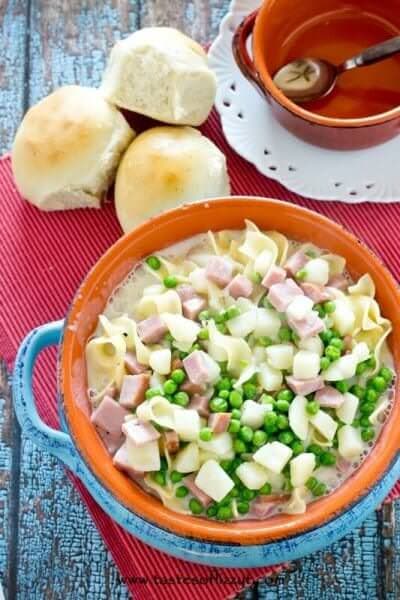 Ham & Leek Quiche ~ Cooking on the Front Burner
Flaky pie crust with cheese, leftover ham and eggs. These freeze beautifully and can be reheated on a cookie sheet in about 20 minutes.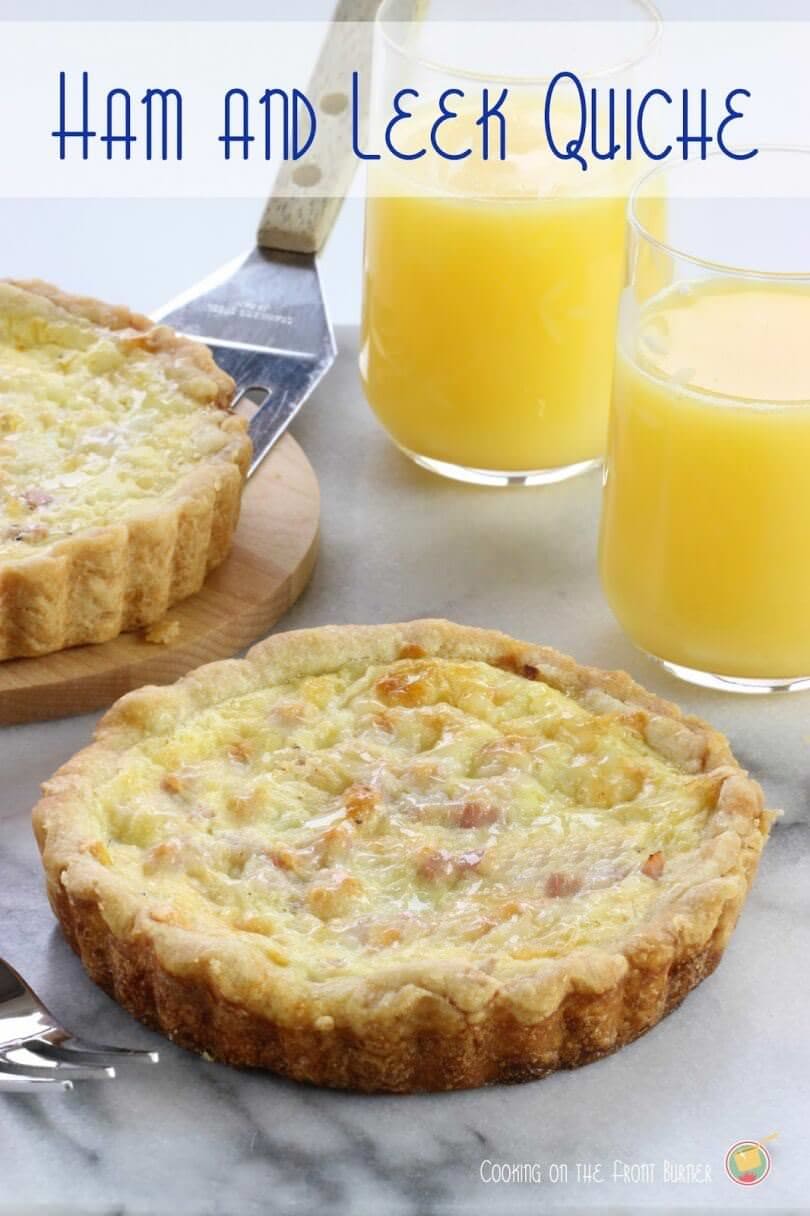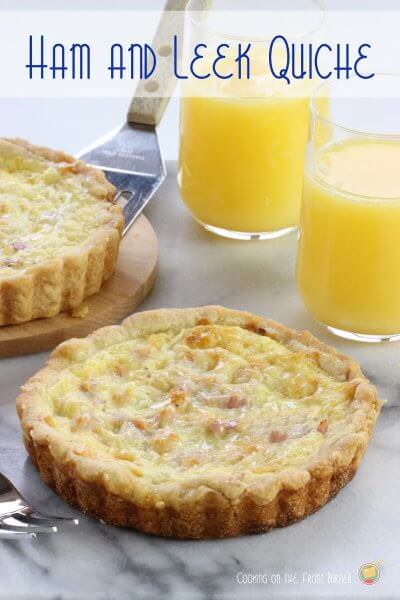 Ham & Broccoli Pasta Bake ~ Taste & Tell
Have leftover ham? This pasta dish is an easy way to use up those leftovers. Egg Noodles, Broccoli, Parmesan Cheese and Leftover Ham come together in this delicious casserole recipe.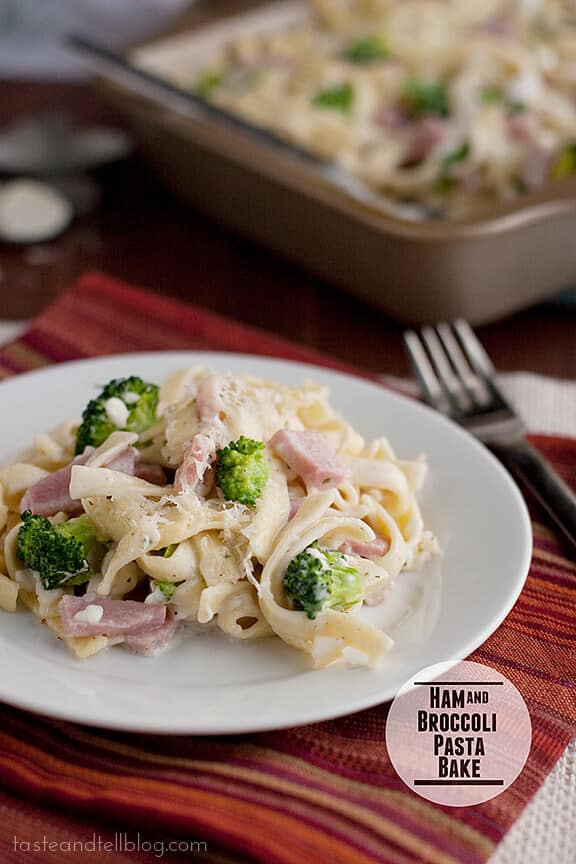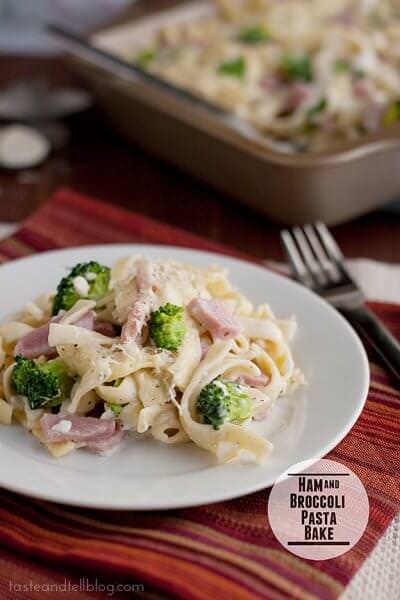 BBQ Hawaiian Pizza ~ Nutmeg Nanny
This bbq Hawaiian pizza is the perfect use for all that leftover ham. Tangy bbq sauce topped with melted cheese, red onions, pineapple and ham. You'll love how easy this is to throw together PLUS it's ready in just 25 minutes!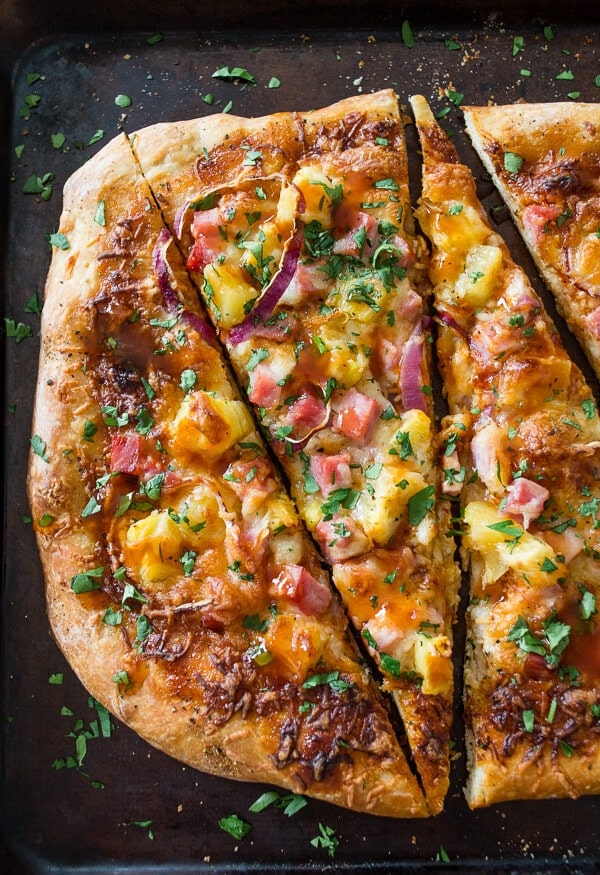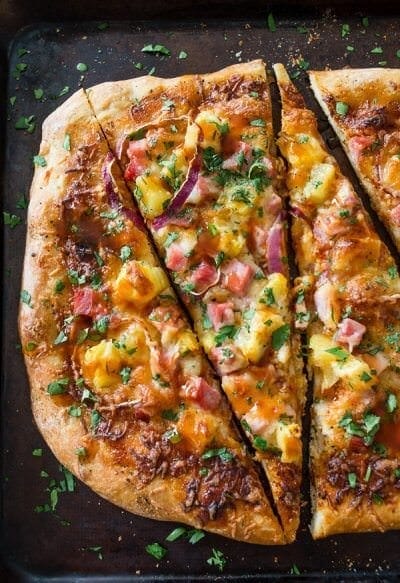 Skillet Cheesy Gnocchi with Peas & Ham ~ Nutmeg Nanny
This skillet cheesy gnocchi with peas and ham is the perfect weeknight supper. Cook quickly on the stove top and serve dinner in under 30 minutes.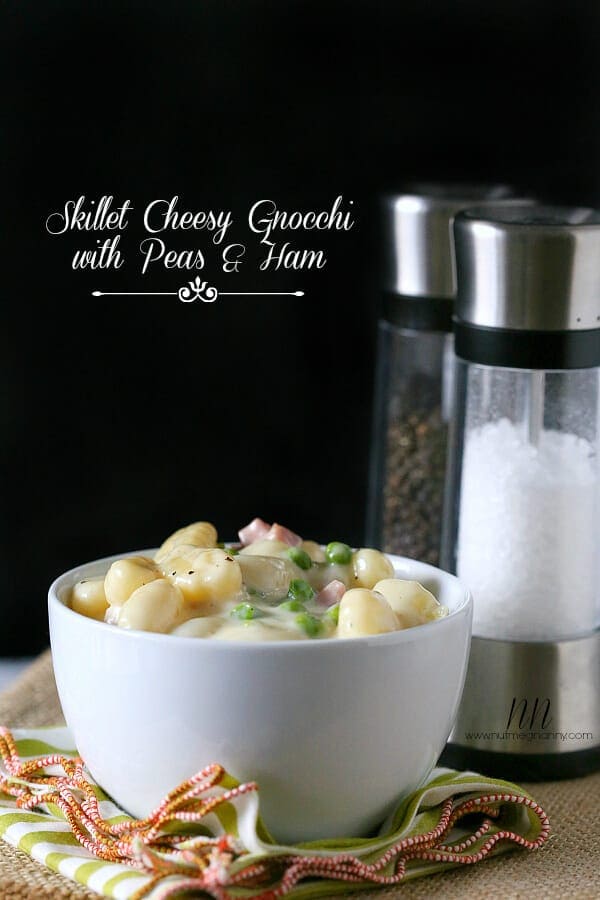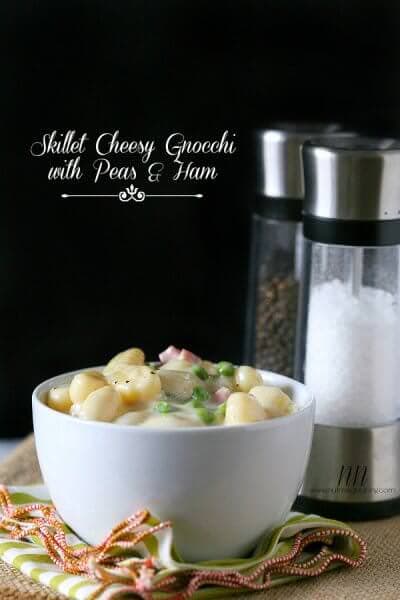 Easy Ham & Cheese French Bread Pizza ~ The Kitchen is My Playground
Keep this easy recipe up your sleeve for when you need a quick lunch idea for these jam-packed times … whether it's for a busy Saturday lunch, or to slice up and send in the kiddos' lunchboxes.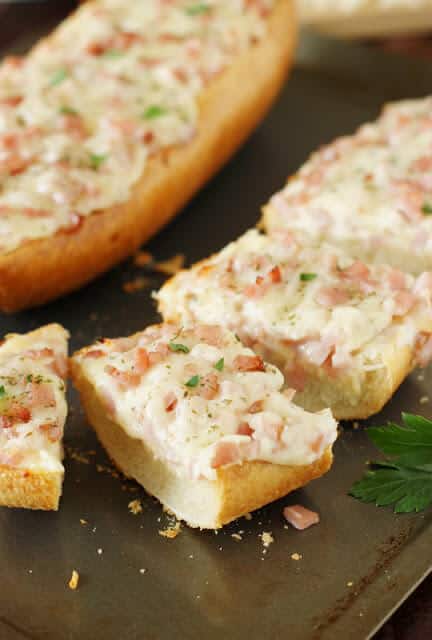 Ham & Cheese Crescent Bake ~ Taste & Tell
Have leftover ham from yesterday's meal? This ham and cheese crescent bake is an easy (and delicious!) way to work through those leftovers! You can never go wrong with flaky crescent rolls!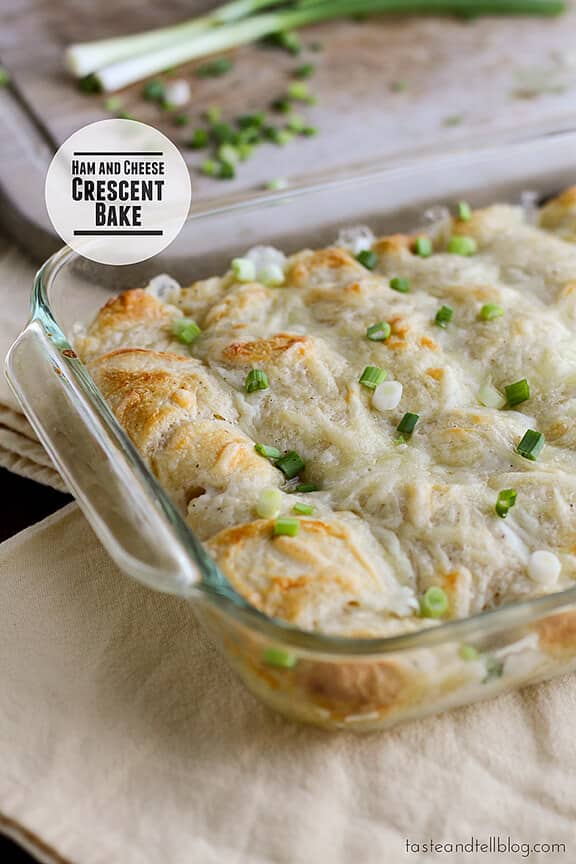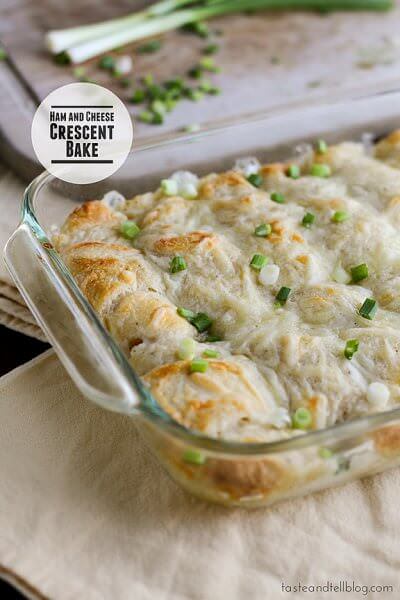 Creamy Ham and Bean Soup ~ A View From Great Island
This soup is a luxe way to use up a leftover ham. Make a big pot of this wonderful chowder, it only gets better as it sits!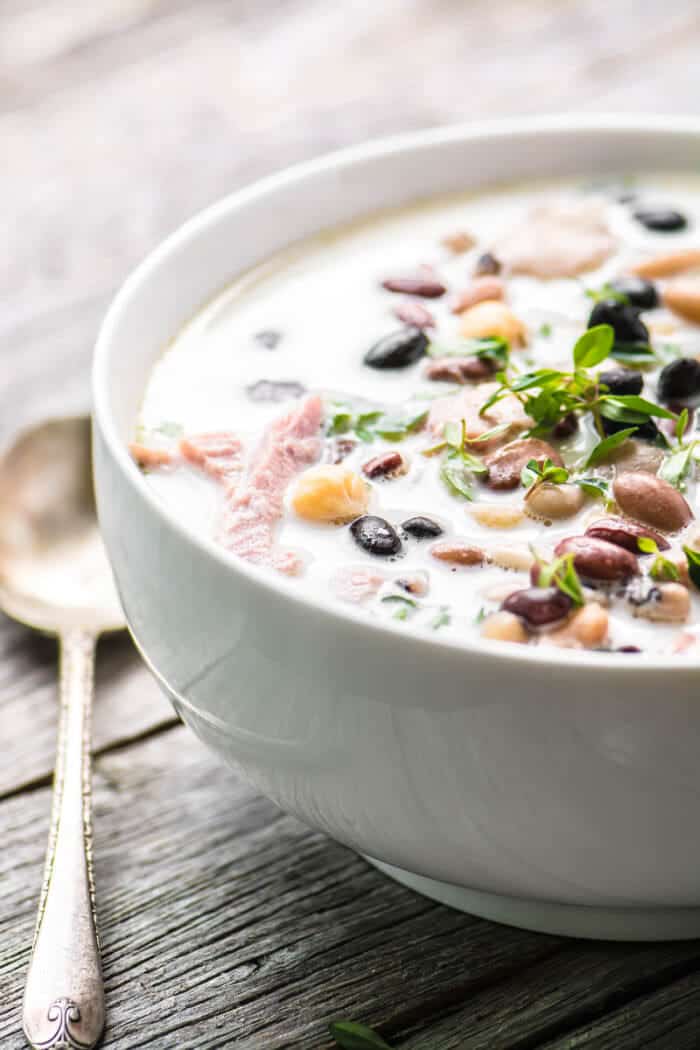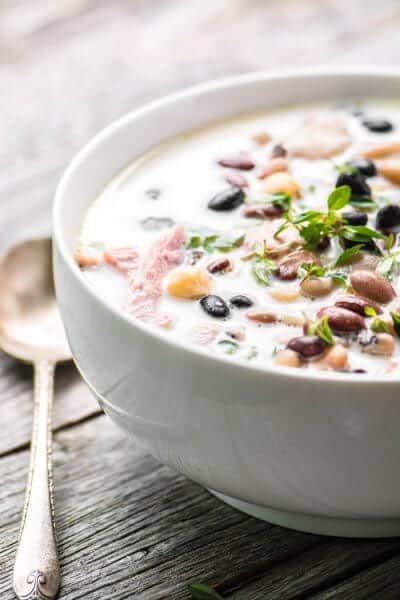 Creamy Mushroom Ham Pasta ~ An Italian in My Kitchen
Creamy mushroom ham pasta is a delicious, easy, creamy pasta dish Italian style. Ready in 20 minutes. It just might become your new family favorite!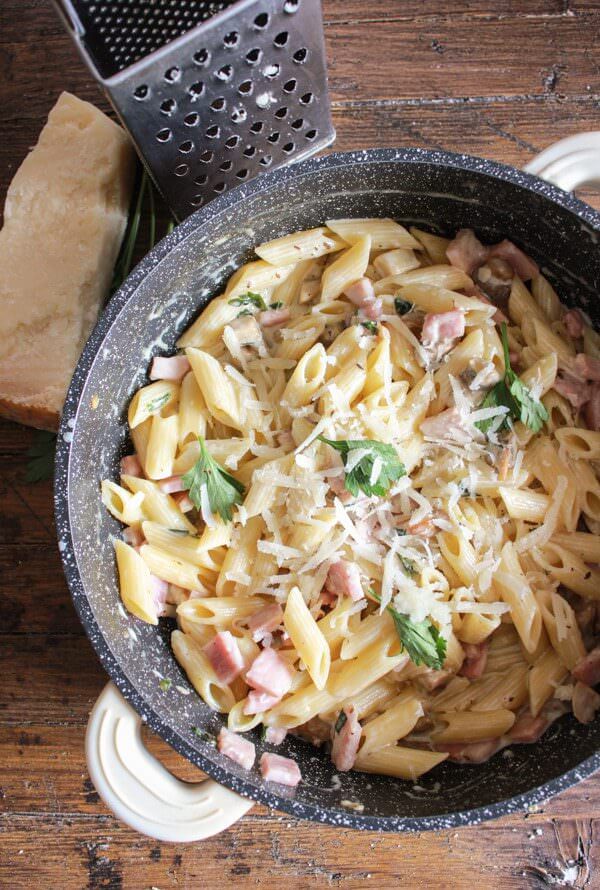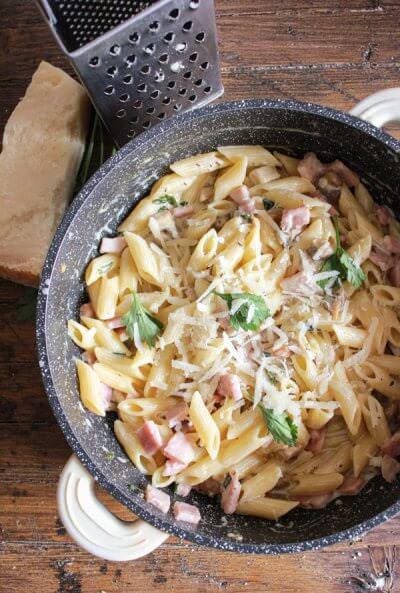 Millet Breakfast Skillet ~ Cook the Story
This Millet Breakfast Skillet Recipe is quick, hearty and very satisfying. And the crunchy crust is amazing!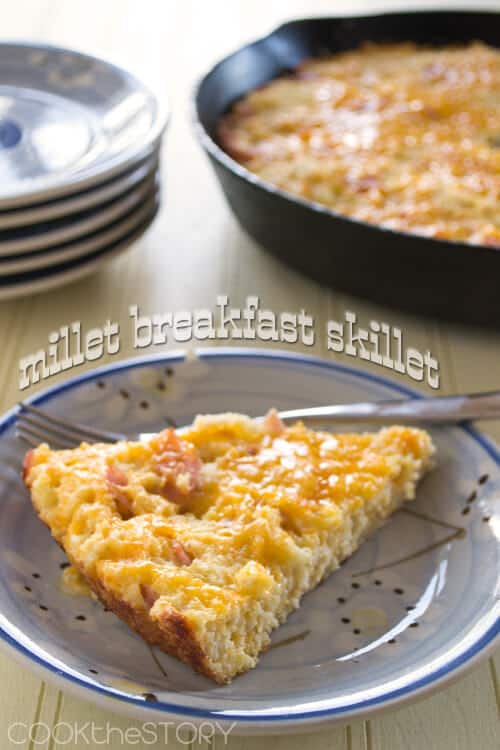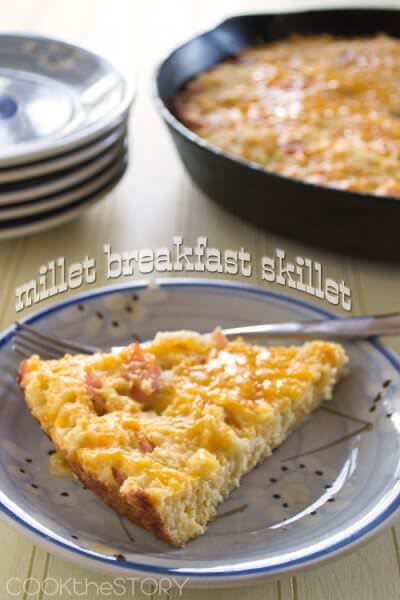 Ham & Broccoli Macaroni and Cheese ~ Belle of the Kitchen
This recipe is classic comfort food: a creamy, homemade macaroni and cheese, that's been taken to the next level with a leftover ham and roasted broccoli.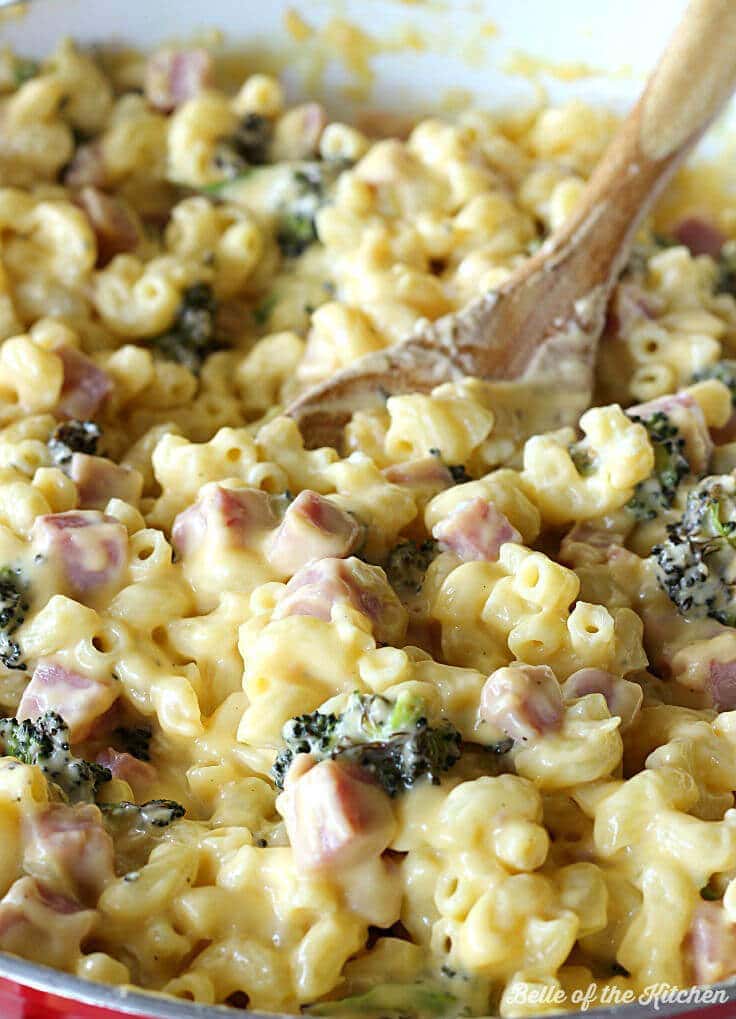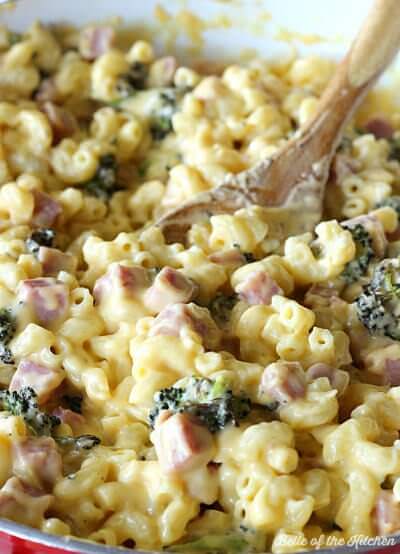 Ham Salad ~ The Kitchen Is My Playground
Enjoy it as a yummy sandwich filling or as a topping on crackers. Either way, it's delicious.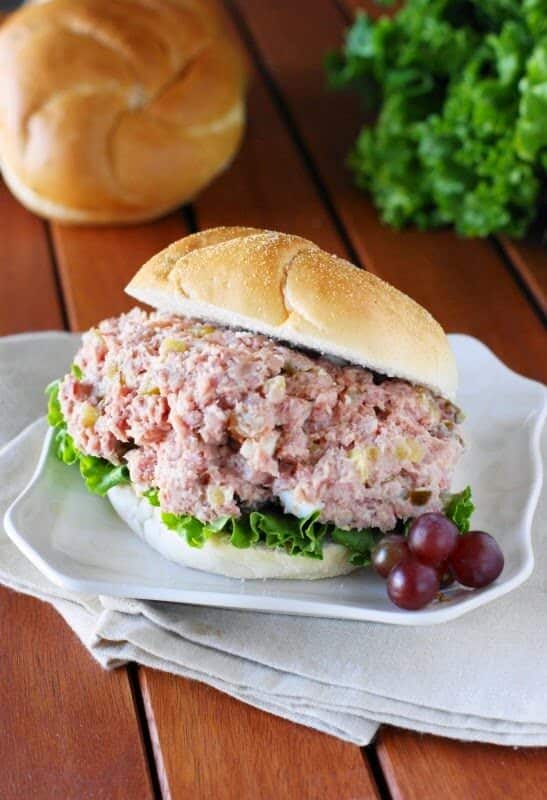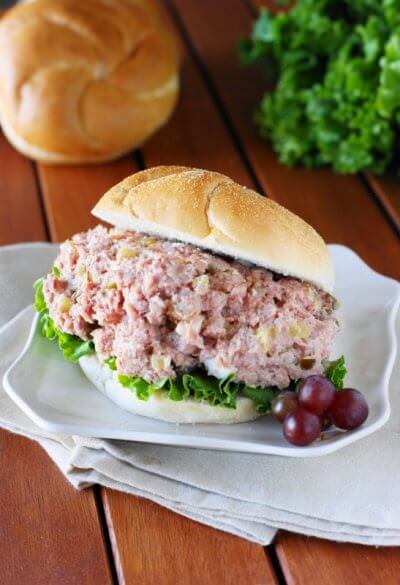 Cheesy Ham and Potato Soup ~ Iowa Girl Eats
Thick and hearty gluten-free soup recipe that's perfect for cold nights. Use leftover ham and mashed potatoes to make this simple soup even easier to whip up!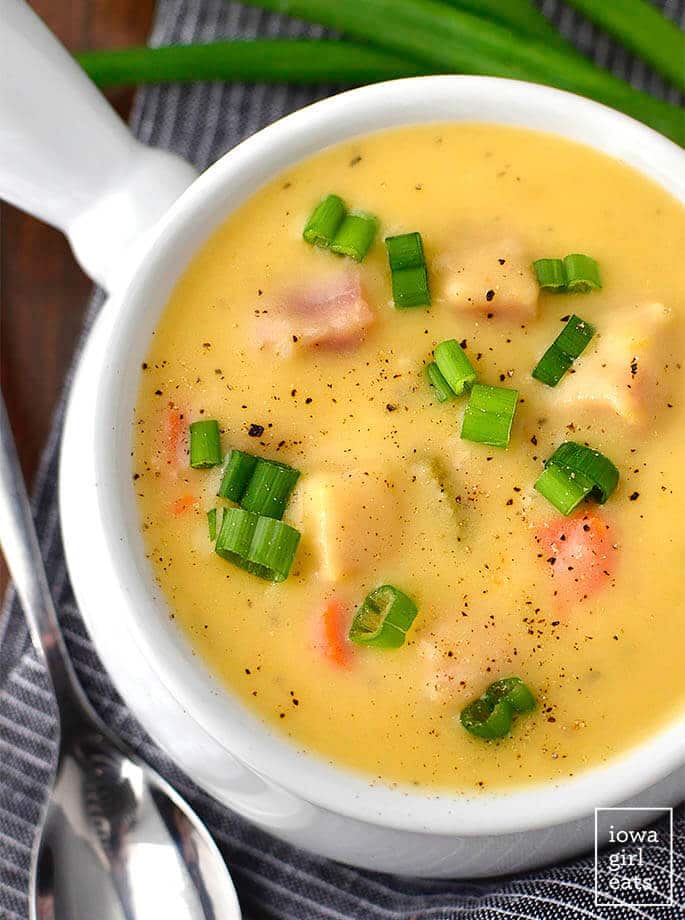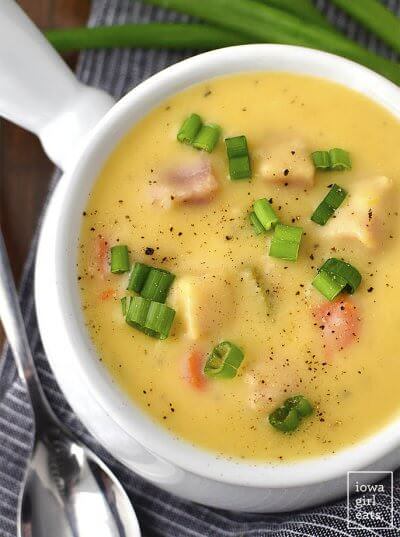 Shrimp Fried Rice with Vegetables ~ Karen's Kitchen Stories
This shrimp fried rice with vegetables is wonderful as a light main course, or as part of a multi-course dinner. Plus, it takes only 20 minutes to make from start to finish, including the rice.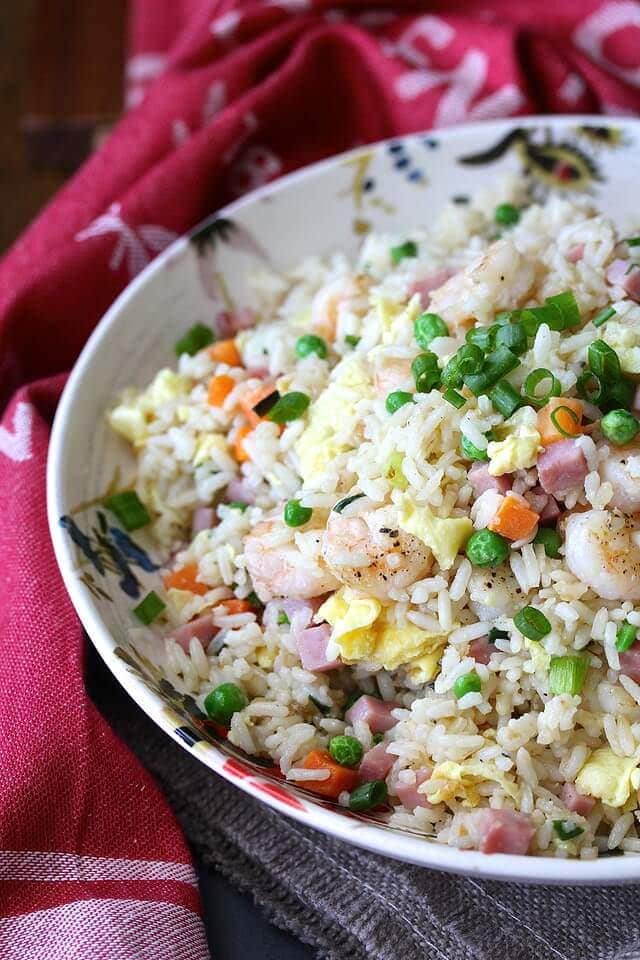 Ranch Ham & Cheese Pasta ~ Taste & Tell
A creamy, cheesy pasta sauce is flavored with ranch spices. Cooked ham is added to make an easy and flavorful pasta dinner.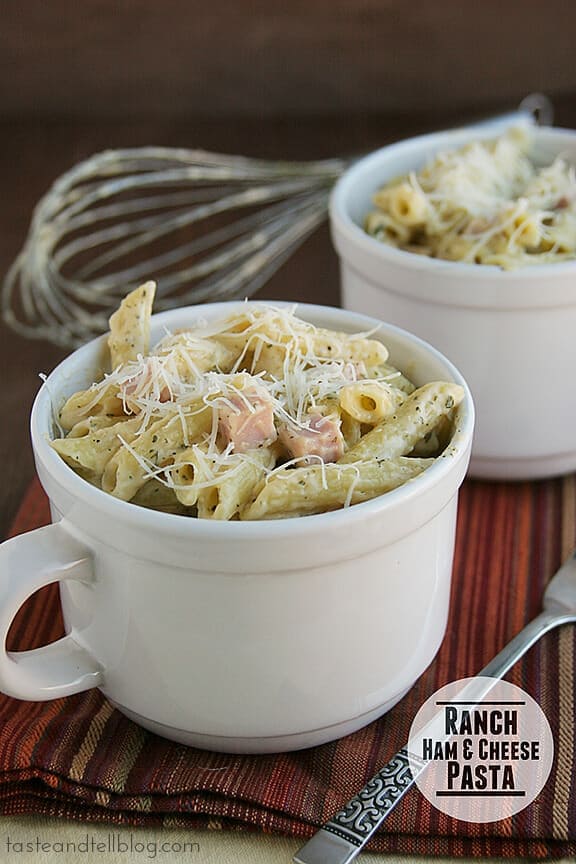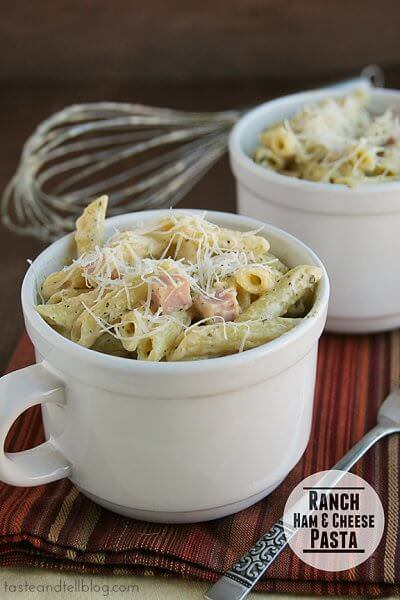 Chicken & Ham Wild Rice Soup ~ They Gunny Sack
This wild rice soup recipe contains leftover ham for added flavor. It is perfect for cold winter days!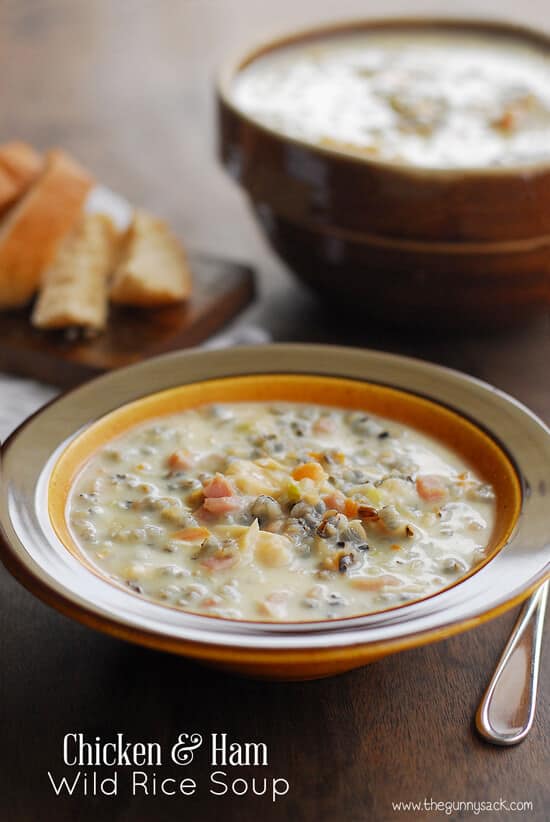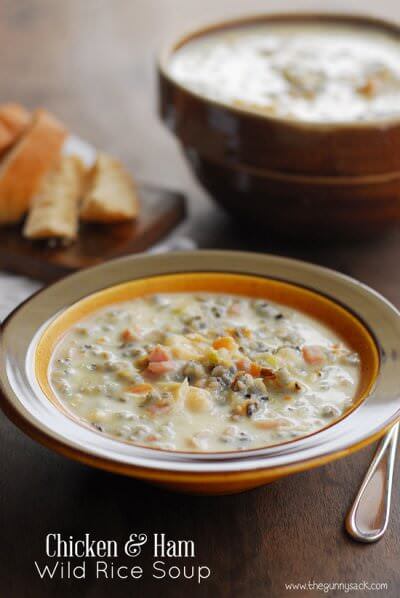 Ham, Spinach and Cheese Egg Boat ~ Rachel Cooks
Take your egg casseroles outside the square pan with this fun egg boat recipe. Crunchy bread holds a flavorful and irresistible egg filling. These will transform brunch!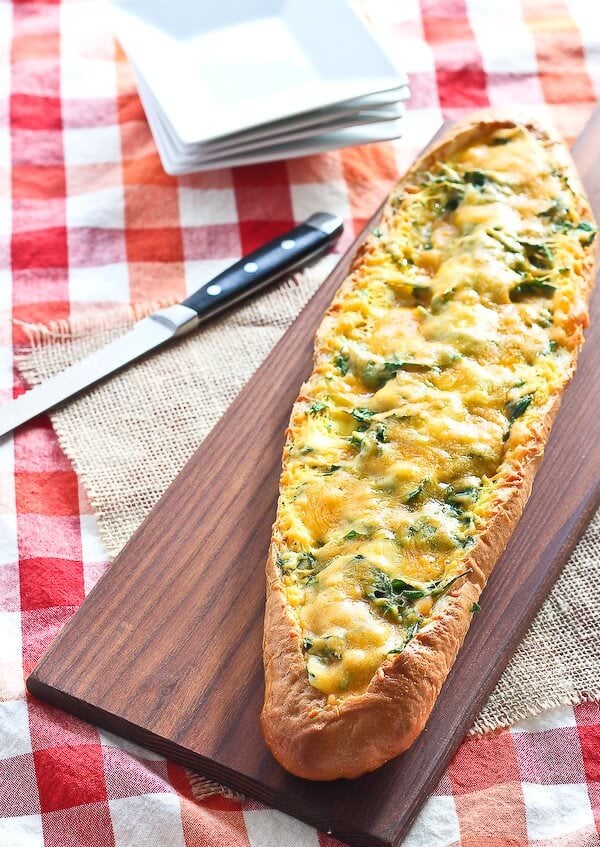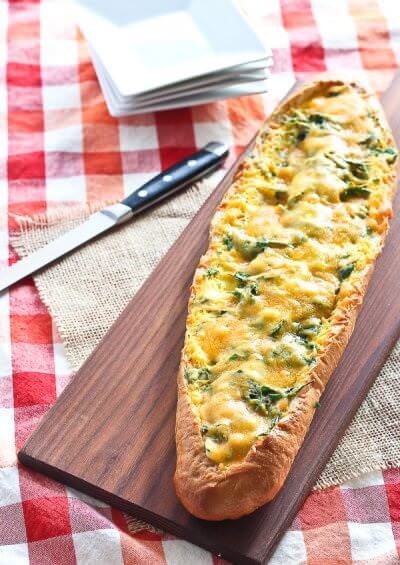 Ham Cobb Salad ~ Nutmeg Nanny
This ham cobb salad is the perfect way to use up all that leftover ham. Packed full of baby greens, hard boiled eggs, avocado, tomatoes, gorgonzola cheese and ham.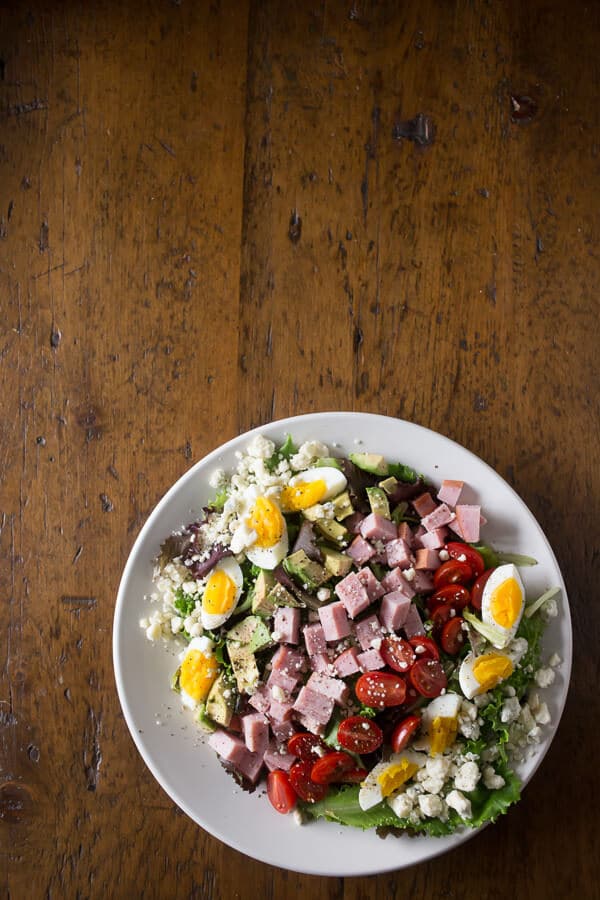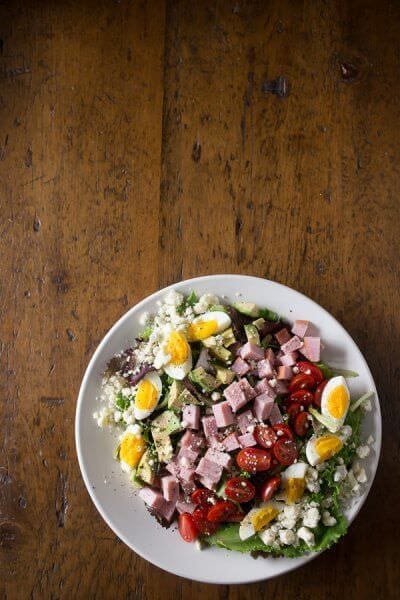 Wasabi Ham Salad ~ Neighborhood Food
This savory ham salad has just a hint of bite from wasabi powder and makes a great sandwich or dip!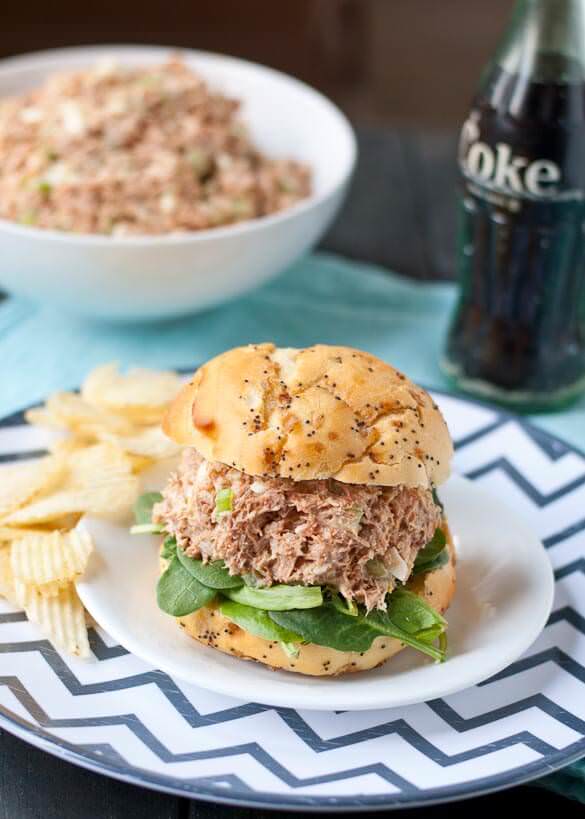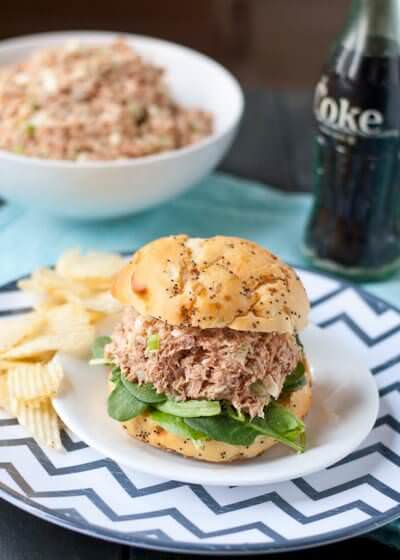 Cheesy Ham & Potato Bacon Casserole ~ Oh Sweet Basil
Ham leftovers are turned into a simple cheesy ham and potato bacon casserole with broccoli and cream cheese!