Fried Ravioli are crispy on the outside with a gooey, hot, cheesy filling. They are coated in seasoned bread crumbs then fried to a perfection. They make a fun and unique appetizer. Don't forget to dip them in marinara!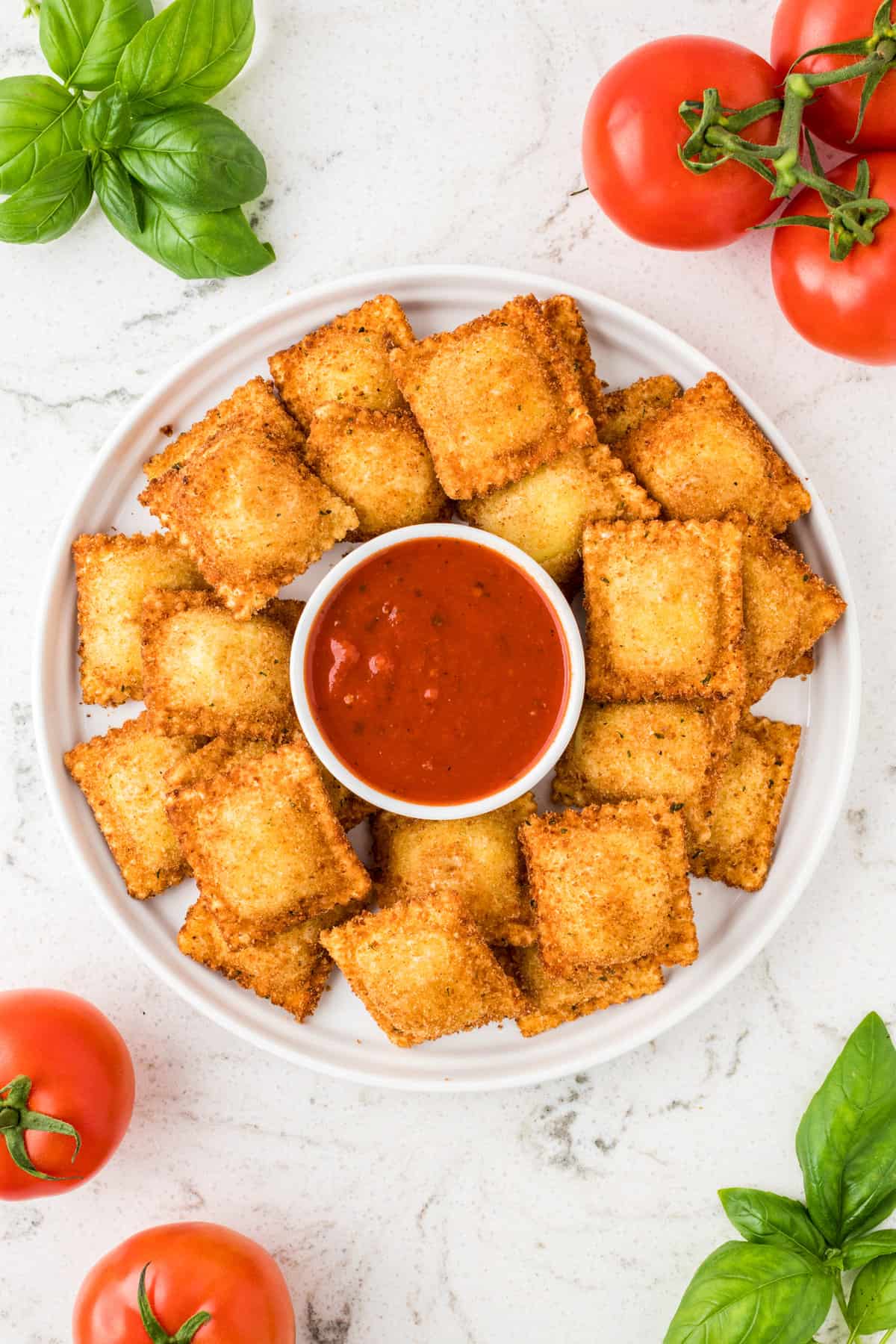 If you're like me, you will eat anything breaded and fried, and any type of pasta! These toasted ravioli are one of my most favorite appetizers because they combine two of my favorite things…fried food and pasta!
Deep fried ravioli are the ultimate Italian inspired comfort food. Warm, cheesy, and so tasty!
Now of course frying things isn't the most healthy, so if you're looking to eat this delicious snack with a few less calories, try this Air Fryer Ravioli!
Why You'll Love this Fried Ravioli Recipe
It may seem daunting to make this dish, but this fried ravioli recipe is actually very easy to follow!
Since I recommend making these fried ravioli from frozen, they don't take long to make at all!
This simple fried ravioli is so inviting and will quickly become a family favorite!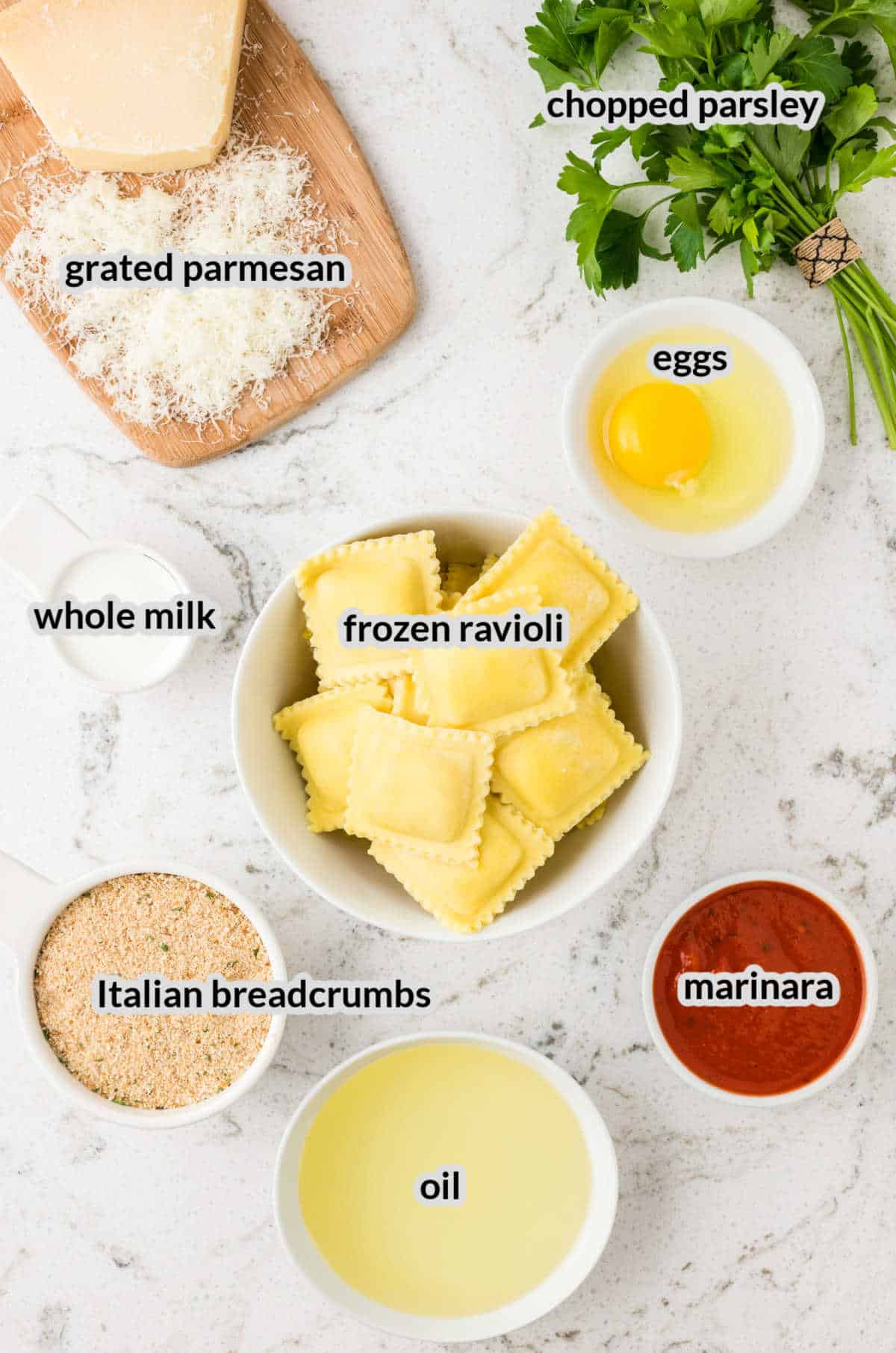 Ingredients for Fried Ravioli
Vegetable oil – I used vegetable oil for this recipe, but you could also use olive or canola oil.
Ravioli – I love using frozen ravioli for this recipe! Allow the ravioli to thaw for about 30-45 minutes before using them in the recipe. But once they're all breaded and fried, no one will ever know they're fried ravioli from frozen!
Italian breadcrumbs – Using Italian breadcrumbs will add extra flavor and make your ravioli extra yummy. You can also use regular breadcrumbs and add seasoning yourself.
Grated parmesan cheese – Grated parmesan will adhere more easily to the ravioli than other variations of parmesan. Be sure not to leave this ingredient out! It add so much cheesy flavor to this fried ravioli recipe.
Egg – An eggs will help bind the breadcrumbs to the ravioli.
Whole milk – Milk will also act as a binder for the breadcrumbs and ravioli. I personally prefer to use whole milk, but you could also use buttermilk or 2% milk.
Parsley – Use fresh parsley as a garnish on top of your fried ravioli to give it a pop of color and an added yummy flavor!
Marinara sauce: Grab a jar of your favorite marinara sauce, heat it up, and use it as a dip for your fried ravioli!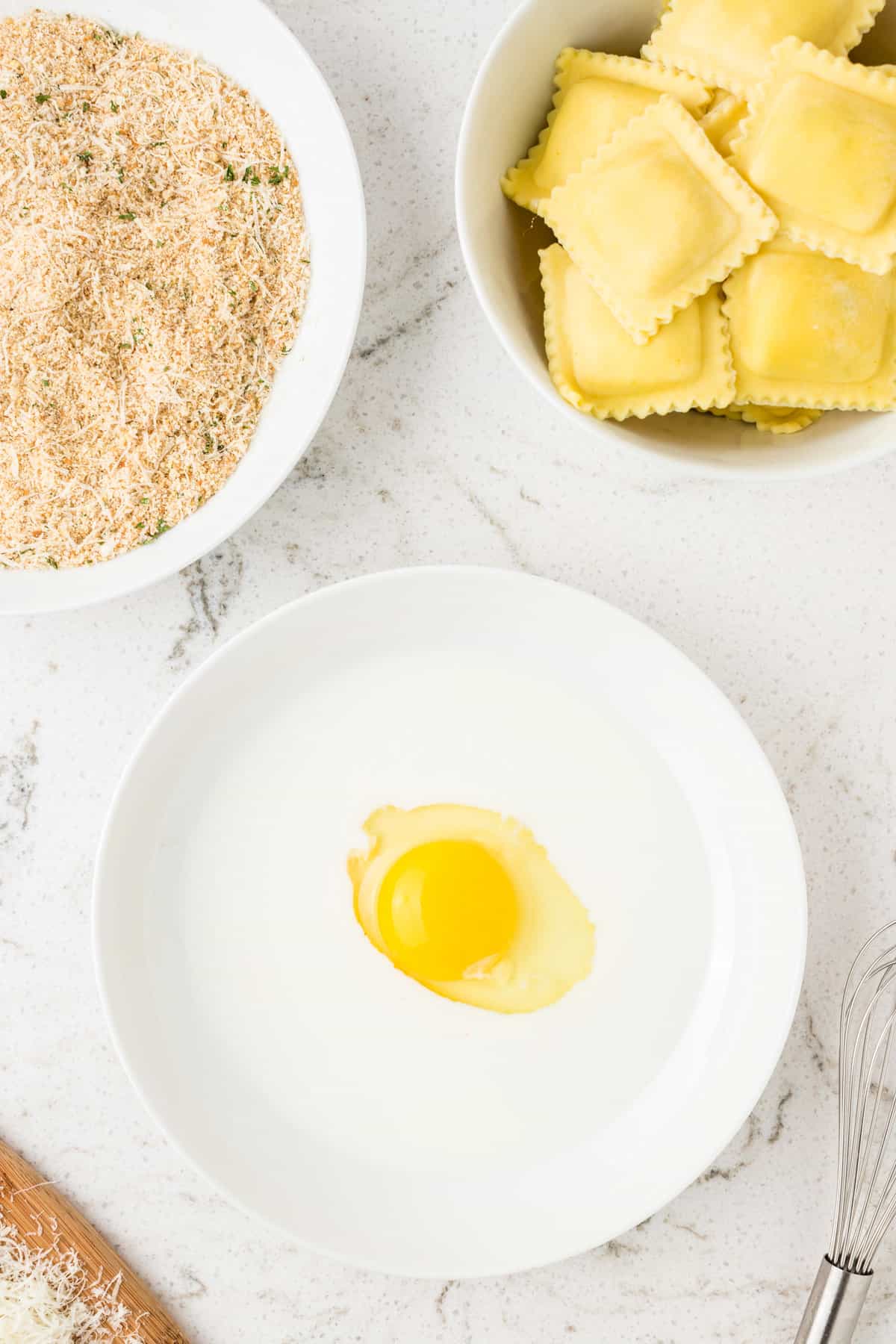 How to Make Fried Ravioli
While your frozen raviolis are thawing, prepare the frying oil and the breading stations.
Pour your oil of choice into a large frying pan and heat until it's at 350 degrees. You only need about 2-3 inches deep of oil in the pan.
Combine breadcrumbs and parmesan cheese into a shallow bowl. In another shallow bowl, combine egg and milk. Whisk until thoroughly combined.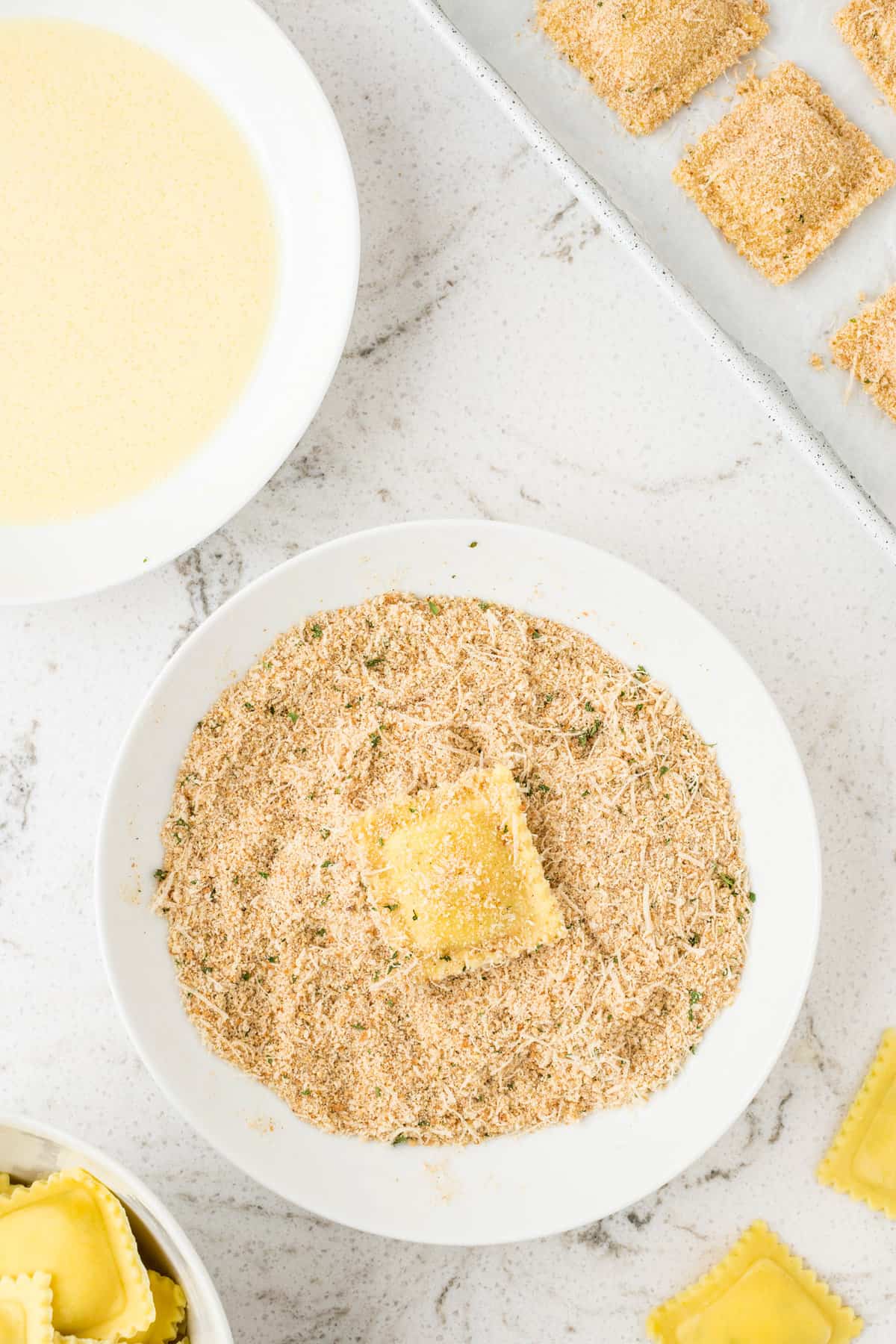 Submerge each ravioli into the egg and milk mixture, then roll them in the breadcrumb and cheese mixture. Be sure to thoroughly cover every inch of the ravioli!
Drop about 6 to 8 ravioli's into the hot frying oil and let them fry for about 5 minutes. Be sure to flip them over halfway through frying so both sides are directly in the hot oil.
Once the fried ravioli are a nice golden brown, remove them from the frying pan and place them onto paper towels to catch excess oil as they cool.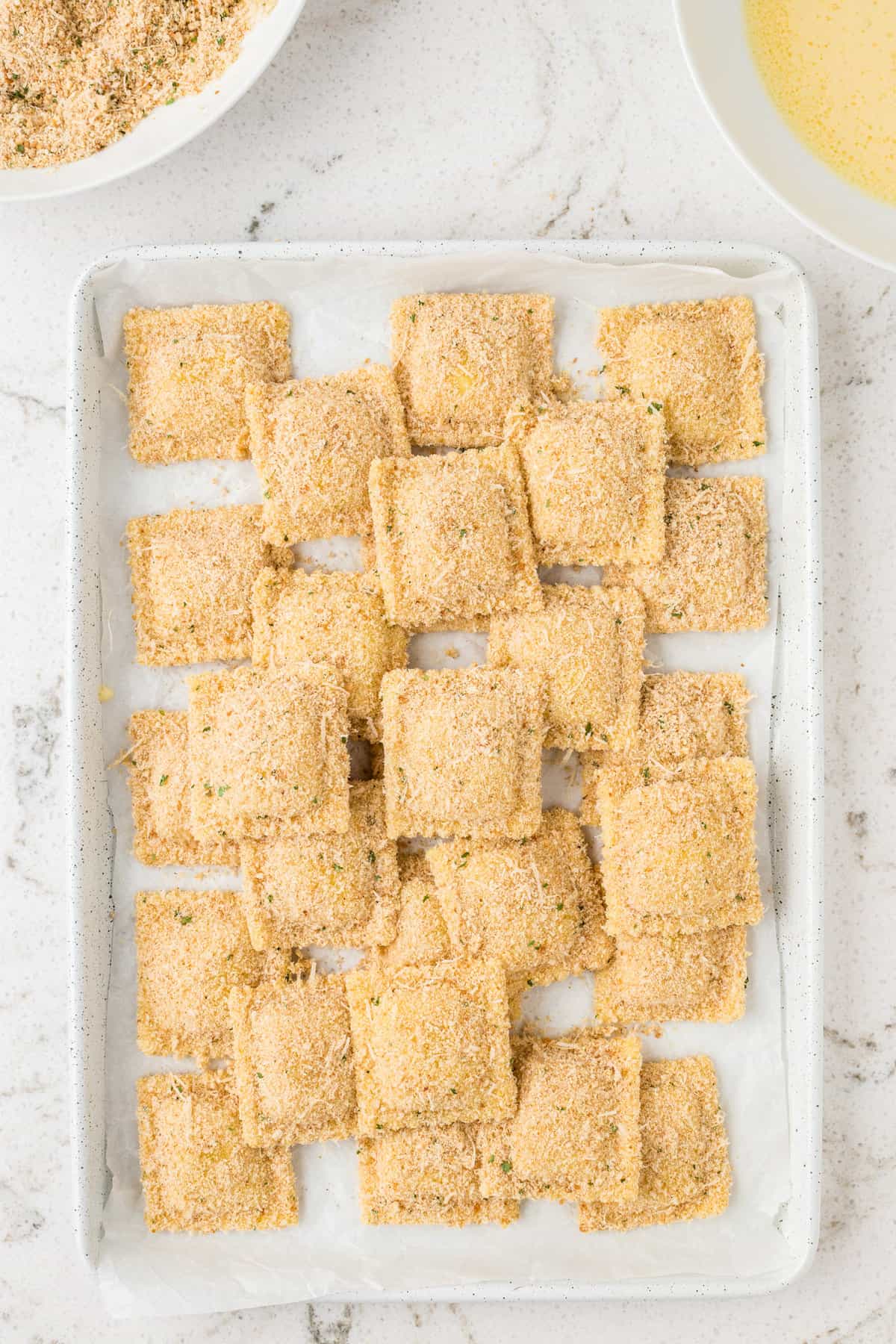 How to Serve Fried Ravioli
Once fully cooled, garnish your deep fried ravioli with extra parmesan and fresh chopped parsley. Serve with marinara sauce and eat up!
After snacking on your fried ravioli appetizer, round out your Italian dinner with these Crock Pot Italian Style Meatballs and Strawberry Romaine Salad.
How do I store my Fried Ravioli?
If you manage not to eat all of these in one sitting, you can store them in an airtight container in the refrigerator for 3 to 4 days. Reheat them in the air fryer, oven, or toaster, to get that tasty crisp back!
Do I have to use frozen ravioli?
I find frozen ravioli to be the easiest, but you could also use your favorite dried ravioli! Prepare according to instructions on the package and allow them to cool, then use them just like you would any other ravioli in this recipe!
Tips for the best Toasted Ravioli
Make your own homemade marinara sauce to elevate the flavor of your marinara dipping sauce!
Grate your own parmesan cheese for the freshest flavor.

Fry the ravioli in smaller batches to keep the oil at the right temp. Don't place all of them in the oil at once, it will lower the temp and they won't fry well.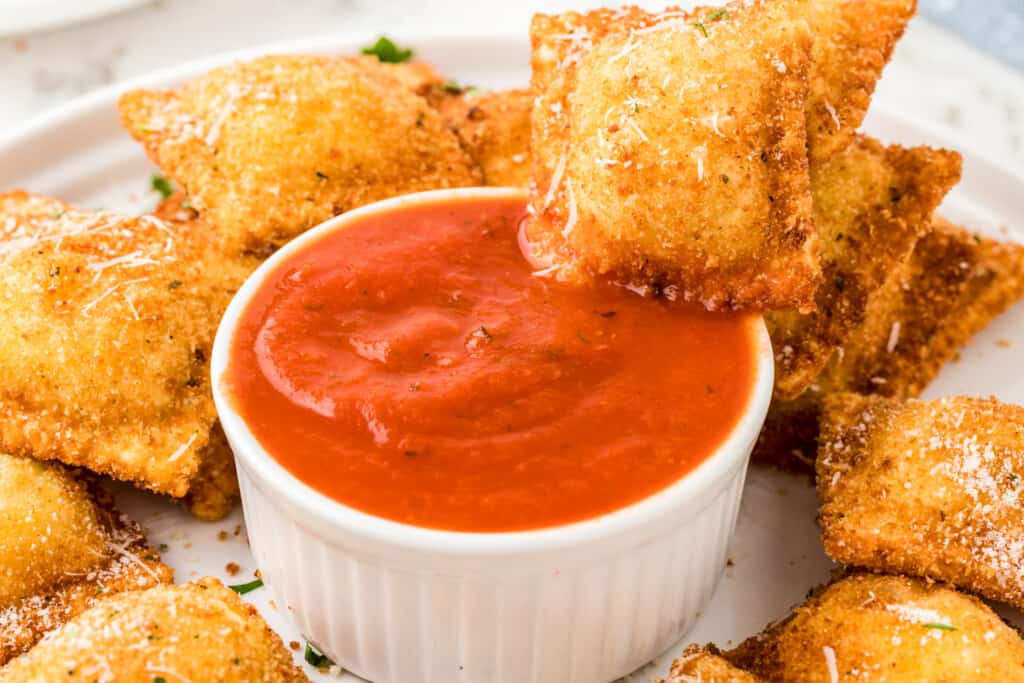 This tasty Toasted Ravioli is an appetizer that will be a crowd pleaser and you can have any of the leftovers all to yourself!
More Appetizer Recipes You'll Love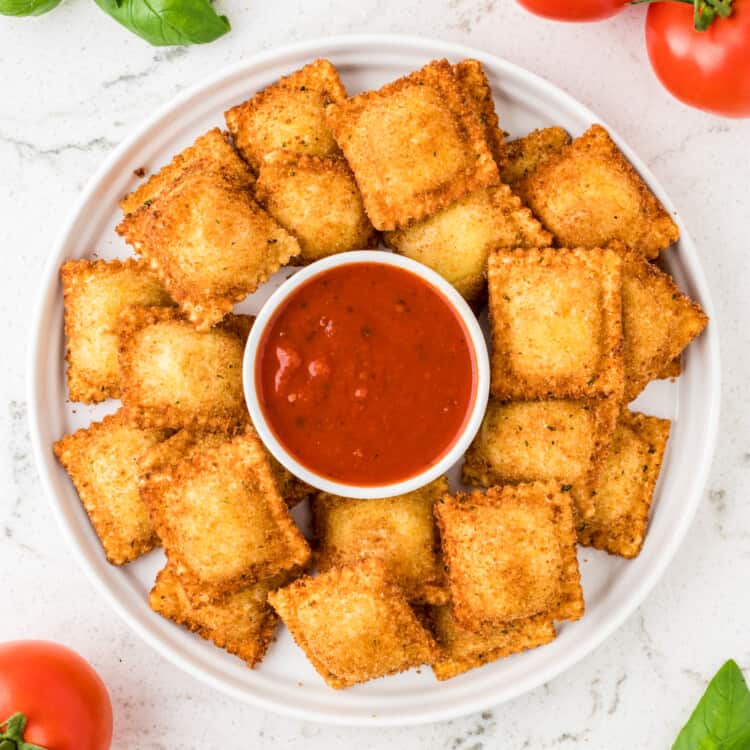 Fried Ravioli
Crispy bread Ravioli that is fried! This Fried Ravioli is a delicious appetizer perfect for parties.
Ingredients
Oil to use for frying

24

frozen cheese ravioli

thawed

1

cup

Italian breadcrumbs

½

cup

grated parmesan, divided

1

egg

¼

cup

whole milk

1

Tablespoon

chopped parsley

Marinara sauce

for dipping
Instructions
Line a baking sheet with parchment or wax paper. Set aside.

Prepare a large deep pan with vegetable oil. Fill until the oil reaches about 2 – 3 inches in the pan. Heat the oil to 350 degrees Fahrenheit.

Using 2 shallow bowls, pour 1 cup of Italian breadcrumbs and ¼ cup of parmesan cheese into one bowl and combine. In the other bowl, add 1 egg and ¼ cup of whole milk and whisk until blended.

Dip each thawed ravioli into the egg/milk mixture, coat the entire ravioli, then dredge them through the breadcrumb mixture, ensuring each ravioli is well covered with breadcrumbs. Place on the prepared baking sheet.

Next, working in batches of 6 – 8 at a time, place the ravioli into the hot oil and fry for about 3 – 5 minutes or until the ravioli is golden brown and crispy around the edges. Use a slotted spoon or tongs to flip the ravioli at least once during the frying time. Remove from the hot oil and place on a paper towel.

Garnish with ¼ cup of grated parmesan and freshly chopped Italian parsley.

Serve with your favorite marinara sauce and enjoy immediately!
Tips
You can store leftovers in an airtight container in the refrigerator for 3 to 4 days. Reheat them in the air fryer, oven, or toaster, to get that tasty crisp back!
Nutrition Information
Serving:
6
ravioli
,
Calories:
531
kcal
(27%)
,
Carbohydrates:
67
g
(22%)
,
Protein:
24
g
(48%)
,
Fat:
18
g
(28%)
,
Saturated Fat:
7
g
(44%)
,
Polyunsaturated Fat:
1
g
,
Monounsaturated Fat:
1
g
,
Cholesterol:
70
mg
(23%)
,
Sodium:
1282
mg
(56%)
,
Potassium:
121
mg
(3%)
,
Fiber:
5
g
(21%)
,
Sugar:
5
g
(6%)
,
Vitamin A:
275
IU
(6%)
,
Vitamin C:
2
mg
(2%)
,
Calcium:
207
mg
(21%)
,
Iron:
13
mg
(72%)